If you click on a link and make a purchase, I may receive a small commission at no extra cost to you. See my disclosure policy here.
One thing that really signifies fall to me is apples. Crisp apples, yellow and orange leaves, and the smell of wood burning fires. These all remind me of fall. And, when it's fall, I love making apple crisp.
Did you know that over 100 varieties of apples are grown in the US?
Yup, that's what I found out. Most production, though, is focused on 15 popular varieties (according to http://usapple.org/the-industry/apple-varieties/). They are Granny Smith, McIntosh, Fuji, Red Delicious, Gala, Braeburn, Honeycrisp, Jonagold, Golden Delicious, Cameo, Jazz, Macoun, Ambrosia, Crisps Pink (aka Pink Lady), and Courtland.
So, which are best for baking?
Before educating myself a little about apples, Granny Smith was the only variety I knew was ideal for baking. But, they're tart and some recipes call for a sweeter variety. I can't tell you the number of times I had to google the phrase "baking apples" in the past.
According to USApple, these are the best varieties for baking: Crispin, Granny Smith, Golden Delicious, Jazz, and Ambrosia.
So, now you won't have to google "baking apples" anymore, either.
Let's crisp it up!
I've made my apple crisp before with both Granny Smith and Golden Delicious. Usually, it comes down to which I can find in my local grocery store. Each variety contributes a slightly different flavor to the crisp.
I happened to have a bag of small Granny Smith on hand, so that's what I used. The recipe calls for 6 cups of apples. This usually translates to 6 large, or 7 small.
Peel, core, and slice the apples. I peel the apples with a potato peeler and use an apple corer to remove the middle. Then, I use a paring knife to thinly slice them length-wise.
Toss them with 1 cup of sugar. You can use almost any type of sugar: turbinado, coconut sugar, raw granulated cane sugar, etc. Pour them into a baking dish. I've found that 9 x 9 works best, but you can use a 9 x 13.
Preheat your oven to 350 degrees F.
When making the topping, you can be hands-on. Mix the dry ingredients in a bowl. Cut each stick of butter into 4 squares, Using your hands OR a pastry cutter, combine the butter with the dry ingredients until it's roughly crumbled.
Spoon the topping evenly over the baking dish.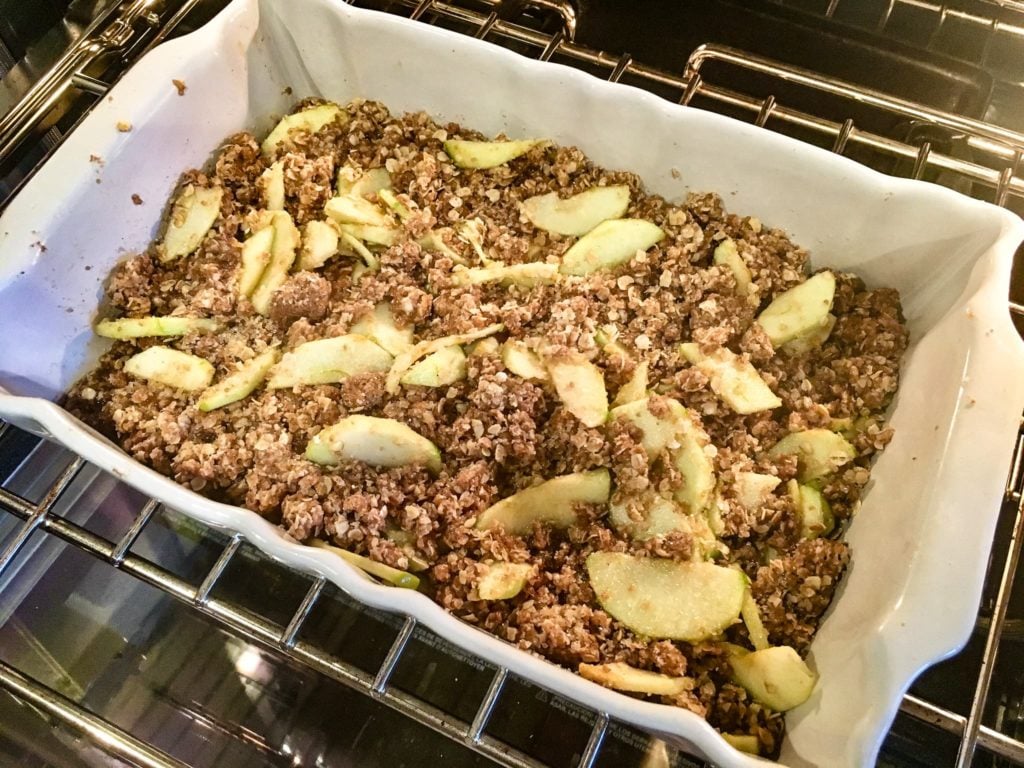 Bake your crisp for 45-50 minutes, until golden on top and bubbly on the sides. Serve warm.
Apple Crisp Recipe
Apple Crisp
Old-fashioned oats work best in this recipe. If you use instant oats, the topping might not be as crispy.
Ingredients
Filling
6

cups

peeled, cored, and thinly sliced

(6 large, 7 small apples)

1

cup

sugar
Topping
1 1/2

tsp

cinnamon

1 1/2

cups

old-fashioned oats

1

cup

brown sugar

1

cup

flour

1

cup

butter, slightly softened

(2 sticks)
Instructions
Preheat oven to 350 degrees F. Toss the apples and sugar in a medium bowl until well combined. Add them to a 9" x 9" or 9" x 13" baking dish.

In a large bowl, mix dry topping ingredients. Cut butter sticks into quarters. Add them to dry ingredients. Use your hands or a pastry cutter to cut the butter in until it's pebble-sized crumbles. Spoon evenly over the apples.

Bake for 45-50 minutes, until the top is golden and the edges are bubbly.
Nutrition
Serving:
1
serving
|
Calories:
521
kcal
|
Carbohydrates:
75
g
|
Protein:
4
g
|
Fat:
24
g
|
Saturated Fat:
5
g
|
Sodium:
277
mg
|
Potassium:
120
mg
|
Fiber:
2
g
|
Sugar:
52
g
|
Vitamin A:
1015
IU
|
Calcium:
46
mg
|
Iron:
2
mg

Vanilla Ice Cream or Whipped Cream?
What's your preferred topping? I did a poll on my Instagram LINK and it was 100% for vanilla ice cream.
Check out these meals that pair beautifully with this delicious crisp:
https://thefeatherednester.com/whats-new/top-5-fall-recipes-week/
https://thefeatherednester.com/whats-new/chicken-pot-pie-fall-favorite/
Enjoy this beautiful fall season.