This Caprese Chicken skillet is fresh, juicy, and packed with summer flavors. Perfectly seared chicken breasts are topped with mozzarella, basil, and cherry tomatoes and then baked i,n the oven for a delicious family-friendly dinner that everyone will love.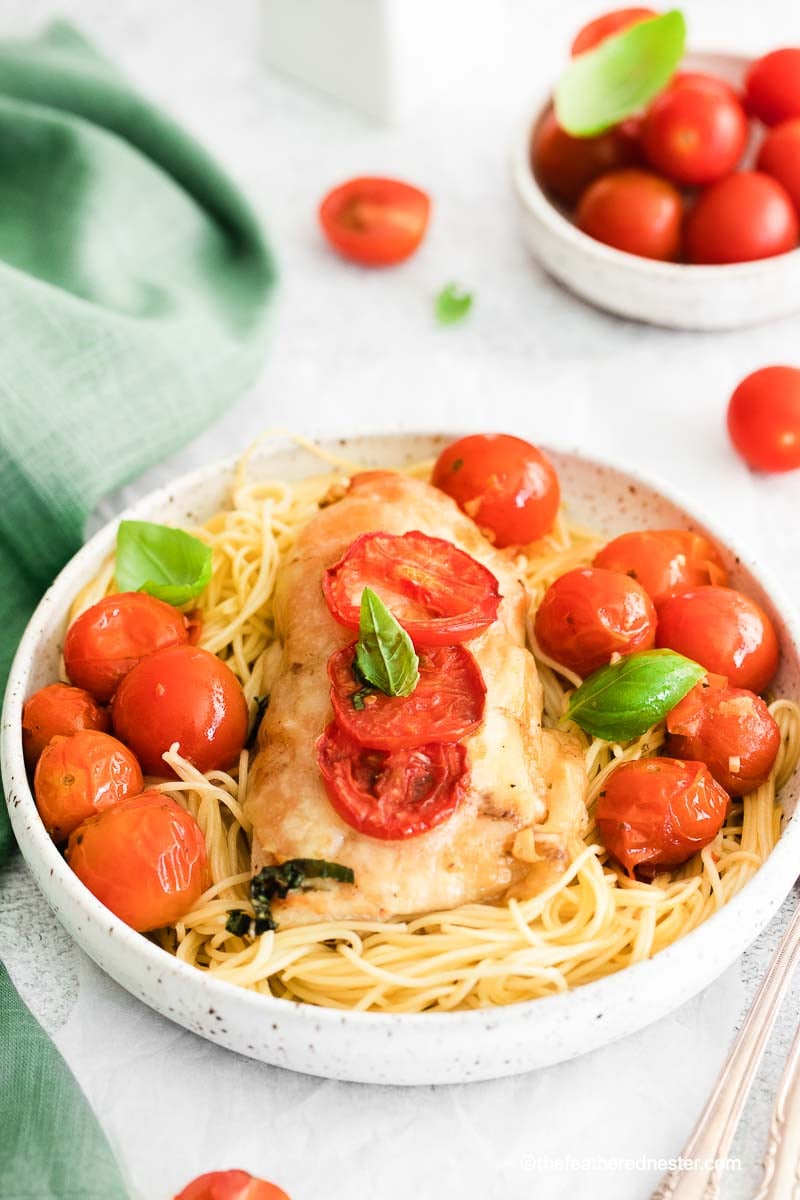 My idea of an ideal summer dinner is perfectly seasoned poultry with pasta, topped with gooey melted mozzarella, fresh basil, and roasted tomatoes. Then a rich balsamic glaze is drizzeled over the top. Can you say yes please?
This dish is simple to make but has tons of flavor. For a complete meal, serve it up with mashed potatoes or pasta.
Caprese Chicken Skillet Dinner
This recipe is an easy, gluten-free, lean protein dinner that the whole family will enjoy!
Similar to our Caprese salad, it's has that Italian flavor thanks to cherry tomatoes, basil, and mozzarella But, we take it to the next level by drizzling it wth a balsamic glaze.
And, did I tell you that it's ready in under 30 minutes??
Once you taste this baked Caprese chicken skillet dinner, you'll be making it all summer long! Serve it with so,me roasted vegetables or pasta and enjoy!
Want more Italian recipes? Check out our Caprese flatbread, Tortellini Salad, or Tuscan Bean Salad recipes.
Ingredient Notes and Substitutions
Chicken – This poultry recipe uses breast meat because they are lean, cooks quickly, and have a mild flavor. I suggest using boneless, skinless breast or thigh meat.

Tomatoes – The cherry and Roma tomatoes go perfectly together and they are sweet and juicy without turning runny. If you don't have those, canned diced tomatoes or any fresh tomato will do!

Cheese – Mozzarella is the traditional cheese for Caprese cheese and we/ve used it in this recipe. You can also use swap it for provolone or cheddar.

Basil – Fresh basil adds a wonderful flavor to Italian baked chicken and really brings out all the flavors. If you don't have fresh, feel free to use dried basil.

Balsamic Glaze – I love the richness and acidity of the balsamic glaze in this recipe. If you don't have a bottle of balsamic glaze, you can use a balsamic reduction or microwave your balsamic vinegar for two minutes at a time until it thickens.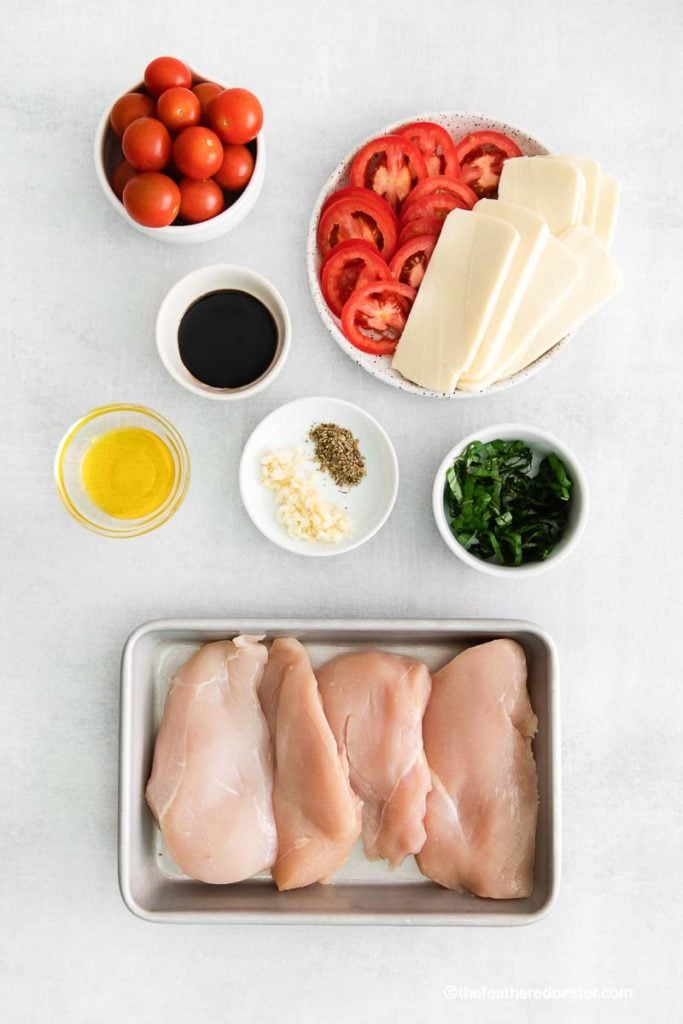 Seasonings – We used Italian seasoning because it gives the food a delicious flavor. It has a bit of an earthy taste with an herby flavor and goes well with tomatoes. But feel free to use any other spice blend like rosemary, thyme, oregano, or garlic powder.

Olive oil – works well for searing, but it's fine to use other oils like vegetable, canola, avocado, or ghee instead.
Equipment Used in this Recipe
TFN's Equipment recommendations
Tips for Making baked chicken Caprese
Get a good sear by leaving the chicken alone until it's ready to turn! Saute the breasts for 4 minutes on each side and turn. They should be golden brown.
Use an oven-safe pan, like this cast iron skillet so you can go from stovetop to oven. You'll also have one less pan to clean!

Don't overcook the chicken! It will turn tough and stringy. An instant-read thermometer is essential. Bake it for 8-10 minutes or the internal temperature of the breast is 165°F.
Optional: To crisp the tomato and mozzarella, broil it on high heat for a few minutes until it is to your desired doneness.
Boost the flavor by drizzling on a balsamic glaze and sprinkling julienned basil on top of it!
Cooking Tip: To make julienned basil, stack basil leaves like a deck of cards, then roll them up tight. Then slice very thinly until you have ribbons of basil. It's worth this extra step!
Storage: Leftovers can be stored in an airtight container in the fridge for up to three days.
Recipe Variations and Serving Suggestions
Caprese Stuffed Chicken: After sautéing in the skillet, butterfly and stuff the poultry with mozzarella and tomatoes and then bake it according to the recipe instructions.

Caprese kabob skewers: Sear breasts until they reach 165ºF, then cut them into bite-sized pieces. Add it to our tortellini Caprese skewers for an easy kabob meal.

Use pesto: Keep tomato, basil, and mozzarella, as the base for this recipe. Then, drizzle our pesto sauce on top instead of balsamic glaze.

Serve it over pasta: For an Italian chicken dish, serve it over capellini or angel hair pasta.
So, whether you want a simple weeknight meal or something to wow guests, we have you covered with this amazing dinner!
Love Easy Poultry Recipes? So do we!

We recommend our popular, no-breading baked chicken tenderloins. Or, oven fried Bisquick chicken tenders are another go-to dinner. For something a little heartier, this pot pie recipe is always a hit.
Frequently Asked Questions
How do you keep breasts from getting tough and chewy?
The answer is simple – don't overcook them. Breasts are very lean which means they are prone to becoming dry if you cook them for too long. Check the internal temperature of your meat frequently.
How do you cut Roma tomatoes for this recipe?
The easiest way to cut tomatoes is to use a serrated or sharp paring knife.
* First, cut off the top of the tomato where the stem was attached.
* Then, cut the tomato in half crosswise (not lengthwise).
* Finally, slice the tomato halves into slices.
Caprese Chicken Skillet
This Caprese chicken skillet dinner comes together in 25 minutes, for an Italian chicken dinner with pasta, tomatoes, and cheese!
Equipment
skillet

-

oven-safe skillet is recommended

instant-read thermometer
Ingredients
4 chicken breasts thinly cut
2 tablespoons olive oil
1 cup cherry tomatoes or more!
2 cloves garlic , minced
½ teaspoon dried Italian seasoning
8 slices (4 ounces) fresh mozzarella cheese
3 Roma tomatoes , sliced
¼ cup fresh basil leaves whole or julienned
2 tablespoons balsamic glaze
Instructions
Preheat the oven to 375°F.

Heat an oven-safe skillet over medium heat with the olive oil until the oil is shimmering.

Add the breasts to the pan and cook for 4 minutes, without moving them for a good sear. Then turn and sear the other side until they are golden brown.

Remove the pan from the heat, and add the cherry tomatoes, garlic, and Italian seasoning. Toss to combine.

Layer two pieces of mozzarella and two/three slices of Roma tomato on each piece of chicken (or as many as it takes to cover the chicken).

Transfer the oven-safe skillet to the oven and bake it for 8-10 minutes, or until the mozzarella is melted and the internal temperature of the meat registers 165°F.

Optional: crisp the tomato and mozzarella by broiling on high heat for 2-3 minutes or until your desired doneness.

Sprinkle over the basil leaves and drizzle on the balsamic glaze. Serve immediately.
Notes
Storage
Leftovers can be kept in an airtight container in the fridge for up to three days.
Nutrition
Serving: 1breast | Calories: 271kcal | Carbohydrates: 10g | Protein: 14g | Fat: 20g | Saturated Fat: 8g | Polyunsaturated Fat: 1g | Monounsaturated Fat: 9g | Cholesterol: 45mg | Sodium: 370mg | Potassium: 324mg | Fiber: 1g | Sugar: 5g | Vitamin A: 1066IU | Vitamin C: 28mg | Calcium: 309mg | Iron: 1mg
PIN THIS POST!