Dutch oven pot roast is a mouthwatering dinner that shouts comfort food. With our recipe and helpful tips, you can cook a juicy, fork-tender, fall-apart chuck roast in the oven. This is a Sunday dinner at its best!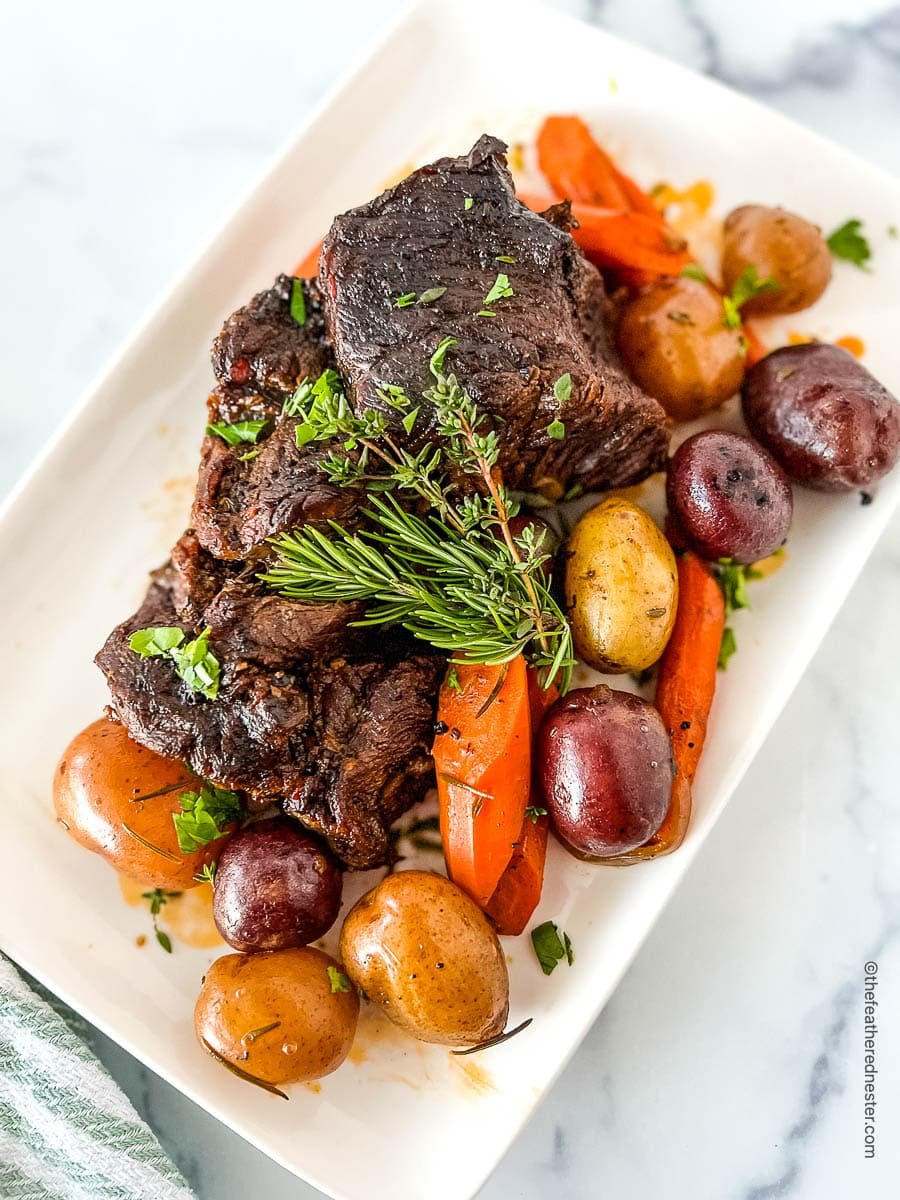 There's nothing quite like a classic pot roast to warm you up on a chilly day. This recipe is made easily in a Dutch oven, and the results are simply amazing.
This baked chuck roast recipe is super tender and falls apart with just a fork, and the gravy is rich and very delicious!
Reasons We Love Dutch Oven Pot Roast
It's incredibly easy to make. All we have to do is season the roast and brown it, add vegetables and liquid, cover, and cook! Simple as that.

The beef is flavorful and juicy. Cooked gently in a dutch oven pot and filled with savory juices and aromatics like garlic and onions.

We can customize the flavors to our liking. We can add our own favorite herbs and spices, and we can top it with a dollop of sour cream for added richness.

Leftovers are even better! This dutch oven chuck roast will taste even better the next day as all the flavors have had time to meld together.
Want More Beef for Dinner?
Make our simple Instant Pot Beef Stew, a slow cooked Crock Pot Cube Steak or Crock Pot Chuck Roast, or our holiday favorite Prime Rib Roast.
Ingredient Notes and Substitutions
Boneless Chuck Roast: Round roast and rump roast are acceptable substitutes, but with less predictable results. It's important to use a well-marbled cut of beef, and be prepared to chop the cooked meat if it doesn't shred easily.
Vegetables – Baby potatoes and carrots are the classic pairings for this oven pot roast recipe. We also used garlic and onion for added flavor. You can substitute other sturdy vegetables, such as baby carrots, celery, parsnips, or sweet potatoes.
Oil – We use olive oil for our Dutch oven pot roast as it adds a nice flavor, but any neutral-flavored oil will work.
Stock/Broth – Beef stock as a base liquid adds richness and depth to the Dutch oven roast. You can substitute chicken or vegetable stock if desired.
Seasonings – We use tomato paste and Montreal Steak seasoning to give our pot roast a savory flavor. You can swap it out for all-purpose seasoning, or any other steak seasoning blend.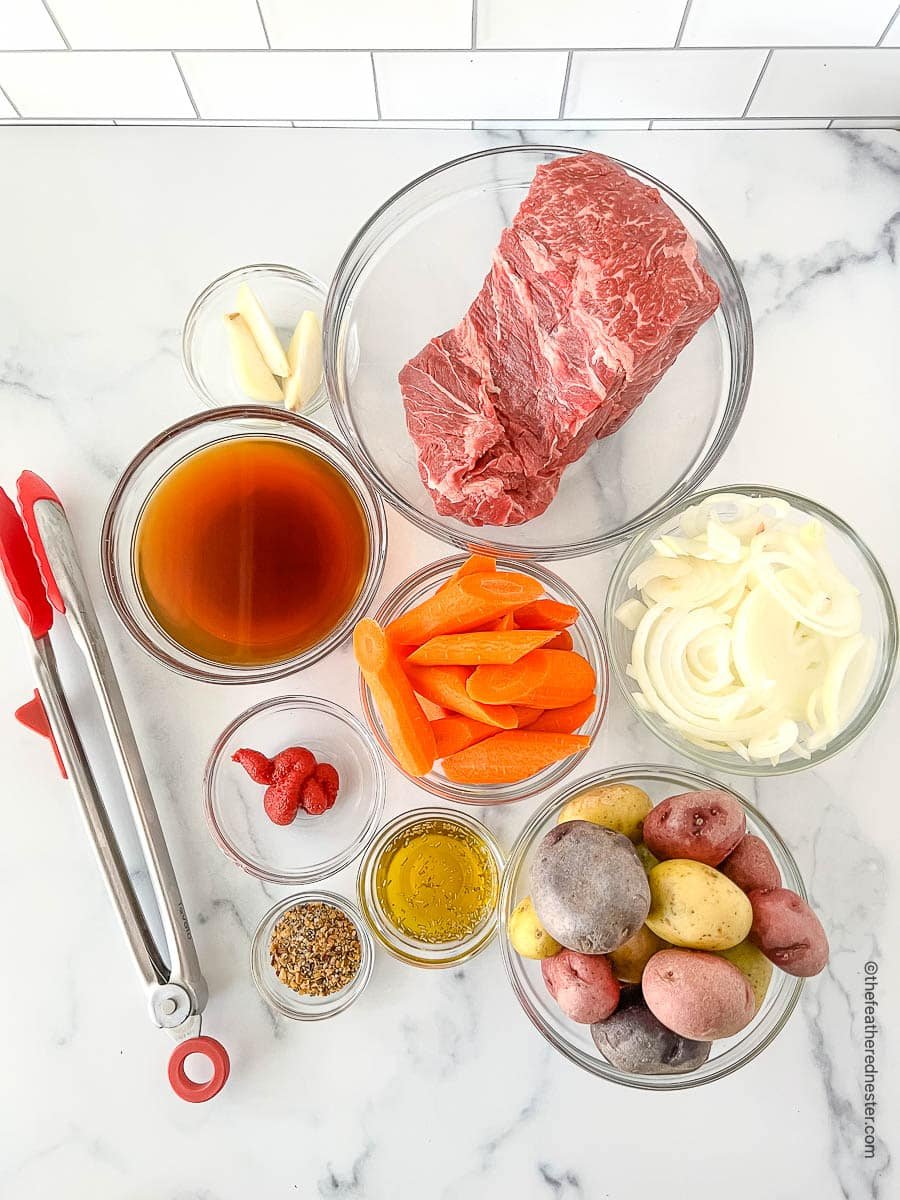 Dutch Oven Pot Roast Recipe FAQ
Should I sear chuck roast before cooking?
Searing meat for a pot roast is a must! It creates a golden crust on the beef, which adds flavor and texture. In addition, searing locks the juices inside of the meat.
Should a pot roast be cooked covered or uncovered?
The Dutch oven or pot should be covered with a tight-fitting lid, as this seals in moisture and creates an even cooking environment.
How much liquid should cover a pot roast?
Braising meat involves cooking with just enough liquid to come about half way up the sides of the roast. A 3-4 pound chuck pot roast recipe requires about 3 cups of cooking liquid.
Temperature and Time for Chuck Roast in the Oven
Oven temperature for chuck roast:
300ºF. is the perfect temperature for cooking chuck roast in the oven because this helps to ensure that the beef chuck roast cooks evenly and becomes tender.
Chuck roast cook times:
Cooking times will vary depending on the size of the chuck roast and whether you are cooking a boneless or bone-in roast.

For a Dutch oven pot roast in the oven, we recommend cooking it for at least 3½ hours, checking at 2 hours to see if there is enough cooking liquid.
🎯 TFN Pro Tip
If you want to make a bone-in pot roast instead of a boneless roast, the total cook time for the chuck roast may be slightly longer.
Pot Roast Recipe Tips
Sear the beef before roasting.
This adds flavor to the dish and results in juicy, tender meat that falls apart easily.
Patience is key!
The Dutch oven should be tightly sealed, this allows the beef to slow cook and become super tender.
For extra flavor and tenderness, consider marinating the chuck roast overnight before cooking.
Making Pan Gravy for Dutch Oven Pot Roast
Make a slurry by mixing 3 teaspoons of cornstarch with 3 teaspoons of cold water in a small bowl, stirring until it is smooth.
After removing roast and vegetables from the pot, place the Dutch oven on the stovetop over medium-high heat.
Serving Suggestions
Leftover pot roast is great for making sandwiches or tacos! Simply shred the cooked beef and enjoy them with your favorite toppings.
We also love to serve Dutch oven pot roast with sides like roasted green beans. That being said, there are already carrots and potatoes that cook with the chuck roast, so you may just want to serve this dish with some crusty sourdough garlic bread or French bread.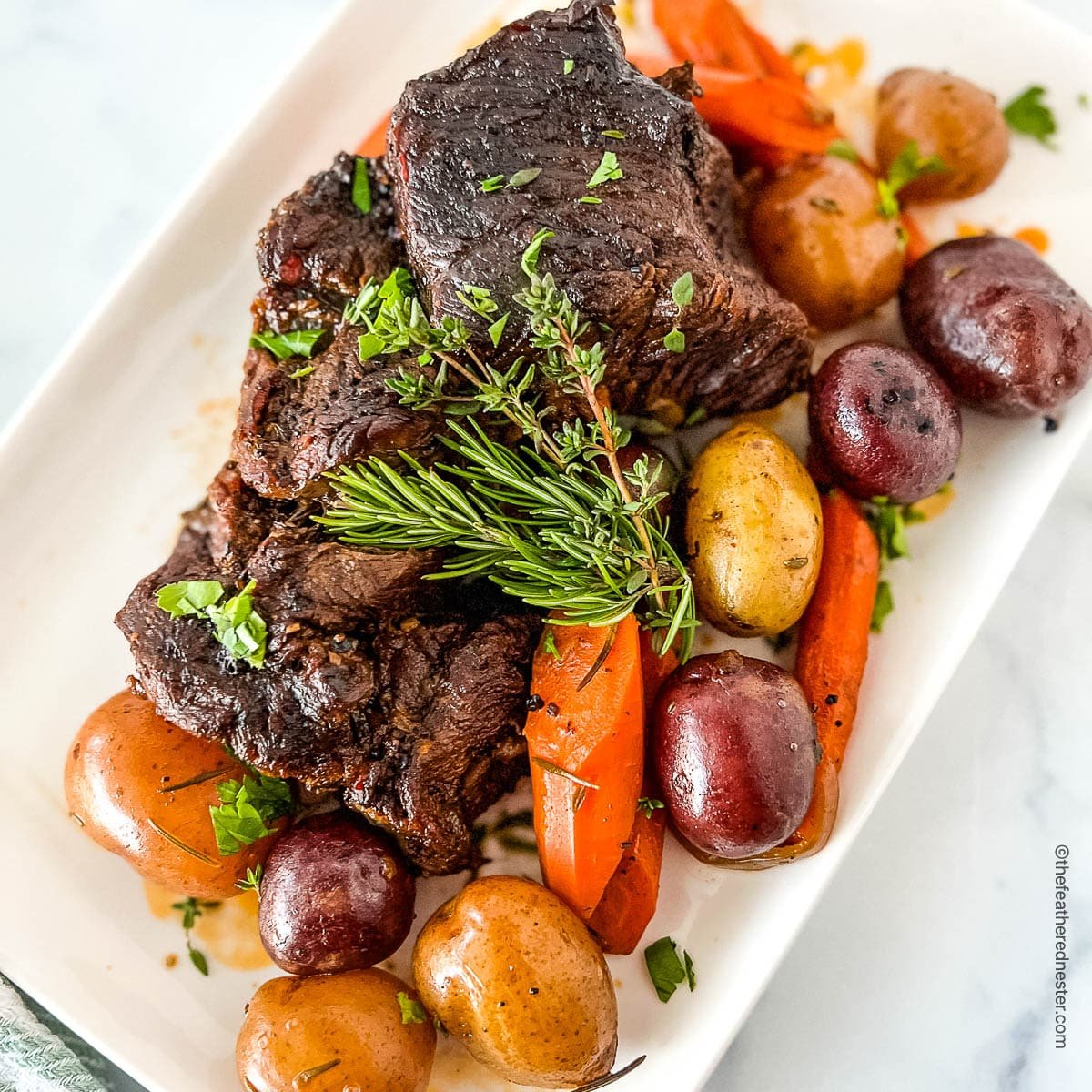 Storing and Freezing Instructions
Fridge: Leftover oven baked pot roast can be stored in the refrigerator for up to 4 days. Place it in an airtight container or wrap it tightly with plastic wrap.
Freezer: Place the pot roast in a freezer-safe container or bag and store it for up to 3 months. When you're ready to enjoy your meal again, thaw it overnight in the refrigerator before reheating.
Reheating: We like to reheat the meat and vegetables in a saucepan on the stovetop for 5-10 minutes, or until heated through. You can also warm it in a microwave for 3-4 minutes, or reheat on a sheet pan in the oven for 15-20 minutes at 325°F.
🎯 TFN Pro Tip
For best results, we suggest reheating it slowly over medium-low heat on the stovetop. This method helps to keep the baked pot roast juicy and tender.
Dutch Oven Pot Roast
Transform your chuck roast into a fork-tender Dutch oven pot roast with delicious gravy and vegetables. It's the ultimate comfort food meal!
Ingredients
3-4 pounds boneless beef chuck roast (see notes for alternate cuts of beef)
1 tablespoon Montreal steak seasoning (or use any all purpose seasoning)
2 tablespoons olive oil or avocado oil
1 onion peeled and sliced
3 cloves garlic peeled
2 tablespoons tomato paste
3 cups beef broth or stock
1 pound baby potatoes scrubbed, whole
4 carrots peeled and cut in 2" chunks
optional
3 sprigs fresh thyme
2 sprigs fresh rosemary
Instructions
Preheat oven to 300ºF. Liberally season the chuck roast on both sides and set aside.

Add oil to Dutch oven and heat over medium-high heat until oil is shimmering but not smoking. Add chuck roast to the oil. Cook to sear the meat, leaving it undisturbed until crispy golden brown (about 5 minutes). Then use tongs to flip the roast over and repeat by searing the other side.

Once both sides of the roast are browned, reduce the heat to medium and slide the roast to one side of the Dutch oven. Add onions and garlic to the other side of the pot, sautéing for 2 minutes, then stir in the tomato paste and sauté for an additional 2 minutes.

Add the beef broth to the pot and stir to deglaze the bottom of the pot. Place the beef roast over the onions and garlic. Nestle the potatoes and carrots on the sides of the roast. Place fresh herbs on top of beef roast, if using. Place the lid on the Dutch oven pot and transfer it to the preheated oven.

Bake chuck roast in oven at 300ºF for at least 3½ hours, checking the fluid level at 2 hours. Add more water if needed. The Dutch oven pot roast is done when the meat is tender and separates easily with a fork. Remove the roast and vegetables to a serving platter. Allow the meat to rest for 10 minutes before serving. To make gravy, see recipe notes.
Notes
Substitutes for Chuck Roast: Round roast and rump roast can be used with less predictable results. Use well-marbled roasts and be prepared to chop the cooked meat if it doesn't shred easily
To Make Gravy:
Make a slurry by mixing 3 teaspoons of cornstarch with 3 teaspoons of cold water in a small bowl, stirring until it is smooth.
After removing roast and vegetables from the pot, place the Dutch oven on the stove top over medium-high heat.
Add the cornstarch slurry to the leftover beef broth. Stir with a gravy whisk until smooth and thickened.
Storing Dutch oven chuck roast and vegetables:
Store leftover beef and vegetables in a sealed container in the fridge for up to 4 days.
To freeze, transfer to an airtight zip top bag or other freezer-safe containers, and freeze for up to 3 months.
Nutrition
Serving: 1serving | Calories: 549kcal | Carbohydrates: 21g | Protein: 47g | Fat: 31g | Saturated Fat: 12g | Polyunsaturated Fat: 3g | Monounsaturated Fat: 17g | Trans Fat: 2g | Cholesterol: 156mg | Sodium: 706mg | Potassium: 1361mg | Fiber: 4g | Sugar: 4g | Vitamin A: 6949IU | Vitamin C: 21mg | Calcium: 86mg | Iron: 6mg
PIN THIS POST!