Our Brown Basmati Rice Instant Pot recipe creates a healthy side dish with little effort on your part. Making rice doesn't have to be difficult or take a long time! Your pressure cooker will help you create fluffy rice in just a fraction of the time!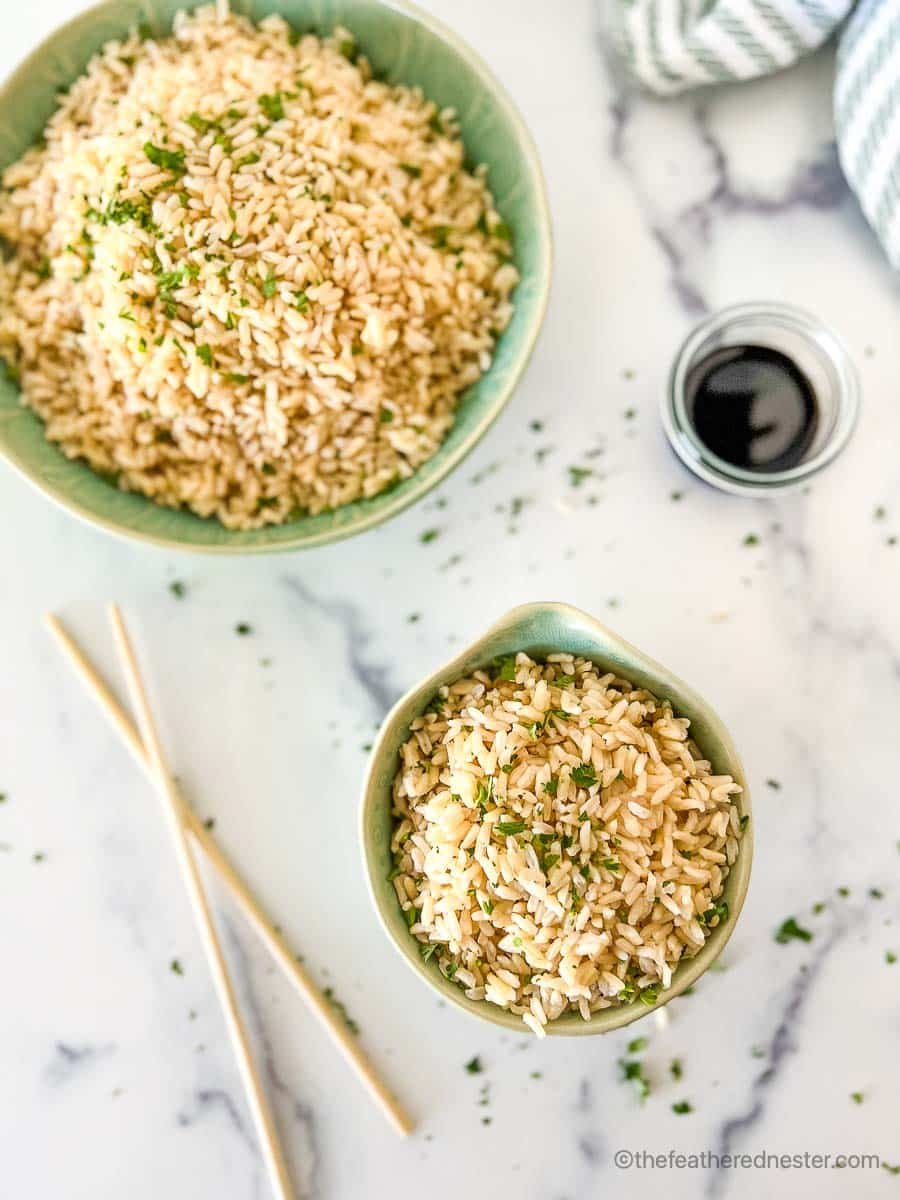 Brown Basmati Rice Instant Pot Recipe
Brown rice is a staple in our house, because it has great flavor, is healthy, and is really versatile. We cook a big batch to use in or serve with meals throughout the week.
Our favorite way to make it is in the Instant Pot, because pressure cooking brown rice is so much faster than making it on a stovetop!
Once you realize how much time you can save, you'll wonder why you ever cooked brown rice any other way!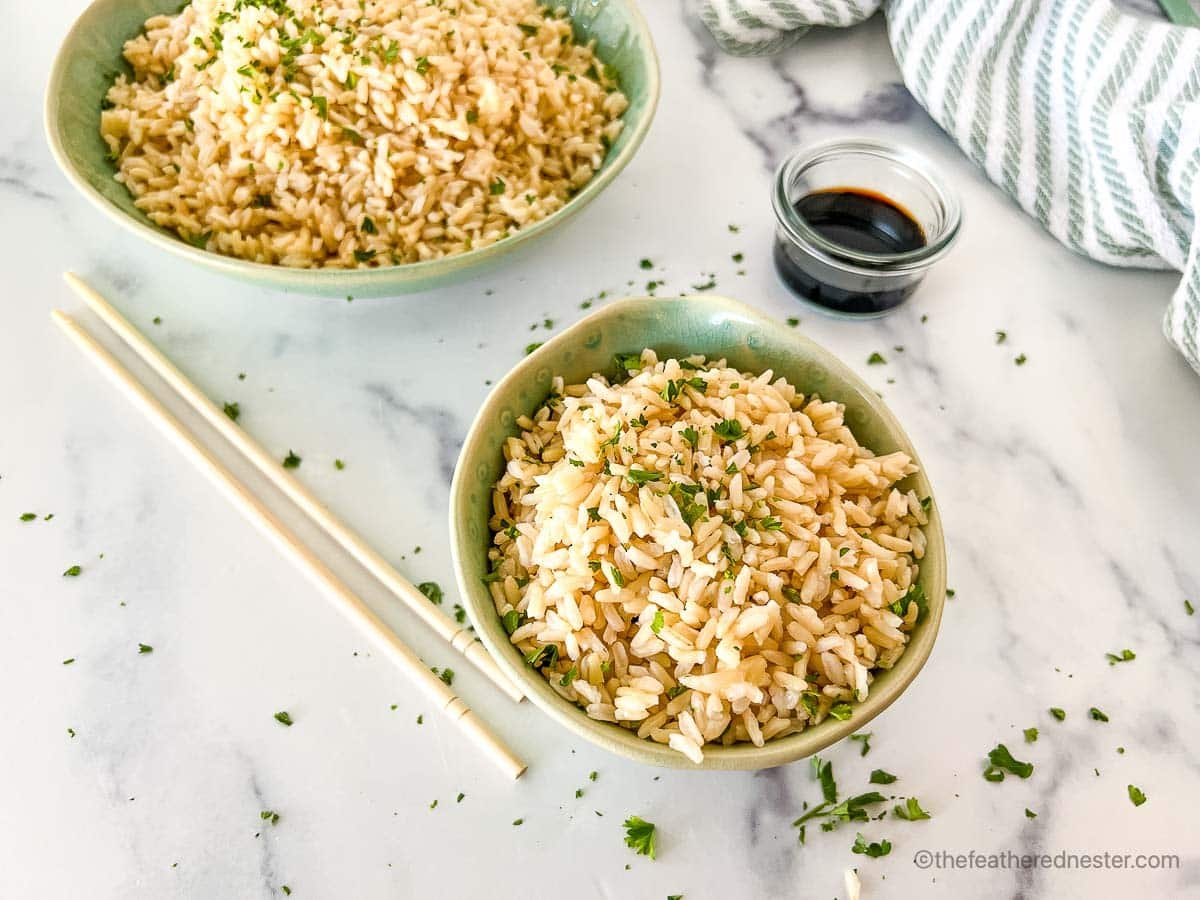 Basmati vs. Jasmine Brown Rice
The two main types of brown rice are basmati and jasmine. So which one should you choose? It really depends on what you're in the mood for.
If you want a fragrant, tender side dish, go make brown jasmine rice in your Instant Pot.
For a nuttier flavor profile, go with brown basmati rice.
Both types use the same water to rice ratio, and the cooking time is the same, too.
We like to keep both kinds on hand for more variety. For Asian and Hawaiian dishes like Teriyaki chicken pineapple bowls, fragrant Jasmine brown rice is the perfect choice. But, for every day use, basmati brown rice is a great all-around choice.
Ingredient Notes and Substitutions
Brown rice – For this recipe, we'll be making basmati brown rice in the Instant Pot. If you prefer another variety, brown Jasmine or any other long grain brown rice is fine.

Butter – you can also use olive oil or vegan butter.

Broth – I prefer low sodium chicken broth as this gives this dish a nice flavor. But you can also use salt and water or vegetable broth for a vegetarian version.
Kitchen Tools needed
Tips For Cooking Brown Rice In Instant Pot
Be sure to rinse the rice.
This is the most important step. Rinsing the rice well and draining using a mesh colander can help you get rid of excess starch, debris, and any unwanted materials.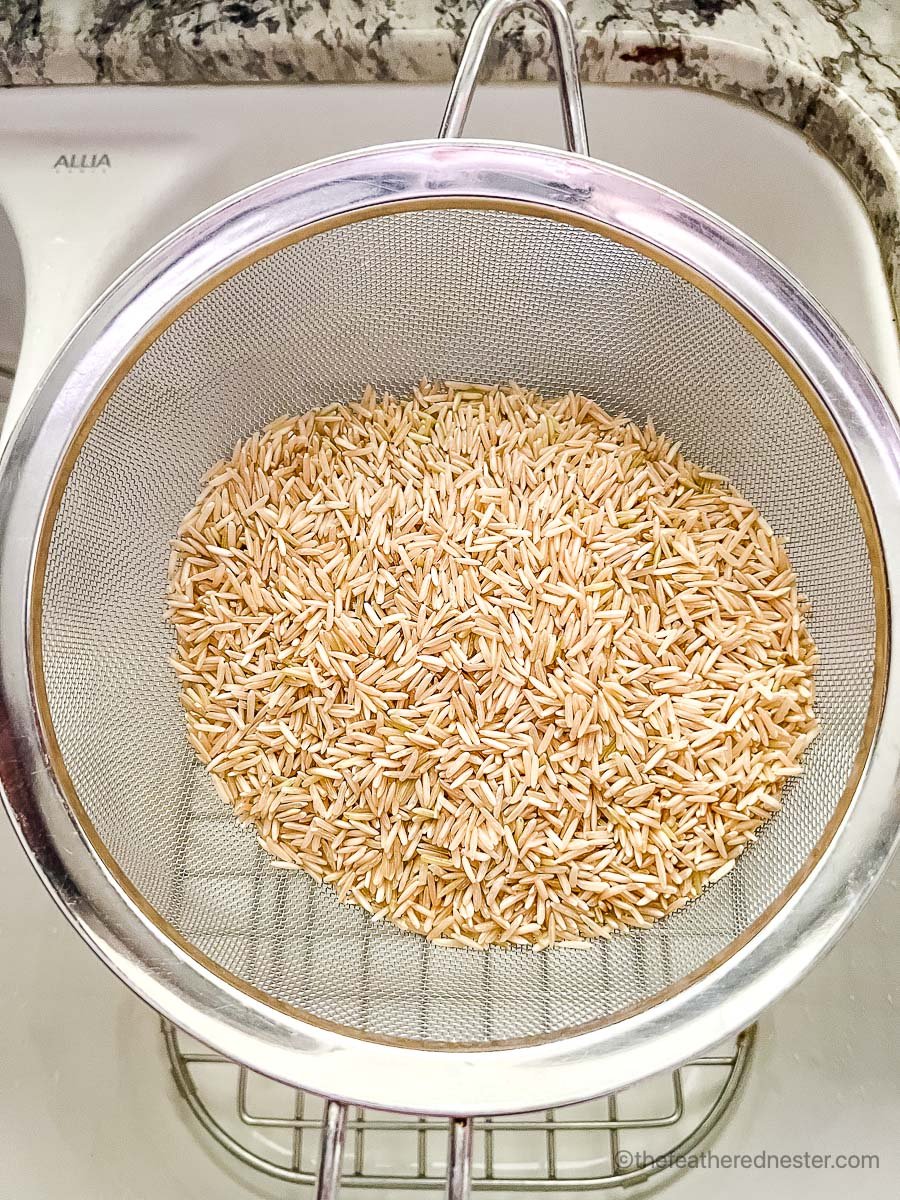 Sauté the rice.
Sautéing in butter or oil adds a nice flavor to this side dish and it helps the rice to cook quickly.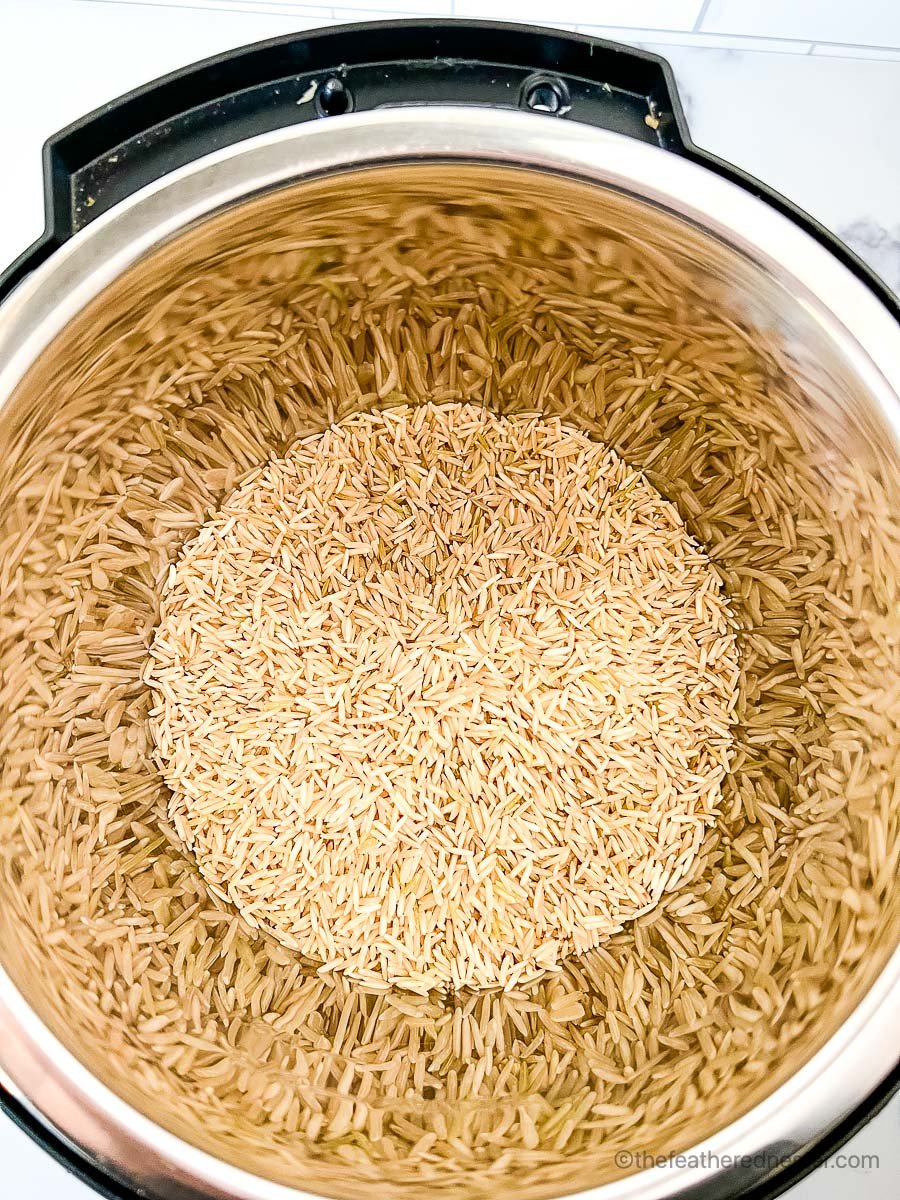 Rice to water ratio.
The broth-to-water ratio is always the same 1:1 regardless of how much you're pressure cooking. So, if you're making this dish with 2 cups of rice, you'll use 2 cups of water or broth.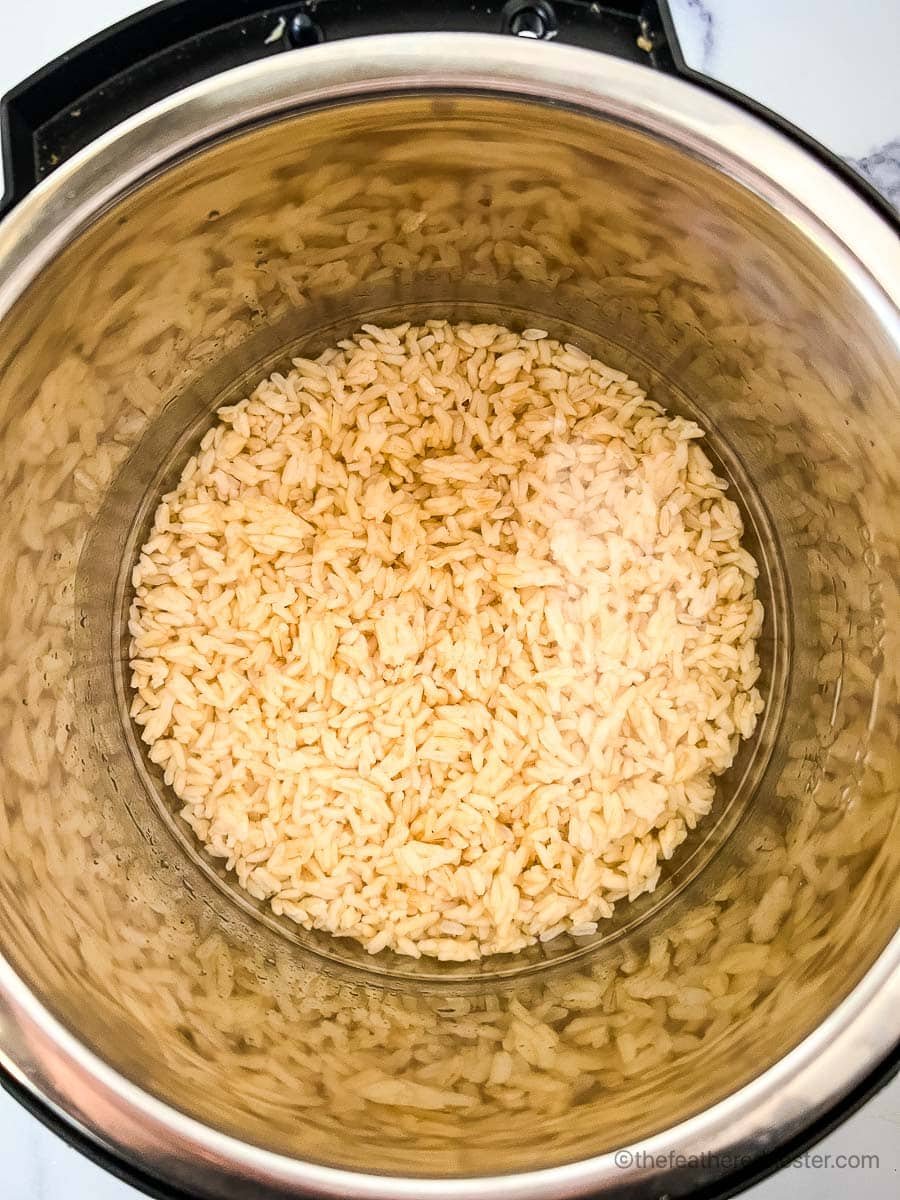 Fluff the rice before serving.
It helps the grains separate, removes any clumpings, and helps evaporate moisture. This will give you perfect fluffy rice every time.
Recipe Variations
There are many ways that you can change up this pressure cooker brown rice recipe to suit your taste or what you have on hand. Here are a few ideas:
Add garlic, ginger, or other spices while sauteing for added flavor.
Stir in cooked veggies, like peas, corn, or chopped broccoli.
Mix in cooked chicken, shrimp, or other protein like tofu.
Top with green onions, cilantro, or other fresh herbs.
Add in coconut milk to make Instant Pot Coconut Rice.
How to Serve
There are so many ways to serve this side dish! Here are a few: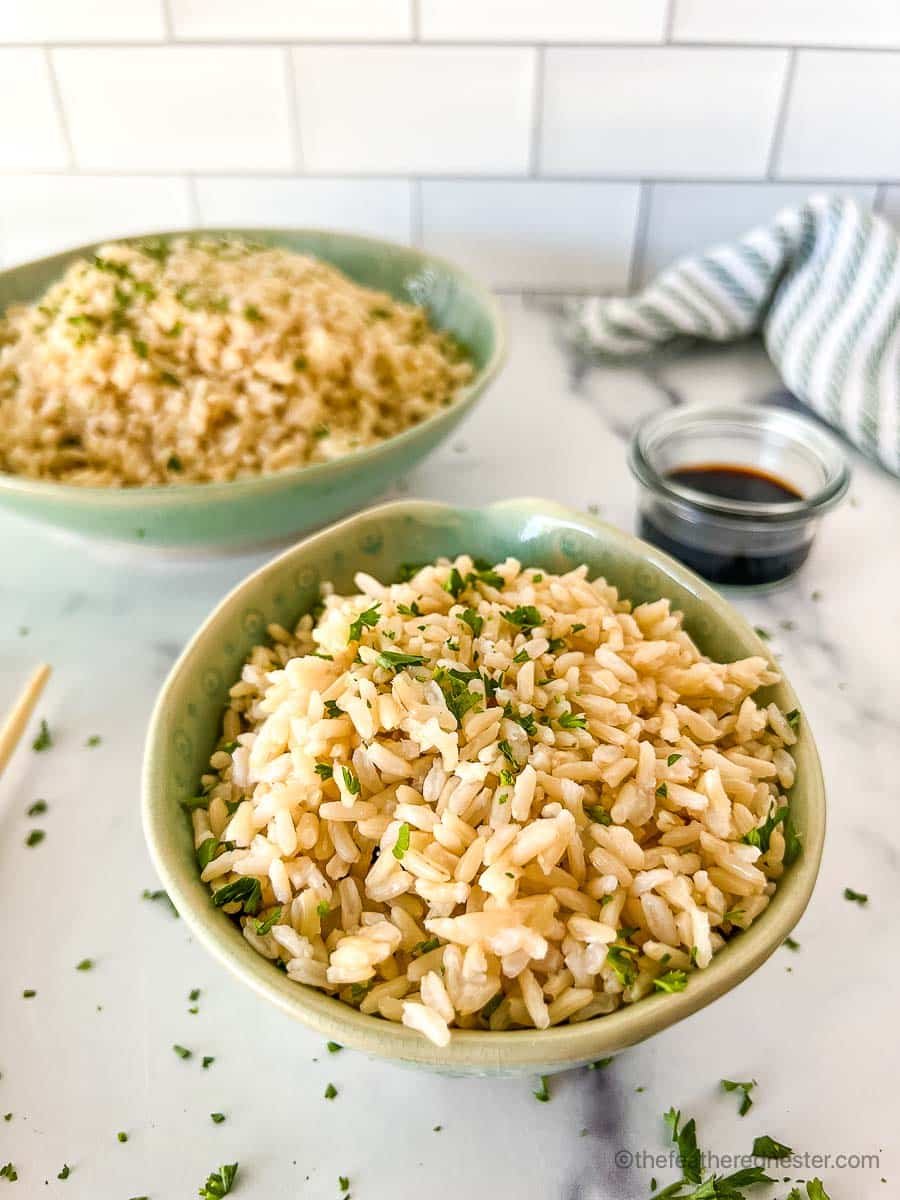 How to Store
Leftovers can be stored in an airtight container in the fridge for up to four days. When you're ready to serve it, you can reheat it in the microwave or stove.
If using the microwave, cover it with a damp paper towel to keep it from drying out. If it's a little dry, add a splash of water or chicken broth before reheating.
This side dish recipe is a great make-ahead meal prep option! Just cook a big batch on the weekend and portion it out into individual containers. Then you'll have healthy brown rice ready for quick, easy weeknight meals.
Can I freeze This?
Yes, it can be frozen! Place the leftovers in a freezer-safe container and store them in the freezer for up to three months.
When you're ready to eat, thaw overnight in the fridge, then reheat on the stove or microwave. If using the microwave, cover it with a damp paper towel to keep it from drying out. You may want to add a little water or chicken broth as it reheats.
INSTANT POT Brown Basmati Rice FAQ
Can you overcook brown rice in Instant Pot?
You can overcook brown rice, but it is not as easy to do as it is with white rice. For perfectly fluffy grains, cook no longer than 15 minutes at high pressure.

If you find that the grains are still a little crunchy after cooking for 15 minutes, set the lid back on the pressure cooker and keep it at the warm setting for 5 minutes.
How do you make brown rice less mushy?
If you find your rice too mushy, it is likely because you overcooked it or used too much cooking liquid.

To avoid this, be sure to use 1 cup of water or broth for every 1 cup of basmati or brown jasmine rice.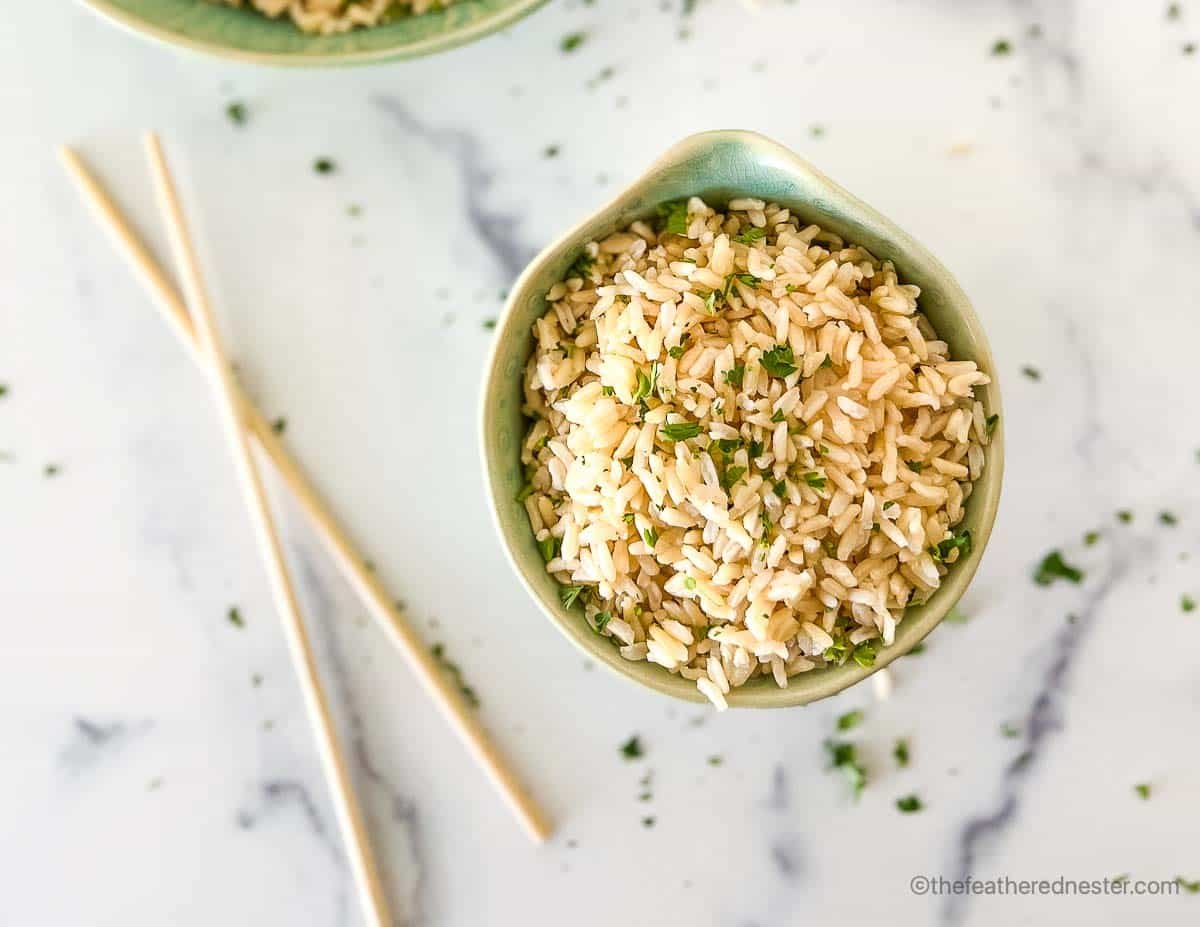 Brown Basmati Rice Instant Pot
Once you see how easy it is to make fluffy brown basmati rice in the instant pot, you'll add more of this healthy grain to your meal rotation!
Equipment
mesh colander or strainer
Ingredients
2 cups brown basmati rice, or jasmine
2 tablespoons butter (can substitute olive oil)
2 cups low sodium chicken broth
Instructions
Using a mesh colander, rinse and drain rice well, and set aside.

Set pressure cooker to sauté and add butter or oil to the pot. Once the pot is ready, add brown rice and sauté the rice for 3 minutes. Press cancel to end sauté.

Add broth to rice and stir to mix and deglaze the pot. Close and seal the lid, and turn or press the vent lever to seal (if needed). Set pot manually to high pressure for 15 minutes.

Once the pressure cooking cycle is complete, do a natural pressure release (leave the pot undisturbed) for 5 minutes, then initiate a quick release by carefully turning or pressing the pressure release button (refer to your pot's instructions). Fluff the brown rice by stirring before serving.
Notes
Store leftover brown rice in the fridge for up to four days in an airtight container. Reheat the leftovers in the microwave or stovetop (add 2 tablespoons water) before serving. If using the microwave, I recommend covering the dish with a damp pape towel. If you want to meal prep or make this Instant Pot bowl rice recipe ahead, cook a big batch and portion it out into individual containers. Use the same ratios of 1 cup of water or broth to 1 cup of rice. The cooking times remain the same.
Nutrition
Serving: 1serving | Calories: 275kcal | Carbohydrates: 49g | Protein: 6g | Fat: 6g | Saturated Fat: 3g | Polyunsaturated Fat: 1g | Monounsaturated Fat: 2g | Trans Fat: 0.2g | Cholesterol: 10mg | Sodium: 56mg | Potassium: 239mg | Fiber: 2g | Sugar: 0.1g | Vitamin A: 117IU | Calcium: 25mg | Iron: 1mg
PIN THIS POST!
This post, originally published in September 2022, was updated with new content in February 2023.