Enjoy kitchen time with your kids with this Bridgford's Quick and Easy Frozen Monkey Bread!
This post was brought to you by Bridgford Foods.
While the kids are at home, make some easy, tasty treats together. After all, it's always the perfect time to make memories in the kitchen.
A successful project should be quick, easy, and delicious. And, of course, anything that they can eat with their fingers is always a plus!
How about some quick and easy frozen Bridgford Monkey Bread? You can't beat the delicious frozen bread dough caramel rolls covered in a rich, thick caramel sauce. That sounds like the makings of an ideal snack or dessert for kids!
So, have you had Cinnamon Monkey Bread before? It's a cake of bite-sized balls, sweetened with sugar and cinnamon and a tad gooey. In other words, it's the kind of stuff that kids love.
Easy Baking Activities with Kids
The kitchen is the heart of the home. It's where families come together to cook, eat, and share stories. And when the kids are home from school for winter break, there's no better place to be than in the kitchen!
This is your chance to show them how much fun cooking can be. We've got a quick and easy monkey bread recipe made from frozen bread dough that will create memories (and snacks) that they'll never forget.
Most of you know that my grandkids and I love to make stuff in the kitchen together. Over time, I've learned a thing or two when it comes to baking with young children:
Ensure the recipe is either quick and easy or broken up into small tasks. This keeps their short attention spans engaged.
Make a tasty treat. Kids are more likely to participate if it's something they want to eat.
And that's why Monkey Bread is perfect for making with kids. Those frozen bread dough caramel rolls covered in caramel sauce are a quick, easy, and tasty treat!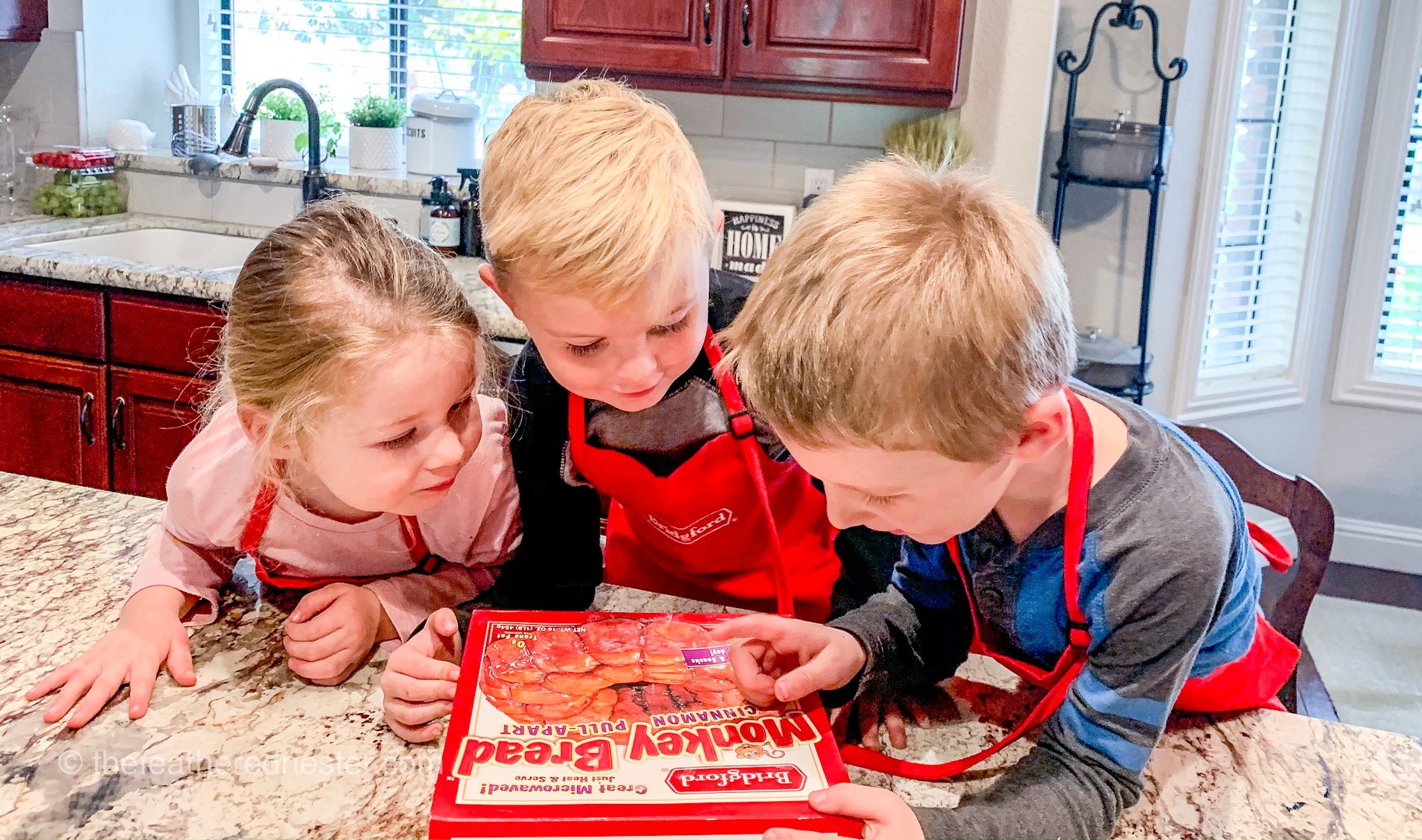 Have you tried Monkey Bread with frozen dough?
Traditionally, Monkey Bread is an hours-long project. But, you can make delicious Monkey Bread in just 5 minutes, with Bridgford Food's Monkey Bread.
Making a Monkey Bread recipe with frozen bread dough is a fun activity for the kids.
How to Make Bridgford Frozen Monkey Bread
It's about as easy as it gets:
Open the package. It comes with an enclosed cooking pan.
Microwave for 2 to 2 1/2 minutes.
When it's done, take it out of the microwave. Turn it over on a plate, and it's ready to serve.
It can't get any easier, am I right?
And, if you don't have a microwave oven, you can bake it at 350º for 20-25 minutes.
Bridgford Foods is a brand you can trust. Their frozen products are produced in the USA and made with quality ingredients like pure cane sugar. Plus, they have zero grams of trans fats.
Frozen Monkey Bread Recipe Add-ins
If you want to get a little bit creative, there are a few things you can do to change up this Monkey Bread recipe from frozen bread dough:
Add in some chocolate chips or raisins
Try using Bridgford Cinnamon Rolls for a different flavor
Make a Monkey Bread Bundt Cake by baking it in a bundt pan
Add some frosting or a glaze on top like in this recipe
Storage and Reheating
Frozen Cinnamon Monkey Bread will last for 2-3 months in the freezer. And, if you have leftovers, you can store them in the fridge for up to 1 week.
If you want to reheat Bridgford Frozen Monkey Bread, just pop it in the microwave and follow the package directions.
Where to Buy Frozen Monkey Bread
Bridgford Frozen Monkey Bread is widely available throughout the USA. You'll find it in the freezer section, usually near-frozen rolls, bread, and Texas Toast.
Just check your local Walmart, or grocery store, or use this link to find local retailers.
So, make some fun memories in the kitchen soon with Bridgford Foods Monkey Bread.
It's quick and easy to make, and it's a tasty treat. Plus, it's great any time of day! Have it for breakfast, a snack, or dessert.
This post was sponsored by Bridgford Foods. All views are my own and based on my own personal experience using Bridgford's products.
Get your Bridgford discount coupon here.
FREQUENTLY ASKED QUESTIONS
How do you know when monkey bread is done?
You'll know your monkey bread is done when it's puffy and crisp on the top, and when a skewer inserted in the thickest part comes out clean.
How do you store monkey bread after baking?
Leftovers can be stored, covered tightly, in the fridge for up to 1 week. Baked monkey bread also freezes well for up to 3 months. Thaw overnight in the fridge.
Can you refrigerate monkey bread overnight?
Homemade Monkey Bread dough is rolled in melted butter first, then cinnamon sugar and arranged in a bundt pan. We then top the bread with a brown sugar-butter sauce and leave this bread to rise overnight in the fridge.
Have a wonderful holiday season, and make something special!
Get More Frozen Dough Recipes