This week, I thought I'd do a four recipe roundup rather than a weekly dinner plan. This roundup is designed to give dinner ideas, and to let you adapt your meals based on what you ingredients you have on hand.
As I've mentioned before, we're on a quest to eat healthier. So, you'll see an increase in vegetables and more lean meats in my recipe shares. But, what you won't see if a lack of flavor and taste.
If you're looking for heartier meals, check out my One Pot Meatball Marinara recipe here or Pork Carnitas/Pulled Pork recipe here.
Roundup Meals
Turkey Burgers (with Homemade Hamburger Buns) and Roasted Sweet Potatoes
Who says that all turkey burgers are dry and bland? Not in this recipe. Once you try it, you'll be a new fan. When you roundup your household for this meal, they'll be new fans, too.
Chicken Pot Pie
I have been enjoying some comfort meals during this rainy California weather we've been having. So, I'm adding this comforting recipe here in the roundup. Although making chicken pot pie sounds time-consuming, you can shorten the prep-time by using rotisserie or pre-cooked chicken and frozen or prepared pie crust.
Chicken with Roasted Vegetables

This is the perfect meal for a quick weeknight dinner.. Did you know that most grocery stores sell already chopped, fresh vegetables that are ready to roast? Perfect for when you're pressed for time.
Pasta with Marinara Sauce and Caesar Salad
Last recipe share of this roundup is this quick and easy Marinara sauce. It will be your new meatless Monday dinner! For the best sauce, use San Marzano tomatoes (available in most grocery stores), fresh basil, and freshly ground parmesan cheese on top. Serve with a crisp salad and crusty French bread and you have a winning meal.
Recipe Roundup
Turkey Burgers on the Grill
Turkey burgers on the grill are so delicious, you'll never know they're made with ground turkey! Our recipe and pro tips will help you make this fabulous meal.
Equipment
bowl for mixing

gas. charcoal, or electric grill
Ingredients
1 large egg lightly beaten
⅔ cup dry bread crumbs (see notes for substitutions)
½ cup onion chopped
1 tablespoon fresh parsley minced
1 packet (about 2 tablespoons) dry ranch seasoning (see notes for substitutions)
1 pound ground turkey (80% – 85% lean)
Instructions
In a small bowl combine the egg, bread crumbs, onion, parsley, and seasoning. Crumble turkey over mixture and mix well.

The mixture may be sticky, so wet your hands to shape the patties. This recipe makes 4 patties.

Place the patties in the fridge for at least 15 minutes before cooking. This allows the ground meat to firm up and helps to keep them from falling apart during cooking.
Turkey Burgers on the Grill
Clean and grease the grill grates very well before preheating. Preheat the grill to 350ºF or medium heat.

Grill for 5 minutes without moving, before turning and grilling the other side. Check the temperature after 10 minutes. Poultry is fully cooked when the internal temperature reads 165°.
Notes
Substitutions: Use 2/3 cup of freshly dried bread crumbs or 2 slices of fresh bread cut into 1/2″ cubes. For gluten-free, use gluten-free bread. Dry ranch dressing seasoning substitute: 2 tablespoons buttermilk powder (optional), 1 tablespoon garlic powder, 1 teaspoon dried parsley, 1 teaspoon dried chives, 2 teaspoon onion powder, 1 teaspoon dried dill. Mix together and store in an air tight container.
Nutrition
Serving: 1burger | Calories: 234kcal | Carbohydrates: 17g | Protein: 31g | Fat: 4g | Saturated Fat: 1g | Cholesterol: 103mg | Sodium: 731mg | Potassium: 385mg | Fiber: 1g | Sugar: 1g | Vitamin A: 172IU | Vitamin C: 1mg | Calcium: 43mg | Iron: 2mg
Quick and Easy Hamburger Buns
For the best flavor and freshness, make these easy hamburger buns! They taste amazing and only take 30 minutes to make.
Ingredients
2 tablespoons active dry yeast
1 cup warm water 95° to 105°F
⅓ cup vegetable oil
¼ cup sugar
1 large egg beaten
1 teaspoon salt
3 to 3-1/2 cups all-purpose flour bread flour, or a mix of both
Instructions
In a large bowl, dissolve yeast in warm water. Add oil and sugar; let stand for 5 minutes. Add beaten egg, salt, and 3 cups of flour and make a soft dough. If the dough is too runny, add the rest of the flour, 1/4 cup at a time.

Turn dough onto a floured surface; knead (by hand or using a dough hook in a stand mixer) until smooth and elastic, about 3-5 minutes. Immediately divide into 8 pieces and shape each into a ball. Place 3 in. apart on baking sheet (non-stick, greased, or cover with parchment paper).

Preheat oven to 425ºF. Cover and let rest for 20 minutes*. Bake for 8-12 minutes or until golden brown. Remove from pans to wire racks to cool. Cut in half to serve.
Notes
*You can let the hamburger bun dough rise 10 minutes, but I have found that 20 minutes is optimal for the lightest buns.
Keep homemade burger buns at room temperature in an airtight bag for up to 4-5 days. To freeze, seal in a bag and keep in the freezer for up to 3 months.
This recipe was inspired by Taste of Home
Nutrition
Serving: 1bun | Calories: 289kcal | Carbohydrates: 42g | Protein: 8g | Fat: 11g | Saturated Fat: 8g | Cholesterol: 20mg | Sodium: 303mg | Potassium: 83mg | Fiber: 2g | Sugar: 6g | Vitamin A: 30IU | Calcium: 10mg | Iron: 1mg
Roasted Sweet Potatoes
Ingredients
2-3 Sweet Potatoes (depending on size)
1 tablespoon olive oil
1 teaspoon nutmeg
1 tablespoon brown sugar
1 teaspoon salt
Instructions
Preheat oven to 400 degrees. Slice sweet potatoes, then cut into 1″ dice. Spray baking sheet with oil spray or line with parchment paper.

Lay sweet potatoes on baking sheet in a single layer. Drizzle with olive oil, then sprinkle with nutmeg, brown sugar, and salt. Bake for 20-25 minutes, until golden.
Chicken Pot Pie
When you want the ultimate comfort food meal, make a chicken pot pie! The flaky crust and rich filling make this recipe a winner!
Equipment
2-quart casserole dish

2-quart saucepan
Ingredients
12 ounces boneless skinless chicken breasts (2 large breasts)
½ teaspoon salt
3 tablespoons butter divided
1 cup chicken stock or broth
1 cup heavy cream
1 teaspoon olive oil
32 ounces diced vegetables any blend of carrots, potatoes, peas, celery, green beans
1 medium onion diced, or 1 cup frozen chopped onions
2 cloves garlic minced
¼ cup all-purpose flour
1 tablespoon fresh thyme or 1 teaspoon dried thyme leaves
4 sage leaves finely chopped, or 1 teaspoon dried sage
1 teaspoon freshly ground pepper
1 9-inch pie crust homemade, frozen, or refrigerated
Instructions
To poach the chicken breasts, lay them in a single layer in a large skillet. Add enough water to cover them completely. Season the water with a large pinch of salt and fresh herbs. Bring the water to a boil over high heat, then reduce heat to low and simmer for 30 minutes. After simmering, remove the breasts from the water and transfer them to a carving board or plate. Using two forks, shred the meat.

Preheat oven to 400°F. In a 2-quart saucepan over medium heat, melt 1 Tbsp of butter. Stir in the cream and stock or broth. Do not boil, just keep mixture at a very low simmer.

Meanwhile, add oil to a 12-inch skillet over medium heat. When oil begins to shimmer, add vegetables and saute them for about 5 minutes, until softened. Add the garlic and stir until it's fragrant, about 30 seconds. Shake the flour over the vegetables, and stir to combine. Turn heat to low and add the cream and shredded chicken. Season with salt and pepper.

Pour the mixture into a casserole dish at least 9" square and 3" deep. Place the pie crust on top, and add slits to allow the steam to escape while cooking. Crimp the edges of the crust. Melt the last 2 tablespoons of butter and use a pastry or silicone brush to apply the butter over the top of the crust. Bake casserole in preheated oven for 35-40 minutes, until crust is golden brown and the filling is bubbling.
Notes
Recipe tips: I use frozen mixed vegetables (for soup) in this recipe. If you don't have heavy cream on hand, use 3/4 cup of milk and increase the flour to 1/2 cup. You can also use 3-4 cups of pre-cooked chicken instead of poaching your own.
Nutrition
Serving: 1serving | Calories: 573kcal | Carbohydrates: 47g | Protein: 22g | Fat: 34g | Saturated Fat: 17g | Polyunsaturated Fat: 3g | Monounsaturated Fat: 12g | Trans Fat: 0.2g | Cholesterol: 97mg | Sodium: 578mg | Potassium: 694mg | Fiber: 7g | Sugar: 3g | Vitamin A: 8512IU | Vitamin C: 20mg | Calcium: 91mg | Iron: 3mg
Pan-Seared Chicken Breasts
Ingredients
4 6-ounce skinless, boneless chicken breast halves
½ teaspoon freshly ground black pepper divided
⅜ teaspoon kosher salt divided
4 teaspoons olive oil divided
2 tablespoons grated onion
2 cloves garlic minced
1 ½ teaspoons all-purpose flour
1 cup unsalted chicken stock
2 tablespoons butter
¼ teaspoon sugar
1 tablespoon chopped fresh flat-leaf parsley
Instructions
Let chicken stand at room temperature for 20 minutes. Sprinkle chicken with 1/4 teaspoon pepper and 1/4 teaspoon salt.

Heat a large stainless-steel skillet over medium-high heat. Add 1 tablespoon oil; swirl to coat. Place chicken in pan, rounded side down, and cook for 5 minutes. Turn chicken over; reduce heat to medium, and cook 5 minutes more, or until done. Remove chicken from pan; let stand 5 minutes on a plate or platter covered with foil.

Add remaining oil, onion, and garlic to pan; sauté 1 minute. Next, add flour and sauté 30 seconds. Stir in stock; bring to a boil, scraping pan to loosen browned bits. Reduce heat to medium-low; simmer 3 minutes or until reduced to 1/2 cup, stirring occasionally. Remove pan from heat; stir in remaining pepper, salt, butter, and sugar. Sprinkle with parsley before serving.
Roasted Vegetables
Almost any type of vegetable works for roasting. I generally use potatoes, sweet potatoes, bell pepper, onion, green beans, corn on the cob, etc. The smaller you cut the vegetables, the quicker they'll roast.
Ingredients
3-4 cups vegetables, cut into 1 – 2″ chunks
seasoning mix, I like Montreal Steak Seasoning or Mrs. Dash
Instructions
Preheat oven to 425 degrees. Spray a baking sheet with cooking oil or line with parchment paper. Add the vegetables in a single layer. Drizzle with olive oil and shake seasoning evenly over the vegetables.

Bake for 20-30 minutes, depending on size of vegetables. The smaller they are, the quicker they'll roast. The vegetables are done when they are golden on top and evenly browned.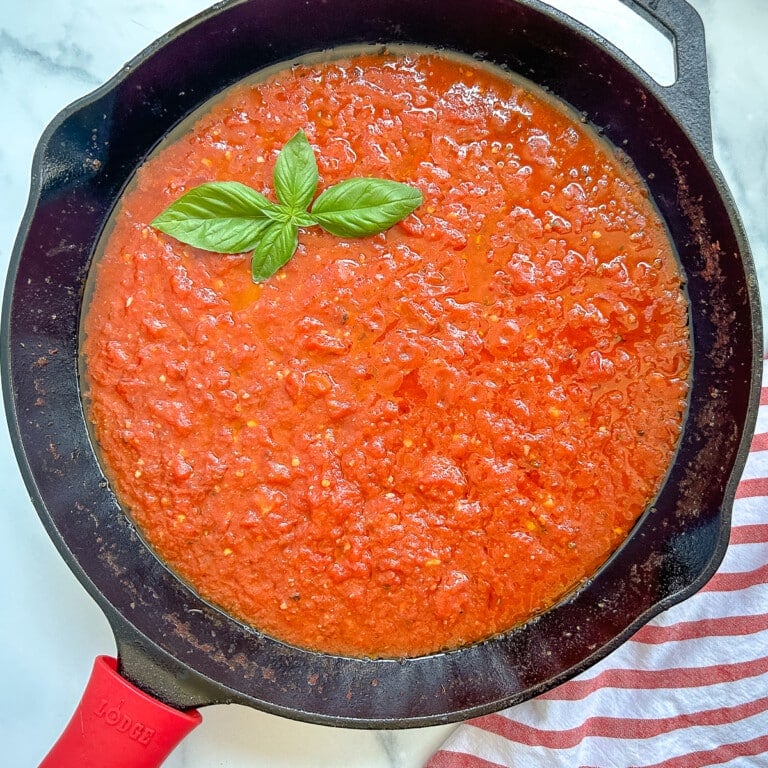 San Marzano Sauce
San Marzano Sauce expertly balances hearty tomatoes with herby Italian spices. Make our San Marzano tomato sauce recipe in just 20 minutes!
Ingredients
28 ounces whole San Marzano tomatoes or any plum tomato like Roma
¼ cup olive oil
7 garlic cloves peeled and slivered
1 teaspoon red pepper flakes crushed
¼ teaspoon dried oregano
salt and pepper to taste
fresh basil leaves chopped, for garnish (optional)
Instructions
Pour tomatoes into a large bowl and crush, using your hands or a potato masher. *Note: They may not crush all the way down at first, and that's okay. After they have simmered for 5-10 minutes, they will soften.Pour 1 cup of water into the can (to get all of the tomato juice left in the can) and set that aside.

Heat the olive oil in a large skillet over medium heat. When the oil is shimmering and hot, add the garlic.

As soon as the garlic begins to sizzle (about 30 seconds), add the tomatoes and the reserved tomato water. Stir in the red pepper flakes and oregano. Taste the sauce, then season it with salt and pepper as desired.

Simmer tomato sauce until it is rich and has thickened, about 15 minutes. After 5-10 minutes, use a potato masher to crush the tomatoes futher. This helps to create a smoother consistency.Before removing the pan from the heat, be sure to taste the sauce and add more salt and/or pepper, if needed. Garnish with chopped fresh basil before serving, if desired.
Notes
Store San Marzano marinara sauce for up to 4 days in the refrigerator or in the freezer for up to 6 months.
Nutrition
Serving: 0.75 cup | Calories: 110kcal | Carbohydrates: 7g | Protein: 1g | Fat: 9g | Saturated Fat: 1g | Polyunsaturated Fat: 1g | Monounsaturated Fat: 7g | Sodium: 13mg | Potassium: 335mg | Fiber: 2g | Sugar: 4g | Vitamin A: 1203IU | Vitamin C: 19mg | Calcium: 22mg | Iron: 1mg
So here you have it, your recipe roundup of meal ideas for the week. Use them to make some great dinners this week.
Did you know that during the week I post meal preparation videos on Instagram (here) and Facebook (here) stories? I do a combination of live videos on Instagram and story posts of dinner prep.
Remember to hashtag #thefeatherednester your photos of what you make here on Instagram or Facebook! Thank you so much for following my blog.