If you click on a link and make a purchase, I may receive a small commission at no extra cost to you. See my disclosure policy here.
Last month, the hubs and I embarked on a 17-day road trip from California to Michigan. Our objective was to get his grandma's 100-year-old wooden rocker and bring it back. This was our longest road trip ever and we learned a thing or two along the way.
It's Gonna Be An Adventure!
For the record, my husband has always avoided multi-day road trips like the plague. From what I gather, his family's road trips during his childhood left him a little traumatized. He might deny that, but it sounds these trip were far from fun.
As newlyweds, though, we had to drive from Michigan to California. Back in those days, you used maps to navigate. The speed limit was 55 mph. And, there weren't any cell phones. So if you hadn't called from your landline for reservations before leaving on your trip, you looked at the "Vacancy/No Vacancy" signs to find a hotel. Then, you hoped they had the room type you needed at a decent rate. We were on a military budget, so we stayed at Motel 6's along the way.
When we found out about the rocker, we were going to have it shipped here. And, it would have been waaaaaaay cheaper to do so. But, I saw the situation as an opportunity to take a post-retirement road trip.
We fly back to Michigan for an annual visit, so I suggested that we drive this year instead. When my husband asked why in the heck we'd want to drive out to Michigan, I said "that's what retired people do."
For years, my in-laws drove out every year or two to visit us. They had travel trailers and enjoyed getting away from the Michigan winters during their travels.
Making A List…And Checking It Twice
In order to prepare for our trip, I made a list (old school pen and paper) of things I thought I'd need for the trip. Surprisingly, I did pretty well for a novice cross-country road tripper. One thing I didn't bring that I wish I had was a highlighter for the map (it's on the list below). Instead, I just borrowed one from the hotel desk clerks when I needed one.
When making travel list, I usually divide the page the long way. One side I divide in half again, for a TO BUY section and a TO DO section. The other side is a TO PACK section.
A Departure From The Usual
Usually when we go on a trip, I do a lot of research beforehand. But, we were intentional about letting the trip evolve, in order to make it more relaxing. We needed return by July 7th because we were hosting a 30th birthday party for our daughter.
Other than that, we left things open so that we could stop and enjoy some of the scenery along the way. My husband suggested we take the southern route (Interstate 40) there, and that was the plan.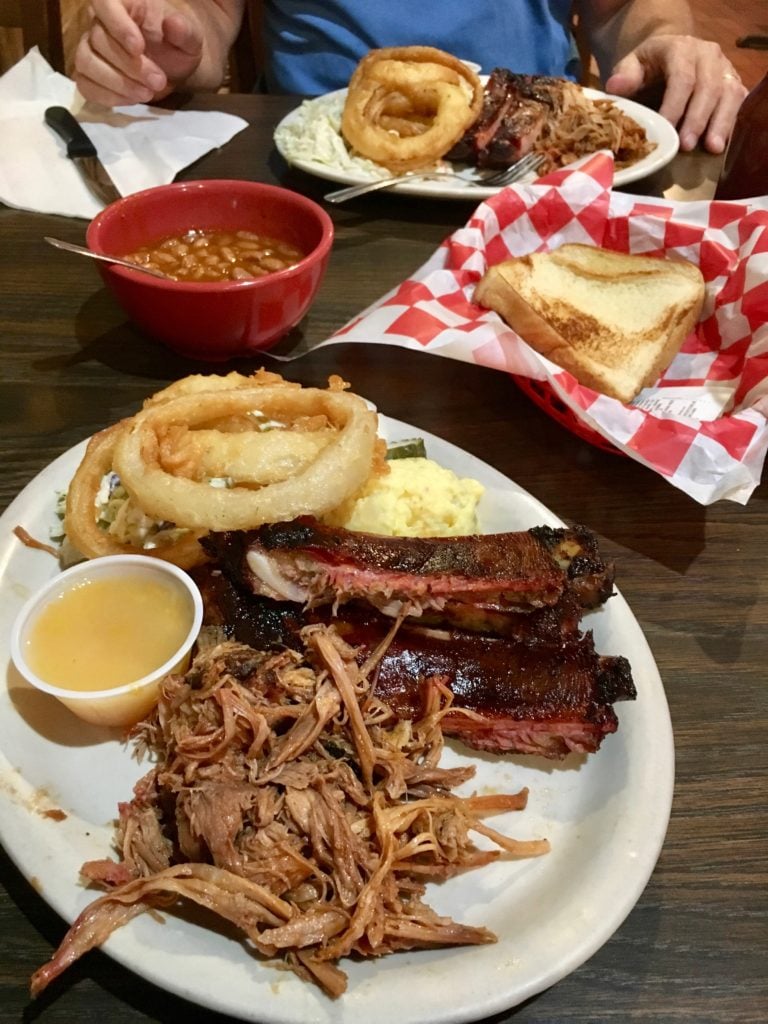 Seventeen days might seem like a long time, but we had to drive there and back (about 4 days/3 nights each way), plus spend time with my hub's family in Michigan. I only planned for one detour along the way there. It was between the Grand Canyon or Euna Mae's kitchenware shop in Northwest Arkansas.
I follow Amy Hannon on Instagram (@eunamaes) and adored the photos of her shop. Truth be told, I would love to open my own kitchenwares store, but I just don't see it happening in this stage of my life. Ultimately, I decided to save the Grand Canyon for another trip, and we detoured from Oklahoma into Arkansas to visit Euna Mae's.
Mason, Michigan
My husband grew up in the town of Mason, Michigan. It's a great little town just outside of Lansing. Here are a few photos of the town square.
The Long Way Home
After six days in Michigan (at a brand-new hotel with a nice small kitchen), we decided to head home with stops at Mount Rushmore, and a few days in Yellowstone National Park.. Someone recommended that we go through The Badlands in South Dakota, so we added that to our itinerary, too. And, what an amazing time we had on our way home.
Mount Rushmore was stunningly patriotic. We timed our arrival so that we could enjoy their evening ceremony. This free ceremony first gave a brief history of Mount Rushmore, followed by the overnight lighting of the monument, then the flag was lowered with the assistance of military veterans from the audience.
The Badlands National Park in South Dakota was incredible. We did the drive through the northern portion of the park. I thought it was cool that you could get out and walk through the formations. I saw lots of kids out walking around, getting to see these geological wonders up close.
Cody, Wyoming
We had an overnight between Mount Rushmore and Yellowstone at Cody, Wyoming. The night we arrived they were having their rodeo. We were a little late for it, though, so we settled for having dinner at the historical Cassie's Supper Club. What a treat!
Yellowstone National Park
When I was a kid, we went to Yellowstone one summer. My biggest memory about it really is walking around the Old Faithful area and seeing Old Faithful erupt. I also recall having a good time there. Since we only live 45 minutes from Yosemite National Park, we focused on sights in Yellowstone that were unique to it. That included the geysers, wild animals that roam the park, Yellowstone Lake, and Old Faithful. Everywhere we looked, there were incredible sights! I just can't say enough about the beauty of Yellowstone.
We got home, safe and sound, on the afternoon of July 6th so appreciative of this experience. While we don't plan on taking on a road trip this long any time soon, I would love to do more shorter, road trips.
Must Haves For Long Road Trips
Car serviced prior to trip
Cling-on window sun shades. I bought mine from Target.
Roadside service
At a minimum, a folding travel map, and preferably a travel road guide that provides greater detail. Do not rely exclusively on smart phones/GPS units!
Highlighter and pen or pencil for map.
Small cooler with beverages and snacks, especially emergency water
Extra cell phone chargers, preferably a battery charger pack
Cash, especially coins and small bills for toll roads (including many Interstates)
Current registration and proof-of-insurance in vehicle
Flashlight with extra batteries
First aid kit
Optional But Optimal Items
Sirius/XM satellite radio
A supportive seat cushion (I used this one from Amazon)
The Next Exit Guide (ordered from Amazon) was very helpful in identifying upcoming rest stops, what eating establishments and lodging were ahead, and even various gas options. I used it everyday we were on the road. It also let me know which exits were state lines.
Small pillow and blanket
Trivia games, cards, a novel or two (I use a Kindle), magazines. I ordered these conversation starter cards.
Have backup forms of payment. If you only use cash, consider taking a few prepaid debit cards for unexpected situations. If you use credit/debit cards, have more than one card to rely on and some cash.
A roll of paper towels, hand towels, wet wipes (or baby wipes), folding knife or Swiss Army knife, empty grocery bags for trash, empty to-go cups, matches.
I'm sure I'm forgetting some things, so feel free to comment on them below and I can add them to my list!