Small kitchen appliances are essential in every home. Whether you are just starting out or looking to equip your kitchen with the best small appliances, this list is for you! We have compiled our favorite small kitchen gadgets for this equipment list and share why I recommend each (we own most of them!). So, keep reading to learn more about our must-have small kitchen appliances list and what they can do for you.
Our Favorite Kitchen Appliances List
We all know that cooking is easier with the right tools in the kitchen.
And, while some might not consider small appliances necessary for food prep, we beg to differ. These devices can shorten cooking time and make cooking fun.
Of course, there are countless other kitchen appliances that you can add to your home but these are what we feel are the must-haves.
Let's take a closer look at our kitchen equipment list and why they made it on our list.
Here's The List of our must-have Small Kitchen Equipment:
Countertop Appliances
Microwave ovens are a must-have kitchen appliance on our kitchen equipment list. Not only are they perfect for reheating leftovers or cooking food quickly, but you can quickly defrost food and boil water in them.
Often the microwave oven is built-in above a wall oven or doubles as a fan above the stove. A countertop microwave is ideal if you do not have the space or desire for those options.
This is the microwave I have in my pantry. Instead of a microwave above my wall oven, I opted for a built-in convection steam oven (linked). You can also see it in the post on our kitchen remodel reveal.
Dual toaster oven and air fryer appliances are great for making quick meals or snacks. They can be used to toast bread, bake cookies, or even reheat pizza.
Air fryers operate much like convection ovens with a fan that evenly distributes the air throughout the appliance. This one is large enough to tackle the largest air fryer recipes like roasting a whole turkey.
My sister loves this Ninja Foodi toaster oven, air fryer, and convection oven combo! It even turns vertically to increase your counter space. Then when you need it, you just pull it down to use. It's ideal for those needing essential small kitchen appliances but are short on counter space.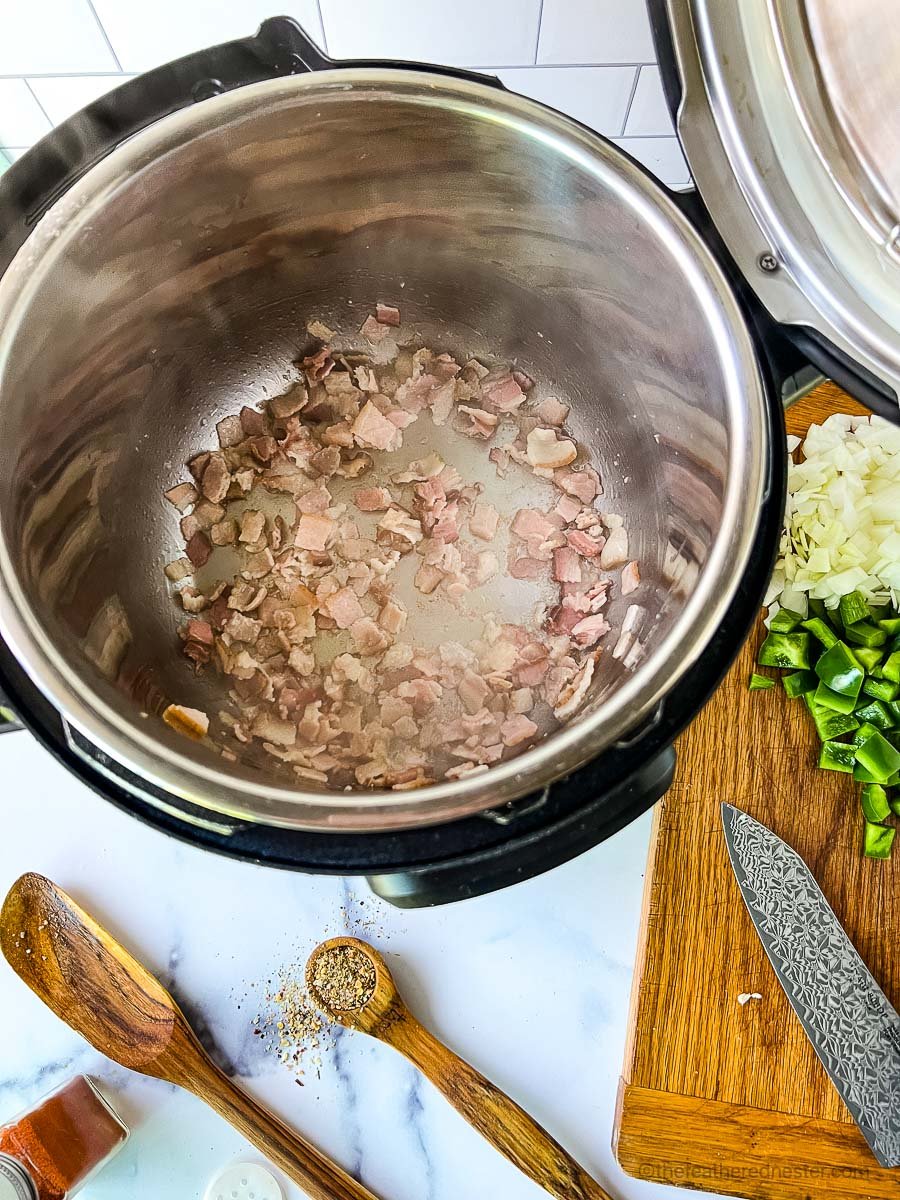 Pressure Cookers and MultiCookers
The Instant Pot is a multicooker one-pot appliance that can work as a pressure cooker, slow cooker, rice cooker, or steamer that sautés, makes yogurt, and sterilizes. It can do the job of several kitchen appliances, making it a must-have for any kitchen.
The pressure cooker is ideal for busy people who want to save time in the kitchen. It can cook meals quickly and efficiently, making it a great time-saver.
This is my favorite Instant Pot – it comes with all the features. It would be ideal for cooking Instant Pot Beef Stew and Instant Pot Chicken Posole.
Pressure Cooker Air Fryer combinations
As if the pressure didn't offer enough features with pressure cooking, slow cooking, cooking rice, steaming, sautéing, making yogurt, sterilizing – these models are also air fryers!
The ultimate in convenience, these small kitchen appliances are perfect for kitchens with little storage. Or someone who loves the latest in must-have kitchen appliances.
Slow CookerS
Although Instant Pots offer slow cooking, they cannot compare with an actual slow cooker. This is the slow cooker I have in my kitchen. My daughter had this model for a few years and loved it, so when I needed a new one, it was the one I chose.
One of the features I like is that you can set it for 3 hours on high (or low), and after that, it will keep the food warm until you're ready to eat. Another thing is that it comes with a probe, so it quits cooking as soon as your roast reaches a certain temperature.
Also, with the locking lid, you can take it on the go to events and potlucks.
I love to cook Slow Cooker Teriyaki Ribs and Slow Cooker Fall Apart Chuck Roast using this slow cooker.
Air Fryer Basket Ovens
The air fryer makes healthy and delicious food without using hardly any oil. So far, we have shown lots of combo air fryers. These models are the basket types of air fryers.
This kitchen appliance set is perfect for anyone who wants to save time and eat healthily. As one of the newest must-have kitchen appliances, they have earned a spot on our kitchen appliances list.
Air fryers are perfect for cooking easy recipes like Baked Chicken Tenderloins or Shake And Bake Chicken Tenders.
I have the previous model of this Cosori air fryer in my kitchen. And this newer model does not need pre-heating, unlike many budget-friendly air fryers.
The Philips air fryer is the ultimate air fryer kitchen appliance. It cooks food so evenly, and everything comes out very crisp. It does not need preheating. Plus, it cooked food much faster than the Cosori air fryer I have now.
But it is a pricey air fryer with few features. If you like basic appliances, then this one might be for you. If you like gadgets with lots of features, the Cosori might be best for you.
---
Kitchen MixerS
A kitchen mixer is a kitchen essential because there are times when hand mixing is not enough. While a hand mixer is fine for basic mixing, like making cakes and cookies, some jobs need a stand mixer.
What I like most about this mixer is that it comes with several useful attachments and a handy storage container to store them. I call that a small kitchen appliance winner!
I love using my hand mixer to whip my Instant Pot Mashed Potatoes or mix the batter for Sunken Apple Cake (Versunkener Apfelkuchen).
Many stand mixers can do the job of several kitchen appliances. They mix, knead, and whip ingredients to perfection, making it a versatile tool in the kitchen for making bread dough to whipped meringue.
Plus, most of them – like the KitchenAid – have attachments that let you do the function of almost any other kitchen tool or appliance.
I use my stand mixer to do the dough kneading for our Quick and Easy Hamburger Buns and Classic Sandwich Bread.
I have this mixer, and it is heavy-duty and large. When I started using my stand mixer for breadmaking (and kneading), I passed down my old mixer to my daughter. My original mixer was a 3.5 quart KitchenAid.
This is an ideal stand mixer for the baking enthusiast with basic mixing needs, like making cakes and cookies. I would not recommend it to a baker who plans on kneading bread in it frequently. Heavy duty use could wear out the motor.
---
Blenders, Food Processors, and Beverage Machines
Blenders and beverage makers like coffee and espresso machines are kitchen appliances designed to make food and drink prep quick and easy. Use them to chop and blend fruits and vegetables, make smoothies, and brew coffee beverages.
Blenders and food processors can also be used to puree or mash cooked food, making them perfect for creating baby foods, soups, and sauces like Basil Pesto Sauce and Mango Chili Sauce. If you are looking for a kitchen appliance that can help you save time and effort in the kitchen, then a food processor is a must-have!
I have had Ninja blenders for many years. They are reliable and budget friendly.
I have the previous version of this espresso and cappuccino machine, the Saeco Pico Baristo by Philips. As a real coffee lover, having an espresso machine that makes several different types of coffee is important to me.
This cappuccino and espresso machine is the perfect way to enjoy a cup of fresh, homemade espresso, cappuccino, cafe americano, flat white, or Caffe crema. And this Philips machine can automatically make all of those beverages with the touch of a button.
It produces a rich, flavorful coffee beverage that will satisfy your cravings. Plus, it's easy to use, making it a great choice for any coffee lover.
My daughter has this budget friendly espresso and cappuccino and is very happy with it. It makes great coffee, as well as cappuccino and espresso.
Coffee Makers
Coffee makers are an essential kitchen appliance. Even if you do not drink coffee, you will probably have guests who do! So, this appliance made it on our kitchen essentials list!
Although there are many different types of coffee makers, this is one that I recommend. It's a good, reliable basic coffeemaker.
If you like iced coffee, coffee makers can make iced coffee. Some people even like to have a Keurig because it makes it easy to make small cups of coffee without having to make a whole pot.
After going through several Keurig brand coffee makers, I bought this Cuisinart K-Cup coffee maker a few years ago. And, we have been very happy with it. Having two coffee/espresso machines in our coffee bar probably seems a little funny. But, it is great to have for making decaf coffee, tea, and hot cocoa.
---
We hope You Like Our Kitchen Equipment List
As you can see, these are the list of essential kitchen equipment in every home. Whether it's an instant pot, air fryer, food and drink processor, or espresso machine, each kitchen appliance has its own unique purpose and function.
So, if you want to save time and effort in the kitchen, invest in one of these kitchen appliances today!
What kitchen appliance brands do you think are essential in every home? Let us know in the comments below.