This fabulous cheesy chicken hashbrown casserole is filled with green beans and sour cream for a tangy, rich, and satisfying main dish that no one can resist. It's quick to prepare in just 5 minutes, bakes in under an hour, and is even terrific to make ahead. You won't believe how easy it is to turn your favorite Cracker Barrel-inspired shredded potato side dish into a delicious entree!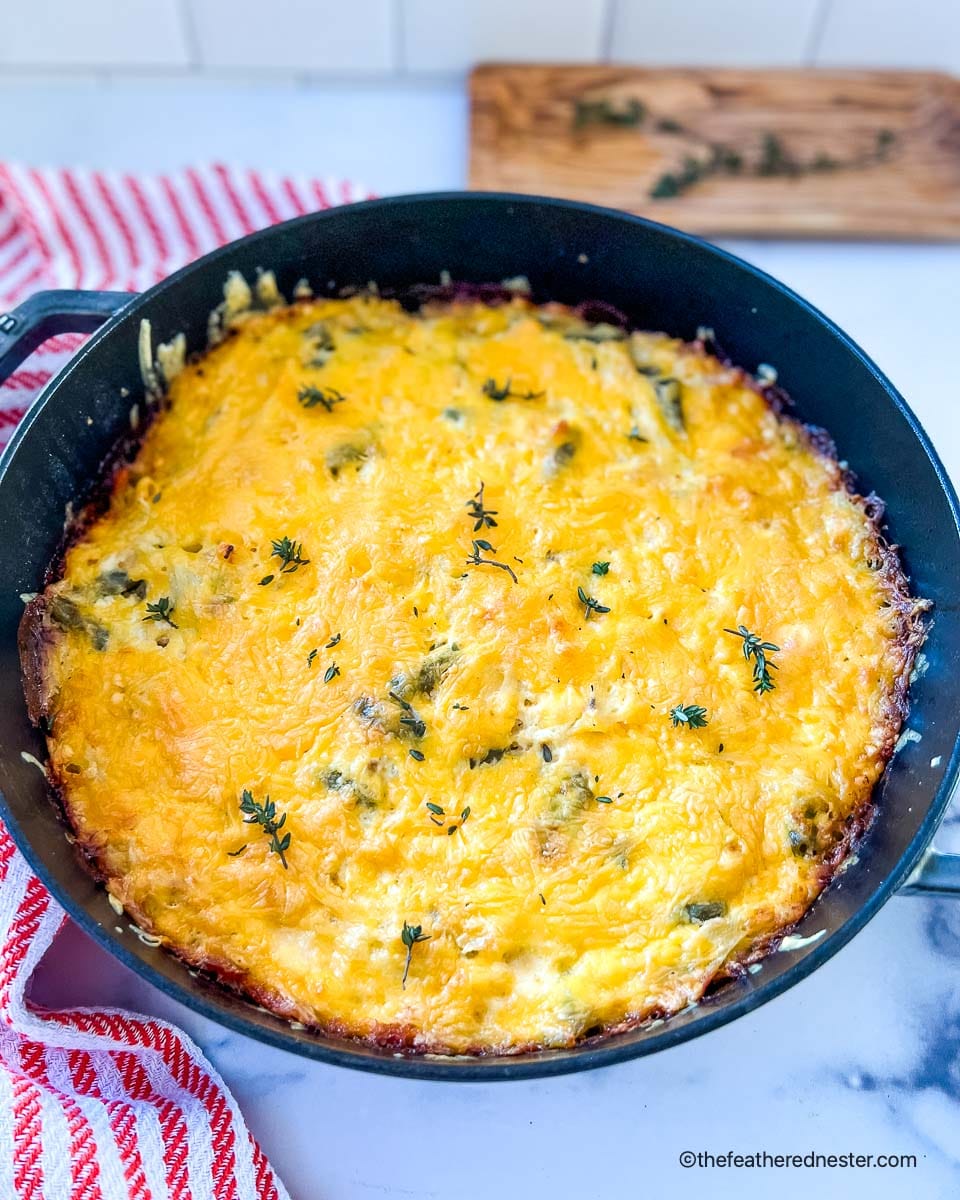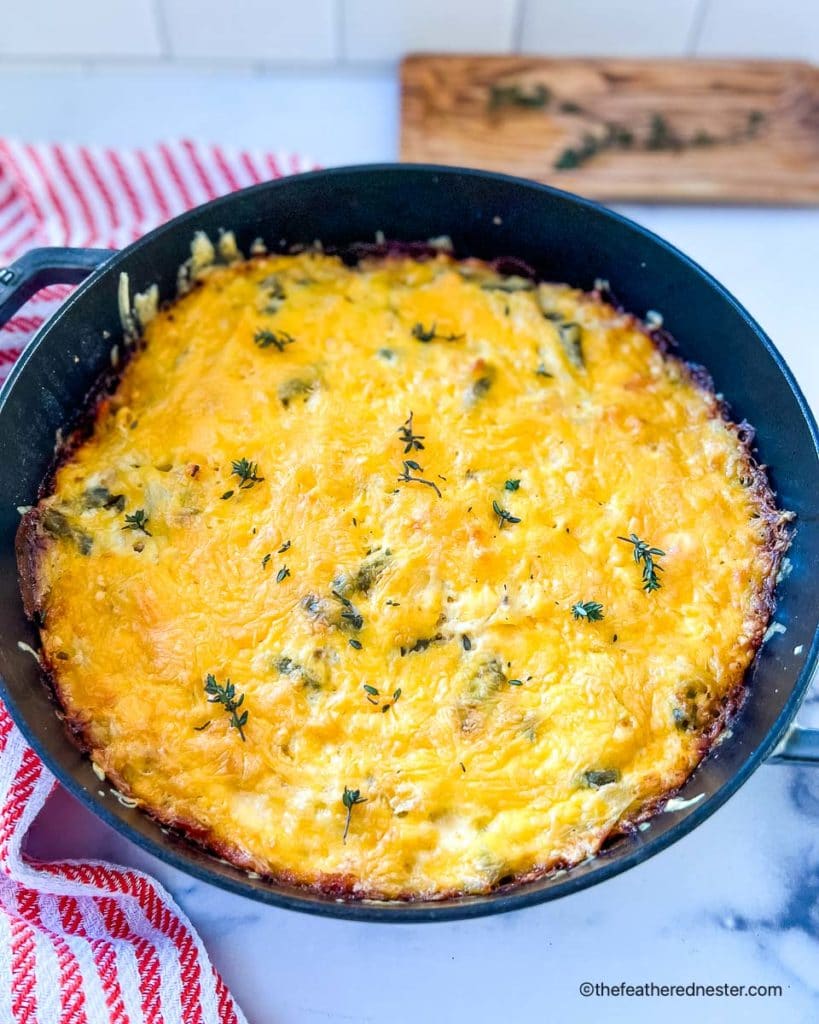 Why We Love Chicken Hashbrown Casserole
Our classic hash brown casserole (AKA funeral potatoes) has long been the hit of Christmas, potlucks, and family gatherings. This year we decided to pump up the recipe to be an even heartier entree-worthy dish by adding chicken and veggies…and we absolutely hit the nail on the head here!
Everything you want and need for a complete comfort food meal is right there, warm and cozy together in one casserole.
We served this dish for a recent holiday party and guests devoured every bit faster than you could say sleigh bells ring!
All of the ingredients are simply combined in a large bowl, then scooped and spread into a large baking dish. Then it's hands-off in the oven for about 45 minutes. That's right: you can actually mingle with guests at your own gathering!
Better yet, make ahead! Prepare the dish up to 3 days in advance and keep it in the refrigerator. Or freeze it and have it ready to pop in the oven whenever you need a delicious meal with minimal effort.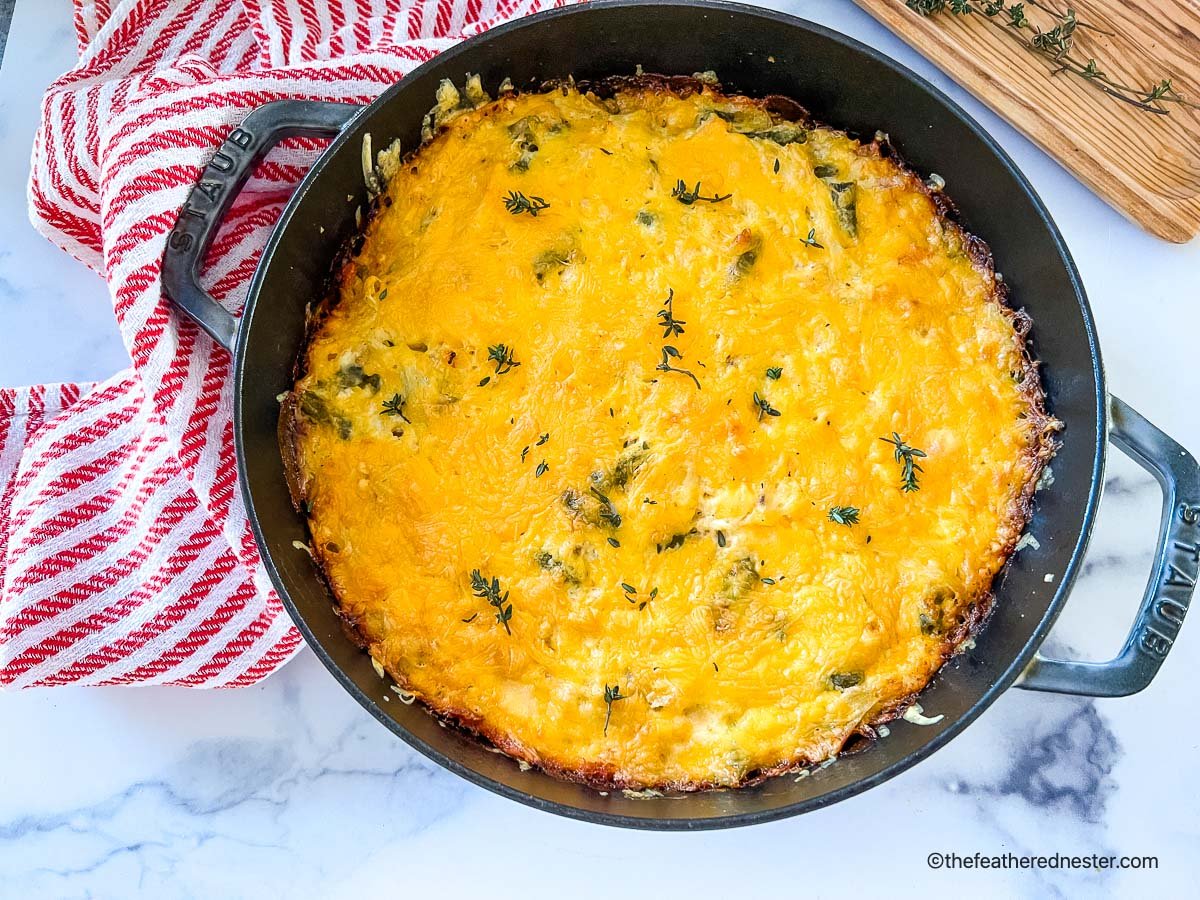 Ingredient Notes and Substitutions
Shredded hash browns – Ore Ida frozen or fresh Simply Potatoes.
Chicken – Shred up a store-bought rotisserie bird, or use whatever cooked poultry you have on hand!
Green beans – We like to thaw out a bag of frozen green beans, but you can use fresh or canned if you want to.
Cheese – Sharp cheddar, but you can substitute any type of shredded cheese like mozzarella, Monterey Jack, or Colby.
Light sour cream – This gives a nice tangy flavor and helps to bind the ingredients together. You can also use Greek yogurt.
Cream of chicken condensed soup – Use low sodium if you prefer. Or, use homemade condensed chicken soup.
Onion – Finely chopped.
Pepper – Freshly ground pepper adds a great pop of flavor.
Chicken Hashbrown Casserole Without Soup
In a small bowl whisk together 2 teaspoons of cornstarch with 1/2 cup of cold chicken stock or broth until combined. Then slowly stir in 1/2 cup of cream. Microwave for 30 seconds heat in a saucepan until thickened.
If you don't have cream, then use 1 tablespoon of corstarch with 1/2 cup of stock, and 1/2 cup of whole milk.
Add this homemade cream soup substitute in place of the cream of chicken soup in the recipe below for an equally delicious casserole!
How to Make Shredded Chicken
Stove Top
Use a skillet or large saucepan with a tight-fitting lid. Add chicken breasts. Cover with water and several generous pinches of salt. Or use broth instead of water for even more flavor.
Bring to a boil, add the lid, and turn down the heat to simmer. Cook for 15 minutes. Check the temperature with an instant-read thermometer. It's is ready at 165 degrees F.
When they're cooked all the way through, remove them to a bowl and let them cool for a few minutes.
When you can handle them, shred them with two forks.
Baked
Preheat your oven to 375º. Line a rimmed baking sheet with parchment paper. Add the breasts to the sheet, and brush with olive oil. Then, sprinkle with salt and pepper.
Bake for 30-45 minutes. Check the internal temperature after 30 minutes. It's done when it reaches an internal temperature of 165º.
Once it's cooled, shred it into bite-sized pieces.
Check out these posts on meal prep ideas and cook-once-eat-all-week meal ideas on how to prep and use shredded chicken.
How to Thaw Frozen Hash Browns
Thaw frozen potatoes on a baking sheet at room temperature for 30-60 minutes. They defrost without sitting in water, so the shreds stay nice and tender.
To thaw the hashbrowns faster: Spread them on a baking sheet, and bake for 15 minutes in a preheated 175 degrees F oven.
Alternatively, you can defrost them overnight in the refrigerator. Place the frozen shreds in a colander, and set them in a shallow bowl or dish in the fridge so that the water is collected as they thaw.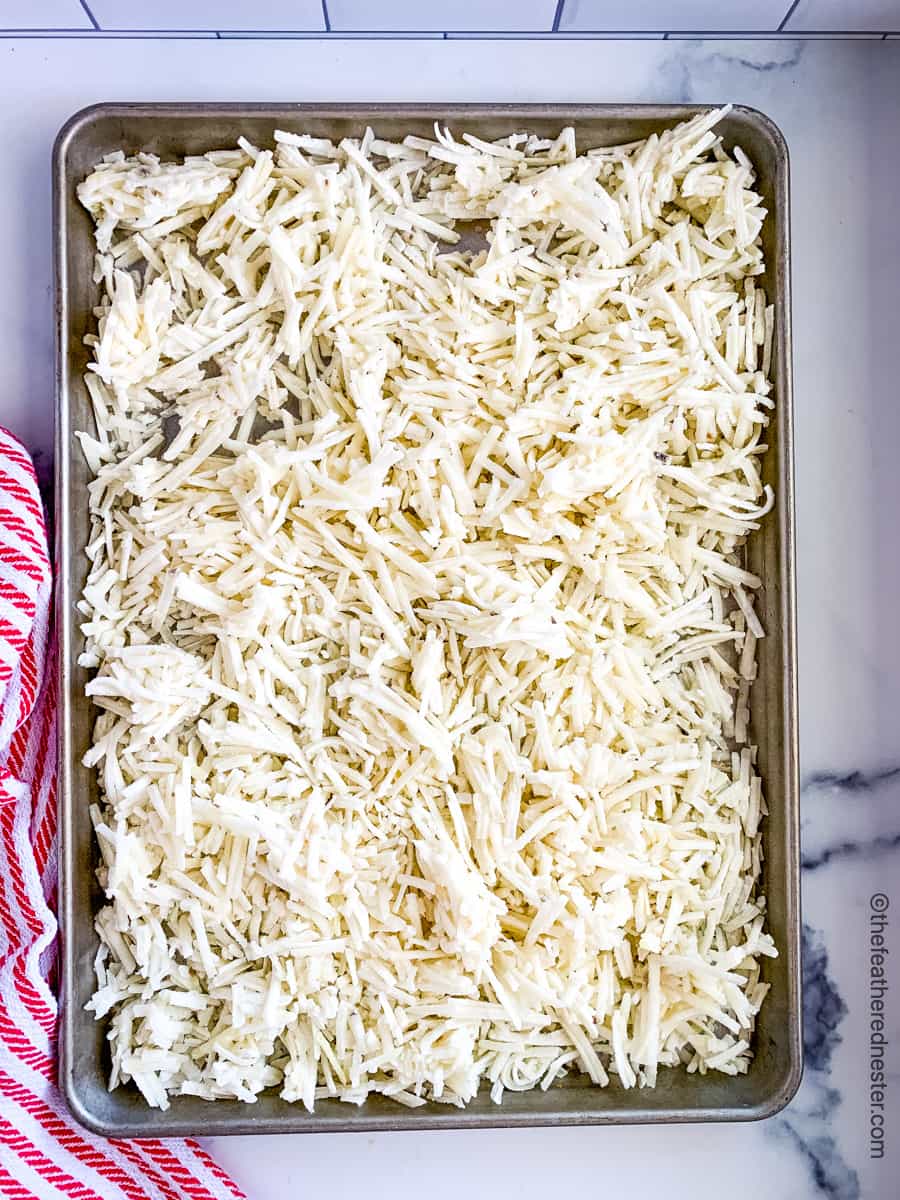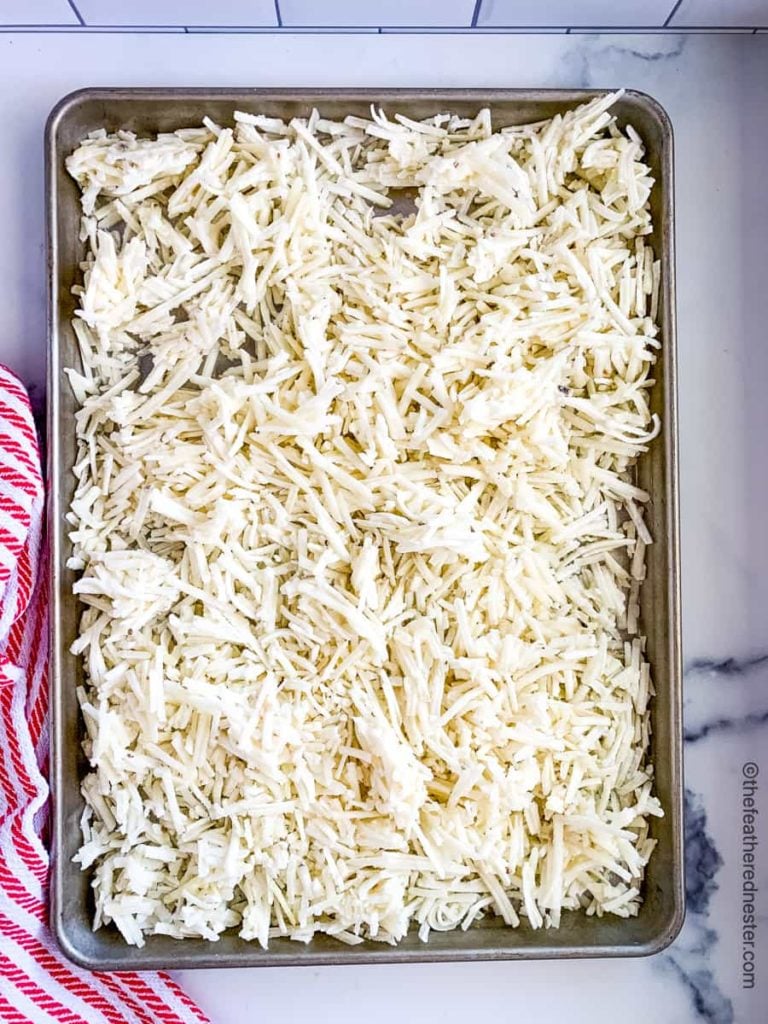 🎯 TFN Pro Tip
Do not rinse hash browns (frozen or fresh). The shreds soak up water and become soggy.
Recipe Tips for the Best Hashbrown Chicken Casserole
Make this recipe in 4 simple steps:
Preheat oven to 375° Fahrenheit, then prepare a 9″x13″ dish by spraying it with cooking oil spray.
In a large bowl, mix together hash browns, chicken, green beans, 1 cup of cheddar cheese, sour cream, soup, chopped onions, and pepper.
3. Pour the ingredients into the prepared dish and top with the remaining shredded cheese.
4. Bake for 45-50 minutes, or until hot and bubbly and golden on top, and the edges are puffy.
Frequently Asked Questions
Should I thaw hash browns for casserole?
We recommend thawing them before baking for a few reasons. Cooking from frozen can prevent it from baking evenly and leave the center cold. Thawing first makes it bake quicker. And, the condensation on frozen shredded potatoes can water it down.
What is hash brown casserole made of?
This dish uses shredded potatoes as the main ingredient. Other potato casserole recipes might use diced potatoes (also called O'Brien potatoes).
Can I use fresh potatoes instead of frozen hash browns?
You can use fresh instead of frozen by shredding or grating them first.
Chicken Hashbrown Casserole
Rich and creamy, this chicken hashbrown casserole is the best comfort food meal. Everyone is going to love this comfort food dinner recipe.
Equipment
9' x 13" casserole dish or 4-quart casserole
Ingredients
16 ounces (1 small bag) shredded hash browns, fresh or frozen (thawed) (I prefer Ore Ida frozen or Simply Potatoes fresh)
3 cups shredded, cooked chicken (use rotisserie chicken or see notes to make your own)
2 cups (10 ounces) frozen green beans, thawed
2 cups (8 ounces) sharp cheddar cheese, grated, divided
2 cups (16 ounces) sour cream
1 can (10¼ ounces) cream of chicken condensed soup
1 cup onion, finely chopped (1 small onion)
¼ teaspoon pepper
Instructions
Preheat oven to 375° Fahrenheit. Prepare the casserole dish by spraying it with cooking oil spray.

In a large bowl, mix together hash browns, chicken, green beans, 1 cup cheddar cheese, sour cream, soup, chopped onions, and pepper.

Pour hashbrown chicken casserole ingredients into the prepared casserole dish and top with the remaining shredded cheese.

Bake for 45-50 minutes, or until hot and bubbly and golden on top, and edges are puffy. Let cool 5-10 minutes before serving.
Notes
To make your own shredded chicken: Use a skillet with a tight-fitting lid, add chicken breasts. Cover with water and several generous pinches of salt or chicken broth. Bring to a boil, put on the lid, turn down the heat to simmer, and cook for 15 minutes. Let cool and shred the chicken. Leftovers will keep well for up to 4 or 5 days in the refrigerator. Let the casserole cool completely and transfer to a sealed container before placing it in the fridge. If you plan to make this dish in advance and freeze, I suggest you use a foil container: Not only is it freezer-safe, but the container can be safely used in the oven as well to reheat it. Prepare the casserole as directed, without baking, and refrigerate for up to 3 days. Or prepare casserole without baking in a freezer-safe container, cover with a layer of aluminum foil, and freeze for up to 3 months. Again, a foil casserole pan works really well here. Then bake from frozen (do not defrost) as directed, plus an extra 15 minutes or so until it's heated throughout and the cheese is golden.
Nutrition
Serving: 1serving | Calories: 481kcal | Carbohydrates: 21g | Protein: 32g | Fat: 30g | Saturated Fat: 17g | Polyunsaturated Fat: 2g | Monounsaturated Fat: 9g | Cholesterol: 122mg | Sodium: 466mg | Potassium: 620mg | Fiber: 3g | Sugar: 3g | Vitamin A: 1217IU | Vitamin C: 14mg | Calcium: 549mg | Iron: 2mg
PIN THIS POST!