This sweet and comforting apple fritter casserole is a delicious morning treat to enjoy for breakfast or brunch. It tastes just like a yummy apple fritter without the deep-frying, and is perfect to enjoy with the family for special occasions, like Christmas morning. I guarantee everyone will love this breakfast casserole bake – especially the kids! – and you'll love how easy it is to prepare as a make-ahead overnight dish.
To make this recipe, Renae recommends (and uses) these supplies
Easy Overnight Breakfast Ideas
I am a big fan of hearty, shareable breakfasts. Especially on weekends and holidays, when the family can really relax and enjoy quality time together around a hot morning meal.
The only problem? Someone has to actually make breakfast. And although I love to cook, I also want some leisurely time in the mornings. So, there's no better solution than a delicious make-ahead overnight breakfast casserole.
Coming up with easy overnight breakfast ideas has been fun. Before this apple fritter casserole, I shared Easy Overnight French Toast Casserole and my brunch-tastic Ham and Brie Pull Apart.
A great make-ahead dish should be, well, simple to make: Just prep the night before, stick in the fridge while you sleep, and easily bake to perfection in the morning, completely hassle-free.
That's why I love using Bridgford Food's Ready-Dough and Parkerhouse Style Rolls. I keep them on hand in my freezer so they are always at the ready (pun intended!). I have discovered so many uses for frozen bread dough.
Bridgford handles all of the prep work for you, with high-quality non-GMO ingredients like real cane sugar, so it is easy to serve up freshly baked goods any time.
Bridgford Apple Fritter Breakfast Casserole
This apple fritter breakfast casserole recipe is another wonderfully sweet and comforting make-ahead overnight breakfast for you to try. It has a similar consistency to an apple coffee cake, minus the crumble, but with lots of brown sugar and rich cinnamon goodness.
And, like my two other delicious breakfast and brunch recipes above, this dish is made incredibly easy by using Bridgford Ready-Dough. Everyone can use more overnight breakfast ideas for those lazy weekend mornings.
There are more recipe ideas for frozen bread dough below
5 Ingredients You Need to Make this Apple Fritter Casserole Recipe
Thanks to using thawed ready-made dough, there are only 5 ingredients included in this apple fritter bake recipe.
You need:
Bridgford Ready-Dough
Apples
Brown sugar
Butter
Cinnamon
What is the Best Apple to Use for Baking?
My favorite apples to use for baking are either Honey Crisp or Granny Smith apples. They are terrific for making apple cobbler, apple crisp, or apple pie.
For this recipe, I used Honey Crisp apples because I love how they hold their crunch and texture when baked. But here's a great resource for deciding which apple variety you want to use.
How to Easily Thaw Frozen Dough
Read my handy tips below for thawing Bridgford Ready-Dough before getting started on this apple fritter casserole recipe.
You have two easy options for how to thaw frozen bread dough:
The first option is to defrost the frozen dough in the fridge overnight. Spray a baking sheet with nonstick oil or cover it with parchment paper. Place the frozen dough on the sheet, and cover with plastic wrap that has been sprayed as well with oil (oil side down). Allow the dough to thaw in the fridge overnight, approximately 8-10 hours.
Another easy option is to just defrost the frozen dough at room temperature. Prepare a baking sheet and plastic wrap like the first option, but simply leave the dough to defrost on the counter for about 2-3 hours.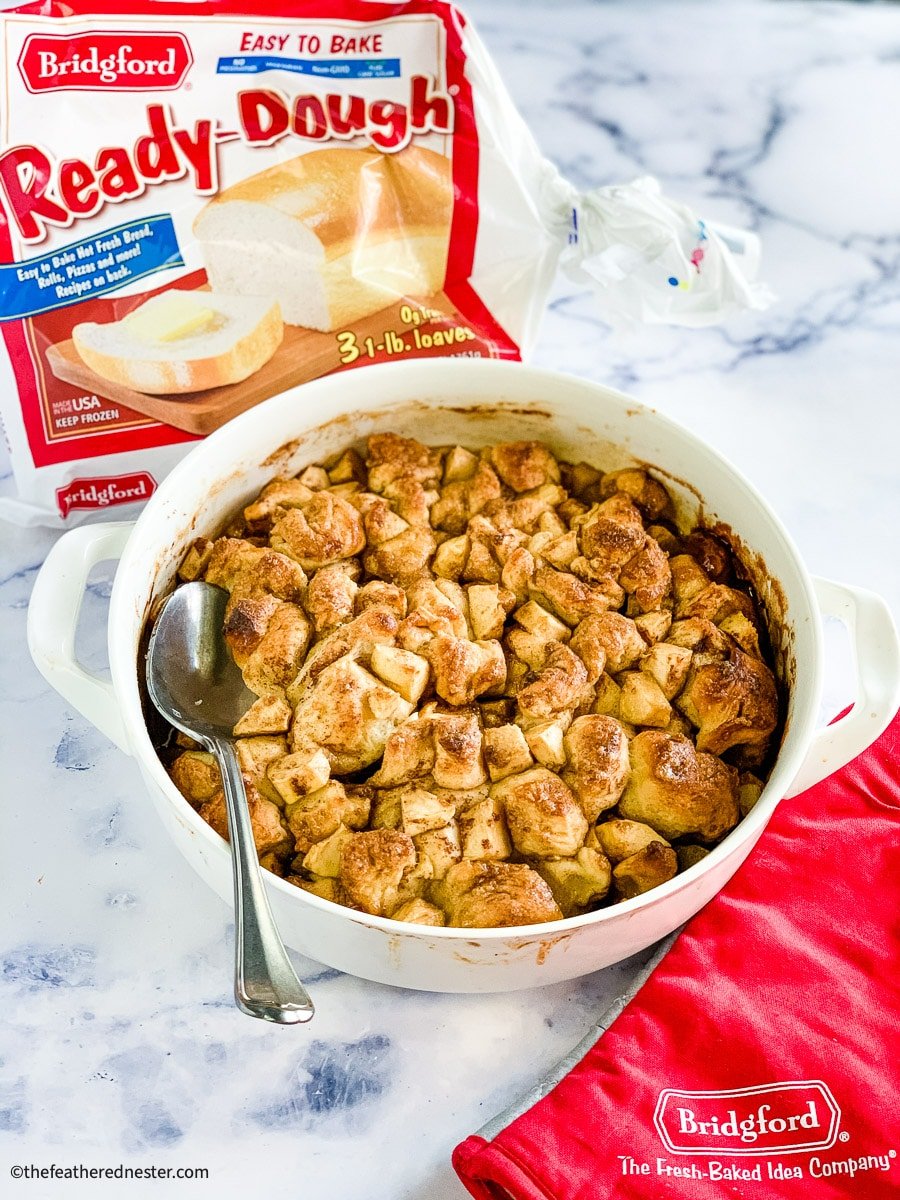 How to Make Apple Fritter Breakfast Casserole
Not only does this easy overnight breakfast casserole only require 5 ingredients, but it can also be made in just a few simple steps.
You can choose to prepare the apple fritter casserole the night before or make it fresh in the morning. Either way, this sweet and gooey breakfast casserole will be scrumptious to serve with coffee or big glasses of milk.
Firstly, for this recipe, you will need to defrost the Bridgford Ready-Dough using one of the two methods mentioned above. Then, here's how to make and bake the apple fritter breakfast casserole:
Chop the thawed bread dough into roughly 40 equal pieces, and toss in a bowl with melted butter. Then, transfer the dough pieces to a greased casserole dish.
Core and dice the apples – your choice whether or not to peel! – and add them to the same bowl which you used to butter the pieces of chopped dough. Toss the apple chunks with brown sugar and cinnamon, and then stir the apples into the casserole dish to combine with the dough pieces.
You can either cover with plastic wrap and put in the fridge to sit overnight, or bake immediately in 350 degree F preheated oven.
When ready to enjoy, bake in the oven for 40 minutes until bubbly.
Allow the breakfast casserole to cool for several minutes before serving.
Leftovers will keep well for up to 4 days in the fridge if kept covered with plastic wrap or in a sealed container.
FREQUENTLY ASKED QUESTIONS
What is an apple fritter made of?
Apple Fritters are essentially fried donuts stuffed with apples. These apple fritter rings are great rolled in cinnamon sugar, dusted with powdered sugar, or drizzled with a lemon glaze.
Can apple fritters be frozen?
Freeze: Apple fritters freeze very well. Let them cool completely, then place them into a few gallon-size ziplock bags and close them tightly. Freeze for up to 2 month for best taste.
How long do apple fritters last?
Wherever you keep these apple fritters, make sure to store them in an airtight container so they don't dry out. They will last 2 days at room temperature, 1 week in the fridge, and 2-3 months in the freezer. If you freeze them, thaw them by leaving them at room temperature for a few hours until they're soft.
Get the Easy Overnight Apple Fritter Bake Recipe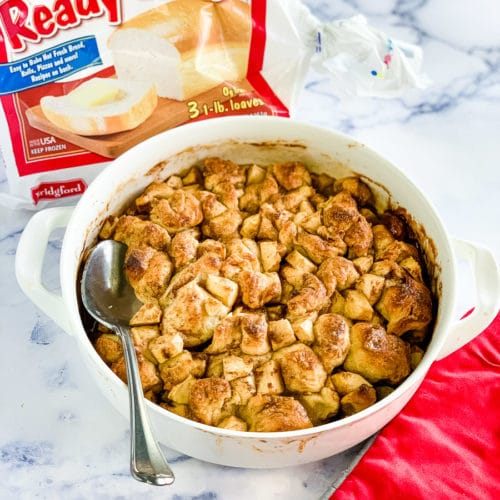 Apple Fritter Breakfast Casserole
This Apple Fritter Breakfast Casserole is a delicious breakfast dish that everyone loves! Prep this easy breakfast casserole the night before with frozen dough, and then just bake in the morning when you're ready to enjoy.
Ingredients
1 loaf Bridgford Ready-Dough, thawed
5 apples, peeled, cored, and diced
½ cup butter, melted and cooled
⅓ cup brown sugar
2 teaspoons ground cinnamon
Instructions
Let the Ready Dough defrost on the countertop in a greased casserole dish covered with plastic wrap for 2-3 hours. Cut thawed dough loaf into 40 small pieces.

Place dough into a medium bowl and stir in the melted butter, coating the dough evenly. Spread dough pieces in the bottom of the casserole dish.

Using same bowl, add the diced apple and sprinkle with brown sugar and cinnamon. Stir them into the dough pieces in the casserole dish. Preheat oven to 350º F, if baking immediately.

As a make ahead dish, cover the casserole dish with plastic wrap and refrigerate overnight. Otherwise, skip to step 4.

The next morning, pull the casserole dish out of the fridge. Let it sit at room temperature while the oven preheats to 350º.

Bake casserole for 40 minutes, until casserole is golden and bubbly. Let cool for 10 minutes before serving.
Notes
*You can also use half of a 25 oz. bag of Bridgford Parkerhouse Style rolls instead of the Ready-Dough. Thaw rolls on a covered, greased sheet pan on the counter for 1 hour. Cut each roll into 4 pieces, and follow directions in step 1.
Nutrition
Serving: 8servings | Calories: 541kcal | Carbohydrates: 89g | Protein: 5g | Fat: 18g | Saturated Fat: 10g | Cholesterol: 41mg | Sodium: 496mg | Potassium: 185mg | Fiber: 6g | Sugar: 48g | Vitamin A: 555IU | Vitamin C: 7mg | Calcium: 38mg | Iron: 1mg
PIN THIS POST!
Get More Recipes Made with Bridgford Ready-Dough
You'll discover so many uses for frozen bread dough as I have.
Look for Bridgford Ready-Dough, Parkerhouse Style Rolls, and Monkey Bread at your local grocery store and Wal-Mart locations.
Get your discount coupon for Bridgford's frozen dough, and get more recipe ideas for frozen bread at Bridgford.
This post was sponsored by Bridgford Foods. All views are my own and based on my own personal experience using Bridgford's products.
Get more apple recipes!