Shell steak is an incredible meal of full-bodied bone-in NY strip steak. We'll show you how to cook one perfectly, using basic salt and pepper to develop an incredible sear. After cooking, you will have tender and juicy grilled beef with a melt-in-your-mouth bite. Perfect results – and the perfect meal for dinner!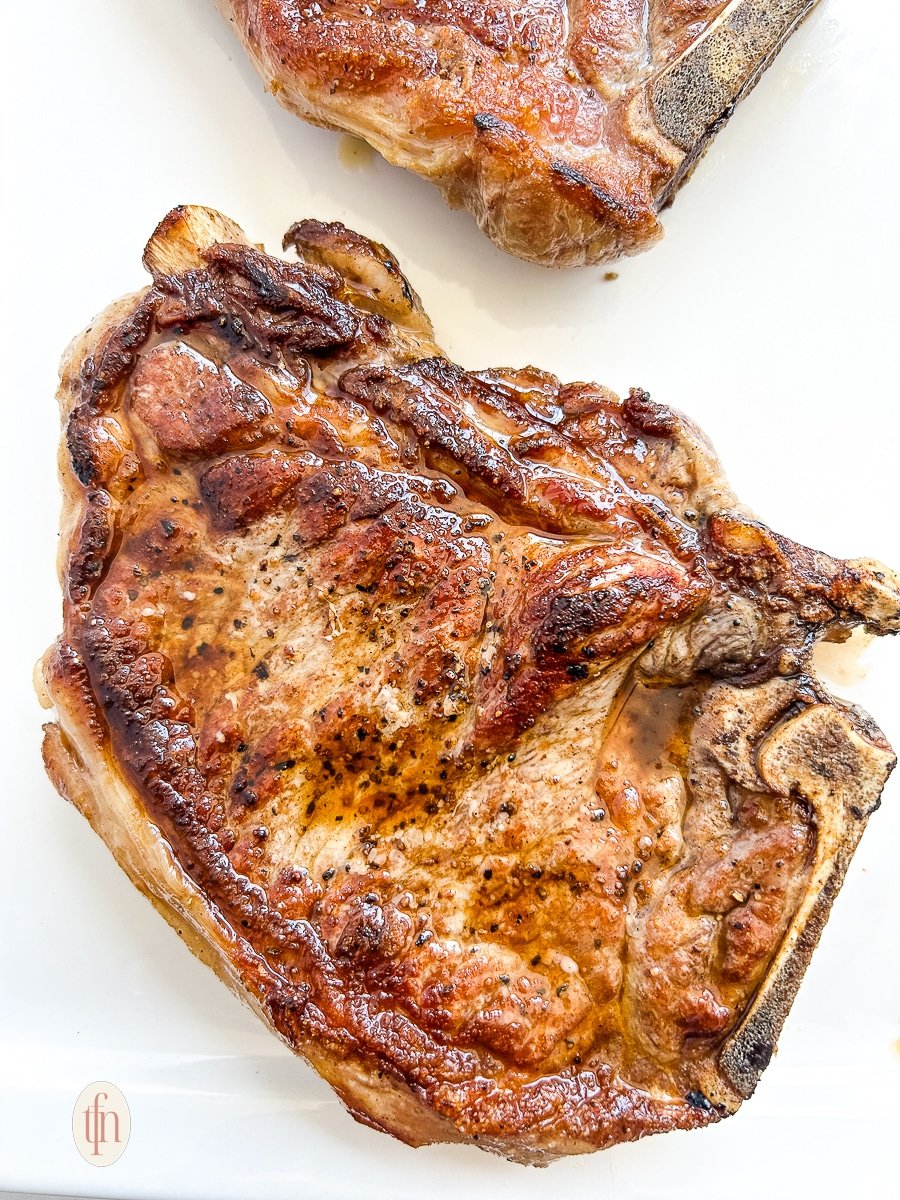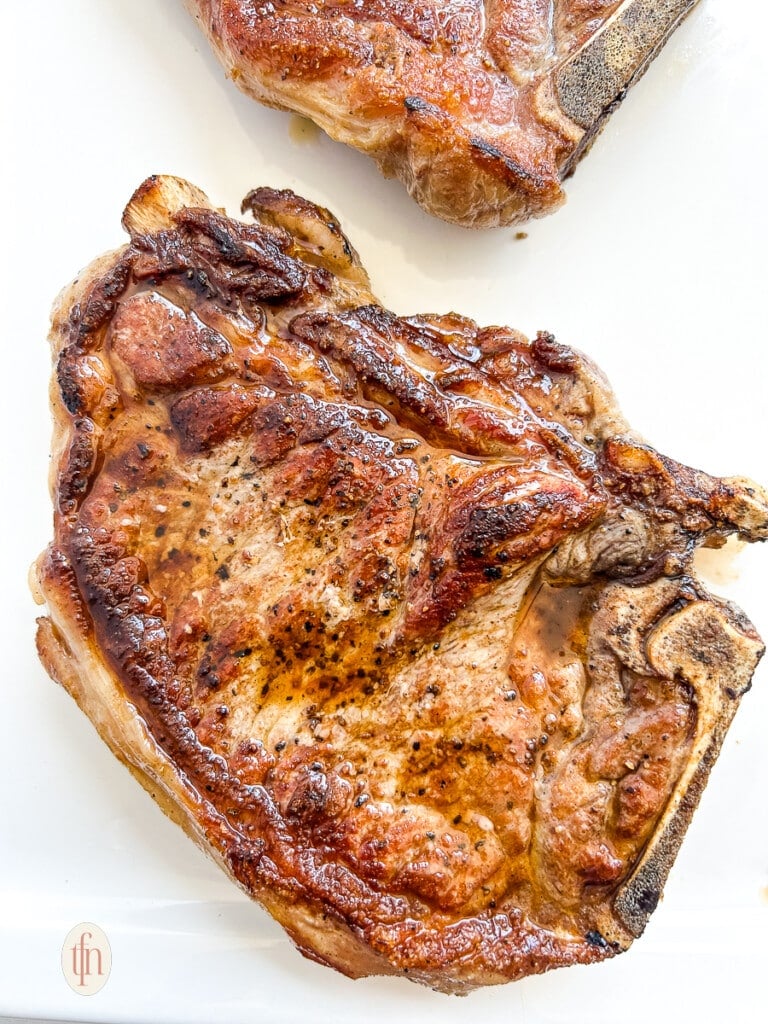 What is a Shell Steak?
If you aren't familiar with the name of this incredible cut of beef, you may know it by one of its other names. Regionally, shell steak is also known as a bone-in New York strip, bone-in Kansas City strip steak, or plainly, bone-in strip steak.
How strip steaks are cut
The cut of beef comes from the back of the animal, also known as the short loin. Simply put, it's a bone in NY strip steak, after the tenderloin has been removed by the butcher.
To appreciate and savor this premium cut, we'll discuss the best grilling methods, how long to grill bone-in strip steak, and best practices for slicing and serving.
When you are ready to fire up the barbecue, we hope that you'll also try our reader-favorite recipes for grilled rockfish tacos and copycat Chick-Fil-A grilled nuggets, too!
Ingredient Notes and Substitutions
Steaks – You'll need two steaks, each about 1.5 lbs. As for thickness, make sure they're between 1" and 1.5", and be aware of the varying cooking times for either.
Salt – Using coarse (large grain) salt is key for developing a gorgeous, textured crust. Sea salt, Kosher, Himalayan pink salt, and so on.
Pepper – Freshly cracked pepper is a must for that crust!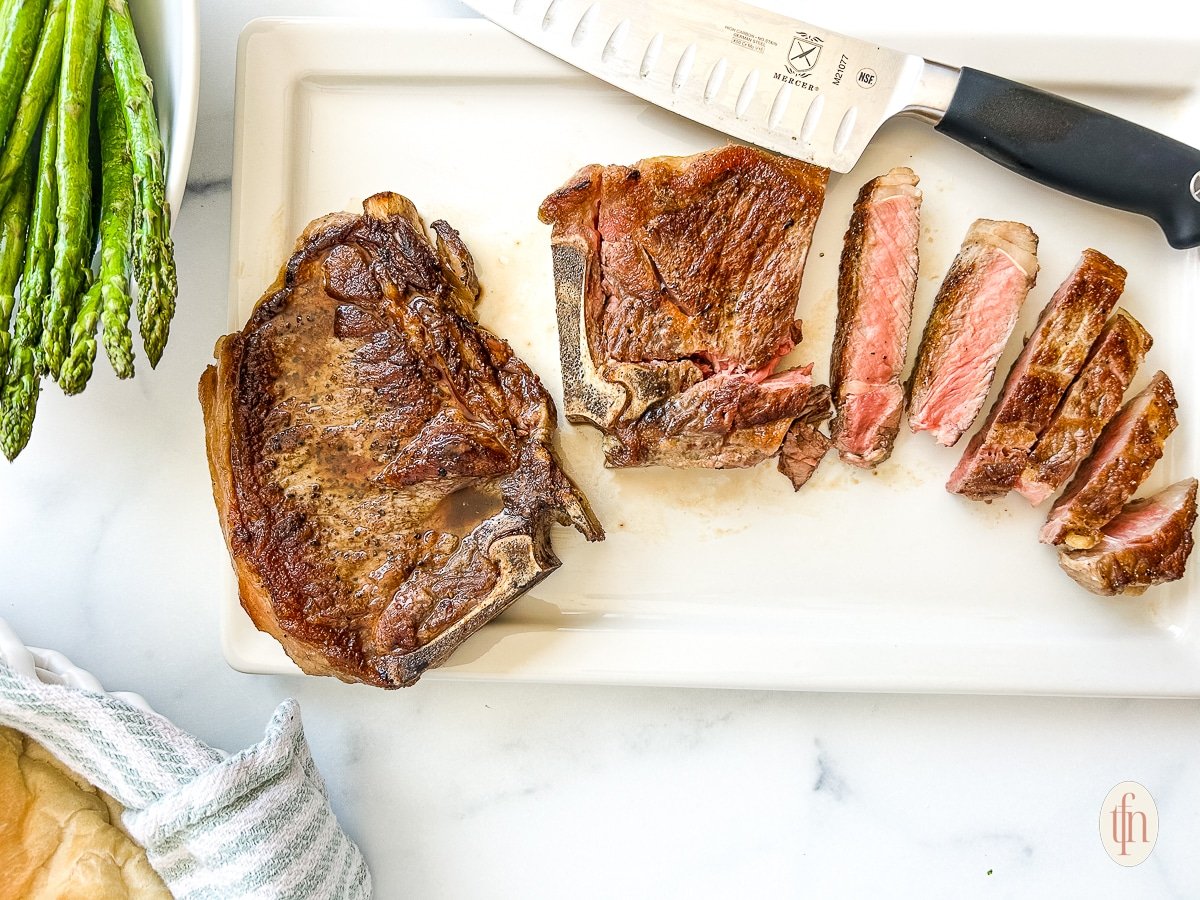 Tips for the Perfect Bone In NY Strip Steak
Don't add the seasoning too soon!

Adding salt too soon draws moisture from the meat, leading to a drier, less tender result. Instead, wait to add salt and pepper until just before cooking the beef.
Preheat the skillet and grill to create the perfect sear.

You need high heat to sear proteins. To make a shell steak recipe, preheat your grill somewhere between 380°F and 400°F.
After the grill is nice and hot, lay the skillet on the grates so that it can also preheat.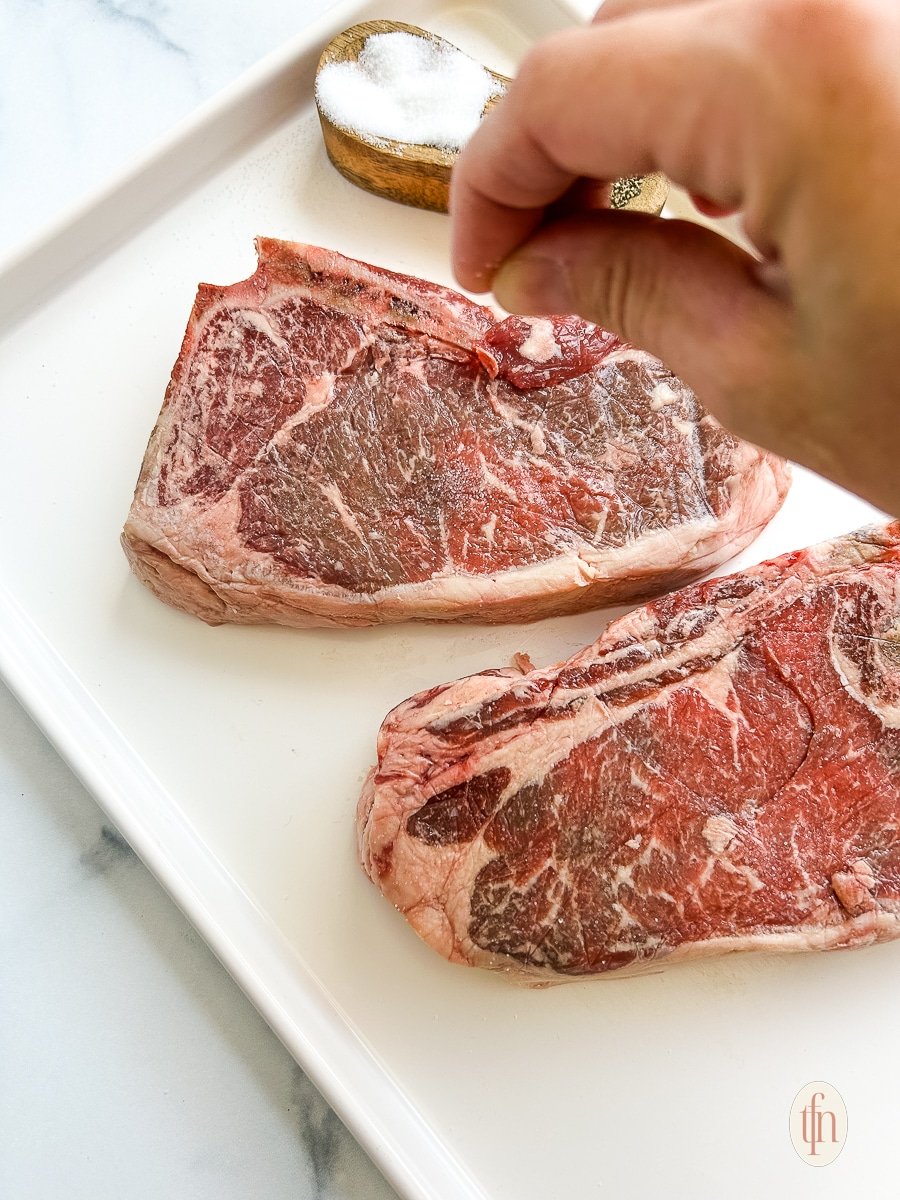 🎯 TFN Pro Tip
Cast iron takes longer than your average pan to preheat, so give it 5 – 10 minutes to reach that temp — closing the lid will speed up the process.
Preheat the skillet and grill to create the perfect sear.

You need high heat to sear proteins. To make a shell steak recipe, preheat your grill somewhere between 380°F and 400°F.
After the grill is nice and hot, lay the skillet on the grates so that it can also preheat.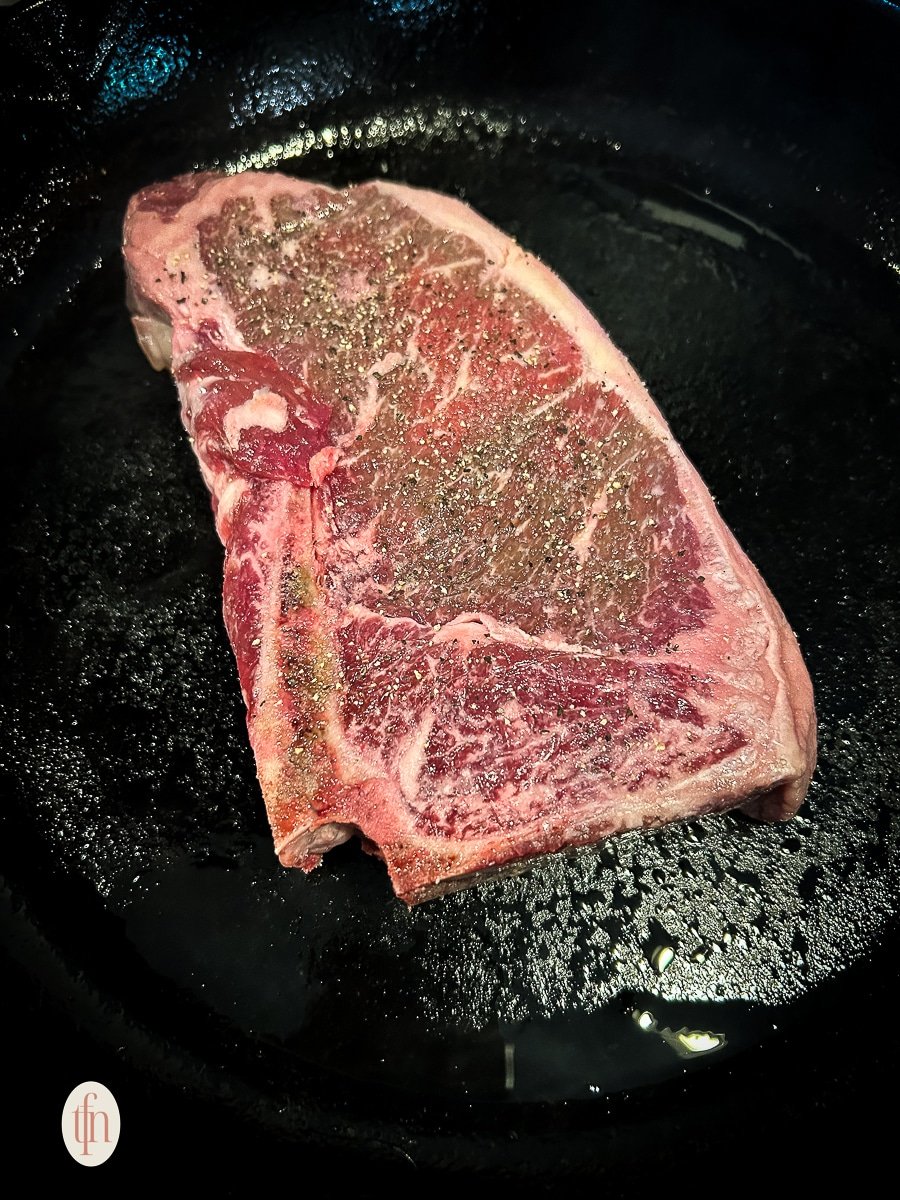 The steak will let you know when it's ready to flip!

Yes, this may sound a little silly, but searing proteins like beef and pork is a rather intuitive process. By this, we mean that the meat will actually loosen itself from the pan once it's ready to flip! If the meat is at all difficult to nudge, just let it cook a little longer.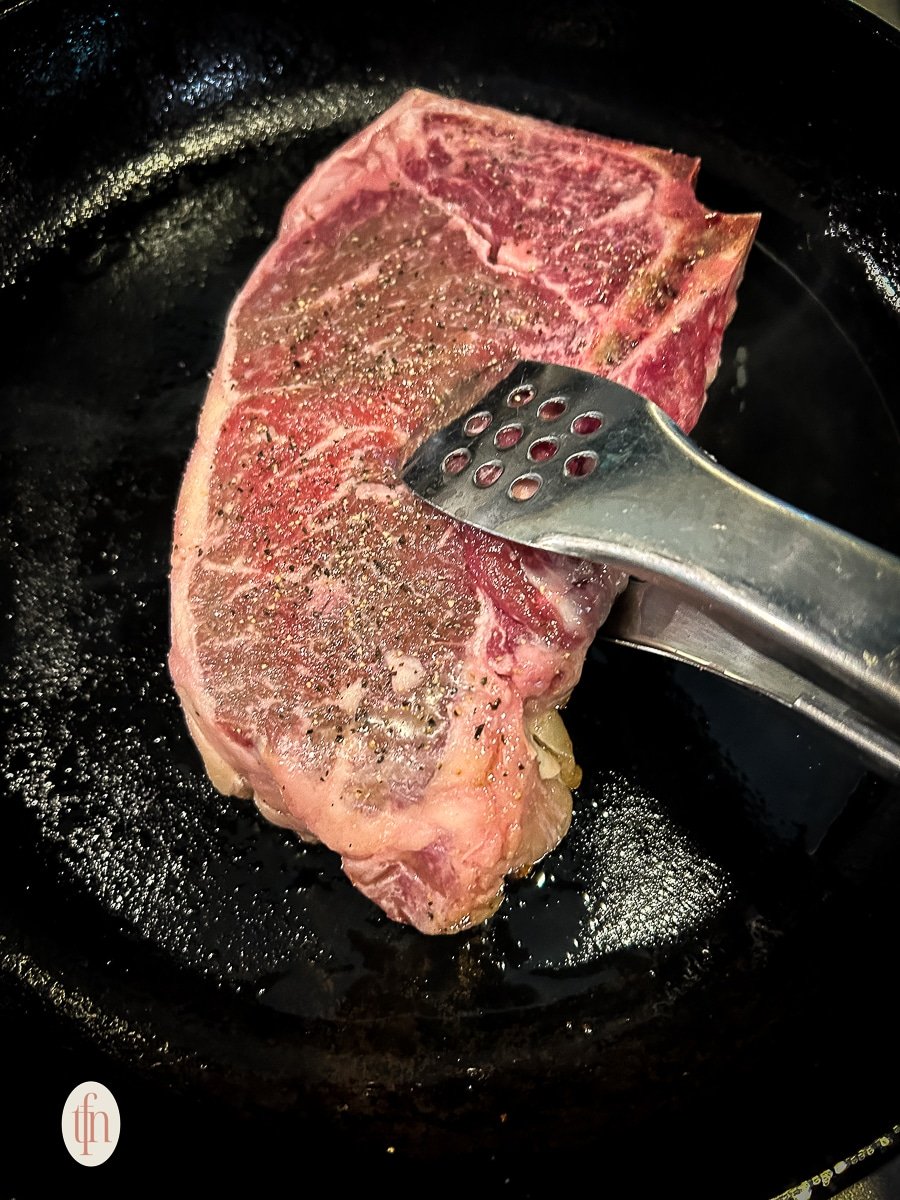 Always let the meat rest before slicing.

After removing the the grilled NY strip from the heat, wait for at least 5 minutes before you slice into it.

This unwritten rule isn't only for this shell steak recipe – it also applies to any griddle steak (like our Blackstone steak recipe!), and proteins as well.

As it rests, the juices will settle back into the fibers of the meat. This prevents them from leaking out onto your cutting board.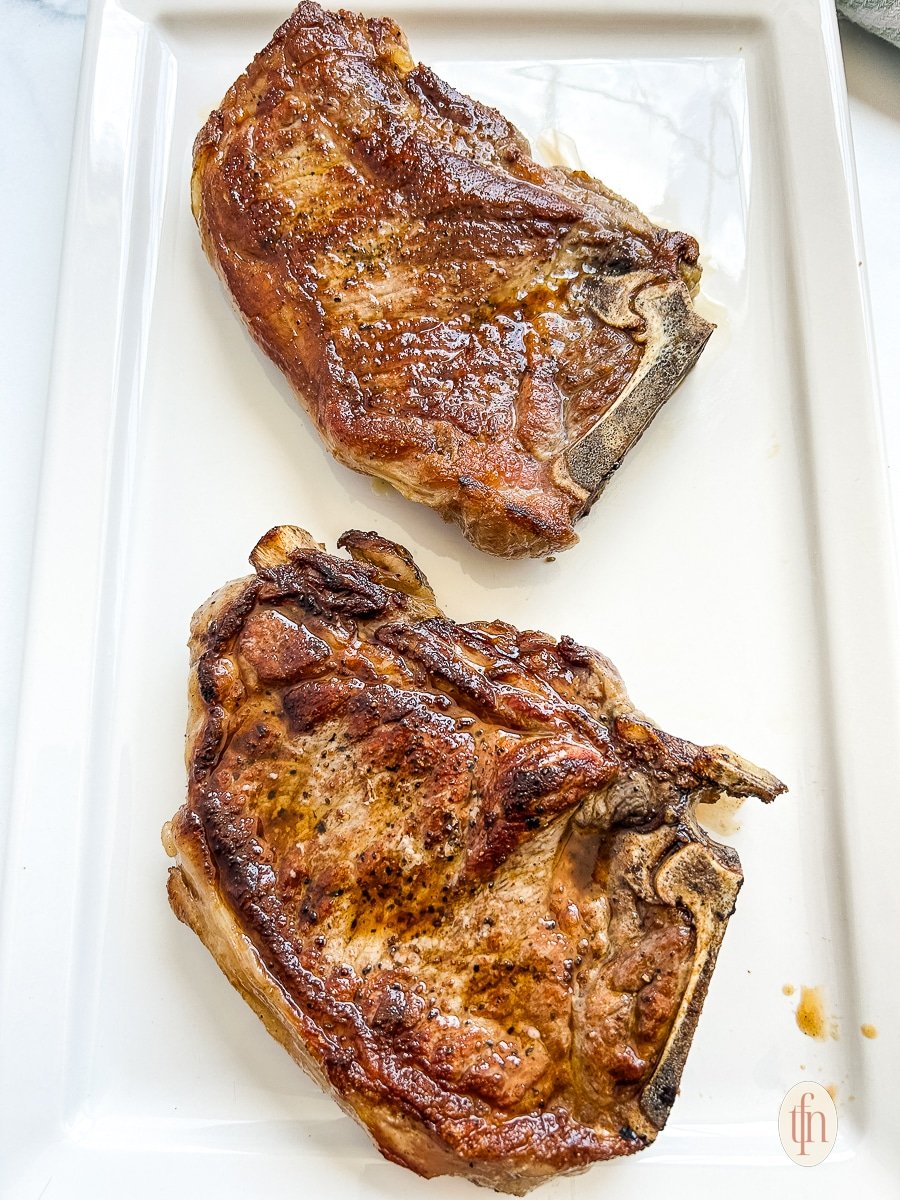 Slice against the grain.

Also known as cutting on the bias or making a bias cut, this method guarantees you will have tender and juicy bites of beef.

To find the grain, look for the lines that run parallel to each other throughout the meat. Then use your knife to cut across these fibers, instead of in the same direction.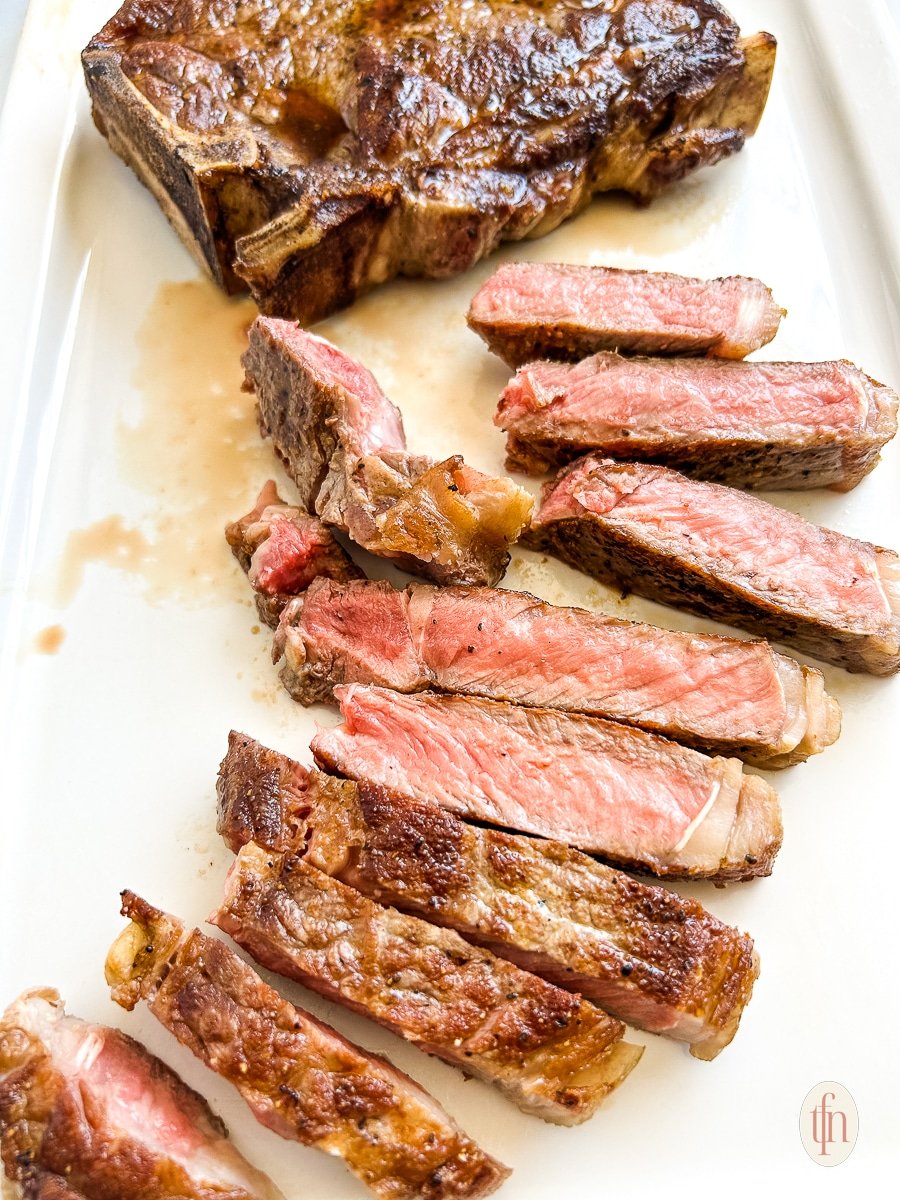 Storing and Reheating
Store any leftovers in an airtight container once cooled. Refrigerate for up to 4 days and be sure to not let the meat come back to room temperature before you're ready to reheat and eat.
The best way to reheat shell steak is by slowly baking at a low temperature so that you can warm the meat without taking it too close to well-done territory.
Shell Steak Recipe FAQ
How long does it take to cook a shell steak to medium rare?
It will take anywhere from 10 to 13 minutes depending on the thickness of the cut.
You can't go by time alone, however, as it's all about reaching a safe internal temperature of 130°F. A digital thermometer comes in handy for this.
Should you grill a steak with the lid open or closed?
It's best to keep the lid open while searing. After that, when the meat has been transferred to the indirect cooking side of the grill, it could go either way. However, as the shell steak cooks fairly quickly, there's really no need to close the lid.
What's the best way to cook a bone-in steak?
We love a good medium-rare bone-in NY strip steak! It has the best, most tender bite with plenty of juiciness still to be enjoyed.
The easiest way to accomplish this is with a quick sear on a skillet, followed by cooking on indirect heat to bring the meat to doneness.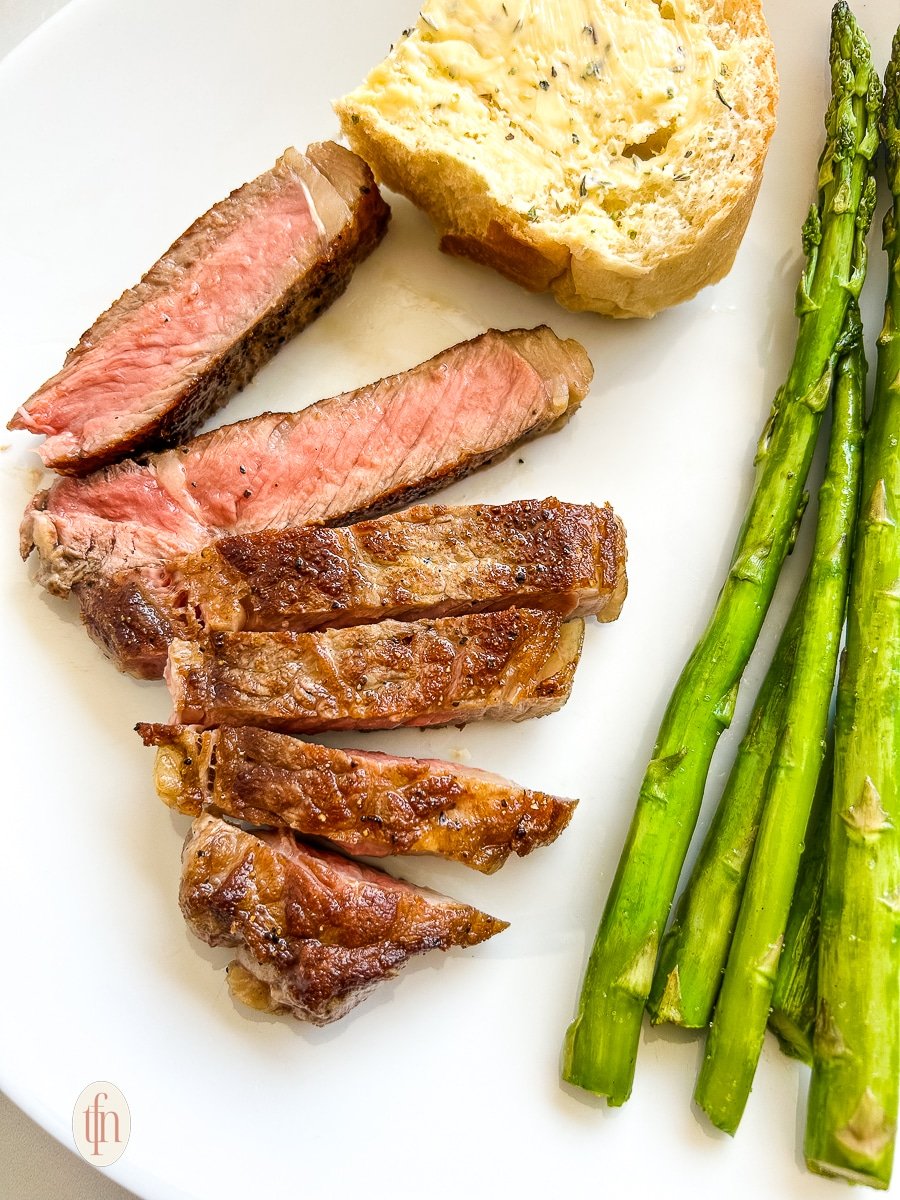 Now that you have tips for success, take this shell steak recipe and fire up the heat. You are about to make an incredible beef dinner!
Shell Steak
Shell steak is a lean, juicy bone in NY strip steak that's packed with flavor! Use our pro tips and shell steak recipe to cook it perfectly!
Equipment
tongs

digital cooking thermometer
Ingredients
3 pounds shell steak (2 bone-in strip steaks, approximately 1.5 pounds each), room temperature
½ teaspoon sea salt
¼ teaspoon cracked black pepper or more/less to your preference
Instructions
For a gas grill: Preheat your grill to High (380 – 400°F.)

Place a large cast iron skillet on the grates of the grill, so it preheats as well.

Season both sides of all steaks with salt and pepper. Add steaks to the preheated skillet, leaving space between them. *If your skillet isn't large enough to hold more than 1 steak, you may need to sear in batches. Or, you can cook steaks directly on the grill grates instead.

Sear first side of the shell steaks for 2 minutes to create a nice golden crust. Using tongs, carefully flip steaks over, and sear other side for 1-2 minutes.

Reduce grill heat to Medium (350 – 375°F.) and continue cooking bone-in steaks to your desired doneness, turning them over at the halfway point of total cooking time. *See Notes, below.

Transfer to a cutting board or platter and lightly tent it with aluminum foil. Allow beef to rest for at least 5 minutes before serving.
Shell Steak on a Charcoal Grill
Set up your grill with charcoal arranged on one side only, for indirect cooking.

When the grill is hot, place steaks over the hottest part of the grill and sear each side for 1–2 minutes.

Using tongs, carefully move the meat to indirect cooking side, or place on the grates over ash-covered coals. Continue grilling to your desired doneness, turning each steak over halfway through the total cooking time. *See Notes, below.
Notes
For medium-rare shell steak, grill for about 10 minutes for a 1-inch thick steak, and 13 minutes for a 1½-inch thick steak.
Use a digital cooking thermometer inserted into the thickest portion of the meat to ensure proper cooking. Be sure that the probe isn't touching bone. For medium-rare, remove from the grill when the internal temp is 130°F.
Nutrition
Serving: 0.5 steak | Calories: 508kcal | Carbohydrates: 0.1g | Protein: 47g | Fat: 34g | Saturated Fat: 14g | Polyunsaturated Fat: 1g | Monounsaturated Fat: 15g | Cholesterol: 181mg | Sodium: 409mg | Potassium: 712mg | Fiber: 0.03g | Vitamin A: 1IU | Calcium: 53mg | Iron: 3mg
PIN THIS POST!