Oven roasted green beans and potatoes are a classic holiday side dish, and so simple to make! Sweet, crisp veggies lightly coated with aromatic olive oil, rosemary, garlic, and just a bit of salt and pepper. These are the most appetizing sheet pan roasted vegetables you'll ever taste!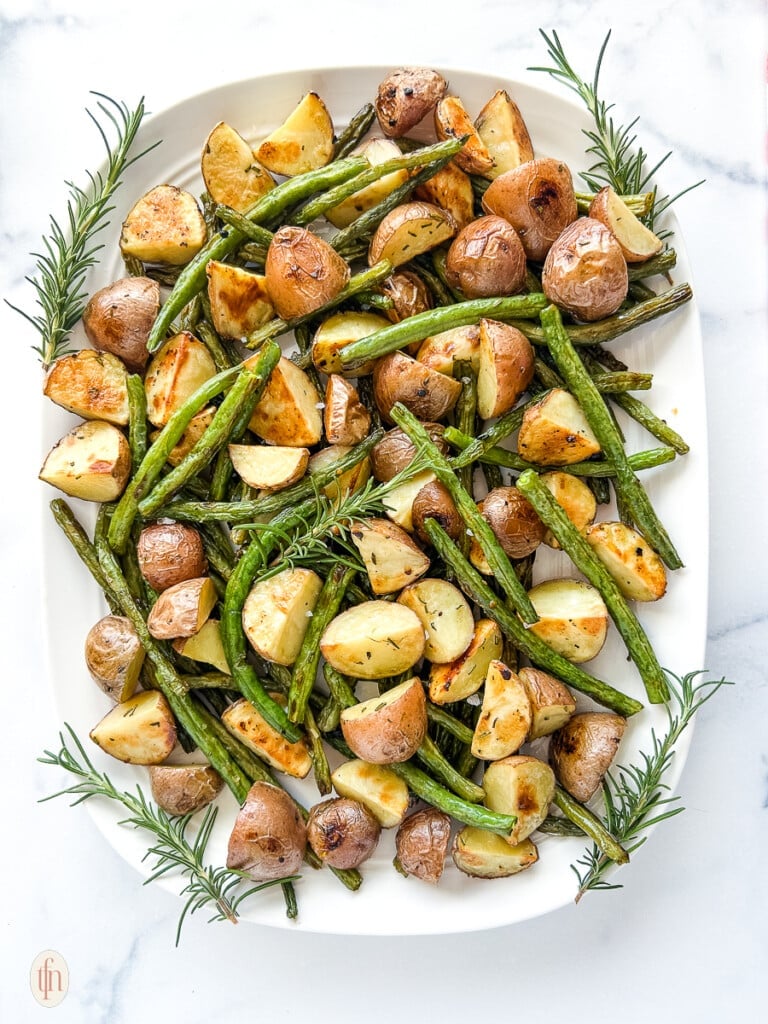 Why We Love Roasted Green Beans and Potatoes
You can make a lot all at once — perfect for the holidays when you need to cook for your entire family.
They're an easy one-pan recipe! While they take a bit of time, they're very simple and just require a little shimmying in the pan before they're ready.
You can accommodate all dietary needs. Just like our acorn squash soup, you can enjoy natural, seasonal flavors in the best way with vegetarian sides.
Ingredient Notes and Substitutions
Potatoes – For the best results, use small potatoes so that you can cut them uniformly. The best spuds for roasting are those with thin skins, also known as waxy. Baby red, yellow (gold), or even fingerling are great choices. Thicker-skinned spuds like russets have more starch, so they don't hold up or maintain their shape as well once exposed to high heat. They also take on a rather pasty, gummy texture.
Green Beans – We recommend only using fresh produce for sheet pan roasted vegetables. Frozen veggies are better suited for recipes with a shorter cook time, like Instant Pot steamed broccoli or steamed green beans.
Olive Oil – We suggest using good-quality extra virgin olive oil. If you need a substitute, use a cooking oil with a very high smoke point and neutral flavor. Good alternatives are peanut, sunflower, or avocado oil.
Minced Garlic – It's best not to use garlic powder – there isn't anything that comes close to the flavor of freshly roasted garlic cloves!
Roasted Green Beans and Potatoes Recipe Tips
For even roasting, cut everything into similar-sized pieces.

Do your best to keep the sizes of the vegetables similar enough that they finish roasting at the same time. There's not much worse than a pan full of burnt green beans and raw potato!
Arrange sheet pan roasted vegetables in a single layer.

If the potatoes and green beans are all piled up on one another, you're bound to have some raw centers and burnt skins. Spacing them out on the pan also makes it easier to flip the veggies throughout the roasting process.
Flip the vegetables regularly while roasting.

The total cooking time will vary depending on your oven, but expect about 50 minutes or so for perfectly roasted green beans and potatoes. During the cook time, flip the vegetables every 15 minutes to ensure even cooking.
Cook until everything is fork-tender.

With roasted green beans, it's easy to gauge doneness by sight. Spuds? Not so much.

The easiest way to know for sure is by sticking a fork into the center of one of the largest pieces.

If the fork meets resistance, then the sheet pan veggies probably need more time in the oven.

This being said, you don't want to wait until the fork slides through like butter! Just a little resistance is the sweet spot.
Roasted Green Beans and Potatoes FAQ
Is it best to blanch green beans before roasting?
Blanching is typically done to partially cook veggies that you would typically eat raw, like broccoli or carrots.

Since we're oven roasting potatoes and green beans, blanching is not necessary. In fact, softening them beforehand can result in them becoming soggy in the oven.
Why are my green beans not crispy?
Be sure to start with dry vegetables, as excess moisture can cause them to steam instead of becoming crispy and roasted.

Additionally, overcrowding the pan can cause some to overcook while others remain raw.
What temperature is best to roast green beans and potatoes?
We prepare these oven roasted vegetables at 400°F.

Some recipes have the temperature a little higher, for faster cook time, while others have the temperature lower. In our experience, this is the best temperature to get a crisp exterior and well-cooked center, particularly for the potatoes, without the skins becoming overcooked.
Storing and Reheating Leftovers
Leftovers will last for up to a week in the fridge. However, they do become soggier and less flavorful with each day, so they are best when eaten sooner than later.
Reheat in the oven or even the air fryer to get as much crispness as possible back in the veggies.
Easy Roasted Green Beans and Potatoes
Perfectly roasted green beans and potatoes are easy to make in the oven. This sheet pan roasted vegetables recipe makes any meal special!
Ingredients
1 ½ pounds small red potatoes white potatoes, or a combination of both **See Notes
1 pound fresh green beans **See Notes
2 tablespoons extra virgin olive oil or other high smoke point cooking oil
2 tablespoons minced rosemary leaves (about 3 sprigs)
1 tablespoon minced garlic (3 cloves)
¾ teaspoon kosher salt
½ teaspoon freshly ground black pepper
Instructions
Preheat your oven to 400°F.

Use a sharp knife to trim the ends from the green beans, and cut each potato into halves or quarters.

Place potatoes and green beans in a large mixing bowl, along with olive oil, garlic, rosemary, salt and pepper. Use your clean hands or a large spoon to combine everything, until all of the vegetables are well coated.

Transfer the seasoned veggies onto a rimmed baking sheet, and spread them out into a single layer. Roast in the preheated oven for about 50 minutes, or until browned, crisp, and tender when pierced with a fork. Use a spatula to flip them every 15 minutes or so, to ensure even browning.

Transfer the roasted potatoes and green beans into a large serving dish, and serve while warm.
Notes
This recipe works with any thin-skinned potato. We do not recommend using russets or other thick-skinned potatoes, as they do not hold their shape as well, and also tend to develop a pasty consistency when roasted.
For sweet potatoes, you will need to slice them into 1/4-inch rounds rather than wedges, to ensure that they cook at the same rate as the green beans.
We do not recommend using frozen green beans for this recipe.
Nutrition
Calories: 101kcal | Carbohydrates: 9g | Protein: 2g | Fat: 7g | Saturated Fat: 1g | Polyunsaturated Fat: 1g | Monounsaturated Fat: 5g | Sodium: 443mg | Potassium: 251mg | Fiber: 3g | Sugar: 4g | Vitamin A: 784IU | Vitamin C: 14mg | Calcium: 47mg | Iron: 1mg
PIN THIS POST!