Blackstone fried rice is our most requested dish when friends and family come over, because it tastes just like it came from a Japanese steakhouse. Even better than that, making fried rice on a Blackstone hibachi griddle is less expensive than eating out!
Our recipes for sweet chili meatballs, mushroom dumplings, and stuffed wonton cups are fabulous appetizers that will give your guests a taste of the main course to come!
Reasons to Make Blackstone Fried Rice
Your kitchen will stay cool. During the hot "dog days of summer", not much feels better than a cool house. Cook up this Blackstone recipe outside, then bring it indoors to enjoy!
Customizable
It's easy to adapt this dish – you can make it with whatever vegetables you have on hand. We make it as bacon fried rice, but it's just as delicious without any meat.
Easy and affordable way to cook outdoors.
If you like outdoor cooking, you'll be amazed at the variety of dishes you can make on a flat top griddle! We use our hibachi to make fajitas, steaks and even chicken fried rice – it's really versatile!
Ingredient Notes and Substitutions
Bacon – Not many people think to make bacon fried rice, but the pork adds a fantastic salty, savory flavor to every bite of this dish! Turkey bacon would make a great substitution.
Vegetables – Just about any garden or farmer's market vegetables are delicious in Blackstone fried rice! To make things easier, you can even use frozen vegetables, such as a mix of peas, corn, and carrots.
Garlic Powder – Freshly minced garlic has a more pronounced flavor and aroma, so go ahead and use it if you want to. If you decide to use fresh garlic, one clove should be plenty.
White Rice – We make Instant Pot Jasmine rice to use, but any white variety will work well with this recipe. Brown rice takes longer to cook initially, but you can certainly use that if you prefer it.

We like to freeze or refrigerate cooked rice to use for meal prep throughout the week. It's so convenient!
Eggs – Scrambled eggs are pretty standard for a hibachi fried rice recipe. Bonus points for being an easy way to add extra protein to your plate.
Variations of Blackstone Fried Rice
Include more vegetables.
Hearty, seasonal produce is always a great choice. Zucchini, mushrooms, carrots, broccoli, and water chestnuts are common in hibachi rice. Just avoid leafy vegetables like lettuce that might water down the dish.
Aromatics like green onion (scallion) add a beautiful sharp, savory flavor as well.
Get creative with the seasonings.
For example, use garlic chili oil in place of the sesame oil for some heat! We use garlic chili oil when we make mushroom dumplings, and it is SERIOUSLY delicious.
TFN Pro Tip
There are specific tools that make cooking on a Blackstone so much easier!

You will absolutely want a scraper. That's the tool that hibachi chefs use to quickly and easily get all of the burnt bits off of the flat top grill. It's a must-have for Blackstone cooking!

Additionally, using the right kind of spatula makes a world of difference. Large, sizable metal spatulas are recommended for this, or any other Blackstone griddle recipe. They're great for moving large amounts of food around on the flat top.

Read more about our recommended hibachi accessories!
Tips for Making Fried Rice on the Blackstone
Use cold, day-old rice.
It makes for a far more flavorful, pleasantly textured Blackstone fried rice. That's why we recommend cooking the rice ahead of time, or using leftovers. If nothing else, chill the cooked grains for at least 1 to 2 hours before making any hibachi fried rice recipe.

Get that grill hot!
You want to start cooking on high heat, so allow the grill plenty of time to preheat. This way, the vegetables sear on the outside while cooking to perfection on the inside.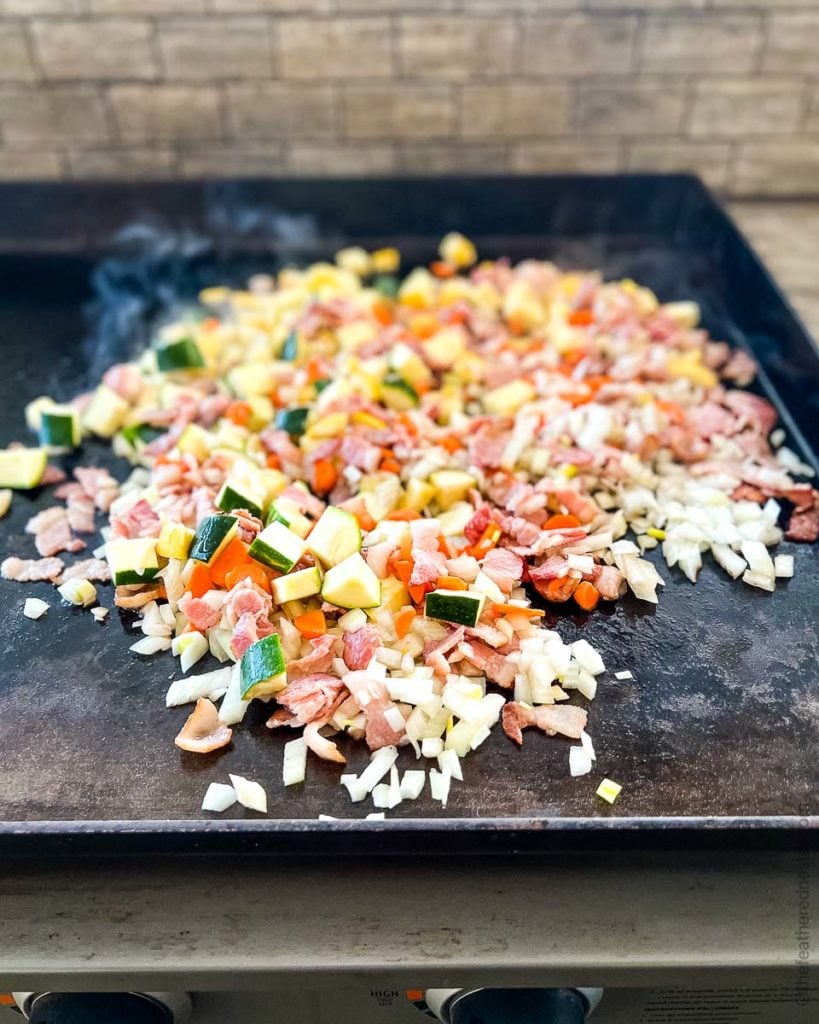 Timing and placement are key!
Knowing the cooking times of ingredients is crucial when you're making fried rice on a Blackstone, so that nothing overcooks or undercooks. It takes roughly 5-7 minutes for fresh vegetables to soften just right. Frozen veggies take 3-4 minutes to warm through.
If you want to serve this as a side dish, you can add another protein to the griddle. However, put raw meats and fresh vegetables on opposite sides of the flat top. There are two reasons for this: so the moisture in the vegetables doesn't affect other ingredients, and so that bacteria in the uncooked meat doesn't come in contact with other ingredients.
Save the eggs for last.
Wait to scramble the eggs until after everything else is cooked. Otherwise, they'll over cook and become tough and rubbery.
That's about the gist of it! It's a sort of fast-moving process, but very easy once you get the hang of it.
Blackstone Fried Rice FAQ
What proteins can I add to hibachi rice?
There are plenty of protein options that work well with a hibachi fried rice recipe! Good choices are quick cooking foods like chicken, pork, steak, shrimp, scallops, and tofu. Be sure to cut large chunks of protein into small bite-sized pieces, so they're easier to eat.
Why does rice stick to the Blackstone?
You may notice that the rice sticks to the griddle and is hard to stir with the vegetables and bacon. This happens because there isn't enough oil to keep the rice from sticking. Add just a little more oil and stir if this happens. You don't want to add too much, or the whole dish will be oily.
What is the best oil for hibachi on a Blackstone?
Use an oil that can stand up to high heat like vegetables, avocado, sesame, sunflower, or peanut oil. You can find any of these at your local grocery store or online retailer. Drizzle a little flavored oil at the end for an extra punch!
Storing and Reheating
Refrigerate: Leftovers keep and reheat really well! Store them in an airtight container in the refrigerator for 3-5 days.
Reheat: The easiest way to reheat leftover Blackstone fried rice is in the microwave. We recommend covering the dish with a wet paper towel to add moisture back to the grains.
Freeze: Allow the rice to cool completely in an airtight container and keep it in the freezer for up to three months. It's a good idea to label the container with what you're storing and the date as well.
Blackstone Fried Rice
Blackstone Fried Rice is a hibachi fried rice recipe for a delicious Japanese teppanyaki meal. Make this Blackstone recipe on your griddle!
Equipment
flat top griddle - (like a Blackstone or Chef Camp)

Large, metal griddle spatula

Flat griddle scraper

Infrared thermometer - (optional, but useful for checking the temperature of griddle)
Ingredients
8 ounces bacon or more, if desired
3 cups diced vegetables (use your favorite fresh or frozen stir fry vegetables)
1 small yellow onion chopped
2 teaspoons garlic powder
1 tablespoon sesame seed oil
3 tablespoons butter
2 cups cooked white rice chilled
3 tablespoons light soy sauce regular soy sauce, or coconut aminos
3 large eggs
Instructions
Preheat the griddle to high heat. Cut bacon into bite-size pieces. Turn the flat top grill to medium heat, and add bacon. Cook until bacon is about halfway done, about 5 minutes.

Add vegetables and onion to the griddle and use a large metal spatula to toss and combine them with the rice. Season with garlic powder and sesame oil, and continue cooking until both vegetables and bacon are finished, 5-7 minutes.

Create a well in the middle of the bacon and vegetables, and let the butter melt. Once melted, add the rice, breaking it up in the butter. Stir rice and vegetables together, and add coconut aminos or soy sauce until rice is lightly colored or to your taste.

Break eggs onto an open area of the Blackstone griddle and stir to scramble. Use a flat spatula to cut the eggs into bite-sized pieces and stir them in with the rice.

Season with salt and pepper to taste. Serve warm.
Notes
Tip: Using cold rice creates more flavorful hibachi fried rice. So, if you have time, refrigerate your cooked rice for 1-2 hours prior to cooking on your griddle. Freeze or refrigerate the extra pre-cooked rice as an easy time-saving strategy. Then, it's always at the ready to use in any recipe with rice!
Nutrition
Serving: 1.5 cups | Calories: 588kcal | Carbohydrates: 31g | Protein: 8g | Fat: 49g | Saturated Fat: 20g | Polyunsaturated Fat: 6g | Monounsaturated Fat: 20g | Trans Fat: 0.2g | Cholesterol: 144mg | Sodium: 351mg | Potassium: 276mg | Fiber: 4g | Sugar: 1g | Vitamin A: 4931IU | Vitamin C: 10mg | Calcium: 47mg | Iron: 1mg
PIN THIS POST!