This Wonton wrapper cups recipe is perfect for bite-sized appetizers! They can be sweet or savory, and they are always a crowd favorite!
This post may contain affiliate links. As an Amazon Associate, I earn from qualifying purchases at no extra cost to you. See my disclosure policy here.
Looking for an easy appetizer for your game day and Super Bowl? Look no further than wonton cups!
These little cups are made from wonton wrappers and can be filled with anything you like. Today, we'll show you how to make them using a simple recipe.
Once you've tried these wonton cup appetizers, you'll never want to go back to serving regular old appetizers again!
Easy and Versatile Wonton Cups
Wonton cups are one of the easiest and most versatile finger food appetizer recipes you can make and are perfect for game days and Super Bowl parties.
You can fill them with buffalo chicken, cheese, or even a sweet dessert, or just fill them with just about anything you like.
People fill them with meats, veggies, cheeses, and even desserts! The options are endless.
You can serve them hot with a dipping sauce on the side. Your guests will love these wonton cup appetizers!
Plus, they're a great way to use up any leftover wonton wrappers you might have.
If you've ever made homemade wontons before, then you know there are always a few wrappers left over.
Rather than throwing them away, put them to good use and make some easy wonton cups!
You can easily find these wrappers at your local grocery store. They usually come in a package of about 50 wrappers.
And trust us, once you start making these cups, you will want to make them all the time!
Love tasty appetizers? Then try our Loaded Tater Tots, Stuffed Jalapeno Poppers, and Pimiento Cheese Balls recipes for the best appetizer recipes.
Ingredient Notes and Substitutions
Wonton wrappers – You can find wonton wrappers in the grocery store produce section. Or, make things easy and order them from Walmart's online grocery pickup as I do!

Can't find wonton wrappers? Use egg roll wrappers instead! Just cut them in quarters.


Cooking spray – This will help keep the wonton cups from sticking to the muffin tin. You can also use a light coating of oil instead.
Equipment Used for Making Wonton Cups
How to make Wonton Wrapper Cups in Oven
Preheat the oven to 350ºF.
Pan preparation. Spray the muffin tins with cooking spray. Spray the bottom 1/2 of the shot glass (or small glass) with cooking spray.
This will help the wonton wrapper to stick to the glass and make it easier to remove later.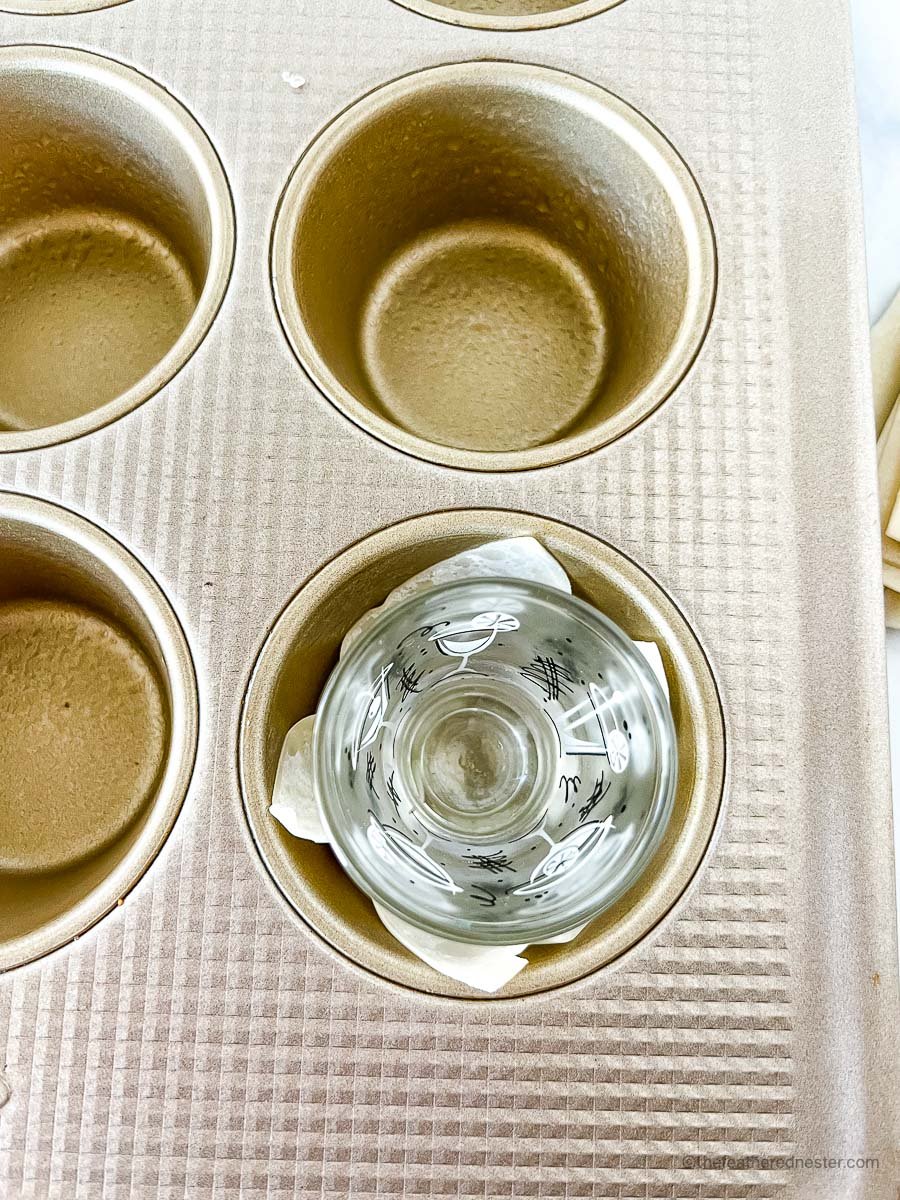 Shaping the Cups. Lightly spritz the wonton wrapper with cooking spray. Then, place it in the muffin tin well.
Use the shot glass to form the wonton wrapper around the muffin pan well. You may need to twist the glass lightly.
Do this with the rest of the wonton wrappers.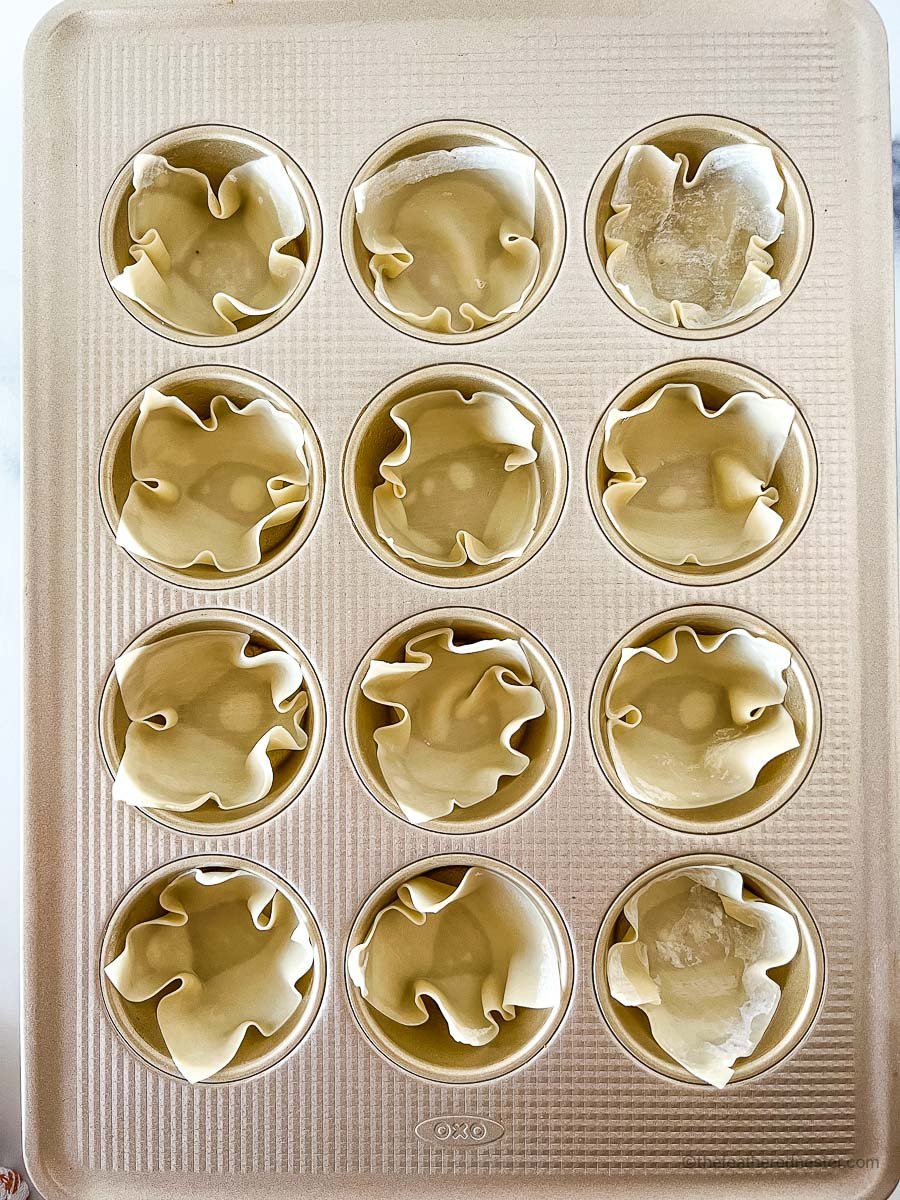 Baking the Cups. Bake the wontons for 10 minutes, until golden and crispy, with little bubbles on them.
Let the crispy wonton cups cool in the pan for at least 5 minutes (unless you are adding a filling and baking).
You can then store them in an air-tight container at room temperature for 1-2 days.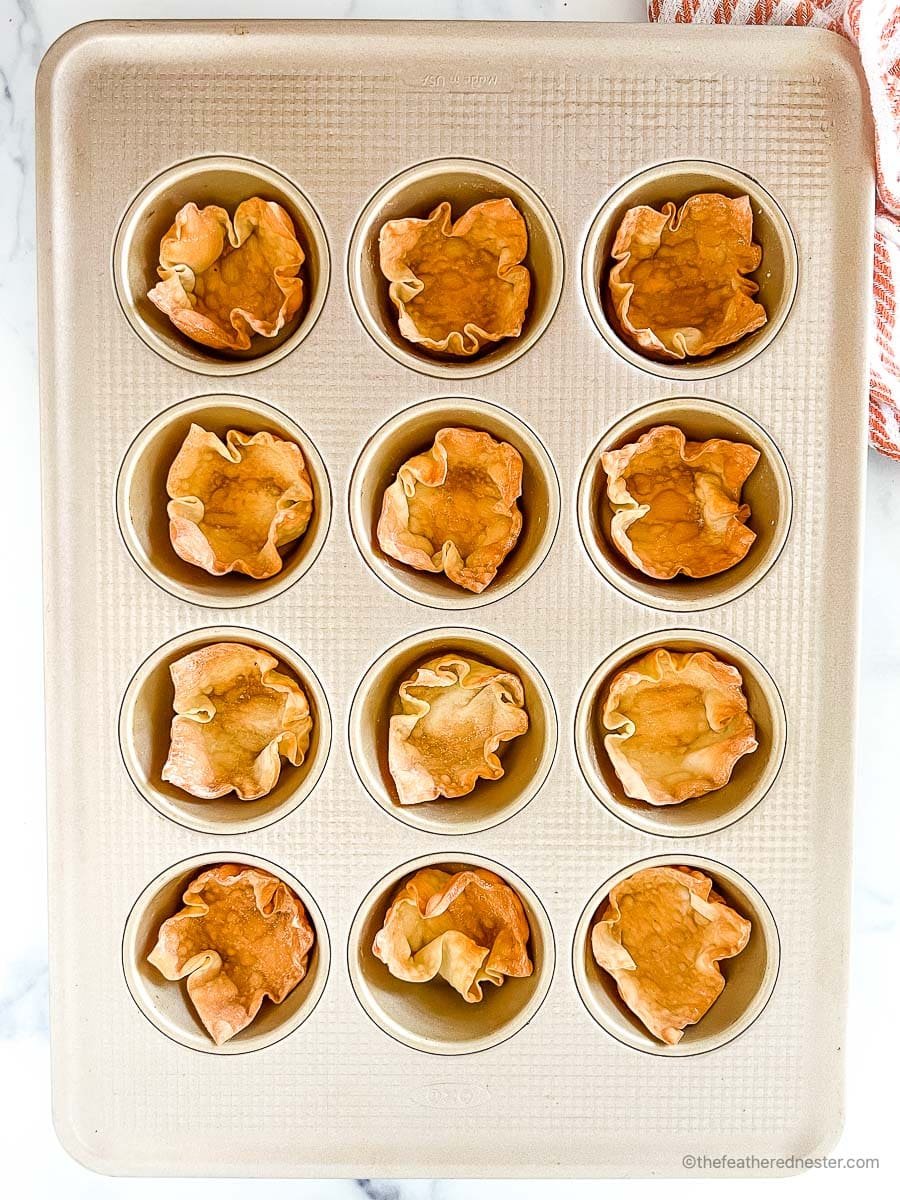 Air Fryer Instructions
To make these in an air fryer, use glass custard cups instead of muffin pans for the wrappers. Bake at 325ºF following the instructions above.
How to make little wonton cups
For this recipe, you will need mini muffin tins and mini wrappers to make little wonton cups.
The process is the same as above, but you will need to use your fingers to form the wonton wrapper into the shape of a cup. You will also need to bake them for a shorter time.
Recipe Variations
If you're feeling adventurous, there are endless possibilities for wonton cups. Here are a few of our favorite variations:
Use mini wonton wrappers and a mini-muffin pan to make bite-sized appetizers.
Fill your wonton cups with a sweet cream cheese filling by mixing honey and cream cheese, then top with berries.
Make a spicy sriracha cream cheese filling for your wonton cups by mixing sriracha sauce with cream cheese.
Fill your cups with a vegetarian filling of your choice. Try the filling in this vegetarian mushroom dumpling recipe.
Fill your cups with sour cream and french onion dip for a twist on the classic chip dip.
What goes well with Wonton Cups?
Now that you know how to make a wonton wrapper recipe, it's time to fill them! Here are some of our favorite ideas:
Buffalo chicken – Just like your favorite wing sauce, but in wonton cup form!
Crab Rangoon – A classic appetizer made even better when served in a wonton cup.
Taco dinner cups – All your favorite taco toppings in one bite!
Cheesy broccoli cups – A healthy(ish) option that will please any cheese lover.
Fruit salad – A light and refreshing option that's perfect for summer.
Chocolate cups – Fill them with chocolate pudding or ganache for a decadent treat.
Jalapeño popper cups – All the flavors of your favorite handheld appetizer, but in cup form!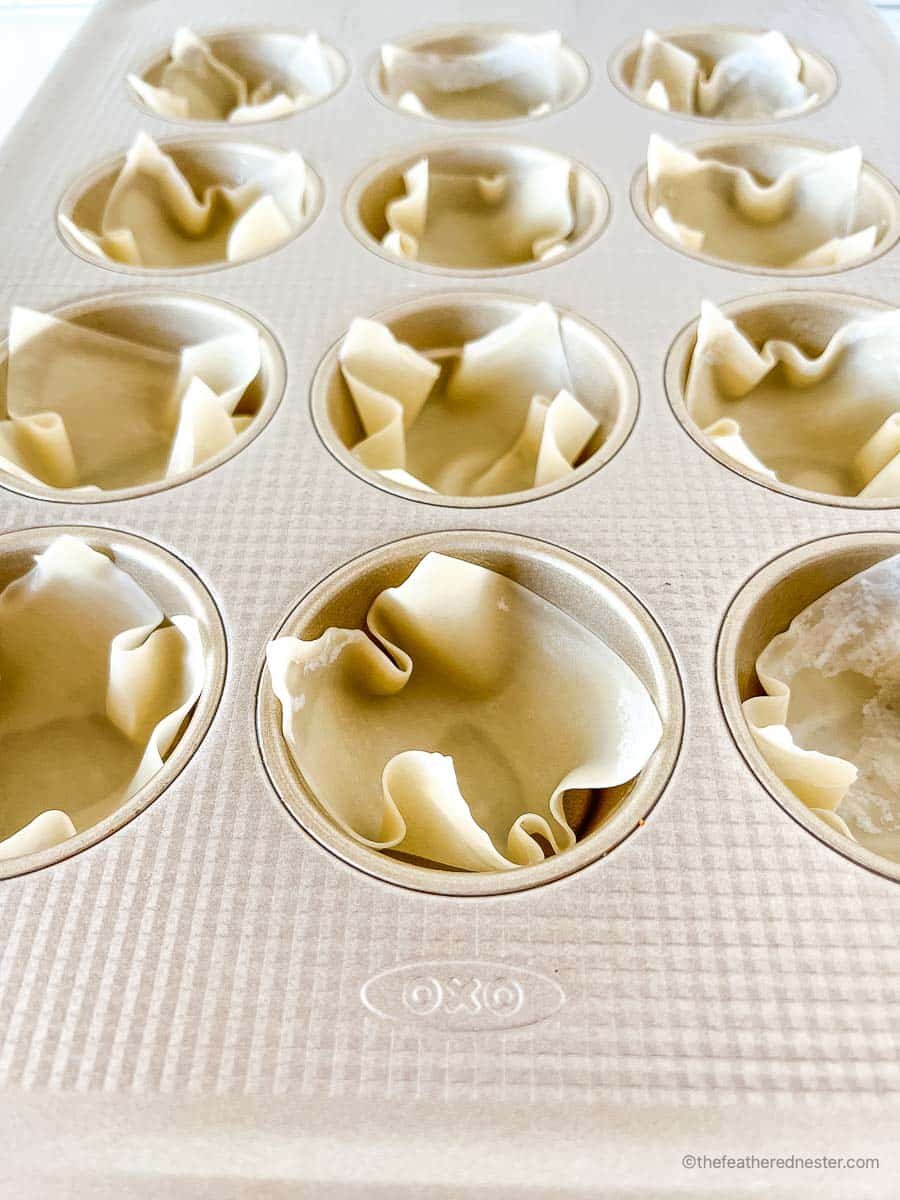 How to Store Wonton Cups
If you're making these ahead of time, store them in an air-tight container at room temperature. They'll last for up to two days.
My preferred way to reheat these is in the air fryer at 325ºF for 10 minutes. They will taste just as fresh as when you made them.
To reheat in the oven, place them on a baking sheet and bake at 350ºF for 10 minutes or until heated through.
Can I freeze These Cups?
Yes, the cups from this wonton wrapper recipe can also be frozen. After baking, let them cool. Then simply place them on a baking sheet and freeze them for about an hour.
Once they're frozen, transfer them to a freezer-safe bag or container. They'll last in the freezer for up to three months.
How to reheat Wonton Appetizers
My preferred way to reheat these is in the air fryer at 325ºF for 10 minutes. They will taste just as fresh as when you made them.
To reheat in the oven, place them on a baking sheet and bake at 350ºF for 10 minutes or until heated through.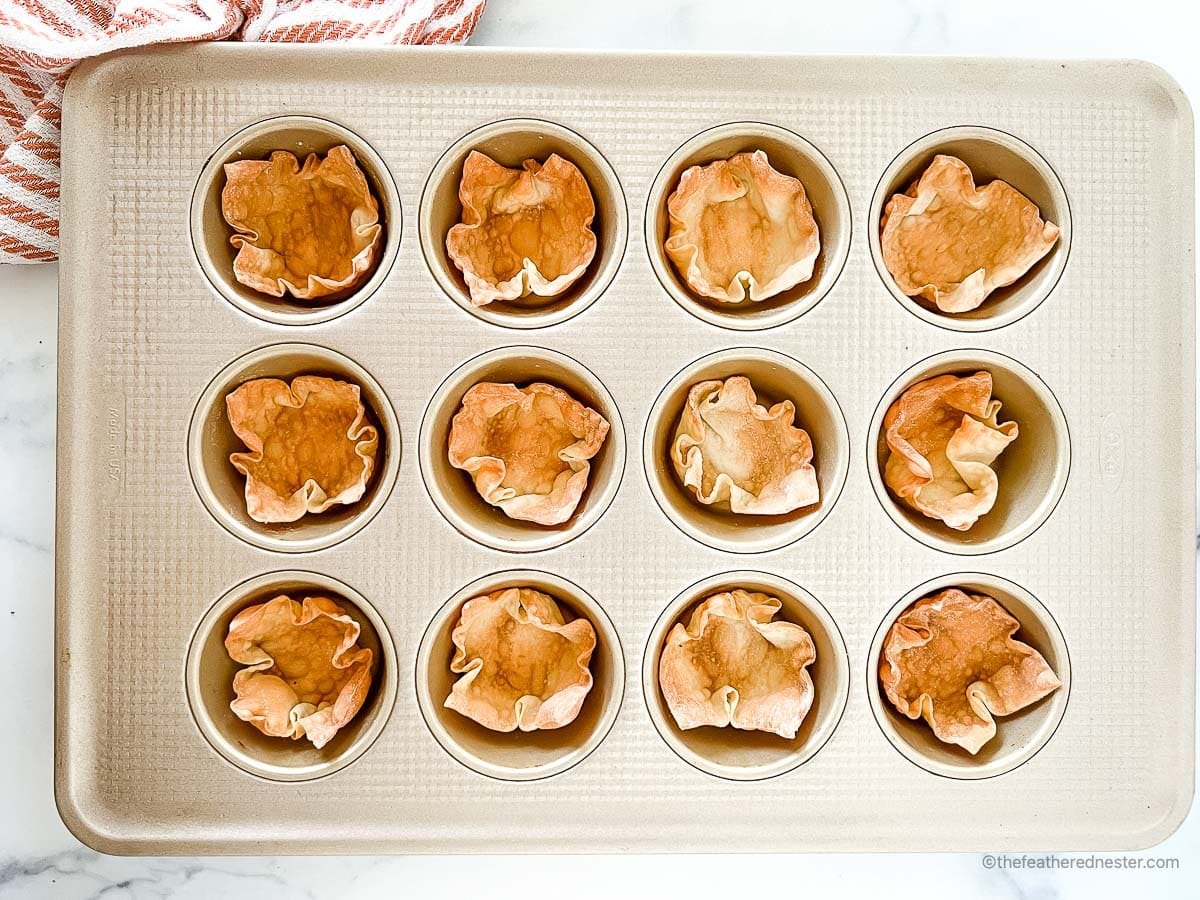 Get the Full Wonton Wrapper Cup Recipe Here