With smoked queso on the table, there's no need to serve a bland Mexican chorizo dip! With a smoky flavor and kick from spicy sausage, it has mouthwatering dimensions of flavor. The best part is, it's a creamy, warm appetizer that's beyond simple to make, and perfect for game day or Cinco de Mayo parties!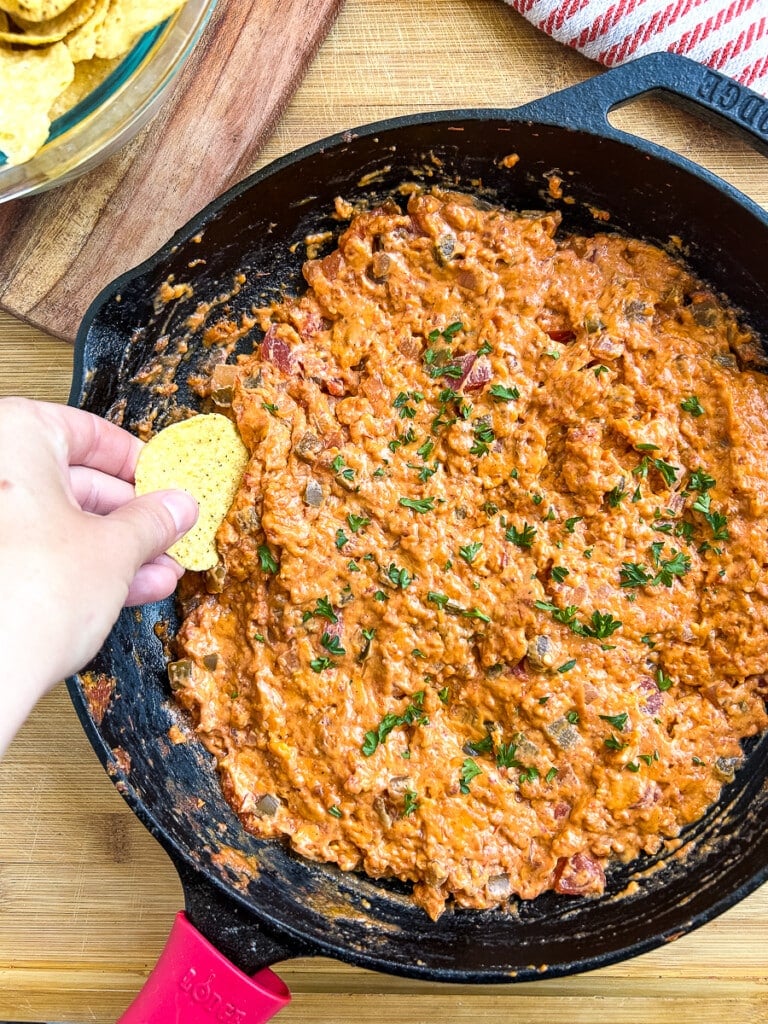 Why We Love Smoked Queso
A unique flavor.
If you have never tried a smoked cheese dip, it has a flavor that's unlike any other. We think you'll be begging for more!
Just 3 ingredients!
We love that the ingredients are easy to find at your local grocery store or Mexican market.
Versatile and adaptable.
Chorizo queso pairs perfectly with other popular party dips and dippers, like pretzel cheese dip, crisp sliced veggies, and tortilla chips.
Ingredient Notes and Substitutions
Velveeta – There are a few different flavors of Velveeta available and any of them will make a phenomenal smoked queso dip. We chose to use the Mexican flavor.
If you need a substitute, queso blanco or sharp cheddar cheese are good choices.
Chorizo Pork – This spicy ground sausage is rich and hot — perfect for Mexican and Tex Mex recipes! Ground sausage is the best substitute (hot Jimmy Dean is our recommendation).
Salsa – Thick, chunky salsa will offer the best texture to smoked queso. Pico de Gallo is nice to add too. Whatever your choice, don't drain the salsa. The extra liquid helps create the perfect consistency for the queso.
Good Cheeses for Smoked Queso
You'll run into trouble with cheeses that are too "soft" or "fresh" for smoked queso dip, like mozzarella or burrata, but other firm cheeses are great!

Creamy white varieties like white cheddar and Gruyere melt well, but are a bit mild and milky. Smoked cheese with a strong, tangy flavor like blue cheese, feta, and goat cheese isn't the best to use on its own but could be mixed in and used in a blend to add a sharp, vibrant flavor.
🎯 TFN Pro Tip
Need a substitute for Velveeta?
If you aren't a fan of processed cheeses, make a Velveeta substitute, using 8 ounces of cheddar, cut into 1-inch cubes, and 8 ounces of full-fat cream cheese, also cut into 1-inch cubes.
Chorizo Dip Recipe Tips
Be careful when draining grease from the skillet.

After you cook the chorizo, there will be quite a bit of grease in your skillet. If you feel confident draining it into a grease jar, great. Otherwise, you can remove the skillet from the burner heat and use several layers of paper towel to soak up the grease from the pan.
Stir the queso as it cooks.
Velveeta cheese melts really well, but stirring it a couple of times during the smoking time helps bring all of the ingredients together.
Add the salsa after the cheese melts.
Tomatoes have a high water content, and that excess liquid will water down your queso. It's best to wait and stir the tomatoes in just before serving.
Recipe Variations and Notes
Need to make this smoker recipe on a traditional grill?
If you don't have access to a smoker, you can get the same effect using a traditional grill and a smoke tube.
Don't want your queso to have a a spicy flavor? Use Velveeta Cheese Sauce instead.
Don't have a cast iron skillet?
Brown the meat for the chorizo dip in a regular skillet and drain the grease.

Then, instead of melting the Velveeta in the same skillet, as we do with a cast iron pan, transfer all of the ingredients to an aluminum foil pan to cook it on the smoker.
Are you a fan of easy party snacks?
If so, be sure to check out our creamy feta dip and cheesecake salad recipes!
Smoked Queso Dip FAQ
What kind of wood chips are best for smoked queso?
We like apple wood pellets for its fruity smoke flavor. Other varieties that are suitable include cherry, pecan, and peach.
How do you keep smoked queso dip from hardening?
The best way to keep cheese dip from hardening is to keep it warm. Serving it from a crock pot kept on the 'warm' or 'low' setting is best.
Can you freeze queso with chorizo?
We do not recommend freezing smoked queso dip. Dairy-based recipes rarely thaw and reheat well. Also, cheeses have a tendency to separate and become unpleasantly grainy.

For best results, serve chorizo queso immediately and enjoy while warm.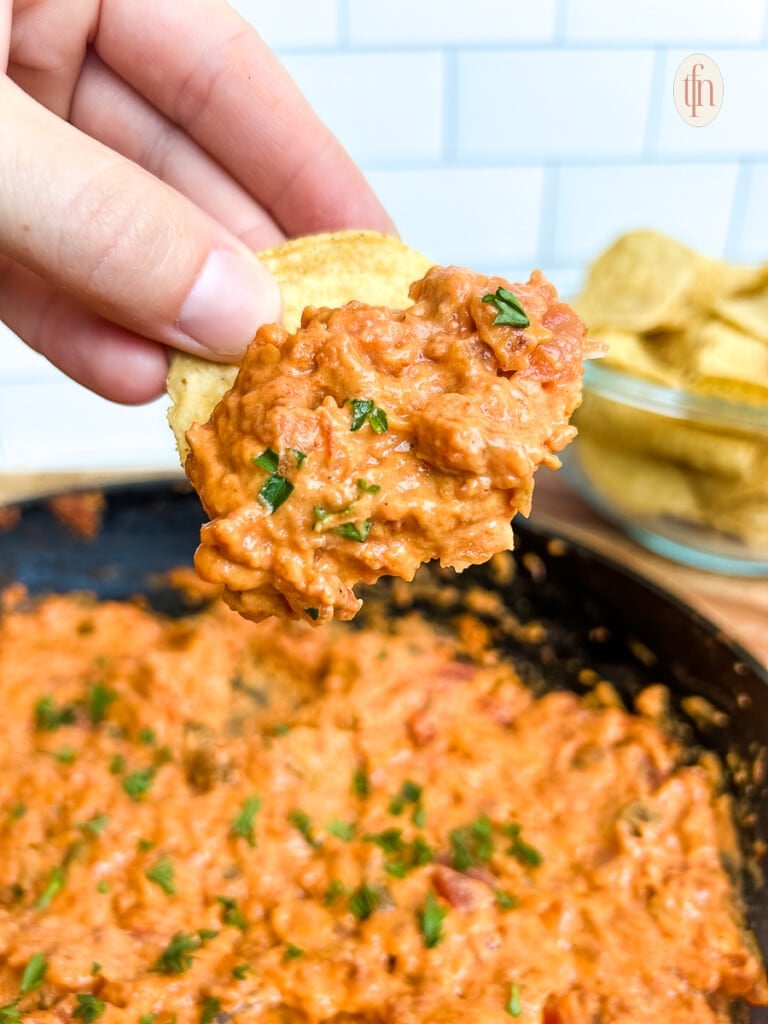 Storing and Reheating
Any leftovers should be left to cool to room temperature before being stored in an airtight container. Refrigerate for up to 4 days.
Reheat on the stovetop on low heat, stirring until warmed through, or microwave in very brief bursts while stirring between each round.
Smoked Queso with Chorizo
Smoked Queso is a spicy chorizo dip with creamy Velveeta, and with only 3 ingredients, it's a snap to make for the perfect party snack!
Ingredients
16 ounces Velveeta any flavor, cut into 2-inch cubes
9 ounces ground chorizo or ground pork sausage
1 cup thick and chunky salsa
Instructions
Heat grill or smoker to 375°F (190°C). **If using a traditional grill, set it for indirect cooking, by lighting only one side of the grill.

Brown chorizo in a 12-inch cast iron skillet over medium-high heat on stove top or grill. Use paper towels to carefully soak up excess grease from the skillet (or drain it off into a grease jar, then return chorizo to the skillet).

Add Velveeta cubes to the chorizo. Using a large spoon, stir to combine. Set skillet in the center of smoker (or set a smoke tube on the lit portion of grill and place skillet on the indirect side)

Close the smoker/grill. Cook for 45 minutes to 1 hour, stirring every 15-20 minutes, until the cheese melts completely.

When cheese is fully melted, add salsa, and stir to combine. Serve immediately with tortilla chips, raw veggies, and/or other dippers of your choice.
Nutrition
Serving: 1 serving | Calories: 232kcal | Carbohydrates: 10g | Protein: 16g | Fat: 14g | Saturated Fat: 7g | Polyunsaturated Fat: 0.03g | Monounsaturated Fat: 0.01g | Cholesterol: 44mg | Sodium: 1340mg | Potassium: 279mg | Fiber: 1g | Sugar: 6g | Vitamin A: 884IU | Vitamin C: 1mg | Calcium: 335mg | Iron: 0.4mg
PIN THIS POST!