This Sheet Pan Chicken Thighs with Veggies is healthy, hearty, and full of flavor. It is an easy one sheet pan dinner that the whole family will love!
Although I love creating complicated and impressive "wow" meals like lasagna and prime rib, most of our recipes are easy weeknight dinners made with just a few ingredients that are ready in 30 minutes or less.
Well, stand by because this one-pan meal is quick and easy but still says "WOW!" Let me show you how to make delicious and easy Sheet Pan Chicken Thighs with Veggies for dinner tonight.
Why One Sheet Pan Chicken Dinners are the Best
What is so special about this chicken thigh sheet pan dinner? How about how scrumptious they are?
Brushing them with butter gives the chicken amazing flavor and keeps the thighs terrifically juicy.
And when you combine that with roasted onions, an assortment of hearty vegetables, and just the right selection of spices, you have a mouthwatering aroma that will make your family run to the table for dinner.
They Look Delicious
Something I love the most about this recipe is how delicious they look. They are super colorful, which studies have shown actually stimulates the appetite.
And if you have children, you know that food presentation can make or break dinner.
With bright colors and yummy flavors, it doesn't get much more kid-friendly and entire-family-pleasing than this recipe!
One Pan Dinners are Quick to Make
From start to finish this chicken veggie bake only takes a mere 30 minutes to make!
Clean Up is a Breeze
Another thing that is great about sheet pan meals, and possibly most important, is how incredibly easy the cleanup is.
Because you just use one pan to season and cook everything all together, there isn't a sink load of dishes waiting for you when you are done.
I use parchment paper, which involves a little cleanup. But you also can use aluminum foil to just peel and toss the whole mess.
Love easy sheet pan dinners? Try our Sheet Pan Pork Tenderloin, Sheet Pan Chicken Drum Sticks, and Sheet Pan Sausage and Veggies.
Ingredients for Sheet Pan Chicken Thighs and Veggies
When selecting produce for one sheet pan chicken, I tend to pick bright colored vegetables that are hearty enough to withstand high oven heat.
Green bell pepper, red bell pepper, red onions, sweet potatoes, asparagus, or carrots are always high on my list. I also love to add fresh herbs before serving for extra fresh flavor.
However, you can certainly use just about any of your favorite vegetables and herbs for this recipe!
Here are the ingredients used in this recipe:
veggies: red potatoes, red onion, and carrots
avocado oil or olive oil
boneless, skinless chicken thighs
butter, melted
seasonings: dried thyme, Kosher salt, and dried garlic
For Sheet Pan Dinners, Renae recommends (and uses) these supplies
How to Make Sheet Pan Chicken Thighs with Veggies
Preheat the oven, get your sheet pan ready, and chop the veggies. I then add the veggies to the sheet pan before anything else.
Keep things simple by tossing the veggies with avocado or olive oil and seasoning them right in there on the pan. That minimizes clean up later on. Yay!
Add the boneless chicken thighs, brush melted butter on the chicken then sprinkle them with more of the seasonings.
Bake or roast the sheet pan of chicken and vegetables for 25-27 minutes. Check the internal temperature of the chicken with a food thermometer. Chicken is cooked if it has reached 165ºF. Then use a fork to pierce the potatoes and carrots to see if they are cooked through.
Bonus: Leftovers of this chicken veggie bake recipe are terrific! This will keep well in the fridge for up to 3 days. They are super tasty to enjoy for lunch the next day; or, make a large batch ahead of time for a meal prep that's quick to reheat for dinner another night.
Recipe Variations
Use bone-in, skin-on chicken thighs for extra flavor. Just be sure to adjust the cooking time since the bone-in chicken will take a bit longer to cook through.
Try a different type of potatoes such as Yukon gold or red potatoes.
Add in other veggies such as broccoli, cauliflower, Brussels sprouts, sweet potatoes, or green beans.
Use fresh herbs instead of dried ones for extra flavor. Try rosemary, sage, or oregano.
Add a touch of heat with a pinch of cayenne pepper, red pepper flakes, or diced jalapeño peppers.
For a flavor boost, substitute lemon juice for the butter when brushing on the chicken.
What to Serve with Chicken Thighs sheet Pan Dinner
This chicken thighs recipe is so hearty and filling, you really don't need much else to round out the meal.
Or serve this recipe along with these sides:
Storage and Reheating Instructions
Store chicken veggie bake in an airtight container in the refrigerator for up to 3 days. When ready to reheat, remove from the fridge and allow to come to room temperature.
To reheat, Preheat oven to 375ºF. Place chicken and veggies on a sheet pan and bake for 15-20 minutes or until heated through.
You also can reheat this in the microwave, cook on HIGH for 3-4 minutes, or until heated through.
Can I freeze this chicken veggie bake?
Yes! This dish freezes well. Place cooled leftovers in a freezer-safe container and store them in the freezer for up to 3 months.
To reheat, follow the instructions above. You may find that the veggies are a bit softer after being frozen, but they will still taste great!
FREQUENTLY ASKED QUESTIONS
Can you bake raw chicken and vegetables together?
Can you cook chicken and vegetables at the same time? Yes, you can! Since the chicken is cut into 1-inch cubes and the vegetables are chopped similarly, roasting them at a slightly higher temperature of 475ºF allows the ingredients to cook thoroughly.
Can you cook chicken and vegetables in the same pan?
The perfect combination of vegetables and well-seasoned chicken bakes up crispy and tender all in one pan. It only takes 15 minutes to get everything ready for the oven, then you can sit back and relax while your roasted chicken with vegetables bakes up golden brown and steams hot.
Should you cook chicken before adding vegetables?
Yes, this is a safe method of cooking, as long as everything in the pan is fully cooked before eating.
Sheet Pan Chicken Thighs Recipe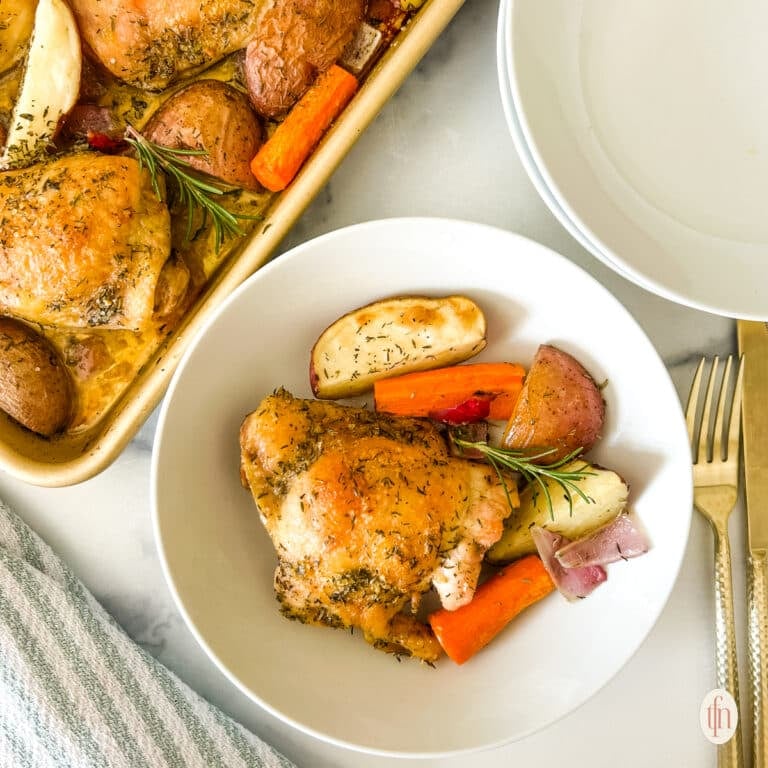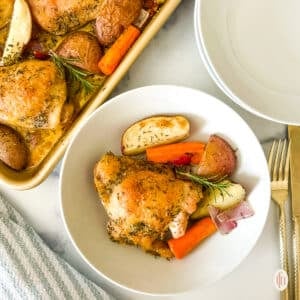 Sheet Pan Chicken Thighs Dinner
Our quick sheet pan chicken thighs dinner recipe makes a delicious and healthy 30 minute meal. You'll love this baked chicken thighs recipe!
Ingredients
5 medium potatoes (russett, red, gold, or white) scrubbed and cut into 2" chunks
3 large carrots sliced into 2" chunks
½ red onion rough chopped
2 tablespoons avocado or olive oil
8 boneless, skinless chicken thighs
2 tablespoons butter melted
2 teaspoons dried thyme
2 teaspoons Kosher salt
2 teaspoons dried garlic
Instructions
Preheat oven to 425º, using bake or roast mode. Prepare sheet pan by spraying with cooking oil or covering with parchment paper or foil. Add potatoes, carrots, and onions to sheet. Drizzle with avocado or olive oil and toss with your hands.

Add chicken thighs to sheet. Don't flatten them completely in order to prevent them from drying out. Brush with melted butter and season.

Bake or roast sheet pan for 25-27 minutes. Check the internal temperature of the chicken. The chicken is done when it reaches 165º. Use a fork to pierce the potatoes and carrots to see if they are done.
Notes
Keep leftovers in an airtight container in the fridge for up to 3 days.
Nutrition
Serving: 1serving | Calories: 401kcal | Carbohydrates: 33g | Protein: 33g | Fat: 15g | Saturated Fat: 5g | Cholesterol: 153mg | Sodium: 1001mg | Potassium: 1317mg | Fiber: 4g | Sugar: 4g | Vitamin A: 6194IU | Vitamin C: 18mg | Calcium: 52mg | Iron: 3mg
More weeknight dinner Recipes