Heart shaped pancakes for two is a delicious and cozy Valentine's Day breakfast idea. Make a short stack for your sweetheart, and serve it with strawberry pancake syrup!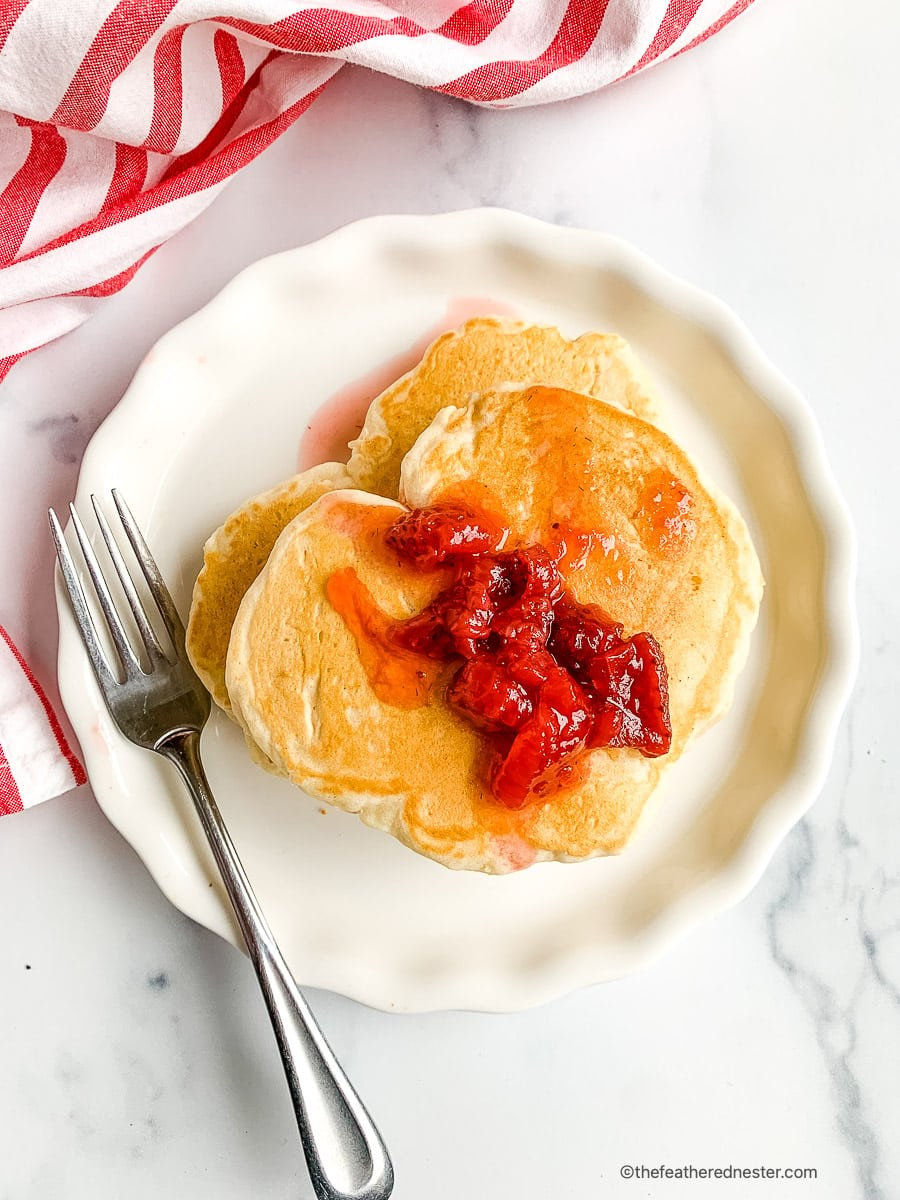 You don't have to spend a lot of money on a fancy meal to show someone how much they mean to you. A Valentine's day breakfast for two is cozy, and guaranteed to bring a smile!
Heart Shaped Pancakes for Two
These fluffy little flapjacks are a cute way to express your love, and they are fun to make, too. Just cook up a short stack and serve them with some crispy bacon, fresh berries, and homemade strawberry syrup!
This recipe is very simple to make and doesn't even require any special equipment! All you need are a few basic pantry staples.
I remember serving my husband these heart pancakes with a side of strawberry syrup and he was so impressed. Since then, this breakfast for two has been our go-to for special occasions. Wedding anniversaries, Valentines Day breakfast, Sweetheart's Day, or just because!
Ingredient Notes
Baking Mix
Bisquick is a convenient baking mix that's quick and easy to prepare, so it's the perfect choice for this romantic breakfast idea. We have a huge collection of easy Bisquick recipes!

If you need a substitute, any baking mix without baking powder will be fine, or you can make our recipe for homemade Bisquick mix.

To give your short stack a different flavor, use our recipe for sourdough pancakes or Blackstone pancakes.

Baking Powder
Please do not substitute baking soda for baking powder in this recipe! Doing so will ruin your cozy, romantic breakfast of fluffy pancakes for two.

If you don't have any baking powder, check out the instructions from The Food Network on making pancakes without baking powder.

Milk
Whole, 2 percent, 1 percent, and even skim milk will work for this recipe. If you need a dairy free substitute for milk, use unsweetened almond or cashew milk.
Kitchen Tools for Making Heart Shaped Pancakes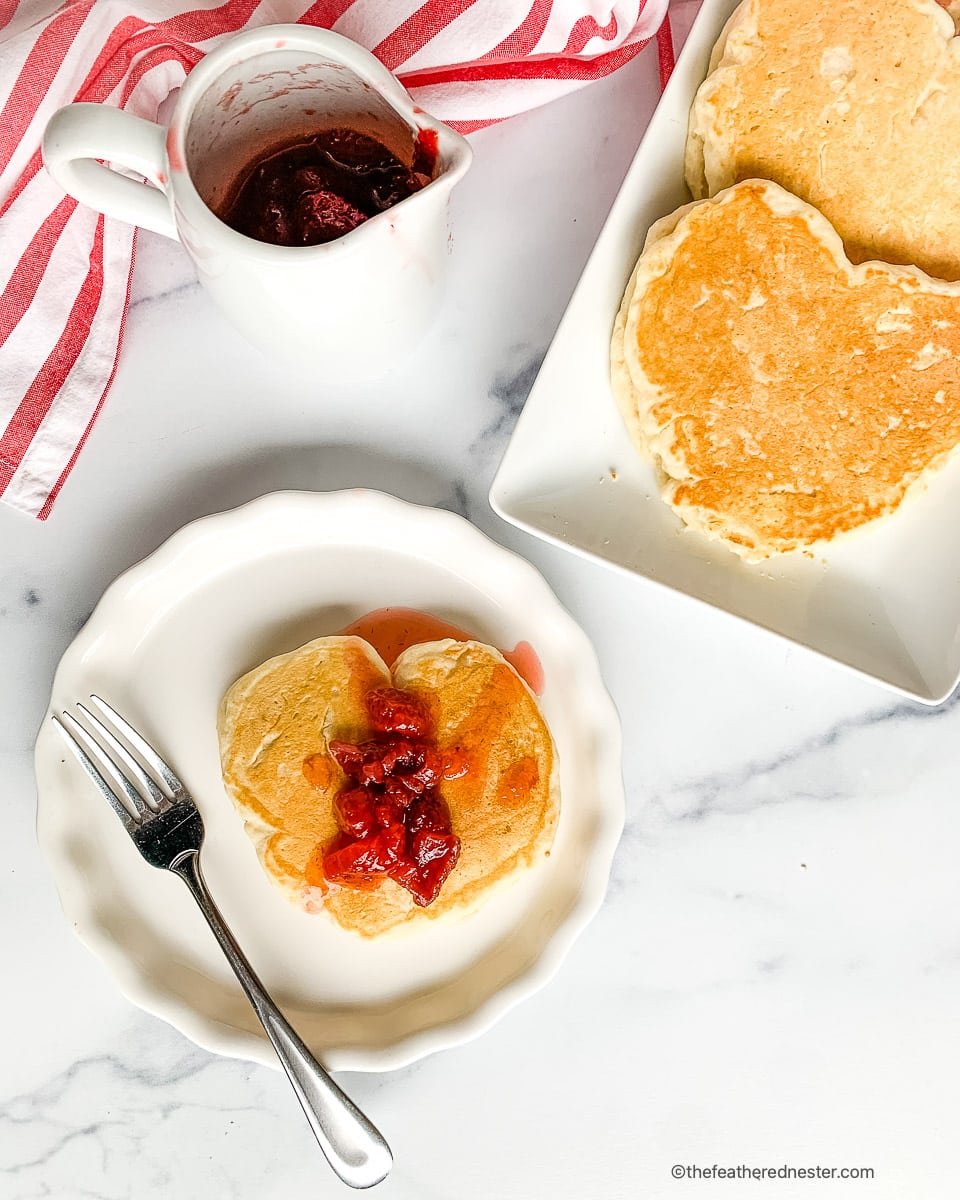 Tips for Making Pancakes for Two
Add the dry ingredients to the wet ingredients.
Combine the wet ingredients in your mixing bowl first. The moisture will help all the dry ingredients come together quickly. This also helps to prevent any dry dry clumps of flour from remaining in the bottom of the bowl.

Test the griddle/skillet before adding the batter.
You want to be sure the pan is hot enough to start cooking the pancake batter right away. To test it, scatter a few drops of water across the griddle/skillet. If the water sizzles up, the pan is hot and ready to use.

Don't over mix the batter!
This is especially important when making pancakes. Over mixing the batter leads to the flapjacks being dry and tough. Plus, it's harder to shape into hearts.

Pay attention to your heat.
To prevent scorched or burnt cakes, be sure to keep the heat at about medium-low. This will help ensure that you have perfectly golden and fluffy pancakes!
How to Shape Pancakes into Hearts
To shape the pancakes into hearts, all you need is a small spoon or a squeeze bottle to dispense the batter.
Using your spoon or bottle, add the batter to the griddle, free forming it into a heart shape.
Having trouble?
To make shaping pancakes even easier, place a heart shaped egg form or a metal cookie cutter onto the griddle. Then, spoon or squirt the batter inside of it.
If you are using a form or cookie cutter, let the batter cook and set up for about 2 minutes. At that point, it's safe to remove the form.
Use a wide spatula or pancake turner to flip the cakes over, and you should see perfect heart shaped pancakes!
Love sweet breakfast recipes?
Try our Easy Cinnamon Rolls or Apple Fritter Breakfast Casserole recipes!
Serving Suggestions
Serve a short stack of pancakes for two with fresh berries, peaches, or other fruit on top. We think they taste fantastic with fresh strawberries or strawberry syrup. If strawberries aren't your thing, put out your favorite syrup.

For an extra sweet (and romantic!) treat, top the heart shaped pancakes with a dollop of whipped cream and chocolate chips.
Add some scrambled eggs and sausage or bacon on the side. If you have a bed table or serving tray, serve your breakfast for two in bed! 🙂
Recipe FAQ
Can I freeze homemade pancakes?
Yes, you can freeze pancakes for up to 3 months. Before freezing, make sure to let the pancakes cool completely before storing them in an airtight container. To serve, thaw and reheat the pancakes on a lightly greased skillet over medium-low heat.
How long do pancakes last in the fridge?
Pancakes will keep in the refrigerator for up to 4-5 days. To store, let the pancakes cool down before transferring them to an airtight container. Reheat pancakes as directed above.
Want more Valentine's Day meal ideas?

Breakfast for two is a cozy idea, but you can continue the love through food all day.
Consider making a romantic dinner, too! For dessert, include some heart jam cookies or sweet homemade pop tarts.
Heart Shaped Pancakes for Two
Celebrate love with these adorable Heart Shaped Pancakes for Two, a delightful and cozy Valentine's Day breakfast treat. They're fun and delicious!
Equipment
large skillet

squeeze bottle - for dispensing pancake batter
Ingredients
1 cup Bisquick baking mix homemade or store bought
1 ½ tablespoons sugar
1 teaspoon baking powder
½ cup milk
1 tablespoons melted butter
1 large egg slightly beaten
Optional
½ teaspoon vanilla extract or maple extract
Instructions
Lightly spray griddle or skillet with non-stick cooking spray. Preheat by setting electric griddle to 350°F, or place skillet on stovetop over medium-low heat.

Add all ingredients to a medium bowl. Using a whisk or fork, stir all ingredients until just blended. There may be some small lumps. If you will be shaping the pancakes freehand, transfer the pancake batter to a clean, food-safe squeeze bottle. Otherwise, leave batter in the bowl. Set aside.

Test the skillet by adding a few drops of water across the skillet. When the water sizzles, the pan is hot and ready for making pancakes.

For each heart shaped pancake, you will use approximately 1/3 cup of batter. Depending on the size of your skillet, you may need to cook them in two batches.

Using a 1/3 cup measuring cup, carefully add batter to the hot skillet, or dispense from a squeeze bottle.Cook on first side for about 1-2 minutes, until there are bubbles across the top and until edges are dry. Using a pancake turner, flip pancake over, then cook on other side for 1-2 minutes, or until golden brown.

Serve heart shaped pancakes warm with butter and syrup.
Notes
Cooled pancakes can be stored in an airtight container and kept in the refrigerator for 4-5 days.
Nutrition info shown is for two heart shaped pancakes, without syrup.
Nutrition
Serving: 2pancakes | Calories: 395kcal | Carbohydrates: 48g | Protein: 10g | Fat: 18g | Saturated Fat: 7g | Polyunsaturated Fat: 2g | Monounsaturated Fat: 8g | Trans Fat: 0.2g | Cholesterol: 112mg | Sodium: 1081mg | Potassium: 230mg | Fiber: 1g | Sugar: 16g | Vitamin A: 428IU | Vitamin C: 0.2mg | Calcium: 315mg | Iron: 2mg
PIN THIS POST!