Cooking turkey bacon in the oven is the best way to ensure deliciously crispy strips with less fat, fewer calories, and easier cleanup than cooking it in a skillet. This turkey bacon recipe will show you how to cook it to perfection!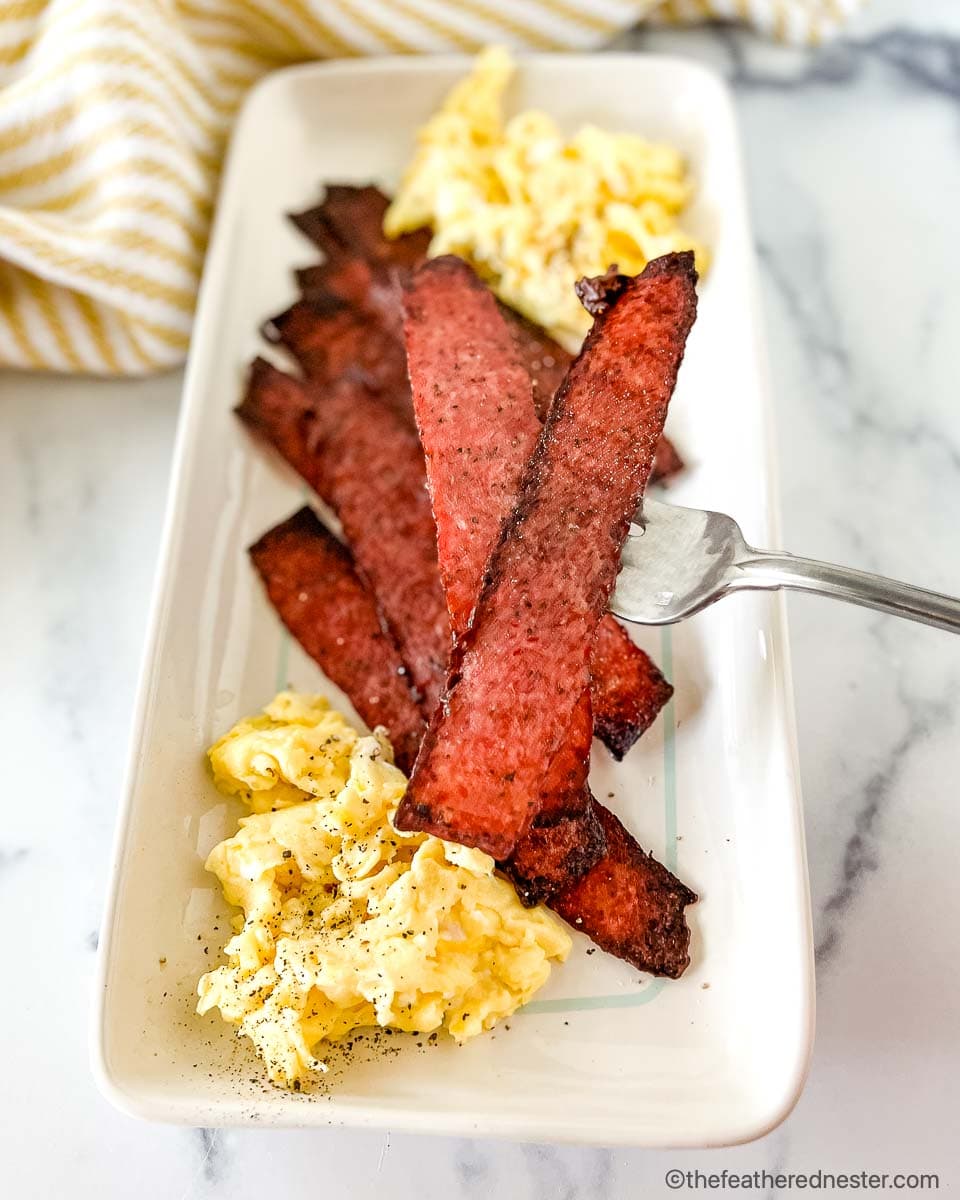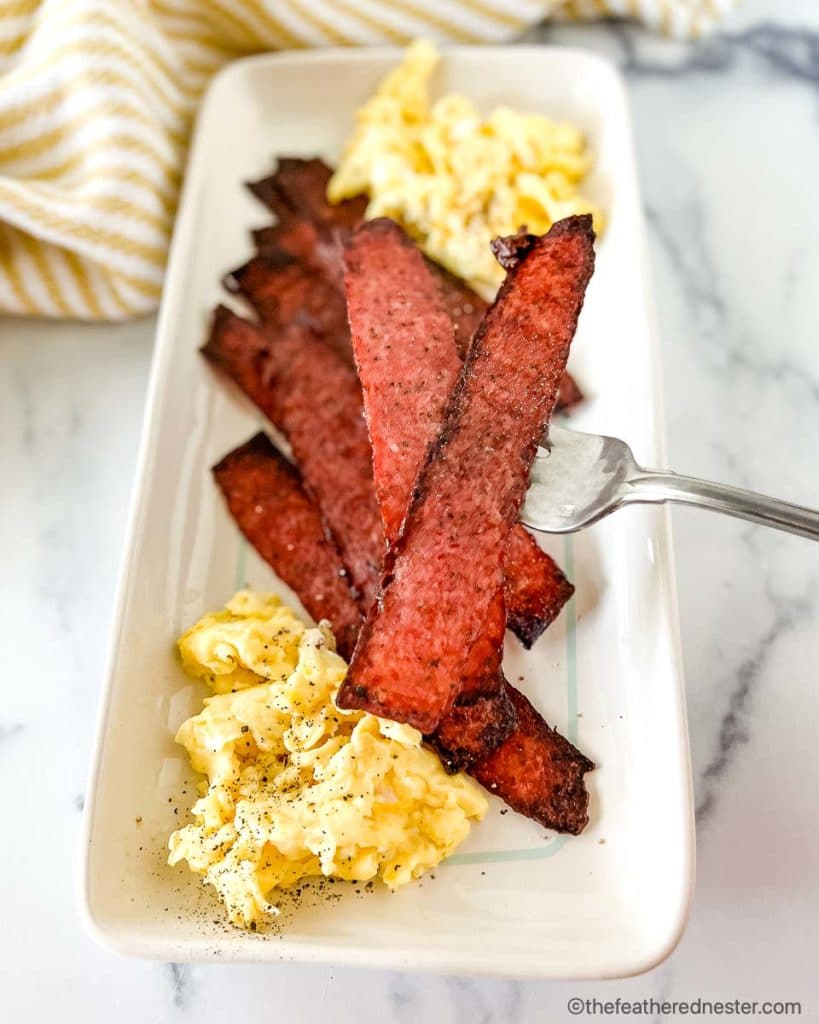 Turkey bacon is a tasty alternative to pork bacon, and it's a great option for those who can't or don't want to eat pork.
Why Make Turkey Bacon in the Oven?
It's easier!
This turkey bacon recipe is mostly hands-off in the oven, while pan-frying requires carefully watching the pan the entire time since it is over a flame. This means you have time to make eggs and toast while your bacon's baking.
Less mess and easier clean up!
If you've ever spent time cleaning up grease splatters from your counters and stovetop, you know it takes quite a while. Even with a spatter screen, I usually have a bit of a mess.

When you remove a pan of crispy breakfast bacon from the oven, there are NO splatters to clean up! Plus, if your baking sheet is lined with parchment paper or foil, you may not even have to wash it.
Get more breakfast recipes!

With these tasty recipes, you'll have a complete breakfast on the table fast. Everyone loves these Bisquick blueberry muffins or cinnamon streussel coffee cake muffins , paired with a sourdough scrambled egg sandwich for a leisurely weekend breakfast or brunch.
Turkey Bacon Recipe Baking Tips
Preheat the oven according to its type.
If you'll be using a conventional oven, set the temperature to 425º F. Baking in a convection oven or air fryer requires lower heat. If needed, preheat convection ovens to 400º F.
Line your baking sheet.
Line the baking sheet with parchment paper or aluminum foil to lessen the cleanup. Then, set the baking rack on top of the lined baking sheet.
Leave space between the strips.
Arrange the strips in a single layer on the rack, and don't overlap them. Leave 1/4″ space between the strips. This lets the air circulate between them.
Avoid overcooking.
Since turkey is more lean than pork bacon, overcooking it can make it dry, tough, and overly chewy kind of like beef jerky. So, check the oven around the 12 minute mark to prevent overcooking.
Drain excess grease.
After cooking, use tongs to move the baked strips from the pan. Place them between sheets of paper towel (or blot) to remove any excess grease and fat.
PRO TIP – Don't throw away excess bacon grease!!

If there's enough grease on the baking sheet, you can tilt the pan so it accumulates into one corner. Then, pour the grease into a heat-proof glass or canning jar. Cover and store it in the refrigerator for up to 1 month.

Use the bacon grease instead of oil or butter for extra flavor when making southern recipes like cornbread or biscuits and sausage gravy.
Serving Suggestions and Recipe Ideas
Looking for more serving suggestions? Well serve this up with eggs, toast, pancakes, or crispy breakfast potatoes. Or, use them for a BLT sandwich, or chop them up and use them in a cobb salad.
No matter how you choose to enjoy your bacon, we know you will enjoy this turkey bacon recipe!
Frequently Asked Questions
Is all store-bought bacon precooked?
It is not precooked, but it is smoked or cured. Be sure to cook your meat completely through, if in doubt ensure it is cooked to 165ºF.
Can I cook this recipe in the oven without using parchment paper?
You can bake it on an oven-safe wire rack without parchment paper or foil underneath. However, using it makes cleanup much easier!
Can you undercook turkey bacon?
Yes, it is possible to undercook and meat. Whether it's cured, smoked, or nitrate free, poultry bacon is unsafe to eat without cooking it to an internal temperature of 165°F.
How long does it take to cook turkey bacon?
At an oven temperature of 425° Fahrenheit, it takes approximately 16 minutes to cook slices of crispy turkey bacon.
Cooking Turkey Bacon in the Oven
Learn how to cook turkey bacon in the oven for the crispiest bacon ever – with less mess than cooking bacon on the stove. Plus, will you love how easy it is to make delicious, crisp leaner bacon with this hands-off recipe.
Equipment
large grid baking rack - (metal cooling rack)

large baking Sheet
Ingredients
12 – 16 ounces turkey bacon
optional
1 teaspoon freshly ground pepper
Instructions
Preheat the oven to 425ºF.

Spray the baking sheet with cooking oil or use my recommended method of lining with parchment paper or aluminum foil. Place the flat baking rack on top of the baking sheet.

Add the strips of bacon to the baking rack, leaving 1/4" of space around them. If using pepper, sprinkle or rub that ton. Bake for 8 minutes, then flip the slices over and bake for 8 minutes more for crispy bacon (see notes below for chewier bacon).

Using tongs, remove the crisp strips and place them between paper towels to blot the remaining grease and fat.
Notes
This recipe makes crispy turkey bacon. If you prefer chewier bacon, then reduce the oven temperature to 400º F and bake for 10 minutes on each side.
Nutrition
Serving: 3ounces | Calories: 325kcal | Carbohydrates: 3g | Protein: 25g | Fat: 24g | Saturated Fat: 7g | Polyunsaturated Fat: 6g | Monounsaturated Fat: 9g | Cholesterol: 83mg | Sodium: 1943mg | Potassium: 336mg | Calcium: 8mg | Iron: 2mg
PIN THIS POST!