As an Amazon Associate I earn from qualifying purchases, at no extra cost to you. See my disclosure policy here.
Turkey bacon is a good alternative to pork bacon since it has less fat and calories. It also tastes great, with a hint of savory, smoky flavor. But, frying bacon in the skillet is messy. And, the bacon sits in all the fat while it's cooking. So, cooking turkey bacon in the oven is the best way to cook it without the greasy mess!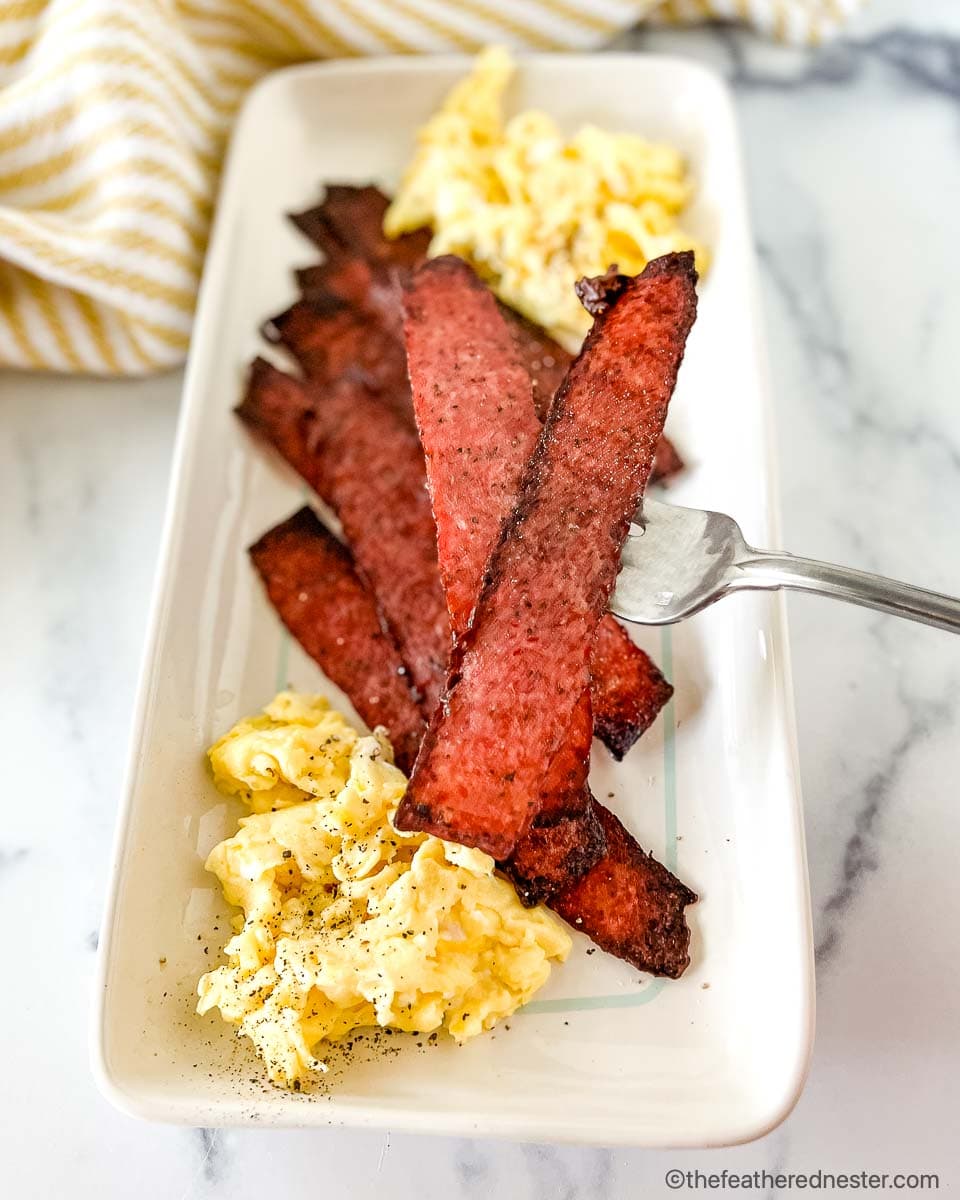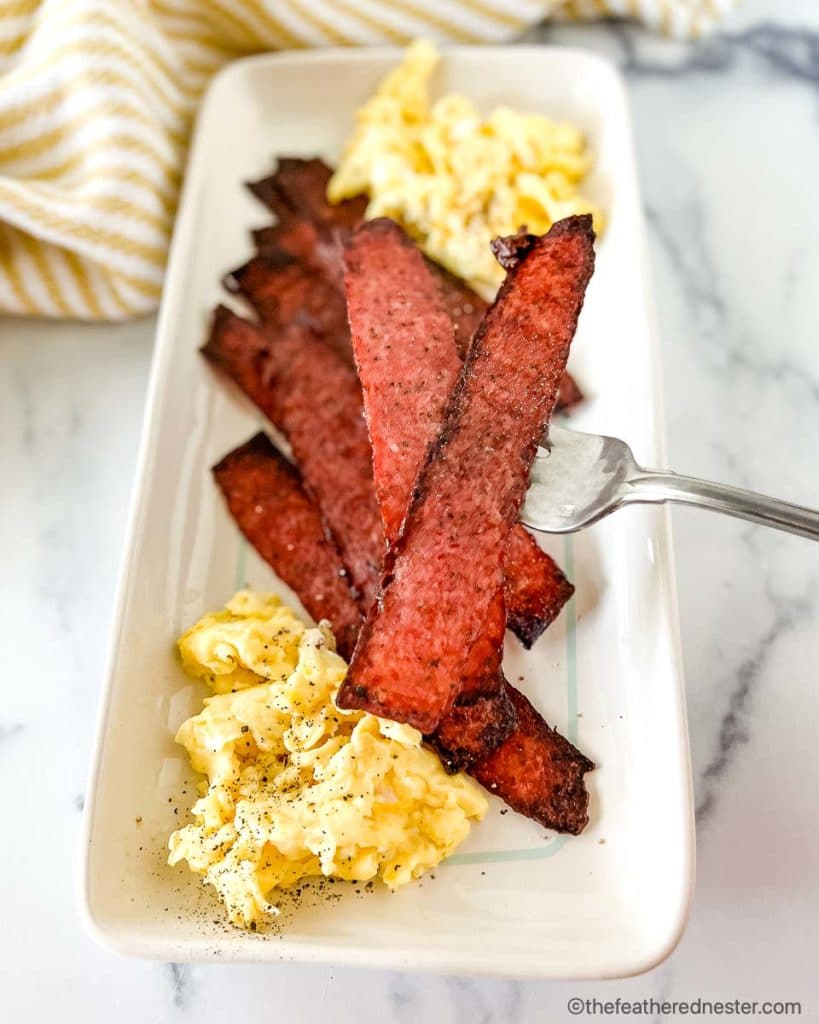 You can bake turkey bacon in the oven without worrying about overcooking it. And also, it can save you time in cleaning all the grease and splatter from cooking in a skillet.
This post shows you that the best way to cook turkey bacon is in the oven! It's so easy, and you'll get amazing results!
How long to cook turkey bacon stovetop vs. in the oven?
When cooking bacon in a skillet on the stovetop, cook it for about 12 to 15 minutes over medium heat. And, watch it closely while it's cooking.
Cooking turkey bacon in the oven takes 16 minutes when baked at 425 degrees Fahrenheit. Oven baked turkey bacon is mostly hands-off.
Ingredients used for this Recipe
That's it! That's all the Ingredients for cooking this crispy oven baked turkey bacon.
Equipment used for this recipe
How to Cook Turkey Bacon in the Oven?
Preheat the oven to 425ºF
First, line the baking sheet with parchment paper or aluminum foil to lessen the cleanup. Then, add the baking rack on top of the baking sheet.
Optional: You can rub some black pepper on your turkey bacon to add some extra flavor to it.
Place the turkey bacon strips in a single layer on the baking rack. Be sure to leave 1/4″ space between the strips.
Place the baking sheet in the preheated oven. Bake the bacon for 8 minutes on each side.
After cooking, use tongs to remove the crispy turkey bacon strips.
Place them between paper towels (or blot) to remove the excess bacon grease and fat.
Serving your Crispy Turkey Bacon
Serve up your perfect turkey bacon strips with eggs, toast, pancakes, or crispy breakfast potatoes. Or, make them into a BLT sandwich, or chop them up and use them in a cobb salad.
No matter how you choose to enjoy your bacon, we know you will love this recipe!
Here are more breakfast recipes to go with your tasty, crispy bacon.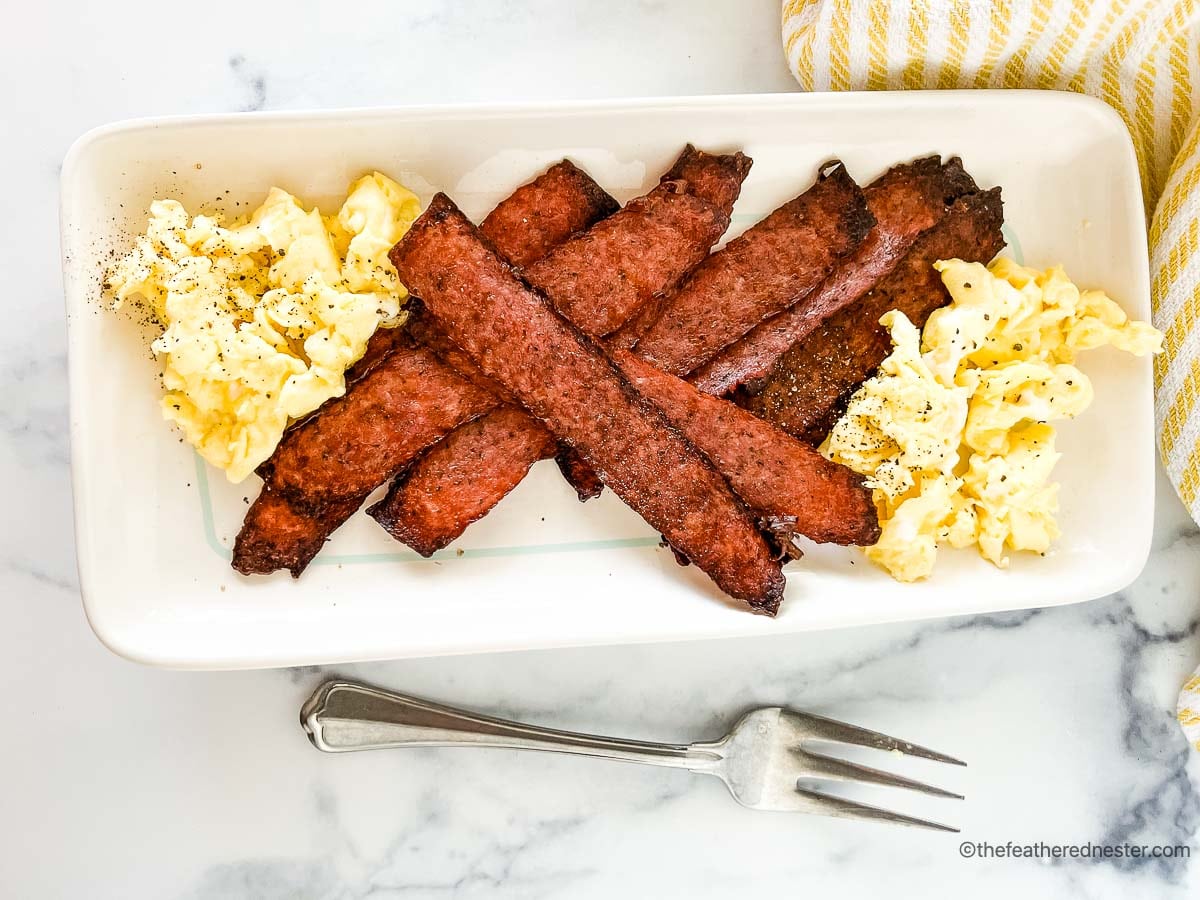 Frequently Asked Questions
Can I use the microwave for cooking turkey bacon instead?
Yes, you can cook turkey bacon in the microwave. Place the bacon on a plate lined with paper towels. Use a microwave safe plate and cover the bacon with a paper towel. Then, cook it for 3-4 minutes. If it's not crispy enough, add short bursts of time (30 seconds) until it is crisp.
Is all store-bought turkey bacon precooked?
Turkey bacon is not precooked but is smoked or cured (or uncured – see below). Check the package to see if your bacon needs to be cooked before eating it. Cooked turkey to at least 165ºF before serving.
Can I bake turkey bacon in the oven without using parchment paper?
Yes, you can bake turkey bacon on an oven-safe wire rack without parchment paper or foil. However, cleaning a baking sheet lined with parchment paper or foil is easier.
What is cured vs. uncured turkey bacon?
Simply put, "cured" turkey bacon is treated with nitrates to preserve the meat and give it flavor. "Uncured" turkey bacon is still cured but celery or beets are used for curing, instead of nitrates.
Oven Baked Turkey Bacon
Learn how to cook turkey bacon in the oven for the crispiest bacon ever – with less mess than cooking bacon on the stovetop. Plus, will you love how easy it is to make delicious, crisp turkey bacon, that's a little healthier than pork bacon.
Equipment
Large flat baking rack

(grid style cooling rack)

large baking Sheet

parchment paper or foil

(optional)
Ingredients
optional
1

teaspoon

freshly ground pepper
Instructions
Preheat the oven to 425ºF.

Spray the baking sheet with cooking oil or use my recommended method of lining with parchment paper or aluminum foil. Place the flat baking rack on top of the baking sheet.

Add the strips of bacon to the baking rack, leaving 1/4" of space around the turkey bacon. If using pepper, sprinkle or rub that ton. Bake for 8 minutes, then flip the slices of bacon and bake for 8 minutes more for crispy bacon (see notes below for chewier bacon).

Using tongs, remove the crisp bacon strips and place them between paper towels to blot the remaining grease and fat.
Notes
This recipe makes crispy turkey bacon. If  you prefer chewier turkey bacon, then reduce the oven temperature to 400º F and bake for 10 minutes on each side.
Nutrition
Serving:
3
ounces
|
Calories:
325
kcal
|
Carbohydrates:
3
g
|
Protein:
25
g
|
Fat:
24
g
|
Saturated Fat:
7
g
|
Polyunsaturated Fat:
6
g
|
Monounsaturated Fat:
9
g
|
Cholesterol:
83
mg
|
Sodium:
1943
mg
|
Potassium:
336
mg
|
Calcium:
8
mg
|
Iron:
2
mg