This post may contain affiliate links. If you click on a link and make a purchase, I may receive a small commission at no extra cost to you.
Ever since I made the Tater Tot Appetizers for my Super Bowl post (HERE), I've had tater tots on the mind. Last Saturday, I was trying to think of something to surprise the hubs with for breakfast. That's how I came up with this Tater Tot Egg Nests recipe. It's perfect for breakfast or brunch!
Tater Tot Appetizers
Egg Nests Prep
For best results, use a jumbo-sized muffin tin. If you have to use a regular sized tin, use 4-6 tater tots per nest so that they can contain the egg without overfilling.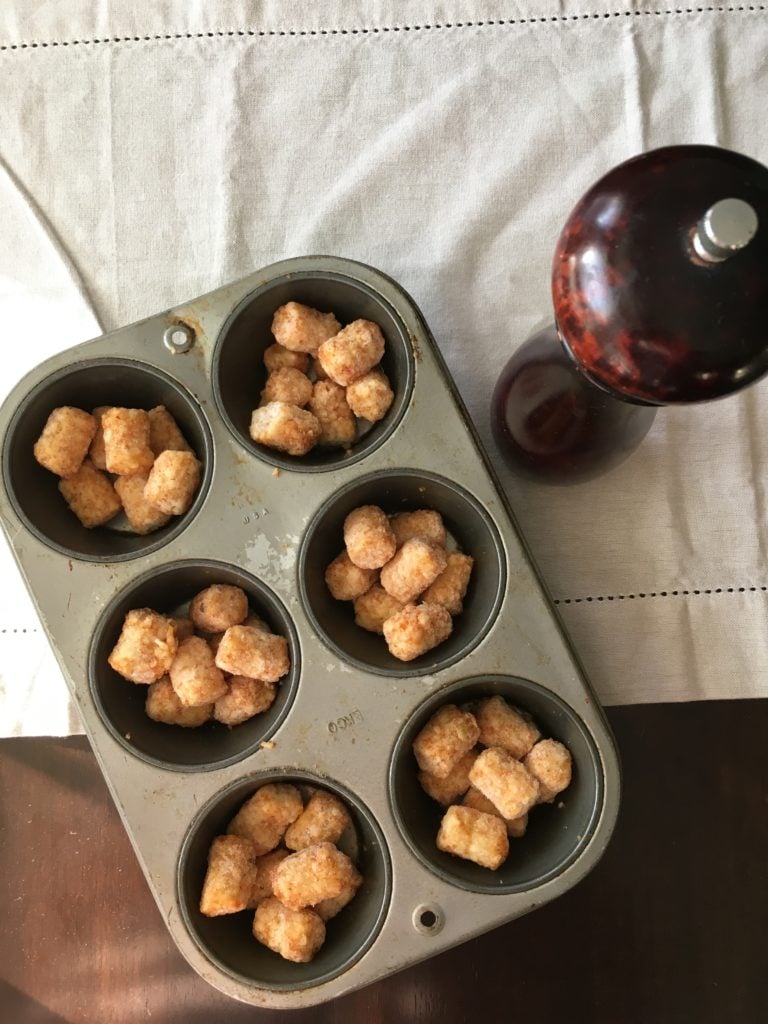 Please excuse my less than stellar looking muffin tin! That's real life, folks. And, when I sprayed it with cooking oil it came out of the oven looking even worse!
The eggs fit perfectly inside the tater tot nests.
I cooked these 20 minutes, and the yolks were completely set. I am recommending 15 minutes in the recipe, less if you like runny yolks and longer if you like your egg yolks hard-cooked.
The Egg Nests are baked, and ready for garnish and serving. This is a seriously easy recipe that is so delicious! It's perfect for brunch.
Tater Top Egg Nests
For best results, use a jumbo-sized muffin tin.
Ingredients
32

oz.

bag of frozen Tater Tots

6

large eggs

8

oz.

cheddar cheese

grated

2

slices

of bacon

cooked and crumbled OR ¼ c. bacon bits

Optional: chives

green onions, or sour cream for garnish
Instructions
Preheat oven to 450 degrees. For best results, use a jumbo-sized muffin tin. Spray muffin tin with cooking oil. Place 8 tater tots into each muffin cup. Bake in oven for 10 minutes. Remove from oven.

Spray bottom of a juice glass or small jelly jar around 3" in diameter with cooking oil. Twist the glass around in each muffin creating a "nest" and the sides of the tater tots reach the top of each opening. Return to oven for 15 minutes, until they are golden in color.

After removing from oven, carefully crack an egg into each of the tater tot nests. Bake for 15 minutes (10 for runny yolks, and up to 20 for hard cooked yolks). Add cheese and bacon bits on top and return to oven for 2-3 minutes until cheese has melted. Wait a few moments to cool and remove nests with tongs. Garnish with chives, green onions, or sour cream and serve.
If you make this recipe, or any of my others, post your pics to Instagram or Facebook (see links below) and use the hash tag #thefeatherednester. Once I reach 50 hash tagged pics of my recipes, I'll post a special gift that one of the lucky posters will win.
Follow me on Instagram at https://www.instagram.com/thefeatherednester/ or my Facebook page https://www.facebook.com/The-Feathered-Nester-1926938844184523/