This old fashioned yeast roll recipe is practically foolproof! It creates the perfect homemade pull apart dinner rolls to serve for family dinners and holiday meals. Make an extra batch, because they disappear quickly!
Why We Love This Old Fashioned Yeast Roll Recipe
Grandma Susie was known for her amazing baking. She was even a bit of a celebrity in her hometown because her recipes were often featured in the local newspaper.
I found several of them when we inherited her family Bible from the 1800s. One of our favorites is these homemade yeast rolls. They're beyond simple to make, and the bread is perfectly soft and tender!
In fact, the only worry you'll have with this fail-proof dinner roll recipe is making sure you bake enough! Although, this recipe makes up to 36, which should be plenty enough for everyone at your table.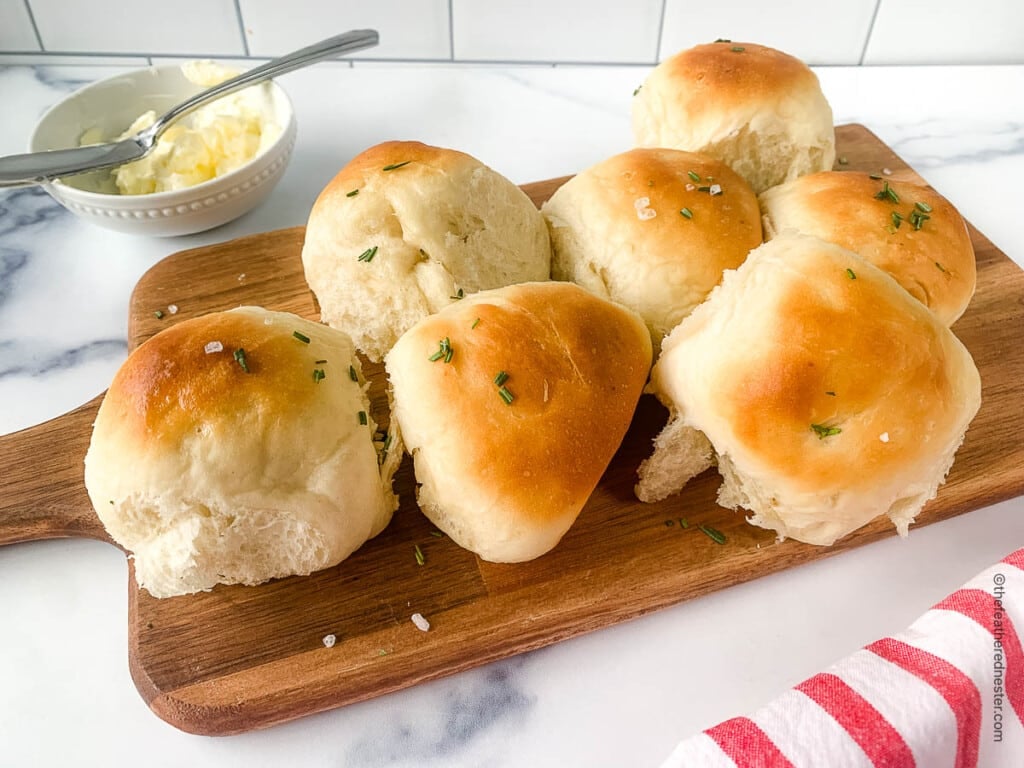 Ingredient Notes and Substitutions
Here is what you need to make this easy dinner roll recipe:
Yeast – This is what makes the rolls rise, giving them their fluffy, tender texture. It also gives the bread a slightly tangy flavor.
For this recipe, you will need active dry yeast, not instant or rapid-rise yeast.
Potato – Adding a boiled and mashed potato results in a fluffier, more tender yeast roll. The starch from the potato binds with the yeast for a smooth, moist dough that rises evenly.
Out of potatoes? Substitute with 3/4 cup of instant potato flakes combined with 1 1/2 cups of water.
Sugar – is an essential ingredient in baked goods like bread. It feeds the yeast, adds flavor and tenderness, and helps with even browning.
Eggs – they act as a leavening agent and give the dough structure.

Egg yolks give a yellow color to the pull apart bread. The more eggs the recipe calls for, the deeper the color will be. (Think of a bright yellow loaf of egg bread).

Finally, the fat in egg yolks shortens and weakens the gluten strands. This is needed for fluffy, soft yeast rolls.
Salt – is more than a flavor enhancer in bread. It helps strengthens the strands of gluten in the flour, helping the dough to rise.
Butter – gives a creamy flavor to old fashioned yeast rolls. The moisture and fat in butter expand during baking, creating a crumb that's light and airy.
For dairy free yeast rolls, substitute extra virgin olive oil for the butter in this recipe.
All-purpose flour – We prefer using all-purpose for this recipe, as it contains a slightly lower protein content than bread flour. Although, bread flour does work, if that's what you are used to using.
Old Fashioned Yeast Roll Recipe Tips
Don't skip the potatoes!
Adding the potato is a guaranteed foolproof trick for terrifically fluffy, soft, and tender bread.
Make them early.
I recommend starting this old fashioned yeast roll recipe a day ahead. This way, most of the work is done ahead, leaving you more time to focus preparing the main dish and other sides. This is really helpful for busy holiday meals and family gatherings.
Save the potato water.
The starchy water left after boiling the spuds is key for creating a slightly sweet dough with a perfect rise.

Remember to grease the bowl!
Let the dough rise in a greased bowl, and cover it with plastic wrap that has the underside sprayed with cooking spray to keep it from sticking and cover.
Short on time? Check out this Rosemary Garlic rolls recipe that uses frozen dough to create super-soft, tasty yeast rolls in a fraction of the time.

For a super-fast bread option, you can have the best fluffy, flakey biscuits in only 20 minutes with my 3 Ingredient Drop Biscuits recipe.
How To know when Dough is Risen enough
Look for the dough to double in size – that's your cue that it's time to cut and shape it.
If you poke the side of the dough in about 1/2″ and the indentation stays (or springs back very slowly) then it's risen enough. If it springs right back, then let it rise longer.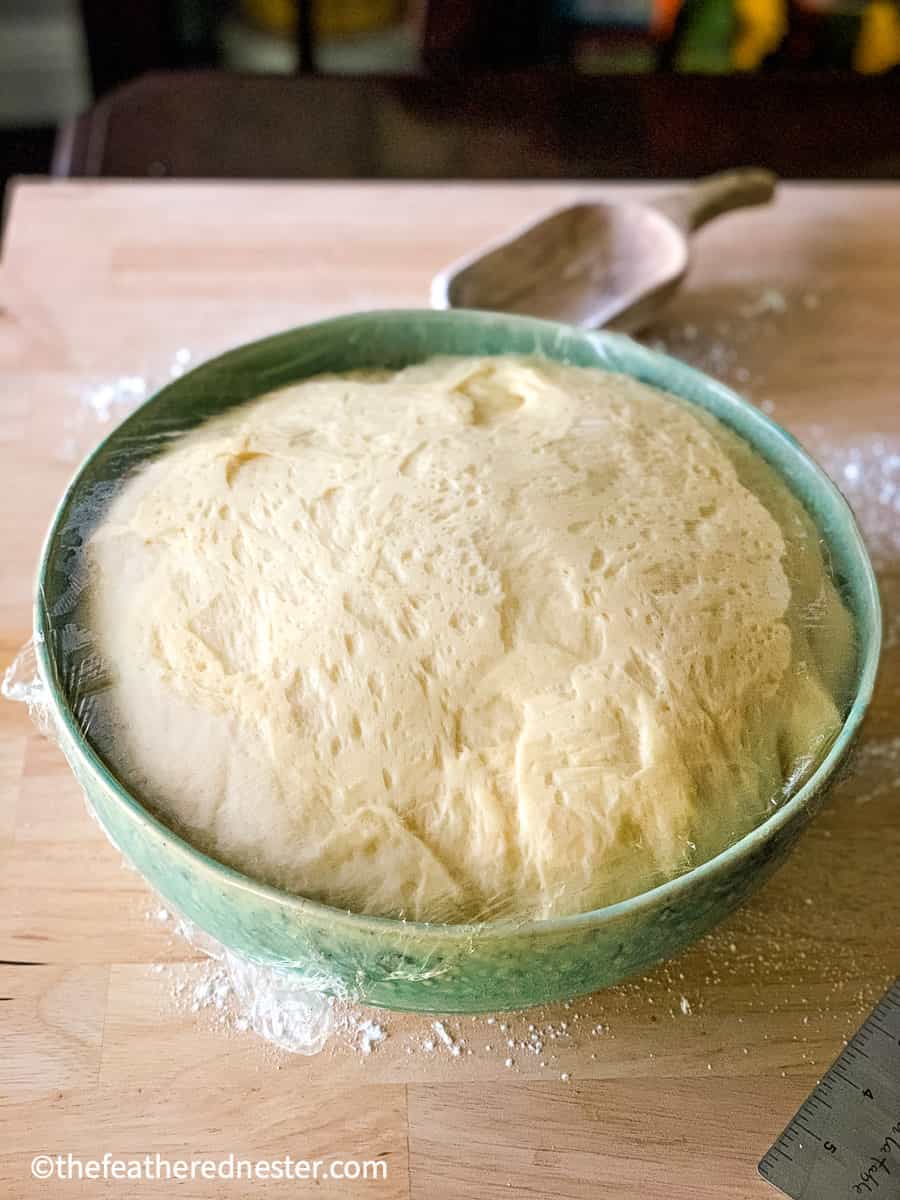 How to shape the perfect Pull Apart Dinner rolls
Shaping the dough is the fun part, and our kids love to help!
Cut the dough into 36 even pieces.
Roll each piece into the shape of a ball.
Then, pinch the bottom until the top is smooth.
If you want pull apart bread, place the balls of dough a little closer together on the sheet pan. This way, the sides of the bread will bake together.
Let the homemade yeast rolls rise in a warm place, free of drafts.

A great place to let the dough rise is in an oven that has a "proof" setting. Set it to 85ºF. Or, in an oven with the oven light turned on.

Butter the tops as soon as they come out of the oven.
We use melted butter to add a beautiful shine and give the yeast roll a softened crown.
Storing Homemade Yeast Rolls
Keep any leftovers in an airtight container at room temperature for 2-3 days. To store them longer, put them in the fridge for 5-7 days.
To reheat, wrap them in a damp paper towel and microwave for 15 seconds at a time until warm.
Renae Recommends These Baking Tools
Honestly, this old fashioned yeast roll recipe is so worth the time to make. The soft, fluffy goodness will become your family's favorite bread side!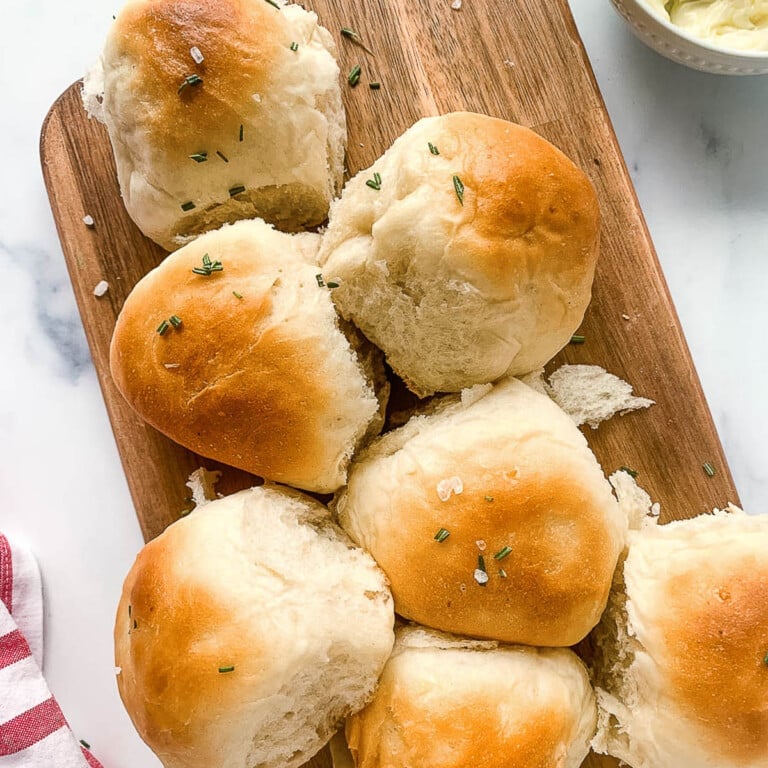 Old Fashioned Yeast Roll Recipe
This old fashioned yeast roll recipe creates soft pull apart dinner rolls that everyone loves! Your holiday needs warm homemade yeast rolls!
Equipment
small saucepan

large baking Sheet

plastic wrap or clean towel to cover dough
Ingredients
¼ cup warm water (about 95º to 110ºF)
2 ¼ teaspoons (1 envelope) active dry yeast
1 large potato
⅔ cup sugar divided
2 large eggs
1 ½ teaspoons salt
⅔ cup butter melted and cooled
6-7 cups all-purpose flour
cooking spray
Instructions
Scrub your potato, quarter, and add enough water to cover potatoes by 2". Do not add salt. Bring to a boil and cook until softened, about 10 minutes. Remove the potato and mash. Set aside 1 cup of mashed potatoes. Pour potato water into a measuring cup, and set aside 1 ½ cups of potato water to cool.

In a small bowl or measuring cup, sprinkle yeast over 1/4 cup warm water. Add a pinch of sugar to test the active yeast.

In a large mixing bowl, combine potato water, sugar, salt, and yeast mixture. If using a stand mixer, add to the mixing bowl and use the dough hook attachment. Continue mixing while adding the ingredients: butter, and mashed potato.

Add flour 1 cup at a time, mixing thoroughly between cups. Stop adding flour after the 6th cup and see if the dough cleans the sides of the bowl. If not, add 1/2 cup of flour at a time until the dough forms a ball. Do not add more than 7 cups of flour. Knead dough in a stand mixer for at least 5 minutes or by hand for 10 minutes.
First Rise
Place dough in a lightly greased bowl to rise. Lightly grease the top of the dough and cover it with plastic wrap or a towel. Place dough in a warm place and let rise for 2 hours (or until doubled in size).
Second Rise
After first rising, punch the dough down. Begin the second rise for two hours or until double in size, or refrigerate the dough overnight. If refrigerated overnight, place dough in a warm spot the next morning and let rise for 2 hours.

Then, 2 hours before baking, divide the dough into two pieces and continue dividing the dough into 36 similar-sized balls. Shape balls by rolling them by hand.
Last Rise
Place rolls on greased cookie sheet. Cover and let rise in a warm place until double in size.

Preheat oven to 400ºF.

Bake in preheated oven for 12-15 minutes. Butter tops of each roll after baking to preserve soft crust. Serve warm.
Notes
Although this recipe calls for all-purpose flour, I have used both Kamut flour and bread flour with great results.
Nutrition
Serving: 1roll | Calories: 134kcal | Carbohydrates: 22g | Protein: 3g | Fat: 4g | Saturated Fat: 1g | Cholesterol: 10mg | Sodium: 142mg | Potassium: 77mg | Fiber: 1g | Sugar: 4g | Vitamin A: 165IU | Vitamin C: 2mg | Calcium: 7mg | Iron: 1mg
PIN THIS POST!
This post, originally published Nov. 2020, was updated with new content Feb. 2023.