The holidays are quickly approaching, so it's time to start baking! This year, why not try making Mint M&M Cookies for Christmas or St. Patrick's Day?
There is a special limited-time bag of M&M candies for just about every season and holiday. Once winter comes around, the minty M and M variety hits the shelves, so it's time to make some M&M cookies.
This easy mint M&M Christmas cookie recipe is just like the bag's original chocolate chip cookie recipe but is way better and much more festive. Make a batch for the family (and Santa or a leprechaun) to enjoy in just 30 minutes!
Easy M&M Cookie Recipe for Christmas or St. Patrick's Day
One of our favorite holiday traditions is making cookies with the kids and grandkids. We all gather in the kitchen to help mix, shape, and bake the cookies, then enjoy them with big glasses of milk.
We learned long ago that holiday cookies don't need to be overly complicated or elaborate. In fact, the easier the cookie recipe, the more time we have to play and eat!
Year after year, we turn to the beloved chocolate chip cookie recipe and classic M&M cookie recipe straight from the bags. But with a festive twist…
Similar to how I love to make Sugar Cookies with M & Ms, these mint M&M cookies include colorful chocolate candies that are perfect for celebrating the holiday season.
The candies are a fun blend of green and have a delicious chocolate mint flavor that tastes like winter (or Christmas)! In fact, they add just the right crunchy, sweet, chocolatey, and cool minty freshness that you want in a holiday treat.
These cookies are ideal all winter long and perfect for celebrating St. Patricks Day with their colorful green color!
Love cookie recipes? Try our White Chocolate Raspberry Cookies, Chewy Chocolate Chip Cookies, and Original M&M Cookies
Ingredients You Need to Make The Best Cookies
Except for the specialty holiday candies, the rest of what's needed for this mint M&M cookie recipe are pantry staples:
All-purpose flour
Saltt
Baking soda
Unsalted butter
Brown sugar
Granulated cane sugar
Eggs
Vanilla extract
Mint M&Ms
Equipment Needed
How to Make Christmas Mint M and M Cookies
Baking preparation. Preheat the oven and prepare the cookie sheets by greasing or lining with parchment paper.
Mix the cookie dough. Mix together the dry ingredients and set aside. Using the mixer, cream the butter and sugar. Then add eggs and vanilla extract.
Add the dry ingredients to the bowl and mix until it is blended. Gently stir in 1 cup of M&Ms by hand with a spoon.
Note: If you bake M&Ms into cookies, they will crack and melt slightly. Adding the other half of them after baking will create cookies with intact M&Ms and look nicer.
Shape the cookies. Scoop cookie dough and add to cookie sheets.
Bake the cookies. Bake for 10 to 12 minutes, until golden brown.
Ready to serve. Gently press the remaining cup of M&Ms into the cookies before they cool, then serve.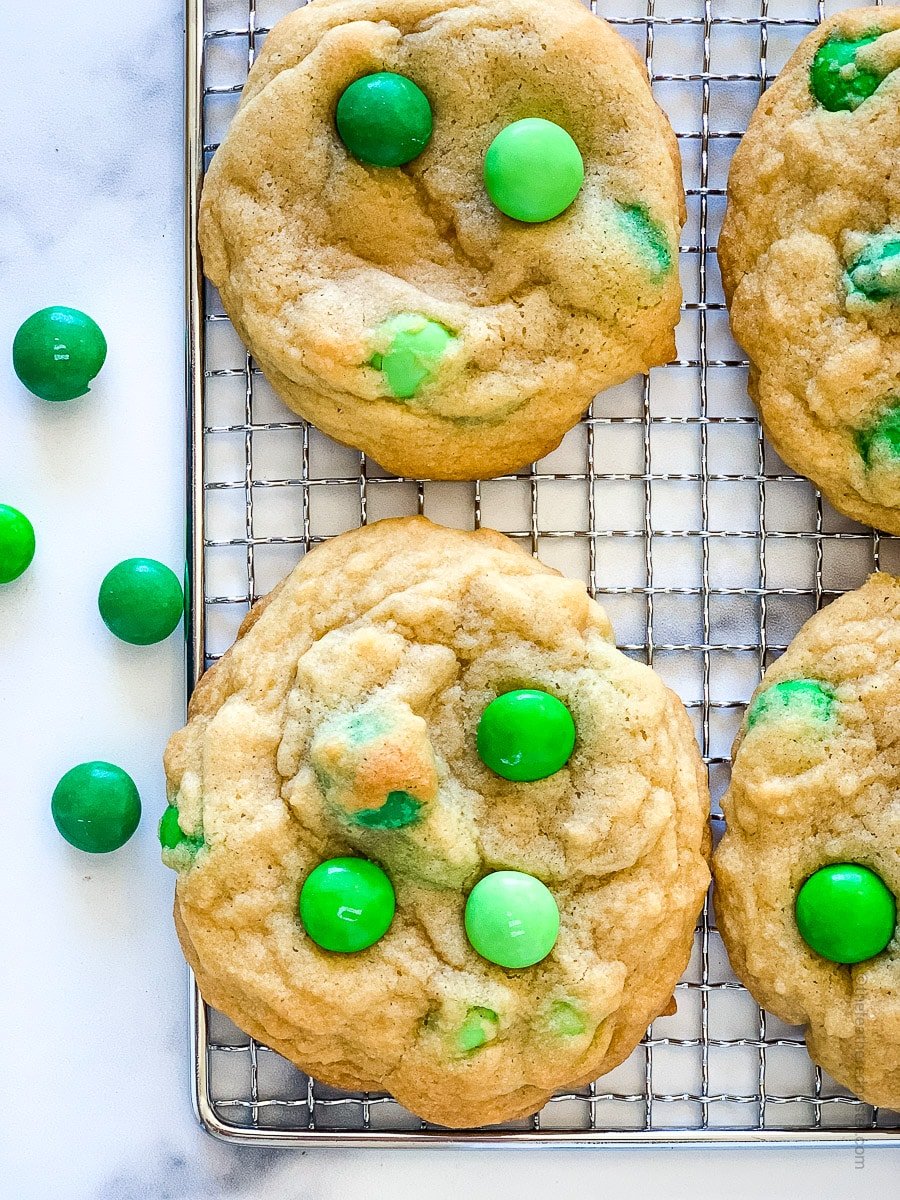 Recipe Variations
Add 1/2 cup of chocolate chips or chopped nuts along with the M&Ms.
Use dark chocolate mint M&Ms for a richer flavor.
Dip half of the cookie in white chocolate.
Substitute almond extract or peppermint extract for the vanilla.
Drizzle the cooled cookies with melted chocolate.
Make mini mint M&M cookies using a small scoop and reduce the baking time to 8 minutes.
Use food color gel to tint the dough green, red, or white for a fun and festive look.
What to Serve with Mint M&M Christmas Cookies
These mint m&m Christmas cookies are perfect for holiday parties and cookie exchanges. They also make a great gift for teachers, friends, and neighbors. Serve them with:
Cold milk
A festive mug of hot cocoa
A big glass of minty iced tea or coffee
Storage and Freezing Instructions
Store the homemade Christmas cookies in an airtight container at room temperature will be fresh for up to 3 days.
Place them individually with a plastic wrap for longer storage, then put them in a freezer-safe bag or container and freeze them for up to 3 months.
Thaw frozen cookies overnight in the refrigerator before serving.
Frequently Asked Questions
What other candies can I use to make this M and M cookies recipe?
The classic original chocolate chip cookie recipe from the bag inspires this recipe. So you really can make it with just about any candies you like!
Use any other colors or flavors of M&Ms, chocolate chips, peanut butter chips, or white chocolate chips. Or do a blend of candies and chips!
Why do you only add 1 cup of the mint M&Ms before baking?
When baked in the hot oven, the chocolate candies melt a bit. However, adding half to the tops after they've baked keeps the M and Ms crisp and the cookies looking pretty.
Here is the Full Mint M and M Cookies Recipe:
Mint M and M Cookies
This easy mint M&M cookie recipe is just like a classic chocolate chip cookie recipe but is WAY better and much more festive. Make a batch for the family (and Santa) to enjoy in just 30 minutes!
Ingredients
2½ cups all-purpose flour
1 teaspoon salt
1 teaspoon baking soda
1 cup unsalted butter, softened
1 cup brown sugar, packed
½ cup granulated sugar
2 large eggs
2 teaspoon vanilla extract
2 cups Mint M&Ms, divided reserve 1 cup for decorating
Instructions
In a medium mixing bowl, stir together the flour, salt, and baking soda. Set bowl aside.

In a large mixing bowl, beat the butter and sugars together with an electric or stand mixer until light and fluffy. Scraping down the sides of the bowl with a silicone spatula. Beat in the eggs and vanilla until creamy.

Turn the speed of the mixer to low and add flour mixture just until blended. Gently stir in 1 cups of M&Ms by hand with a spoon *see notes*.

Drop dough by rounded tablespoons (or with a small scoop) onto prepared cookie sheets. Bake cookies in the middle rack of the oven for 10 to 12 minutes or until the cookies are golden brown around the edges, and just set in the center.

Remove from the oven and let rest for 5 minutes before transferring the cookies to a wire rack. Gently press in remaining cup of M&Ms into cookies before cooling *see notes*.
Video
Notes
The M&Ms will crack and melt slightly during baking. Adding half of the M&Ms after baking creates cookies with intact M&Ms and make a better presentation. These cookies will keep well for up to 3 days at room temperature if stored in an airtight container. Although, I've never known them to last that long around our house.

M and M cookies are great to freeze, too! To keep the freshest I recommend you first wrap the cookies individually with plastic wrap, and then store together in an airtight freezer bag for up to 3 months.
Nutrition
Serving: 1cookie | Calories: 259kcal | Carbohydrates: 35g | Protein: 3g | Fat: 12g | Saturated Fat: 8g | Trans Fat: 1g | Cholesterol: 37mg | Sodium: 163mg | Potassium: 34mg | Fiber: 1g | Sugar: 24g | Vitamin A: 295IU | Vitamin C: 1mg | Calcium: 34mg | Iron: 1mg
PIN THIS POST!