Enjoying a Sourdough Bread Bowl full of creamy, comforting soup or chowder at a restaurant always feels like you're getting a special gift. The great news is, with our sourdough bread bowl recipe, making them is easier than you might think.
Reasons to Make Our Sourdough Bread Bowl Recipe
They're so impressive!
Serving the edible bowls to your guests is a major awe factor — and they'll want your easy sourdough recipe
More than just bread for soup.
You can use them to serve party dips, too! Some great options are cheese dip, red pepper feta dip, and smoked queso.
They hold up well to hearty soups and stews.
The inner walls are sturdy enough to hold heavier dishes, like 15 bean soup, Instant Pot tortellini soup, and Instant Pot beef stew. Of course, you can eat away at them while you enjoy your meal, too. It's a fun alternative to a side of bread!
Ingredient Notes and Substitutions
Sourdough Starter – It might seem difficult to start and maintain your own sourdough starter, but it truly isn't hard at all — and you'll be so glad that you did it! It opens the door to so many delicious recipes.
Warm Water – The water needs to be just the right temperature to make the starter work properly.
Granulated Sugar – We only use granulated cane sugar. Granulated sugar substitutes don't always work, so we don't recommend making any changes to the sweetener.
Bread Flour – There needs to be enough protein in the dough for it to hold up properly. As a result, you shouldn't use regular all-purpose flour or another substitute.
Bread Bowl Recipe Tips
Be sure to use an active starter.
It's important that the starter be recently fed. You'll want to see lots of bubbly activity in order to make a sourdough bread bowl.

This requires feeding it no more than 12 to 24 hours beforehand.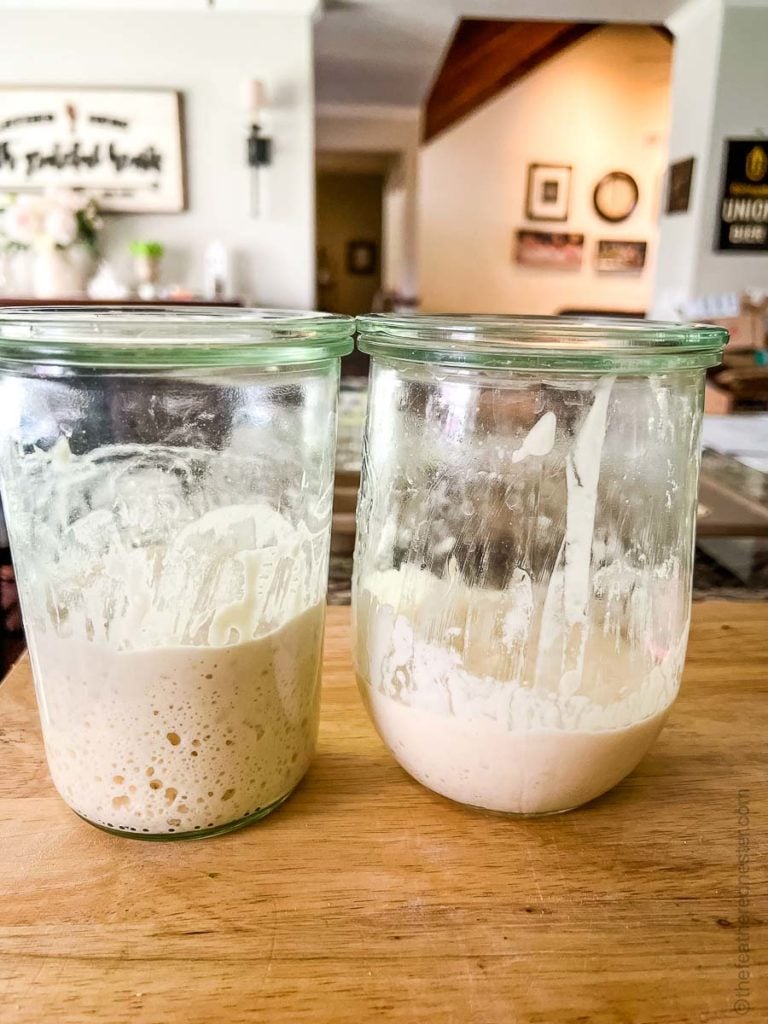 Don't be afraid to get your hands dirty!
The perfect dough for a sourdough bowl will be shaggy. This means that everything is mixed in, but there are still some lumps. It's rough and messy, but it's supposed to be!
To prevent overmixing, finish mixing with your hands. Sure, it's a little messy, but it's the best way to incorporate the ingredients without mixing too much and risking dense, tough bread bowls.
Letting the dough rest is an important part of the recipe.
And you have to do it twice!

You first need to let it rest for 30 to 45 minutes after mixing the first time. This step is crucial for allowing the protein to relax. Rushing the process will make for a firm, almost stale-tasting crust.

Secondly, the dough needs to rise after kneading until it has at least doubled in size. This takes some time — 1 to 2 hours — but is, again, crucial to the recipe.
It's normal for the dough to be sticky.
Expect it to stick to your hands, the counter, and everything else.

You'll probably need to gently work the dough out of the bowl with your fingers.

This is to be expected, so don't worry that something went wrong during that first resting phase!

Help keep the stickiness under control by coating your hands and work surface with a little bit of bread flour.

Stretch and fold – don't knead.
Take a look at the photos in this post to see the stretch and fold method in action!

After placing the dough on the counter, you'll want to stretch it forward 4 inches or so before pushing it back down to the middle.

Lift the dough and move it ¼ turn clockwise, then stretch and fold again.

Repeat these steps until you've worked it in a full circle.

This method activates the gluten, which is important when shaping the dough for your sourdough bread bowl.
Divide the dough.
When you're ready to make your individual bowls, divide the dough into equal portions using a metal cutter or knife.

Then, roll the dough into balls and pinch off the bottom.
How To Cut Bread Bowls
Here's how to cut the center portion of the bowls easily and safely. You'll need a serrated knife with a sharp tip.
Hold the tip facing down at a 45º angle and cut a circle around the widest part of the bread bowl.
Lift off the top.
To make more room in the bowl, use your fingers to flatten the bread down and against the insides.
Sourdough Bread Bowl Recipe FAQ
Can you eat a sourdough bread bowl?
Yes. Some people do think they're just for presentation, but they're completely edible!

The trick is to eat it after finishing everything that's inside, of course. We've seen plenty of dinner guests start to tear away too soon, or tear away too large of a chunk, then get soup all over the table — and themselves!
How do you eat a bread bowl?
The most common way to use them as edible bowls for soup.

Once that's been enjoyed to the last drop, the easiest way to eat it is with your hands! There's plenty of thick crust around the fluffy center to prevent your fingers from getting too messy… even though that's part of the fun!
Can you freeze baked sourdough?
Absolutely. Luckily, breads freeze and defrost wonderfully while maintaining their original flavor and pillowy texture. They can be frozen for up to 3 months.

The most space-efficient way of storing a sourdough bread bowl is in a gallon size Ziploc bag.

Thaw bread bowls right on the countertop for best results.
Storing Recommendations
Breads are best kept at room temperature to prevent them from going stale too soon in the fridge.
We'd recommend storing your sourdough bread bowl in a bag on your countertop for up to 5 days. Keep the bag out of direct sunlight so no condensation forms.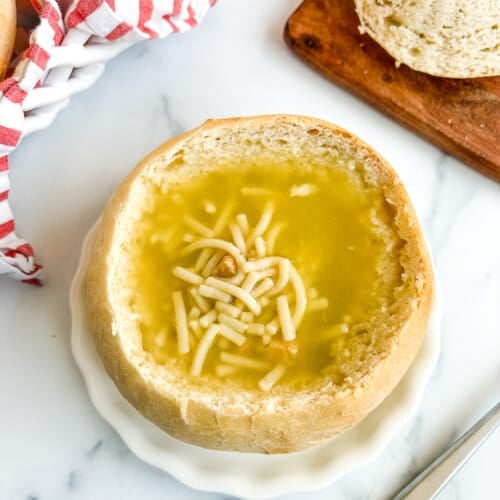 Sourdough Bread Bowl
Serving soup, stew, or chili in a sourdough bread bowl makes every bite more delicious! Use this bread bowl recipe to make them at home.
Ingredients
⅔ cup (130 grams) sourdough starter be sure starter is bubbly, active, and fed in the past 12-24 hours
2 ⅔ cups (600 grams) filtered water 95º to 100º F.
½ cup (113 grams) granulated cane sugar *granulated sugar substitutes don't always work.
8 ⅓ cups (1000 grams) bread flour *see Notes
3 tablespoons extra-virgin olive oil
1 tablespoon sea salt
Instructions
Place sourdough starter in a large mixing bowl. Add warm water and sugar, and stir well with a dough whisk to combine.Add bread flour, oil, and salt. Stir with a dough whisk or wooden spoon until a thick, shaggy dough forms. Flour your hands, then finish mixing dough by hand until all the flour has been absorbed. Cover with a clean, damp kitchen towel and let the dough rest for 30 to 45 minutes.

Turn the dough out from the bowl onto your work surface. *Use your fingers to help coax it out.Knead by stretching the dough out 4 inches, then pushing it back down to the middle. Turn dough clockwise 1/4 turn and repeat kneading motion. Repeat two more times, until you have turned the dough in a full circle. Return the dough to the bowl, cover with a damp towel, and let it rise at room temperature at least 8 hours (we prefer to let it rise overnight) until it's doubled in size.

When dough is doubled in size, lightly flour your work surface. Remove the dough from the bowl, then use your fingers to make dimples in the dough to release the air. Use a bench scraper or sharp knife to cut dough into 4 equal pieces. Cover with a clean kitchen towel and let the dough rest 10 minutes. Meanwhile, spray two baking sheets with non-stick cooking spray, or line each with parchment paper or a silicone baking mat.

One at a time, tighten the sourdough balls by gently pulling the dough towards you 5 to 8 inches along the countertop.Arrange two dough balls on each prepared baking sheet, leaving plenty of space between them. Cover with a clean kitchen towel and move pan to a warm area to rise for 1-2 hours, until the dough has doubled in size. After rising time, use the tip of your finger to make a 1/2-inch deep indentation in the corner edge of the dough. If the indentation remains, it is ready to bake. Otherwise, allow it to rise longer.

Place an oven rack in the center position of your oven and preheat oven to 350ºF. Place an oven rack in the center position of your oven and preheat oven to 350ºF. Arrange both pans on the center rack; Bake bread for 25 minutes, or until golden in color. Wait at least 1 hour before cutting (to prevent the bread bowl from deflating).

To cut bread bowls, use a serrated knife with a sharp point. Hold the tip facing down at a 45º angle and cut a circle around the widest part of the bread bowl. Using your fingers, lift the top off. To make room inside the bowl, run your fingers along the inside, flattening excess bread.
Notes
Flour: All purpose flour is not recommended. It has less protein (gluten) than bread flour, so it doesn't provide enough structure for bread bowls. Store sourdough bread bowls at room temperature in a bag for up to 5 days.
Nutrition
Serving: 1 bowl | Calories: 904kcal | Carbohydrates: 169g | Protein: 24g | Fat: 14g | Saturated Fat: 2g | Polyunsaturated Fat: 2g | Monounsaturated Fat: 8g | Sodium: 1757mg | Potassium: 188mg | Fiber: 5g | Sugar: 26g | Vitamin A: 4IU | Calcium: 34mg | Iron: 2mg
PIN THIS POST!