Lean protein, melty cheese, and a juicy center — baked chicken cutlets are the simple Italian dinner you've always wanted! Keep this chicken cutlet recipe in your back pocket for when you need a night off!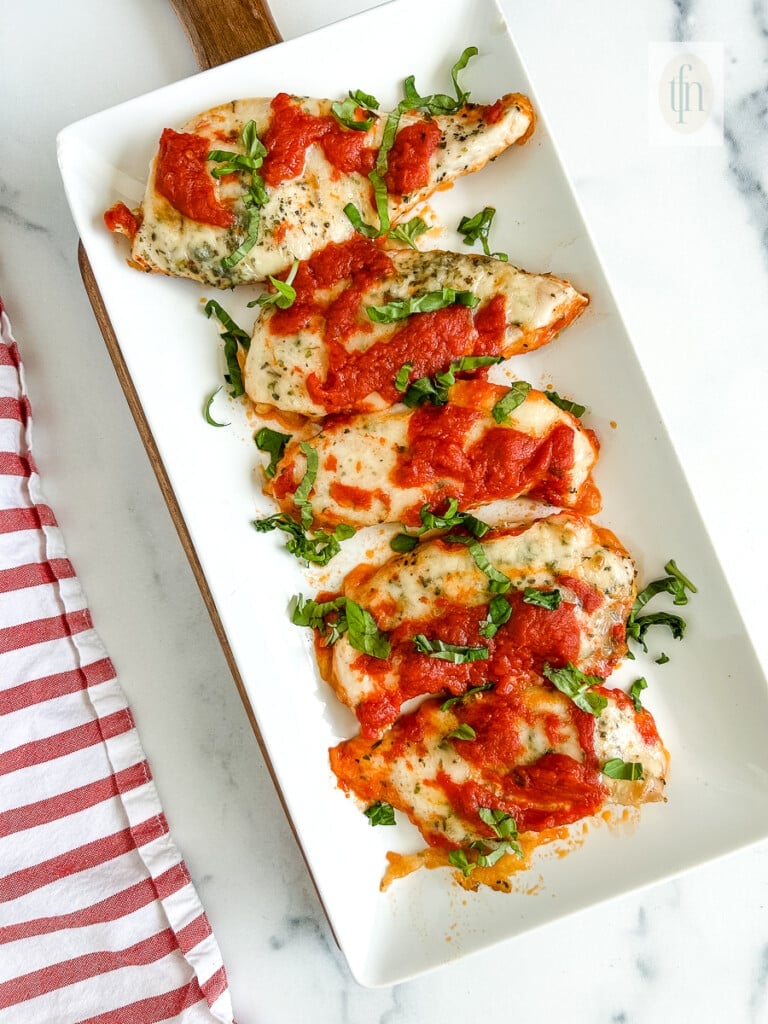 This is just one of our favorite 30-minute recipes. We love them because they make meal planning easier. And, let's face it, planning meals day after day can get exhausting!
Reasons to Make Baked Chicken Cutlets
It's a healthy meal! Certainly healthier than most Italian chicken cutlets, because these are oven baked without breading. This means, there's no frying oil, and the meal is lower in carbs.
Quick and easy to make in bulk.
Our chicken cutlet recipe makes 6 cutlets in 30 minutes, which is great for a family of 4 — it's even quicker than our Instant Pot pesto chicken! And you can easily make more to serve more people, or to have leftovers for another meal later in the week.
The classic Italian flavors go well with just about everything. Similar to our Italian chicken tenders, you have almost limitless options for sides to serve with this meal.
If healthy chicken recipes are your goal, we also recommend making our skillet chicken recipe. With fresh veggies and pasta, it's one that most kids absolutely love!
Ingredient Notes and Substitutions
Chicken – Boneless, skinless breast meat is best for making baked chicken cutlets. You can purchase a package of cutlets at the store, but they tend to be a bit more expensive. To save some money, make the cutlets yourself! Check out the section below for instructions.
Italian Seasoning – If you have dried basil, marjoram, rosemary, oregano, and thyme, then you already have Italian seasoning! Leaving out just one or two of these is okay, but you definitely want at least oregano, thyme, and rosemary.
Marinara Sauce – Homemade is always better than store bought!
Basil – Fresh, not dried, to sprinkle onto the finished baked chicken cutlets.
What is a Chicken Cutlet?
A chicken cutlet is simply a chicken breast that has been sliced lengthwise into two, thinner pieces.
Because they are thinner than breasts, they absorb marinades and dry rubs (like our chicken taco seasoning) more quickly.
How to Cut Chicken Cutlets from Chicken Breast
Pat the chicken breast dry before beginning, and place it on a dry cutting board.
TFN Safety Tip
To prevent the cutting board from slipping around, place a damp kitchen towel underneath it.
With one hand palm-down on the chicken breast, carefully slide a sharp knife horizontally through the center until it comes clean through.
Baked Chicken FAQ
Is it better to bake chicken at 350° or 400°F?
The oven temp you should use depends on the thickness of the cut and whether or not it has breading. When the temperature is higher, you risk the poultry drying out but it does cook faster.

However, with pieces of even thickness, like cutlets, you can worry less about overcooking. This is because no section will cook faster than another. So, cooking at a higher temperature is generally okay — as long as you pay attention and avoid over cooking.

We make baked chicken cutlets at 425°F, so dinner can be ready to serve in only 30 minutes!
How long to bake thin chicken breasts?
For any baked chicken recipe, it is all about reaching an internal temperature of 165°F. to eliminate any risk of food poisoning from undercooking the poultry.
Tips for the Best Italian Baked Chicken Cutlets
Even thickness promotes even (and fast) cooking.
Flattening the chicken gives it an even thickness throughout. This ensures that all parts of the cutlet cook evenly, without burning at the edges or being undercooked in the center.
The best kitchen tool to use for pounding/flattening is the flat side of a meat mallet.
Expect the chicken to be slightly undercooked when you add the sauce and cheese.
Keep in mind, you'll be cooking in two phases. First, to get the baked chicken cutlets cooked most of the way through, and then again to melt the cheese and finish cooking the poultry.
As a result, you do not want to cook the chicken all the way to a temperature of 165°F. right away. Otherwise, it will overcook when it goes back into the oven.
The first round of cook time takes 15 minutes. The second time it's in the oven, with the cheese and sauce, can take anywhere from 5 to 10 minutes. So it can take up to 25 minutes or as few as 20 — that's where a digital thermometer comes in handy.
Serving and Plating Suggestions
Plating is just as important as flavor.
Adding ribbons of basil (the culinary word is a "chiffonade cut") to your baked chicken cutlets is an easy and really effective way to make the meal look impressive!
To cut basil chiffonade style:
Stack up to 10 basil leaves on top of one another.
Roll the leaves as tightly as you can into the shape of a cylinder or cigar.
Cut the roll of basil into very thin slices.
Loosen the strands of basil, and you should have beautiful ribbons to use as garnish!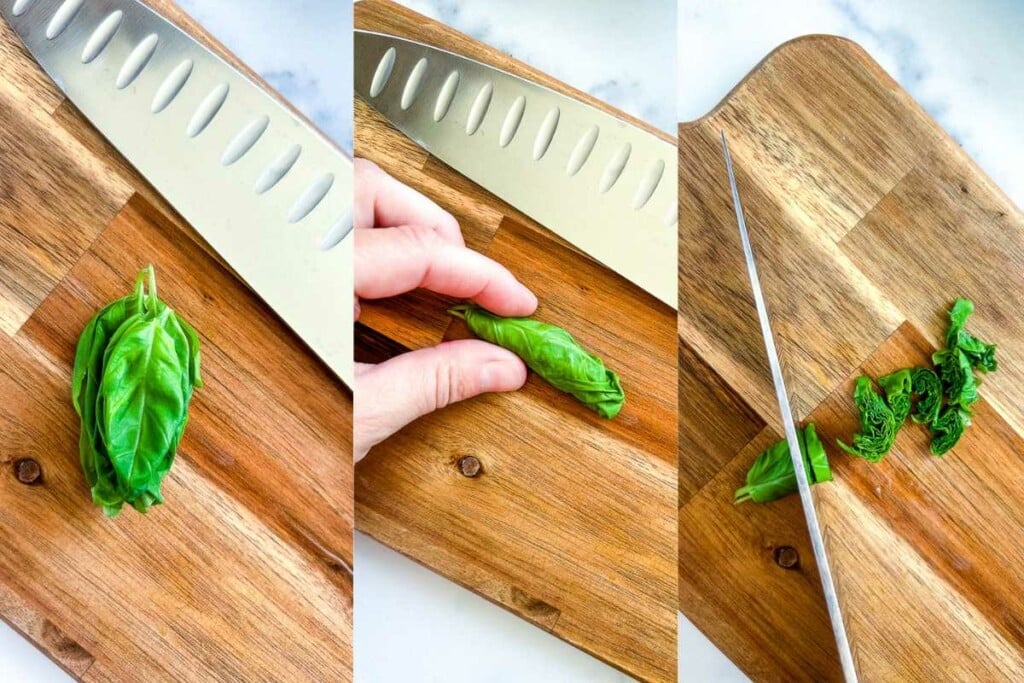 Storing and Reheating
Italian chicken cutlets are safe to reheat up to 4 days after cooking as long as they are kept in an airtight container in the refrigerator.
Reheating is best in the oven with a bit more sauce and cheese on top for extra flavor! Reheat baked chicken cutlets at a lower temperature, closer to 350, until the cheese melts and the meat is warmed through.
Renae recommends these tools for baking chicken cutlets
Italian Baked Chicken Cutlets
Baked chicken cutlets are an easy dinner idea, and this Italian chicken recipe features zesty marinara and mozzarella. A kid-friendly meal!
Equipment
large casserole dish - or large shallow baking dish

meat mallet - OR

rolling pin

basting brush

Meat thermometer
Ingredients
6 chicken cutlets or 3 boneless skinless chicken breasts
2 tablespoons butter melted
1 tablespoon Italian seasoning
1 teaspoon sea salt
6 slices mozzarella cheese
¾ cup marinara sauce
8 basil leaves cut chiffonade-style, julienned, or finely chopped
Instructions
Preheat oven to 425ºF. Prepare the baking dish by greasing it with non-stick cooking spray. Set aside.

If using chicken breasts, slice them into cutlets as follows. (If using cutlets, go to the next step).Place one chicken breast onto a cutting board in front of you. Place the palm of your non-cutting hand flat over the top of the breast and hold a well-sharpened chef's knife in the other hand.Very carefully, slide the knife horizontally through the breast, creating two cutlets. To avoid cutting yourself, don't use a back and forth sawing motion – let the knife do all of the work.Repeat with remaining chicken breasts.

Once you have 6 cutlets, place them between two pieces of plastic wrap. Using the flat side of a meat mallet, a rolling pin, or anything heavy, like a cast-iron skillet, pound the cutlets into an even thickness. (Aim for a thickness of 1/2 to 3/4-inch).

Arrange the cutlets in a single layer in the prepared baking dish. Brush each with melted butter, then season with Italian seasoning and salt on both sides. Bake in preheated oven for 15 minutes.

Remove from the oven. Lay a slice of mozzarella cheese over each cutlet. Spoon 1-2 tablespoons of marinara sauce over the cheese. Return to the oven and bake for an additional 5-10 minutes, until the cheese is melted and internal temperature of chicken is at least 165ºF.

Garnish with basil chiffonade and serve while warm.
Nutrition
Serving: 1 cutlet | Calories: 257kcal | Carbohydrates: 3g | Protein: 31g | Fat: 13g | Saturated Fat: 7g | Polyunsaturated Fat: 1g | Monounsaturated Fat: 4g | Trans Fat: 0.2g | Cholesterol: 105mg | Sodium: 872mg | Potassium: 545mg | Fiber: 1g | Sugar: 1g | Vitamin A: 517IU | Vitamin C: 4mg | Calcium: 169mg | Iron: 1mg
PIN THIS POST!