This Homemade Chicken Taco Seasoning recipe is easily customizable, making it the perfect blend of spices for your weeknight meal.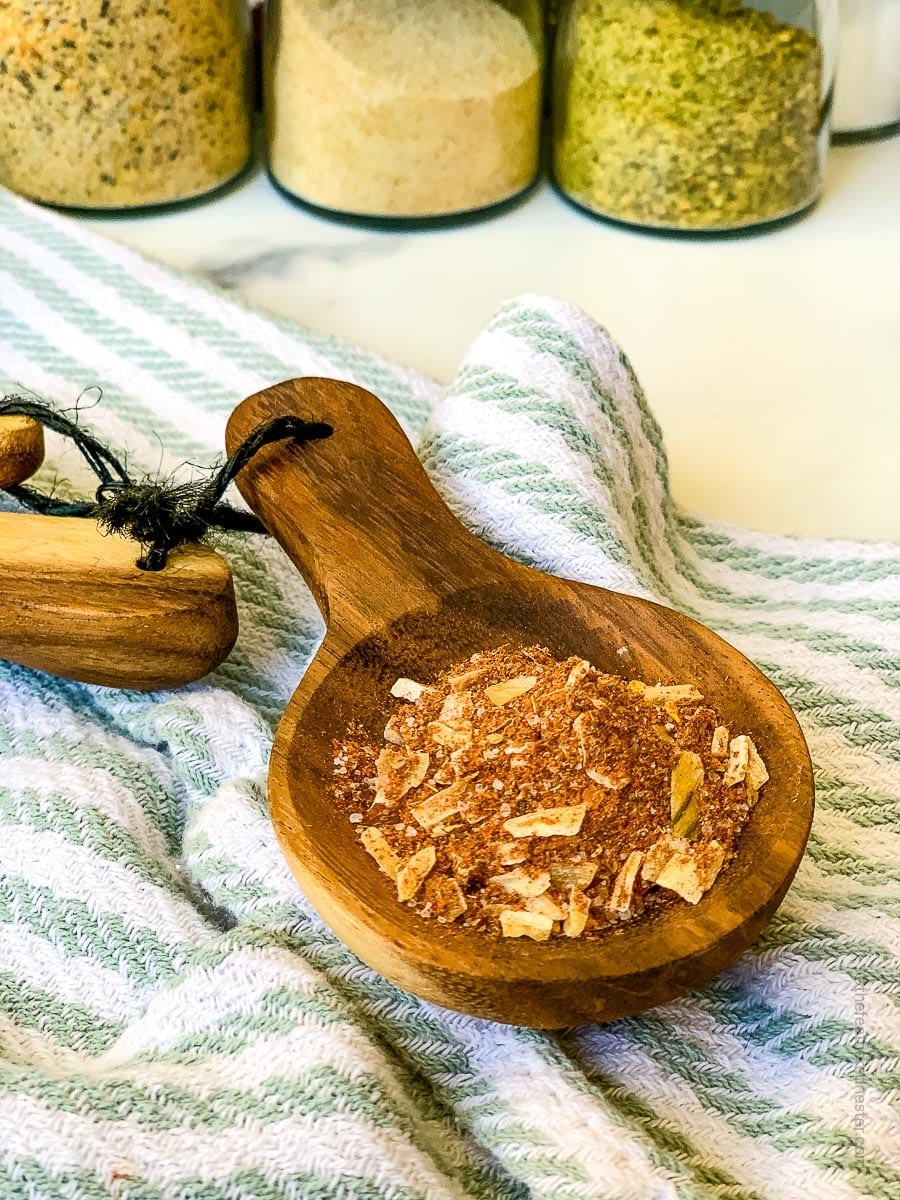 This homemade spice blend is better than anything you can buy in the store, and is very easy to make. You likely have the individual ingredients right in your pantry to make delicious chicken tacos in minutes.
Plus, you can customize this recipe to your own taste preferences. For example, you could leave cumin out of the recipe if you don't like it.
What is Chicken Taco Seasoning?
This seasoning is a blend of spices perfect for tacos. The most common spices used are chili powder, cumin, garlic powder, and paprika.
However, this recipe also includes oregano, salt, pepper, and dried onion powder. While some people like to add a bit of sugar to their spice mix, we think it's unnecessary.
Why Homemade Spices Are Better Than Store-Bought
There are several reasons why this homemade spice mix is better than the packaged varieties.
The flavor is better. Homemade seasonings taste better because they are fresher. Store-bought spice blends can contain stale spices that have lost their flavor.
Less expensive. Making chicken taco seasoning is usually more affordable, mostly because a single jar of prepared spice blends can cost as much as $5.00, and you'll only use a tiny portion of it.
No unwanted chemicals. And finally, when you make your own, you can control the ingredients and make sure they are all-natural.
Ingredients
Chili powder
Dehydrated onion – These are little flakes of dried onion. You can also substitute with ground onion powder.
Ground cumin
Sea salt
Ground paprika
Garlic powder
Dried oregano – We like using Mexican oregano.
Crushed red pepper
How to Make Chicken Taco Seasoning
Mix chili powder, dehydrated onion, ground cumin, sea salt, paprika, garlic powder, dried oregano, and crushed red pepper in a small bowl.
Once the spices are combined, store the spice mix in a glass jar or container with a tight-fitting lid. Add a label or mark the container so you remember what you've made later.
Recipe Variations
While this is our favorite recipe, feel free to experiment with different spices.
For example, you could add smoked paprika for a smoky flavor, cayenne pepper, or chipotle powder for a bit of heat.
How to Use
There are many different ways to use this recipe. One of the most popular is simply rubbing it onto chicken breasts before cooking.
You can add it to ground protein before cooking it. It's a great way to add flavor to burritos or a healthy taco salad, too.
Another popular way to use it is in a slow cooker. Add all the ingredients for your favorite chicken slow cooker recipe together, then sprinkle on some of the mixture. It will come out flavorful and moist. You can always add more at the end if needed.
Love Mexican-inspired recipes? Try our Taco Wonton Cups, Crunchwrap, Fajitas, and Chicken Pozole.
How to Store Homemade Seasoning
This blend of taco spices will last up to six months if stored in a cool, dark place.
We recommend storing them in a glass jar or container with a tight-fitting lid. This will help keep the spices fresh and prevent them from losing flavor and caking together.
Taco Spice Mix FAQ
Can you use taco seasoning as a dry rub?
Yes, you can use it as a dry rub. Combine the spices in a bowl and mix them together. Then rub the mixture onto your protein before cooking.
Do you add water to taco seasoning?
Some people like to add water, but we think it's unnecessary. The spices will release moisture as they cook, so there's no need to add water.

If you want to add water, we recommend adding it a little at a time until you reach the desired consistency.
What are some other ways to use chicken taco seasoning?
In addition to using it as a dry rub or in a slow cooker, it can also be used to make homemade taco shells. Combine the spices in a bowl and mix them together.
Chicken Taco Seasoning
This chicken taco seasoning recipe is easy to make with simple pantry ingredients. It's easy to customize for other chicken recipes too!
Equipment
container for storing spices
Ingredients
1 tablespoon chili powder
2 teaspoons dehydrated onion (can substitute with 1/2 teaspoon dried onion powder)
1 teaspoon ground cumin
1 teaspoon sea salt
1 teaspoon ground paprika
½ teaspoon garlic powder
¼ teaspoon dried oregano (I like using Mexican oregano)
¼ teaspoon crushed red pepper
Instructions
In a small bowl, mix together chili powder, dried onions, cumin, salt, paprika, garlic powder, oregano, and red pepper.

Add to ground chicken after browning or to chicken tenderloins, cutlets, or thighs before cooking.

Once the spices are combined, use immediately use the spice blend or store the spice mix in a glass jar or container with a tight-fitting lid. Add a label or mark the container with "chicken taco seasoning."

Double or triple the recipe and store it in a spice jar to use for chicken tacos. Use 3 tablespoons per pound of chicken meat.
Nutrition
Serving: 1serving | Calories: 19kcal | Carbohydrates: 4g | Protein: 1g | Fat: 1g | Saturated Fat: 0.1g | Polyunsaturated Fat: 0.2g | Monounsaturated Fat: 0.2g | Sodium: 618mg | Potassium: 108mg | Fiber: 1g | Sugar: 1g | Vitamin A: 885IU | Vitamin C: 2mg | Calcium: 22mg | Iron: 1mg
PIN THIS POST!