Spiced apple cobbler with cake mix is a fantastic fall treat, made with fresh apples and a yellow cake mix! This Dutch oven dessert is similar to an apple upside-down cake, but the warm cinnamon apples are tucked inside the moist cake. This recipe is the perfect opportunity to load your family in the car and head out to the orchard to pick some fruit!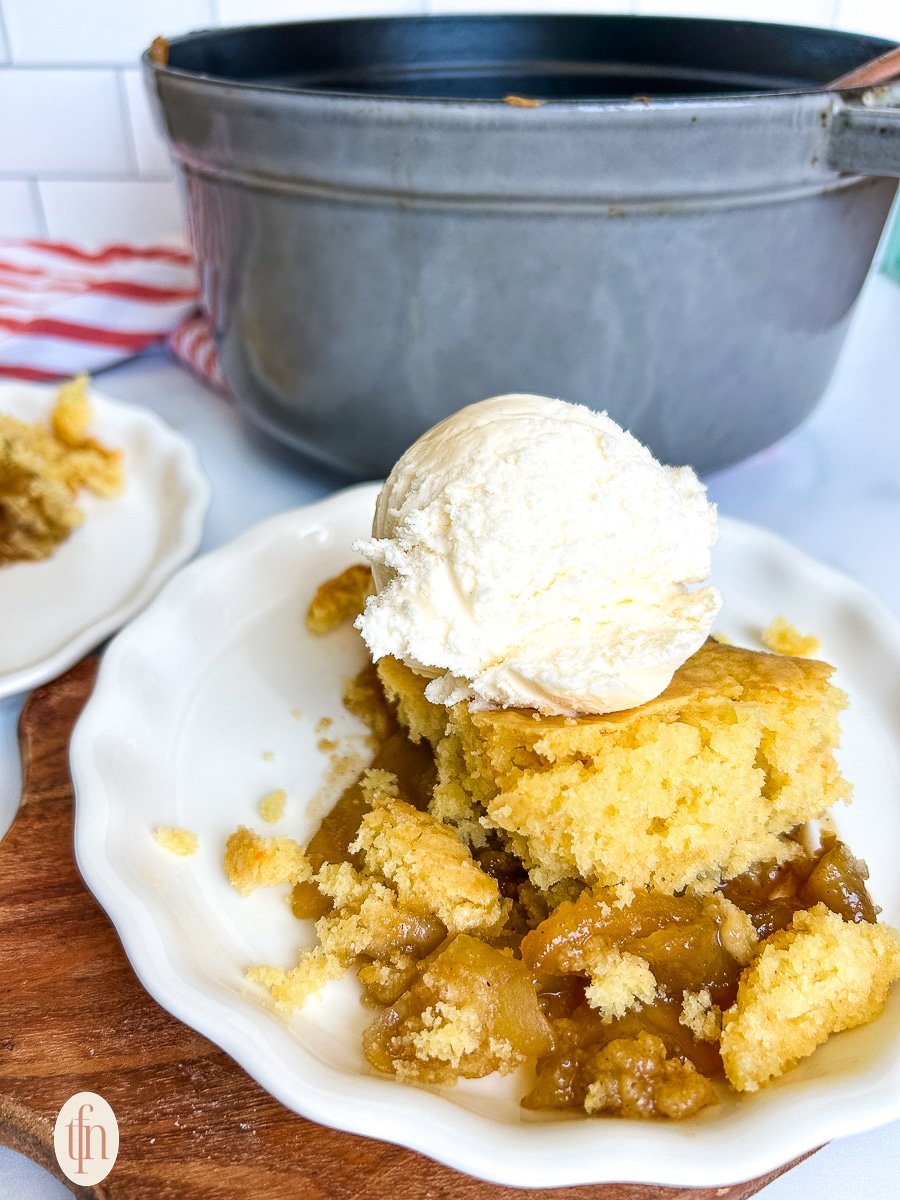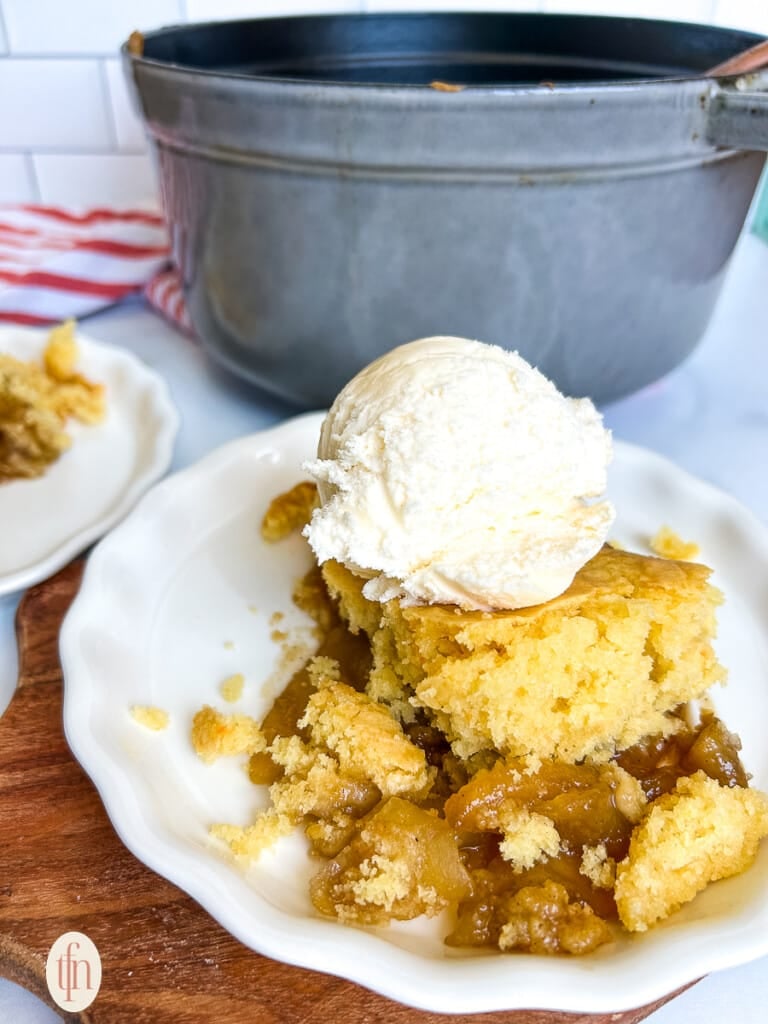 Reasons to Make Apple Cobbler With Cake Mix
It's just so easy!
With a Dutch oven dessert, everything bakes right in the same pot. It's a breeze to manage the mess and keep dishes to a minimum.

All ingredients are inexpensive and easy to find anywhere.
And we're not picky! There are several substitutes and ways to make do with whatever you have in the kitchen.

Cake mix recipes are fun to make, too!

It's a fun family activity. There's really no way to mess up cake mix cobbler, so let the kids get involved!
Desserts Made Easy
Using boxed mixes to make desserts it's a fantastic shortcut for those who love to bake but don't have as much time as they'd like.
And the desserts you can make with boxed mix are so tasty that your family and friends won't be able to tell the difference! Our sweet, sticky summer peach cobbler with cake mix is one of our favorite yellow cake mix recipes.
If you're a fan of chocolate desserts, you can use a box mix to make red velvet cake mix cookies!
Speaking of seasonal sweets, you just can't go through fall without having at least one apple dessert! From German kuchen to simple 2 ingredient apple cinnamon rolls to the classic apple crisp, you have dozens of delectable options to choose from.
Cobblers in general are the simplest way to enjoy seasonal desserts. Along with sweet peaches, tart Bisquick cherry cobbler is another summer favorite in our household! Then, there's strawberry blueberry cobbler in the spring.
Ingredient Notes and Substitutions
Apples – See the FAQs below for tips on choosing the best baking apples for Dutch oven apple cobbler!
Brown Sugar – Both light and dark brown sugar will have the desired effect. Try not to use plain white sugar, as a lot of the depth comes from the molasses in the brown sugar — but it'll work in a pinch.
Apple Pie Spice – If cake mix apple cobbler is all you plan on using this for, try mixing nutmeg and allspice instead. It's one less wasted spice in the back of the cabinet!
Boxed Mix – Your preferred brand will work perfectly to make moist, crumbly apple cobbler with cake mix. Feel free to use white cake mix instead!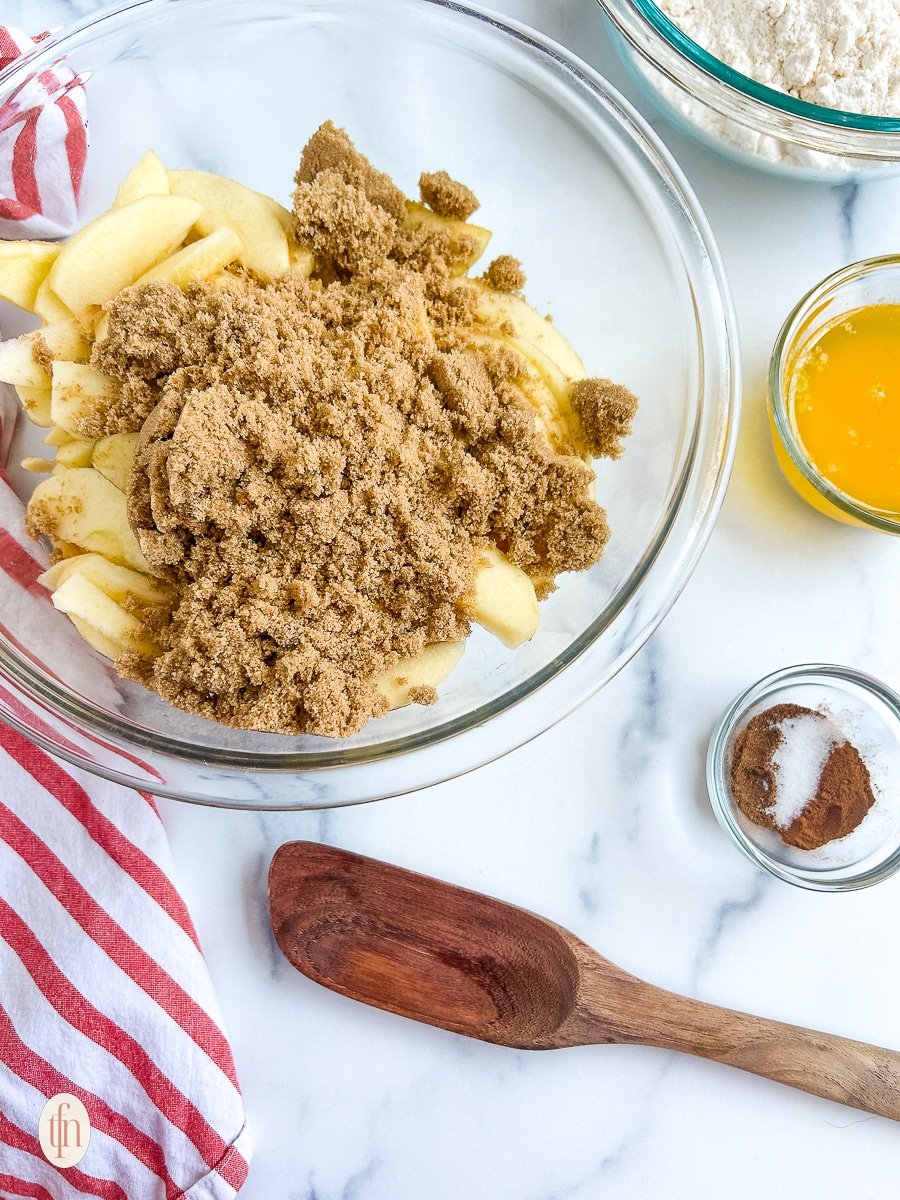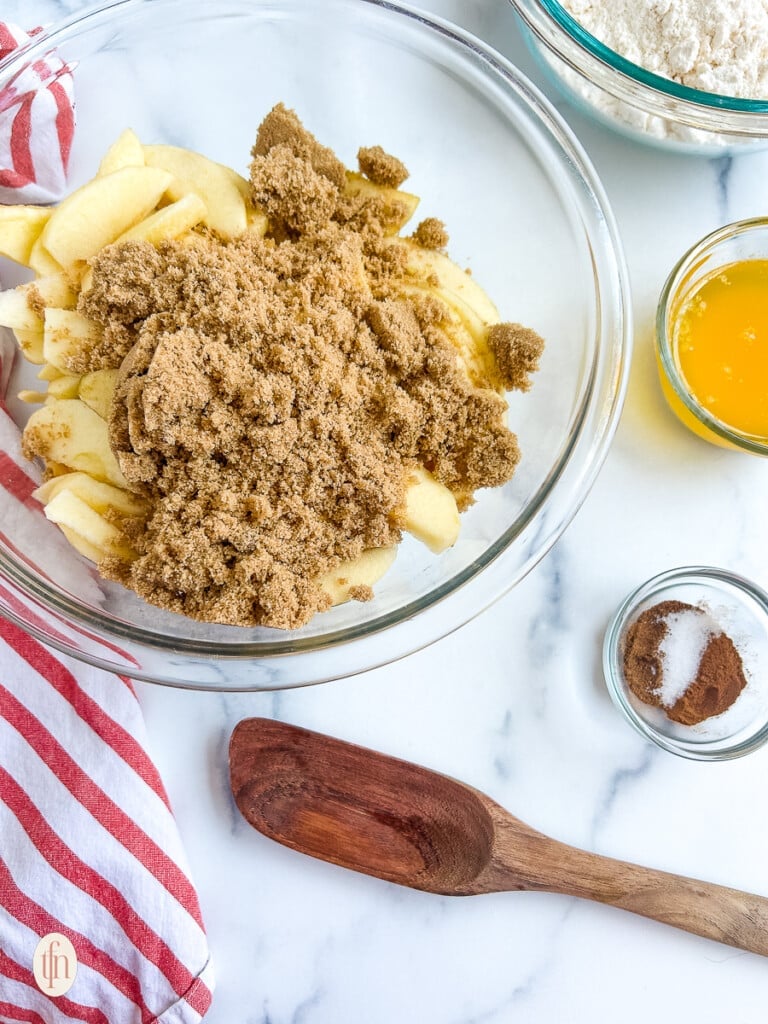 Dutch Oven Apple Cobbler Recipe Tips
Make serving your Dutch oven dessert even easier.

Rather than using non-stick cooking spray, butter the Dutch oven before making cobbler with cake mix. This will add flavor and prevent the apples and topping from sticking.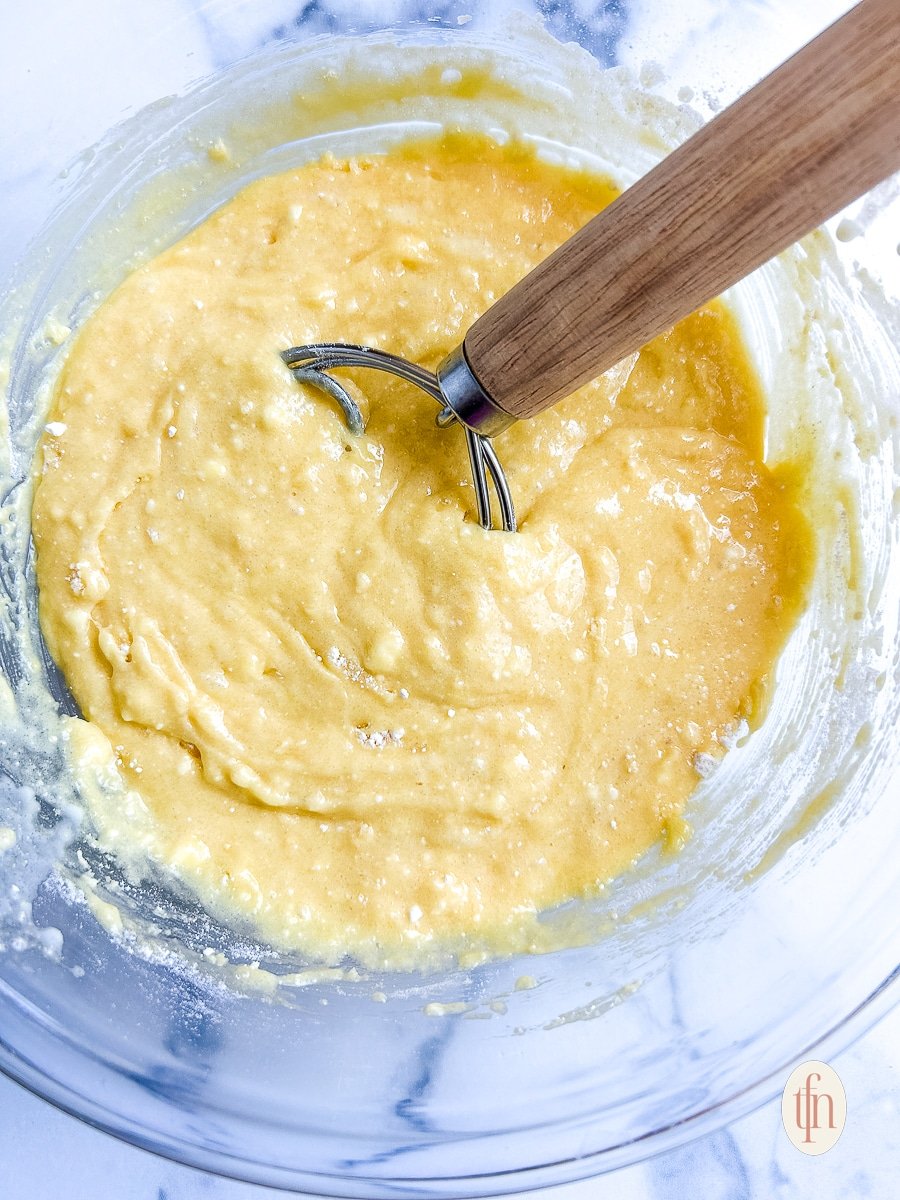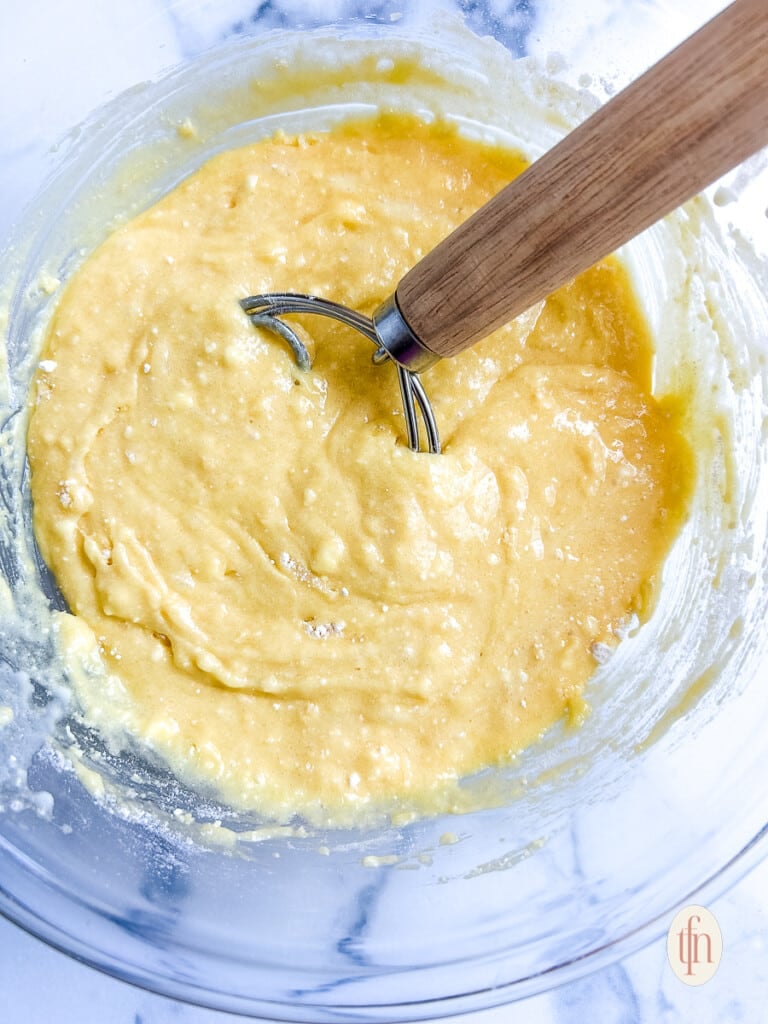 Be consistent with the size of your slices.

There's nothing worse than biting into a hard, undercooked fruit filling!

Prevent this by slicing the fruit into uniformly sized slices. They'll all cook at the same rate, and you won't have to worry about any unpleasant textures.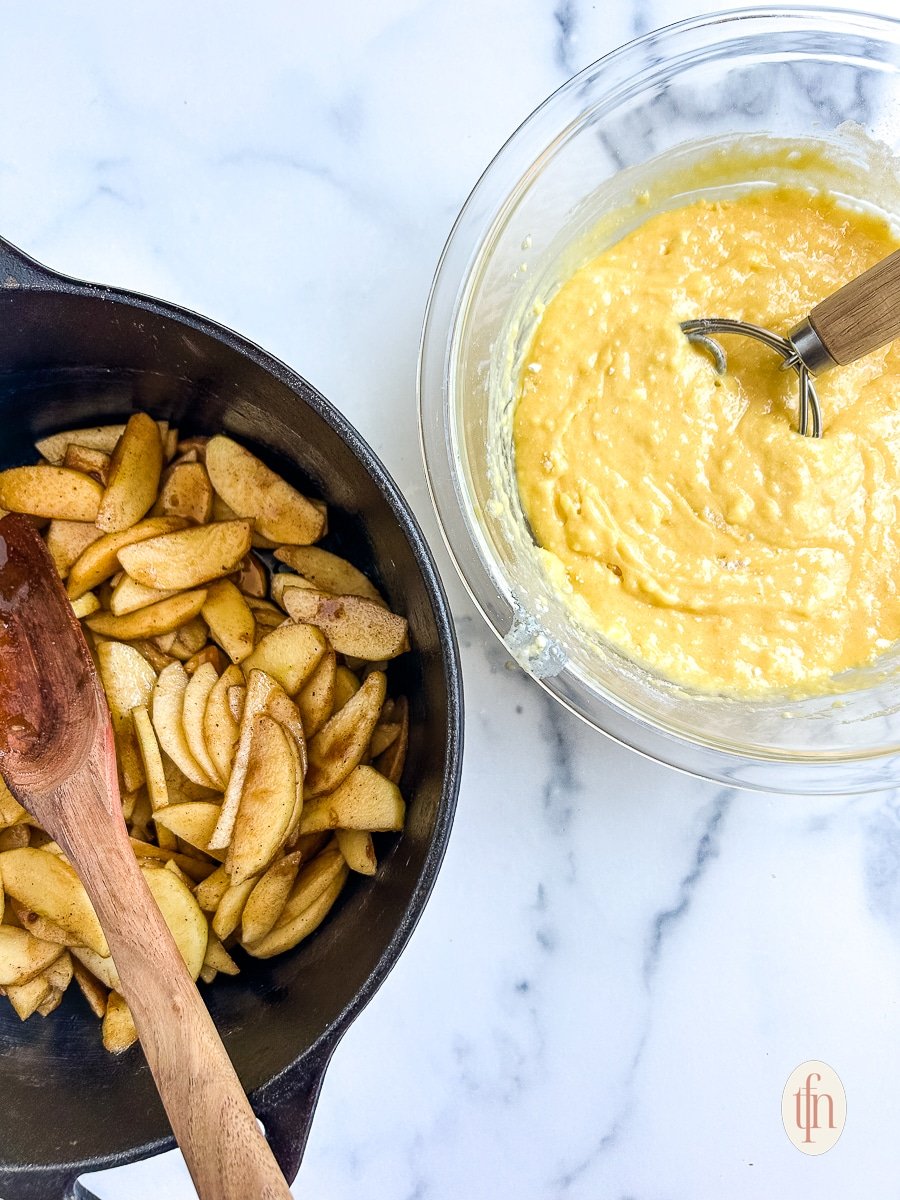 Reduce and reuse for easy clean-up.

Once the seasoned apples have been added to the Dutch oven, rinse out the mixing bowl that you used to prepare them. Then, use that bowl to make the topping!

Instead of filling the sink with two dirty bowls, you'll only have to clean one while the Dutch oven apple cobbler bakes.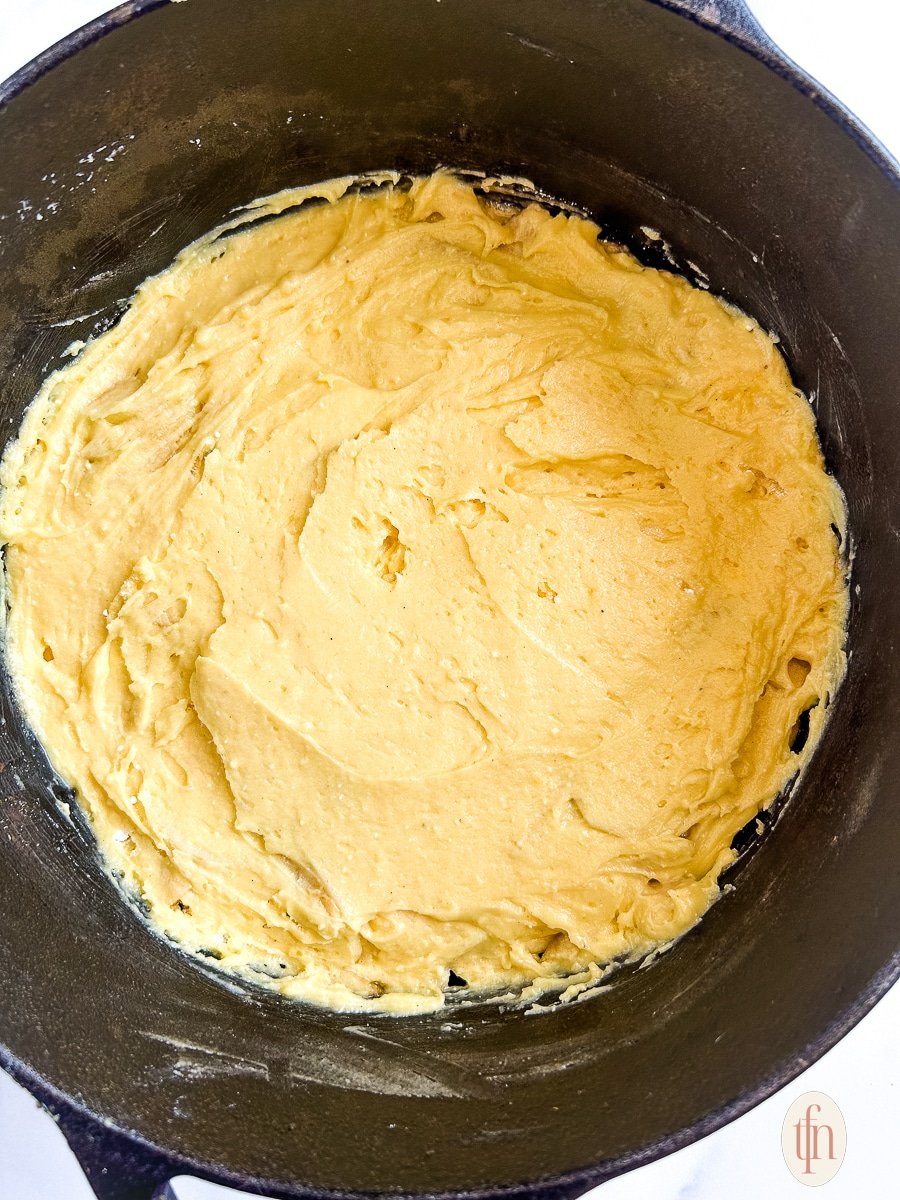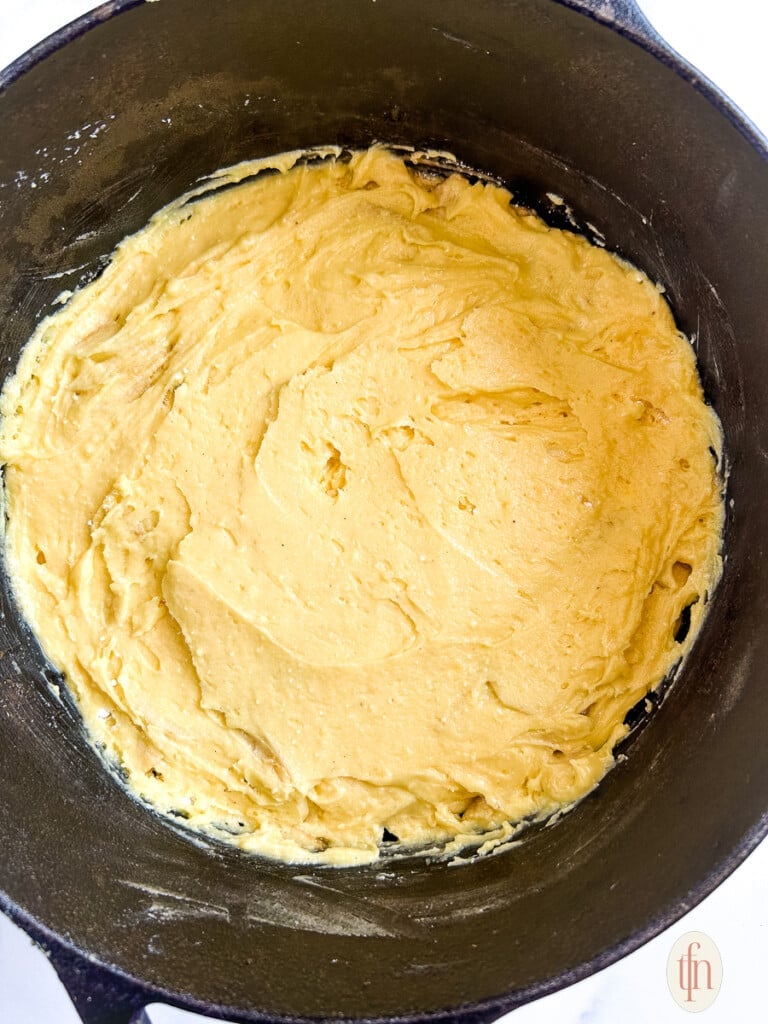 Storing and Reheating
Dutch oven apple cobbler with cake mix should be stored in the refrigerator. It'll last for 5 days, but is most delicious eaten within the first day or two.
Another convenient thing about a Dutch oven dessert: you can just stick the lid back on and slide it into the fridge! It's a ready-to-go airtight container.
To reheat leftovers, simply microwave servings in a microwave-safe bowl in 30-second rounds until warmed through.
Apple Cobbler with Cake Mix FAQ
What are the best apples for apple cobbler?
It's best to use fresh, firm varieties because they will hold their shape even after simmering and baking. These "baking apples" won't crumble and break down into mush, so you can still get a tender bite!
Gala, Honeycrisp, Golden Delicious, Jazz, Cortland, and the fan-favorite Granny Smith are all good choices.
Can I use something besides milk in a cake mix dessert?
Yes, you could substitute with the same amount of water, but juice or nut milk are more flavorful options.
Can I use apple pie filling instead of fresh apples?
We don't recommend it for apple cobbler with cake mix.
Canned fruits never soften properly, due to the preservatives, and the thick syrups they're stored in often lead to an unpleasant, gummy texture.
The apples in canned pie filling are usually mushy, too, so they almost disintegrate by the time they're done baking.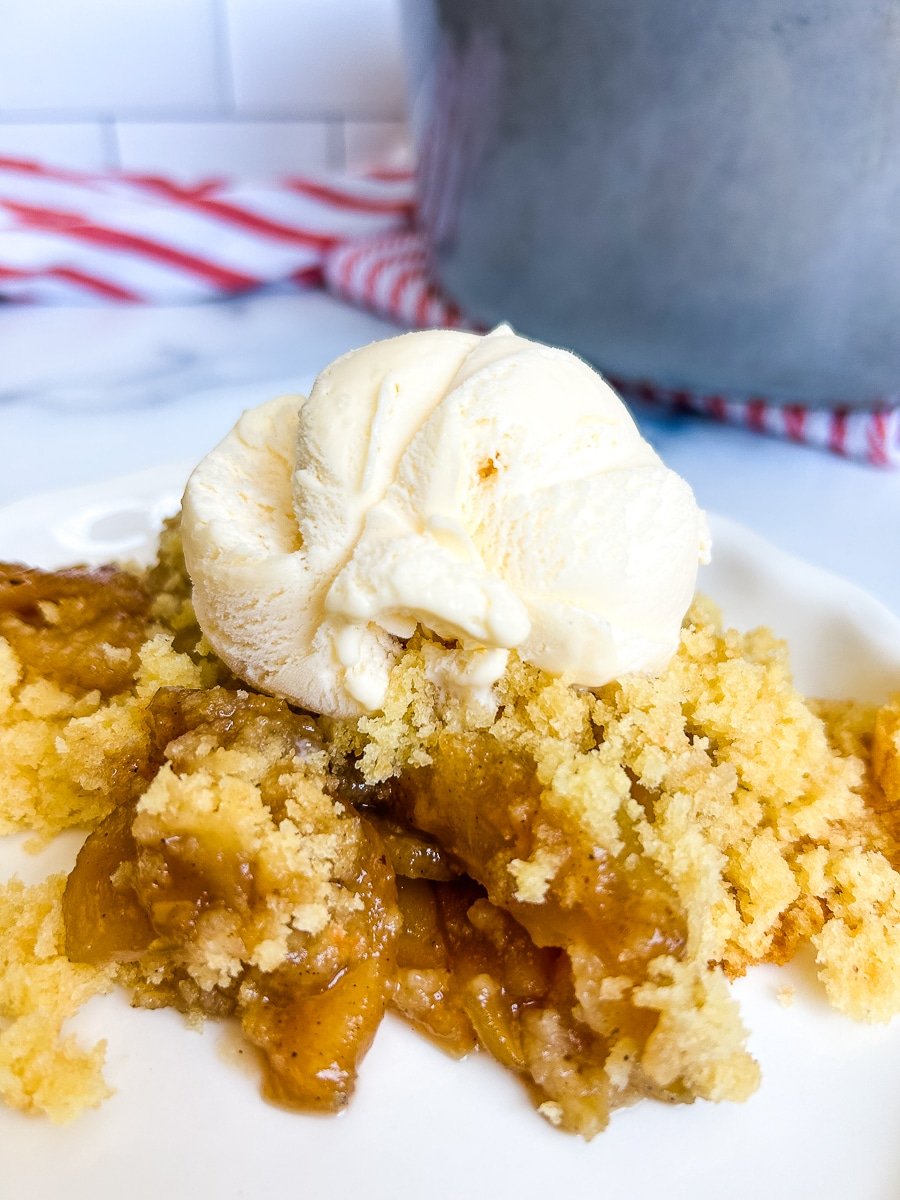 Apple Cobbler with Cake Mix
Apple cobbler with cake mix is delicious, moist, and a great fall dessert idea! You can bake this Dutch oven apple cobbler in under an hour.
Equipment
small Dutch oven - or 3-quart casserole dish, or 9×13-inch baking dish

apple corer

peeler

medium mixing bowl

large mixing spoon
Ingredients
5 large baking apples cored, peeled, and cut into slices 1/4-inch thick *See Notes
¾ cup brown sugar
½ teaspoon apple pie spice or 1/4 teaspoon nutmeg and 1/8 teaspoon allspice
½ teaspoon ground cinnamon
¼ teaspoon salt
15 ounces yellow cake mix
¾ cup milk or non-dairy substitute, such as cashew or almond milk.
6 tablespoons melted butter (6 tablespoons = 3 ounces, 1/3 cup, or 3/4 stick)
Instructions
Prepare a Dutch oven by greasing the inside with butter or non-stick cooking spray. Alternatively, use a 9×13-inch glass baking dish. Set aside.

To a medium-sized mixing bowl, add apple slices, brown sugar, spices, and salt. Stir well to combine.

Transfer the apple mixture to the prepared baking dish. PRO TIP: Rinse out your mixing bowl with water so you can reuse it – one less dirty dish to wash!

To the now empty mixing bowl, add the cake mix, milk, and melted butter. Stir well to combine.

Pour the batter mixture over the apple mixture and use an offset spatula or the back of a large spoon to spread it out in an even layer.

Bake the cake mix apple cobbler at 350°F. for 40-45 minutes, or until the top is golden brown.

Serve warm. If desired, top your dessert with whipped cream or vanilla ice cream.
Notes
Baking apple varieties have a firm flesh that helps prevent it from breaking down too much during baking. Good options include Gala, Granny Smith, Cortland, Jazz, Honeycrisp, and Golden Delicious.
Nutrition
Serving: 1serving | Calories: 346kcal | Carbohydrates: 68g | Protein: 3g | Fat: 8g | Saturated Fat: 5g | Polyunsaturated Fat: 0.4g | Monounsaturated Fat: 2g | Trans Fat: 0.4g | Cholesterol: 19mg | Sodium: 434mg | Potassium: 193mg | Fiber: 3g | Sugar: 47g | Vitamin A: 305IU | Vitamin C: 5mg | Calcium: 136mg | Iron: 1mg
PIN THIS POST!