Sourdough discard cinnamon rolls are soft and have just the right amount of sweetness and warm cinnamon flavor. Whether you're expecting guests for brunch or simply want to whip up something special for your family, this sourdough discard recipe is easy to make — and the cinnamon buns taste fantastic!
Is there anything better than biting into a freshly baked cinnamon roll first thing in the morning? Also called sticky buns or cinnamon buns, they're traditionally made with a yeast dough. Baking with yeast is a challenge for many people – they seem to struggle with activating it, so nothing ever rises.
If this sounds like you, we have the solution. You can make a batch of delicious cinnamon buns with icing, but no yeast is needed!
Why We Love Sourdough Discard Cinnamon Rolls
Sourdough discard is the piece of sourdough starter that you remove before "feeding" your starter. Rather than letting it go to waste, use it in sourdough discard recipes like this one.
Prevents food waste.
Don't let the word "discard" confuse you; it doesn't need to be thrown away. It's perfect to use for making delicious foods!
Easy overnight recipe.
You'll need a bit of patience, because the sourdough cinnamon rolls do need to rise overnight. But it's worth waiting for, especially when you finally bite into that soft and fluffy treat.
No kneading necessary!
One of the best things about sourdough recipes is that there isn't any kneading required, which is often a negative with yeast recipes.
Ingredient Notes and Substitutions
Sourdough starter discard – the most important ingredient for this breakfast treat is the discard itself. Be sure that it's bubbly and active.

Are you a beginner level sourdough baker?

If you are new to making sourdough recipes, we have some articles to help you! Be sure to read our sourdough starter recipe, and our guide on storing sourdough starter.

Bread flour – For this sourdough cinnamon roll recipe, it's important that you do not use all-purpose flour. The reason is, bread flour has more gluten than all-purpose flour. Gluten creates structure, which is why bread flour is the best ingredient to use for hearty breads, sourdough dinner rolls, and cinnamon rolls.
How to Properly Measure Ingredients
In general, using measuring cups is less reliable than using a food scale to weigh them. Accurate measurements are important, especially when you are baking. To properly measure dry ingredients like flour, don't scoop it!
Instead, use a small spoon to stir the flour, then use the spoon to fill the measuring cup. Level off the top of the cup with a table knife. Do not compress or tap down the flour.
Sourdough Discard Cinnamon Rolls FAQ
What is the difference between a sourdough starter and a discard?
A sourdough starter is a fermented culture made from flour and water that serves as a base for various sourdough recipes. Sourdough discard is a portion of the starter that's removed every time you "feed" the starter with fresh flour and water.
Can you bake a sourdough starter?
Yes, it can be baked, but only when other ingredients are added to it. For example, for a sourdough cinnamon roll recipe, flour, sugar, salt, milk, and butter are added to the sourdough discard.
Do you love cinnamon desserts?

From cinnamon rolls with apple pie filling to streusel topped coffee cake muffins, cinnamon roll muffins, and delicious pull apart monkey bread, there's no shortage of cinnamon-packed sweet treat recipes to make!
Pro Tips for Making Sourdough Cinnamon Buns
Let the dough rest.
Once you add the milk, sugar, flour, butter, and salt to the starter, you have to let it rest for about 30-45 minutes. This is called the "first rise". Then, the dough will be "punched down" before rising again. The second rise is called a "bulk rise".
How long the bulk rise takes depends on your room temperature. Here are the approximate rise times:
If the room temperature is around 75ºF, the dough will take about 8 hours to rise.
Around 65ºF, rising will take around 12 hours.
2. Stretch the dough gently.
Now that the sourdough has had the time to rest and rise, you need to stretch it into a rectangle shape on your countertop. Do this as gently and carefully as possible to avoid ripping it.
If it does rip, don't panic. Just use your fingertips or rolling pin to bring some dough in and close any holes.
3. Use a sharp knife for slicing.
If you use a dull knife, the added pressure will make your sourdough cinnamon buns oval-shaped instead of round. Also, if they aren't perfectly round, it can also prevent them from rising. so make the cuts as clean as possible.
4. Perform the second rise overnight to save time.
After it has rested and you've stretched it out, you'll have to allow the sourdough to rest once again — this time for 8-12 hours. We make the dough in the evening, then let it rise overnight. This is a real-deal, overnight sourdough discard cinnamon roll recipe!
Pro Tips for Cutting Cinnamon Roll Dough
There is a certain finesse required when it comes to cutting the dough for sourdough discard cinnamon rolls.
Start in the middle. This makes cutting evenly-sized rolls a lot easier.
Safety first! If you have kids helping you with the prep work, we recommend using waxed dental floss instead of a knife to cut the dough. It works just as well and is a lot safer for little fingers!
Storing and Freezing
Store any leftover cinnamon rolls in an airtight container in the fridge. They will keep for about 1 week.
You can freeze sourdough cinnamon buns for up to 3 months, but only after baking, and before spreading icing on them. Powdered sugar cinnamon roll icing only takes 5 minutes to make, so it's best to wait and ice the rolls after they have thawed out. We suggest doing this just before you serve them.
Reheating Sourdough Discard Cinnamon Rolls
You can reheat individual servings in the microwave in 30-second increments until warm. Another reheating option is in the oven at 275°F., with a small dish of water on the oven rack beneath the rolls. In the oven, it takes about 10-15 minutes.
To Make Our Sourdough Cinnamon Roll Recipe, Renae Recommends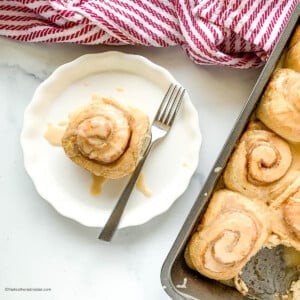 Sourdough Discard Cinnamon Rolls
Sourdough discard cinnamon rolls are soft, sweet, + incredibly delicious! Make this sourdough discard recipe for an easy breakfast treat!
Equipment
9 x 13 inch baking dish

rolling pin

pastry brush - for spreading the softened butter and icing

medium bowl

chefs knife or dental floss - for cutting the dough
Ingredients
½ cup sourdough starter discard bubbly and active, but ready to be fed
1 cups warm milk (95º to 100º F)
¼ cup granulated sugar
3 cups bread flour *see notes
1½ tablespoons butter melted
1 teaspoons sea salt
Cinnamon sugar filling
4 tablespoons butter melted and cooled
½ cup granulated sugar
1 tablespoon ground cinnamon
Cinnamon roll icing
2 cups powdered sugar
2 tablespoons butter melted
2 teaspoons vanilla extract
2 ounces half and half
Instructions
Add the starter discard to a large bowl. Mix in warm milk and sugar, stirring until dissolved. Add bread flour, melted butter, and salt. Stir with a dough whisk or wooden spoon until a thick, shaggy dough forms.

Flour your hands, then finish mixing dough by hand until most of the flour is absorbed. *Don't worry if flour is on the sides or bottom of the bowl. Cover bowl with a clean, damp kitchen towel and let the dough rest for 30 to 45 minutes.

Stretch and fold the dough in the bowl: Grab a corner of the dough and stretch it 4 inches, then push it down into the middle of the dough. Turn the bowl and continue until you have done 4-6 stretches. Cover the bowl with a damp towel. Let the dough rise at room temperature for at least 8 hours, and up to 12 hours, until the dough doubles in size and there are bubbles on the top and bottom. **See notes below.

After the bulk rise, lightly flour your countertop. Remove the dough from the bowl and gently stretch it into a rectangle shape. Roll dough with a rolling pin until the rectangle measures 10" wide by 15" in length.

Add softened butter to a medium bowl. Using a pastry brush, apply butter evenly over the dough. Wipe out the bowl, then use it to combine sugar and cinnamon together. Sprinkle the mixture evenly over the butter and dough.

Working from the long end, roll up the dough into a log. Starting in the center of the log, use a chef's knife or waxed dental floss to cut the dough in half. Then cut each half roll into 6 pieces. This will give you 12 rolls total. Place the rolls into a greased 9"x13" casserole dish, leaving about 1" space between each cinnamon bun.

Cover dish with a clean kitchen cloth and let the rolls rise in a warm, draft-free area for 45 to 60 minutes, until doubled in size (they will almost touch one another).

Preheat oven to 350° F. Place pan of cinnamon rolls into the center of preheated oven. Bake for 25-30 minutes, until deep golden in color. Remove pan from oven and allow rolls to cool in pan for 10 minutes while you prepare the icing.
Icing
Add all icing ingredients to a medium bowl, and stir well to combine. Drizzle or brush icing over the warm rolls. Serve immediately.
Notes
Measuring Flour: Measuring your flour with cups is less reliable than using a food scale and weighing flour.
To measure flour properly, don't scoop it! Use a small spoon to stir the flour, then use the spoon to fill the measuring cup with flour. Level off the top of the cup with a table knife. Do not compress or and tap down the flour.
Rising Time
For the best results, allow the dough to rise for at least 8 hours, or up to 12 hours. We usually make the dough in the evening and let it rise overnight.
How long the bulk rise takes depends on your room temperature. Here are my guidelines:
Around 75ºF will take about 8 hours
Around 65ºF will take around 12 hours
Nutrition
Serving: 1roll | Calories: 337kcal | Carbohydrates: 60g | Protein: 5g | Fat: 9g | Saturated Fat: 5g | Polyunsaturated Fat: 1g | Monounsaturated Fat: 2g | Trans Fat: 0.3g | Cholesterol: 23mg | Sodium: 263mg | Potassium: 75mg | Fiber: 1g | Sugar: 34g | Vitamin A: 274IU | Vitamin C: 0.1mg | Calcium: 44mg | Iron: 0.4mg
PIN THIS POST!