This Pesto Cheese Bread Wreath Twist recipe is the perfect savory bread to serve as an appetizer or side dish!
As an Amazon Associate I earn from qualifying purchases, at no extra cost to you. See my disclosure policy here.
This post is brought to you by Bridgford Foods Ready-Dough.
Celebrate any occasion with a cheesy, savory, and oh-so lovely braided pesto cheese bread wreath. This delicious and impressive twist is a tasty centerpiece for brunch and is the perfect party appetizer. Although it looks complicated, my twisted cheesy pesto wreath recipe is actually made with frozen dough – so it's as simple to make as it is fabulous to enjoy!
I love hosting dinner parties and brunches where I can show off recipes that are pretty and scrumptious. There's nothing better than a dish that doubles as both a table centerpiece and a tasty, shareable treat for guests! One of my favorites is this fall-tastic Easy Pumpkin Spice Bread Twist sweet wreath that I made for autumn last year.
This year, I wanted to create a new savory snack that looked just as impressive but was still really simple to make. This Pesto Cheese Bread Twist is a top-notch yummy appetizer, and you won't believe how easily it is made by using frozen dough.
Ingredients Needed For Pesto Cheese Bread Twist Recipe
Equipment Needed
How to Thaw Frozen Dough
Before you get started with this braided Pesto Cheese Bread appetizer recipe, first be sure to check out my tips to properly defrost frozen dough.
You have two options for how to thaw frozen bread dough:
Defrost the frozen dough in the refrigerator overnight. This method requires very little effort. Simply place the frozen loaf of bread dough on an oil sprayed baking sheet, or use parchment paper. Cover the dough with plastic wrap that has been sprayed with cooking oil on the side facing the dough. (Otherwise, you'll wind up with a sticky mess.) Thaw the dough in the fridge overnight, or for about 8 – 10 hours.
The second method is quicker but just as easy… Simply defrost the frozen bread dough at room temperature on your kitchen counter! Like the first option, place the frozen dough on an oil sprayed sheet pan or use parchment paper, and cover with plastic wrap that has been sprayed with cooking oil on the side facing the dough. Let defrost for 2-3 hours.
Whichever method you use, be sure your dough is still nice and cold before using it to make the bread wreath.
How to Make a Braided Pesto Cheese Bread Wreath
After the dough has been defrosted, this bread twist can be made in only about an hour and a half, including rest time.
Prepare the dough. Roll the thawed but still cold dough out into a large rectangle on a floured surface or piece of parchment paper. Then spread the prepared pesto sauce onto the dough using a pastry brush, and sprinkle generously with cheese.
Shape the dough. Roll the dough up length-wise and carefully slice to reveal the pesto and cheese inside. Lay the two loaves of dough side-by-side and pinch them together at the top.
Next, gently twist the two together while keeping the sliced part exposed at the top.
Wrap the twisted loves so that the ends meet, and pinch them together to create a wreath shape.
Bake the dough. Place the shaped braided wreath on a parchment paper-lined baking sheet. Spray the wreath lightly with cooking oil, cover with plastic wrap and let rise for about 45 minutes. It will look puffy, but not quite doubled in size.
Then brush the savory bread wreath with an egg wash to create a gorgeous golden brown color, and bake for about 20 minutes.
Ready to serve. Once done, let the twist rest for a few minutes before you brush with melted butter and sprinkle on a bit more cheese and sea salt.
Recipe Variations
What to Serve with Pesto Cheese Bread Twist
This savory bread wreath is perfect for holiday parties and get-togethers.
Serve it as an appetizer with a festive dipping sauce like ranch dressing or garlic aioli. You could also cut it into slices and serve it as part of a charcuterie board alongside meats, cheeses, and other savory snacks.
Frequently Asked Questions
What dips and spreads go well with a braided Pesto Cheese Bread Twist?
Serve warm and cheesy pesto bread appetizer with a side of zesty marinara sauce or creamy alfredo sauce for an Italian-inspired appetizer.
What other cheeses can I use to make a Pesto Cheese Bread Wreath?
This savory pesto twist can also be made with gooey Camembert or brie cheeses. While the cheese is cold (to make it easier to cut), thinly slice pieces and place them longways length-wise on the pesto-coated dough before rolling and slicing.
Can I use homemade dough?
While store bought frozen dough is the easiest way to make a bread twist, you certainly can use your own homemade dough! Try my recipe for homemade bread and use the chilled loaves for this savory bread wreath.
What if my bread dough is too soft to cut?
Your dough is probably a bit too warm if it seems too soft to neatly slice. Try recovering with oiled plastic wrap and sticking it back in the fridge for 15-20 minutes, or until the dough has "firmed up" again.
Get the Pesto Cheese Bread Recipe Here
Pesto Cheese Bread Twist
Wow your family and friend with this delicious, savory pesto cheese bread twist. It's the perfect appetizer. Thanks to frozen dough it's easy to make! But, it makes such an impression that no one will ever guess how simple it was to make.
Ingredients
1

lb

Bridgford Ready-Dough

(thaw according to package)

1/4

cup

prepared pesto sauce

1/2

cup

parmesan or asiago cheese, grated

1

egg, beaten

2

Tbsp

butter, melted
Instructions
(This recipe uses just one of the frozen bread loaves.) Let dough thaw, following instructions on bag. On a silpat, sheet of parchment paper, or floured surface, roll out the dough into the shape of a rectangle, about 18" x 12." Dough will be about 1/2 inch thick.

Using a pastry brush, spread the pesto sauce on the dough leaving a 1/2" margin around the edges. Sprinkle grated cheese evenly over the pesto. If needed, use the back of a spoon or spatula to level out the cheese mixture.

Tightly roll up the dough, length-wise. Use a sharp knife, scissors, or a bench scraper to cut the dough length-wise in half.

Lay the halves cut side up side-by-side. Pinch top of the loaves at the top and twist them together with the cut side facing up. This is what gives the twist the look of layers. Shape the dough into a round wreath and place on a large cookie sheet.

Preheat oven to 400 degrees. Brush on egg wash. When the oven is ready, bake the bread twist for 20 minutes or until the middle is 200 degrees.

Let bread twist cool for 5 minutes. Brush with melted butter and sprinkle with gourmet salt flakes and more cheese (optional).
Nutrition
Serving:
1
serving
|
Calories:
138
kcal
|
Carbohydrates:
18
g
|
Protein:
4
g
|
Fat:
4
g
|
Saturated Fat:
1
g
|
Cholesterol:
17
mg
|
Sodium:
298
mg
|
Potassium:
9
mg
|
Fiber:
1
g
|
Sugar:
1
g
|
Vitamin A:
157
IU
|
Calcium:
60
mg
|
Iron:
1
mg
Try these other frozen dough recipes!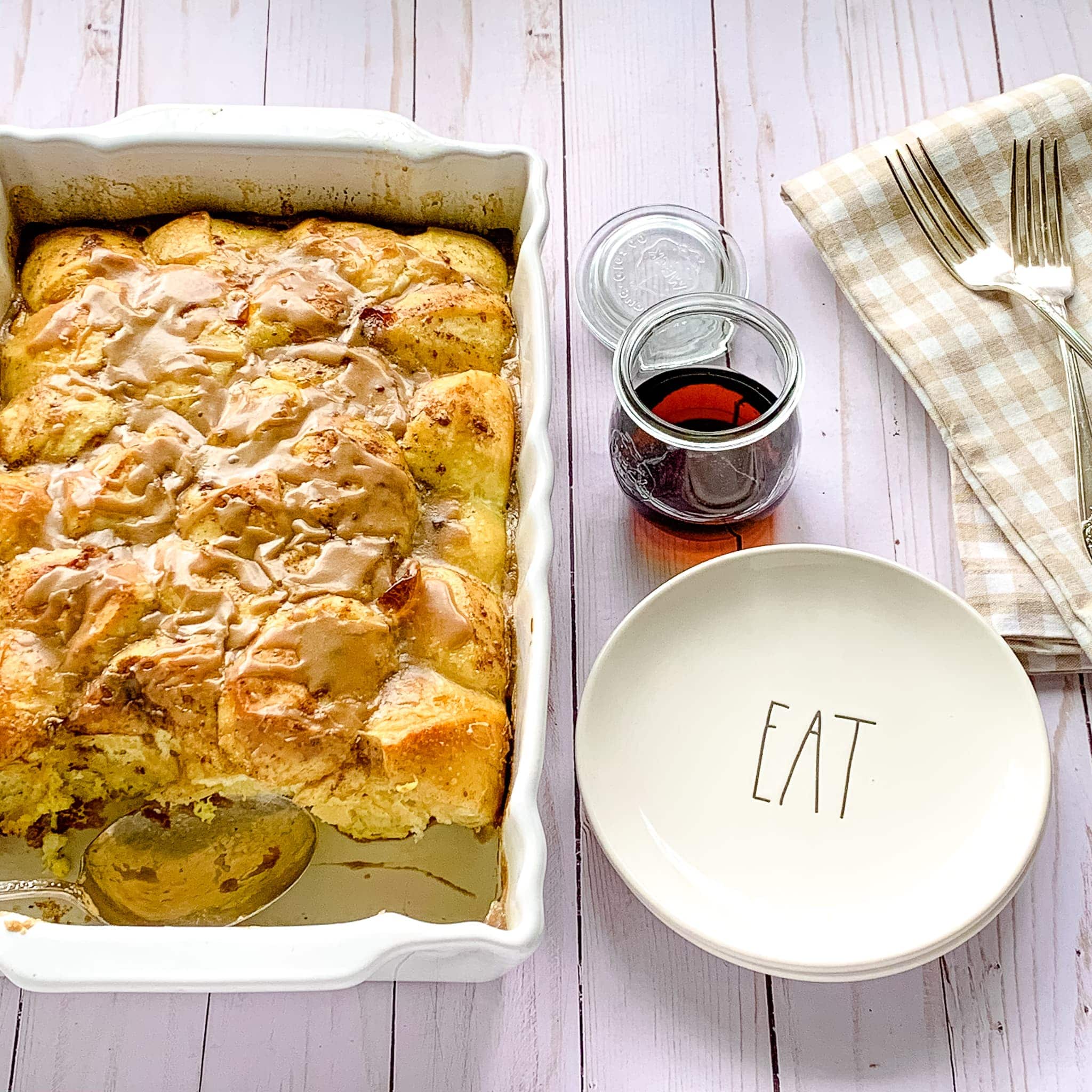 Easy Holiday Recipes