This pesto bread appetizer is a gorgeous and impressive holiday appetizer, and it is seriously delicious! The best part is, your guests will never realize how incredibly easy it was for you to make with frozen dough!
Reasons to Make This Pesto Bread Appetizer
It's a fantastic seasonal appetizer.
You can celebrate any occasion with a cheesy and savory bread wreath. This impressive twist makes a tasty centerpiece for brunch, and is also the perfect Thanksgiving or Christmas party appetizer.
Doubles as both a table centerpiece and a tasty, shareable treat for guests!
Another of our favorite edible centerpieces is this fall-tastic pumpkin spice bread twist.
Frozen dough recipes are beyond simple to make!
This twist bread is a top-notch yummy appetizer, and you won't believe how easily it is made by using frozen dough.
Ingredient Notes and Substitutions
Ready dough: We prefer Bridgford Ready Dough
Pesto sauce: You can make our basil pesto recipe or buy a jar of prepared sauce.
Parmesan or asiago cheese: Any hard cheese will do.
Egg: It's best if it's at room temperature.
Butter: Unsalted, melted butter is best.
Rolling and Shaping the Wreath
Start by rolling the dough into a large rectangle. Then spread the pesto sauce onto the dough using a pastry brush, and sprinkle generously with cheese.
Roll the dough up tightly, starting on a long side.
You need to roll the dough into a long log shape, so it's important to start rolling from one of the long sides of the rectangle.

When you roll, use a little pressure so that you have a nice, tight loaf. But don't use too much pressure, or the pesto may ooze out.
Slice the log from top to bottom, forming two long pieces.

Make one clean slice, from top to bottom. Then, lay the two pieces side-by-side and pinch them together at the top.
Next, gently twist the two pieces together.
Be sure to keep the cut sides facing up.
To shape the bread wreath, bring the twisted pieces around, so that the ends meet.
Then, just pinch them together to create a large circle.
Tips for Success Twist Bread
Grease the plastic wrap to prevent sticking.
Before baking, the dough needs to rise until it is almost doubled in size. Spray a large sheet of plastic wrap with some non-stick cooking spray, or use a pastry brush to lightly coat it with oil.
Don't skip the egg wash.
Whisk an egg and a teaspoon of water together to create an egg wash. Brush that over the pesto twist bread before baking to create a gorgeous golden brown crust!
Let it cool slightly before serving.
Trust us; the aroma of the twist bread is so lovely, you will be tempted to start pulling pieces from the wreath right away. Please wait just a few minutes first, or you will end up with burns on your fingertips.
How To Thaw Frozen Bread Dough
Before you get started making the pesto bread, you will need to properly defrost the frozen dough. There are two options for this.
In the refrigerator overnight.
This method requires very little effort. Simply place the frozen loaf on a greased baking sheet, or use parchment paper.
Cover the dough with plastic wrap that has been sprayed with non-stick cooking spray on the side that will touch the dough. (If you don't do this, you'll wind up with a sticky mess.) Thaw the dough in the fridge overnight, or for about 8 – 10 hours.
At room temperature.
This way of thawing the frozen dough is a little bit quicker. But, like the first option, you'll need to place the frozen dough on a greased sheet pan (or use parchment paper).
You will also need to cover the loaf with plastic wrap that has been sprayed with non-stick cooking spray. Lay it so the greased side touches the loaf.
Then, just let it sit on your counter for 2-3 hours to defrost.
Defrosting takes a while, but it's the longest part – everything else is super quick.
The process of making your appetizer (including rise time) takes about 90 minutes.
🎯 TFN Pro Tip
Important Note
Whichever thawing method you use, be sure the dough is still nice and cold before you begin making the pesto bread.
If it is warm to the touch, pop the dough back into the freezer for 5-10 minutes.
Recipe Variations
Use different herbs. Skip the basil variety and use sun-dried tomato pesto or another favorite spread like olive tapenade.
Brush the wreath with garlic butter instead of using an egg wash.
Make it Tex-Mex style by using your favorite taco seasoning or chili powder.
Add chopped fresh herbs to the sauce or sprinkle on top before serving.
How to Serve
This appetizer is perfect for holiday parties, game day snacking, or any other get-together.
Serve it like a pull apart bread, with something to dunk the pieces in, like shawarma sauce, ranch dressing or garlic aioli.
If you want major comfort food, serve it with lots of Velveeta cheese sauce, or a white Bechamel cheese sauce.
You could also cut it into slices and serve it as part of a charcuterie board alongside meats, cheeses, and other savory snacks.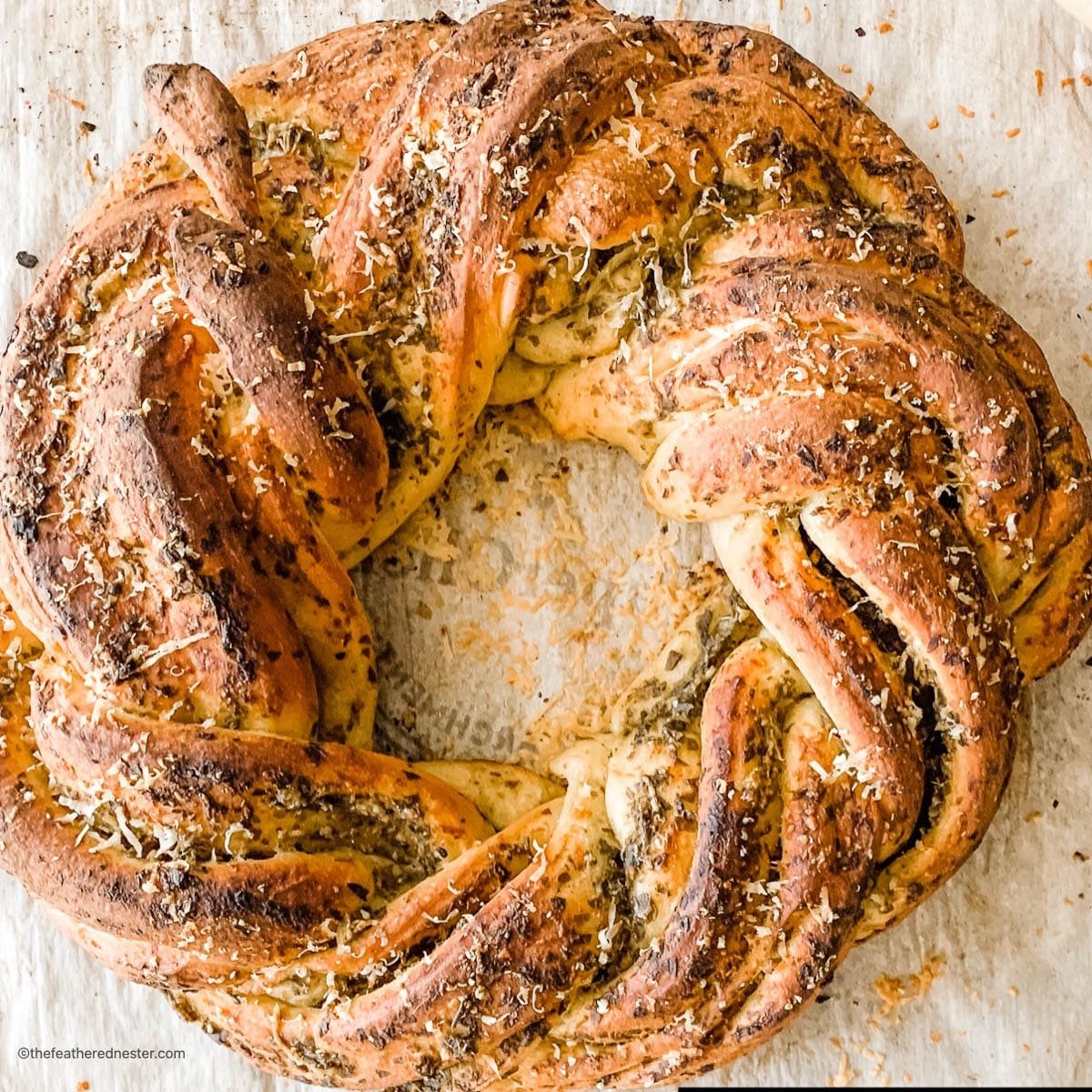 Pesto Bread FAQ
What if my bread dough is too soft to cut?
If it seems too soft to neatly slice, it may be a little too warm. Just cover it with oiled plastic wrap and refrigerate for 15-20 minutes, until the dough firms up again.
What is the best way to eat pesto?
The fresh herbs in pesto sauce make it fantastic over cooked pasta. However, those herbal flavors are equally delicious in pesto bread appetizers!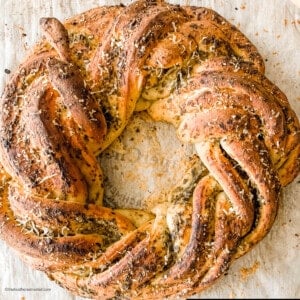 Twisty Pesto Bread Wreath
This savory twisty pesto bread appetizer is seriously delicious and easy to make with frozen dough. Make it for your next holiday party!
Equipment
9×13 inch baking sheet

silicone baking mat - or parchment paper

pastry brush

prep bowls
Ingredients
1 pound frozen bread dough thawed according to package (we used Bridgford) *See Notes
¼ cup prepared pesto sauce homemade or store bought
½ cup grated parmesan cheese or asiago cheese
1 large egg beaten
2 tablespoons butter melted
Instructions
Let dough thaw, following instructions on package. On a silicone baking mat, sheet of parchment paper, or floured surface, roll out the dough into the shape of a rectangle, about 18 inches x 12 inches. The dough should be about 1/2-inch thick.

Using a pastry brush, spread an even layer of pesto sauce on the dough, leaving a 1/2-inch margin around the edges. Sprinkle grated cheese evenly over the pesto. If needed, use the back of a spoon or spatula to level out the cheese mixture.

Tightly roll the dough lengthwise into a long log shape; start rolling on one of the long sides. Using a sharp knife, kitchen shears, or a bench scraper, cut the dough in half from top to bottom, creating two long pieces of dough.

Lay the halves cut side up, side-by-side. Pinch the pieces together at the top, then twist them together with the cut sides facing up. This is what gives the twist the look of layers. Shape the dough into a circle, and pinch the two end pieces together.Place the pesto bread on a large cookie sheet lined with a silicone baking mat or parchment paper.

Preheat oven to 400°F. Using a pastry brush, apply egg wash over the unbaked twist bread. When the oven is ready, bake the twist for 20 minutes, or until the temperature in the middle reaches 200°F.

Let bread wreath cool for 5 minutes. Brush with melted butter and sprinkle with gourmet salt flakes and more cheese (optional).
Notes
If you're using Bridgford frozen bread dough, there are two loaves per package. You only need one loaf for this recipe. (Consider using the remaining frozen dough to make pumpkin spice twist bread!)
Nutrition
Serving: 1serving | Calories: 138kcal | Carbohydrates: 18g | Protein: 4g | Fat: 4g | Saturated Fat: 1g | Cholesterol: 17mg | Sodium: 298mg | Potassium: 9mg | Fiber: 1g | Sugar: 1g | Vitamin A: 157IU | Calcium: 60mg | Iron: 1mg
PIN THIS POST!