Creamy and tangy shawarma sauce is the perfect condiment for grilled or roasted meats, salads and sandwiches, or to just dip your chicken into! This Middle Eastern garlic yogurt sauce has a fresh mint flavor that does a phenomenal job of taming the spiciest of dishes. With only 6 ingredients in our recipe, whipping up a batch is quick and super simple!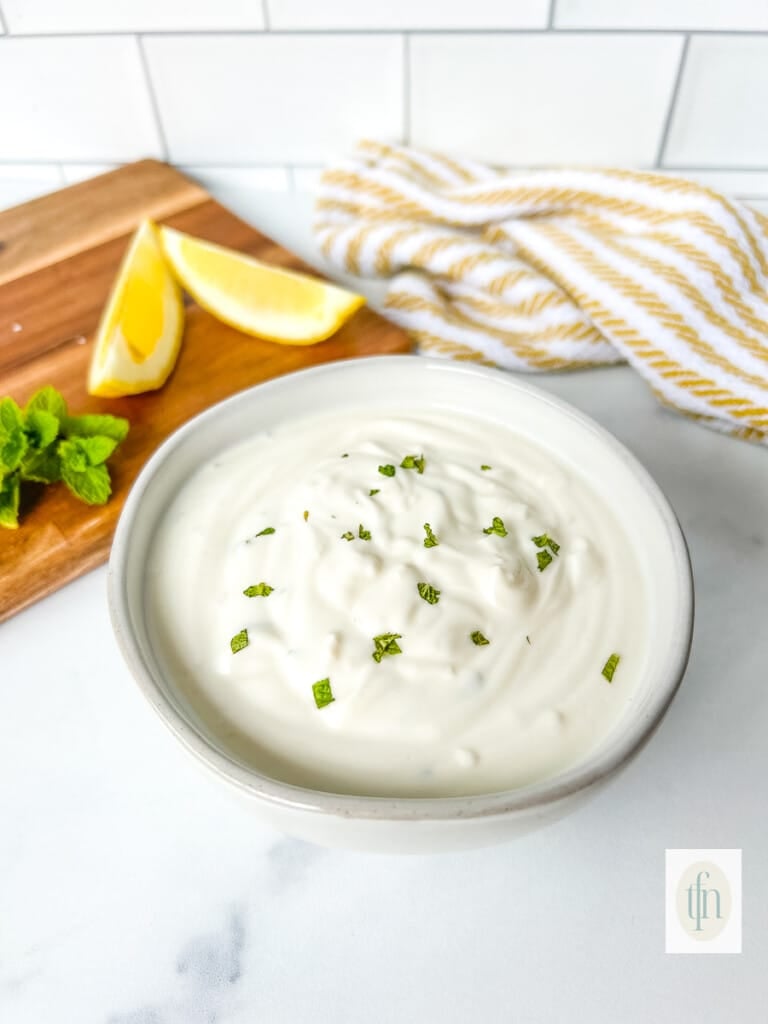 Reasons to Make Shawarma Sauce
It makes a great chicken dipping sauce for tenders, nuggets, and even wings. It also serves as a fantastic marinade to tenderize and flavor baked and pan-fried chicken!
Easy and adaptable!
It doesn't get much simpler than 5 minutes and a handful of ingredients – and you can add other seasonings and ingredients to amp up the flavor.
It lasts for up to two weeks, so you can make plenty for multiple meals and enjoy it for days to come!
If dips and sauce recipes are your jam, we have a lot to choose from! Simple, but versatile, white béchamel cheese sauce is a favorite. Big flavors can be found in honey sriracha, and red pepper feta dip.
Ingredient Notes and Substitutions
Greek Yogurt – Unflavored, full-fat yogurt is best for shawarma sauce. It's tangy, rich, and thick — perfect for a chicken dipping sauce! Regular plain yogurt can be mixed in or used entirely in place of Greek for a thinner consistency.
Sour Cream – Light or low-fat sour cream can be used but will make the sauce thinner. Mayonnaise is another option (check the FAQ for more info!).
Garlic – Raw garlic can be replaced with garlic powder in most dipping sauces. Alternatively, roasted garlic can make a nice substitute as well! It mixes easily and adds an unexpectedly rich, almost nutty flavor.
Mint Leaves – Dried mint is perfectly appropriate to use, but you will need much less to get the same amount of minty flavor — so proceed with caution!
Recipe Variations
Add some heat to the mix, with hot sauce (Sriracha is the most popular choice), chili powder, cayenne, or even a chili paste like harissa.
Dried or fresh herbs like basil and cilantro blend well into this tahini yogurt sauce. Dill adds a fantastic grassy, lemony flavor.

One uncommon, but classic, Middle Eastern spice that you can add is sumac! Sumac adds a lot of tart, citrusy flavor without having to use too much. It's fantastic to brighten up sauces, adding acidity without watering it down like lemon juice would.
Tips for Making Garlic Yogurt Sauce
Master your mincing and fine chopping skills.

Unlike dips, dipping sauces should be thin and creamy. Therefore, take the time to very finely chop the mint and crush the garlic as well as you can.

Cut the mint leaves 'chiffonade style'. Basically, you roll the leaves up so it resembles the shape of a cigar or cylinder. Then, use a sharp knife to make small cuts through the fresh herbs.
The image below shows how to cut basil chiffonade style. The same process applies for any large, fresh herb leaves.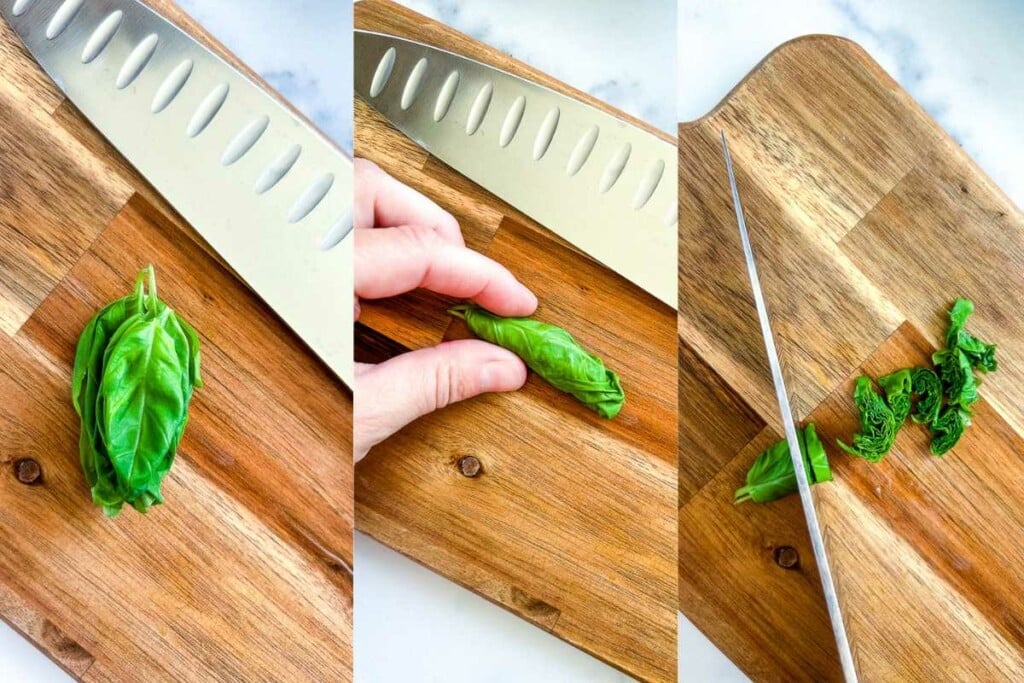 As for the garlic, a garlic press is best. Otherwise, remove the outer leaves, then use the flat side of your knife to squash the garlic clove into a paste.
You can always throw everything into a food processor or blender to truly, smoothly combine everything.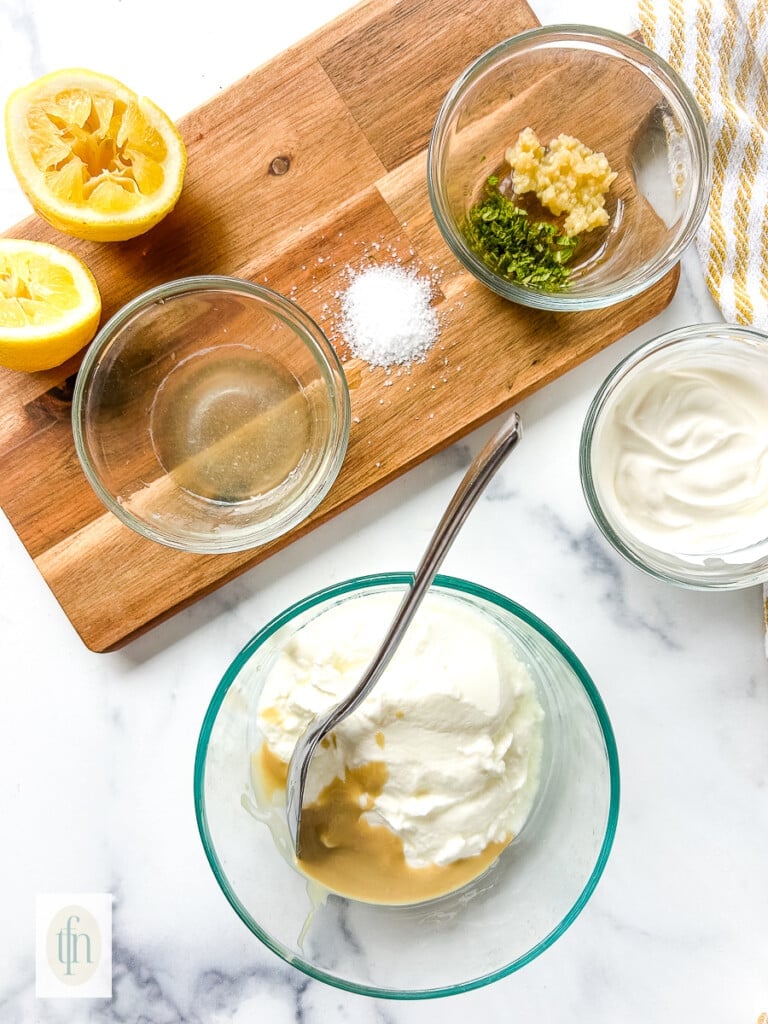 Season to taste — don't hesitate to use more or less of any ingredient.

Not a fan of mint? Do you steer away from a simple tahini yogurt sauce? You can still enjoy this tasty condiment – just adjust the measurements and season to your taste.

The two main qualities that make garlic yogurt sauce so iconic are, of course, the tangy yogurt and sharp garlic flavors. All other seasonings are fair game to adjust, add, or omit entirely.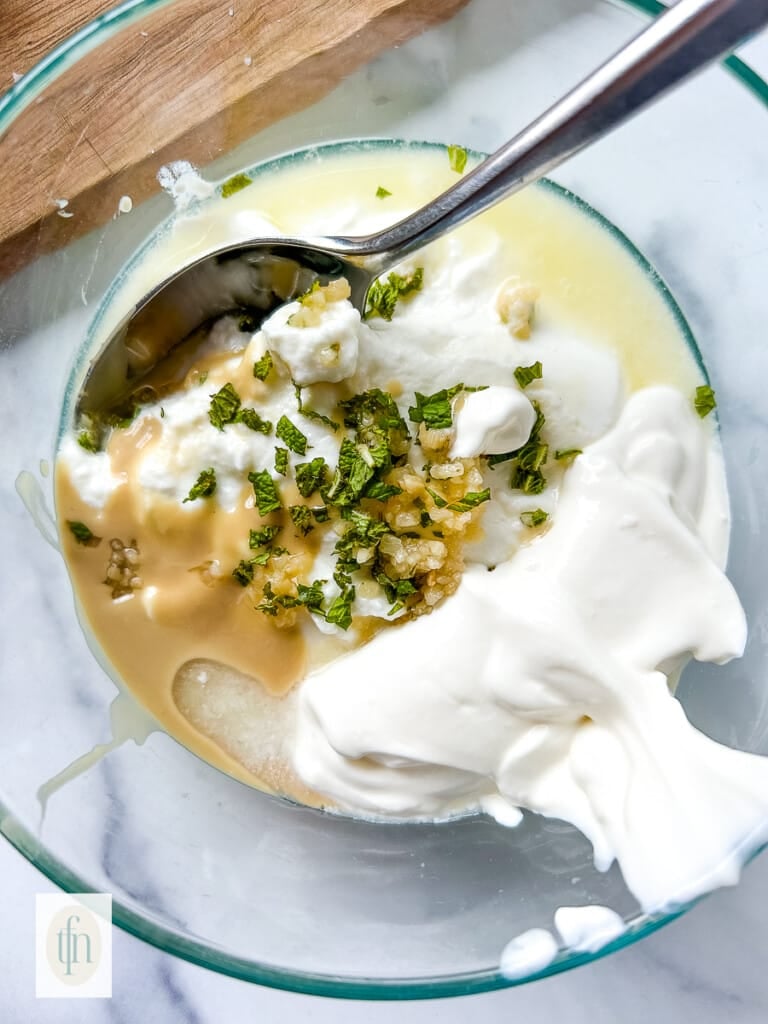 Serving Suggestions
As we mentioned earlier, our favorite way to use this recipe is as a chicken dipping sauce. Our homemade Chick Fil A grilled nuggets are never plated without a spoonful of shawarma sauce!
3 of our favorite meals to serve the shawarma garlic yogurt sauce with are:
You can absolutely use it on beef, lamb, and fish too!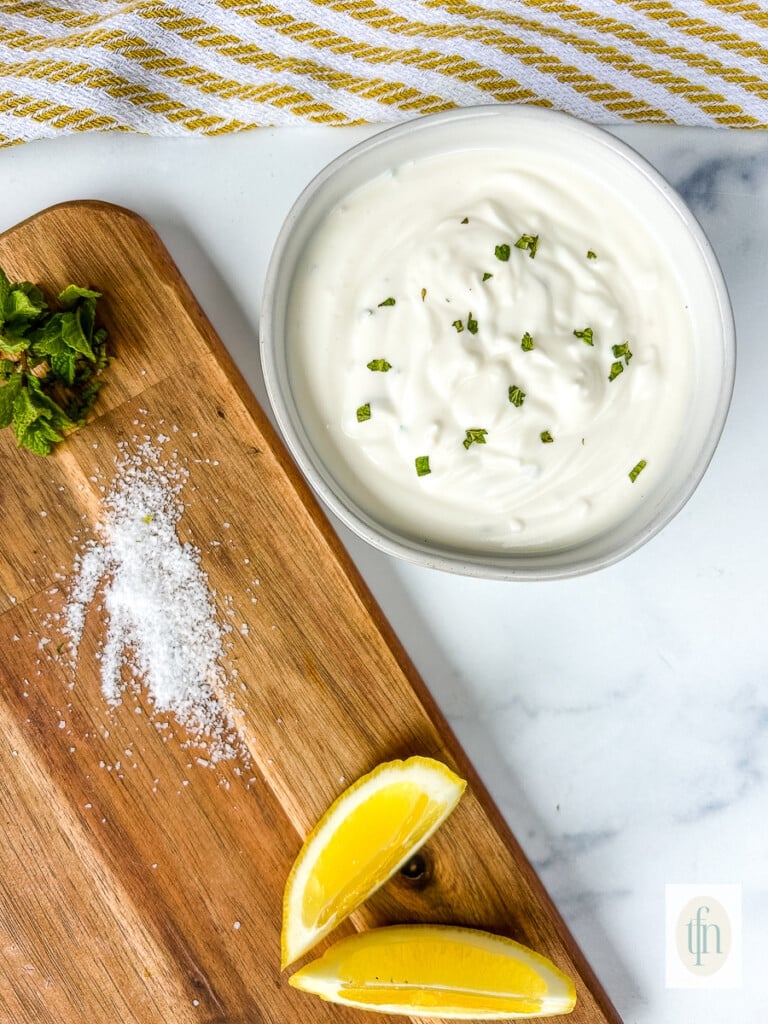 Storing and Reheating
Shawarma sauce absolutely needs to be stored in an airtight container and kept refrigerated at all times to be preserved.
It will last for up to 2 weeks — and actually becomes more flavorful and delicious with each passing day as the flavors continue to meld! Just give it a good stir before serving since the fatty ingredients and lemon tend to separate.
To Make this Condiment, Renae Recommends:
Shawarma Sauce
Shawarma Sauce is a tangy Middle Eastern garlic yogurt sauce. Use this easy condiment recipe as a chicken dipping sauce or sandwich spread!
Ingredients
¾ cup Greek yogurt or plain yogurt for a thinner sauce
¼ cup sour cream or light/low-fat variety
1 tablespoon tahini optional
1 garlic clove crushed
2 teaspoons finely chopped mint leaves (about 6 leaves)
1 tablespoon fresh lemon juice
¼ teaspoon salt more/less to your taste preference
Instructions
Place all ingredients in a small bowl.

Whisk or stir well with a spoon to combine.

Taste sauce for seasoning, then add more salt if needed.
Nutrition
Serving: 0.25 cup | Calories: 76kcal | Carbohydrates: 3g | Protein: 5g | Fat: 5g | Saturated Fat: 2g | Polyunsaturated Fat: 1g | Monounsaturated Fat: 1g | Trans Fat: 0.003g | Cholesterol: 10mg | Sodium: 165mg | Potassium: 95mg | Fiber: 0.2g | Sugar: 2g | Vitamin A: 96IU | Vitamin C: 2mg | Calcium: 63mg | Iron: 0.2mg
PIN THIS POST!