This sourdough cake has a rich spiced apple flavor and a topping of fluffy maple cream cheese frosting that is absolutely delicious! Use your sourdough discard to make this old fashioned apple cake recipe – it's the perfect dessert any time of the year.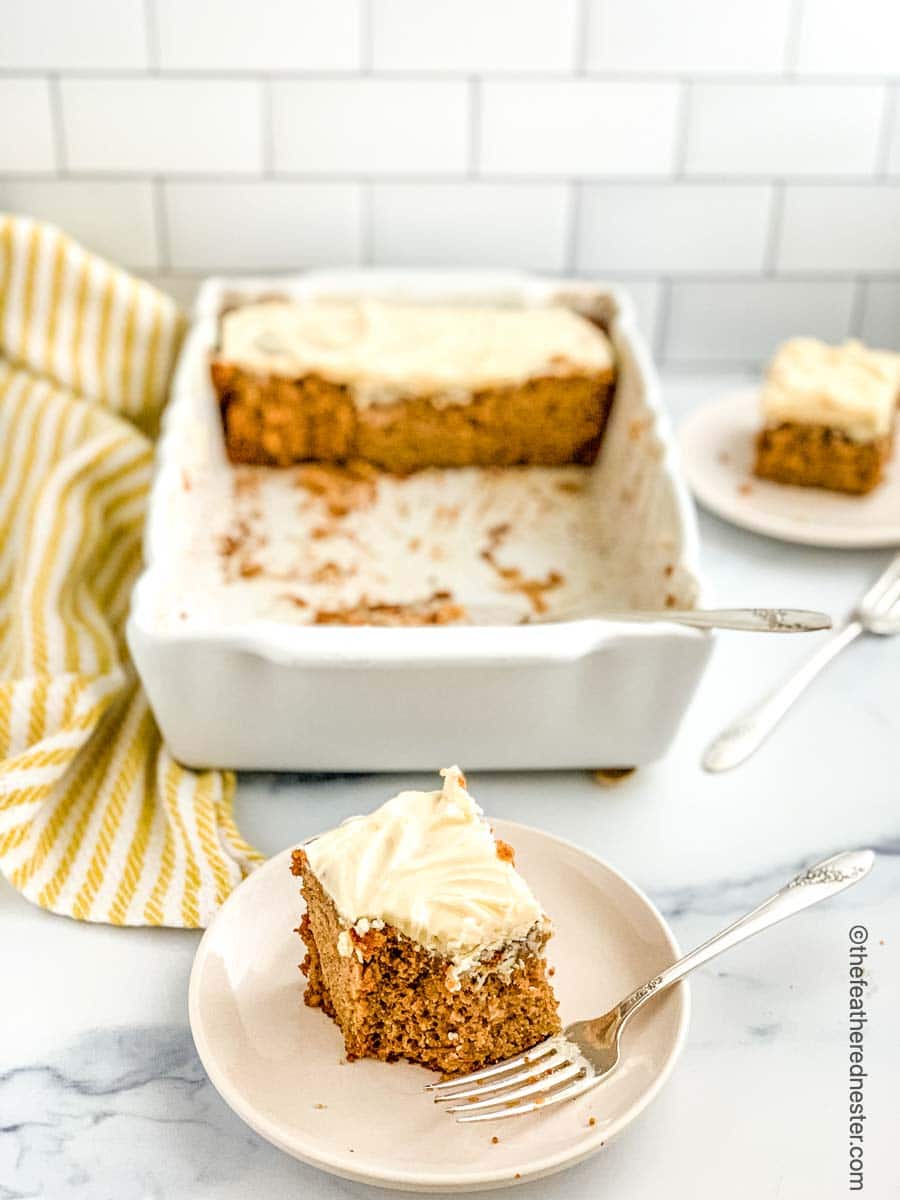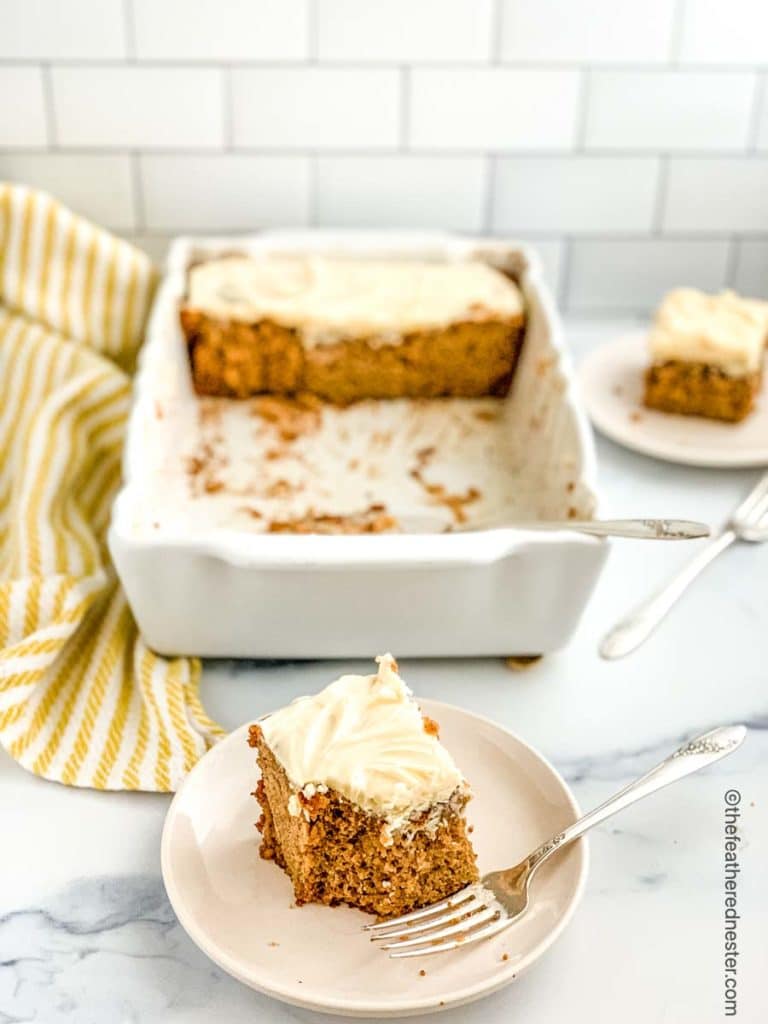 What makes this old fashioned apple cake recipe special is that it's dotted with chunks of warm apple along with the complex spice flavors of cinnamon, nutmeg, allspice, ginger, and cloves. Your family and friends will love it!
Why We Love This Sourdough Cake
A lighter dessert.
This old fashioned apple cake is light and tender, and just like our German apple cake, it goes perfectly with a hot cup of coffee or tea!
It's a perfect way to use up your sourdough discard!
It can be challenging to find creative ways to bake with your discard. What better way than to make a tasty sourdough dessert?
Easy to make!
Even though this dessert is made from scratch, there isn't anything complicated about it.
Using Sourdough Discard for Desserts
You'll need an active starter for this sourdough dessert. It gives an extra rise to the batter and makes it super moist and tender. So, check out our easy sourdough starter recipe to make a fail-proof starter.
The tangy flavor pairs perfectly with the apples to make an incredibly moist cake.
Want to make other sourdough desserts?
Some of our most popular sourdough recipes are desserts!

When you taste the incredible flavor of sourdough discard cinnamon rolls and sourdough banana bread, you may never want to make them any other way!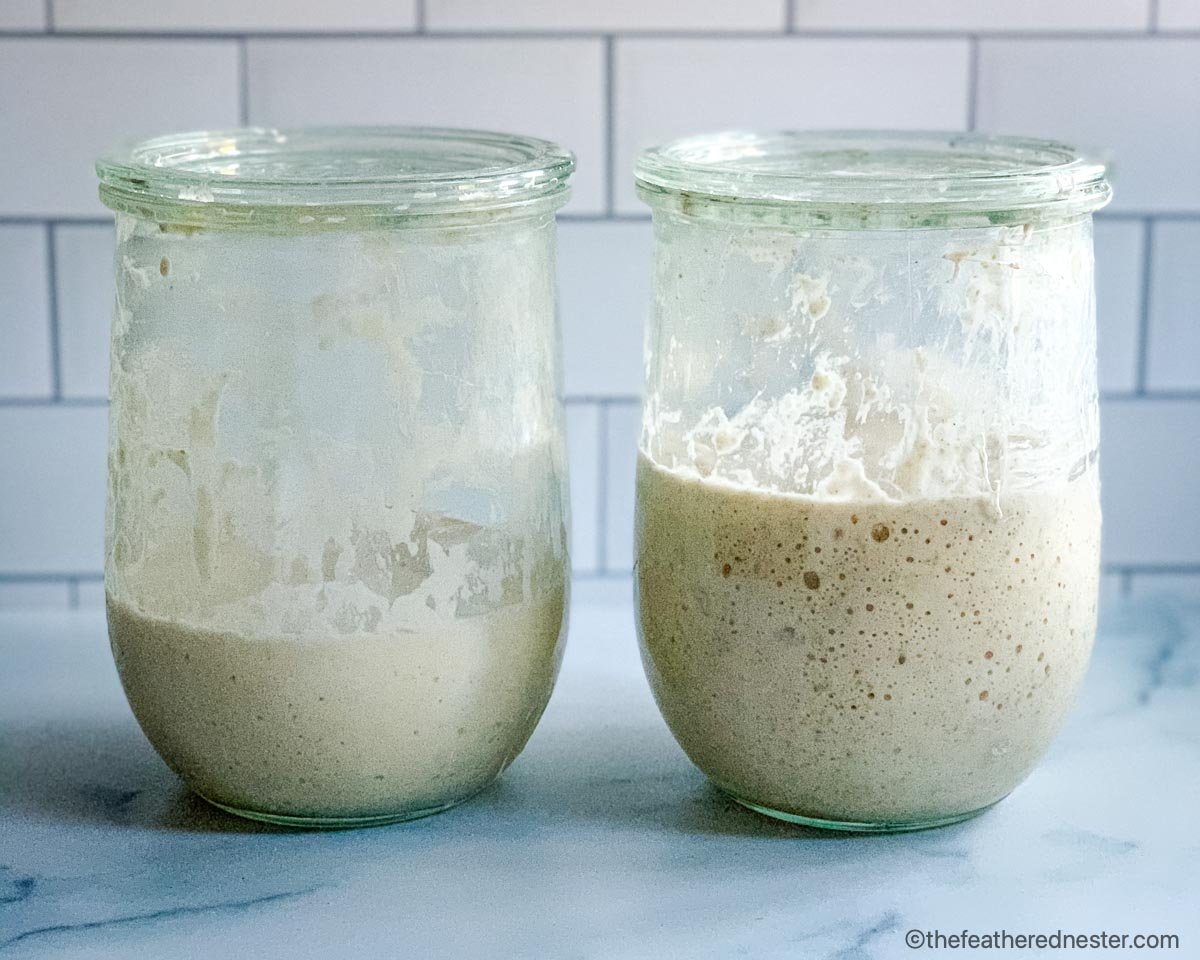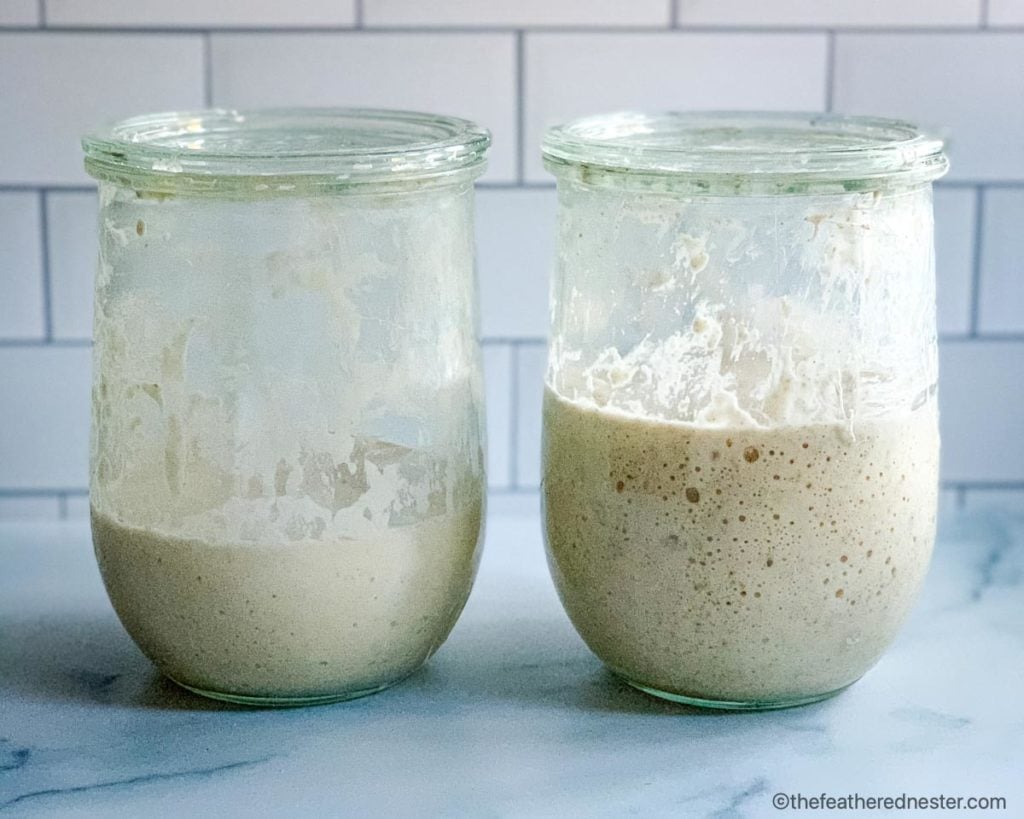 The Best Apples for Baking
When baking with apples, you want to choose a variety that holds up well, without becoming too mushy.

We recommend using Golden Delicious, Granny Smith, Braeburn, or Honey Crisp because their firm flesh is ideal for baking. The tartness of Granny Smith apples helps balance out the sweetness of the sourdough cake as well.
Ingredients and Substitutions
Butter – using room temperature or softened butter is essential in this frosted sourdough cake recipe! If you are in a hurry, cut the butter into cubes so it softens faster. Or put it in a glass bowl over a bowl of warm water.
Vegetable oil – although you could use all butter or all vegetable oil, the combination of butter and oil gives you that buttery goodness flavor, while vegetable oil keeps it light but moist.
Granulated sugar and brown sugar – the mixture of granulated sugar and brown sugar gives the batter a creaminess from the white sugar, while the brown sugar adds a depth of flavor, thanks to the molasses in it.
Eggs – room temperature eggs are a must!
Self-rising flour – this isn't the same as all-purpose flour! Self-rising flour combines baking powder, all purpose flour, and a little salt. See our post on how to make self rising flour to save money by making it yourself.
Baking soda – be sure to use baking soda and not baking powder! They are not the same.
Apples – you can use any variety of apples here. Although we've shared our favorites above, feel free to use your favorite.
Sourdough starter – feed your starter at least 12-24 hours prior, so it's not at his peak but a little hungry.
🎯 TFN Pro Tip
Important Note
Whichever thawing method you use, be sure the dough is still nice and cold before you begin making the pesto bread.
If it is warm to the touch, pop the dough back into the freezer for 5-10 minutes.
Ingredient Prep Tips
To warm cold eggs quickly, place them in a bowl of warm water for about 10 minutes.
No pumpkin pie spice? No worries – it's a simple spice mix that is easy to make at home! Combine the following spices in a small bowl, then transfer them to an airtight jar. Store your homemade spice mix along with your other pantry spices.

1 tablespoon ground cinnamon
2 teaspoons ground ginger
1/2 teaspoon ground allspice
1/2 teaspoon ground cloves
1/2 teaspoon ground nutmeg
Tips for Making Our Old Fashioned Apple Cake Recipe
Don't overmix the batter ingredients.
Use a stand or hand mixer to beat the butter, oil, sugar, and eggs in a large just until the batter is light in color and creamy.
Let the cake completely cool before frosting.
To prevent the cream cheese frosting from melting, let it cool for at least 30 minutes before frosting the sourdough cake.

If you aren't a fan of cream cheese frosting, consider topping your old fashioned apple cake with a batch of fluffy Swiss meringue buttercream instead.
The scent of this amazing combination will have you itching to cut that first slice before the sourdough cake is even frosted!
Recipe Variations
Use some crunchy add-ins – Add 1/2 cup of chopped pecans or walnuts to the apples.
Add fresh or dried fruit – Toss in 1/2 cup of diced fresh cranberries, raisins or any other dried fruit with the apples.
Sourdough Cake FAQ
Why did my sourdough cake turn out dry?
If your baked sourdough dessert turns out dry, it may be because it baked for too long or overmixed the batter.

After 35 minutes, test the doneness by inserting a wooden toothpick into the center. If it comes out clean, then it's done.

When mixing the batter, follow the directions to prevent overmixing.
Can I freeze a sourdough apple cake?
Yes! Once it's cooled, remove it from the pan and wrap it in plastic wrap and foil (or in a gallon zip-top bag), then freeze. It will keep for up to 3 months in the freezer.
Make Ahead and Storing Instructions
The frosted apple cake will stay moist for up to 4 days when stored in an airtight container at room temperature.
To make it ahead, prepare and bake as directed. Store it in the fridge, and then frost just before serving. Serve at room temperature.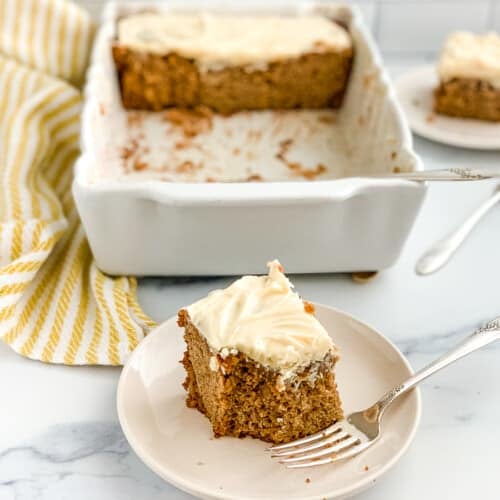 Old Fashioned Sourdough Cake with Apples
This sourdough cake with apples is a delicious dessert! Use up your sourdough discard to make this easy old fashioned apple cake recipe.
Equipment
large mixing bowl

9×13-inch cake pan
Ingredients
½ cup unsalted butter room temperature or softened
½ cup vegetable oil
1 cup granulated sugar
½ cup brown sugar
3 large large eggs room temperature
2½ cups self-rising flour
2 tablespoons pumpkin pie spice **see notes for substitutions
1 teaspoon baking soda
3 medium apples peeled, cored, and grated or sliced into small pieces. **We use Honeycrisp, but any sweet apple will work
1 cup sourdough starter unfed (aka, discard)
Maple Buttercream Frosting
4 ounces cream cheese room temperature
6 tablespoons unsalted butter room temperature or softened
3 cups confectioners sugar aka powdered sugar
2 teaspoons maple extract or vanilla extract
¼ teaspoon salt
Instructions
Preheat the oven to 350º F. Spray a 13" x 9" cake pan with cooking spray.

Add butter, oil, sugar, and eggs to a large mixing bowl. Beat with a mixer at medium speed for 3 minutes, until light in color and creamy.

In a separate bowl, stir together dry ingredients: flour, spices, and baking soda. Add to wet ingredients and stir on low speed for 30 seconds or fold together with a spoon by hand. Stir in apples and sourdough starter discard by hand until mixed together, about 30 seconds.

Pour sourdough apple cake batter into the prepared cake pan. Bake for 35-40 minutes until a toothpick inserted into the middle comes out clean. Let cool completely before frosting.
Cream Cheese Frosting
In a medium mixing bowl, cream together cream cheese, butter, and confectioners sugar on medium speed until smooth and creamy. Add salt and maple extract.

Add frosting to the top of the cooled cake and serve.
Notes
Substitution for pumpkin pie spice:
1 tablespoon ground cinnamon
2 teaspoons ground ginger
1/2 teaspoon ground allspice
1/2 teaspoon ground cloves
1/2 teaspoon ground nutmeg
Using all purpose flour? Find out how to make your own self rising flour blend recipe (linked).
Nutrition
Serving: 1piece | Calories: 580kcal | Carbohydrates: 86g | Protein: 7g | Fat: 24g | Saturated Fat: 16g | Polyunsaturated Fat: 1g | Monounsaturated Fat: 5g | Trans Fat: 1g | Cholesterol: 83mg | Sodium: 346mg | Potassium: 142mg | Fiber: 2g | Sugar: 60g | Vitamin A: 512IU | Vitamin C: 2mg | Calcium: 66mg | Iron: 1mg
PIN THIS POST!