Peach Cobbler Pound Cake is a fresh and fruity dessert that's sure to be a crowd-pleaser! This pound cake recipe is made with fresh peaches and a handful of simple ingredients, and it only requires about 10 minutes of prep time. If you're looking for a dish to bring to your next picnic, potluck, or party, this peach cobbler cake is sure to be a hit!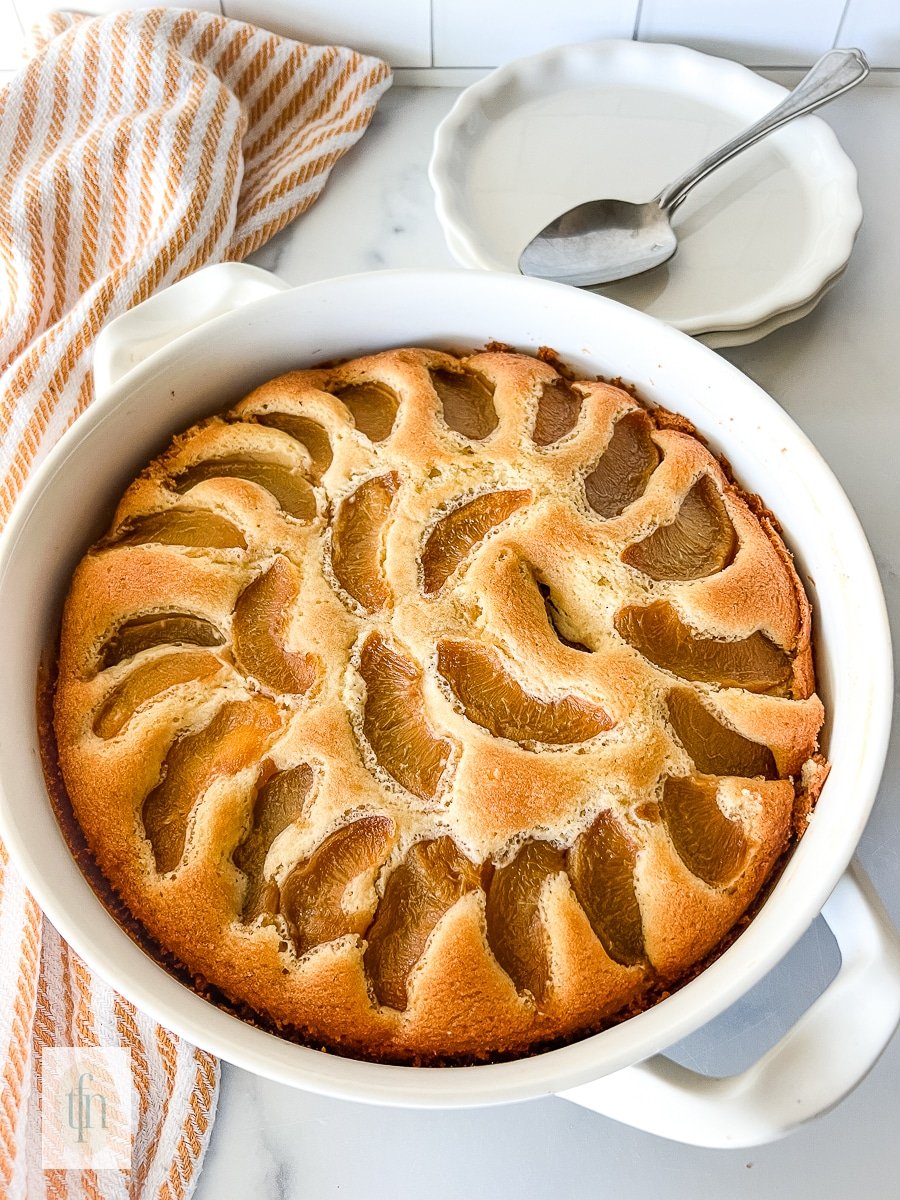 Why We Love Peach Cobbler Pound Cake
It's a fun update on classic pound cake.
Peach cobbler cake takes a traditional recipe and turns it on its head! The addition of fruit makes it bright and extra tasty.
It's freezer-friendly.
If you've ever been invited to a party at the last minute, or had relatives stop by your house unannounced, having this dessert ready to thaw and serve is perfect!
You can use fresh or frozen peaches.
Peaches are only in season for a few months of the year. Fortunately, you can enjoy this peach cake recipe any time of year; just use frozen fruit instead of fresh!
Ingredient Notes and Substitutions
Milk – You can use whatever kind of milk you like. We have a preference for whole milk, but feel free to use whatever you have on hand. You may even use almond or oat milk for a dairy free dessert!
Vanilla Extract – Use warm and earthy vanilla extract, or use almond extract instead for a more unique flavor.
Peaches – Again, either fresh or frozen peaches can be used. If you do use frozen, be sure to thaw them first. Something else to note is that you can use peeled or unpeeled slices — it won't make much of a difference for this pound cake recipe.
Toppings – All optional, but we usually serve this dessert with whipped cream, vanilla ice cream, or a sprinkling of powdered sugar.
Ingredient Prep
For the best results, use room-temperature butter, milk, and eggs for this peach pound cake recipe.
One of the first steps to making peach cobbler pound cake is to cream the butter before you add the sugar. It will cream up a lot easier if it is room temperature instead of rock-hard straight from the fridge.
The same goes for milk and eggs. You'll end up with a more uniform batter for your cake, which will guarantee a rich, dense, and moist cake every time!
Tips for the Perfect Peach Cobbler Pound Cake
1. Remember to grease your loaf pan.
You don't want your peach cobbler cake to stick to the baking dish. We recommend greasing it with a bit of butter or oil. For even easier removal from the pan, consider lining it with parchment paper as well.
2. Add the ingredients in the correct order.
While it may be tempting to throw all of the ingredients into a bowl at the same time, it's important to incorporate them one at a time. Start by creaming the butter, then add the sugar, then the eggs. You'll need to mix the batter after each ingredient for a specific amount of time. Don't underestimate the importance of this!
3. Check on your peach cake recipe as it bakes.
This pound cake with fruit requires between 45 minutes to 1 hour of baking time, depending on the baking dish you use. Make sure to check in on it every now and then, as you don't want the top to burn. If you notice that it is browning too quickly, lightly cover the baking dish with aluminum foil.
Peach Cobbler Cake FAQ
What makes a cake too dry?
You'll end up with dry results if you bake your cake for too long, or if you don't properly measure out the ingredients. Remember to keep an eye on the baking time and check in on it as it bakes. Too much flour or too little butter and sugar can also cause dryness.
Should you sift flour for pound cake?
We know some folks swear by the sifting method, but it isn't crucial for this peach pound cake recipe. If you want to take the extra step, feel free. If not, no big deal.
How do you soften peaches for a cobbler cake?
If you're set on using fresh peaches for this recipe but the ones that you have on hand aren't ripe enough, try placing them in a paper bag on your countertop for a day! They should ripen up after about 24 hours.
Storing and Reheating
Store any leftover peach cobbler pound cake in an airtight container in the refrigerator. Properly stored, it will keep in the fridge for up to 4 days.
Reheating single servings in the microwave is simple. To avoid overheating, we recommend reheating in 30-second increments until the cake is warm through. Alternatively, you can reheat the fruit dessert in a heat-proof dish or on an aluminum foil-lined baking sheet in the oven. Set the oven to preheat to 250° F, and heat until it's warm through the center.
For This Fruit Dessert Recipe, Renae Recommends
If you love peach desserts, don't miss our recipes for Bisquick peach cobbler and peach crisp too!
Peach Cobbler Pound Cake
Peach Cobbler Pound Cake is dense, rich, and topped with sweet peaches. Make this pound cake recipe for picnics, BBQs, or your next party!
Equipment
9×5-inch loaf pan

large mixing bowl

small mixing bowl
Ingredients
8 ounces unsalted butter room temperature **(8 ounces = 1 cup = 2 sticks)
1 cup sugar
4 large eggs room temperature
2 cups all-purpose flour
1 ½ teaspoons baking powder
1 teaspoon salt
½ cup milk any kind
1 teaspoon vanilla extract or almond extract
3 cups sliced peaches fresh or thawed from frozen
2 tablespoons sugar
Optional (For Serving)
whipped cream
vanilla ice cream
powdered (confectioner's) sugar
Instructions
Preheat oven to 350ºF. Lightly grease sides and bottom of loaf pan with butter or oil, or line with parchment paper. Set aside.

In a large mixing bowl, use an electric mixer on medium-high speed to cream the butter until very light in color and texture. Use a spatula to scrape down insides of the bowl as needed.

Add the sugar to the bowl and mix on medium-high for 2-3 minutes, until well combined. Add eggs, one at a time, fully incorporating one before adding the other. Continue mixing on medium speed until mixture is light and fluffy, scraping down the bowl as needed.

In a small bowl, whisk together the flour, baking powder, and salt.

With the mixer running on low speed, add 1/2 cup flour mixture and 1/4 cup milk to the mixing bowl at a time. When adding final 1/4 cup milk, also include vanilla or almond extract. Mix ingredients just until combined; avoid over mixing.

Add the pound cake batter to the prepared loaf pan. Using the small bowl again, toss the peaches with 2 tablespoons of sugar, then gently arrange them in a single layer on the top of the cake batter.

Bake at 350ºF for 45 minutes for 9" pan or 60 minutes for a loaf pan, until the top is springy and a toothpick inserted into the center comes out clean. Remove from oven and let cake cool in pan for 5 minutes.

Run a bread knife around inside edges of pan to loosen the cake. Remove cake, then transfer to a wire cooling rack to cool completely.

Serve topped with whipped cream or ice cream, or dust with confectioners sugar (optional).
Notes
Thaw frozen peaches before using.
Peaches can be peeled or unpeeled.
Use room temperature butter and eggs for best results.
If top of cake begins to brown too much during baking, lightly cover pan with foil.
Nutrition
Serving: 1 slice | Calories: 372kcal | Carbohydrates: 42g | Protein: 6g | Fat: 21g | Saturated Fat: 12g | Polyunsaturated Fat: 1g | Monounsaturated Fat: 5g | Trans Fat: 1g | Cholesterol: 115mg | Sodium: 335mg | Potassium: 133mg | Fiber: 1g | Sugar: 22g | Vitamin A: 836IU | Vitamin C: 2mg | Calcium: 71mg | Iron: 2mg
PIN THIS POST!