Our vote for the easiest, fruitiest summer dessert goes to peach cobbler with cake mix! It's a simple yellow cake mix dessert with flavor so fresh and delicious, it tastes like it was made completely from scratch! The truth is, this amazing treat can be whipped up in under an hour, with just a few ingredients!
Reasons to Make Peach Cobbler with Cake Mix
Convenient, budget friendly, and quick to make.
This yellow cake mix dessert is really simple to make, and the ingredients are inexpensive. Like our peach pound cake and Bisquick cobbler, this recipe is perfect when you want a delicious summer dessert, but have no time to bake from scratch!
Plenty of occasions to serve it.
Although stone fruits are generally in season during the late summer months, peach cobbler is a very popular Thanksgiving dessert, and it serves about 10 people, so it's nice for a potluck too..

During the summer months, it's fantastic for picnics, bake sales, and cookouts with friends and family.
The flavor pairs well with many different summer foods. The sweet fruit flavor will balance the tangy and rich flavors of BBQ sauce, while complementing the tart citrus flavors of basil lemonade. No wonder this is such a popular summer treat!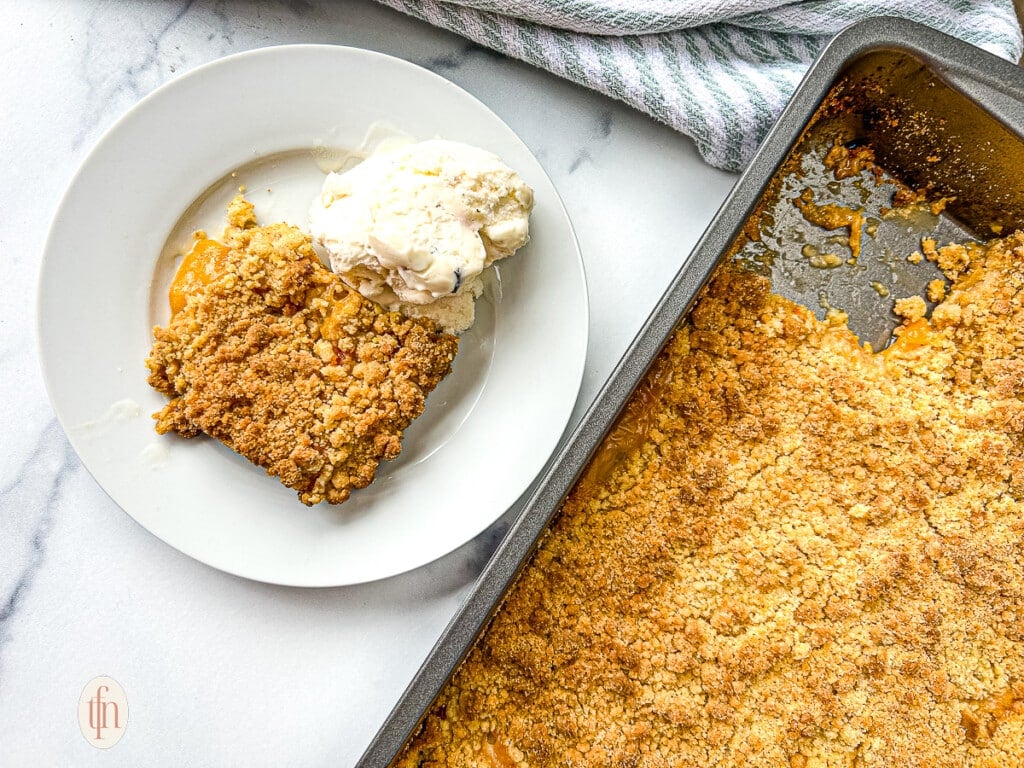 Ingredient Notes and Substitutions
Peaches – We like to use frozen peaches to make peach cobbler with cake mix. This way, there's no guessing if they're ripe enough! Canned peaches are a good substitute, but see our notes below for guidance on buying them.
Cornstarch – This ingredient is a thickener for the peach filling. Other thickeners like tapioca and flour may work, but because we haven't tested them in this recipe, we can't tell you what amounts to use.
Lemon Juice – You need a bit of something sour to balance the sweetness of the fruit. If you don't have lemons, lime juice works well.
Yellow Cake Mix – Feel free to use any brand you like, and although we haven't tested sugar-free cake mix, there's really no reason that it shouldn't work.
Using Canned Fruit for Cobbler
If your only option is to use canned fruit to make cake mix peach cobbler, that's fine! We have some simple tips to ensure that everything will still be peachy (pun intended).
First, avoid using canned fruit in thick, heavy syrup — these are overly sweet and are, frankly, a bit slimy in texture. These peaches will struggle to hold onto the sugar and spices and will instead taste more like a hot peach soup with some soggy topping… Not at all what we're going for!
Choose fruit in natural juice, and drain the juice from the can before using. It isn't necessary, but you may even want to pat the slices dry with paper toweling.
Peach Cobbler with Cake Mix FAQ
What is the difference between a dump cake and a cobbler?
A cake mix cobbler is actually very similar to a dump cake. Both can be made with almost any type of fruit.
However, dump cakes are traditionally made with pie filling, while cobbler recipes use fresh, frozen, or canned fruit, packed in its natural juices.
Why did my peach cobbler turn out like cake?
The most likely scenario is that your cake mix peach cobbler has a very thick layer of topping.

Be sure to cover all of the topping with butter and fruit juices before baking. For the best results, follow the portions given in our recipe, and use the right sized pan.
Can you use any flavor cake mix for cake mix desserts?
Generally, yellow cake mix desserts can be made using yellow or white boxed cake mix. Doing so shouldn't affect the flavor of the dessert, but the color of the baked dessert may be a bit different.
Cake Mix Peach Cobbler Recipe Tips
For a crispier topping, use less yellow cake mix.
To make the topping of the yellow cake mix dessert as crispy as possible, be sure the dry mixture is in an even layer over the fruit. Or, use a little less of the dry mixture for a super crispy, golden brown cobbler topping.

As another option, sprinkle a couple of tablespoons of chopped nuts over the top of the peach cobbler cake mix topping. This will also give you more of the crunch you're after.
If you crave crunchy fruit desserts, consider making a peach crisp next time. It includes oats, so the topping has a bit more texture and bite.
Avoid dry patches in the topping.
It's important to pour the melted butter evenly over the yellow cake mix, so there are no dry spots. Any dry areas will not bake.
Press the topping into the peaches.
Use your finger tips to gently press the crumbly topping onto the fruit. This way, any dry areas will absorb some of the peach juice.
When everything is moist, the cobbler topping should look crumbly – not at all like cake batter. (See the above photo for reference.)
Storing and Reheating
Peach cobbler with cake mix can be refrigerated in an airtight container for up to 4 days. Enjoy leftovers cold (it's delicious!) or reheat in the microwave or in the oven at 350℉.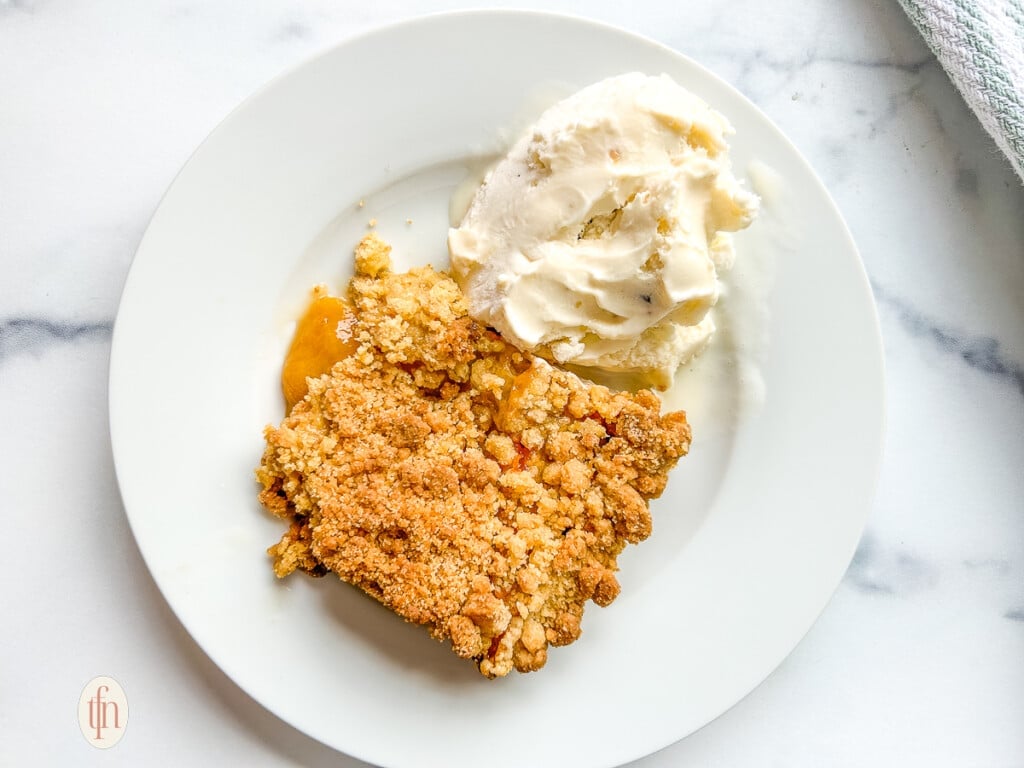 We do not recommend freezing baked cobbler because the topping becomes a bit soggy. If you want to make the dessert ahead, freeze it unbaked. It will keep in the freezer for about 3 months. When you're ready, let it thaw in the fridge before baking.
Peach Cobbler with Cake Mix
Peach cobbler with cake mix is an easy yellow cake mix dessert with fantastic fruit flavor. Make this quick peachy treat for a summer dessert!
Equipment
9 x 13 inch baking dish

large mixing bowl

non-stick cooking spray
Ingredients
32 ounces frozen peaches thawed (see Notes for substitutions)
2 teaspoons cornstarch
1 tablespoon lemon juice
15.25 ounces yellow cake mix
½ cup brown sugar
4 ounces butter melted
Instructions
Preheat oven to 375ºF. Grease a 9×13-inch baking dish with butter or non-stick cooking spray and set aside.

To a large mixing bowl, add peaches, cornstarch, and lemon juice. Stir well with a mixing spoon to combine. Pour mixture into prepared baking dish.

To that same mixing bowl, add dry cake mix, brown sugar, and melted butter. Stir with a mixing spoon to combine (mixture will look crumbly). Use a spatula to spread the cake mixture in an even layer on top of the peaches.

Bake in preheated oven for 45 minutes, until bubbly and golden. Let cobbler cool for 10 minutes before serving.

If desired, serve topped with vanilla ice cream or whipped cream.
Notes
Can substitute frozen peaches with 30 ounces (two 15-ounce cans) canned peaches in natural juice (don't use fruit packed in heavy syrup). Drain juice before using.
Nutrition
Serving: 1serving | Calories: 394kcal | Carbohydrates: 70g | Protein: 3g | Fat: 13g | Saturated Fat: 8g | Polyunsaturated Fat: 1g | Monounsaturated Fat: 3g | Trans Fat: 1g | Cholesterol: 30mg | Sodium: 503mg | Potassium: 187mg | Fiber: 2g | Sugar: 46g | Vitamin A: 724IU | Vitamin C: 5mg | Calcium: 134mg | Iron: 2mg
PIN THIS POST!