Make the perfect peach cobbler with Bisquick and fresh, frozen, or canned peaches. This easy Bisquick peach cobbler recipe only takes a few minutes to prepare. Plus, you can easily make this quick cobbler into a gluten-free peach cobbler. Before you know it, you'll scoop into the best freshly baked fruit cobbler with a fluffy biscuit-like topping.
Easy Bisquick Peach Cobbler Recipe
While I am a big fan of nearly all baked goods, I admit my favorites to make at home are cobbler recipes. Even an avid baker like myself occasionally wants a simple, satisfying, and perfectly fruity dessert…with little to no effort required!
Give this easy dessert a fun, old-fashioned twist by making the Bisquick peach cobbler in cast iron.
Fruit cobblers are simple to prepare with just a few key ingredients. And this easy peach cobbler is no exception!
Use fresh, frozen, or canned peaches. You can even make this peach cobbler gluten-free by using Gluten Free Bisquick.
(see my tips below for the best gluten-free peach cobbler!)
Peach Cobbler Made With Bisquick
One of my go-to-easy recipes is peach cobbler made with Bisquick baking mix. Since Bisquick already has the perfect ratios of baking ingredients, there is no complicated measuring.
No Bisquick on hand? No worries, see "ingredients" below for my easy homemade Bisquick biscuit mix to make peach cobbler without Bisquick.
Combine the Bisquick (or your homemade baking mix) with sugar, milk, and butter for a foolproof cobbler topping!
Take this peach cobbler using Bisquick to picnics and potlucks, or enjoy it as a quick and yummy dessert any night of the week. It's great to bake ahead of time, and leftovers are great for several days – warm or cold.
Ingredients For Bisquick Cobbler
I use Original Bisquick baking mix to make this a 7 ingredient recipe. We'll be mixing up:
Peaches – fresh, frozen, or canned
Cornstarch
Lemon juice
Sugar
Original Bisquick mix (or Gluten Free Bisquick)
Milk
Butter
No Bisquick? Not a problem! Make our 3 Ingredient biscuits recipe or easy drop biscuits instead of Bisquick biscuits for the topping. Or, make your own homemade Bisquick to use in all of our Bisquick recipes.
Kitchen Tools Needed
Why Make Bisquick Peach Cobbler in a Cast Iron Skillet
I love the old-fashioned presentation that this Bisquick peach cobbler in cast iron skillet makes! But, it's not only about how it looks.
Cast iron is ideal for baking as it bakes evenly in the oven. Plus, a seasoned cast-iron pan is naturally non-stick – you can even scramble eggs in them!
These are two reasons that a cast iron skillet is an invaluable kitchen tool. A good cast iron pan does double duty in the oven and stove. And, I love anything that saves me space in the kitchen.
How to make the Best Peach Cobbler
You'll have the best cobbler with peaches in under 40 minutes with just 4 simple steps:
First, preheat the oven to 375 degrees Fahrenheit. Add the sliced peaches, cornstarch, 1/2 a cup of sugar, and lemon juice to a medium bowl. Stir to combine.
Then, add the peaches to the bottom of the cast-iron skillet or oven-safe casserole dish. Bake for 20 minutes.
Meanwhile, prepare the Bisquick topping:
Rinse and dry the same medium bowl before adding the baking mix, remaining sugar, milk, and butter.
Stir until just combined.
Drop spoonfuls of the batter onto the peaches, and use the back of the spoon to gently push down and submerge the topping.
Bake for another 15 minutes until the peach cobbler is golden on top.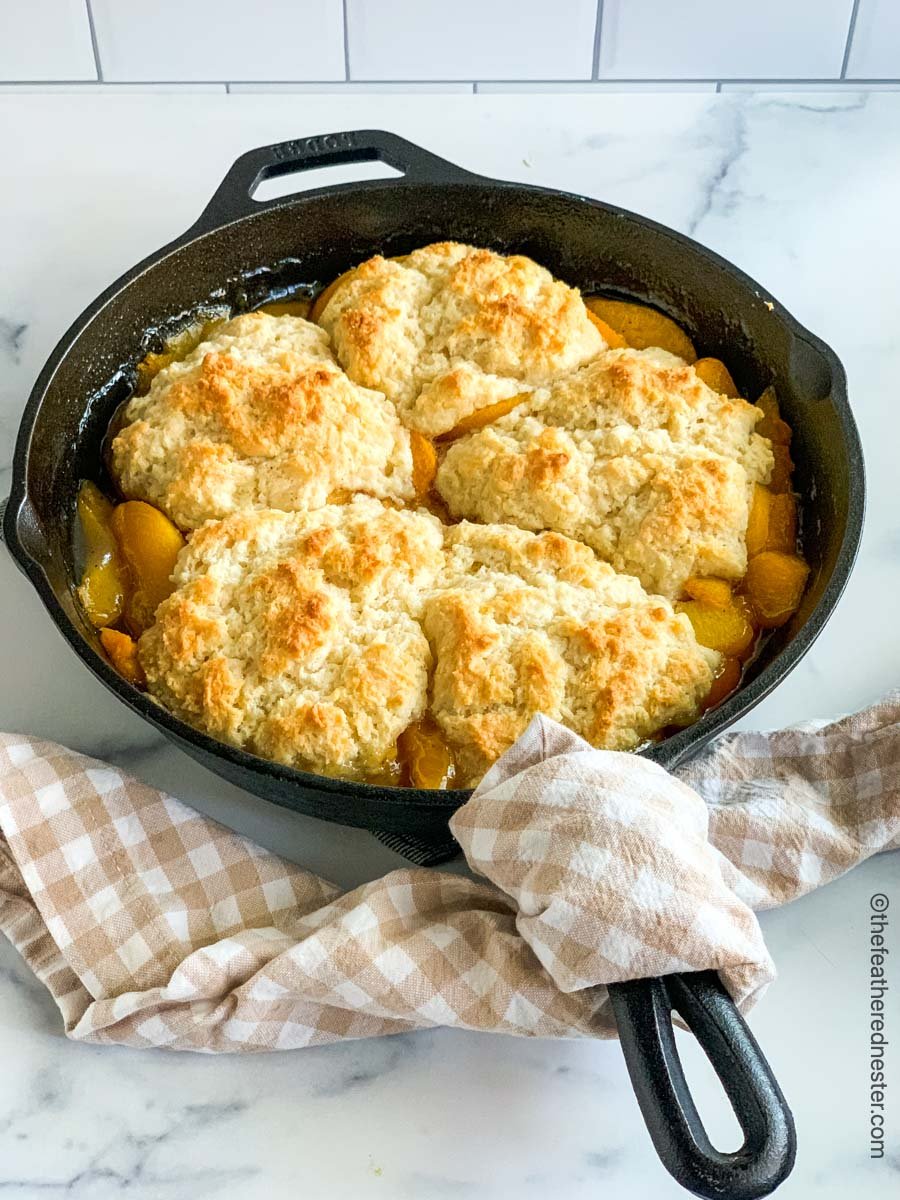 Let sit for 10 minutes before serving.
Make Gluten Free Peach Cobbler with Bisquick
Use Gluten-Free Bisquick to make a gluten-free peach cobbler with Bisquick!
Follow the instructions on the box of gluten-free Bisquick to substitute Original Bisquick in this recipe. No other substitutions are needed to make this GF-friendly peach cobbler in a cast-iron skillet.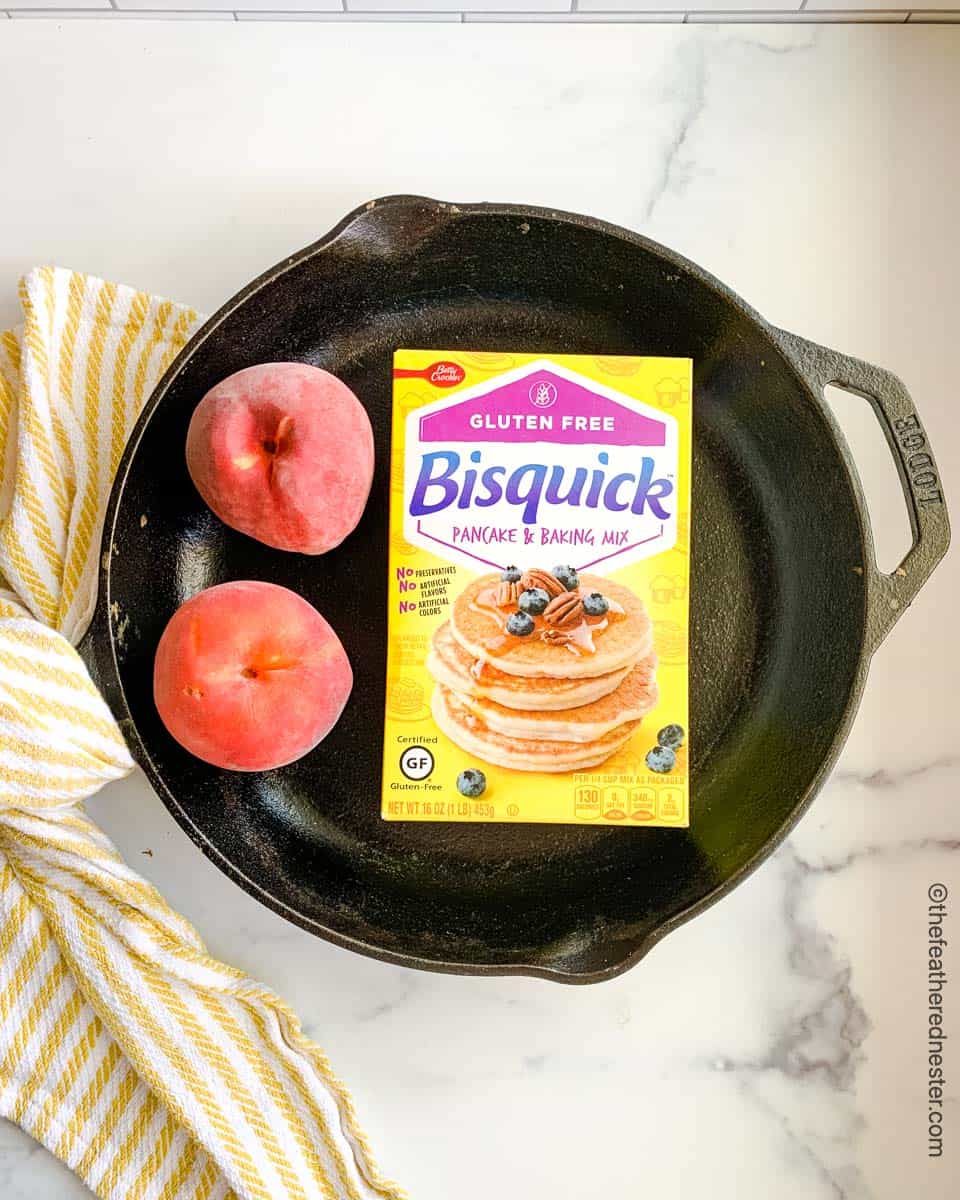 Get More Bisquick Recipes
Frequently Asked Questions
What do you serve with peach cobbler?
Top fruit cobblers with a generous scoop of vanilla ice cream, a dollop of whipped cream, or a wedge of cream cheese.
How do I make Bisquick cobbler with canned peaches?
Use two 15-ounce cans of drained peaches, and increase cornstarch to 2 tablespoons.
Can I make this dessert with Splenda or other alternative sweeteners?
You can use Splenda baking mix in place of sugar. Or mix half Splenda and half granulated sugar. However, be sure it is specifically the baking version, or your cobbler will not thicken properly.
How long can I store leftover peach cobbler?
Store leftover peach cobbler in an airtight container in the refrigerator for up to 4 days. Leftovers can also be stored in a freezer-safe container in the freezer for up to 3 months. To reheat, bake in an oven-safe container covered with aluminum foil at 350 degrees for 30 minutes.
More Cobbler Recipes For You To Try
Bisquick Peach Cobbler Recipe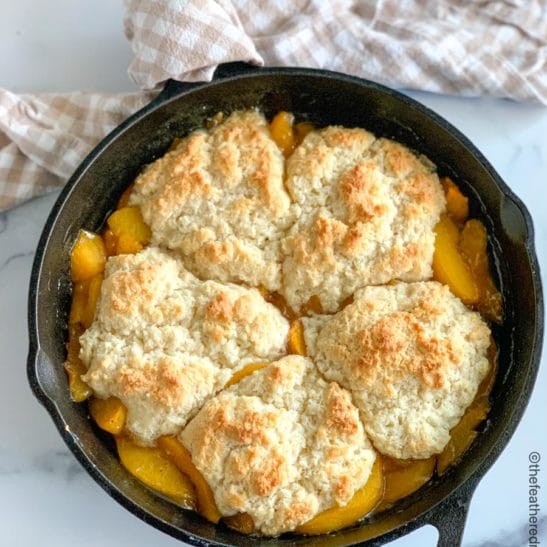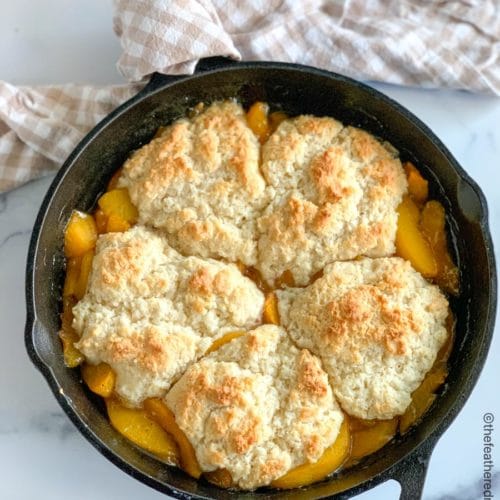 Bisquick Peach Cobbler
This quick and easy peach cobbler recipe is made in 30 minutes with fresh or frozen peaches, or even canned peaches.
Equipment
9" cast iron skillet or 2 quart casserole dish
Ingredients
4 large peaches, sliced and peeled (or 4 cups of frozen peaches, or two 15-ounce cans of peaches SEE NOTES)
1 tablespoon cornstarch
1 teaspoon lemon juice
⅔ cup sugar, divided
1½ cups Bisquick mix (see notes for a DIY baking mix recipe)
½ cup milk, whole or 2%
3 tablespoons butter, grated (semi-frozen butter is easier to grate)
Instructions
Preheat oven to 375º.

Stir together peaches, cornstarch, 1/2 cup of sugar, and lemon juice in a medium bowl. Pour them into the bottom of the cast iron skillet or casserole dish. Bake at 375º for 20 minutes (then we'll add the biscuit topping).

Rinse the bowl, then stir together Bisquick mix, the rest of the sugar, milk, and butter. The batter will be thick, with a dough-like consistency.

Carefully drop biscuit dough by large, rounded tablespoons (I use a small cookie scoop) on top of the peach mixture. Gently press down to submerge the cobbler topping. Continue baking for 15 minutes, until the filling is bubbly and the biscuits on top are golden.

Let cool at least 10 minutes before serving. Top with vanilla ice cream, whipped cream, or cream cheese.
Notes
Make your own Bisquick with my DIY baking mix recipe (linked).
For frozen peaches: allow the peaches to thaw before using. Increase cornstarch to 2 tablespoons.
For canned peaches: drain the peaches before using.
After the cobbler has cooled completely, transfer to an airtight container or cover with plastic cling wrap and keep in the fridge for up to 4 days.
Freeze Bisquick peach cobbler for up to 3 months after putting it in a freezer-safe container. Bake in a 350 degree F preheated oven for 30 minutes to reheat.
Nutrition
Serving: 1serving | Calories: 301kcal | Carbohydrates: 57g | Protein: 4g | Fat: 7g | Saturated Fat: 3g | Trans Fat: 1g | Cholesterol: 7mg | Sodium: 407mg | Potassium: 145mg | Fiber: 3g | Sugar: 36g | Vitamin A: 135IU | Vitamin C: 10mg | Calcium: 76mg | Iron: 1mg
PIN THIS POST!