These slow cooker teriyaki ribs are a truly easy "set it and forget it" recipe, perfect for those busy weekdays and weekends when you just need dinner ready to serve at the end of the day.
Prep them in minutes, place the baby back ribs in the Crock Pot, brush on the sauce, and press start. Hours later, this tender, tasty, pork meal is ready to serve.
Ingredient Notes and Substitutions
Pork baby back ribs – Look for ribs marked "extra meaty." These larger baby back ribs hold up better during slow cooking in the Crock Pot. We prefer Smithfield brand, but any brand is fine to use.
Teriyaki sauce – You can also use soy sauce or hoisin sauce for this recipe and add honey or brown sugar if you prefer a sweeter taste.

Add your favorite sauce to supplement the teriyaki sauce or use a completely different sauce. We like to change things up by adding a little BBQ sauce.
Balsamic vinegar – Adds a tangy and slightly sweet taste to the sauce. If you don't have this in hand, you can use rice vinegar or apple cider vinegar instead.
Garlic – I used minced garlic for the sauce, but you can also use fresh garlic.
Salt & pepper – Adjust the flavor to taste, and feel free to add spices of your choice for more flavor.
Tips for Tender Teriyaki Ribs
Remove the thin membrane on the underside of the rack of ribs (see photos and tips below).
Removing the rib membranes allows for the seasoning to permeate both sides of the meat, providing more flavoring.
Avoid overcooking pork ribs, as it will leave you with tough or dry meat.
Check the internal temperature to determine proper cooking of the pork. When fully cooked, the internal temperature of baby back ribs should be 165°F.
How to Remove Membrane from Baby Back Ribs
Turn the slab over so that the bones are facing up. Using a sharp paring knife, separate the membrane from the rib bones, as shown above.
2. To strip the membrane from the teriyaki pork ribs, grasp the membranes with a paper towel and pull it from the bones as shown above and below.
This process takes a little practice, but once you have done it a few times, it will take 1-2 minutes.
How to Prepare Teriyaki Ribs for Slow Cooking
This set it and forget it recipe has just a few simple steps!
Cut the slab of pork ribs to fit inside your slow cooker (this is the one I use). Then, brush with teriyaki sauce and season with salt and pepper.
Set the slow cooker to low for 7-8 hours or high for 4-5 hours.
Add balsamic vinegar and garlic, and thicken the sauce before serving.
What to Serve with Crock Pot Teriyaki Ribs
To create a delicious complete meal, pair these slow cooker ribs with salad or coleslaw, loaded mashed potatoes, pinto beans, a batch of fluffy 3 ingredient biscuits, and some apple cobbler for dessert.
Slow Cooker Ribs Recipe FAQ
Should you sear ribs before slow cooking?
Should you sear ribs before cooking? You should not sear your ribs before cooking. You want to cook them low and slow to break down the connective tissue so they will fall off the bone when eating. I do find that a quick sear will help to lock in juices and provide a good smoky flavor.
Can you cook ribs in slow cooker without liquid?
The ribs will soak up any seasoning you rub on them. I use a bit of salt, pepper, brown sugar, and a few drops of liquid smoke. After seasoned, place the crockpot ribs in the slow cooker (WITHOUT liquid) and turn it on high. Leave it for a few hours to sear.
Can you overcook ribs in slow cooker?
It is possible to overcook ribs, and while you can cook them on high in the slow cooker, I recommend cooking them on low for 6-7 hours. If the meat is literally falling off the bones, it has more than likely been overcooked. You want the meat to come off with light pressure.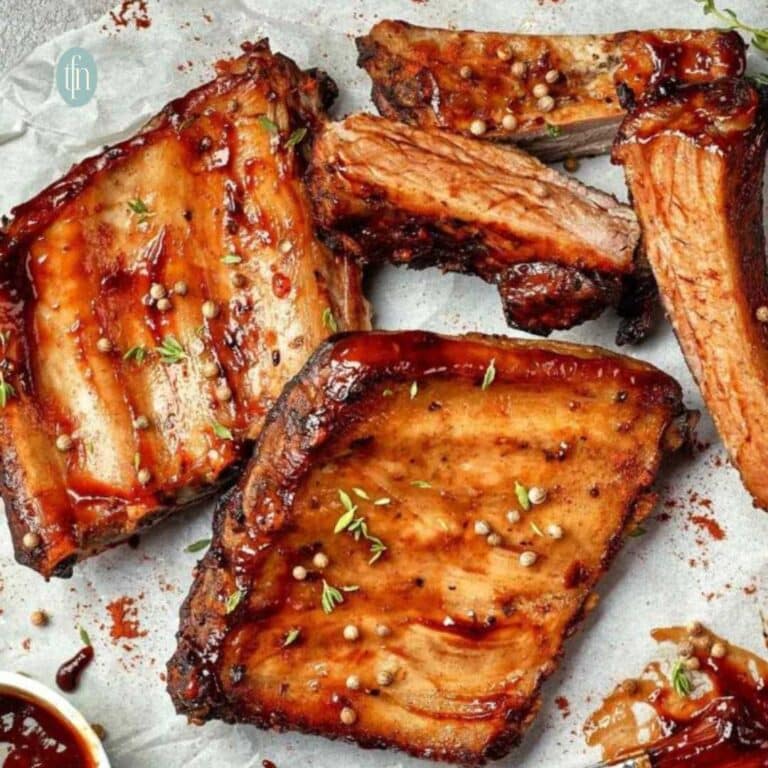 Slow Cooker Teriyaki Ribs
Perfect for a busy day, you can make slow cooker teriyaki ribs in your crockpot in the morning and have dinner ready when you get home!
Ingredients
1 rack/slab baby back ribs (about 2.5 lbs)
⅔ cup teriyaki sauce
1 tablespoon balsamic vinegar
2 cloves garlic, minced or pressed
Instructions
Sprinkle ribs lightly with pepper, place in crockpot, and brush with 1/3 cup of teriyaki sauce generously to ensure that the ribs are coated on both sides with sauce.

Cover with the lid and turn on low for 7-8 hours or high for 4-5 hours. Internal temperature should be 145ºF.

Remove from crockpot, cover with foil, and allow to rest for 10 minutes.

While the ribs are resting, add vinegar, garlic, and remaining 1/3 cup of teriyaki sauce to the juices in the bottom of the crockpot. For a really rich sauce, add 1/3 cup of your favorite BBQ sauce. Turn crockpot to high setting and allow to simmer until thickened, about 5-10 minutes.

Brush thickened sauce from crockpot onto the ribs, and serve warm.
Nutrition
Serving: 2ribs | Calories: 246kcal | Carbohydrates: 6g | Protein: 20g | Fat: 16g | Saturated Fat: 6g | Trans Fat: 1g | Cholesterol: 66mg | Sodium: 1310mg | Potassium: 314mg | Fiber: 1g | Sugar: 5g | Vitamin A: 21IU | Vitamin C: 1mg | Calcium: 40mg | Iron: 1mg
PIN THIS POST!