Lazy Lasagna is the quickest way to make a classic Italian dinner in your Instant Pot! This 30 minute easy lasagna recipe creates a fantastic comfort food meal, without boiling water or using a springform pan!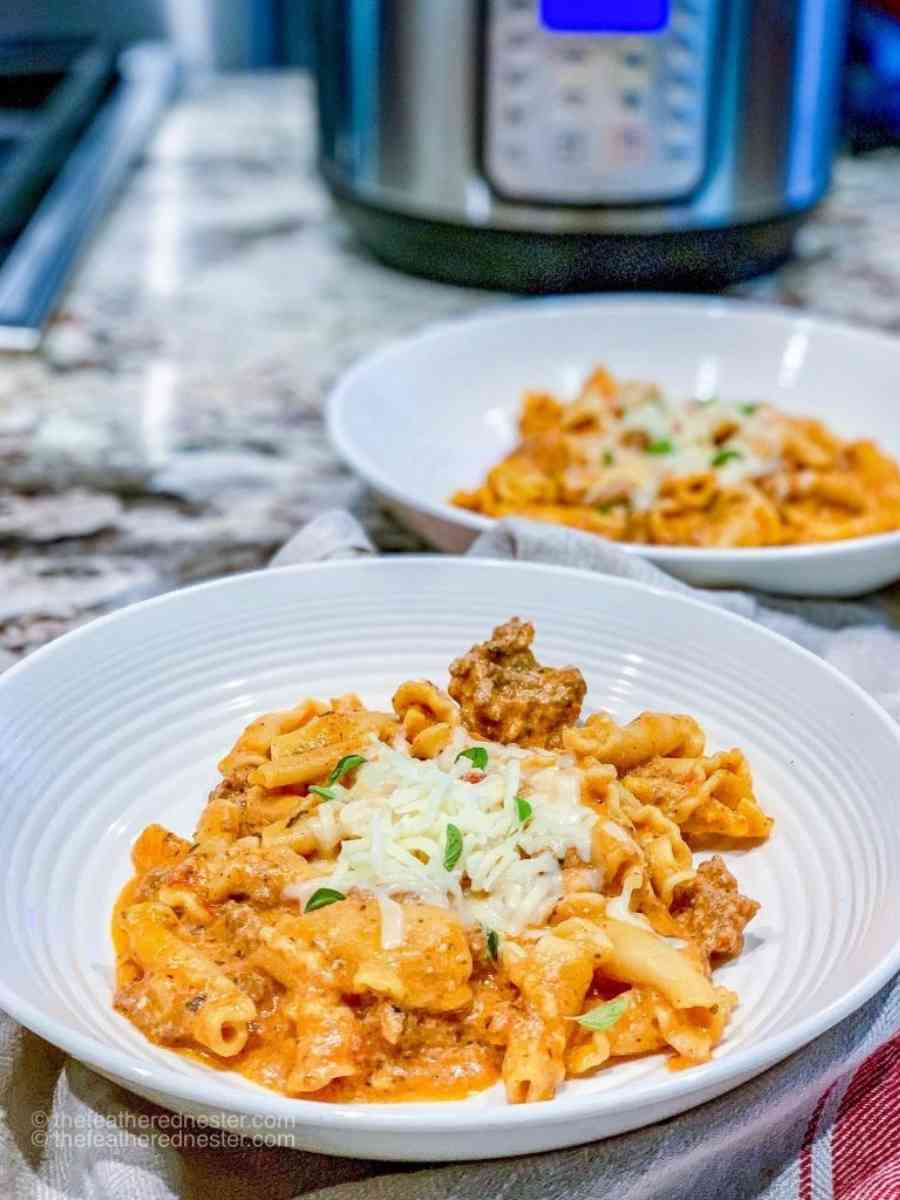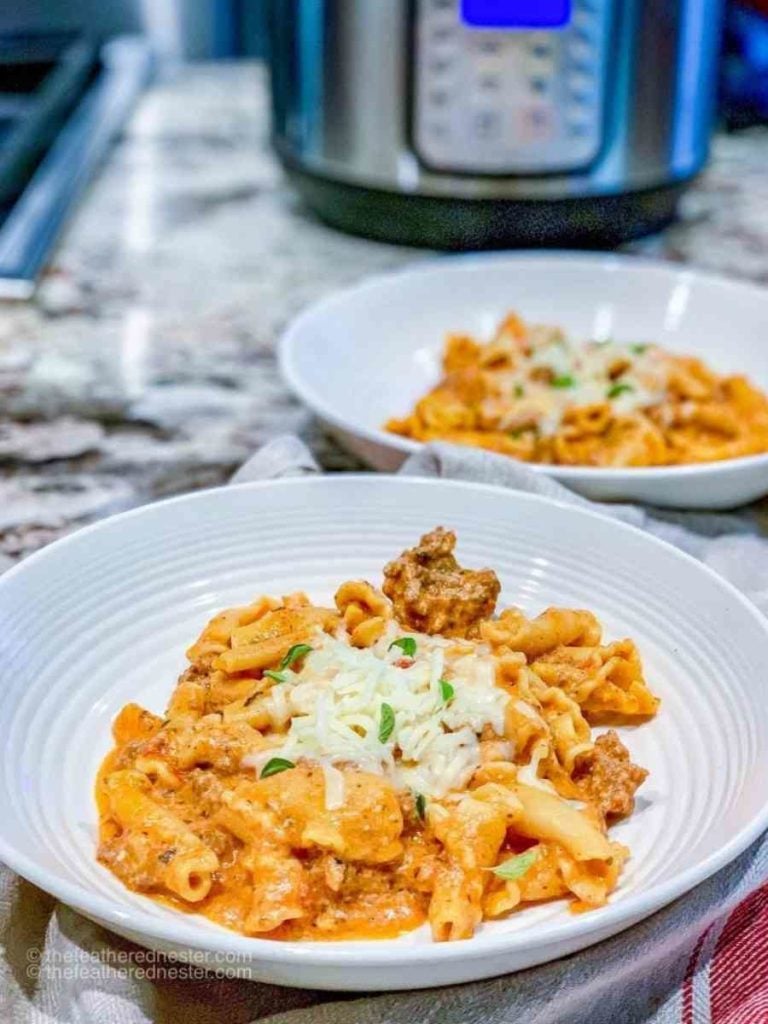 Some of the best Italian dinners require a lot of prep work and time to cook. Classics like chicken cacciatore, eggplant Parmigiana, homemade Bolognese, and yes, even lasagna. This is why some people call them "meals of love".
But the great news is, Italian Instant Pot recipes are easy to make, and they're super quick, too!
Why Lazy Lasagna is the Best
30-minute meal.
Pressure cooking is an incredibly quick way to make a delicious lasagna with ricotta, meat, and the rich Italian flavor you expect. It doesn't have to take 3 hours to assemble and bake an Italian casserole for dinner!
You don't even create layers – everything goes into the IP, then you get to relax, and even be a little bit lazy. Your pressure cooker does all of the hard work; 30 minutes later, dinner is ready!
Quick and easy cleanup!
Unlike the classic casserole, this lazy lasagna recipe is made without a springform pan. It's always a win when you don't need to dirty an extra dish!
Perfect results, with very little work on your part.
Cooking lasagna in a pressure cooker is the best way to ensure that your dish won't be dry. This is because the Instant Pot traps all of the moisture inside.
A quick note about this recipe:
If you search Google, you'll see two different versions of lazy lasagna. Our pressure cooker recipe calls for most of the classic lasagna ingredients.
The other version is baked in an oven, but it's actually a baked ravioli casserole. While it's probably delicious, it's not exactly the "real deal."
In fact, if that ravioli version sounds good to you, check out our recipe for Instant Pot ravioli lasagna! Or, if you don't have a pressure cooker, you can make our classic lasagna recipe.
New to Instant Pot cooking?
Read How to Use the Instant Pot 101 and Tips & Hacks for the Instant Pot before you jump into the delicious world of electric pressure cooking.
Ingredient Notes and Substitutions
Meat – We prefer Sweet Italian sausage in our lazy lasagna, but ground beef or even a combination of both is great, too.
TFN Pro Tip
If you're unable to find ground Italian sausage, just buy link sausages and remove the casings.
Pasta – Use your choice of either lasagna noodles (broken into 2-inch pieces) or Campanelle pasta. Although many people have success using no-boil noodles, they're more expensive, and not necessary at all.
Marinara – You're welcome to use whatever type of pasta sauce you have on hand. Honestly though, it's worth spending a few minutes to make our quick marinara sauce recipe. The flavor can't be beat!
Ricotta cheese – We make our easy lasagna recipe with ricotta cheese because it has a thicker consistency and richer flavor than cottage cheese. Either will work though – it's just a matter of personal preference.
Mozzarella cheese – For the best flavor and meltability, shred a block of Mozzarella, or use fresh Mozzarella slices. Otherwise, look for the Kraft Creamy Melts variety. They add cream cheese to the shreds, for creamier melting.
Tips for the Best Instant Pot Lazy Lasagna
Avoid overfilling the pressure cooker.
After you add the pasta, sauce, and water to the inner pot, make sure the liquids aren't higher than the max volume line marked on the inside of your Instant Pot liner.

Use hot water to help the unit come to pressure faster.
Perform a quick release of pressure.
You only need to cook the noodles for 5 minutes. When the cooking time is up, use a quick release to let the pressure escape immediately. This will prevent the pasta from over cooking.

Be sure the unit is off before adding the cheeses.
To finish making the Instant Pot lasagna with ricotta cheese and mozzarella cheese will require a little extra attention.
Unlike classic lasagna, where the entire casserole is assembled before baking, you need to wait to add any dairy products to a pressure cooker. Otherwise, they will separate under the high pressure and heat.
Just gently stir the ricotta and Mozzarella in after the cooked lasagna noodles and sauce are combined.

Broil for a golden color on the top.
It's perfectly fine to eat the Instant Pot lazy lasagna as-is, but the top won't have that nice golden brown color. To create that, you need to use your oven broiler.
Just spread the pressure cooker lasagna into a greased casserole dish. Sprinkle a cup of Mozzarella cheese on top and broil in the oven for 3 minutes, or until browned.
Easy Lasagna Recipe Variations
To lighten up the meal, substitute ground turkey or chicken for the sausage.
For a vegetarian lasagna, leave out the meat and add extra vegetables like mushrooms, zucchini, or spinach.
For gluten free Instant Pot lasagna, just be sure to use gluten-free pasta and marinara sauce.
Spice it up! Add a little spice to this dish by using hot Italian sausage or adding red pepper flakes to the sauce.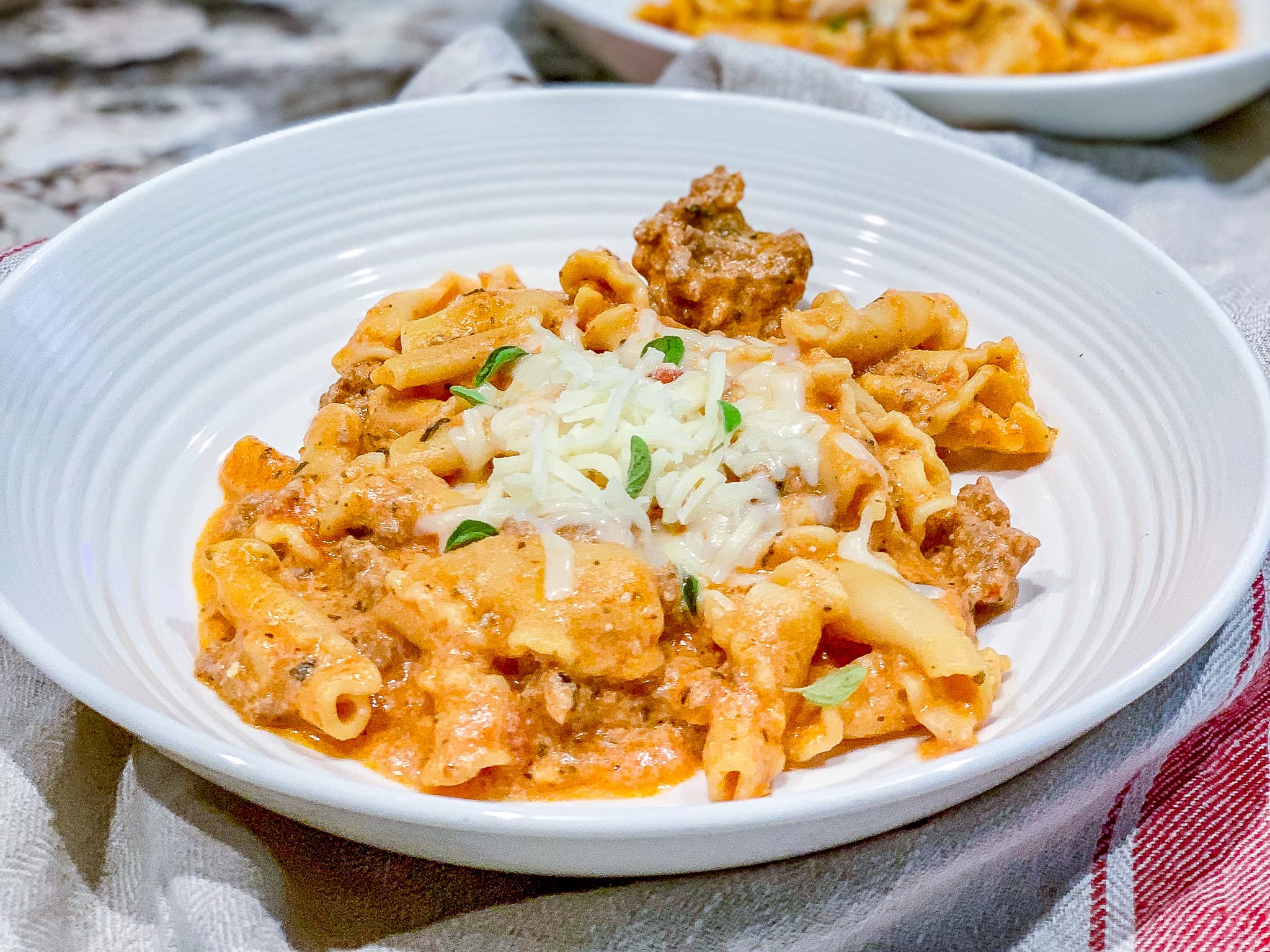 Looking for other Italian Instant Pot Recipes?
You can always count on a pressure cooker to make delicious meals quickly! Some of our other popular Italian Instant Pot recipe ideas are soups. We love lasagna soup and tortellini soup.

If you're in the mood for a quick Italian chicken dinner, you should make some Instant Pot pesto chicken!
Serving Suggestions
This meat and ricotta lasagna is incredibly hearty and filling. While it could be a complete meal on its own, we usually serve it with sourdough dinner rolls or garlic sourdough bread, and a garden salad or steamed vegetables.
Storing and Freezing Lazy Lasagna
Leftovers will keep in the fridge for up to 3 days. Be sure to store them in an airtight container, or cover the casserole dish with foil.
Instant Pot lasagna can be frozen for up to 2 months. Just be sure to wrap it well to avoid freezer burn.
TFN Pro Tip!
To make meal prep a little easier, freeze the meal in individual servings. This way, you can thaw and reheat only as many servings as you need.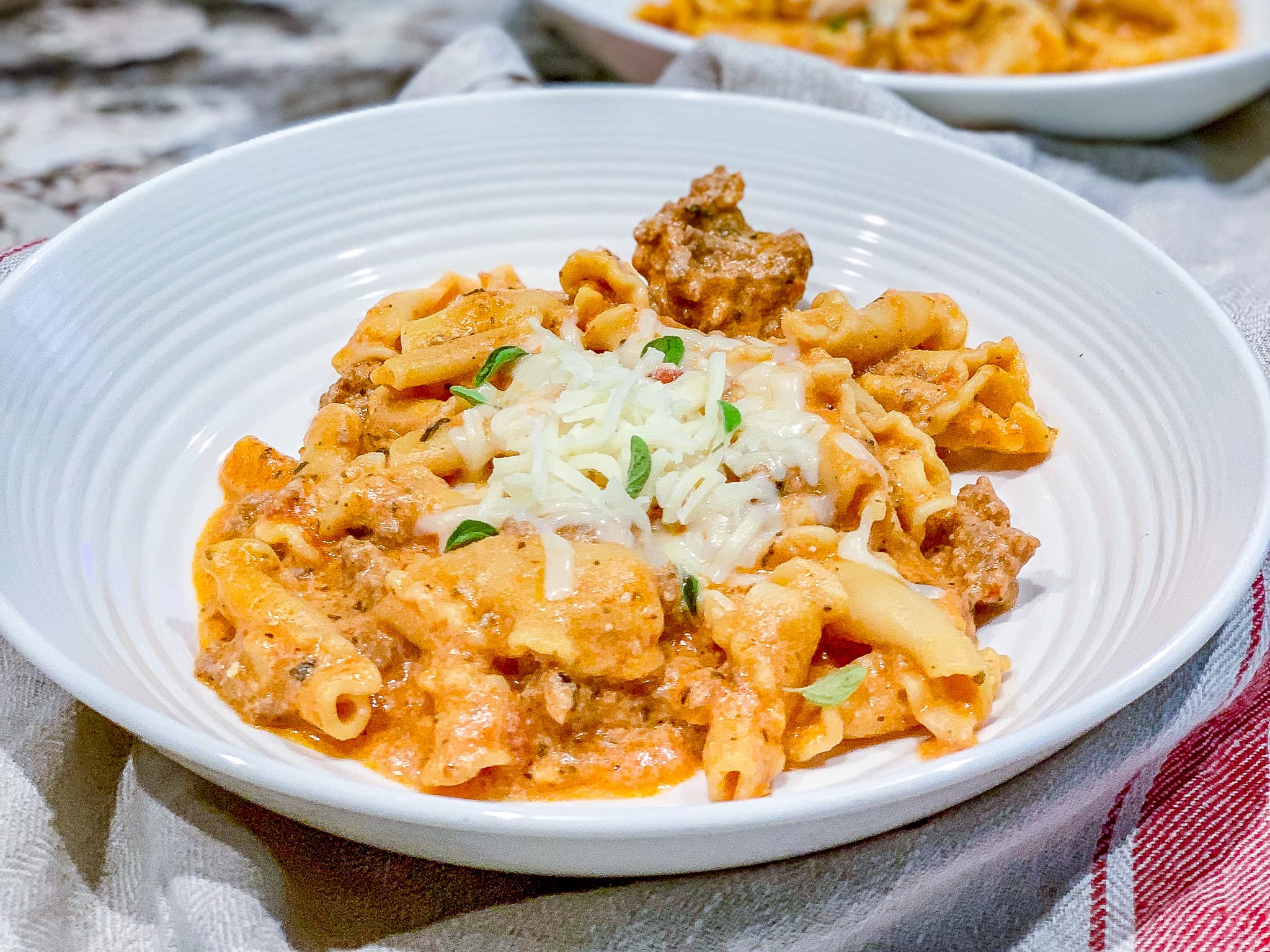 To Make Instant Pot Lazy Lasagna, Renae Recommends
Lazy Lasagna (Instant Pot)
Get ready to be amazed with this 30-minute recipe for Lazy Lasagna. It makes a delicious classic Italian dinner, but without the prep work!
Ingredients
1 pound ground Italian sausage or lean ground beef
2 teaspoons dried Italian seasoning
16 ounces lasagna noodles broken into 2-inch pieces
32 ounces pasta sauce or homemade marinara sauce
4 cups very hot water *See Notes
8 ounces ricotta cheese
2 cups shredded mozzarella cheese plus 1 cup for optional broiling *See Notes
Instructions
Set Instant Pot to sauté. When pot is hot, add meat and Italian seasoning, and cook until meat has browned. To the pot, add pasta, sauce, and hot water; do not stir. Press cancel to end the sauté mode.**Ensure that the contents do not rise above the max level line (indicated by a mark on the inside of the inner pot).

Place the lid on your pressure cooker and twist to seal. Close the sealing valve and manually set the IP to cook at high pressure for 5 min. When pressure cycle is over, perform a quick release of pressure. Add ricotta and mozzarella cheese, and use a large spoon to stir until melted.
Optional Broiling (To Brown the Cheese)
When the lazy lasagna finishes pressure cooking, transfer the contents into a greased 9×13-inch casserole dish. Sprinkle 1 cup of shredded mozzarella cheese evenly over the top and place the dish under your oven broiler for 3 minutes, or until cheese is melted and lightly browned.
Notes
Using very hot liquid (in this case, water) helps the Instant Pot come to pressure more quickly. Ultimately, this means your meal will be on the table sooner.
To give the melted cheese a golden color, there is an optional step to broil the casserole after it finishes pressure cooking. If you plan to do this, you will need 1 additional cup (a total of 3 cups) of shredded mozzarella cheese.
Nutrition
Serving: 1serving | Calories: 518kcal | Carbohydrates: 51g | Protein: 28g | Fat: 22g | Saturated Fat: 11g | Cholesterol: 77mg | Sodium: 841mg | Potassium: 721mg | Fiber: 4g | Sugar: 7g | Vitamin A: 827IU | Vitamin C: 8mg | Calcium: 260mg | Iron: 4mg
PIN THIS POST!
This post, first published October 2019, was updated with new content in April 2023.