This Instant Pot Lasagna recipe is an easy and lazy way to bring the delicious flavor of lasagna to your dinner table with a fraction of the effort.
As an Amazon Associate I earn from qualifying purchases, at no extra cost to you. See my disclosure policy here.
Everyone loves lasagna, right? And making this comfort food can be time consuming. Because of that, we often reserve lasagna for special occasions.
Well, end all of that by saying hello to my Instant Pot Easy Lasagna! Lazy Lasagna? How can making lasagna be easy? Well, let me assure you that this dish IS easy.
Plus it's just as tasty and cheesy as any traditional lasagna casserole. Everyone will love this easy version just as much as the traditional one.
Instant Pot Lazy Lasagna
We all know that the Instant Pot is amazing for cooking things quickly. Well, it's also perfect for making this lasagna dish with minimal effort.
This recipe is called Instant Pot Lazy Lasagna because it's so simple to make. Really, all you have to do is layer the ingredients in the pot, set it, and forget it.
In about 10 minutes, you'll have a piping hot dish of lasagna that's ready to devour. The pasta will be cooked to perfection and the cheese will be melted and bubbly. It's true lasagna magic.
Plus, this Instant Pot Lasagna is cooked without using a springform pan. So, there's no need to dirty an extra dish. That's always a win in my book.
So, if you're looking for a quick and easy lasagna recipe that doesn't skimp on flavor, this Instant Pot Lazy Lasagna is the dish for you!
Why Cook Lasagna in a Pressure Cooker?
Cooking lasagna in a pressure cooker is the best way to get all of the flavors of traditional lasagna without all of the work.
When you cook lasagna in an Instant Pot, the pasta cooks quickly and evenly. Plus, the pressure cooker traps all of the moisture, so your lasagna won't be dry.
New to Instant Pot cooking? Read How to Use the Instant Pot 101 and Tips & Hacks for the Instant Pot first.
Instant Pot Lazy Lasagna Ingredients
Sausage or ground beef
Italian seasoning
Lasagna noodles or pasta
Pasta sauce
Ricotta cheese
Mozzarella cheese
Equipment Needed
Best Accessories for Instant Pot
How to make Lasagna in Instant Pot
Sauté the meat. Set the Instant Pot to sauté. Add meat and Italian seasoning then sauté until just brown.
Pressure cook the pasta. Put in pasta, sauce, and water. Make sure the volume doesn't go above the max limit on the inside of your Instant Pot liner.
To cook at high pressure, first press cancel. Then twist on the lid and close the sealing lever.
Cook for 5 minutes. When the cooking time is up, use a quick release to let the pressure escape immediately.
Add the remaining ingredients. Add ricotta cheese and mozzarella cheese to the pot. Stir until the cheeses are melted.
Optional broiling: reserve 1 cup of mozzarella cheese. Spread lasagna into a greased casserole dish. Sprinkle cheese on top and broil in the oven for 3 minutes or until browned.
Looking for regular lasagna? Here's my traditional Lasagna recipe (with a low sodium and gluten free options)
Recipe Variations
If you want to lighten up this recipe, you can use ground turkey or chicken in place of the sausage.
You can also make this lasagna vegetarian by omitting the meat and adding extra vegetables like mushrooms, zucchini, or spinach.
For a gluten free lasagna, use gluten free lasagna noodles or any other type of gluten free pasta.
Add a little spice to this dish by using hot Italian sausage or adding red pepper flakes to the sauce.
Make it dairy free by using dairy free cheese and milk.
What to Serve with Pressure Cooker Lasagna
This easy instant pot lasagna is a complete meal on its own. But if you want to round out the meal, here are some great side dishes to serve with it:
Looking for more Instant Pot recipes? Try these!
How to Store and Freeze Lasagna
Lasagna can be stored in the fridge for up to 3 days. Be sure to store it in an airtight container or covered it with foil.
You can also freeze lasagna for up to 2 months. I like to portion it out into individual servings so that I can thaw and reheat only as much as I need.
To reheat, thaw overnight in the fridge then reheat in a 350°F oven until heated through. You can also reheat individual portions in the microwave.
FREQUENTLY ASKED QUESTIONS
How long does instant lasagne take to cook?
Bake, covered, for 30 minutes. Then uncover and bake for 5 minutes. Remove pan from the oven and let the lasagne set for 5 minutes before slicing and serving
Can you put a frozen lasagna in the Instant Pot?
Place foil covered pan on trivet. Lock lid into place and seal steam nozzle. Cook on high pressure for 20 minutes.
Can you use dried lasagne sheets for lasagne?
If you can't find fresh pasta sheets, you can use dried pasta sheets. To use dried pasta sheets in lasagne, cook the lasagne for 10-15 minutes longer than fresh sheets. If your lasagne is looking too brown on top, you can cover it with foil for this extra cooking time.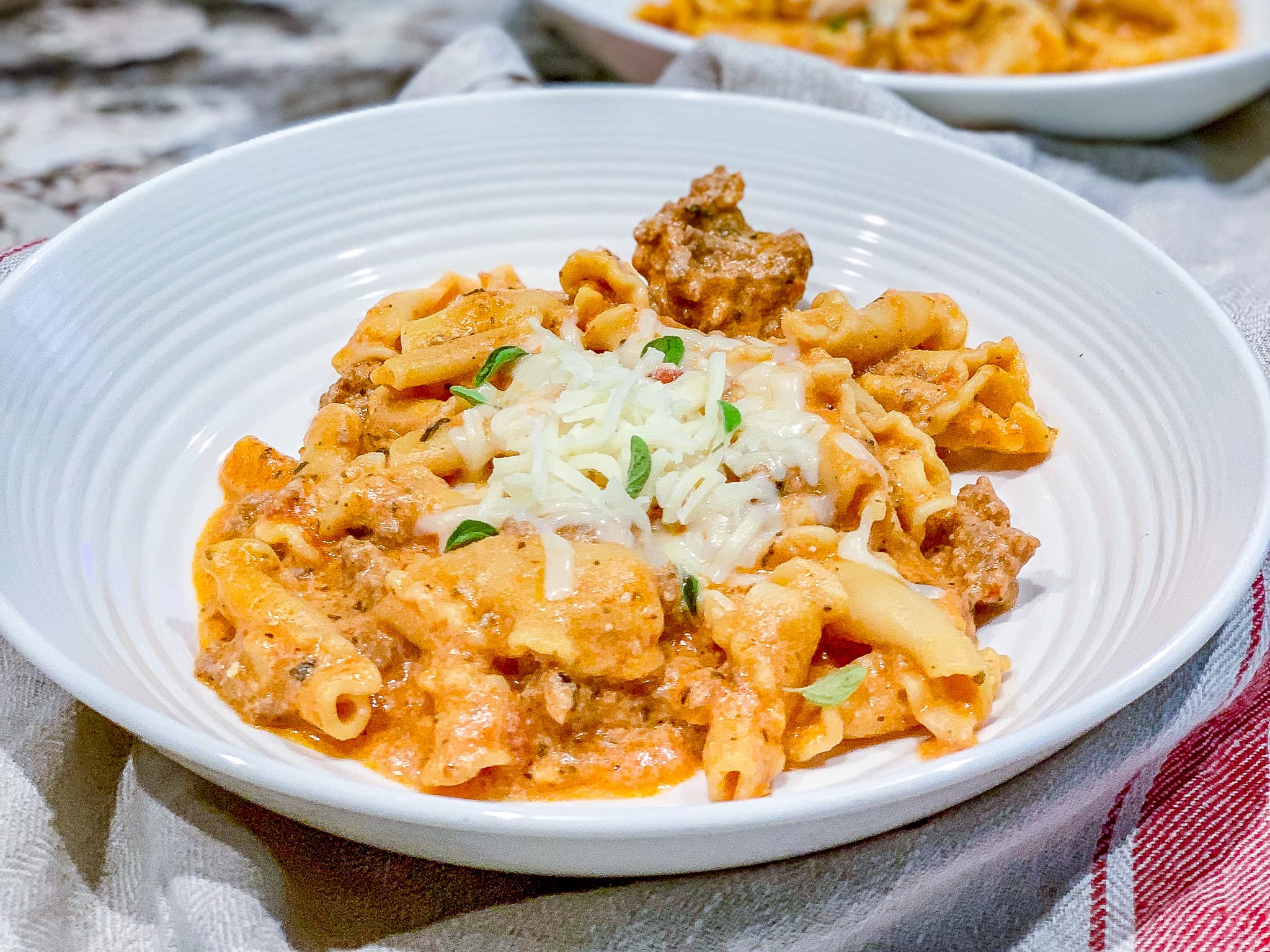 Get the Full Instant Pot Lazy Lasagna Recipe Below
Easy Lasagna in the Instant Pot
Get ready to be amazed with this Easy Lasagna! It tastes just as good as traditional, casserole lasagna in only a fraction of the time.
Equipment
Instant Pot or Pressure cooker
Ingredients
1

lb

sausage or ground beef

2

tsp.

Italian seasoning

16

oz

lasagna noodles, broken into 2″ pieces

32

oz

pasta sauce

4

cups

hot water

8

oz

ricotta cheese

2

cups

shredded mozzarella cheese
Instructions
Set Instant Pot to sauté. Add meat and Italian seasoning. Sauté until just brown. Add pasta, sauce, and water. Ensure you do not exceep the max volume setting on the inside of your Instant Pot liner.

Press cancel, add lid and twist to seal, close sealing lever, and cook at high pressure for 5 min. When pressure cycle is over, use a quick release to release pressure immediately.

Add ricotta cheese, and mozzarella, stir until melted.

Optional broiling: reserve 1 cup of mozzarella cheese, spread lasagna into a greased casserole dish. Sprinkle cheese on top and broil in oven for 3 min or until browned.
Nutrition
Serving:
1
serving
|
Calories:
518
kcal
|
Carbohydrates:
51
g
|
Protein:
28
g
|
Fat:
22
g
|
Saturated Fat:
11
g
|
Cholesterol:
77
mg
|
Sodium:
841
mg
|
Potassium:
721
mg
|
Fiber:
4
g
|
Sugar:
7
g
|
Vitamin A:
827
IU
|
Vitamin C:
8
mg
|
Calcium:
260
mg
|
Iron:
4
mg