Sourdough Garlic Bread is hearty and chewy, and its roasted garlic flavor tastes fantastic with almost everything, from pizza and pasta, to chili, and even a Dutch oven pot roast! Of course, it's great for sandwiches, but we're about to show you how to use it to make the best garlic toast ever!
Don't let the "homemade" part of this garlic sourdough recipe intimidate you; this beginner-level sourdough bread is almost impossible to mess up!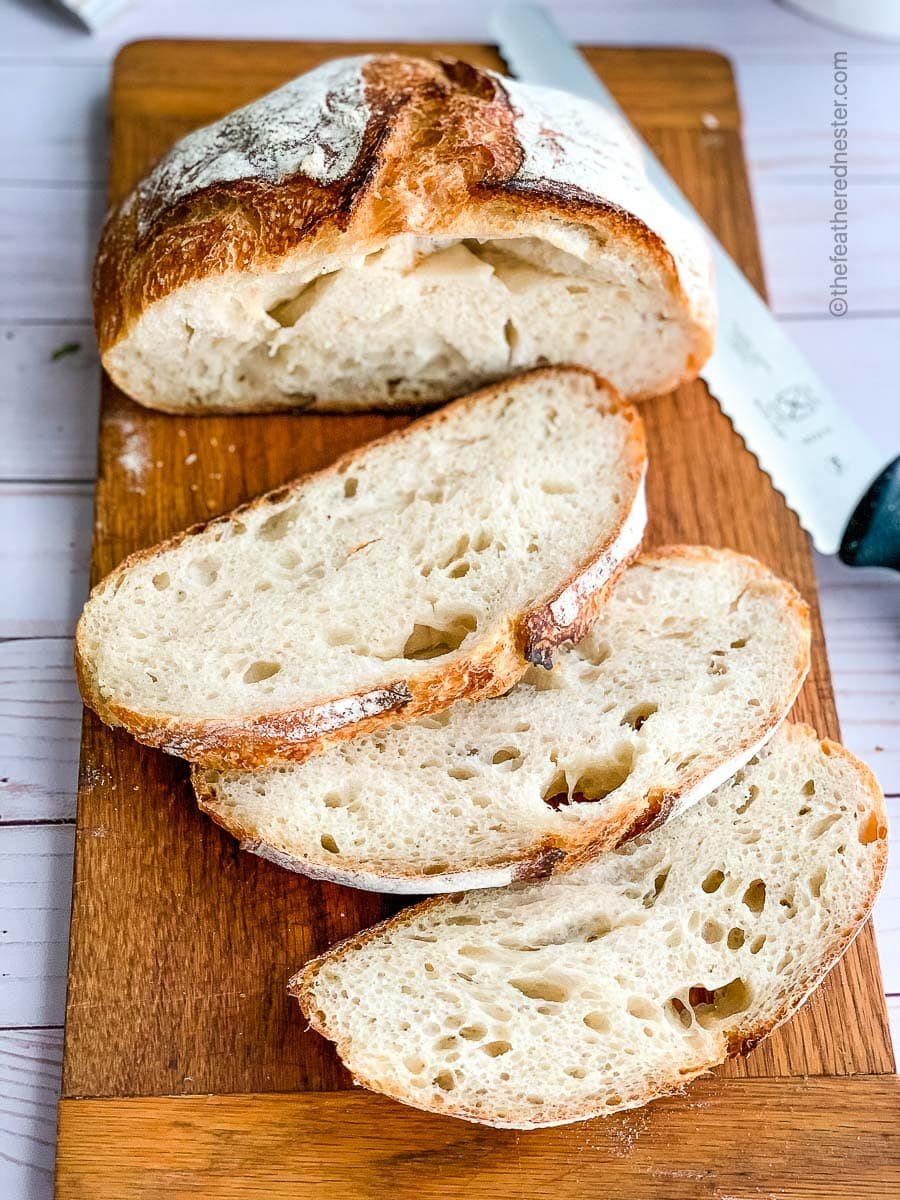 Why We Love Sourdough Garlic Bread
Makes an impressive, mouthwatering side.
We like to serve it with garlic mashed potatoes for loads of garlicky flavor!
It's a great way to use sourdough discard.
And if you have more discard than you know what to do with (it happens to us all of the time), check out our collection of sourdough recipes!
You can make a lot with a little!
This garlic toast recipe requires only ¼ cup of discard and just 5 core ingredients.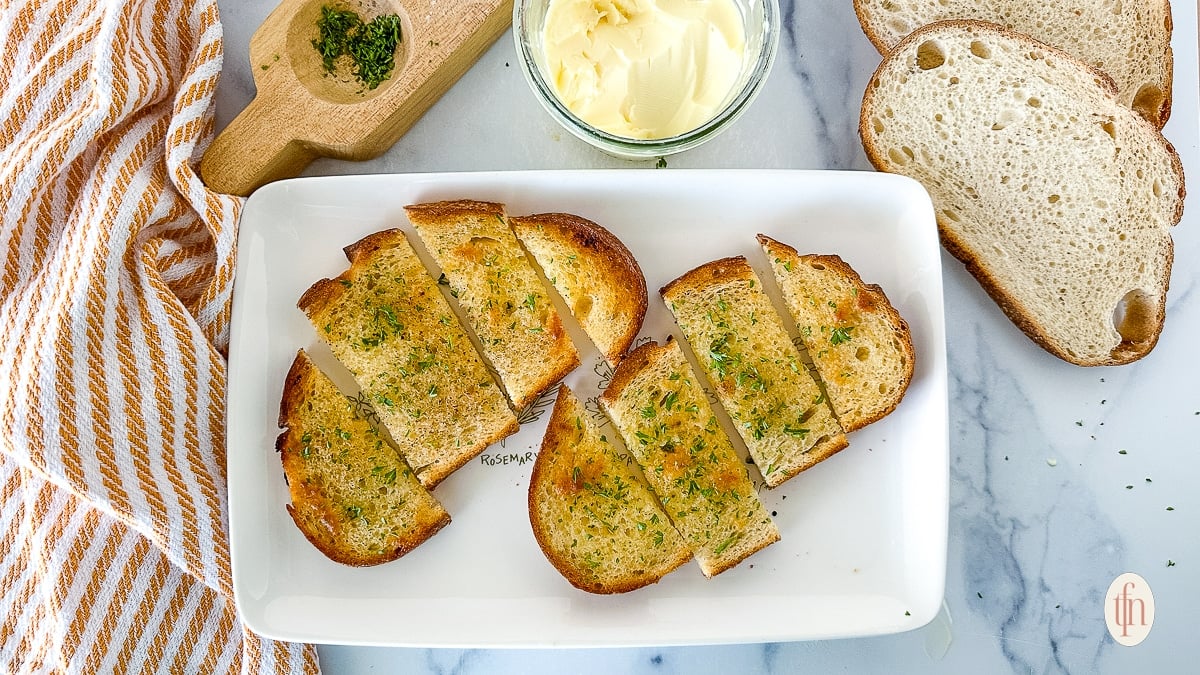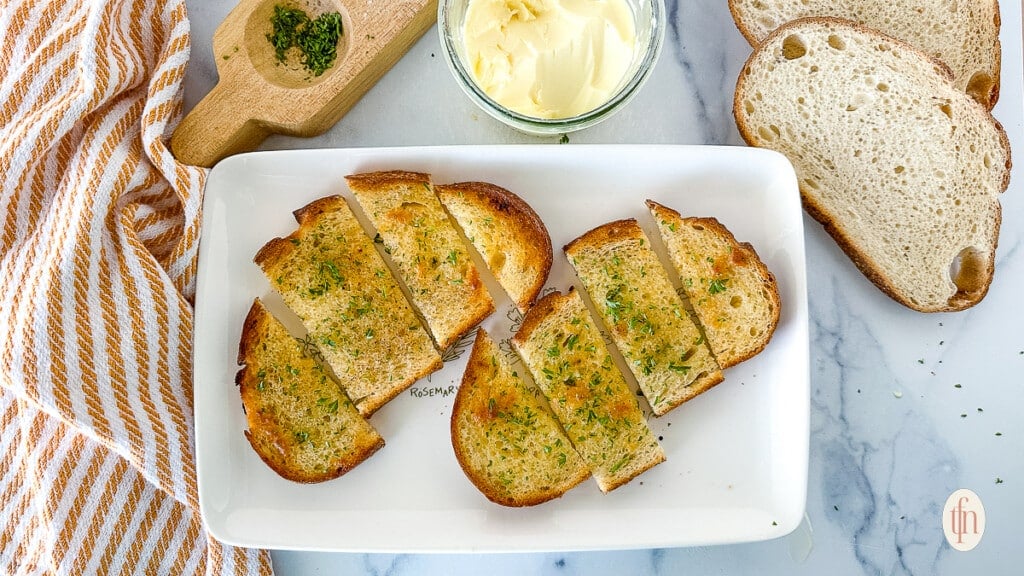 Ingredient Notes and Substitutions
Garlic – If you need to substitute, you can use either 1 tablespoon of minced fresh or 1 tablespoon of dried. But if you decide to use dried, mix it in with the flour when making the dough!
Sourdough Starter – It's easier to get started than you might think. See our homemade sourdough starter recipe!
Warm Water – It's a bit of a Goldilocks balance — not too warm, not too cold… The temperature needs to be just right for the sourdough discard bread to rise properly.
Bread Flour – We like King Arthur Bread Flour, but go ahead and opt for your preferred brand.
Salt – Just a pinch is all that is needed to bring out all the tangy, roasted flavors. We use flaky sea salt, but really any large-grained salt is good.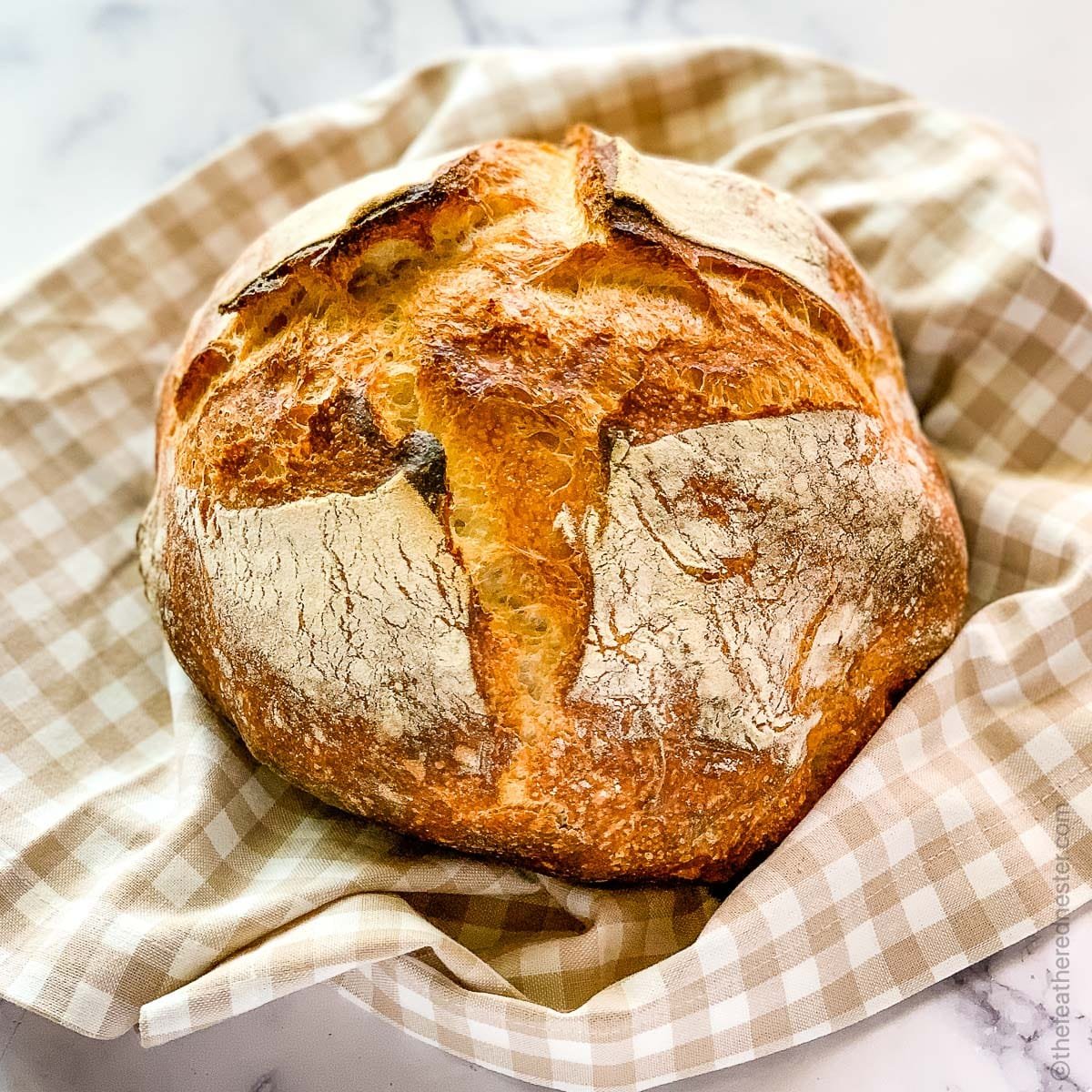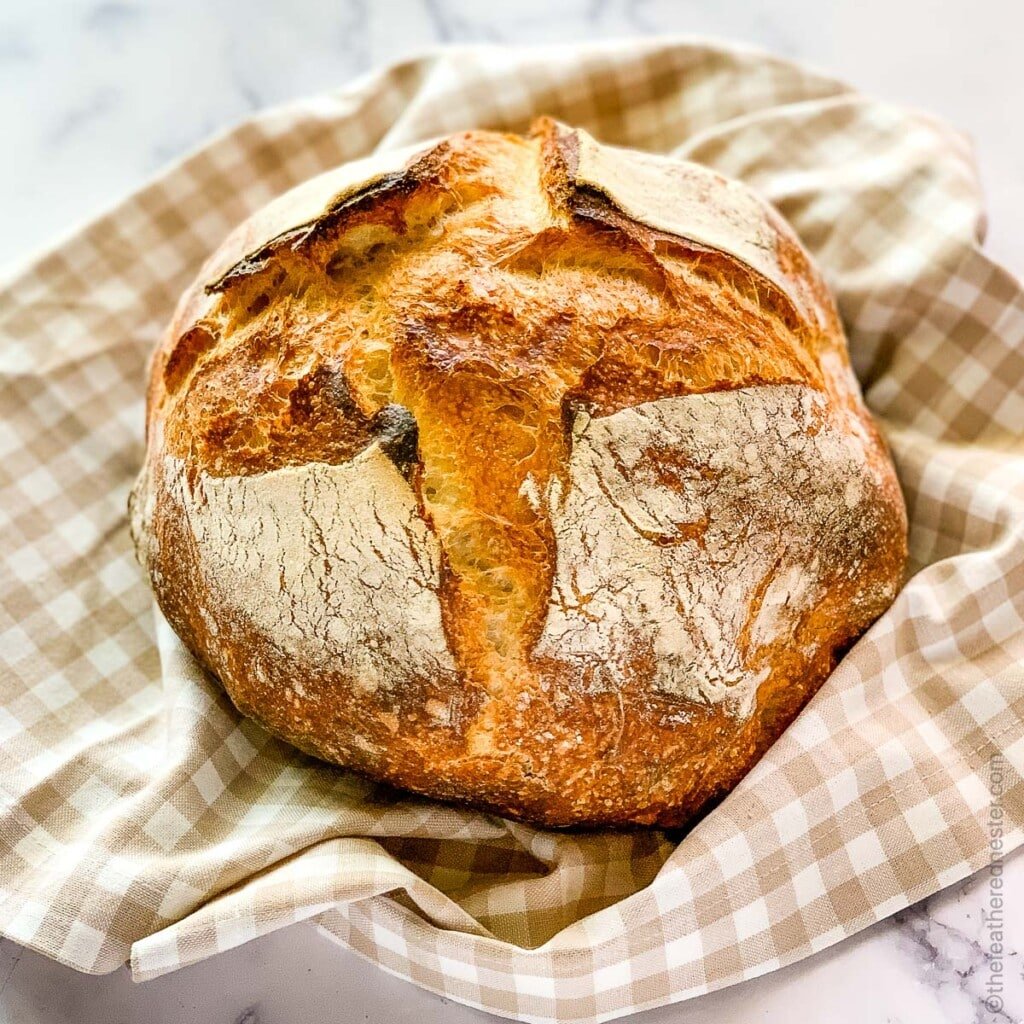 Optional Ingredients
Who doesn't love cheesy, easy garlic bread? Shredded cheese worked right into the dough creates pockets of melted cheese throughout. Gruyere and asiago are the best varieties to use in our garlic toast recipe, but cheddar is never a bad idea!
Maybe also try a sprinkling of parmesan melted on top of the baked crust!
And there are a plethora of dried herbs that smell (and taste!) downright heavenly paired with roasted garlic sourdough. Our go-to is usually rosemary like we use in our rosemary garlic dinner rolls, but we also sometimes use thyme.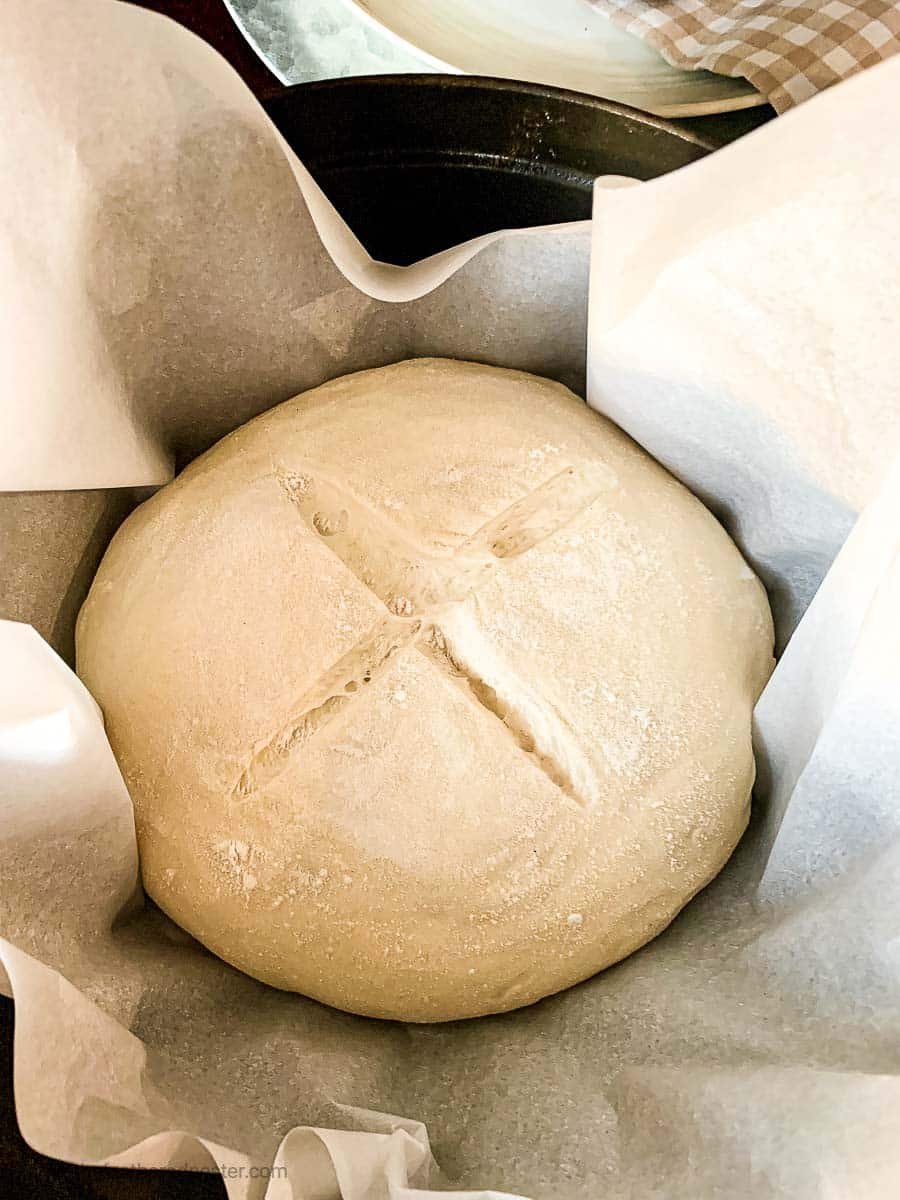 Sourdough Discard Bread Recipe Tips
Roast the garlic for extra flavor.
Roasting garlic not only adds mouthwatering flavor to the bread, but it's quick and easy to make.

Preheat your oven, toaster oven, or air fryer to 400ºF. Cut the top off of the garlic bulb, place it on a piece of foil, and drizzle oil over the garlic bulb. Seal the foil and bake or air fry for 30 minutes.

This is a great time to get started making the dough, which in this case, is our classic overnight sourdough recipe.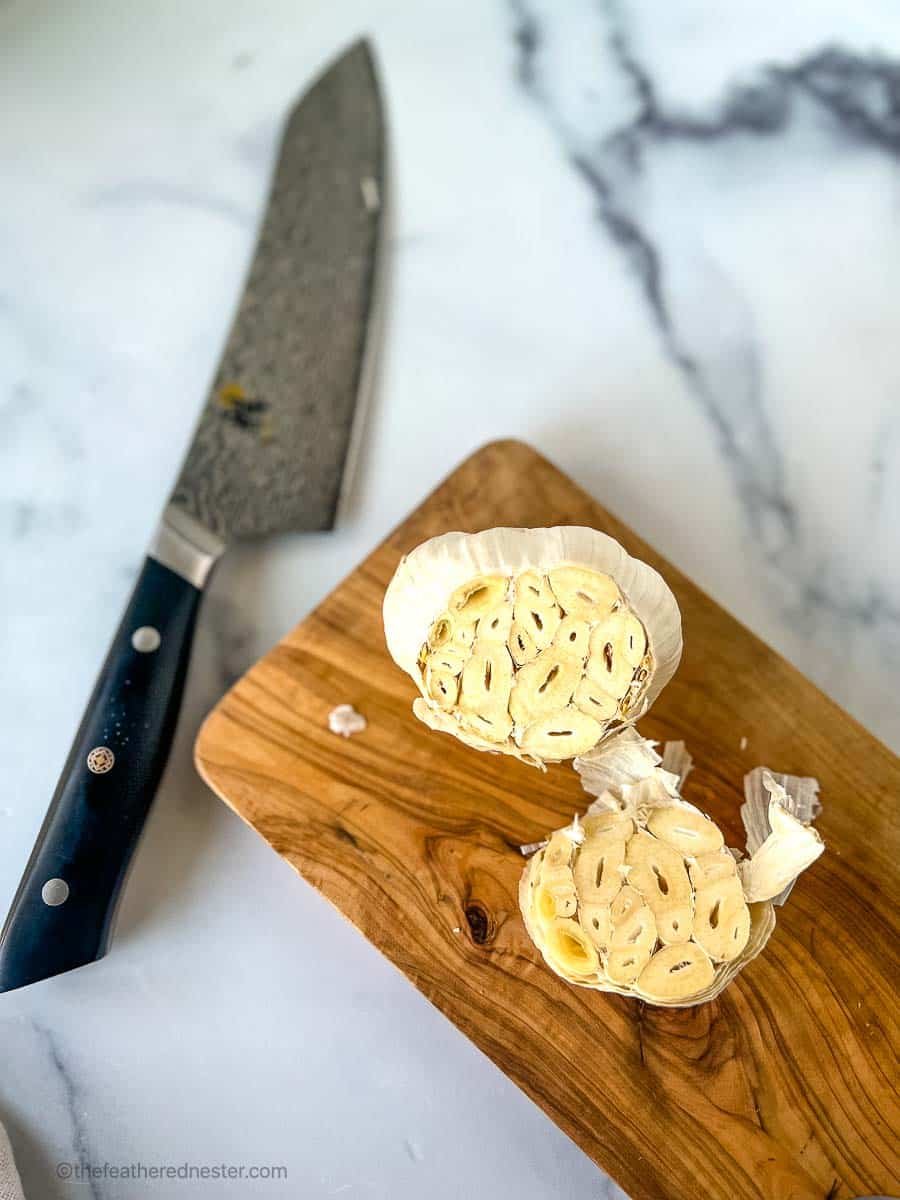 Be sure your starter is active and fed.
Because there's no yeast in this recipe, it's important that the starter is active. When you see lots of bubbling going on, that's your cue that it's perfect to use!

Be sure to feed it 12-24 hours before making the garlic bread.

Give yourself plenty of time for the bread to cool.
Your kitchen will be filled with the intoxicating aroma of roasted cloves… but you need to wait an hour for it to cool!

This is because the dough is still slightly underbaked when it comes out of the oven. The heat and steam that are trapped in the center are working to finish the process, so you don't want to release any of it by cutting into the loaf too soon.
How To Make Garlic Toast
The soft sourdough bread is delicious as-is, with a schmear of butter or jam. But, why not take this easy garlic bread recipe one step further, by toasting a few slices?!
It's really easy — simply slice, butter, and bake under a broiler or in your toaster oven!
Use thick slices of bread.
When slicing the loaf of garlic sourdough to make garlic bread, be sure to cut them nice and thick. This ensures that you get a chewy bite.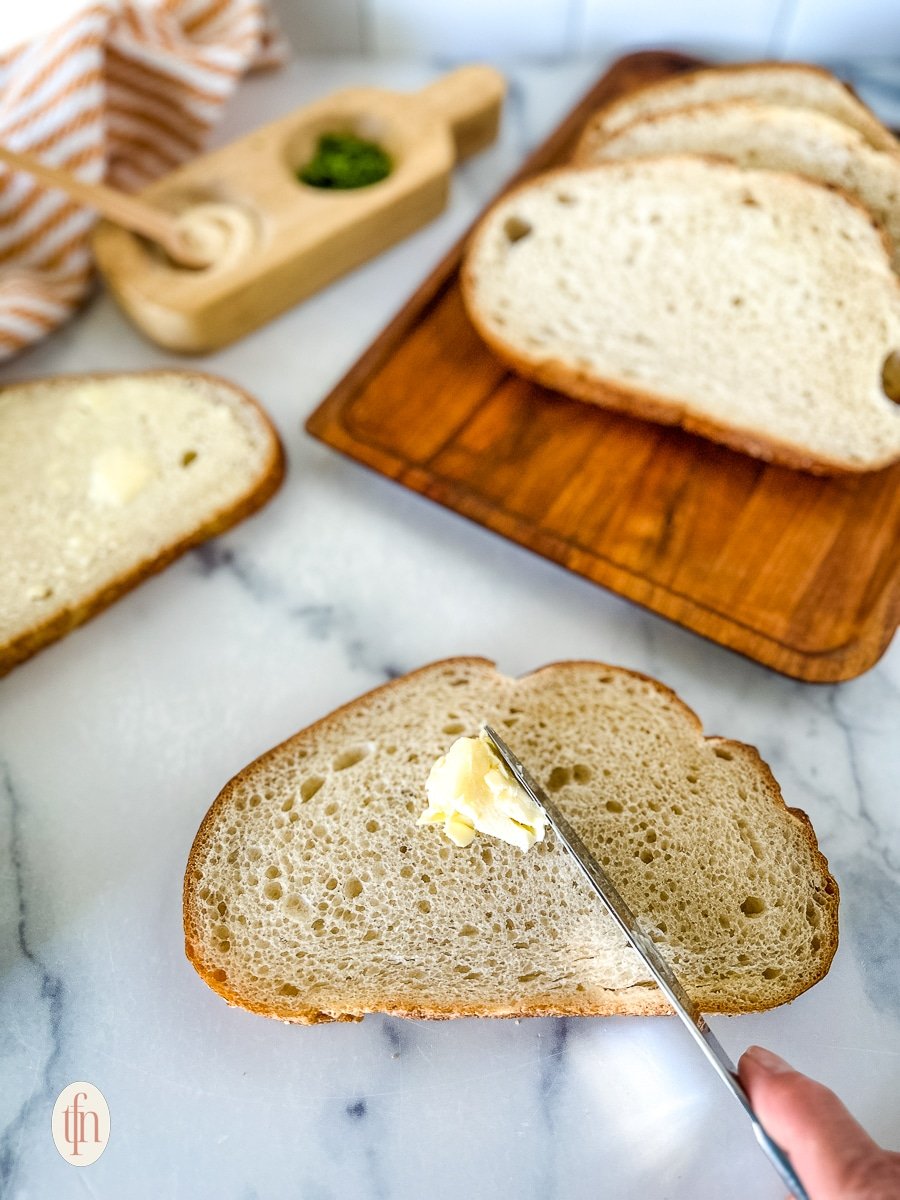 Stay alert to avoid burning the slices.
Use a toaster oven or the broiler in your oven to create perfectly toasted slices. Keep an eye on it though, because it can burn in the blink of an eye.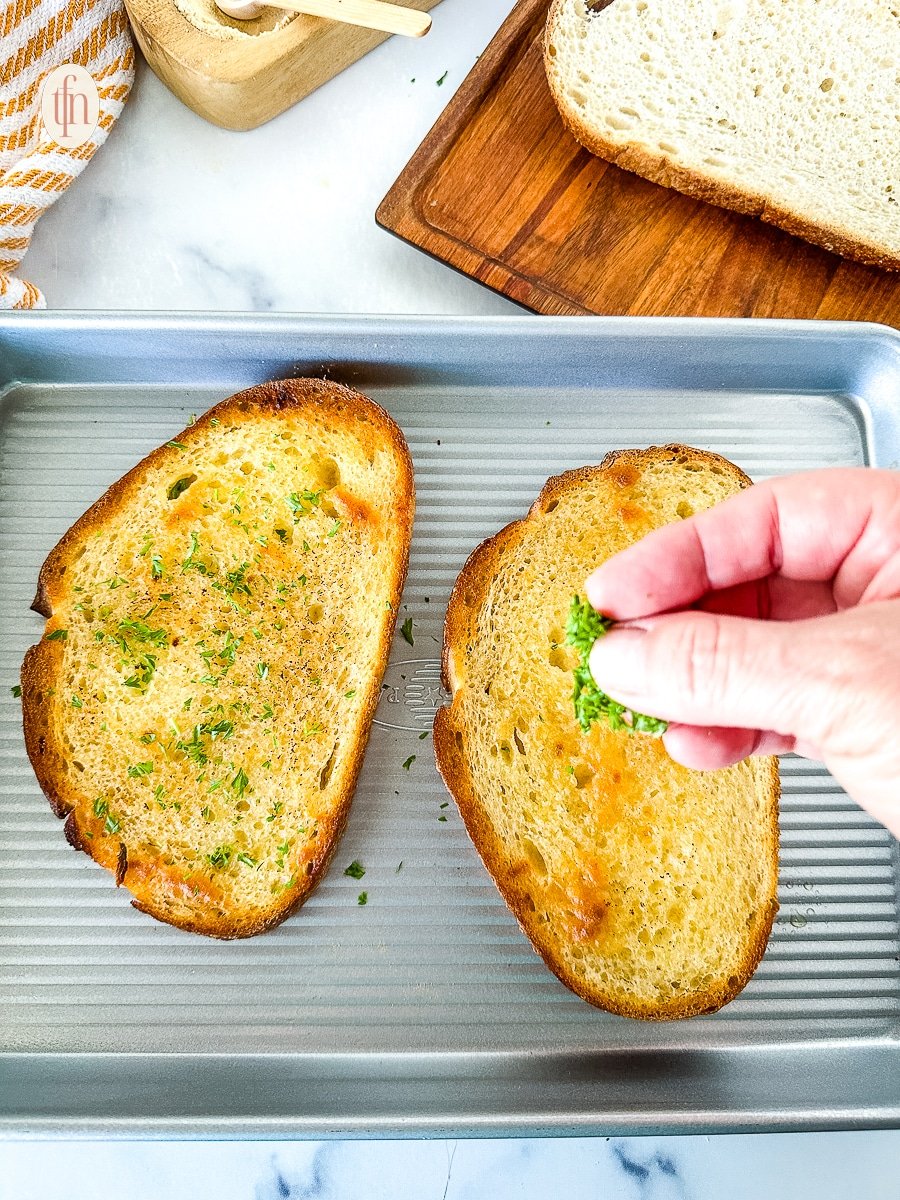 Sourdough Garlic Bread FAQ
Does sourdough make good toast?
It absolutely does! That's why we like to highlight how to make garlic toast with this recipe with just a few extra steps.

Sourdough breads make remarkable toast that can hold up to plenty of ingredients in a sandwich, but they also make for a really flavorful toast on their own with nothing really added other than butter.

Just one thing — sourdoughs are moist, so don't laden with too much butter lest you end up with a heavy, soaked slice.
Is roasted garlic better than fresh?
It's just different! Both fresh and roasted cloves have their best places in the kitchen. It just so happens that roasted is best for sourdough garlic bread!

Once roasted, cloves take on a spreadable, buttery consistency. The flavor also mellows a great deal, going from sharp and pungent to nutty and somewhat sweet.
What's the difference between garlic bread and garlic toast?
Sourdough garlic bread is baked whole, which leaves the inside soft and cloud-like. The center has the texture of sliced bread while the exterior bakes into a crunchy crust.

Toasted, the inside is also broiled until golden brown for an overall crunchy texture.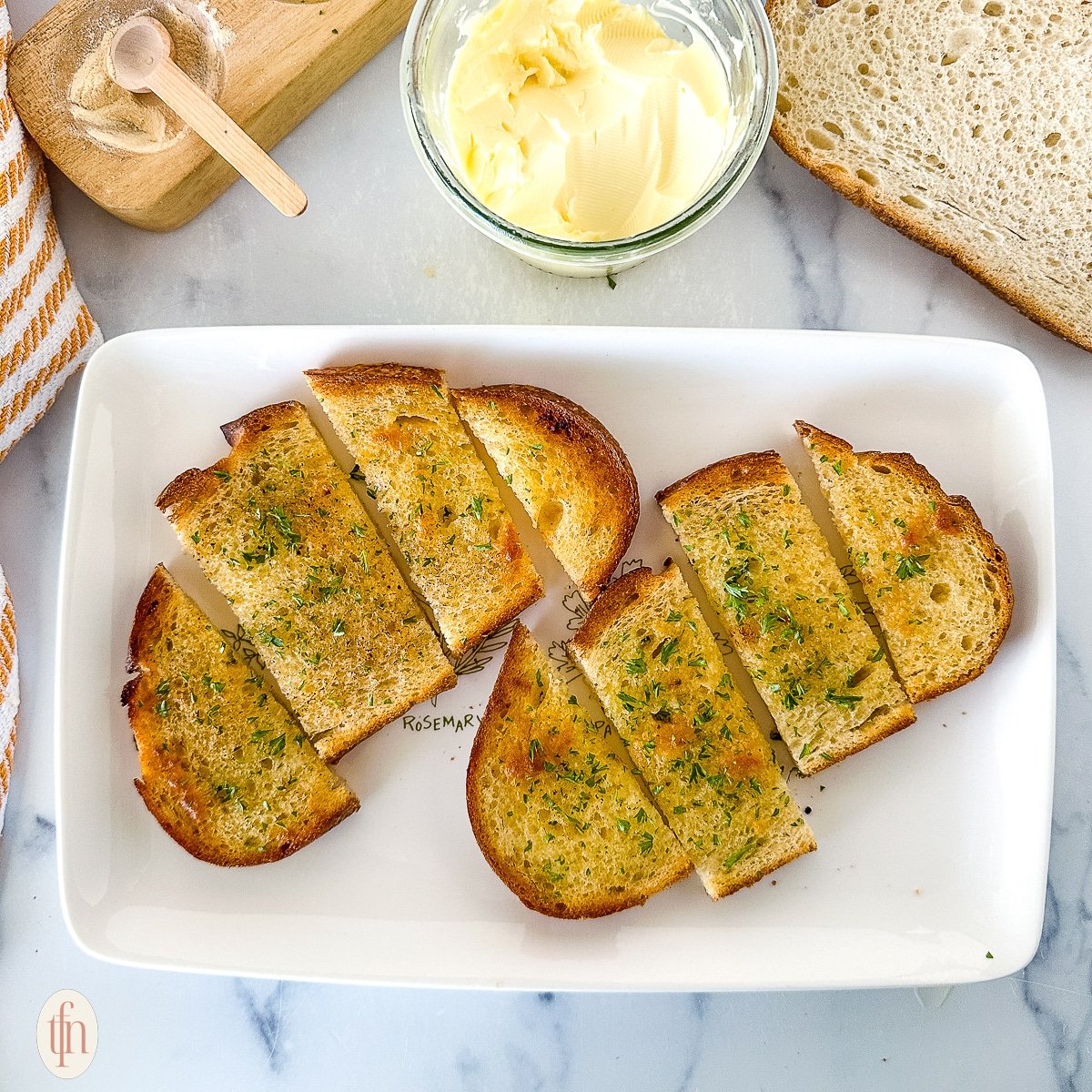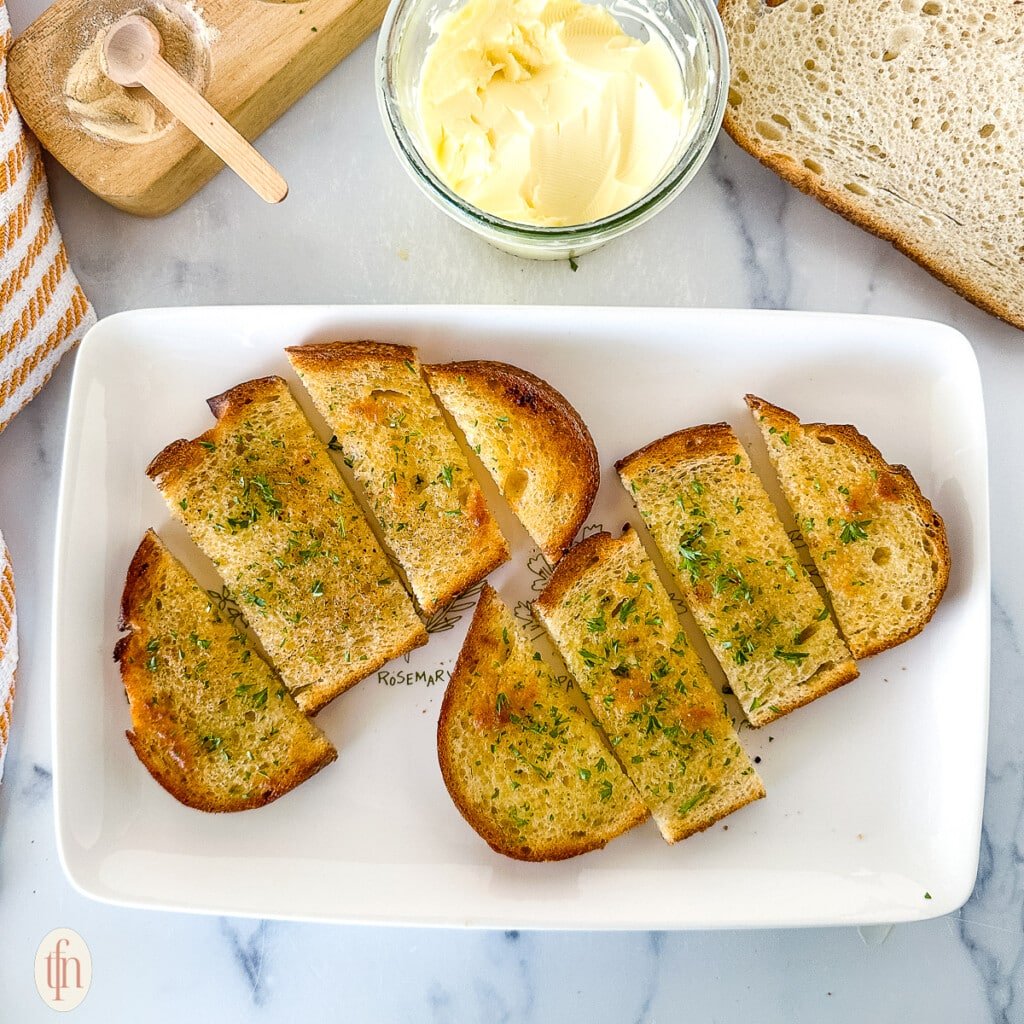 Storing and Reheating
If your goal is to make this recipe ahead of time, don't refrigerate the dough — this is a room-temperature rise recipe. Instead, just bake it and store it at room temperature. It lasts for 5 days this way, and you can always warm it in the oven.
Don't refrigerate the loaf, either, or else the crust will harden and get stale.
You can also freeze the loaf after baking. It keeps for up to 3 months and can be thawed at room temperature.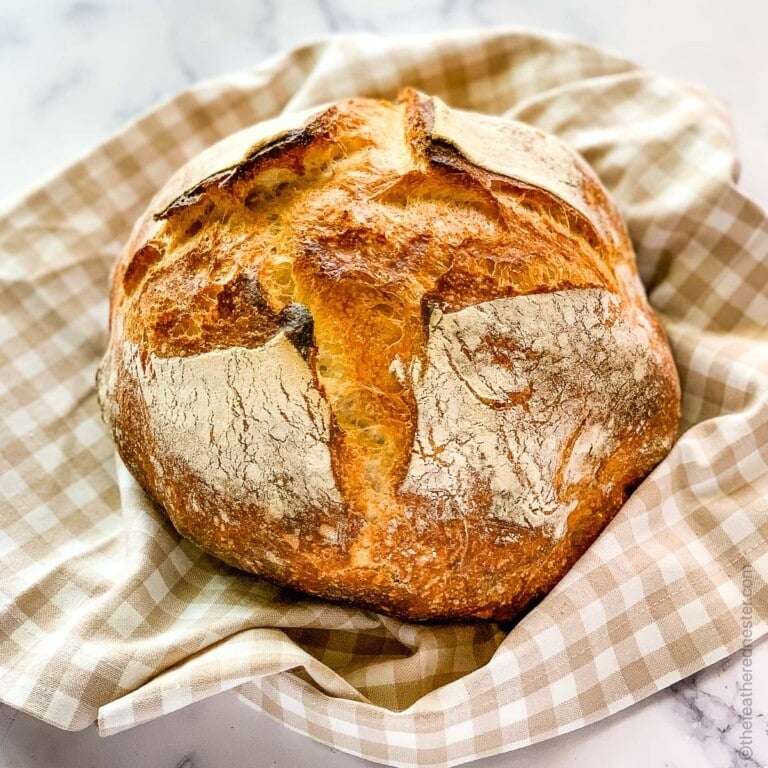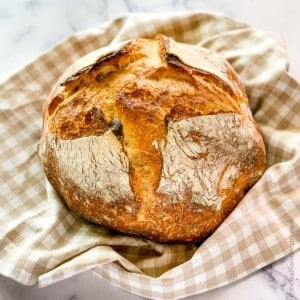 Sourdough Garlic Bread + Video Tutorial
Slices of soft sourdough garlic bread are incredibly delicious for sandwiches and garlic toast! This garlic sourdough recipe is a must-make.
Equipment
Aluminum foil - 12-inch square sheets

4 – 5 quart Dutch Oven with Lid - or other heavy-bottomed pot
Ingredients
1 head garlic (see notes for substitutions)
¼ cup (60 grams) sourdough starter fed within 12-24 hours (see notes)
1½ cups (350 grams) filtered water (95º to 100º F)
4 ¼ cups (500 grams) bread flour
1 ½ teaspoon (9 grams) sea salt
optional
1 cup (4 ounces or 100 grams) shredded Gruyere cheese or Asiago or cheddar
1 tablespoon dried rosemary leaves or your favorite dried herbs
Instructions
Preheat the oven to 400ºF. Lay the head of garlic on its side on a cutting board. Use a sharp knife to cut off the top of the bulb. Place the head in the center of a 12-inch square of aluminum foil. Drizzle oil of the cut portion. Twist the top of the foil to completely enclose the garlic. Bake it in the oven for 30 minutes. Start making the sourdough bread while the garlic is roasting.

Add the sourdough starter to a large mixing bowl. Pour in warm, filtered water, and stir until dissolved. Add bread flour and salt to the bowl. Combine using a dough whisk or wooden spoon until a thick, shaggy dough forms. Wet your hands, and finish mixing dough by hand. Cover the sourdough with a clean, damp kitchen towel and let the dough rest for 30 minutes.

Once the garlic is done roasting, use scissors to cut off the top of the foil. Using tongs, remove the garlic to a cutting board or a plate. Turn the garlic on its side and mash the garlic with a large fork to squeeze the roasted garlic out. Use 2 tablespoons for the sourdough garlic bread recipe.

Lightly flour your countertop or work surface, then use your fingers to coax the dough from the bowl. Add the roasted garlic and cheese (if using) to the top of the dough, then knead them in for about 1 minute. The fillings should be evenly distributed in the dough.

Return the sourdough to the bowl, cover with a damp towel, and let rise overnight in a warm space (72º-80ºF) for 8-10 hours. Do not refrigerate the dough.

After fermentation or bulk rise, lightly flour your countertop and shape the dough by stretching and folding: pull an edge of the dough 5" and tuck it into the middle of the dough, then rotate the dough 1/4 of a turn and stretch and fold again. Let the dough rest for 10 minutes.

Line a medium bowl with a floured towel, or use a banneton bowl with a linen cover and dust heavily with flour. If using dried rosemary or herbs, spread them across the flour before adding the dough. Add dough to bowl and let rise for 30 – 60 minutes.

Preheat your oven to 450º (without the Dutch oven pot). Cover the dough bowl with a long piece of parchment paper, and turn it over onto the countertop. Slash the top of the loaf with a lame or sharp serrated knife. Gently lower the parchment paper dough into a heavy pot with a tight-fitting lid. Add the lid. Do not preheat the pot.

Place the covered pot with your bread dough in the oven and bake the bread covered for 30 minutes. Remove the lid from the pot and bake for 20 more minutes. Remove the bread from the pot (this is why we use parchment paper) and bake it directly on the oven rack for 5-10 minutes to crisp the exterior.

Let bread cool at least one hour before cutting and serving.See Notes below for instructions on making garlic toast from slices of sourdough garlic bread.
Notes
Sourdough starter: use a discard or one that has been fed within the last 12-24 hours.
If you wish to substitute roasted garlic, use 1 tablespoon minced fresh garlic or 1 tablespoon of dried garlic. If using dried garlic, add it in with the flour when mixing the sourdough.
Store sourdough bread at room temperature in a bag for up to 5 days.
To Make Garlic Toast
Arrange 1/2-inch thick slices of sourdough into an even layer on a baking sheet or toaster oven pan.
Using a butter knife, apply a thin layer of butter onto one side of each slice of bread, then sprinkle a pinch of garlic salt over the butter.
Toast under an oven broiler or in a toaster oven until slices are toasted and golden brown.
Nutrition
Serving: 1slice | Calories: 293kcal | Carbohydrates: 59g | Protein: 10g | Fat: 1g | Saturated Fat: 1g | Polyunsaturated Fat: 1g | Monounsaturated Fat: 1g | Sodium: 242mg | Potassium: 90mg | Fiber: 2g | Sugar: 1g | Vitamin A: 7IU | Vitamin C: 1mg | Calcium: 19mg | Iron: 1mg
PIN THIS POST!
This post, first published February 26 2022, was updated with new content in September 2023.