Our sourdough bread pudding is a rich twist on an old favorite. While your average bread pudding is rather light and milky with a single note throughout, this chocolate chip bread pudding features melty chocolate drops among tangy chocolate sourdough. An array of textures and a mix of flavors make this a sourdough dessert to remember!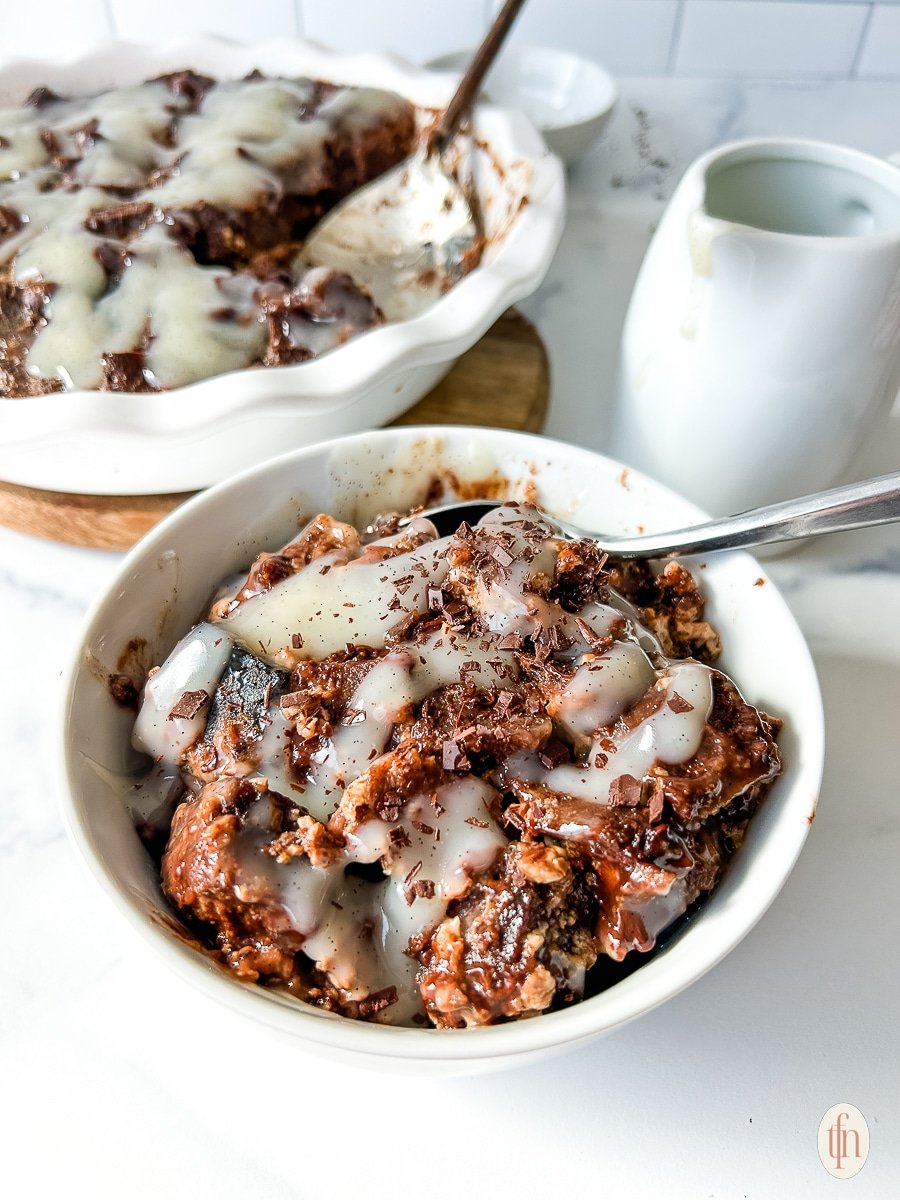 Why We Love Sourdough Bread Pudding
It's great when reheated!
Because sourdough bread pudding already has a soft, gooey texture, it's just as delicious and pleasant to eat after being refrigerated and reheated.
You can even make it with older bread that's gone stale.
In fact, this is one recipe that's better with stale crust — read on to learn why and how!
It's kid-friendly to make and munch on!
This recipe uses extremely simple steps — mix, pour, and bake — that the kids would love to help with! And once the spongy, chocolatey treat comes out of the oven, they'll be even more excited to take that first bite because they helped to make it!
Ingredient Notes and Substitutions
Chocolate Sourdough Bread – Brioche sourdough is a really popular choice for its chewy crust and tender bite. Whatever bread you choose, don't worry too much about uniform cubes — it all bakes the same!
Eggs – This important ingredient acts as a binder and holds the whole chocolate chip bread pudding together. As a result, there is no adequate substitute.
Whole Milk – 2% or skim milk would both soak the bread the same but will not add the same rich taste. Something to keep in mind as you consider substitutes!
Unsweetened Cocoa Powder – Looking to make a switch? Robust, bitter, and dark Dutch-processed cocoa would yield a unique, less-sweet flavor that stands out against the chocolate chips. And on the other hand, sweet hot cocoa mix is a sugary substitute the kids would love!
Chocolate Chips – Use any kind you like: semi-sweet, dark, milk, or even white chocolate!
Chocolate Chip Bread Pudding – Tips for Success
Stale sourdough is the secret to success!

This is one of Grandma's old kitchen hacks that turns out to be true. Just like Thanksgiving stuffing, breadcrumbs, and croutons, stale bread is best for making sourdough bread pudding!

If your bread is fresh, cube it and then bake for 15 minutes at 325ºF to achieve a similar texture.
Be sure to let the flavor soak in.

You may be tempted to cut a few minutes off the baking time, but the full 15 minute wait while the bread soaks in the seasonings is absolutely crucial for the final flavor!

If you bake too soon, the crumb won't have a chance to take in the cocoa, nutmeg, vanilla, and sugar before it all starts evaporating away.

This also helps prevent dry pockets of stale crust that may not have had the chance to soak!
Finish baking uncovered for a dark, delicious, textured finish.

There's one step left once you're in the home stretch! When there are only 10 minutes left on the clock, remove the foil and let your chocolate chip bread pudding bake uncovered.

This will allow any residual excess moisture to evaporate and the top layer of crust to brown. The result? A combination of textures that separates the crisped top from the gooey bottom!
Sourdough Bread Pudding Recipe FAQ
How do you keep sourdough bread pudding from getting soggy?
Don't cover too tightly with foil while baking. Either tent it or cut a few slits into the foil so that more moisture can escape while the dessert bakes. Otherwise, you'll steam itmore than bake it!

Using stale ingredients is another way to avoid a mushy mess.
Does bread pudding keep well?
It does! It can be refrigerated for up to 5 days but must be covered.

It freezes very well, too — for up to 3 months.
Why does my sourdough bread pudding fall after bringing it out of the oven?
It needs to rest! If you cut into it right away, it won't cool in that fluffy, risen shape and will instead deflate.

15 minutes or so of wait time should be enough. It takes about that long to be a comfortable eating temperature, anyway!
Serving Suggestions
Sourdough bread pudding is best served warm, just after cooling, while the top is still crisp and the center is gloriously gooey.
Fruit preserves, especially raspberries, are the best pairing for the rich, dark cocoa. And whipped cream, of course!
We also have a decadent vanilla sauce that seals the deal with just a little extra sweetness.
As it happens, these are some yummy ways to enjoy a variety of sourdough-based desserts. If this combination of fruity and tangy is your kind of dessert, we'd recommend taking a look at our old-fashioned sourdough cake or sourdough banana muffins next! They feature apples and bananas — two year-round, worldwide favorites we all find ourselves craving.
Recipe Variations
There are many requests for a dairy-free variation of this recipe.
Luckily, there isn't much you have to change! Replace the milk with any dairy-free alternative of your choosing. In fact, it lends itself nicely to sweeter, nuttier milk replacements because those flavors go so well with chocolate!
Just also make sure your chocolate chips do not contain any dairy, and you're good to go.
Double Chocolate Sourdough Bread Pudding
Sourdough Bread Pudding is a treat with the perfect mix of tangy and sweet! Bake beautiful chocolate chip bread pudding this holiday season!
Equipment
3 quart casserole dish

Aluminum foil
Ingredients
2 ½ cups chocolate sourdough bread cubed *see Notes
2 large eggs
2 cups whole milk
1 teaspoon vanilla extract
⅓ cup sugar
2 tablespoons unsweetened cocoa powder
1 teaspoon nutmeg
1 teaspoon salt
¾ cup chocolate chips
Instructions
Preheat oven to 350ºF. Grease casserole dish with butter or non-stick cooking spray. Add bread cubes to the dish; set aside.

To a medium mixing bowl, add eggs, milk, and vanilla; whisk well to combine. Stir in sugar, cocoa, nutmeg, and salt. Pour mixture over bread. Let sit for 15 minutes, so the bread can absorb the liquid.

Evenly sprinkle the chocolate chips over the bread mixture. Cover baking dish with foil. Bake covered for 30 minutes, then remove foil and contine baking for another 15 minutes.

Sourdough bread pudding is best served warm. If desired, serve with raspberry preserves and whipped cream on top, or drizzle with creamy vanilla sauce.
Notes
Day old or stale bread is best. If your bread is fresh, bake cubes for 15 minutes on a sheet pan in a 325ºF oven to dry them out.
Nutrition
Serving: 1serving | Calories: 459kcal | Carbohydrates: 74g | Protein: 12g | Fat: 15g | Saturated Fat: 9g | Polyunsaturated Fat: 1g | Monounsaturated Fat: 2g | Trans Fat: 0.01g | Cholesterol: 64mg | Sodium: 743mg | Potassium: 384mg | Fiber: 4g | Sugar: 35g | Vitamin A: 213IU | Vitamin C: 0.04mg | Calcium: 165mg | Iron: 2mg
PIN THIS POST!