Our vanilla sauce is the finishing touch you didn't realize your homemade desserts were missing! This fantastically floral dessert sauce recipe is one you can whisk together in a flash. Featuring pure vanilla right from the pod, you can prepare a simple indulgent vanilla sauce for bread pudding, chocolatey treats, or anything else you're planning to eat!
Great Reasons to Make Vanilla Sauce
It only takes about 10 minutes to make!
A little whisking, a little simmering, and a little more whisking are the only steps required to create a luscious, luxurious vanilla sauce for bread pudding (like our delicious chocolate chip sourdough bread pudding) or any other dessert that needs a little sweet moisture.
It pairs well with almost everything.
From dense sourdough chocolate bread to fruity blueberry pound cake, vanilla is a versatile flavor that can be drizzled deliciously on any dessert you can imagine — and almost any breakfast, too (like our sourdough French toast)!
You can freeze it for months to use whenever needed.
Even with the fat in the cream and butter, this is one dessert sauce you can jar and freeze for future use! Just transfer it to the fridge the night before you need to use it.
Ingredient Notes and Substitutions
Sugar – Plain white granulated sugar melts well to make sauces. However, powdered sugar or even a liquid substitute will work! Brown sugar is another option, but will alter the color.
Vanilla Bean – To substitute vanilla bean, use 1 teaspoon of vanilla paste or 2 teaspoons of extract.
Cornstarch – A very effective thickener that has little to no effect on flavor. Arrowroot powder will work in its place, but any other substitutes will alter the taste of this recipe.
Butter – Whether you use salted or unsalted is up to you. Salted butter adds a bit more dimension, but you could always salt to taste after preparing if you feel something is missing!

Vanilla Sauce for Bread Pudding – Tips for Success
Easily extracting vanilla from the bean.

To extract the sweet "caviar" from the pods, use a paring knife to slit the bean right down the center.

Then, carefully and slowly, run the tip of the knife down the inside of the pod. Do this on both sides of the pod to scrape as much out as possible!

Drop it directly in the sugar so that none of the contents are lost in transportation!
Let the sugar totally dissolve before adding the cream.

The cream is, of course, cooler than the water and will bring the temperature down once it's added. That's why you want to be sure all of the sugar granules have dissolved before adding the cream.

This sweetener dissolves easiest in heat and will have a harder time breaking down in the cooler liquid.
Pouring the cream into the hot pot.

Adding cream to hot water is a test of speed — you want to get everything in at once, moving continuously, so that the milk isn't altered!

Try to do so in one fluid motion. Slowly pour it into the pot while whisking constantly, making sure the cream is constantly moving. Then go ahead and drop the butter in, continuing to stir.
What should the final consistency be?

The sauce finishes and thickens up rather quickly as it's already thick from adding the sugar and cornstarch!

Once the butter is melted and everything is combined, lift the spoon from the pot. If the contents are thick and coat the spoon rather than a watery, drippy liquid dropping back into the pot, you're good!
Vanilla Sauce Recipe FAQ
How to make vegan vanilla sauce?
Any non-dairy milk is an easy substitute for heavy cream — with the understanding that it won't be as creamy. Full-fat coconut milk is your best option.

The butter can be skipped or, again, replaced with a vegan substitute. Avoid oil as it does not combine as well.

This variation is thinner, so you may want to let it cool so that the mixture thickens a bit more.
What is the difference between a rich sauce and a light sauce?
The addition of butter and fatty cream is usually the differentiator between a dense, thick dessert sauce and a thinner "glaze"-like drizzle.

In fact, if you prefer a thinner, lighter vanilla sauce for bread pudding or any other dessert, you can omit those two ingredients from this recipe and make it as-is!
Is vanilla paste the same as vanilla?
The paste contains thickeners. It has a strong flavor and can be a bit trickier to mix into dry ingredients.

Contrast this ingredient with extract, which is very delicate and liquidy. Ultimately, we find the caviar itself is best for incorporating into most desserts.
Serving Suggestions
When poured over a warm dessert, this vanilla sauce behaves like a glaze — coating and cooling in a gorgeous sheen. If you'd like it to remain thick and almost syrupy, apply it to your desserts once they've cooled.
Storing and Freezing
Bread pudding sauce must be refrigerated. Done so in an airtight container, it will keep for up to 5 days.
It can also be frozen for 2 or 3 months! Because it contains cream, let it thaw in the fridge rather than the countertop.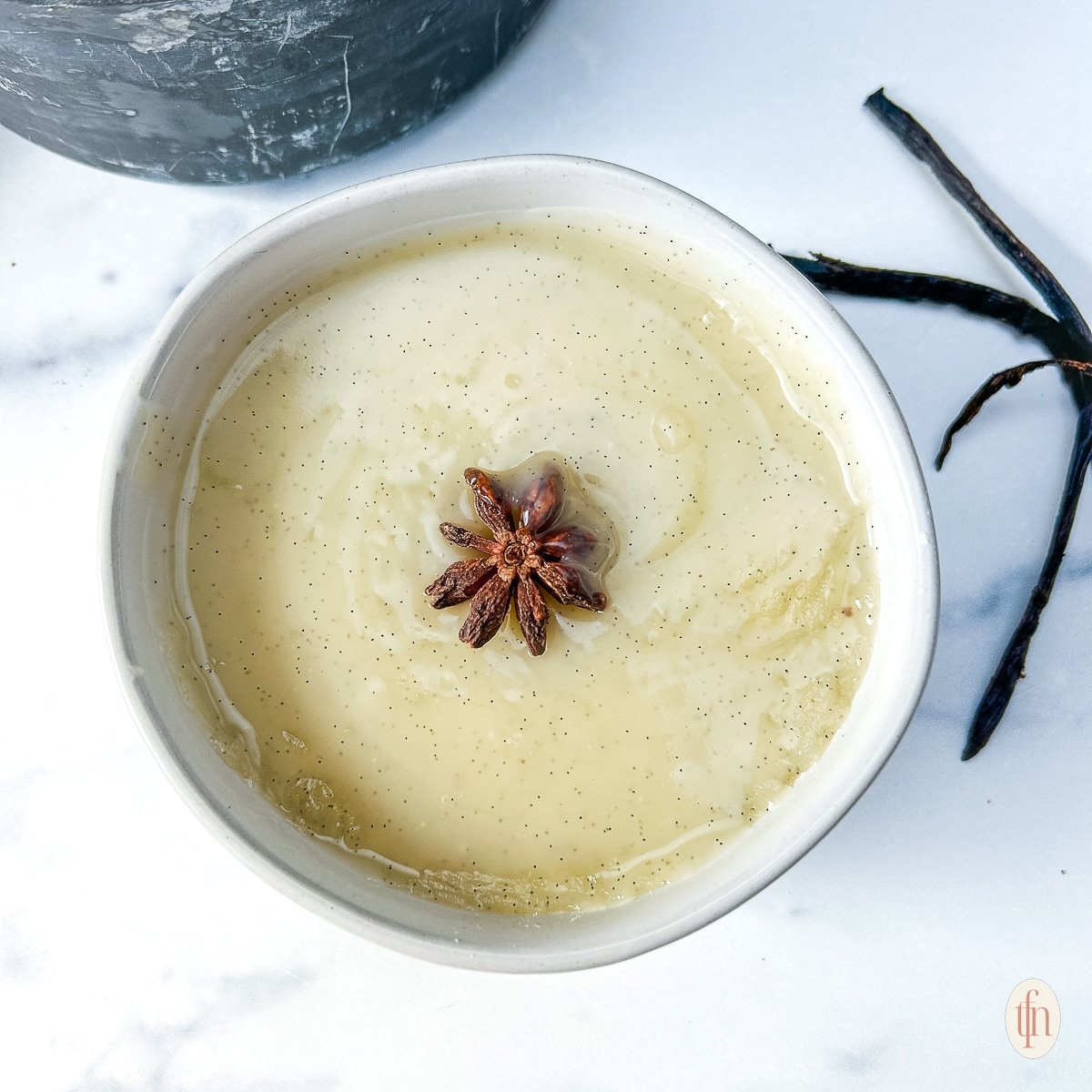 Vanilla Sauce for Bread Pudding (and Other Desserts)
Creamy Vanilla Sauce adds a delicate, floral flavor to desserts of all shapes and sizes! Whisk together this dessert sauce in 10 minutes.
Equipment
1.5-quart saucepan

small mixing bowl
Ingredients
¾ cup water
½ cup sugar
1 vanilla bean *see notes for substitutes
2 tablespoons cornstarch
¼ cup heavy cream
2 tablespoons butter
Instructions
Bring the water to a boil in a small saucepan over high heat.

Meanwhile, add the sugar to a small bowl. Using a paring knife, slit the vanilla bean down the center. Run the tip of the knife down the inside of each half of the vanilla bean pod to grab the "caviar", then add it to the sugar. Sprinkle the cornstarch over the sugar and vanilla, then whisk well to combine.

When the water comes to a boil, stir in the sugar mixture and reduce the heat to low. Simmer, stirring frequently, until the vanilla sauce thickens, 3-5 minutes. Remove the saucepan from the heat. Add heavy cream and butter, then stir with a silicone or wooden spoon until the butter melts.

Drizzle vanilla sauce over bread pudding or any other dessert and serve.
Notes
Vanilla bean substitutions: 1 teaspoon vanilla bean paste OR 2 teaspoons vanilla extract.
Nutrition
Serving: 1serving | Calories: 108kcal | Carbohydrates: 15g | Protein: 0.2g | Fat: 6g | Saturated Fat: 4g | Polyunsaturated Fat: 0.2g | Monounsaturated Fat: 1g | Trans Fat: 0.1g | Cholesterol: 16mg | Sodium: 26mg | Potassium: 8mg | Fiber: 0.02g | Sugar: 13g | Vitamin A: 197IU | Vitamin C: 0.04mg | Calcium: 7mg | Iron: 0.03mg
PIN THIS POST!