White bechamel cheese sauce is the perfect addition to many different main dish meals and appetizers. The flavor is rich and so delicious, you'll want to pour it over everything. Best of all, this white cheese sauce is very simple to make and it comes together quickly, too.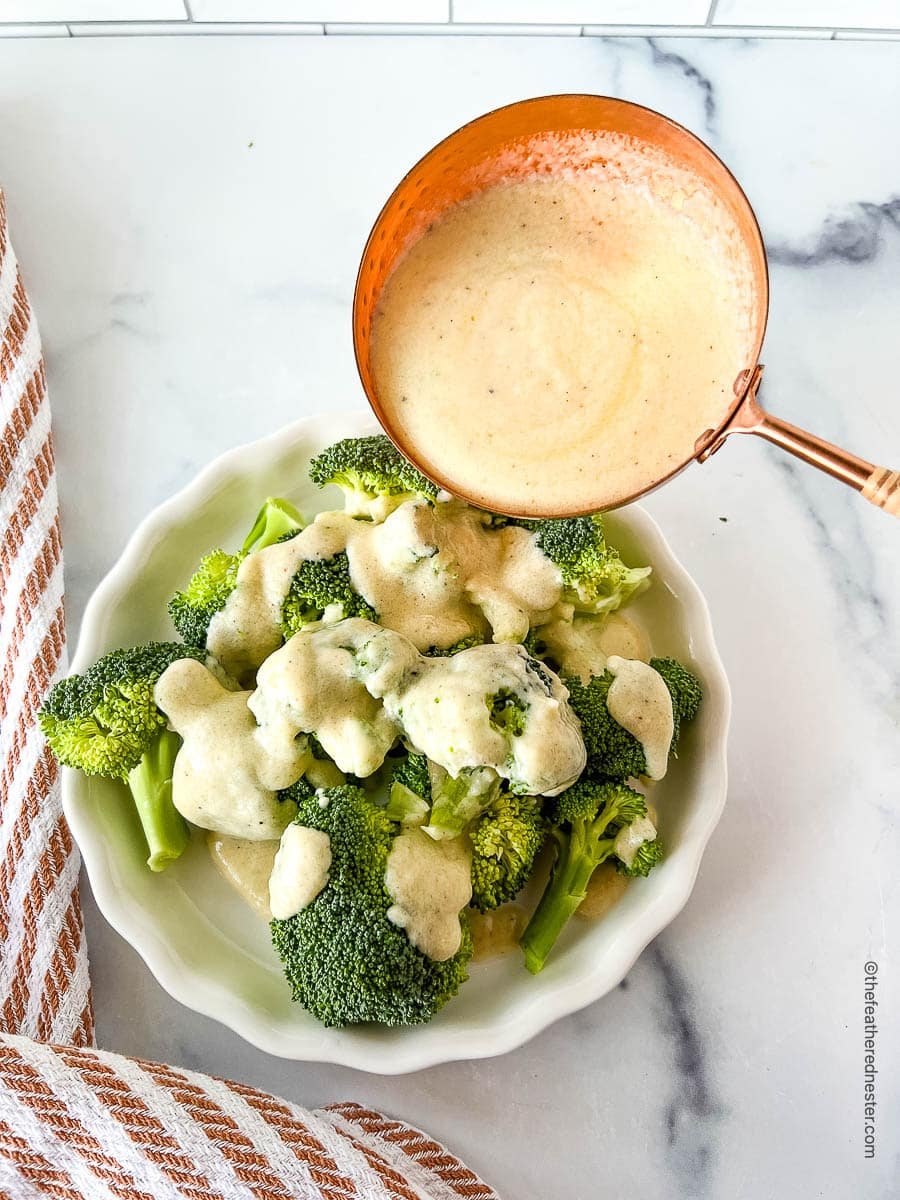 There are few things in life as comforting as a big bowl of pasta or veggies covered in a creamy, cheesy sauce. And this white bechamel cheese sauce is the perfect solution when you are craving the ultimate comfort food!
Why We Love Bechamel Cheese Sauce
You only need a few simple ingredients to make it.
Very versatile – there are a lot of ways to use this sauce recipe.
Easy to make and customizable.
Pasta is a favorite around here, so we make a lot of cheesy sauces! In my 20+ years of making white cheddar mac and cheese, I have learned that the secret to any deliciously cheesy dish is creating the perfect sauce.
Making a cheese sauce is really simple. It starts with a béchamel (a French word meaning white sauce). Béchamel sauce is just a cooked mixture of flour, fat (usually butter) and whole milk. To make a cheese sauce, all you do is melt shredded cheese into the white sauce.
There are many sauces and parts of other recipes that start with a béchamel, like chicken pot pie and lasagna. But, a cheese sauce recipe like ours is one of the easiest things you can make with it!
This is my family's favorite sauce, and I am so happy to be sharing it with you!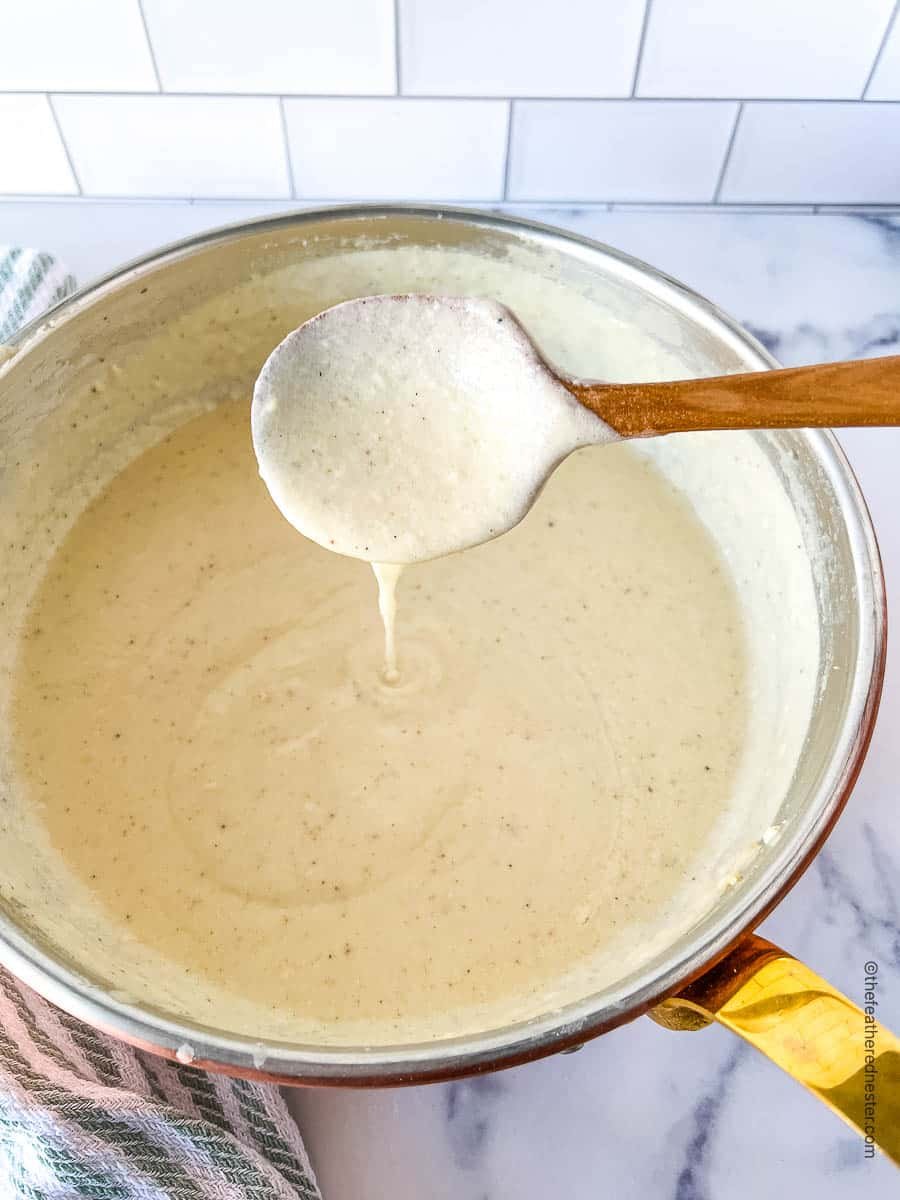 Ingredient Notes and Substitutions
Butter
Unsalted butter is the best choice to prevent your sauce from being too salty. If all you have in the fridge is salted butter, hold off on adding any salt until you taste the cheese sauce.

Milk
Using whole milk will create the creamiest consistency. 2 percent works, but the sauce will be thinner.

Cheeses
For a white cheese sauce, using white sharp cheddar cheese is a must. We also include Gruyere for another layer of flavor. It can be pricey, so feel free to use all cheddar if you need or want to.
PRO TIP!!
Use freshly grated white cheddar cheese for the best results. Packages of shredded cheese have anti-caking agents to keep the shreds from sticking together.

This means, the cheese doesn't melt as well. So, when you make the cheese bechamel sauce, it is worth the few extra minutes to grate a block of white cheddar yourself. It will give you the best results for a creamy white cheese sauce.
Kitchen Tools Needed
How to Make White Cheese Sauce
Melt butter.
In a large saucepan, melt butter on medium heat.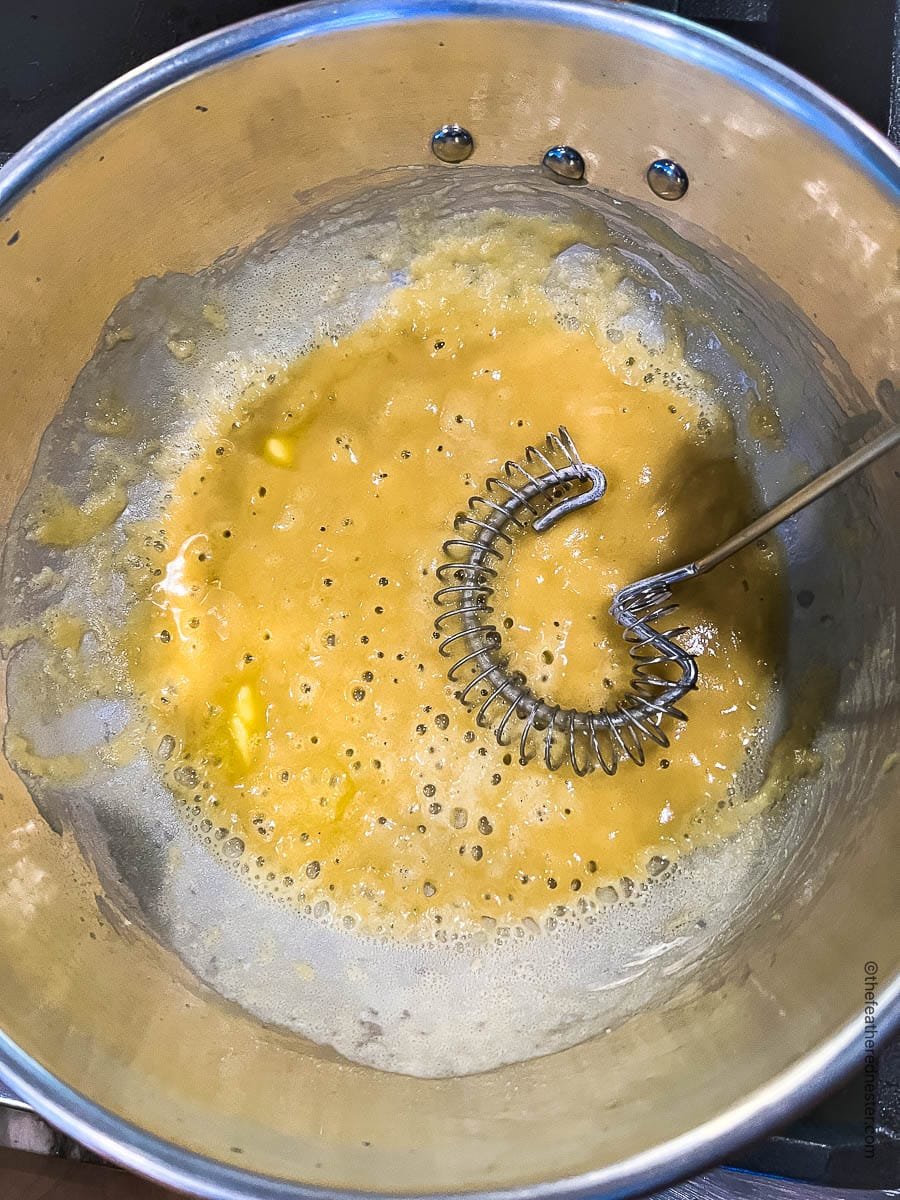 Add flour, stirring constantly with a whisk until it is thick and pasty, and cook for 2 minutes.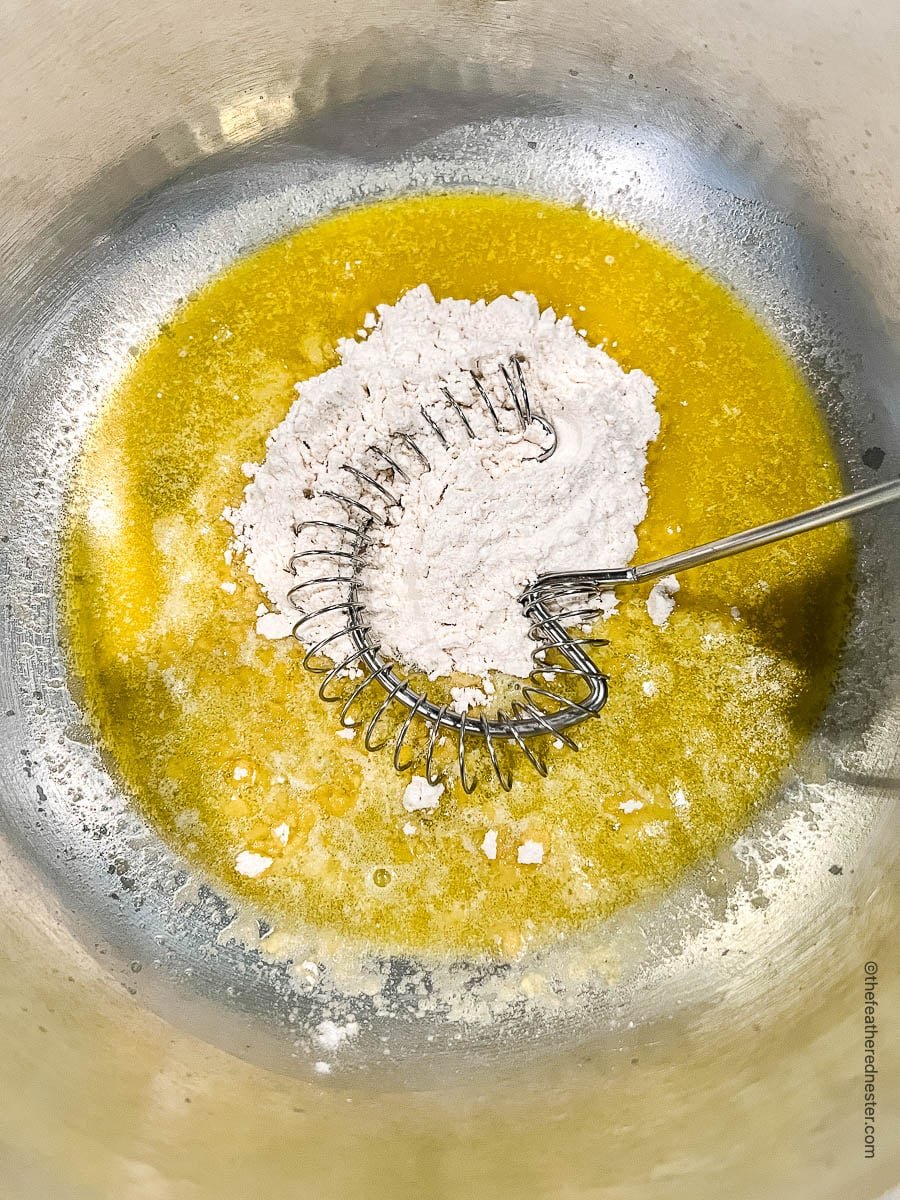 Add the milk.
Slowly add milk to the pan, 1 cup at a time. Stir the sauce well after each cup of milk is added. When the sauce is smooth, add salt, nutmeg, and pepper.

Simmer the sauce on low-medium heat until it thickens, frequently stirring.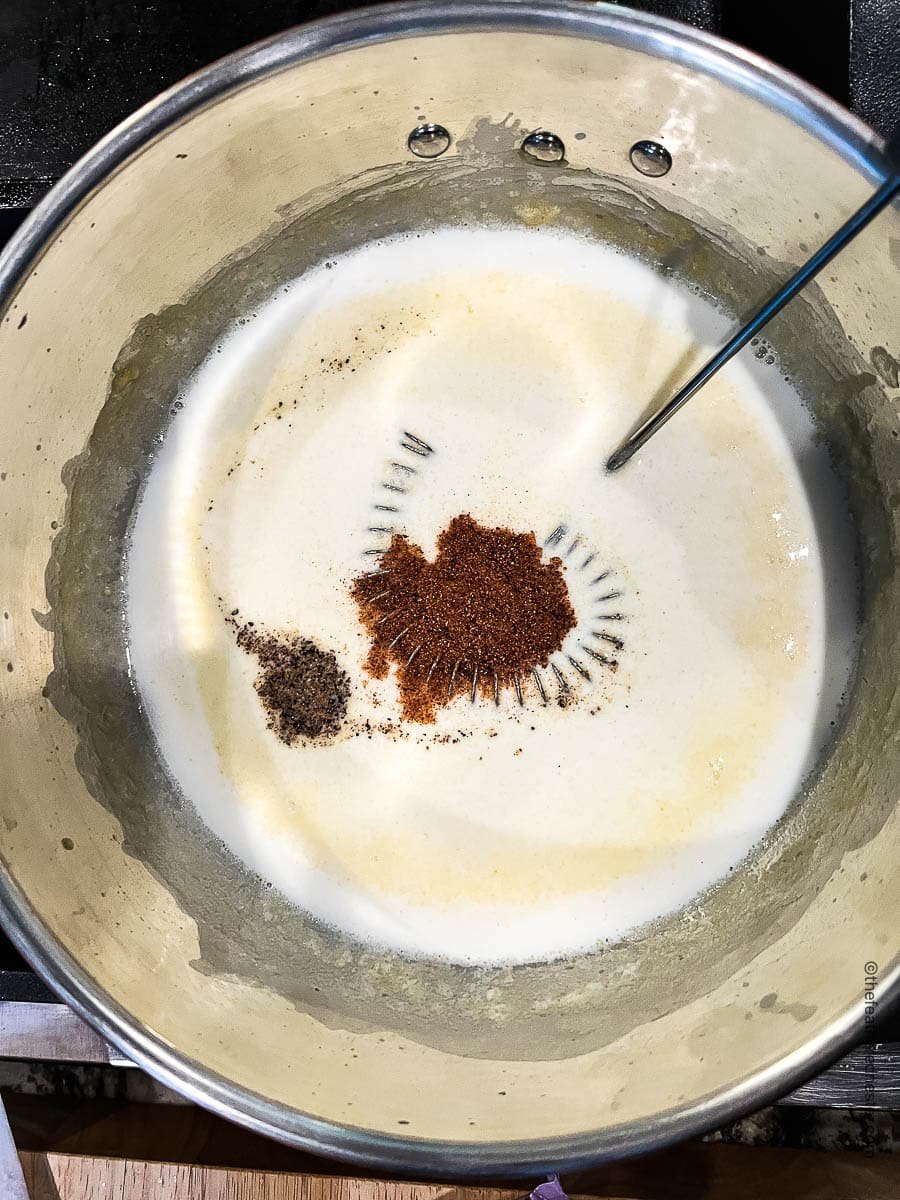 Add the cheese.
Stir in the cheeses to the sauce. Keep stirring until melted and creamy. The cheese sauce should be thick enough to coat the back of a spoon.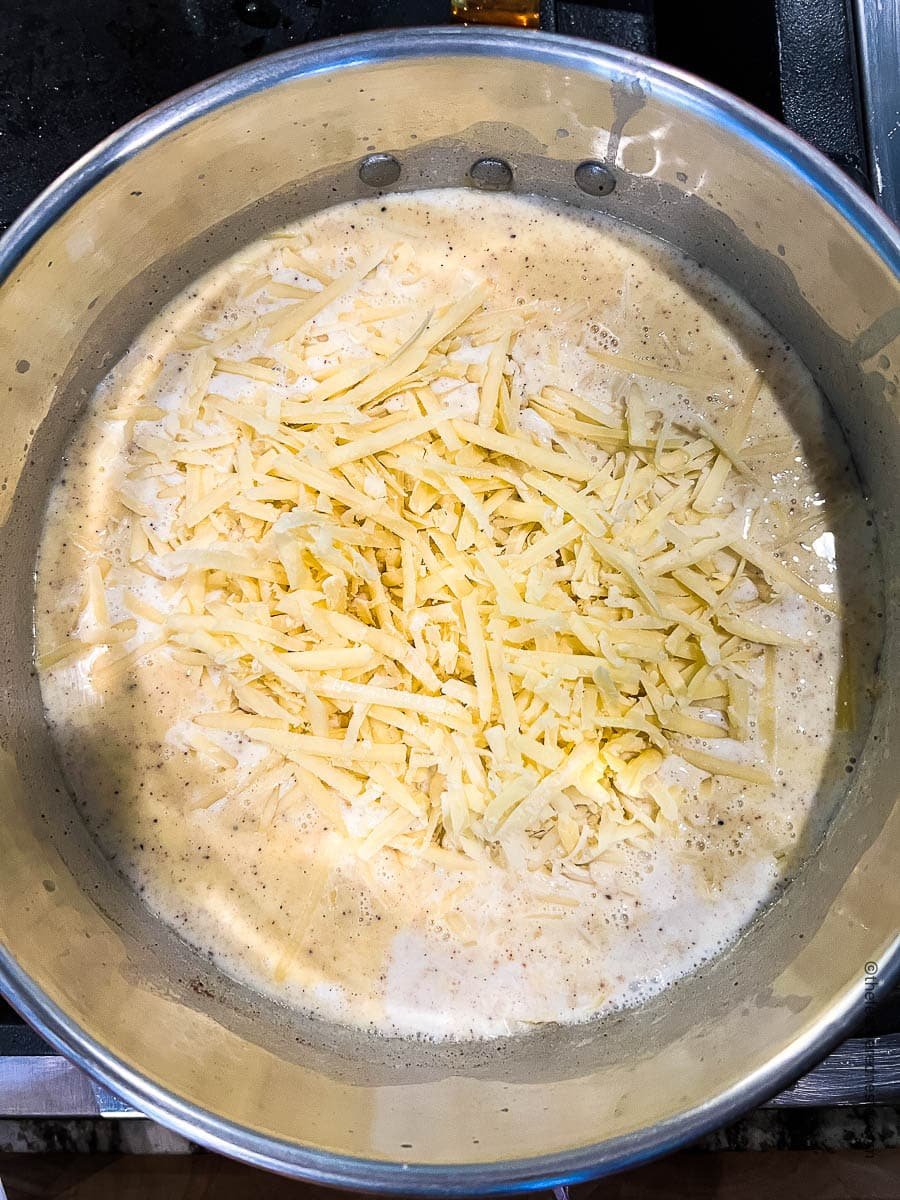 Ready to serve.
Remove from heat and you can use it right away or store it in the fridge for later.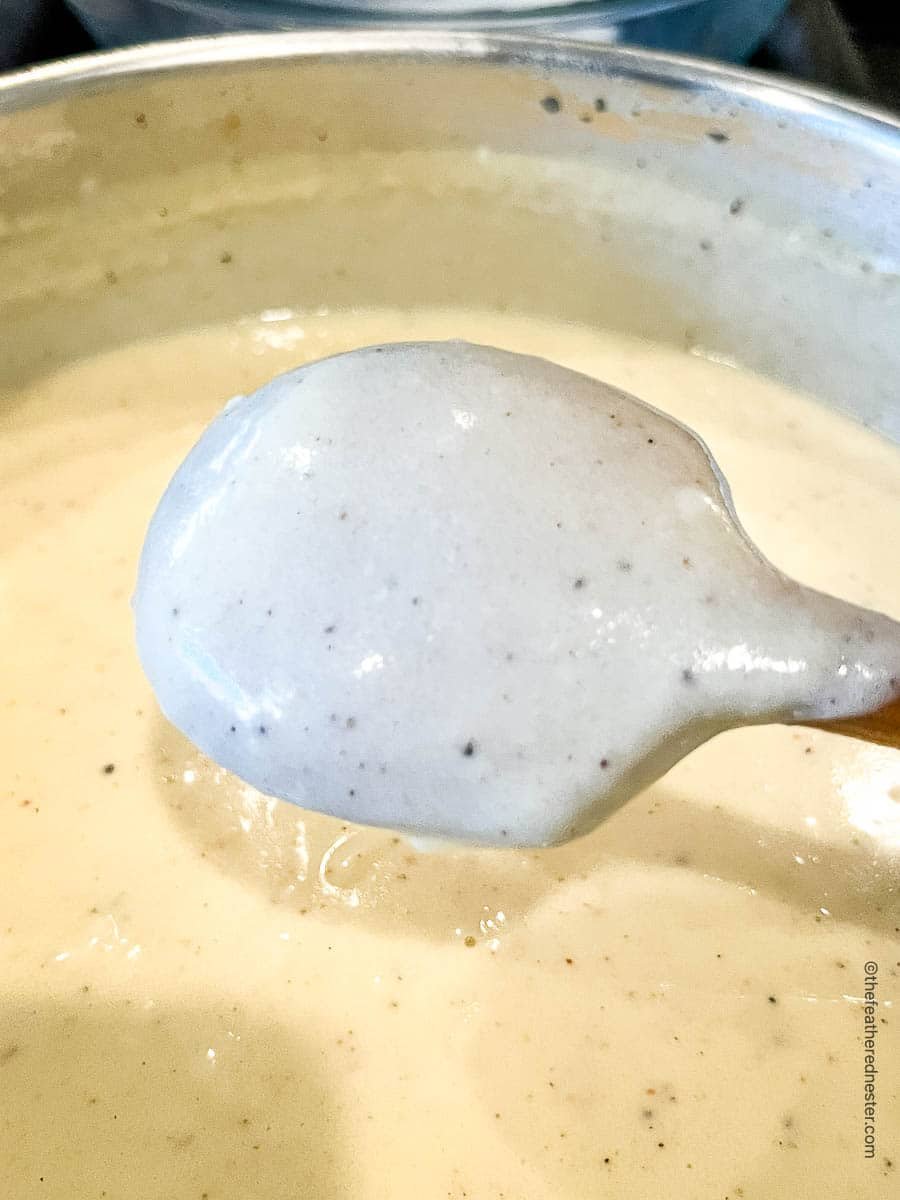 Recipe Variations
Add in some chopped broccoli or spinach for a nutritious boost.
Try using different cheeses like gouda, provolone, Monterey Jack, or Swiss.
For a spicy twist, add in some hot sauce, diced jalapeños, or red pepper flakes.
Add in cooked bacon or ham for a heartier dish.
To make parmesan white sauce, replace the gruyere cheese with parmesan cheese.
Uses For White Cheese Sauce
Some of our favorite uses include:
Traditional sauce – ladle it over pasta or steamed veggies.
Pizza sauce
For other recipes – You can use this to make recipes like Homemade Mac and Cheese and Smoked Mac and Cheese.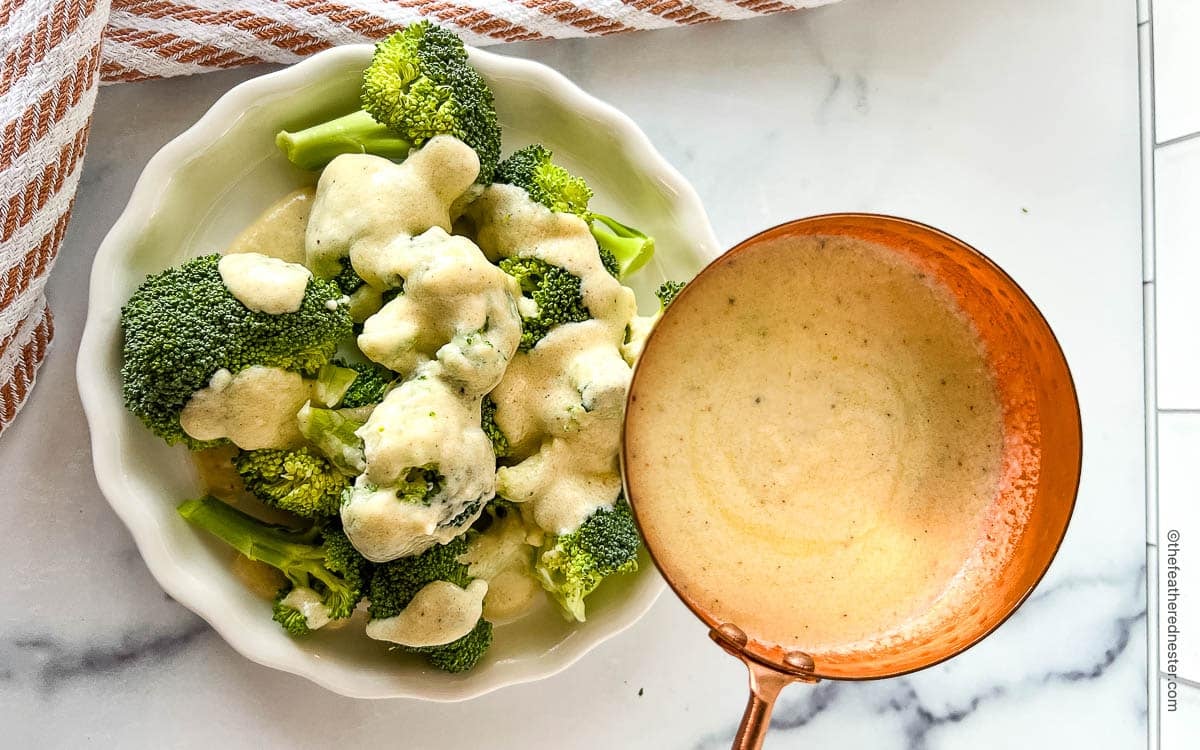 Storage and Reheating
The white cheddar cheese sauce can be stored in an airtight container in the fridge for up to one week.
When you're ready to enjoy it again, just reheat it on the stove over low heat until it's warm. You may need to add a little milk to thin it out again.
You can freeze your bechamel cheese sauce for up to three months. Be sure to store it in a freezer-safe, airtight container.
PRO TIP – Short on freezer space?
Pour the sauce into a gallon size zip top storage bag. Close and seal the bag, then lay it flat in your freezer to save space!
When you're ready to use it again, thaw the package overnight in the fridge. Be aware that the cheese may not melt as smoothly after being frozen.
White Cheese Sauce Recipe FAQ
How do you thicken white cheese sauce?
The best way to thicken white cheese sauce is by simmering it on low-medium heat until it reduces and thickens. This usually takes about 5 minutes. You can also add a little more cheese to the sauce if you want it to be even thicker.
Why does my cheese sauce go runny?
There are a few reasons why your cheese sauce might be runny. First, if you didn't cook the flour long enough, it will still be floury and won't have thickened the sauce.

If you added the milk too quickly, it could have curdled the sauce. Finally, If you didn't use enough cheese, the sauce won't be as thick and creamy.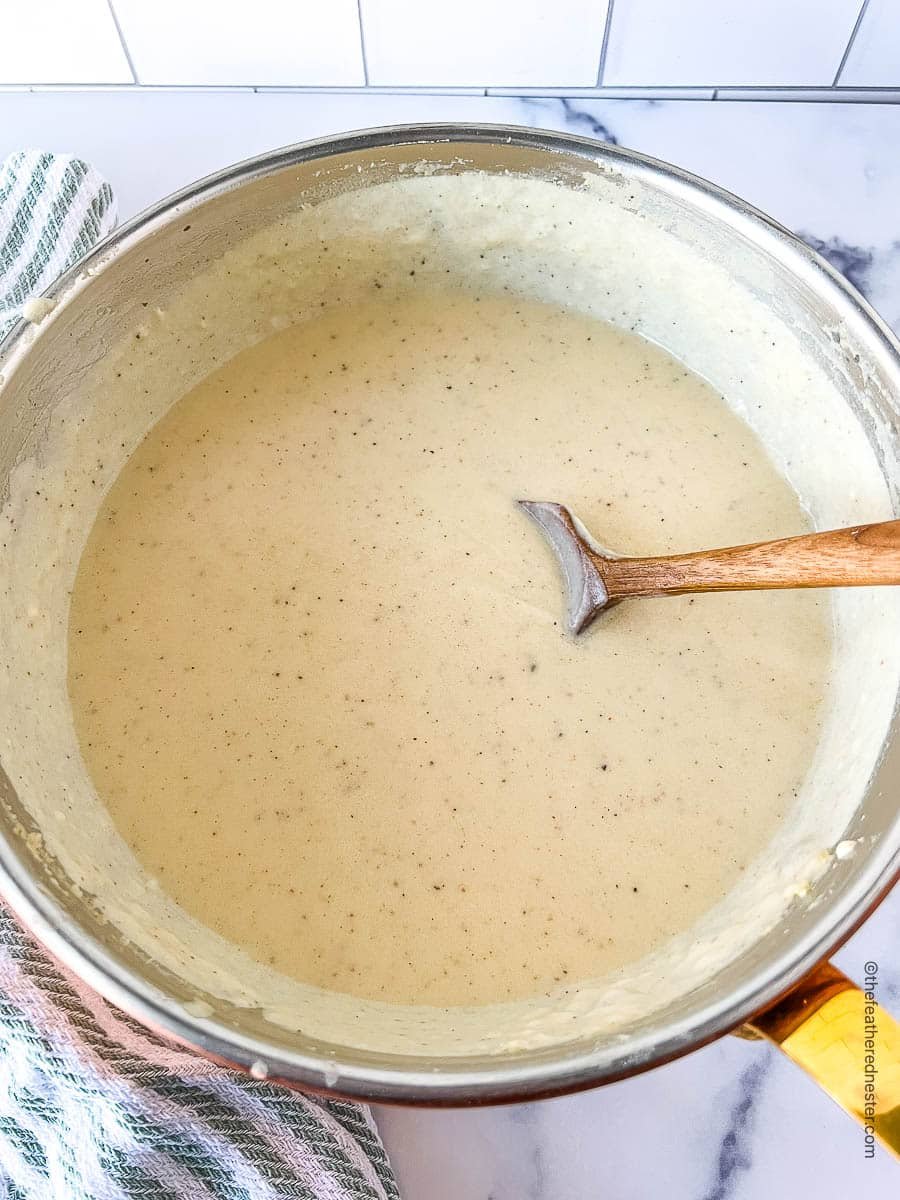 White Bechamel Cheese Sauce
White béchamel cheese sauce is the perfect topping for so many recipes! Perfect on pizza, pasta, vegetables, and as a hot cheese dip!
Ingredients
5 tablespoons butter
⅓ cup all purpose flour
4 cups milk
3 cups (12 ounces) white sharp cheddar cheese freshly shredded
1 cup (4 ounces) gruyere cheese freshly shredded (can substitute with sharp cheddar)
1 ½ teaspoons salt
1 teaspoon ground nutmeg
½ teaspoon ground pepper
Instructions
In a large sauce pan (at least 3 quarts), melt butter until bubbly on medium heat. Add flour, stirring with a whisk until thick and pasty. Cook for 2 minutes.

Slowly add milk, 1 cup at a time, stirring well in between cups until sauce is smooth. Add salt, nutmeg, and pepper.

Simmer on low-medium heat until the sauce has thickened, stirring frequently, about 5 minutes.

Stir in the sharp cheddar and the gruyere cheeses to the sauce.. Continue stirring until the cheeses are completely melted, and the sauce is creamy about 5 minutes. The thickened cheese sauce should coat the back of a spoon.

Serve white cheese sauce over pasta or vegetables. Or use as a dip for raw vegetables, pretzels and pretzel balls, cheese cubes, sausage balls, tortilla chips, or corn chips.
Notes
This recipe makes about 6 cups of white cheese sauce.
Mix this sauce with 12 ounces to 16 ounces of pasta to make macaroni and cheese.
I recommend using freshly shredded cheese. Pre-grated (pre-shredded) cheese contains anti-caking agents to keep the shreds from clumping together. That means the cheese won't melt as well when making a cheese sauce. It's worth the extra minutes of grating your own cheese for the creamiest cheese sauce possible!
See our Macaroni and Cheese Recipe for my tips on choosing the best cheese for the tastiest, creamiest cheese sauce.
Nutrition
Serving: 1serving | Calories: 427kcal | Carbohydrates: 8g | Protein: 23g | Fat: 34g | Saturated Fat: 20g | Polyunsaturated Fat: 1g | Monounsaturated Fat: 8g | Trans Fat: 0.2g | Cholesterol: 103mg | Sodium: 887mg | Potassium: 190mg | Fiber: 0.1g | Sugar: 4g | Vitamin A: 1058IU | Vitamin C: 0.01mg | Calcium: 720mg | Iron: 0.3mg
PIN THIS POST!