Instant Pot Steamed Broccoli is the easiest way to cook healthy veggies to serve with dinner. With our fail-proof tips and steamed broccoli recipe, you'll learn how to steam vegetables in the Instant Pot that turn out tender-crisp and delicious, every time!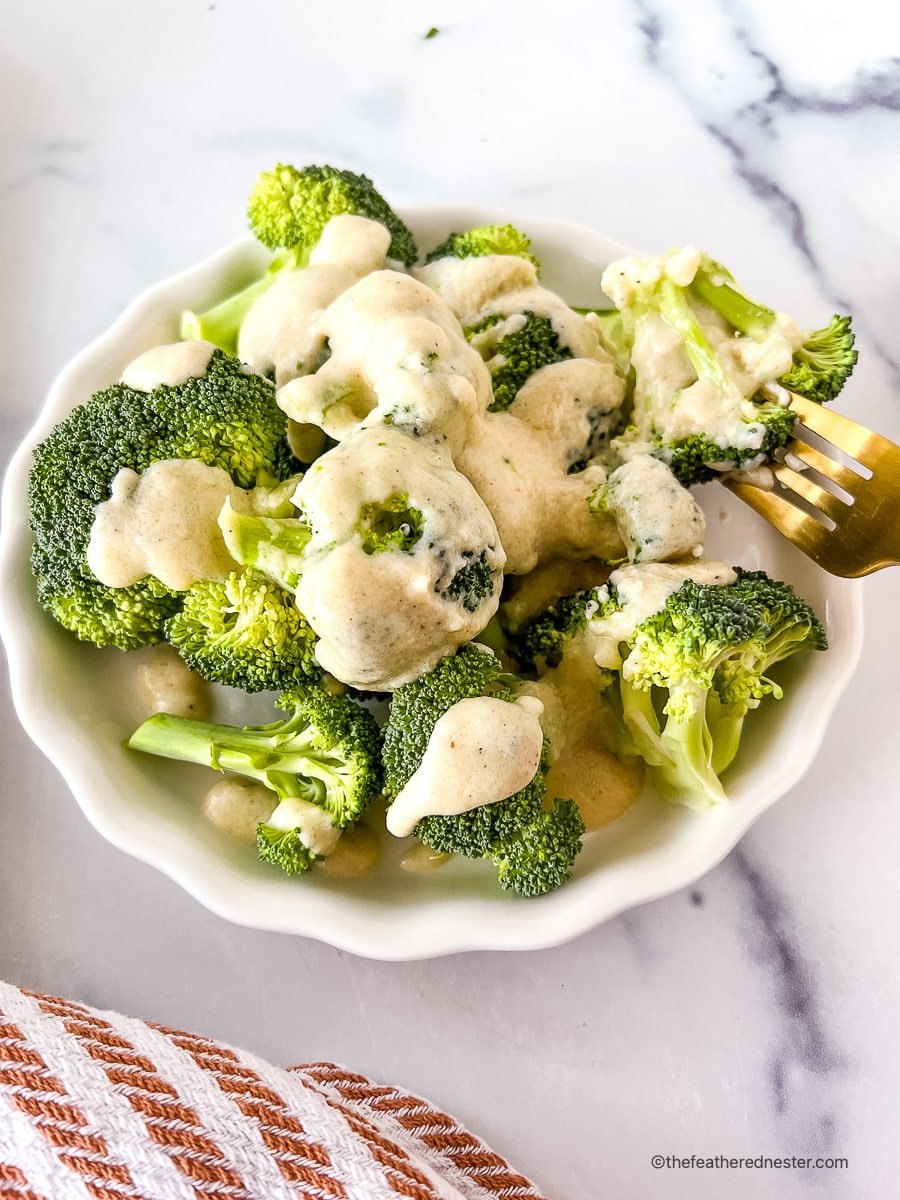 It can be hard to throw together a quick side dish that's also good for you – luckily, this meal takes just 10 minutes to prepare and tastes totally fresh and amazing!
Knowing how to steam vegetables in an Instant Pot will save you so much time and help you prepare your veggies in the easiest, healthiest way.
Reasons to Make Instant Pot Steamed Broccoli
It's the healthiest way to cook vegetables!
Baking and sautéing damages the exterior and destroys nutrients. Boiling lets all of the healthy stuff leak into the water. But steaming broccoli keeps those vitamins intact without adding any extra fat!
It's quicker than other cooking methods.
Not only is this the best way to steam broccoli, it's the fastest – most of the time in this recipe is just waiting for a natural pressure release!
It's adaptable and versatile.
Frozen or fresh, either way the broccoli will come out great! And you can use this recipe as a guide on how to steam vegetables in the Instant Pot of all shapes, sizes, and colors. It's really a one-size fits all situation!
Ingredient Notes and Substitutions
Broccoli – You can use either fresh or frozen. Trim to just the florets, and let frozen broccoli thaw a bit under running water before pressure cooking. Otherwise, you'll need to add a bit of time in the pressure cooker.
Salt – Salting the water is an easy way to flavor any steamed vegetables. Add extra seasonings of your choosing. Black pepper is always great, while a little bit of garlic, thyme, and lemon juice really elevates things – if you're feeling fancy!
New to Instant Pot Cooking?

Read How to Use the Instant Pot 101 first! Then, check out our Tips and Hacks for the Instant Pot. That post is terrific for new owners and seasoned IP-ers alike!
For Picky Eaters – How to Make Broccoli Taste Good
Broccoli in the Instant Pot is delicious on its own… but picky eaters might not think so! In this case, we have a couple of suggestions on how to make broccoli taste good, even to those with a veggie aversion:
Velveeta Cheese Sauce – It's a familiar taste we know and love! It almost makes Instant Pot steamed broccoli taste like broccoli and cheddar soup.
White Bechamel Cheese Sauce – This is a super simple, delicious homemade white cheddar sauce. It's so quick you can even make it while the broccoli is steaming!
Finally, a simple topping of parmesan cheese or melted butter could be just the thing to help that Instant Pot steamed broccoli go down easy.
Want to cook other veggies in your pressure cooker?

Try our Instant Pot green beans and vegetable rice pilaf recipes next!
Tips for Making Perfect Instant Pot Steamed Broccoli
1. Rinse the florets.
Rinsing the broccoli before steaming removes any dirt or debris. No need for extra dishes – place the florets right in the basket and run it under tap water.
Pour hot water into the pressure cooker pot.
Using hot water will help your IP come to pressure faster, saving you even more time! Finally, salt the water before you begin to season the broccoli during the steaming process.
Shock the steamed broccoli to stop the cooking.
Even after the pressure releases, the veggies are hot – use pot holders to remove the basket! Rinse the florets immediately under cold water. Otherwise, they'll continue to cook and soften before you can take your first bite!
Steamed Broccoli Recipe FAQ
How long do you steam broccoli in an Instant Pot?

It takes a total of 8 minutes to steam broccoli in an Instant Pot. 7 minutes of that time is bringing the IP to pressure and allowing for a natural release of pressure. The broccoli continues to steam during the process, so the timer is set to 0 minutes!

This is for tender-crisp broccoli. Add another minute if you'd like it softer.
Do you need a steam basket to steam in an Instant Pot?

Yes, because the water level needs to be below whatever it is you're trying to steam, you'll need a steamer basket to elevate the food.

If you have a steamer basket that isn't designed for your Instant Pot, you might need a trivet to hold it up out of the water. Some baskets have feet, allowing them to be placed directly in the water. Either way, a basket is a must!
Storing and Reheating
Reheating veggies will always cook them a little more and also make them softer. Because this steamed broccoli recipe is so quick, we really recommend cooking a fresh batch instead!
But if you do have leftovers, store them in an airtight container for up to 5 days. You can either reheat the vegetables in the microwave, or with a little water or on the stovetop. Ironically, it will take too long to reheat already cooked broccoli in the Instant Pot… it'll end up mushy too.
That being said, there are other simple ways you can use leftover cooked vegetables! Add them to a pot of bean and ham soup, toss them into a stir fry, or bulk up the nutrition in chicken fried rice.
Now that you know how to steam vegetables to perfection in your pressure cooker, the sky's the limit! What other healthy sides will be on your dinner menu this week?
Instant Pot Steamed Broccoli
Instant Pot Steamed Broccoli is the easiest way to cook healthy veggies! Learn how to steam vegetables in an Instant Pot in just 10 minutes.
Equipment
1 steamer basket
Ingredients
3 cups broccoli florets fresh or frozen
1 cup hot water *hot water helps the IP come to pressure faster
1 teaspoon salt or more/less, to taste
Instructions
Add broccoli florets to a steamer basket; rinse with tap water and drain.

Pour the water and add salt into the pressure cooker pot. Set the steamer basket of broccoli on the bottom of the inner pot of the pressure cooker. NOTE: *If your steamer basket isn't specifically meant for use in a pressure cooker, you may need to place it onto a trivet to hold it above the water. Some baskets have feet, so they can be placed directly into the water.

Place the lid on the IP and set it to "seal". Manually set Instant Pot to cook on high pressure for 0 minutes for tender but firm broccoli. (The vegetables will steam during pressurizing time).Use 1 minute for softer cooked broccoli. Turn the venting lever to close or seal, if needed.

When pressure cooking is done (listen for the long beep), use a quick release by carefully turning the lever or pressing the pressure release button. Use pot holders to remove the steamer basket. Rinse the broccoli under cold water to prevent it from overcooking, and drain before serving.
Nutrition
Serving: 0.5cup | Calories: 15kcal | Carbohydrates: 3g | Protein: 1g | Fat: 0.2g | Saturated Fat: 0.1g | Polyunsaturated Fat: 0.1g | Monounsaturated Fat: 0.01g | Sodium: 405mg | Potassium: 144mg | Fiber: 1g | Sugar: 1g | Vitamin A: 283IU | Vitamin C: 41mg | Calcium: 23mg | Iron: 0.3mg
PIN THIS POST!