Fried Cabbage with Bacon is a seriously simple, keto-friendly side dish, and it has so much flavor! This recipe comes together with just a few simple ingredients, and Irish cabbage is perfect for a St. Patrick's Day meal or side dish idea!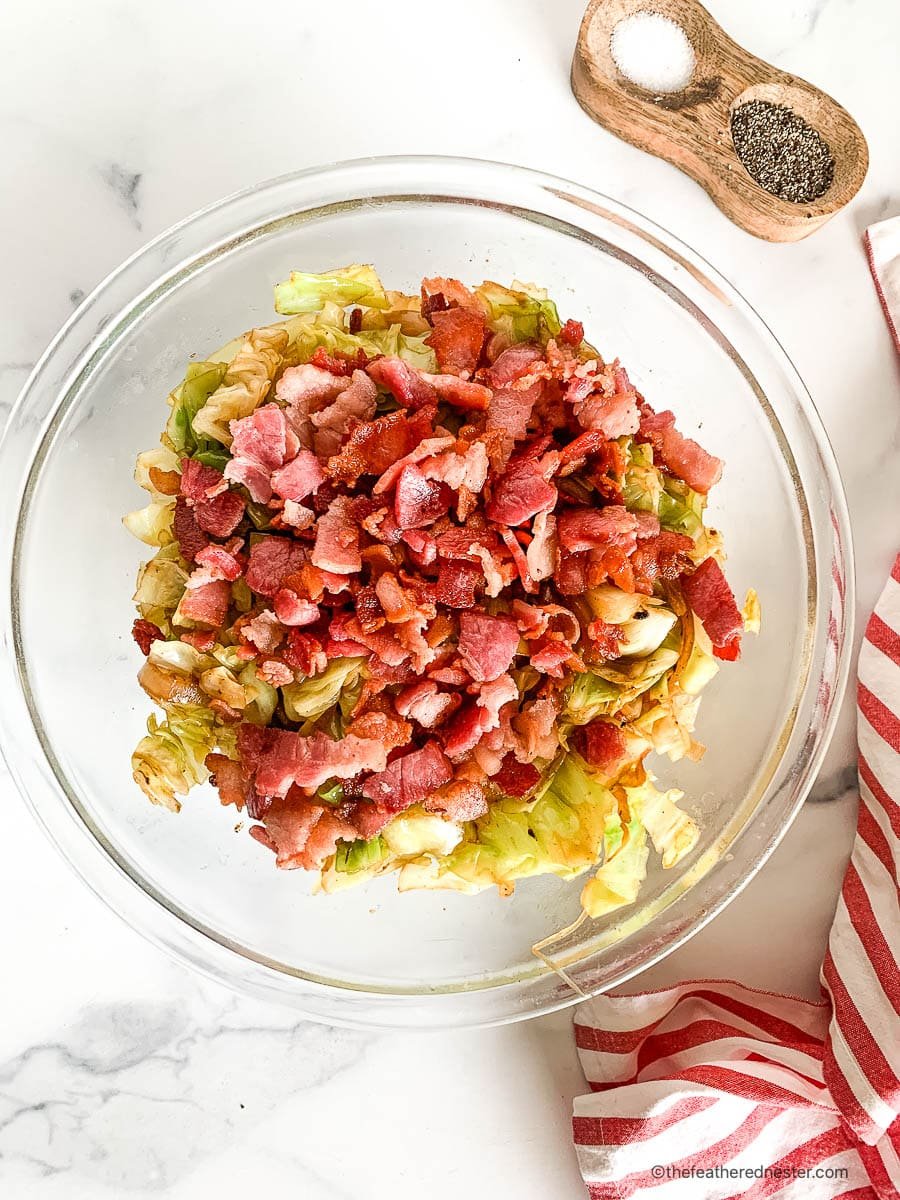 Who says you have to be Irish to celebrate St. Patrick's Day with delicious food? You won't hear that from us!
If you're tired of the traditional dishes like corned beef and beef stew, this easy cabbage recipe is just what you've been looking for!
Why We Love Fried Cabbage with Bacon
Only a few ingredients, but tons of flavor. So the veggie can be the star of the show, we use basic seasonings, plus a dash of Worcestershire sauce.
Pairs well with many different proteins. The flavors of this dish work well with nearly any protein.

We enjoy it with Nashville chicken tenders, salmon or other fish, buttermilk brined turkey breast, and even pork chops.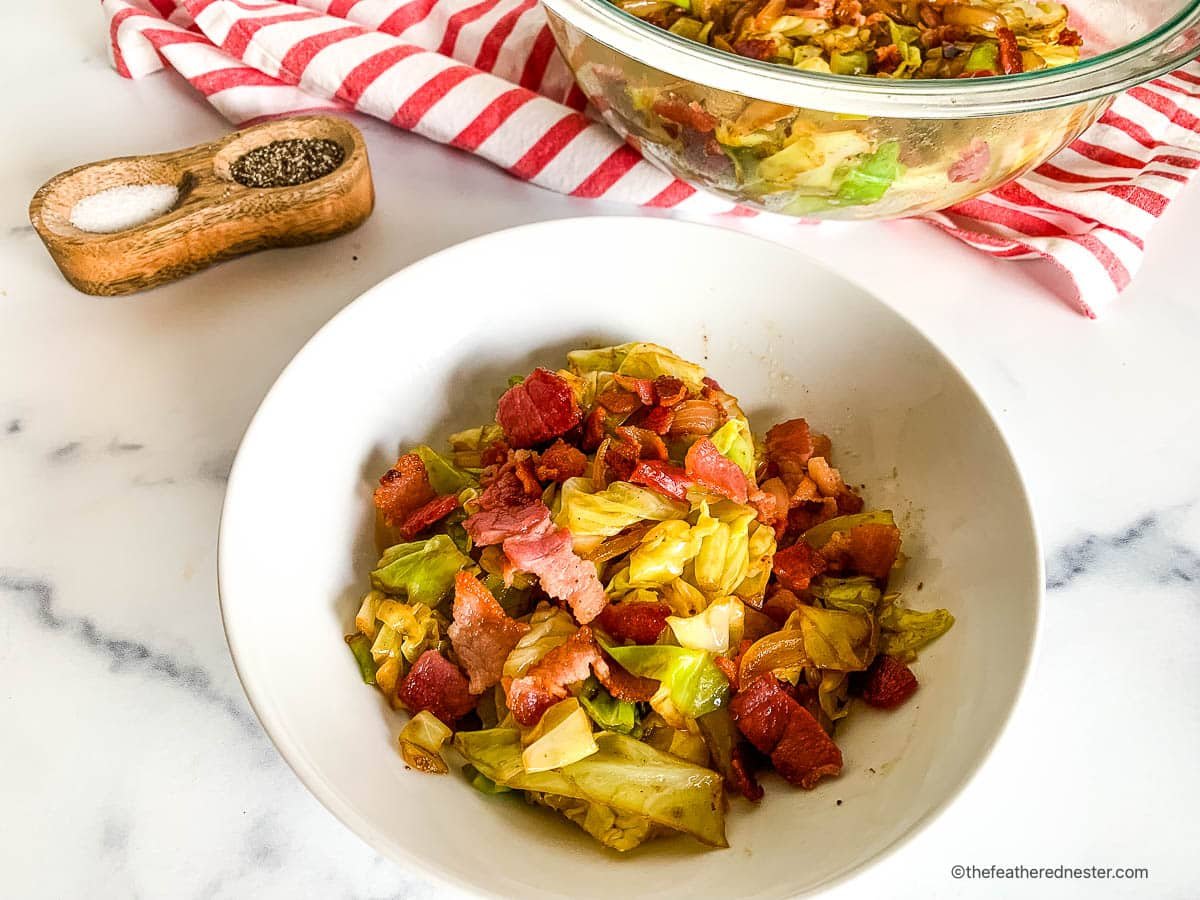 Ingredient Notes + Substitutions
Cabbage – Use your choice of green or purple cabbage. Generally, green is the color of choice for Irish cabbage recipes like this one.

Thick Cut Bacon – We don't recommend making this recipe with regular cut bacon slices. They tend to cook down too much, so you end up with very few crispy pieces.
Need a great use for the other half head of cabbage?

Chop it up and add it to the slow cooker for 15 bean soup or a pot of beefy Velveeta cheese soup!
Or, add a handful to a loaded hash brown potato casserole.
How to Cut Cabbage For Frying
Even though the veggie will cook down a bit, you can't just cook the leaves whole. You will still need to chop them into small pieces.
Before that, though, cut the head in half, right down the middle. Then, use a sharp chef's knife to remove the core in the center of the head.
PRO TIPS
Use a large knife, with a blade at least 7 inches long.
It's important that your knife has a blade that's long enough to cut completely through the head.
Support the cutting board.
Place a damp kitchen towel under your cutting board to prevent it from slipping.
If you need step by step instructions, read this article on how to cut cabbage.
Chop the bacon crosswise, into 1/4 to 1/2-inch pieces.
Keep in mind; bacon fat cooks out (renders), so the fully cooked bacon pieces are much smaller.
Kitchen Essentials for This Recipe
Cutting board
Heavy skillet or wok
Tips for Making Fried Cabbage with Bacon
Prep ahead to save time.
If you're big on meal prep, definitely cut the cabbage ahead. As long as it's in a covered container, it will stay fresh in the fridge for up to 5 days.

To shave a few minutes off of the cooking time, fry your bacon up to 3 days ahead. Store it in a Ziploc bag or a covered container in the fridge.
Important Note:
If you cook the bacon ahead, drain the pan drippings into a jar with a lid. You need the bacon fat to fry the cabbage in. Bacon grease will keep at room temperature for up to 4 days, or in the fridge for a couple of weeks.
Another fantastic way to use bacon grease (aka, liquid gold!) is in cornbread! We have several cornbread recipes, including one with creamed corn, a dairy free version, and cornbread with self rising flour.
Caramelize the onions for the best flavor.
Caramelizing onions makes them sweeter. That sweetness adds fantastic flavor to the Irish cabbage. Just avoid overcooking them. It only takes about 8 minutes to cook them down.
Irish Cabbage and Bacon FAQ
Is it okay to fry cabbage in a cast iron skillet?
Using a cast iron pan is one of the best ways to make fried cabbage! Similar to a wok, cast iron holds in a lot of heat. This helps the cabbage (and bacon) to cook quickly and become crispy.
Is fried cabbage good for you?
Absolutely! Not only is this cabbage side dish delicious, but the recipe is gluten free, low carb, and keto-compliant.
Storing Leftovers
This recipe makes enough fried cabbage to serve 6 people as a side dish, or 3 for a main dish.
For the best flavor, enjoy this side dish warm, on the day you make it. If you have any leftovers, refrigerate them in a covered container and use them up within 4 or 5 days.
The easiest way to reheat it is in the microwave, at 50% power, but the best way to reheat cabbage and bacon is to put it back into a skillet over medium heat. Stir it gently until it warms through.
Irish Fried Cabbage with Bacon
Fried Cabbage with Bacon is a seriously delicious, easy side dish! Make our Irish cabbage recipe to serve with your St. Patrick's Day meal.
Equipment
Heavy Dutch Oven with Lid - or other heavy pot with lid
Ingredients
6 slices thick sliced bacon sliced crosswise into 1/2-inch strips
1 medium yellow onion thinly sliced
3 cloves garlic minced
½ large head green cabbage quartered, cored, and sliced into 1/2-inch-thick slices
1 teaspoon salt divided
¼ teaspoon ground black pepper
2 teaspoons Worcestershire sauce
Instructions
Add the cut bacon to a Dutch oven or heavy pot with a lid. Set over medium-high heat and cook until fat renders and bacon is crispy, about 7 minutes. Using a slotted spoon, remove the bacon. Transfer to a paper-towel-lined plate and set it aside to drain. Do not wipe out the pot.

Lower heat to medium, then add the onion, garlic, and 1/2 teaspoon salt to the pot.Using a wooden spoon, stir and scrape up any browned bits from the bottom of the pan. Cook until the onion is very soft, about 5 minutes.

Stir in the cabbage, remaining 1/2 teaspoon salt, and black pepper to the pot. Cook until the cabbage softens, about 5 minutes. Place the lid on the pot, and reduce heat to low. Cook, stirring occasionally, until the cabbage is very tender, about 15 minutes.

Once the cabbage is tender, increase the heat to medium-high. Add the Worcestershire sauce and stir to combine. Once all liquid has been absorbed, transfer cabbage to a large serving bowl. Top with reserved bacon and serve.
Nutrition
Serving: 0.75cup | Calories: 285kcal | Carbohydrates: 7g | Protein: 1g | Fat: 28g | Saturated Fat: 11g | Polyunsaturated Fat: 3g | Monounsaturated Fat: 13g | Cholesterol: 27mg | Sodium: 471mg | Potassium: 179mg | Fiber: 2g | Sugar: 3g | Vitamin A: 77IU | Vitamin C: 30mg | Calcium: 40mg | Iron: 1mg
PIN THIS POST!