This baked hash brown casserole tastes as good as a loaded baked potato, but even better thanks to a kick of ranch flavor. And is a terrifically easy recipe! It is made with fresh or frozen shredded potatoes – no soup needed! – and only one prep bowl. Then the casserole is ready to enjoy warm from the oven in under an hour. It's a deliciously cheesy, bacon-y comfort food side dish that's perfect for cold evening dinners and great to serve at potlucks and BBQs. Everyone loves these creamy loaded ranch potatoes!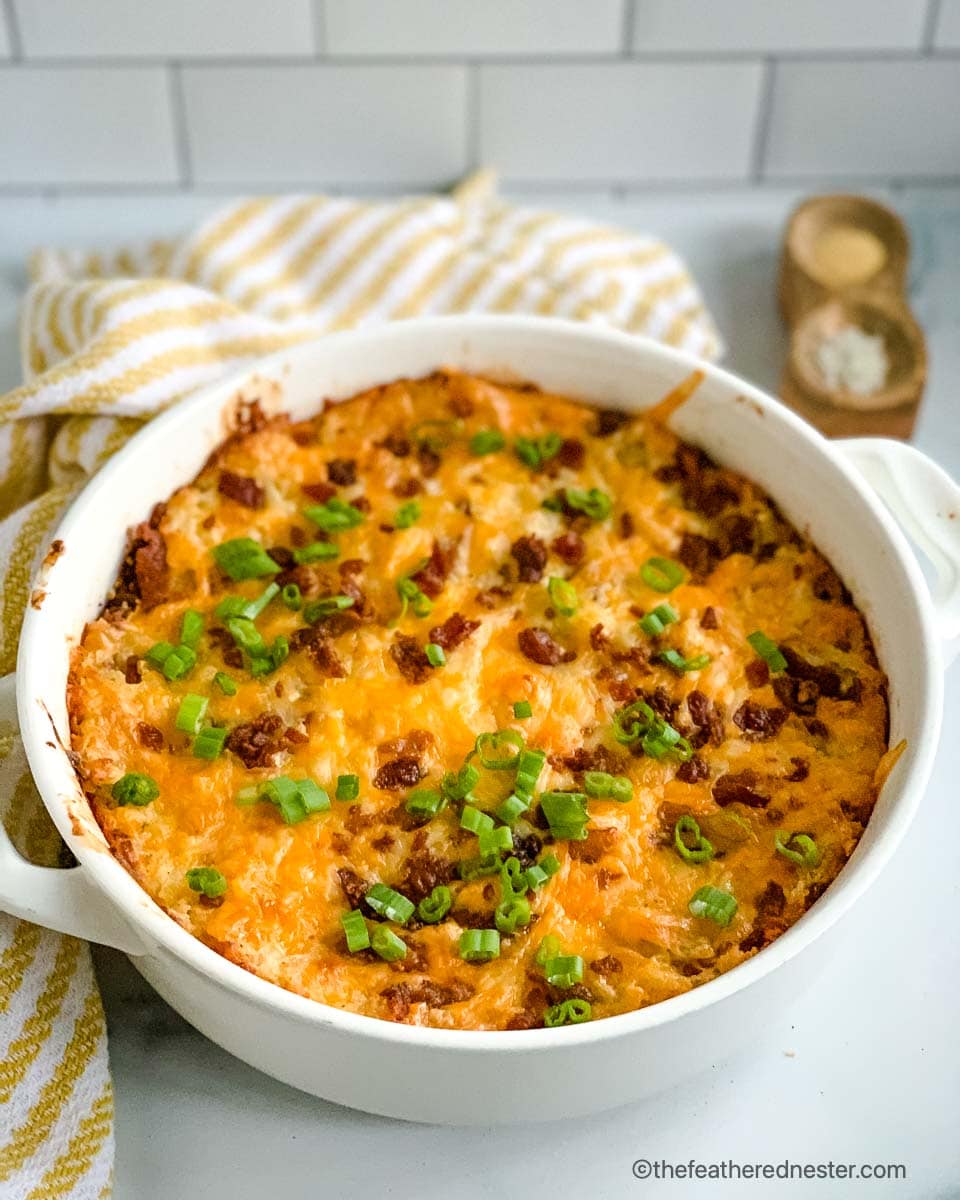 Why You'll Love a Loaded Hash Brown Casserole
Our family loves a warm, cheesy, and satisfying hash brown casserole as a hearty side dish. You'll love how simple it is to make!
Shredded potatoes are combined with cheese and other pantry staples then baked while the rest of dinner is prepared. I like to serve this cheesy potato side dish with Baked Chicken Tenderloins – I just drop the temperature down to 350º for the last 15 minutes and let them bake together – and green beans.
Cheesy potato casseroles can also be served for breakfast, brunch, or dinner. Bake or cook them in a pressure cooker or air fryer, make-ahead to have them at the ready, or prepare them fresh to serve. There are so many terrific options!
Like our Cracker Barrel Hash Brown Casserole, this loaded hashbrown potato casserole is savory, creamy, and oh-so-delicious. But you can make this hash brown casserole without soup.
The ingredients are similar to our Instant Pot Loaded Potato Casserole, but instead of mashed potatoes, it's made with fresh or frozen shredded potatoes for even easier prep.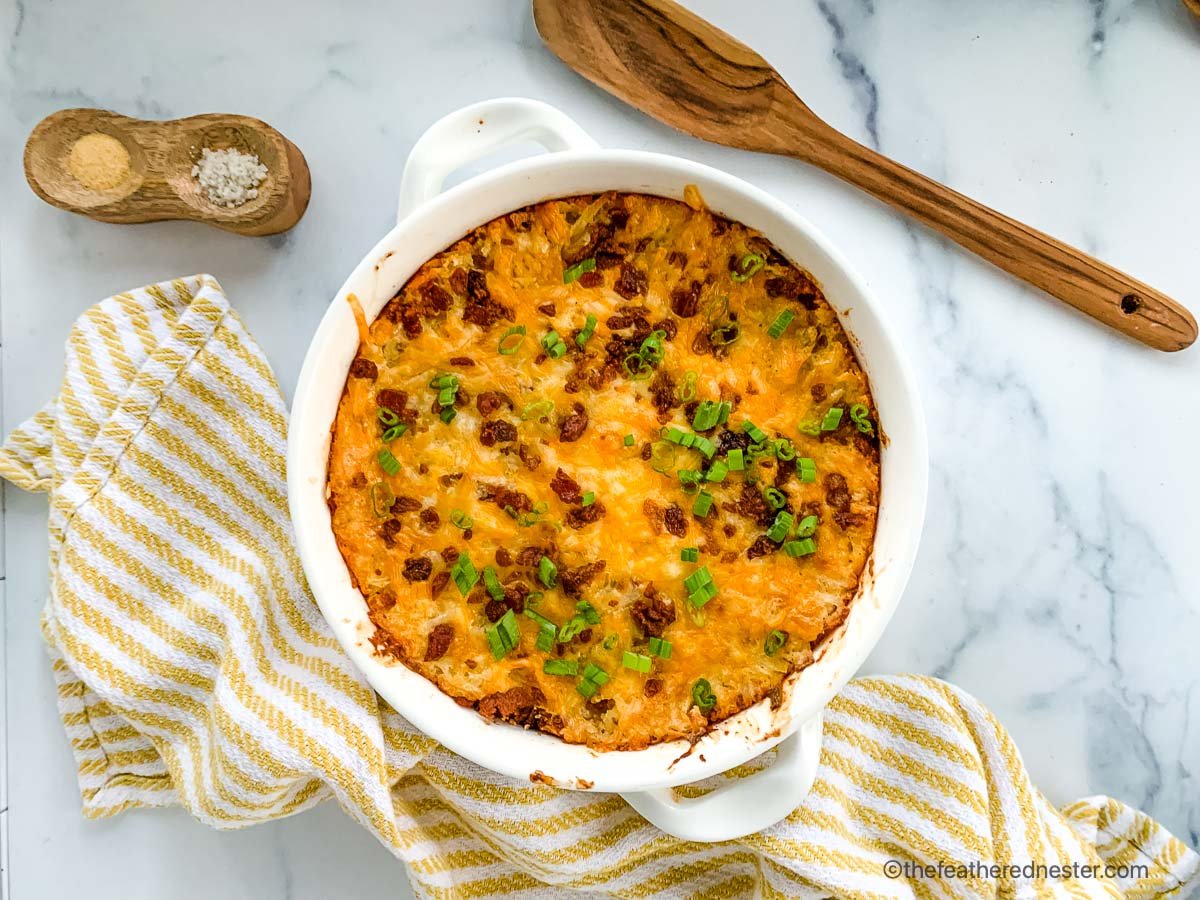 This utterly tasty and comforting dish features hashbrowns, cheddar cheese, bacon, and sour cream. That's right… Here's a delightfully creamy hashbrown casserole made without soup.
And for an extra kick of flavor, we also add ranch seasoning mix to the recipe. It gives the casserole a slightly tangy taste that makes everyone happy!
I typically keep a bag of frozen hash browns in the freezer to make a last-minute delicious hash brown casserole. But I often buy Simply Potatoes, made with fresh potatoes, to keep in the fridge. Then there is no thawing needed so prep is nearly effortless. Not only are they great for making casseroles, but we love serving Simply Potatoes fresh potatoes with a side of scrambled eggs for breakfast.
Whether you use frozen or fresh potatoes this easy casserole can be made ahead and frozen.
Just prep the casserole in five minutes and bake for less than an hour, then serve with your favorite main dishes!
It's sure to please the family or a room full of hungry guests. But be prepared, you are going to get a lot of requests for seconds.
Ingredient Notes and Substitutes
There are less than a dozen simple ingredients in our easy recipe. And nope, there is no soup on the list! For this side dish you need:
Make your own homemade ranch dressing mix: 2 Tablespoons buttermilk powder (optional), 1 Tablespoon garlic powder, 1 teaspoon dried parsley, 1 teaspoon dried chives, 2 teaspoon onion powder, 1 teaspoon dried dill.
If using fresh dried spices the ranch dressing seasoning mix will keep well for up to a year at room temperature. Simply combine the ingredients and keep in a sealed container with your other spices. So feel free to double the ingredients listed above to have an extra batch ready to use!
Renae Recommends and Uses This Equipment
How To Thaw Frozen Hash Browns
Wondering how to thaw hash browns fast and easy? I did, too, so I tested it out!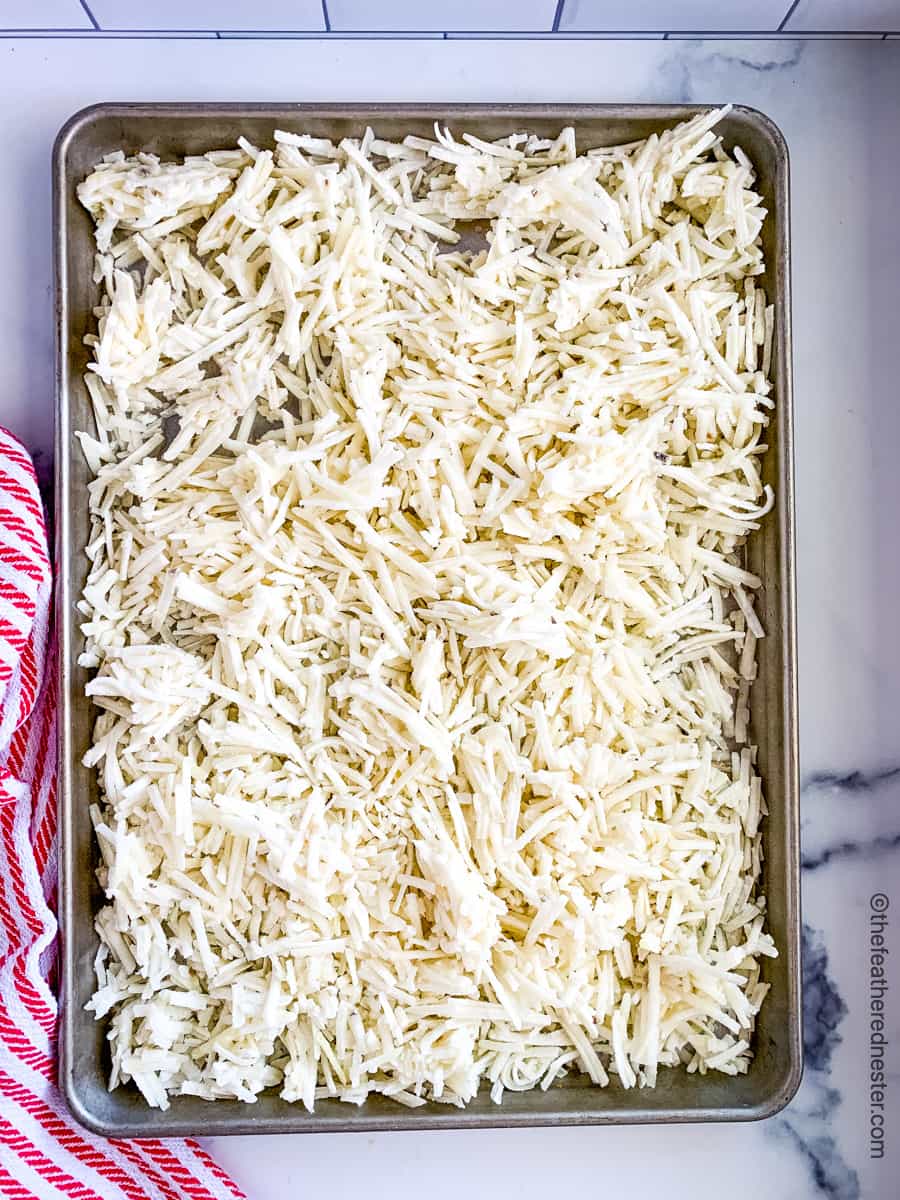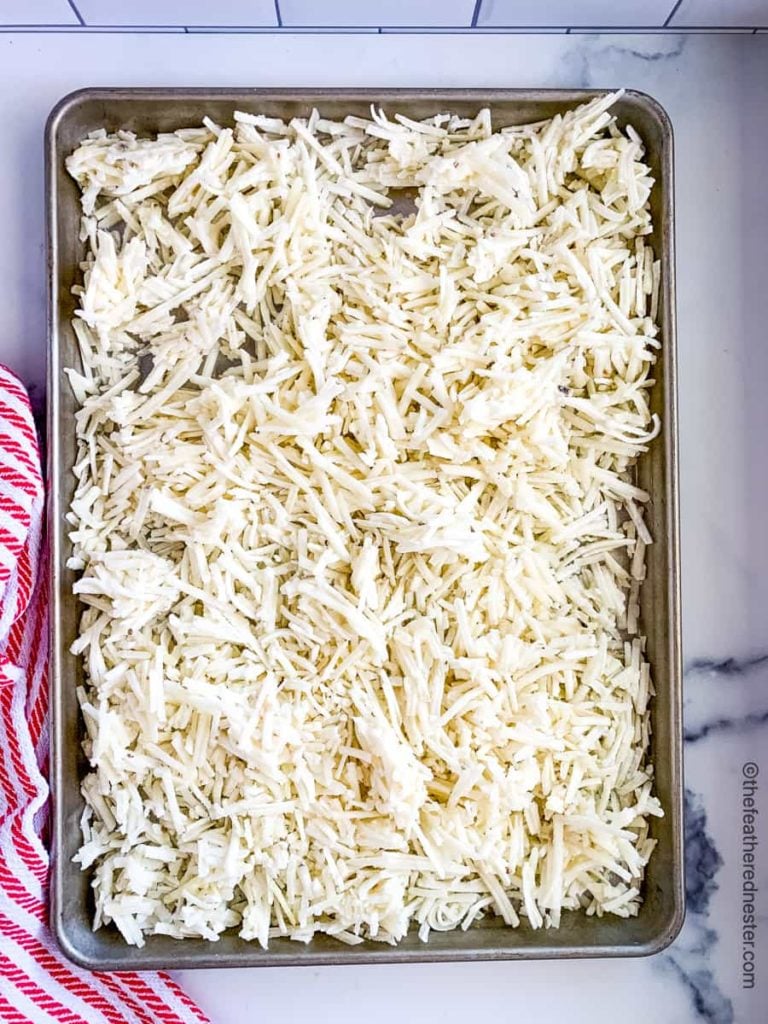 Here are three easy ways to defrost hash browns:
Add the frozen hash browns to a large baking sheet, spreading them evenly. Let them defrost on your countertop for 30-60 minutes.
2. If you're in a hurry, add the frozen hash browns to a baking sheet and bake them at 170º Fahrenheit for 15 minutes to thaw them.
3. You can also thaw frozen hash brown potatoes in the bag they came in overnight in the refrigerator. Be sure to put a plate or container underneath them while defrosting in the fridge to catch any fluid during the defrosting.
TFN Tip: Do not rinse hash browns (fresh or frozen)! The potatoes will soak up the water and it will make your casserole soggy.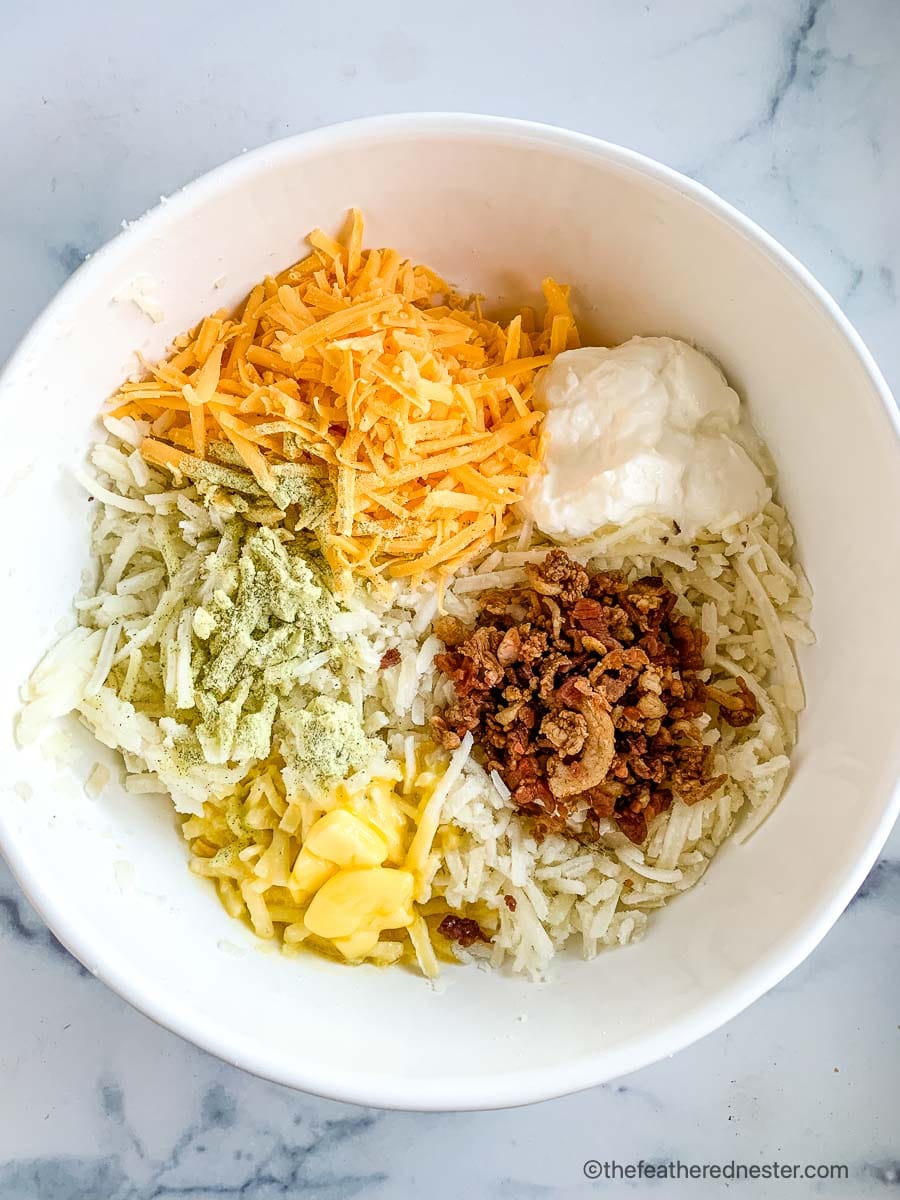 Check out our other recipes that for cheesy hash brown casserole with fresh potatoes or frozen potatoes!
Make Ahead Hashbrown Casserole Instructions
Prepare the casserole as directed, without baking, and refrigerate for up to 3 days. An easy way to meal prep is to double this hash brown recipe – one to serve and one to save and freeze!
Just follow the directions below to make ahead and freeze this loaded cheesy hashbrown potato casserole.
This hashbrown casserole recipe is ideal as a make-ahead freezer meal!
Prepare and freeze for meal trains, potlucks, or a dish to share to have one at the ready in your freezer.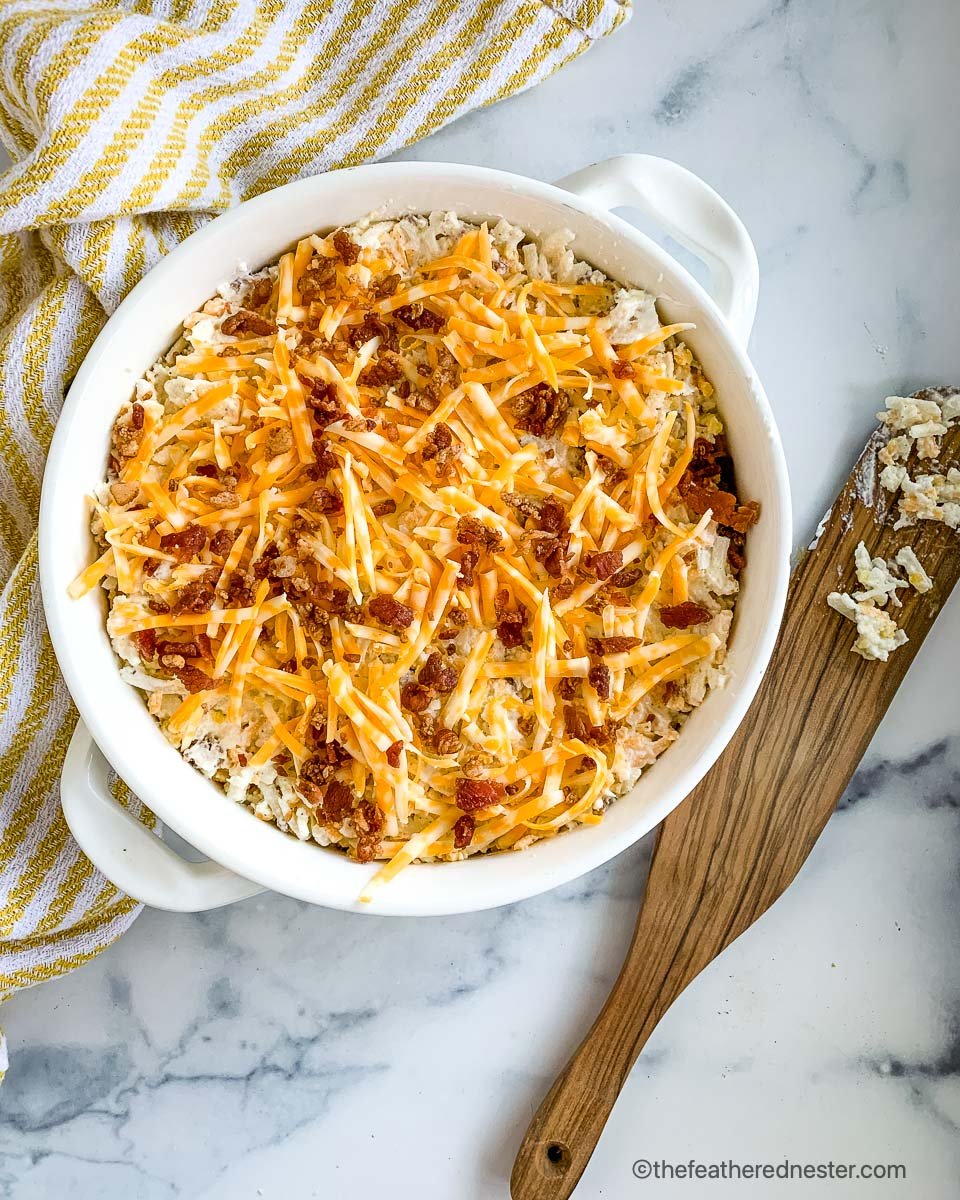 Follow the steps below to make ahead and freeze:
I recommend using a foil container covered with foil. Not only is it freezer-safe, but the container can be safely used in the oven as well to reheat it.
Plus, if you take this casserole to a holiday event, barbecue, or potluck or share it with a neighbor or for a meal train, the foil container won't need to be returned and can be recycled.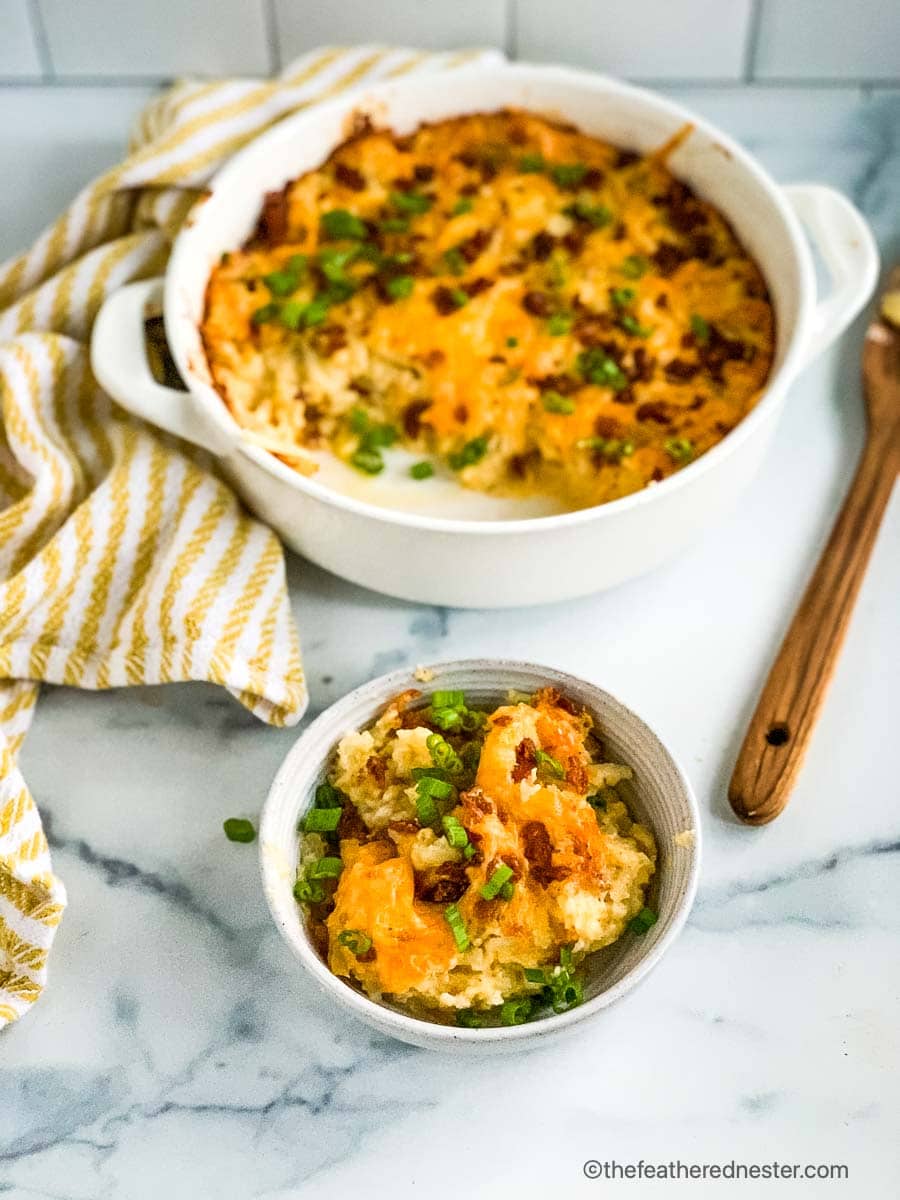 Loaded Hashbrown Casserole FAQ
How long can you keep thawed hash browns in the fridge?

Technically you can keep thawed hash browns in the fridge for up to 7 days. But, I recommend you keep them in the fridge for no longer than 3 days for optimal taste and quality.

What can I use to substitute the sour cream?
You can substitute sour cream with evaporated milk, cream, or Greek yogurt in this recipe. I recommend adding 1 teaspoon of lemon juice for flavor.
Can this recipe be doubled or halved?
Yes, I highly recommend doubling the recipe – one to serve and one to freeze – for meal prepping.

Double the ingredients, using a large bowl, to make two 9×13 casseroles; bake them side-by-side in the oven, rotating the pans halfway through baking. Baking time is the same.

Or, make in a smaller 9×9 dish by halving the ingredients. This smaller sized casserole only need about 40 minutes of baking.
Can you make this hash brown casserole with fresh potatoes?
Yes, use 1 1/2 pounds (24 ounces) of shredded fresh potatoes in place of the thawed frozen potatoes or refrigerated potatoes.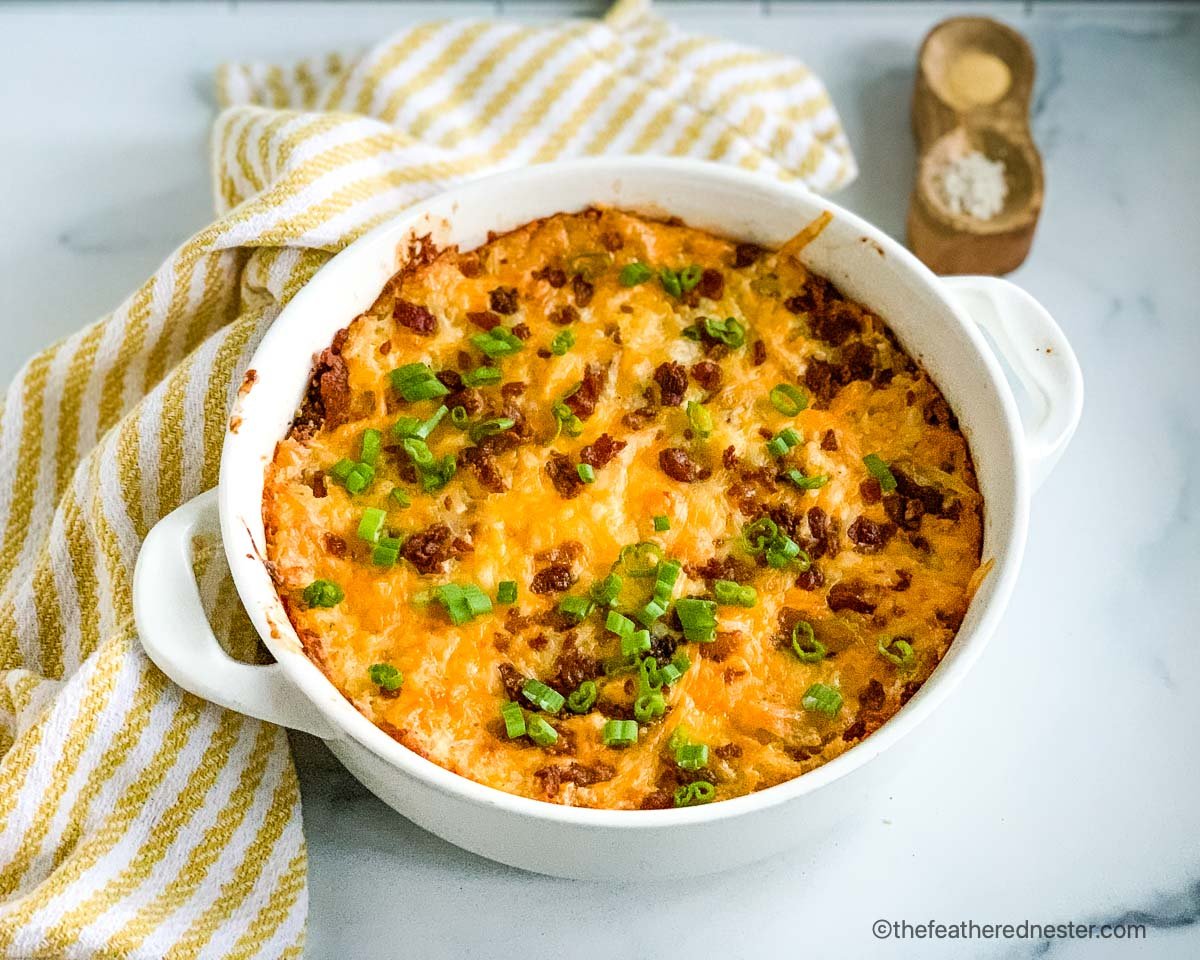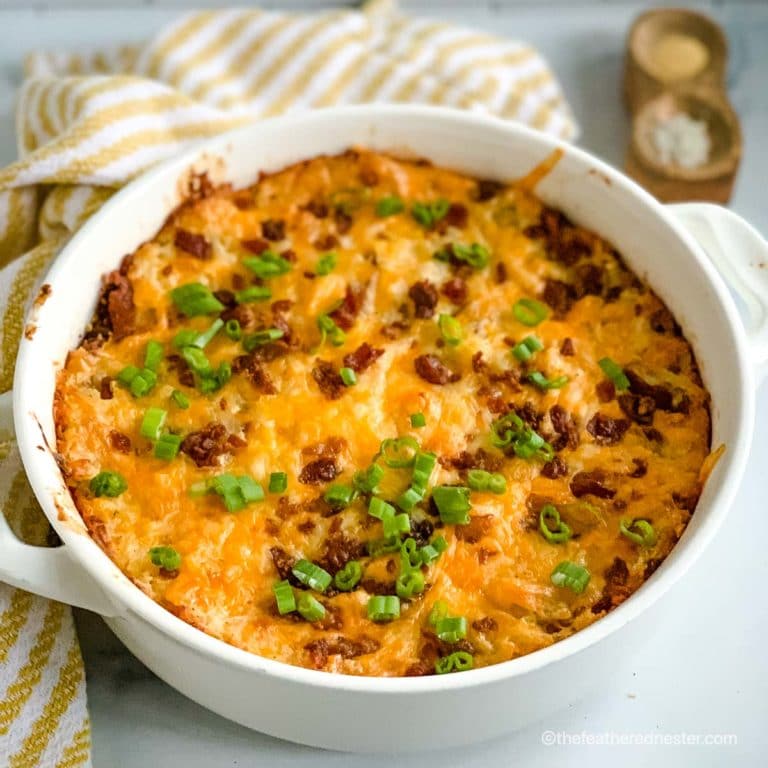 Loaded Hashbrown Casserole
Our cheesy loaded hashbrown casserole tastes like a loaded baked potato with a kick of ranch seasoning. Your family will love this potato side dish!
Equipment
large 9 x 13" casserole dish
Ingredients
30 ounces shredded hash browns fresh or thawed from frozen
2 cups shredded cheddar cheese
1 packet ranch seasoning mix *see Notes to make your own
2 cups sour cream
½ cup melted butter
¼ teaspoon pepper
4 slices bacon cooked and crumbled, or 1/2 cup bacon bits
1 bunch green onions green parts only, chopped
Instructions
Preheat oven to 375° Fahrenheit. Prepare a 9"x13" casserole by spraying it with cooking oil spray.

In a large bowl, mix together shredded hash browns, 1 cup cheddar cheese, dry ranch seasoning mix, sour cream, melted butter, and pepper.

Pour hash brown casserole ingredients into the prepared casserole dish and top with remaining shredded cheese and bacon.

Bake for 45-50 minutes, or until hot and bubbly and golden on top, and edges are puffy. Let rest 5 minutes, then top with green onion before serving.
Notes
Homemade ranch dressing
In a small bowl, stir to combine:
2 Tablespoons buttermilk powder (optional)
1 Tablespoon garlic powder
1 teaspoon dried parsley
1 teaspoon dried chives
2 teaspoon onion powder
1 teaspoon dried dill
To Make Ahead
Prepare the casserole as directed, without baking, and refrigerate for up to 3 days.
To Freeze
If you plan to make ahead this casserole and freeze it, I suggest using a foil container covered with foil. Not only is it freezer-safe, but the container can be safely used in the oven as well to reheat it.
Mix the casserole as directed in recipe (do not bake it) and freeze for up to 3 months. Bake from frozen (do not defrost) as directed, adding an extra 15 minutes to the baking time until it's heated throughout and the cheese is golden.
Leftovers will keep well for up to 4 or 5 days in the refrigerator. Let the casserole cool completely and transfer to a sealed container before placing it in the fridge.
Nutrition
Serving: 1serving | Calories: 288kcal | Carbohydrates: 15g | Protein: 7g | Fat: 22g | Saturated Fat: 10g | Polyunsaturated Fat: 3g | Monounsaturated Fat: 8g | Cholesterol: 41mg | Sodium: 429mg | Potassium: 281mg | Fiber: 1g | Sugar: 1g | Vitamin A: 773IU | Vitamin C: 6mg | Calcium: 189mg | Iron: 1mg
PIN THIS POST!
Here Are More Casserole Recipes You'll Love