Bisquick cheeseburger pie is an impossibly easy comfort food meal, and it cooks up in just 35 minutes! No pie baking skills are necessary, because the crust creates itself as this deliciously savory pie bakes in the oven!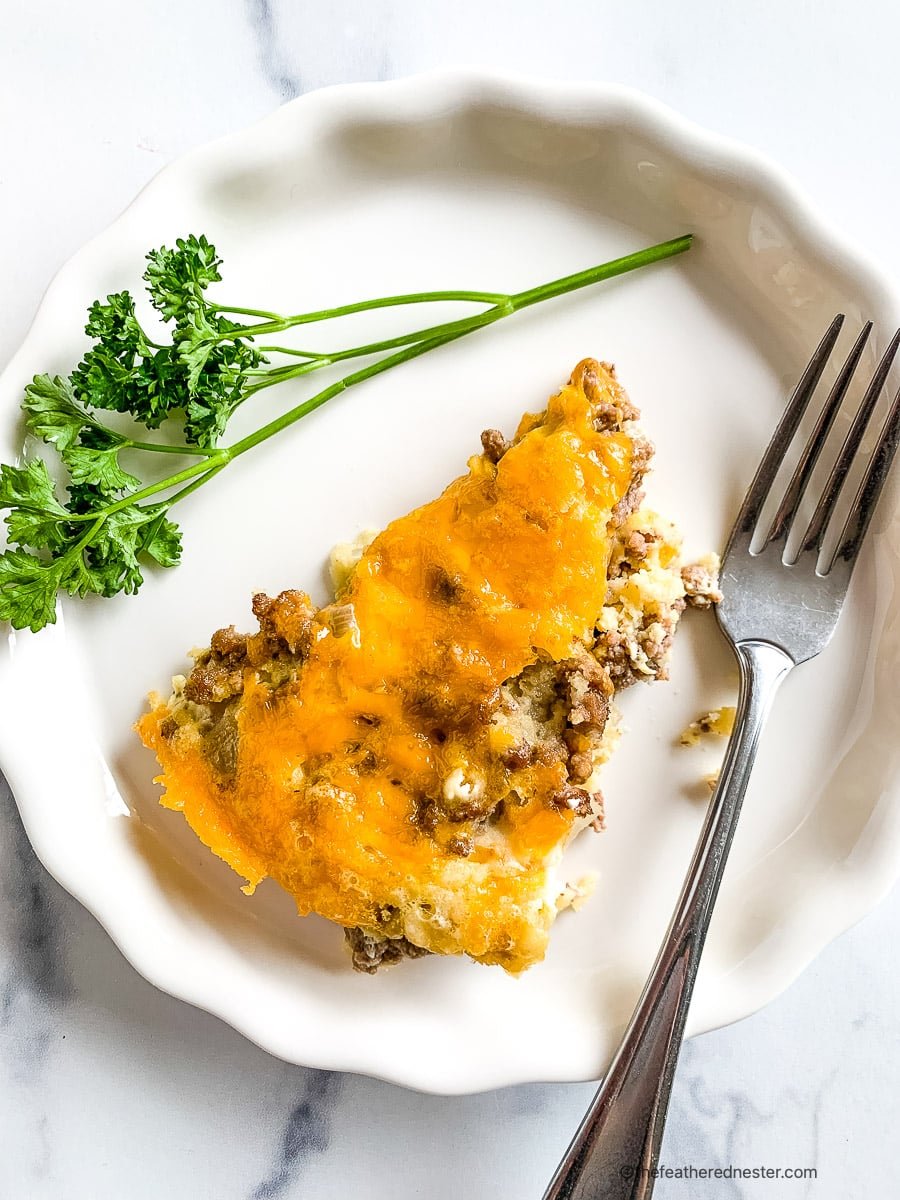 This Bisquick™ pie recipe makes a hearty meal that is so good, it's sure to become a weeknight favorite!
Make a cheese-lover's dream come true with another twist on Bisquick impossible pie. This easy dinner is totally beefy, cheesy, and delicious!
Why we Love Bisquick Cheeseburger Pie
Quick and Easy to Make
This meal only takes 35 minutes, and without the hassle of making a crust from scratch.

Convenient and Delicious
Making a dinner with Bisquick combines the convenience of a weeknight meal with the irresistibly delicious beefy, cheesy flavors of your favorite pub burger!

Hearty Meal
With ground beef, onions, and cheese, this cheeseburger pie packs a flavorful punch, and it's hearty enough to satisfy a big appetite.

Comfort Food Favorite – From weeknight meals to holiday gatherings and potlucks, this Bisquick pie is sure to be a family favorite comfort food meal!
Ingredient Notes and Substitutions
Bisquick Baking Mix
This ingredient becomes the crust for the impossible cheeseburger pie. You should be able to find it in the same aisle of the grocery store where they stock the dry pancake mixes.

Of course, we prefer to use our homemade Bisquick recipe. It's an easy recipe, and you don't need any special ingredients to make it.

Note: If you need a gluten free dinner, swap out the Original Bisquick mix for their gluten free variety.

Milk
We prefer to use whole milk for this recipe, as it makes the filling really creamy! You can substitute with low-fat or skim milk, but the consistency of your filling will be a little bit thinner.

Ground hamburger
We recommend using lean ground beef, for the best flavor without too much greasy fat. 85/15 is our go-to ground beef blend.

You can swap out the beef for ground turkey, chicken, or even pork.

Cheese
We used shredded cheddar cheese for this Bisquick dinner recipe because of its sharp flavor and melty texture. You can use a mix of cheeses such as Monterey Jack, mozzarella, or Colby-Jack if you prefer.

You can even top it with some American cheese slices for an even cheesier topping!

Kitchen Tools You Will Need
Tips for Making Bisquick Impossible Pie
Whisk the batter well to eliminate lumps.
If there are too many lumps in the batter, it might make the pie puff up in some areas and it will not bake evenly. To avoid this, mix the batter until it is completely smooth to get a beautiful and smooth pie.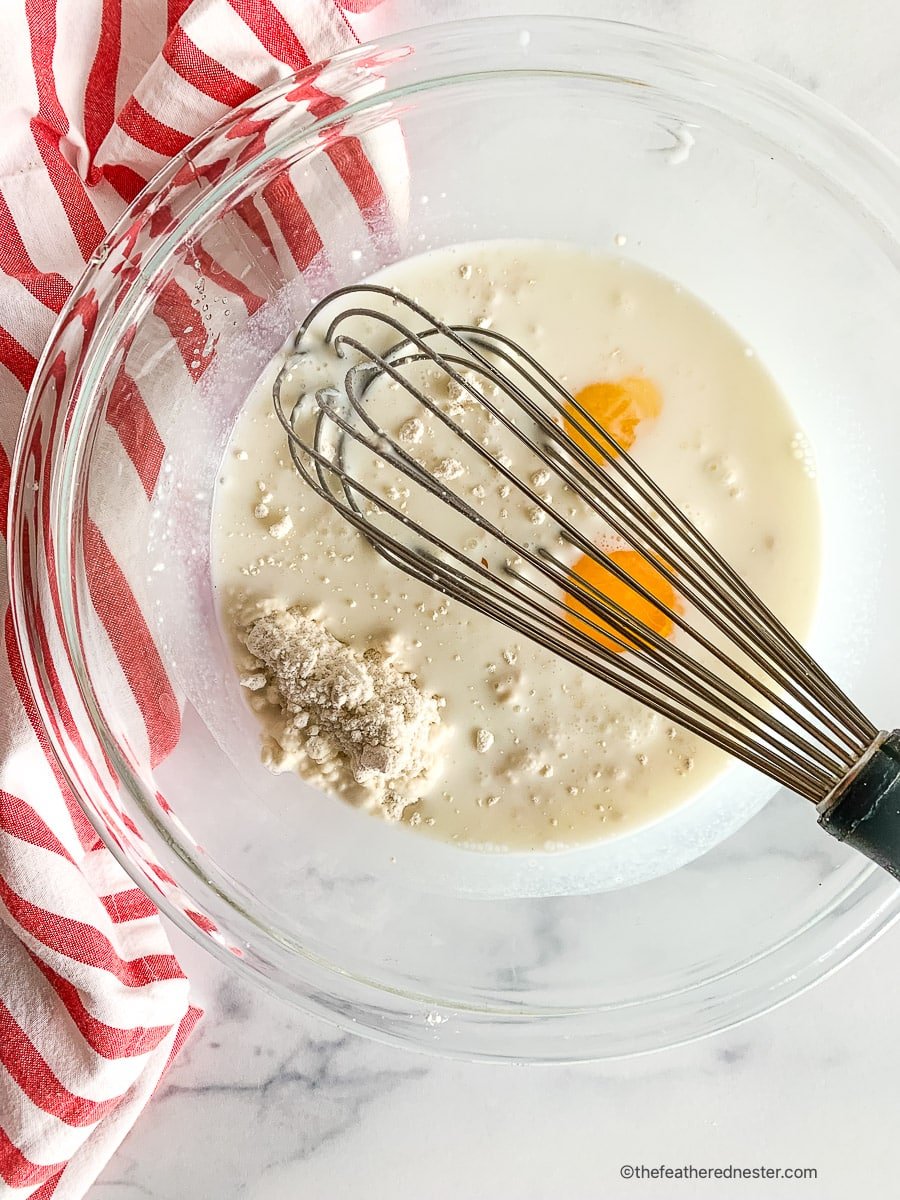 Drain the grease, if necessary.
Lean ground beef produces less grease when cooking. If the beef is lean enough, you may not even have to worry about draining the grease before adding it to the pie.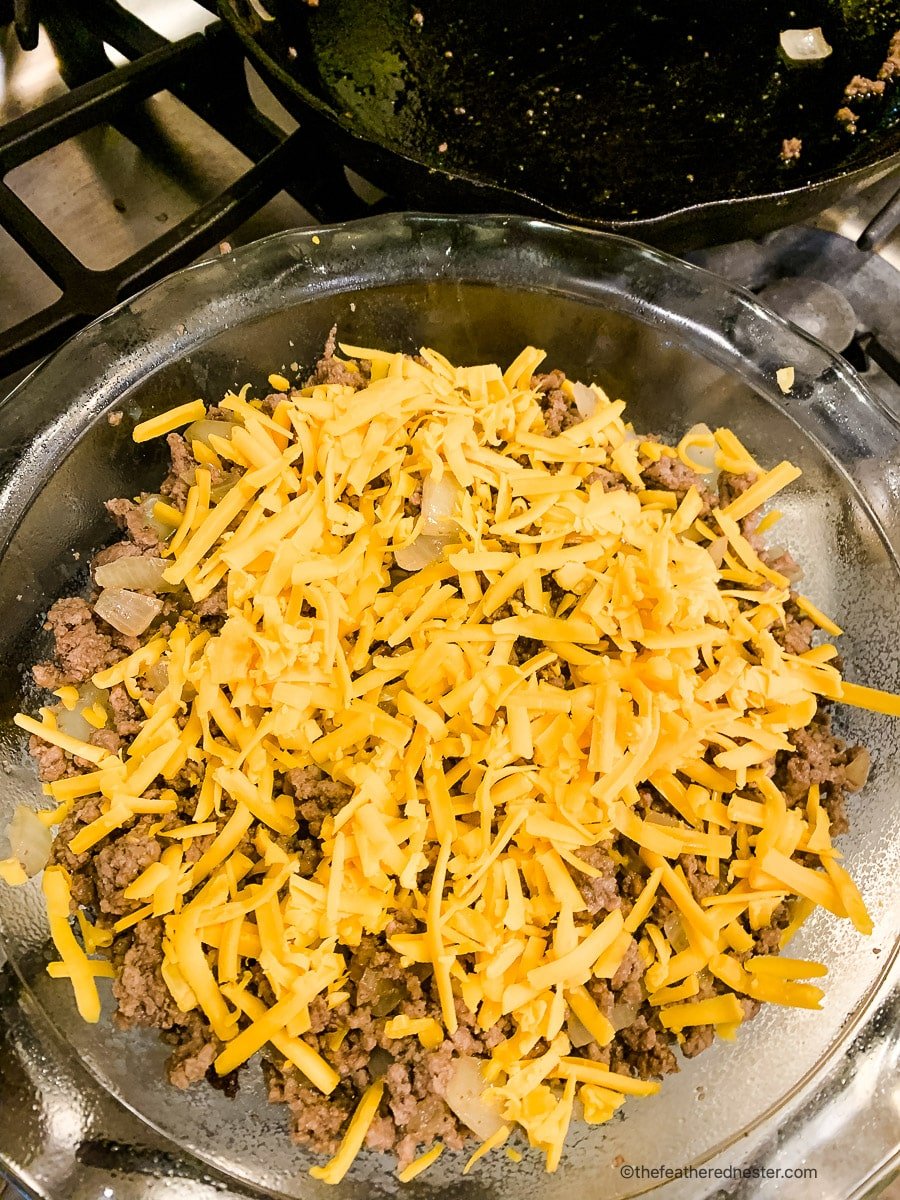 Shred a block of cheese instead of using pre-shredded.
Freshly shredded cheese has the best flavor, and it melts more evenly, for maximum cheesy goodness in every bite. Plus, it's much more cost-effective than pre-shredded cheese!
Looking for other ground beef dinner ideas?
Another super quick, favorite ground beef recipe is our beefy Velveeta cheese soup.
Or, for a southwest flair, make tachos or stovetop chili con carne for dinner. They are both scrumptious and simple weeknight meals!
Jiggle the dish to help the batter settle in the pan.
After adding the ingredients, jiggle the dish gently a few times. This ensures that all parts of the impossible pie will have a flaky crust on top.
Bisquick Pie Variations
Switch up the flavors by adding diced bell peppers or jalapenos for some added heat.
Add a crunchy topping. Before you pop the casserole in the oven to bake, sprinkle a layer of crushed Ritz crackers over the top of the filling.
Make it Italian style. Swap the ground beef for ground Italian sausage, and use shredded mozzarella cheese.
For a Mexican Bisquick pie, use ground pork or ground chorizo. Include diced tomatoes, green chilies, and black olive slices. Use a spicy shredded cheese for an unforgettably scrumptious dinner!!
Cheeseburger Pie Recipe FAQ
Do you need oil to cook Impossible Burger?
If you're using a pie dish, you need to put cooking spray first. But if you're using a skillet, you don't need to add any oil because the fat from the ground beef will be enough to keep it from sticking.
Do impossible burgers need to be seasoned?
Yes, seasoning the ground beef with salt and pepper before browning will help enhance the flavor of your pie.
Why is my Impossible Burger bleeding?
If your pie is bleeding, it's likely because the ground beef was not cooked thoroughly before adding it to the crust. Make sure to cook the ground beef until it is browned and properly crumbled.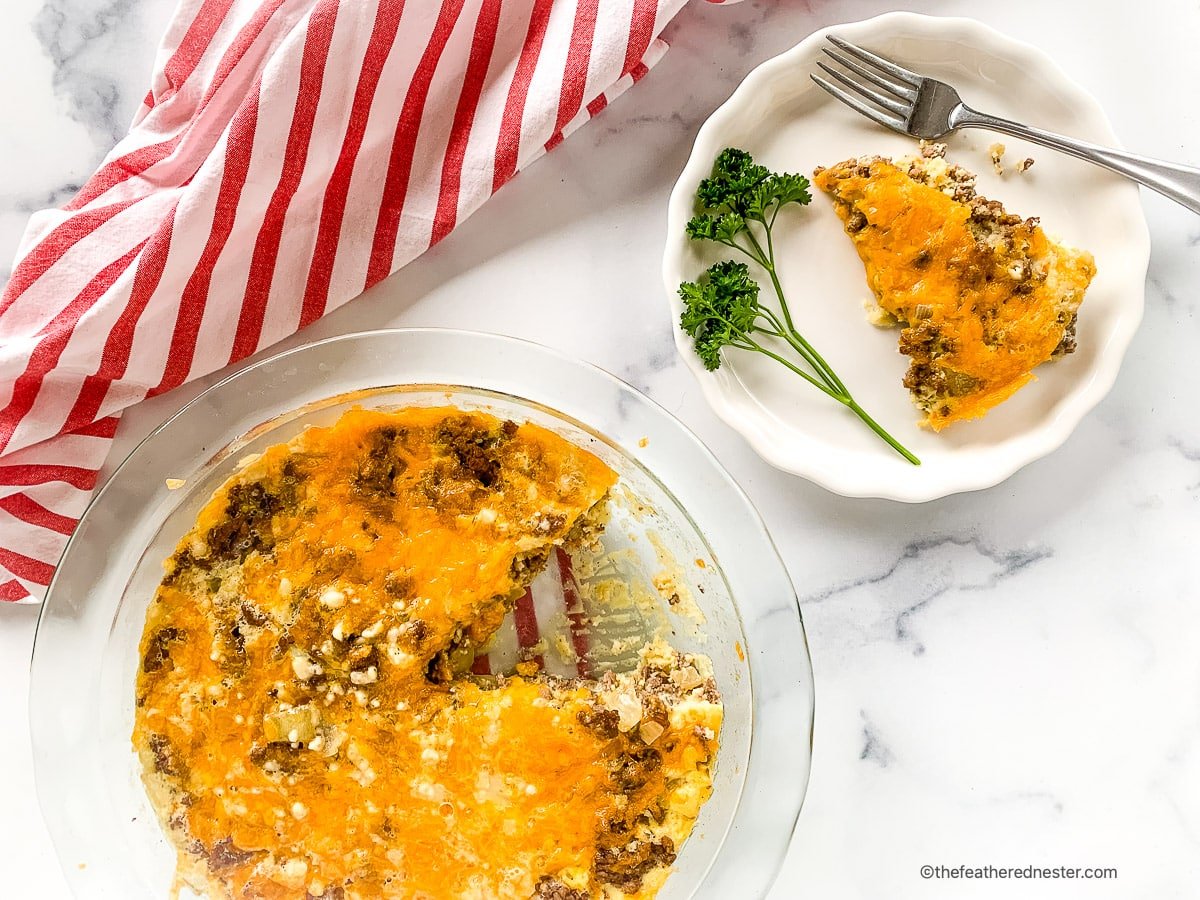 What to Serve with Bisquick Cheeseburger Pie
This impossible cheeseburger pie with Bisquick is a hearty meal all on its own, but it's also great served with a side of green salad or steamed vegetables.

The flaky crust is delicious with a topping of our In n Out Sauce (copycat), and sour cream, but any burger condiments that you love would be great, too!
Enjoy your dinner!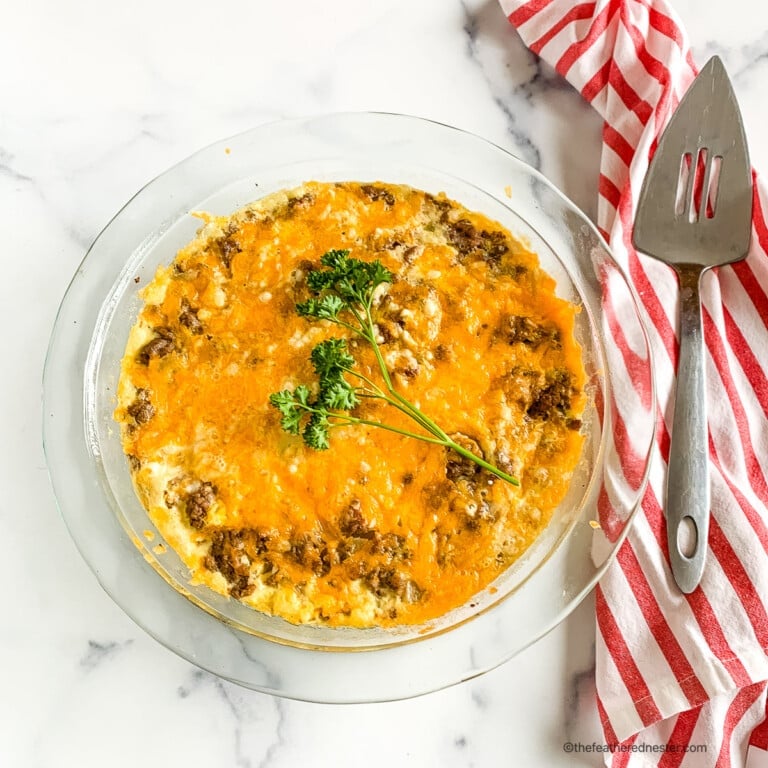 Bisquick Cheeseburger Pie
Bisquick cheeseburger pie is a simple, delicious comfort food that cooks up in 35 minutes! This savory pie recipe is a weeknight favorite.
Equipment
1

skillet

-

(use a 9" oven-safe skillet for a one-pot meal)

9" pie dish (pie plate) - (if not using an oven-safe skillet)
Ingredients
Cheeseburger filling
1 pound lean ground beef I prefer 80/20
1 medium onion chopped (about 1 cup)
½ teaspoon salt or garlic salt
1 cup (4 ounces) shredded cheddar cheese
Bisquick topping
½ cup Original Bisquick™ mix or homemade Bisquick mix
1 cup milk or non-dairy milk – whole, 2%, 1%, or skim
2 large eggs
Instructions
Preheat oven to 400°F. Spray a 9-inch pie dish with cooking spray, if not using a 9" oven-safe skillet.
Cheeseburger filling
Brown ground beef and onion together in a skillet over medium heat (about 5 to 7 minutes). While cooking, use the back of a wooden spoon or meat chopper to crumble the ground beef.

Drain fat from skillet. Sprinkle salt over cooked meat and onions.

Spread ground beef and onions in the prepared pie plate. Top with shredded cheese.
Bisquick topping
In small bowl, stir the Bisquick topping ingredients together with a whisk until blended. There may be small lumps. Pour into pie plate.

Bake at 400)F for 25 minutes, or until a knife inserted in the center comes out clean. Top with your favorite garnishes, like sour cream, diced tomatoes, or chopped green onions. Serve warm.
Notes
For extra flavorful cheeseburger pie filling, stir 1/2 teaspoon (up to 1 teaspoon, if desired) low sodium all-purpose seasoning (ie, Mrs. Dash or Lawry's) into the ground beef as it cooks.
Nutrition
Serving: 1serving | Calories: 355kcal | Carbohydrates: 11g | Protein: 30g | Fat: 21g | Saturated Fat: 10g | Polyunsaturated Fat: 1g | Monounsaturated Fat: 6g | Trans Fat: 0.3g | Cholesterol: 150mg | Sodium: 669mg | Potassium: 421mg | Fiber: 1g | Sugar: 4g | Vitamin A: 563IU | Vitamin C: 1mg | Calcium: 367mg | Iron: 2mg
PIN THIS POST!