For a pillowy soft, delicious pizza that your family will beg for, start with sourdough discard pizza dough! It's easy to make, and bakes up with the perfect chewy consistency. This sourdough pizza crust recipe is the best way to make an authentic Italian pie without yeast!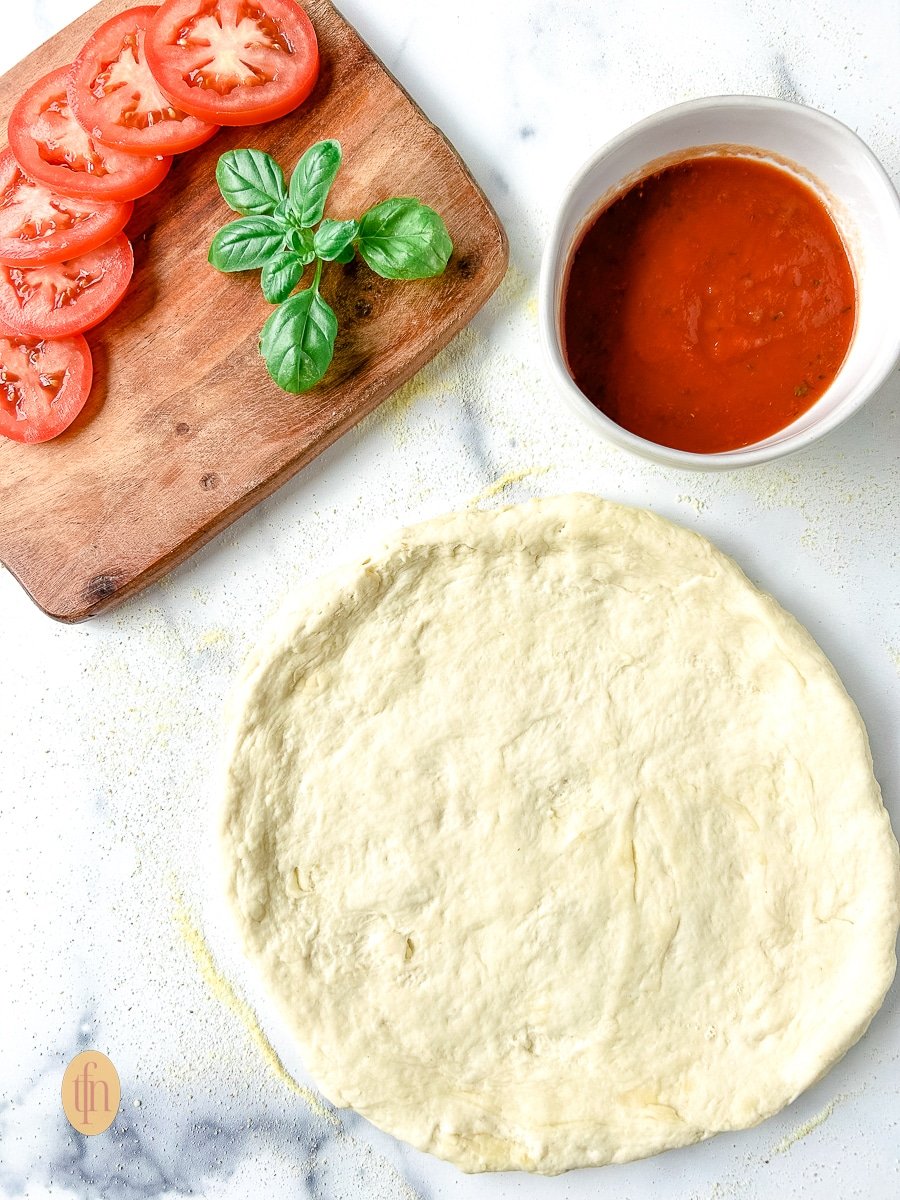 Why We Love Sourdough Discard Pizza Dough
Naturally fermented
There are two types of sourdough pizza crust recipes. The first type is a sourdough hybrid, which uses a mixture of active dry yeast blended in to a sourdough starter.

Then there's our recipe – it uses the natural yeast that sourdough starter creates. This makes it a true sourdough pizza dough recipe.
Easy overnight recipe
This recipe requires a double rise, and the first one takes several hours, because the dough has to double in size. To save time, we prefer to let it work its magic overnight.
Great for meal prep.
Sourdough pizza dough keeps for up to a week in the fridge, making it the perfect dinner solution for busy nights.
Short on Time?
If you're looking for a pizza crust with a shorter rise time, make our Neapolitan pizza dough recipe instead. You can bake your pizza on the grill or in your oven!
Ingredient Notes and Substitutions
All-Purpose Flour – We believe that the best flour for sourdough pizza is either all purpose or a higher protein variety, like bread flour. High protein flour gives the crust a chewier consistency.
Sourdough Discard – If you don't already have some on hand, make our starter recipe. You'll have some discard ready to use in about 5 days!
Olive Oil – Using a high quality, extra virgin olive oil goes the extra mile, but any brand or variety will help you achieve a golden, crispy crust.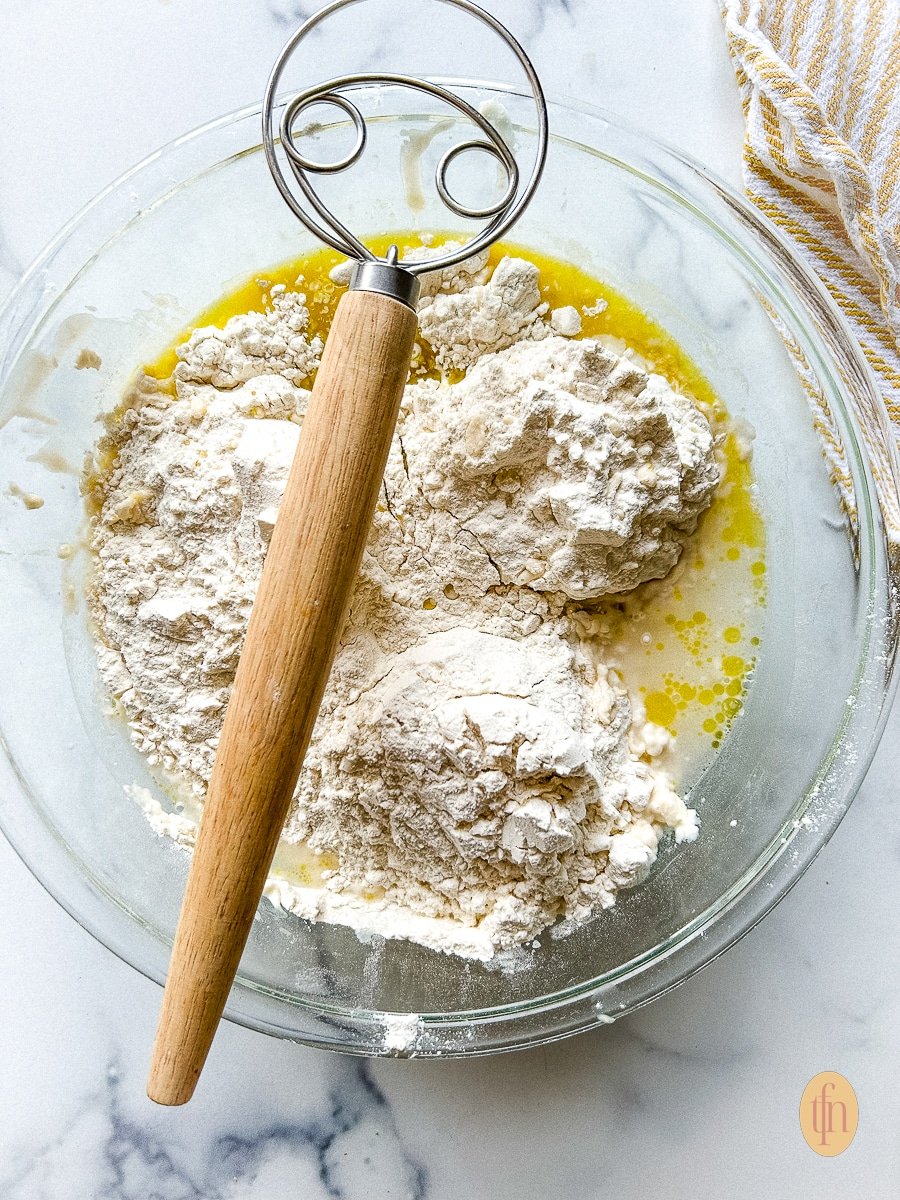 Sourdough Pizza Crust Recipe Tips
Use a recently fed starter.
Be sure to feed it 12 hours prior to starting this recipe so you have enough active discard.
Combine the ingredients until you have a shaggy looking mixture.
If you're a beginning baker, you may not be familiar with the term, "shaggy". Look at the photo below for a visual reference.

The ingredients are combined, but just barely. Over mixing sourdough discard pizza dough (or really, any batters or doughs) leads to whatever you're baking being dry and tough.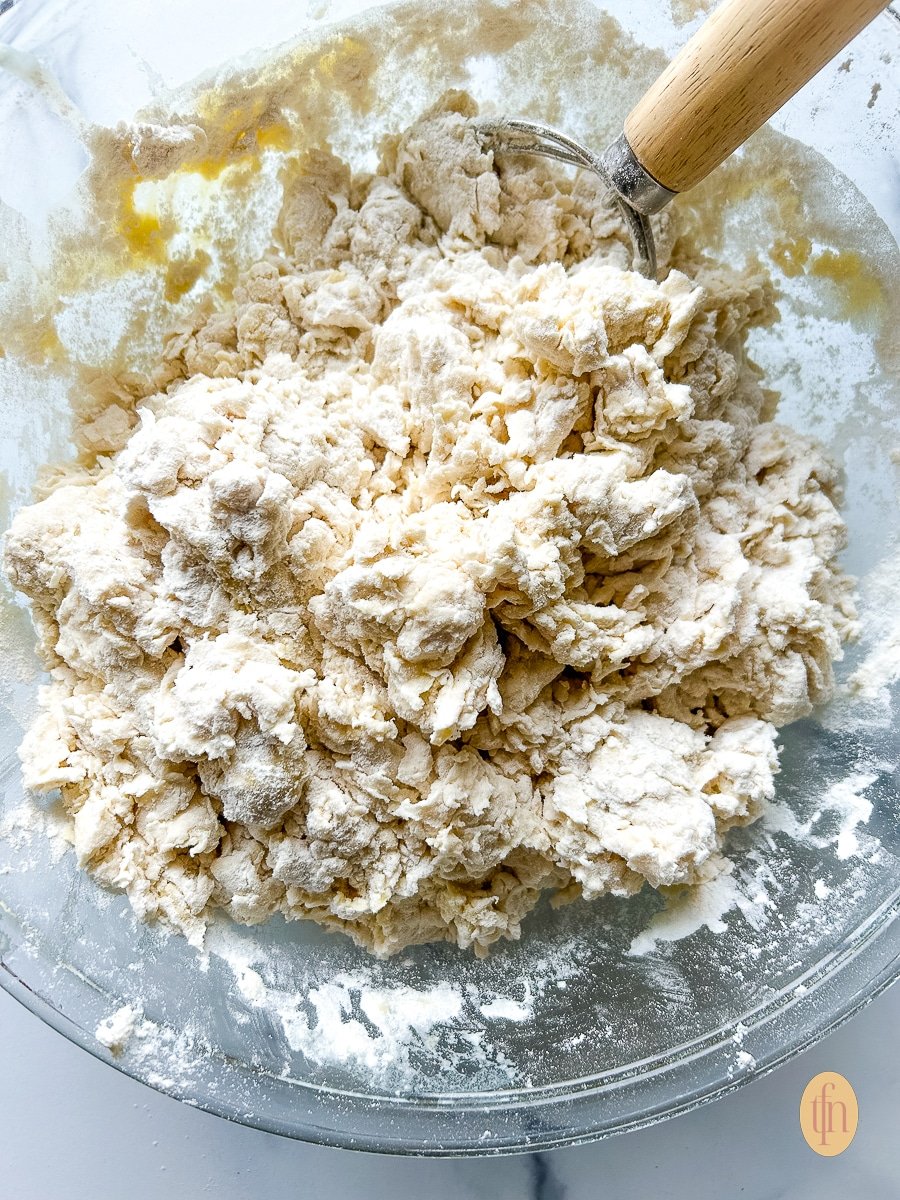 Let the sourdough discard pizza dough rise for at least 8 hours.
If you're wanting to serve pizzas for dinner the same day you make the dough, you'll want to start pretty early in the morning. You need a slow fermentation rise to create a pillowy soft and chewy pizza crust.

The other option is to prepare the dough the night before you want to assemble and bake the sourdough pizza. It's okay to let it rise at room temperature. Because there are no dairy products in the mixture, there is nothing that can spoil.
Wait until the sourdough is double its original size before punching it down.
If you need a visual guide, you can mark the starting level with a piece of masking tape or erasable marker.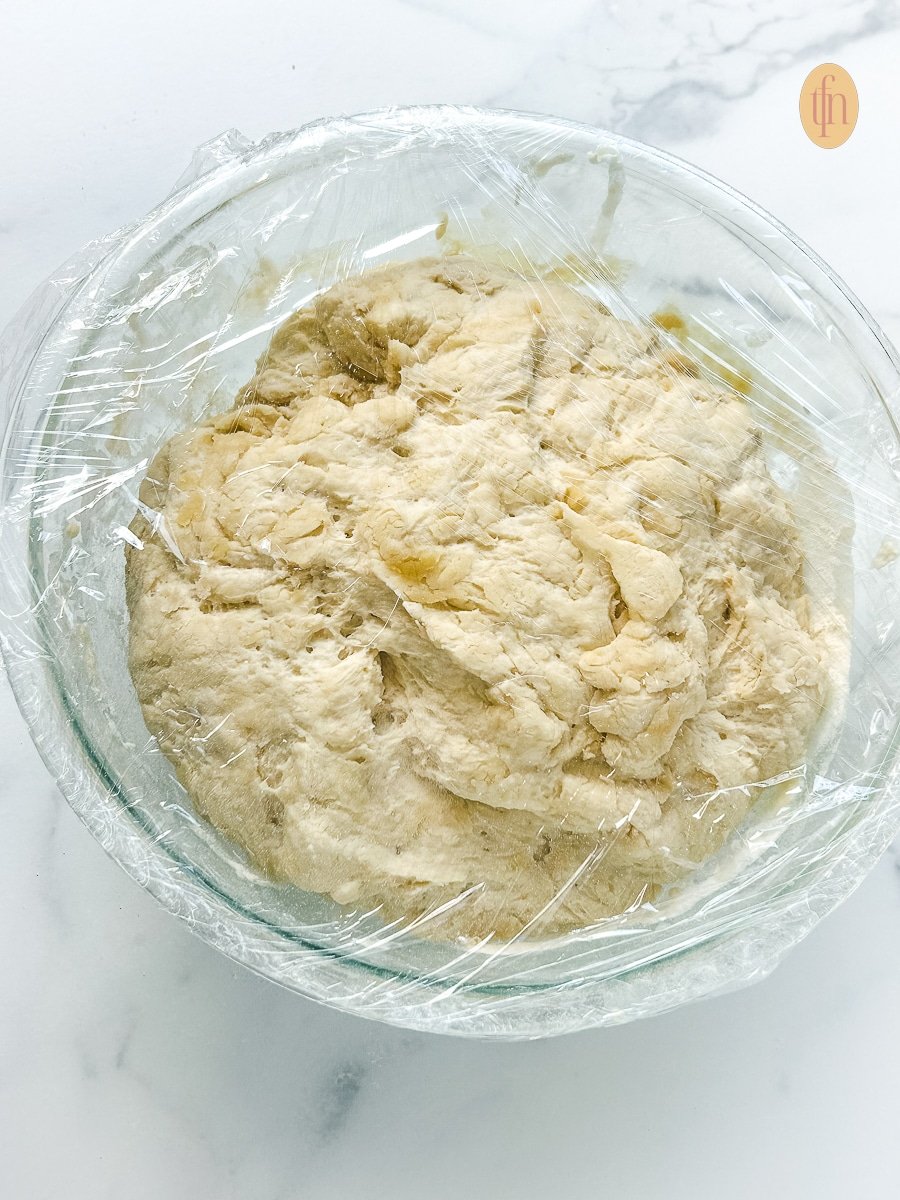 Portion properly for perfect pizzas!
Our sourdough pizza crust recipe yields two large or four to six personal pizzas. You can either weigh each portion or eyeball it; either way, be sure to use a bench scraper or sharp knife to make your cuts. Otherwise, you'll have a tough time pulling off each portion.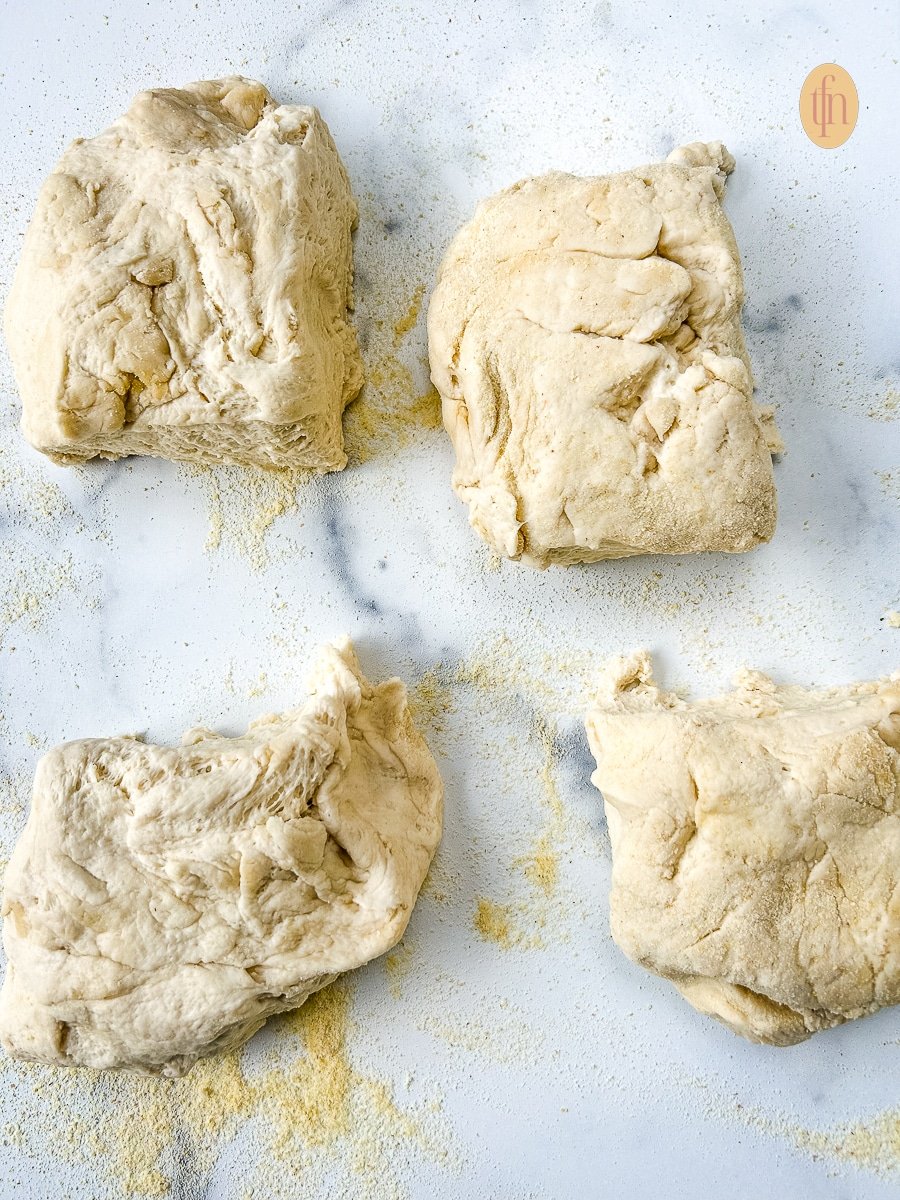 Use your palms and fingertips to help shape the sourdough pizza dough.
It isn't necessary to use a rolling pin, and actually, it's easier to shape pizza crust without one!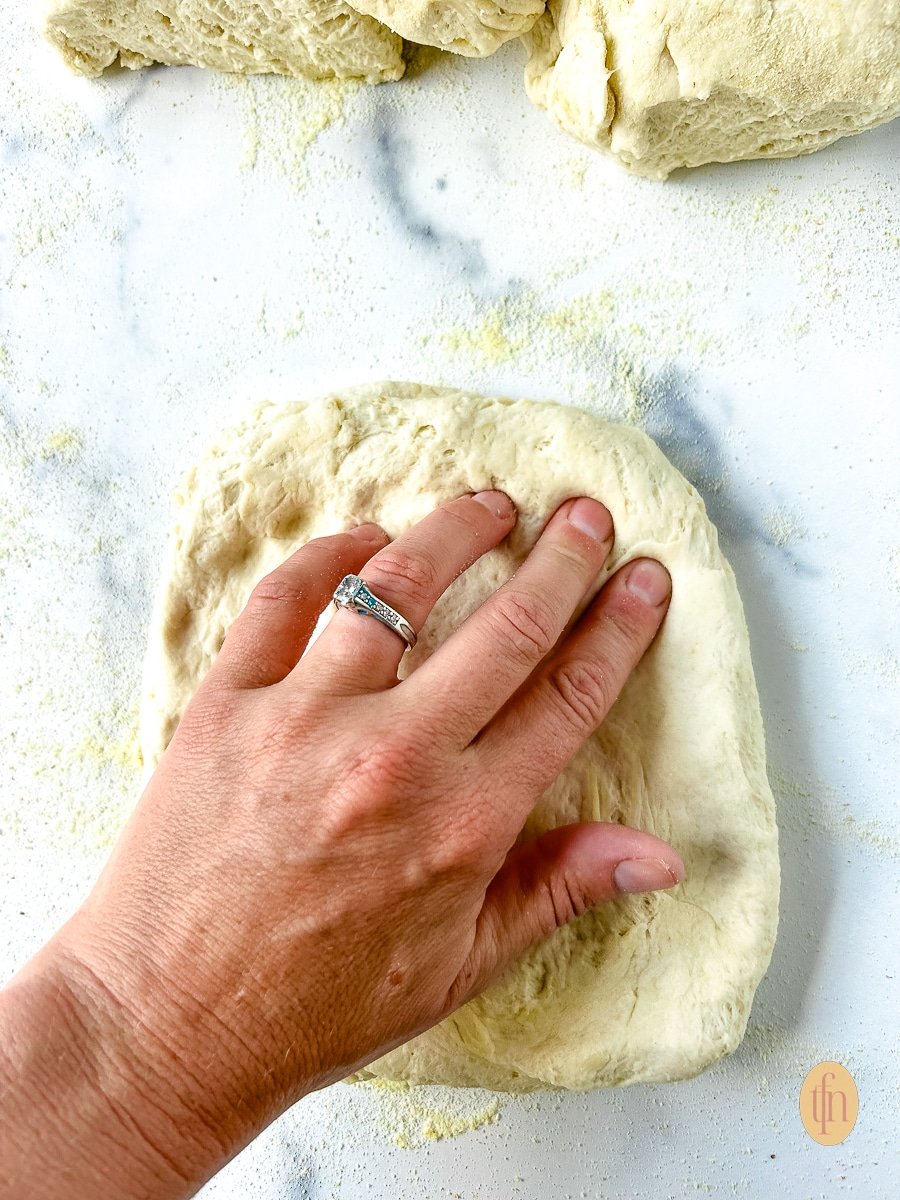 Leave a border around the edge of the crust.
As you're stretching the pizza dough, leave 1 inch around the edges a little bit thicker. For large pizzas, shape the dough to about 14 inches across. Smaller pies should have crusts that are between 10 and 12 inches in size.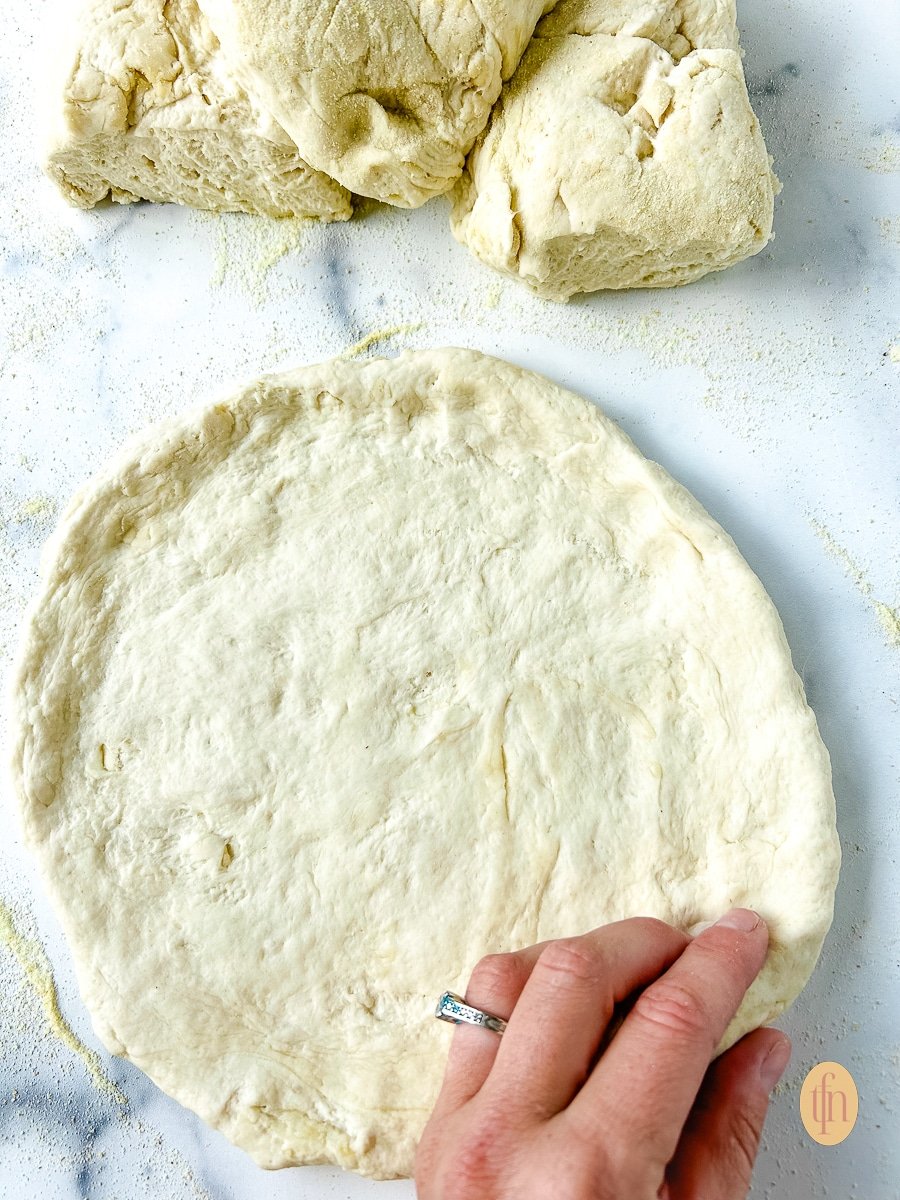 Topping and Baking Sourdough Pizzas
Just like any other homemade version, you can top your sourdough pizza crust with whatever type of sauce and toppings you like. If you're a fan of chicken alfredo pizza, make our bechamel cheese sauce!
TFN Food Safety Tip
To prevent food poisoning from undercooked foods, be sure to pre cook any meat toppings before adding them to your pie.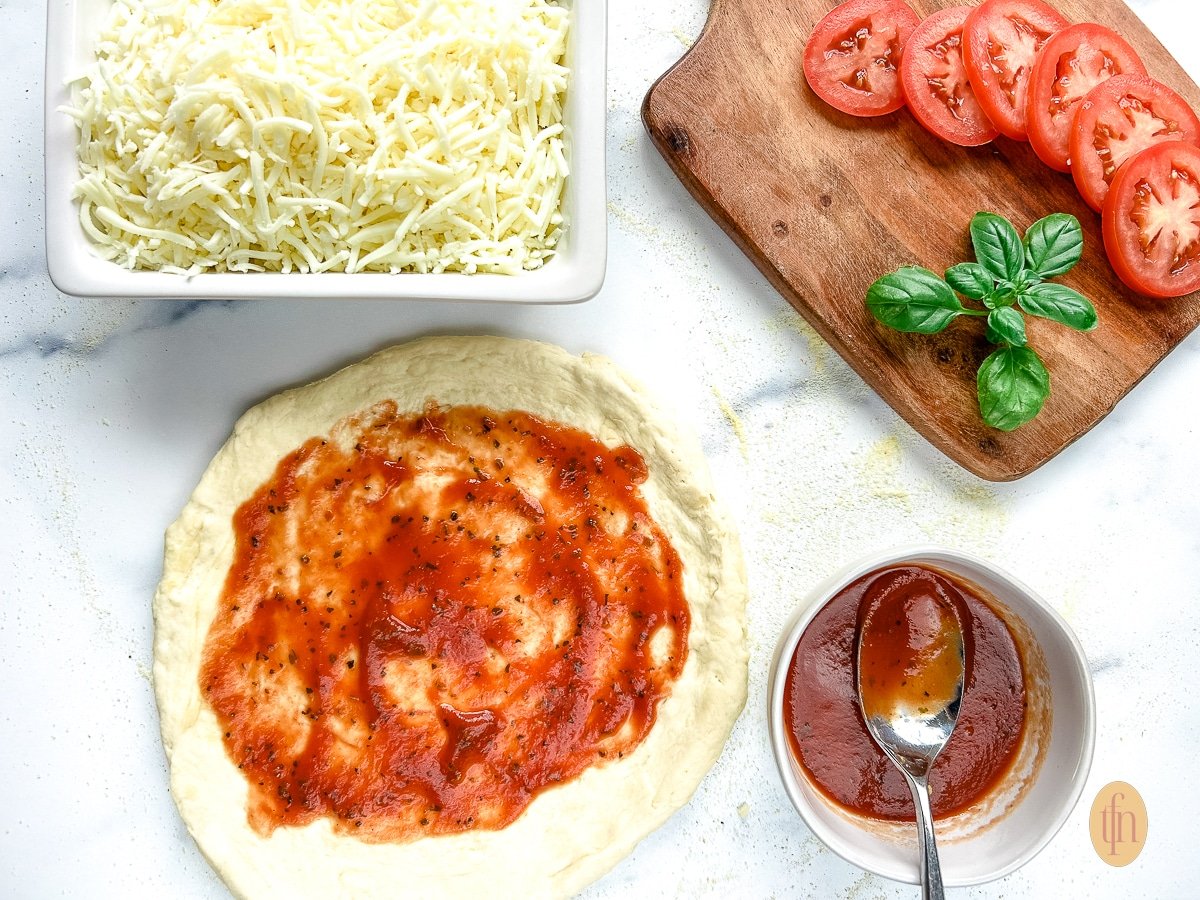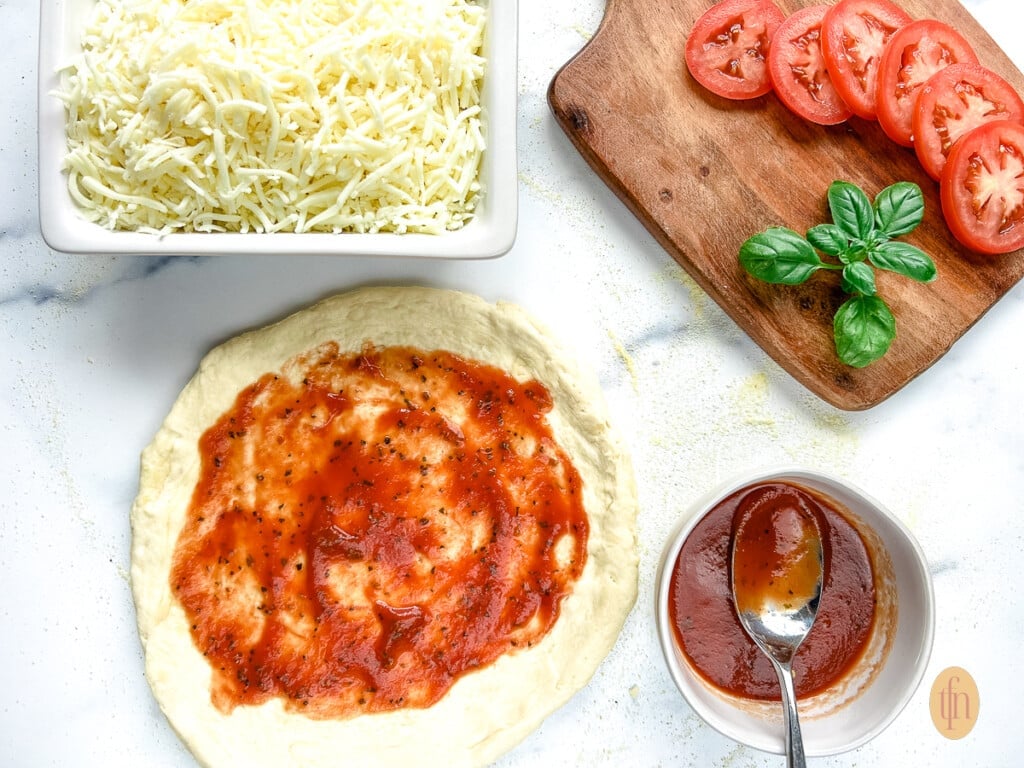 For a crust that is golden and slightly crispy, we recommend baking your sourdough pizza at a high temperature. When we use our Ooni pizza oven, they bake at 600°F! Most home ovens won't get that hot, so we recommend baking at 450°F.

Individual pizzas usually take 10-15 minutes to bake, and the larger ones need a few minutes longer.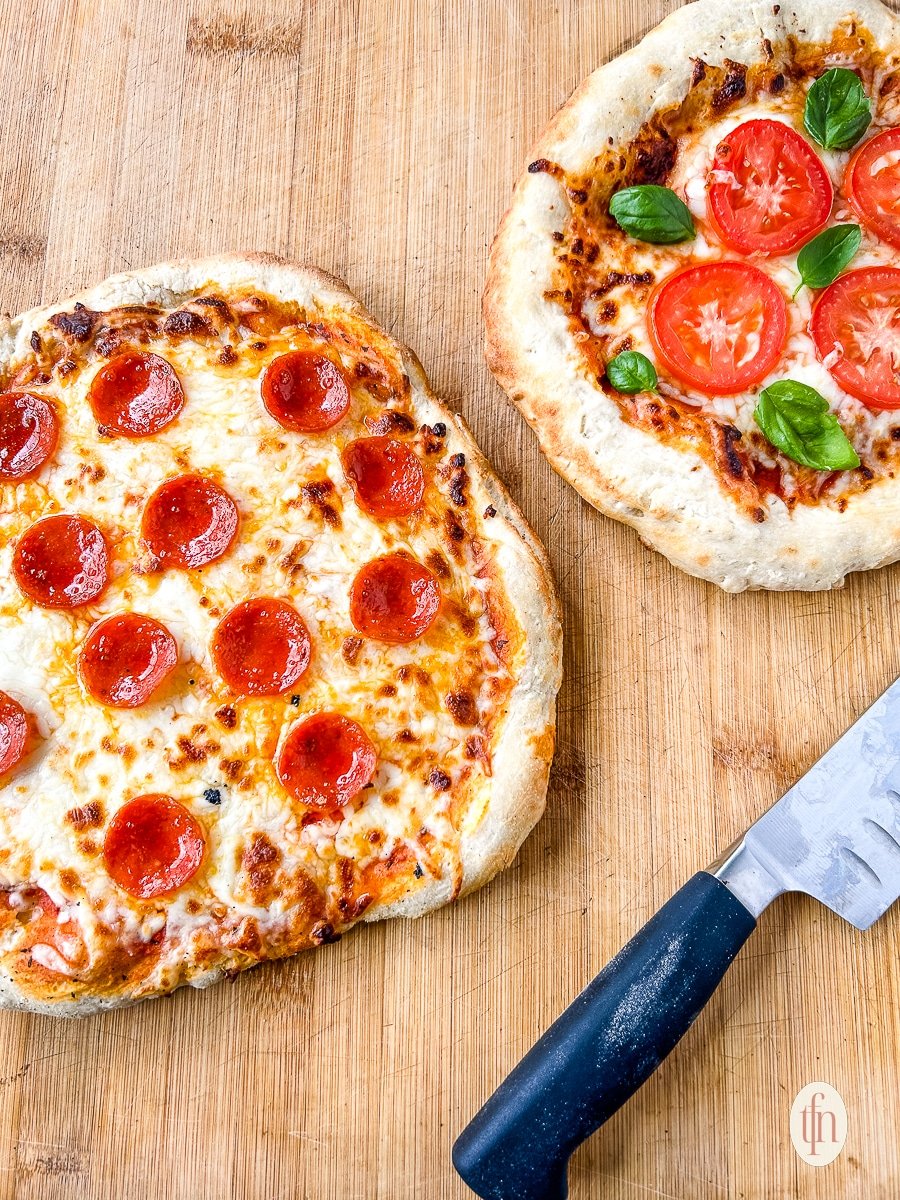 TFN Pro Tip:
Baking on a pizza stone or cast iron griddle promotes a better rise and crispier sourdough pizza crust.
Freezing Unbaked Crusts and Sourdough Pizzas
You can freeze unbaked crusts after they have been shaped, or unbaked, fully assembled pizzas! Either way, they'll keep for up to 3 months.
For instructions and helpful tips, read our post on freezing pizza dough.
To make sourdough discard pizza dough, Renae recommends these tools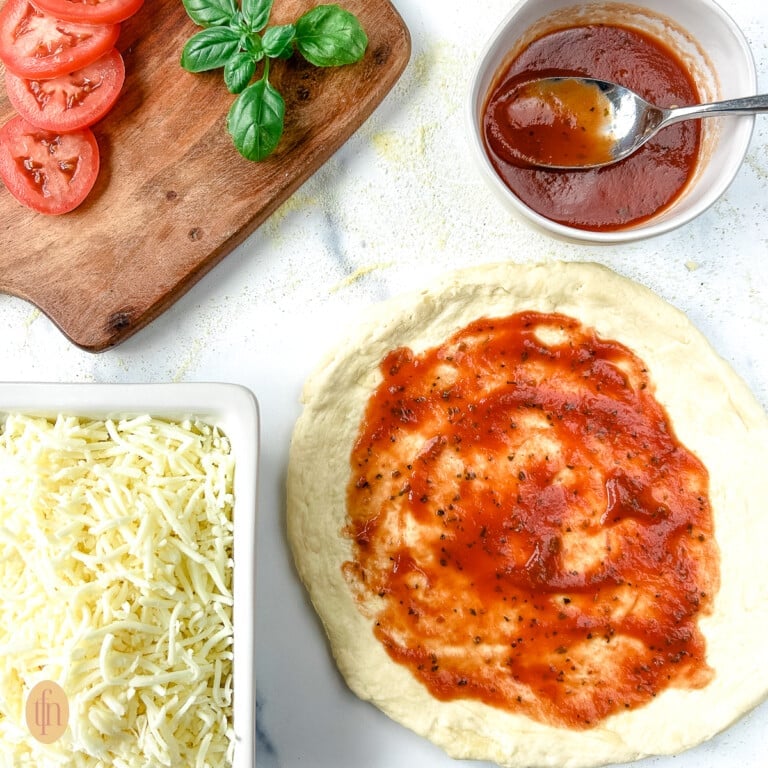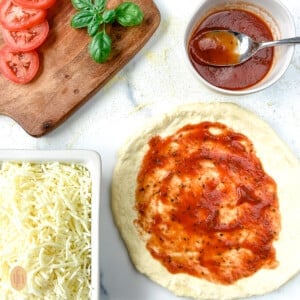 Sourdough Discard Pizza Dough
For a homemade Italian pie with soft, chewy crust, make our sourdough discard pizza dough! No yeast in our sourdough pizza crust recipe!
Equipment
mixing bowl

bench cutter

pizza stone
Ingredients
6 cups (750 grams) all purpose flour
1 cup (250 grams) sourdough starter feed about 12 hours prior
¼ cup (60 grams) olive oil
1½ tablespoon (12 grams) salt
1 tablespoon (10 grams) granulated sugar
1 ½ cups (365 grams) warm filtered water 95º to 100ºF.
Instructions
Add all ingredients to a large mixing bowl. Combine well, using a heavy duty spoon or dough whisk. The dough should look rough and shaggy, and feel soft and sticky. Turn the dough out onto a lightly floured countertop. Knead the dough for about 3 minutes, until smooth and tacky (but not sticky).

Return the dough to the bowl, cover with plastic wrap, and let it rise at room temperature until doubled in size. **This takes about 8 hours – we make ours at night and then set the bowl of dough on the counter to riseovernight.

When the dough has doubled in size, punch it down in the bowl and flip it over. Cover the bowl with plastic wrap again and refrigerate. About 1 hour before you want to bake your pizzas, remove the dough from the fridge.
To Shape the Sourdough Pizza Crust
Lightly flour your work surface. Using a bench scraper or sharp knife, cut the chilled dough into 2 equal pieces for large pizzas, or 4-6 pieces for individual pizzas. Let dough rest at room temperature for one hour. Meanwhile, prepare your pizza toppings and preheat your oven to 475º.

Shape your pizza crusts by hand, flattening the dough with your palm, then pressing with your fingers to stretch it out, leaving a 1" thick border at the edge. For large pizzas, shape crusts to 14 inches in diameter; shape individual sourdough crusts to 10-12 inches in diameter. Add sauce and toppings, then bake as desired.
Video
Notes
We prefer to bake pizzas on a pizza stone. If you don't have a pizza stone, you can flip over and use the bottom of a large cast iron skillet, or use a cast iron griddle.
Whatever you plan to use, place it in the cold oven and let it preheat to 450°F.
Bake small sourdough pizzas for 12-15 minutes, and large pies for 15-20 minutes.
To freeze unbaked crusts or unbaked assembled pizzas, read our post on freezing pizza dough.
Nutrition shown is for 1 slice of crust for a 14-inch pizza, and does not include toppings.
Nutrition
Serving: 1slice | Calories: 330kcal | Carbohydrates: 59g | Protein: 8g | Fat: 6g | Saturated Fat: 1g | Polyunsaturated Fat: 1g | Monounsaturated Fat: 4g | Sodium: 1050mg | Potassium: 75mg | Fiber: 2g | Sugar: 1g | Calcium: 12mg | Iron: 3mg
PIN THIS POST!