Love to make a pizza but don't have time to make the dough from scratch every time? So it leaves you a question, "can I freeze pizza dough?" The answer is Yes! Freezing is the perfect solution! Not only does it save you time, but it allows you to have fresh pizza any time you want. In this blog post, we'll show you how to freeze pizza dough so that it is always fresh and delicious. And, we'll share tips on defrosting and thawing the pizza dough so that it is ready to use whenever you are!
This post may contain affiliate links. As an Amazon Associate, I earn from qualifying purchases at no extra cost to you. See my disclosure policy here.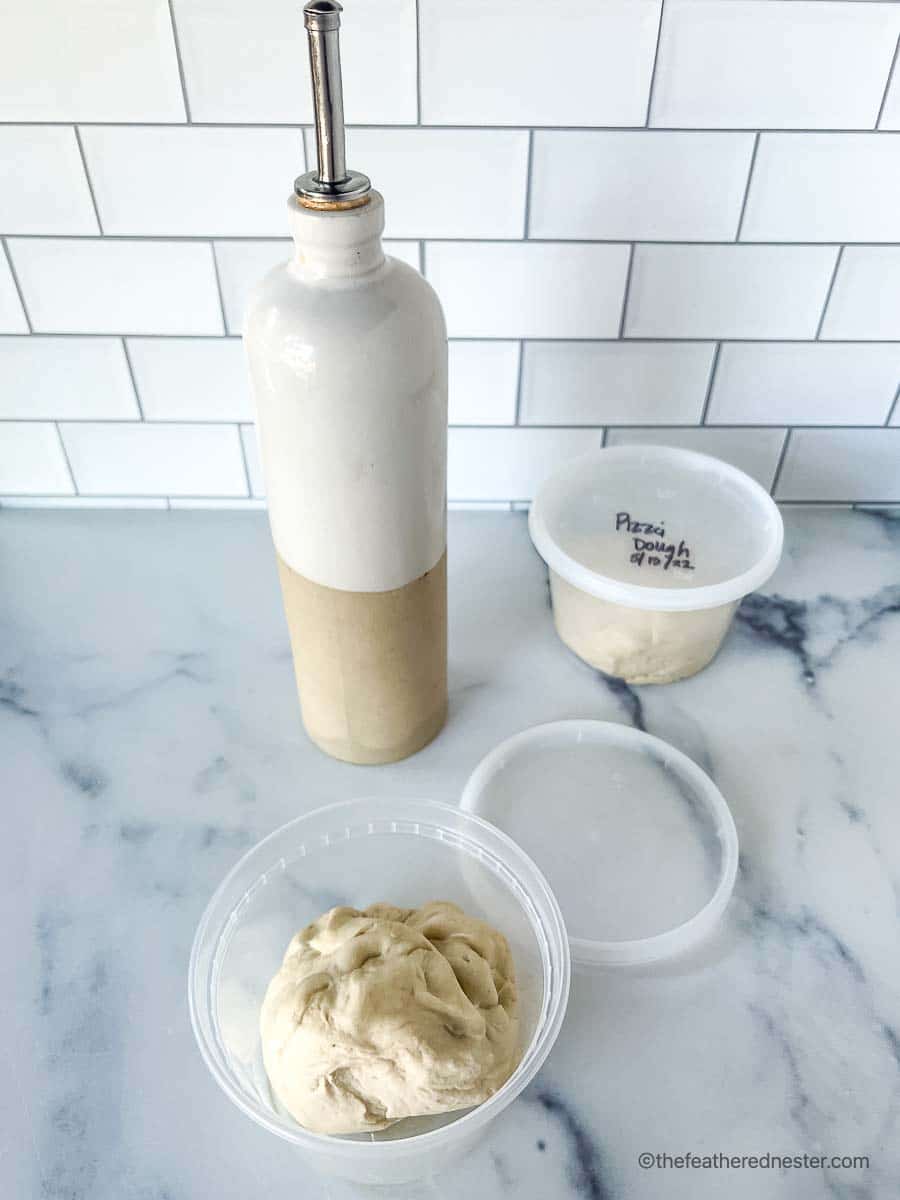 First things, first – you will need some pizza dough on hand before learning about storing and freezing pizza dough.
You can buy fresh, premade dough at the grocery store (Trader Joe's or Safeway).
Or, you can make your own by using one of our recipes for Easy Pizza Dough Recipe or Sourdough Pizza Crust. The printable recipe for the easy pizza dough is at the end of the post.
Looking for some fun pizza ideas? Make spooky shaped pizzas (like a ghost shaped pizza, a spider, or a pumpkin for Halloween.
Storing Pizza Dough in the Fridge
Storing frozen pizza dough in the fridge is the best way. You can put the dough in your fridge for up to 2 days.
Store pizza dough in the fridge for a slow rise. Then, it is thawed when you are ready to bake it.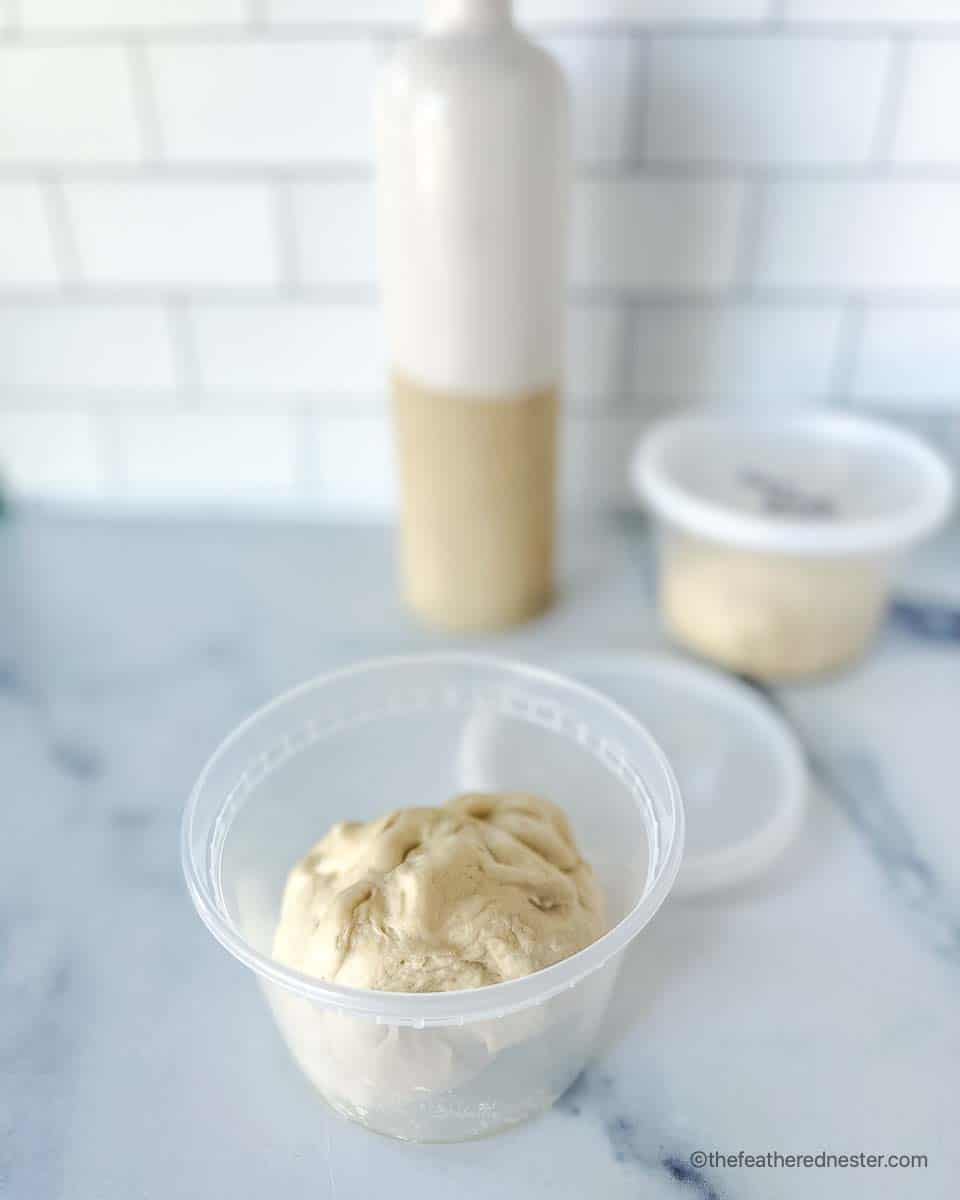 The cold fridge also keeps the pizza crust from rising too quickly. Plus, it gives the crust a chance to develop more flavor.
Here's a Pro Tip:
Take the crust out of the fridge at least 1 hour before baking. That way it has time to come to room temperature before going in the oven.
How to Freeze Pizza Dough
The freezing process of pizza dough is pretty simple.
First, you have to make it into a ball then lightly cover it with olive oil.
Then, add the dough to a plastic storage bag (like a Ziplock) or store pizza dough in an airtight container.
If you are using a plastic bag, be sure to squeeze all the air out before sealing. This helps prevent the dough from drying out.
For an airtight container, make sure to leave some headspace as the dough expands as it freezes.
Once you store the pizza crust in a plastic bag or container, add a label with the date on it. Or use a sharpie to write right on the bag or container.
That way you will know how long it has been in the freezer. Your unbaked crust can be stored in the freezer for up to 3 months.
Frozen Pizza Dough Instructions
One of the best tips I can give you is to make a frozen pizza dough ball. You can make it by rolling the pizza dough into a ball before freezing. This makes prepping thawed dough easier when rolling it out.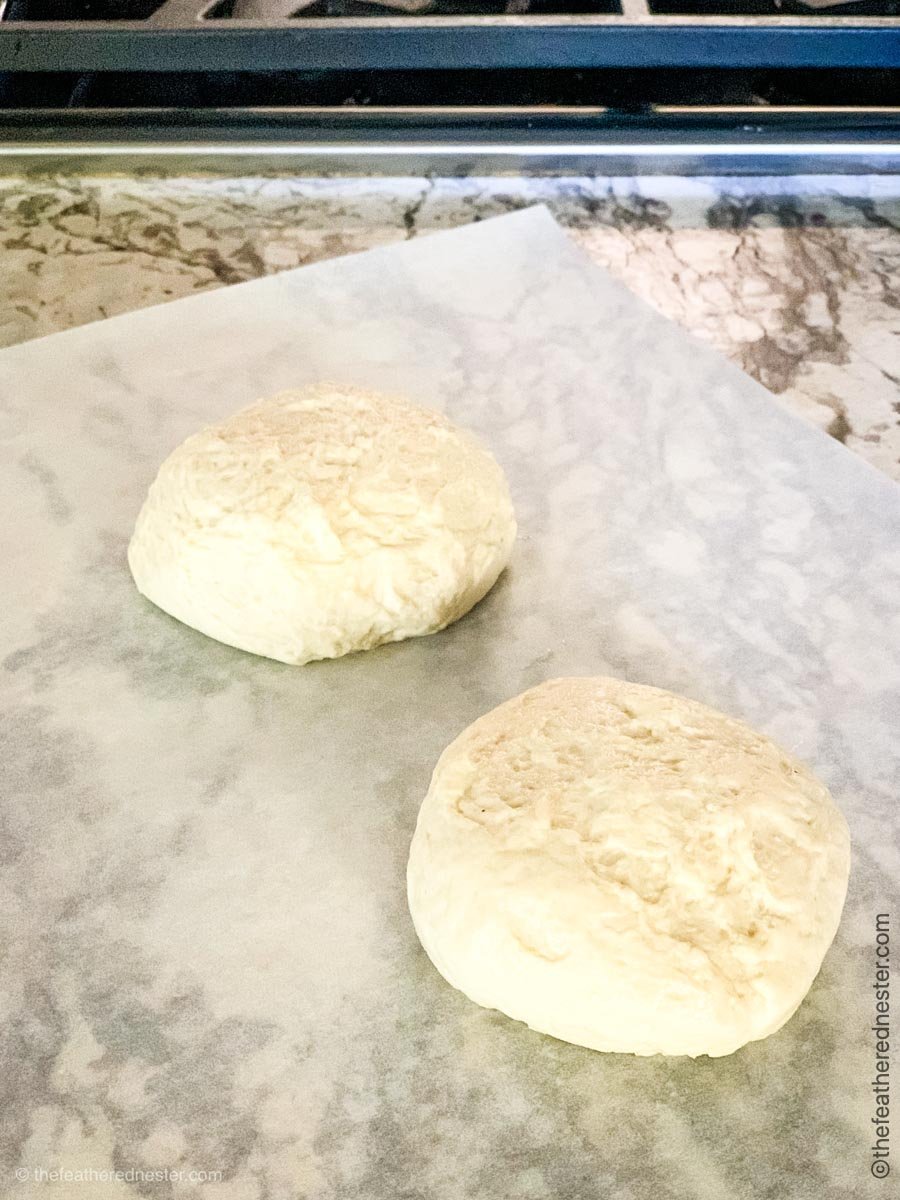 Depending on the size of your family, you can make multiple pizza dough balls so you always have some on hand. And then making a pizza crust is as easy as pulling a frozen dough ball from the freezer and thawing it in the fridge.
Be sure to get your pizza dough recipe to freeze below!
DefrostING Pizza Dough
Some of you may ask "how long to defrost pizza dough?"The simple answer is less than 12 hours. Defrosting pizza dough is pretty simple.
Just remove the frozen crust from the freezer, but don't remove it from the bag or container yet.
Then let it sit in the fridge overnight. This will ensure that it is thawed all the way through and will be less sticky when rolling it out.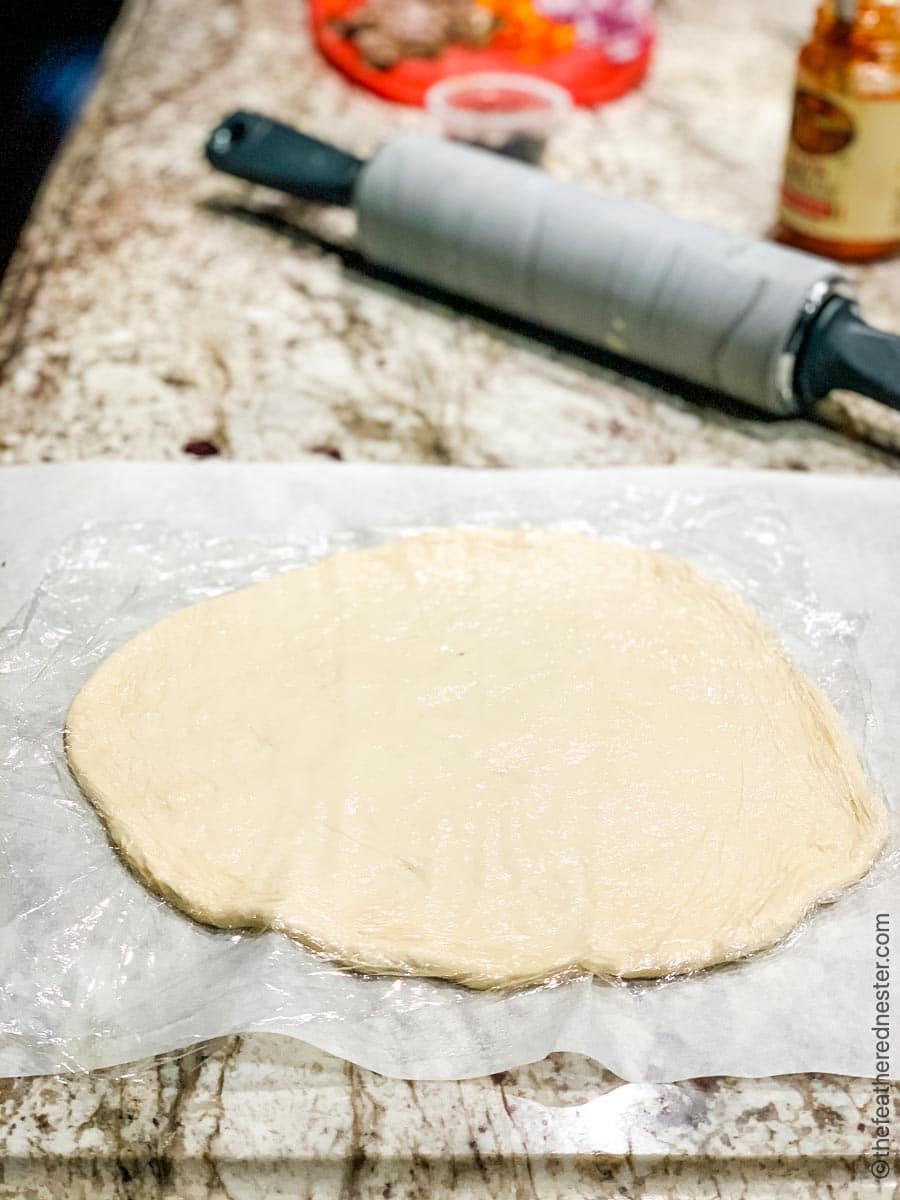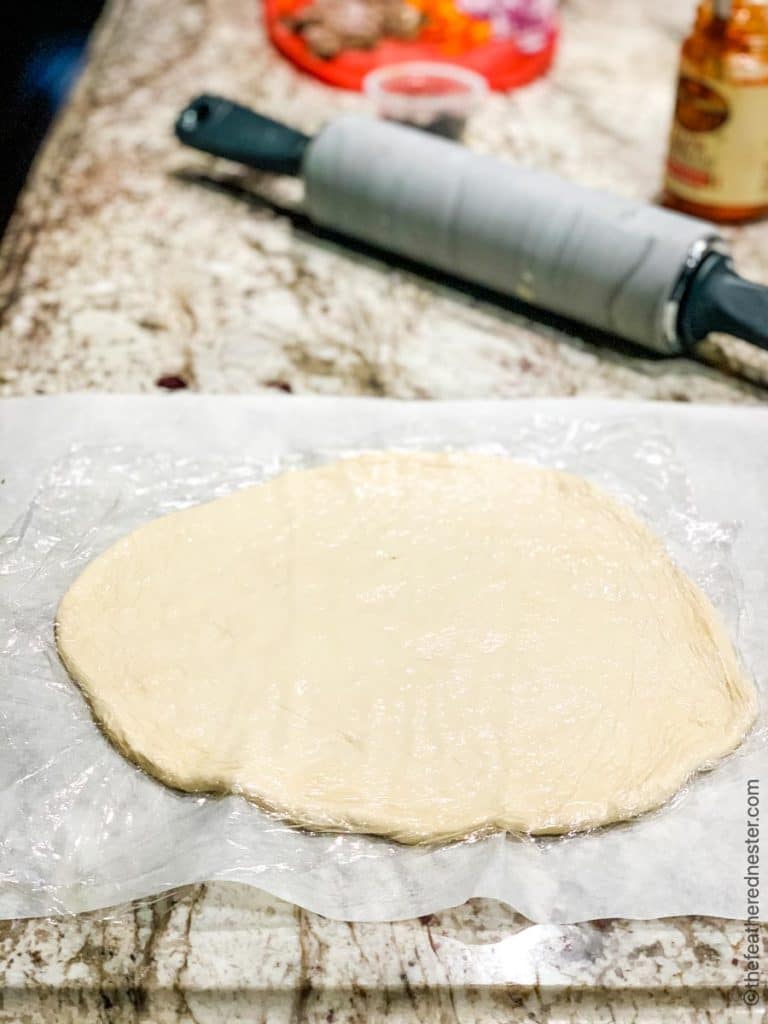 How to quickly defrost pizza dough?
Many of you are busy and don't have the time to wait for slowly defrosting a pizza crust.
Here are some tips to quickly defrost pizza dough:
Warm water method. Place the bag in a bowl of warm water for about 30 minutes.
Thaw your pizza dough in a cold water bath. Place the bag of frozen dough in a bowl of cold water. It should only take about an hour or two for the dough to thaw by using this method.
The fastest way is by putting it in a microwave. Put the frozen pizza dough on a microwave-safe plate and cover it with an inverted bowl. To avoid cooking the dough, set the timer for about 45 seconds on the defrost setting. Then, take it out and let it thaw for about half an hour before using it.
Pizza dough you can freeze:
You can freeze all types of pizza – unbaked pizza dough, pre-made pizza crusts, and homemade pizza dough. Just make sure to follow the freezing instructions above so that it will be fresh and delicious when you are ready to cook.
Preparing the Crust
After thawing the pizza dough, it's time to start preparing the crust.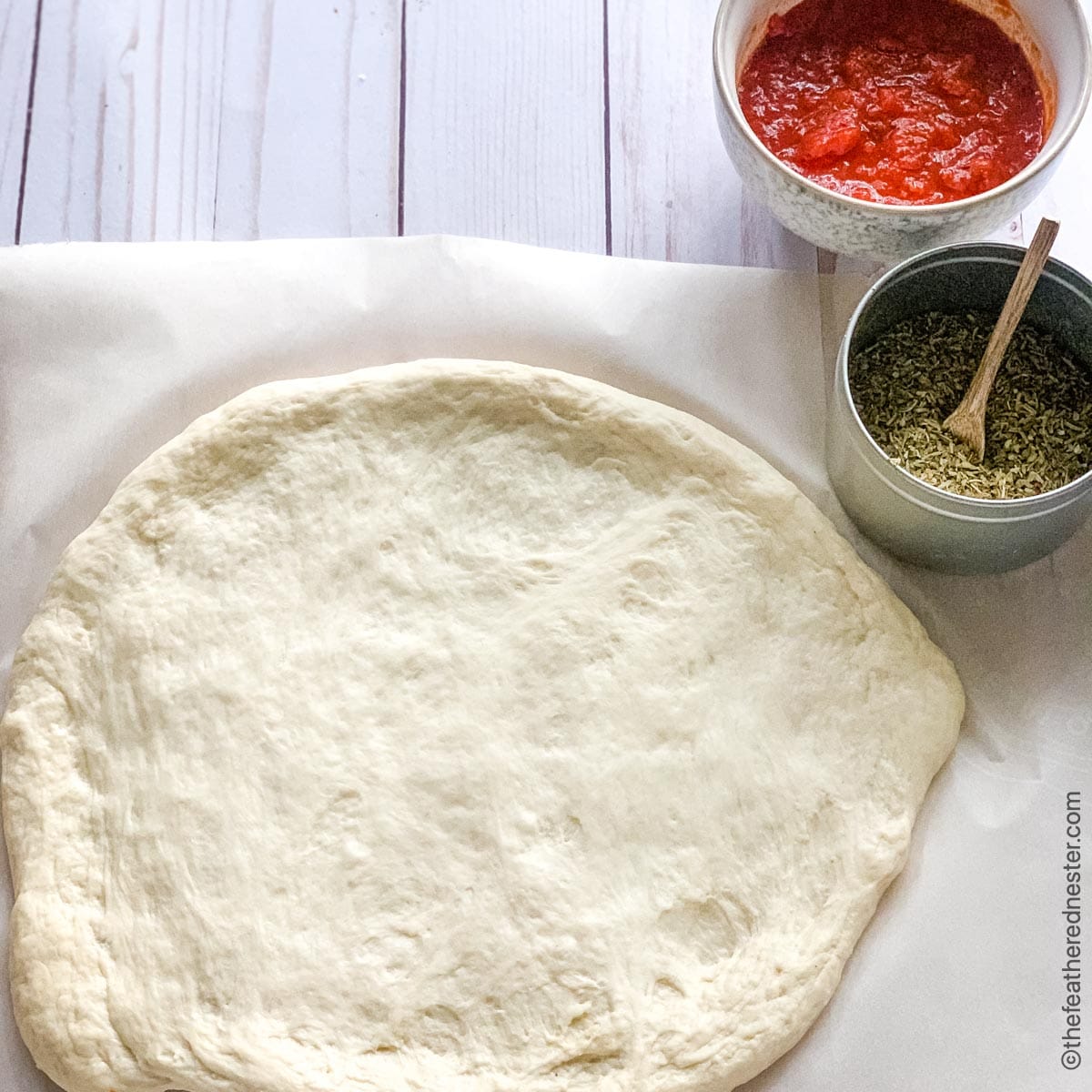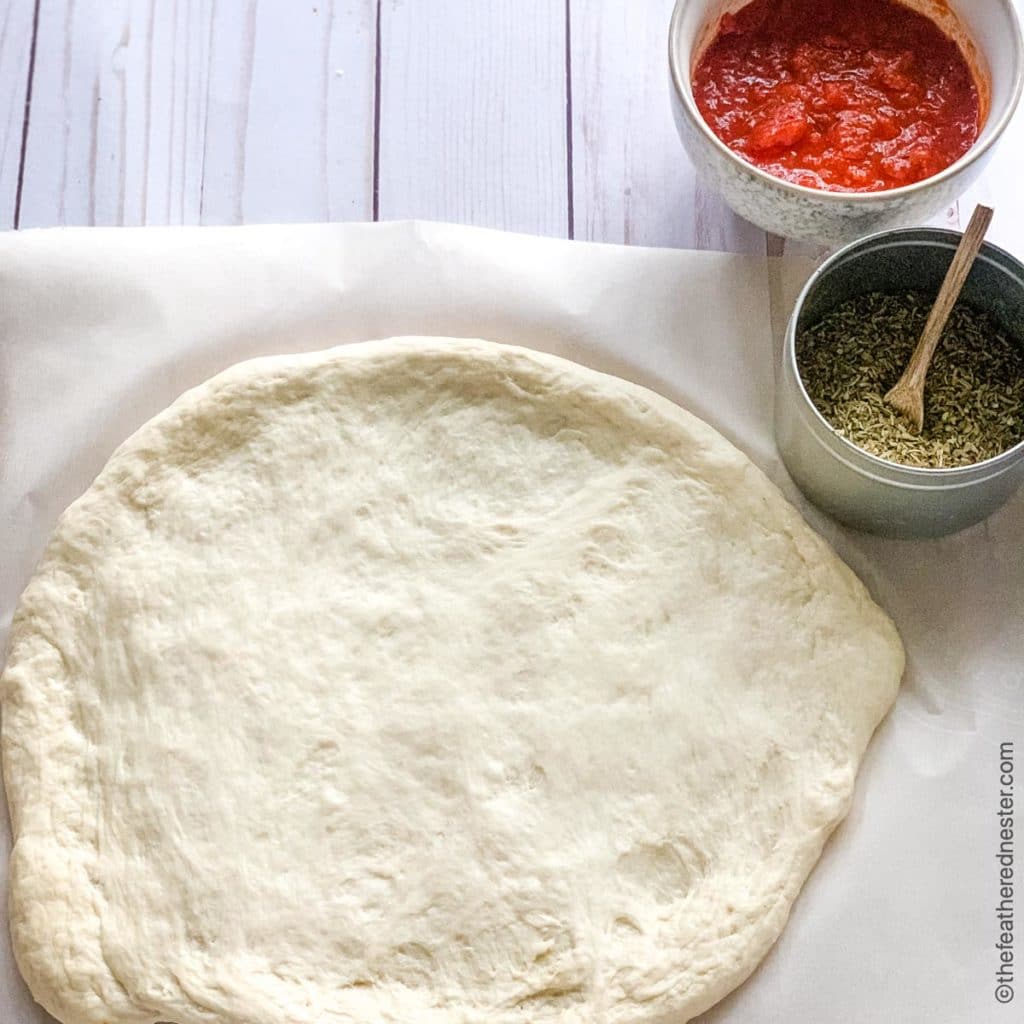 The first thing you need to do is put flour on your work surface. This will prevent the dough from sticking while you're rolling it out.
Next, put the dough ball in the center of your floured surface. Then, using a rolling pin, begin to roll the dough out into a circle. You can also use your fingers to stretch it gently. If your dough is sticky, you can put flour on your rolling pin to prevent it from sticking.
Once you've rolled your crust into a circle, transfer it to a greased pizza pan or baking sheet. Then, use your fingers, and press the dough down into the pan to cover the entire bottom.
Now add your favorite toppings and bake your delicious homemade pizza!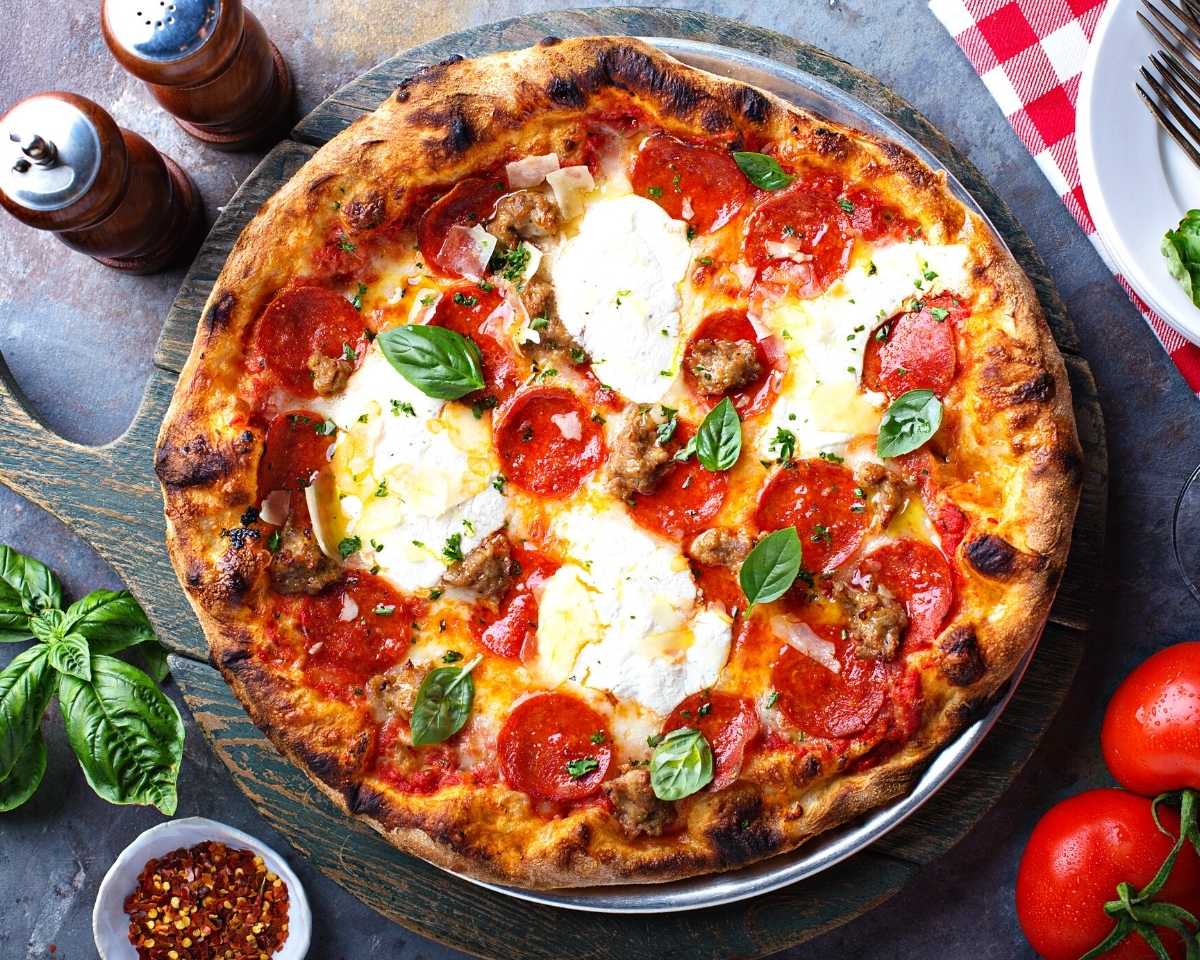 Common Questions
Will the pizza dough rise after being frozen?
Yes, your pizza dough will continue to rise a little after being frozen. Make sure to thaw it completely before cooking so that it cooks evenly.
How do you let the frozen dough rise?
Let your dough thaw with the method you want. Once it's thawed, you can let it rise in a bowl on the counter for 30 to 60 minutes before cooking. Your pizza dough is ready for cooking once it has doubled in size.
Can I refreeze my thawed pizza dough?
No, you shouldn't refreeze it because it will affect the texture and taste of your crust.
Recommended EQUIPMENT For Storing Pizza Crust
These leak-proof containers (shown here) are ideal for keeping your frozen pizza dough fresh.
Plastic freezer bags, like Ziplock, will keep your dough fresh and frost-free.
Best Pizza Dough Recipe to Freeze
This pizza crust recipe is perfect for freezing.
Best Ever Pizza Dough
This easy homemade pizza dough recipe delivers a fail-proof, pizzeria-quality pizza crust every time. It's an ideal recipe for freezing pizza dough, too, so you always have some on hand to make ahead.
Equipment
baking sheet or pizza stone
Ingredients
1

cup (153 grams)

00 flour

1

cup (153 grams)

all-purpose flour

1

teaspoon

salt

1

cup

lukewarm water

(95º to 105º)

2¼

teaspoons (7 grams)

active dry yeast

1

teaspoon

olive oil
Instructions
In a large mixing bowl, combine flours and salt together. Set aside.

In a small bowl, sprinkle yeast over lukewarm water and olive oil. Wait 2-3 minutes, then pour into the flour mixture. Stir ingredients together, then knead with your hands or a stand mixer with a dough hook for 3 minutes. Let the pizza dough rest for 15 minutes.

Knead rested dough by hand or in stand mixer for 3 minutes. Cut into 1 large, 2 small, or 4 mini (kid's size) equal pieces and shape each into a ball.

Place on a heavily floured surface, cover with dampened cloth or plastic wrap. Let rise until doubled for 2 to 3 hours at room temperature, or 8 to 24 hours in the refrigerator. (If you refrigerate the dough, remove it 30 to 45 minutes before you begin to shape it for pizza.)

To make pizza, place each dough ball on a lightly floured surface and use your fingers to stretch it gently, then your hands to shape it into rounds or squares.

Top with your favorite toppings, and bake at 425ºF degrees for 12-15 minutes for individual pizzas and 20 minutes for a full-size pizza.
Nutrition
Serving:
1
slice
|
Calories:
291
kcal
|
Carbohydrates:
59
g
|
Protein:
8
g
|
Fat:
2
g
|
Saturated Fat:
1
g
|
Sodium:
482
mg
|
Potassium:
82
mg
|
Fiber:
2
g
|
Sugar:
1
g
|
Calcium:
11
mg
|
Iron:
4
mg