Succulent, spicy, sweet, and savory — all words that describe our delicious Dutch Oven Pulled Pork Sliders! This dry brined, slow roasted Dutch oven pork roast is tender and juicy, achieving those outdoor BBQ flavors right on your stovetop. And, like our sheet pan pork tenderloin recipe, this is a one-dish delight!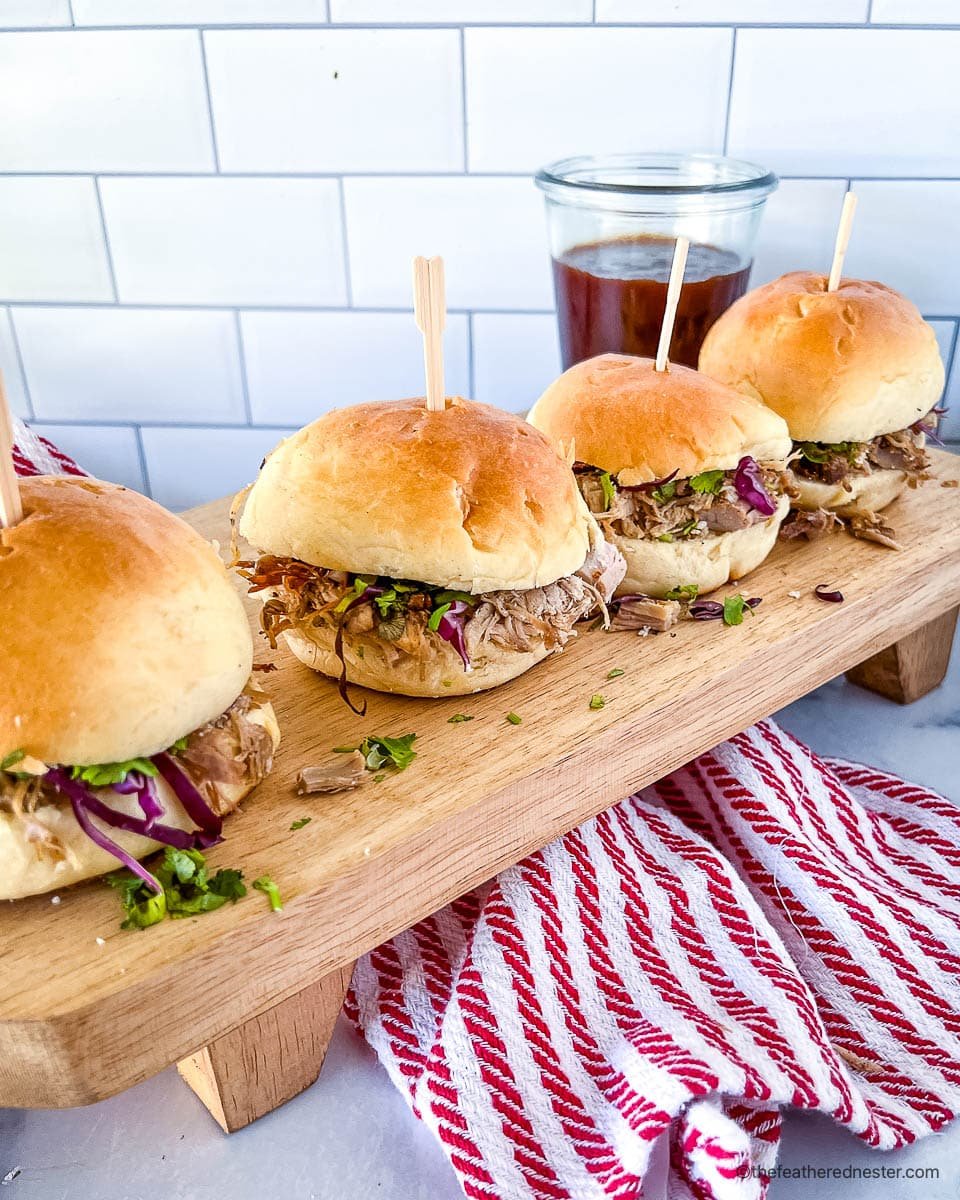 Why We Love Dutch Oven Pulled Pork Sliders
1. The dry brine makes this braised Dutch oven pork roast extra juicy with a crispy crust. Unlike marinades and wet brines, dry brining makes the meat moist and dries the surface for a crispy skin over juicy, succulent meat.
2. It's hands-off! The three stages of this are dry brine, sear, and slow cook. You'll spend most of the time waiting — just like our crockpot pork chops!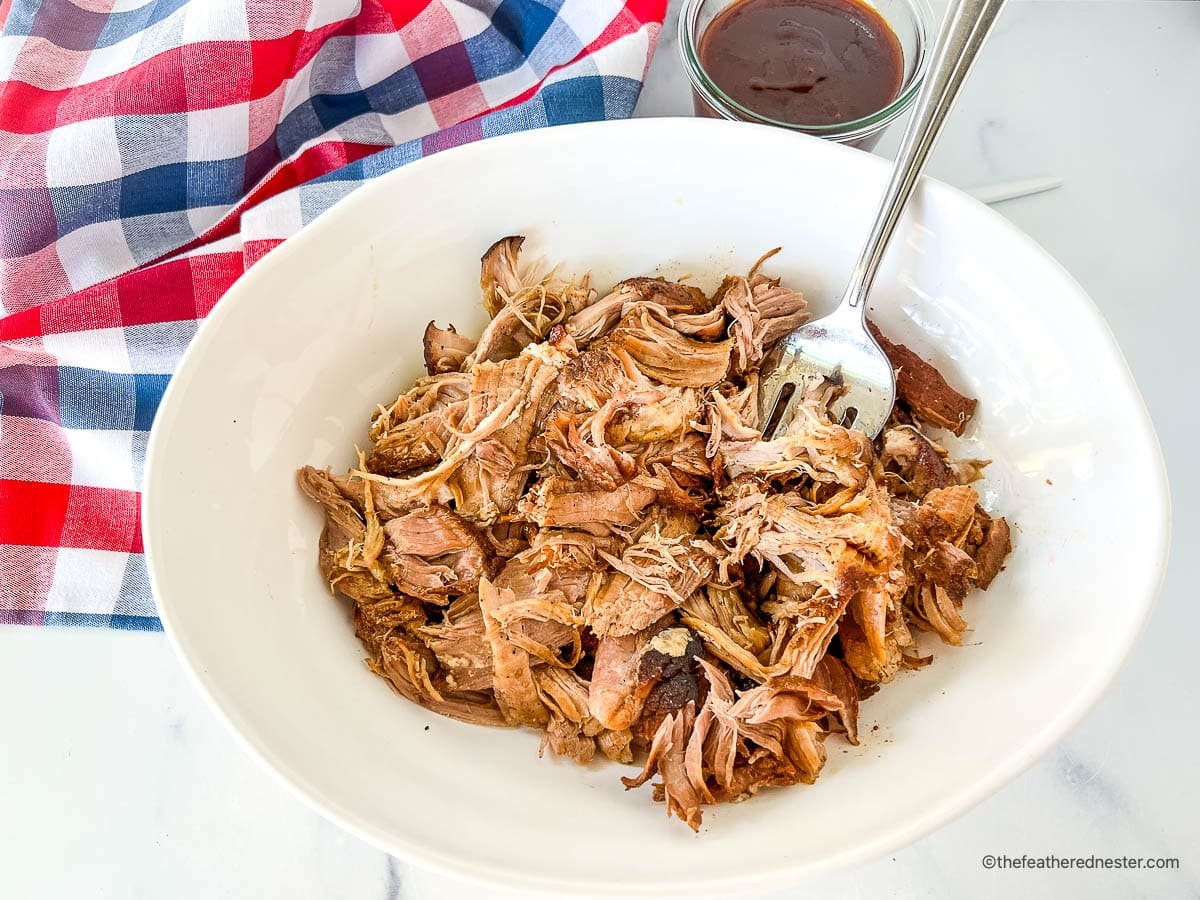 3. It's a mouthwatering mix of sweet and savory. Sugary soda, rich pork, and spicy seasonings create a spiced caramelized crust and an addictive blend of flavors!
Ingredient Notes and Substitutions
Kosher Salt – Coarse, large-grained salt is the foundation for our dry brine for pork. Kosher salt is the best. Avoid table salt, which will clump up during the process and make the brining less effective.
Sugar – This plays more of a flavoring role in the brine and browns the Dutch oven pulled pork beautifully. Both white and brown sugar are great for this – use whichever you have on hand.
Chili Powder and Smoked Paprika – These two spices give a mix of savory, smoky, and sweet heat. If you're sensitive to spicy foods, you can use all paprika. And if you want to keep things as simple as possible, you can opt for a pre-made store blend. Spicy, zesty Tajin chili seasoning (or the low-sodium version!) is a great option.
Dr. Pepper – This dark cola adds flavor to the pulled pork and makes the meat tender – it does it all! A different type of dark cola, like Coke or Pepsi, even root beer or beef broth are great substitutes.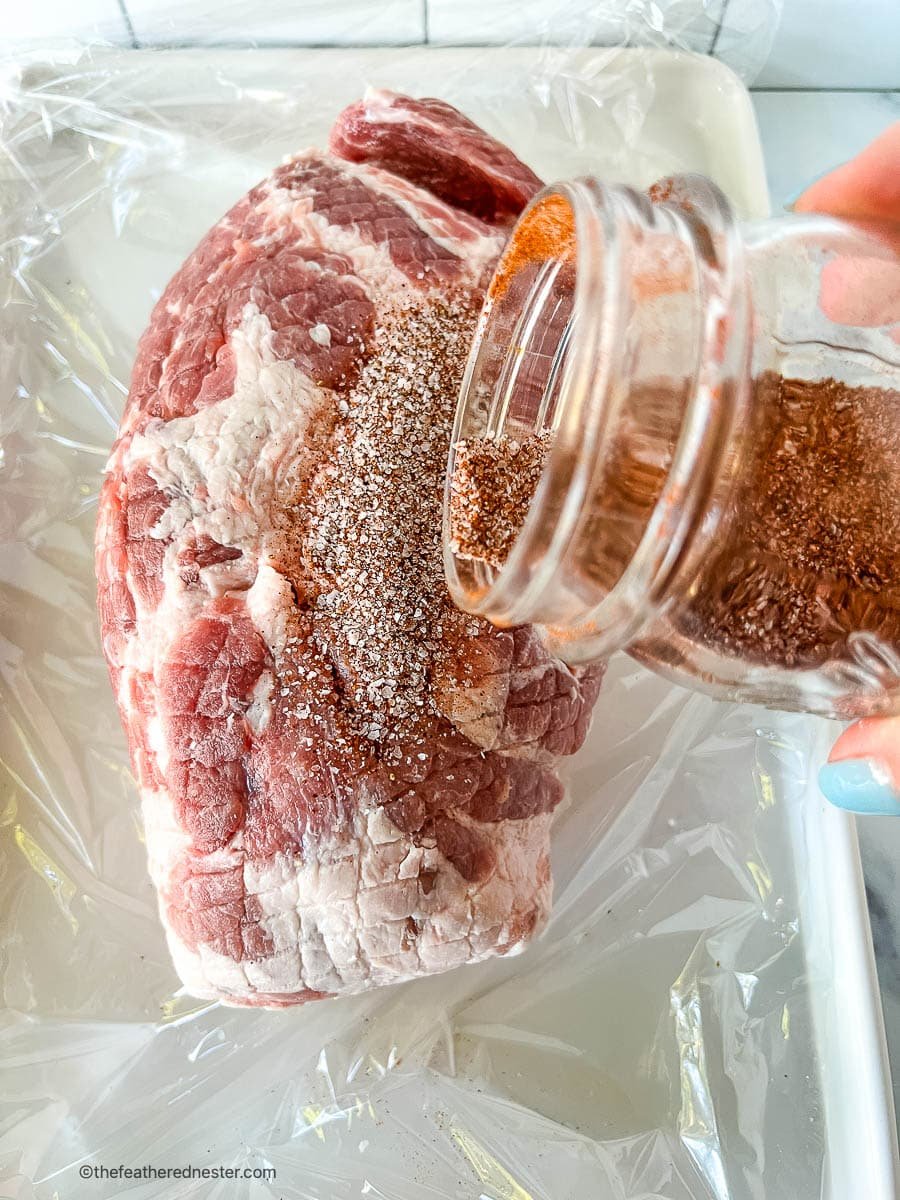 Best Meat For Pulled Pork
We suggest using boneless pork shoulder or Boston butt for this pork sliders recipe. Something like a pork steak would dry out rather quickly, so avoid those leaner cuts.
Shoulder is great for this pulled pork sliders recipe because it has the right blend of fat to slowly cook and melt into the meat. It's also a great cut for carnitas!
Pork butt/Boston butt is similar, but has a higher fat content – it's great for even longer, slower smoking and barbecuing.
How to Shred Pork
Note that Dutch oven pork roast needs to reach 225°F to reach a fork-tender, shred-able point. The meat will be very hot, so proceed with caution!
The most popular way to shred meat is with two forks, one in each hand, to pull the meat apart. Cut the meat into smaller pieces to make this easier.
Specialized utensils like hand-held "meat claws" and shredder tools are also an option. If you barbecue or make pulled meats on the regular, these could be worth the investment!
If shredded meat is your favorite, you should love our recipes for Mexican pulled pork and chicken street tacos, too!
Dutch Oven Pork Roast Recipe Tips
1. Sear the pork before roasting.
When you take the time to sear the exterior of meat before roasting it, you're building the foundation for the perfect crust. It also helps to keep the interior of the meat juicy.
Skipping this step won't affect how well your Dutch oven pulled pork cooks, but it will absolutely affect the flavor and texture.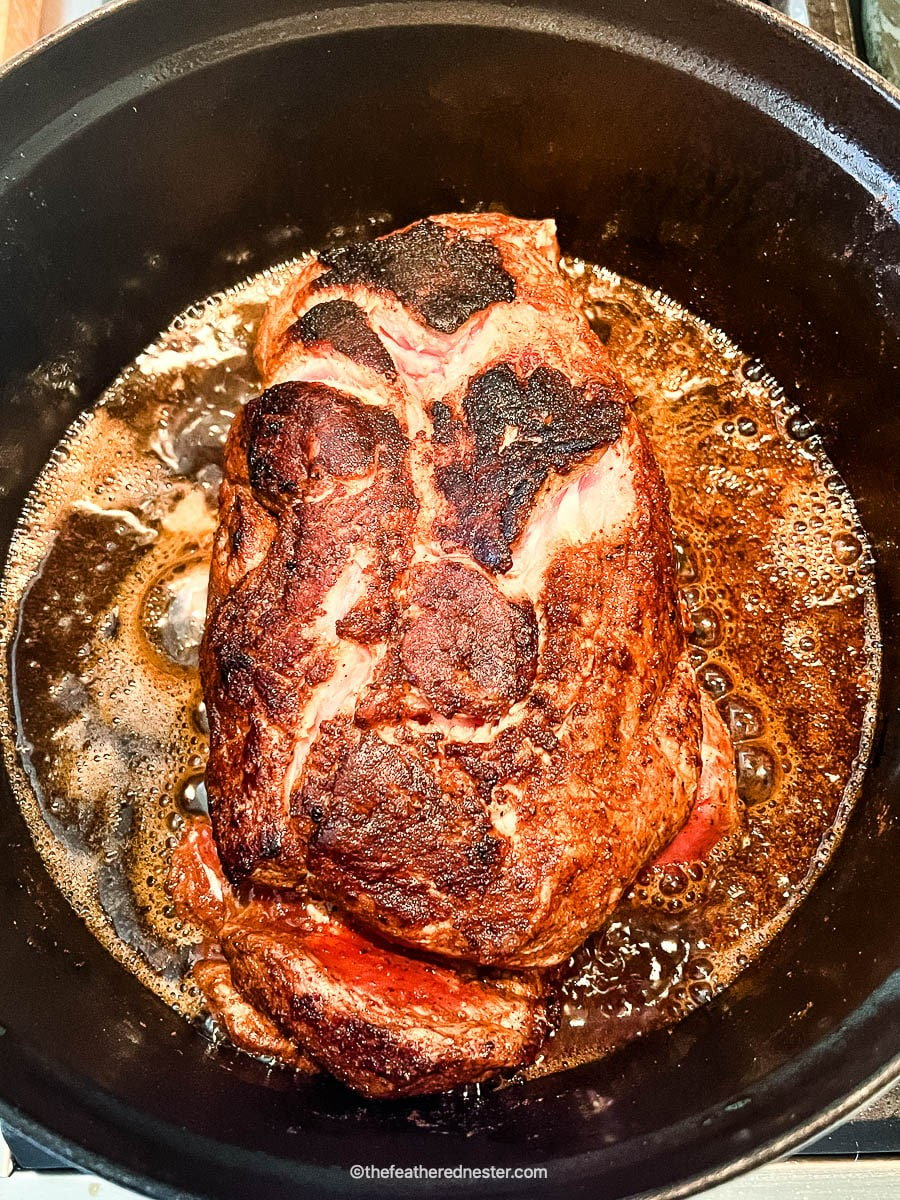 2. Pour the soda around the pork, not over it.
A rainfall of soda will wash away all of the hard work we've done to create a delicious spiced crust! Instead, very slowly and steadily pour the soda in a ring around the meat until it covers half of the roast to create your Dr. Pepper pulled pork.
3. Maintain the cooking liquid.
There should be some amount of liquid in your Dutch oven for the entire cooking process. This "moist heat" guarantees juiciness while the roast is braised. So if the meat isn't quite done and tender by the time the liquid runs out, add a bit more of the broth or soda and continue cooking.
Pulled Pork Sliders FAQ
What is the best liquid to cook pulled pork in?
Some of the most popular liquids for pulled pork sliders are broth, beer, and fruit juice – usually apple or orange, along with a bit of vinegar.

But we love Dr. Pepper pulled pork! The cola's sugar caramelizes for a gorgeous, golden crust while tenderizing with its acidity. It also adds a delicious sweetness that isn't too cloying.
What is the best temp to cook pulled pork in the oven?
The ideal "low and slow" temperature is 250°F. A slightly lower temperature of 225°F is fine, too, but will of course take longer. A higher temperature risks drying out the exterior before the center is cooked through.
Storing and Reheating
Leftover Dutch oven pulled pork can be refrigerated for up to 4 days. It dries out day by day, but storing it in some reserved cooked juices can help to keep it moist.
Reheat in a pot on the stovetop over medium-high heat until it's warmed through. Same as for storing, a bit of broth or leftover juice can really help to restore any loss of moisture.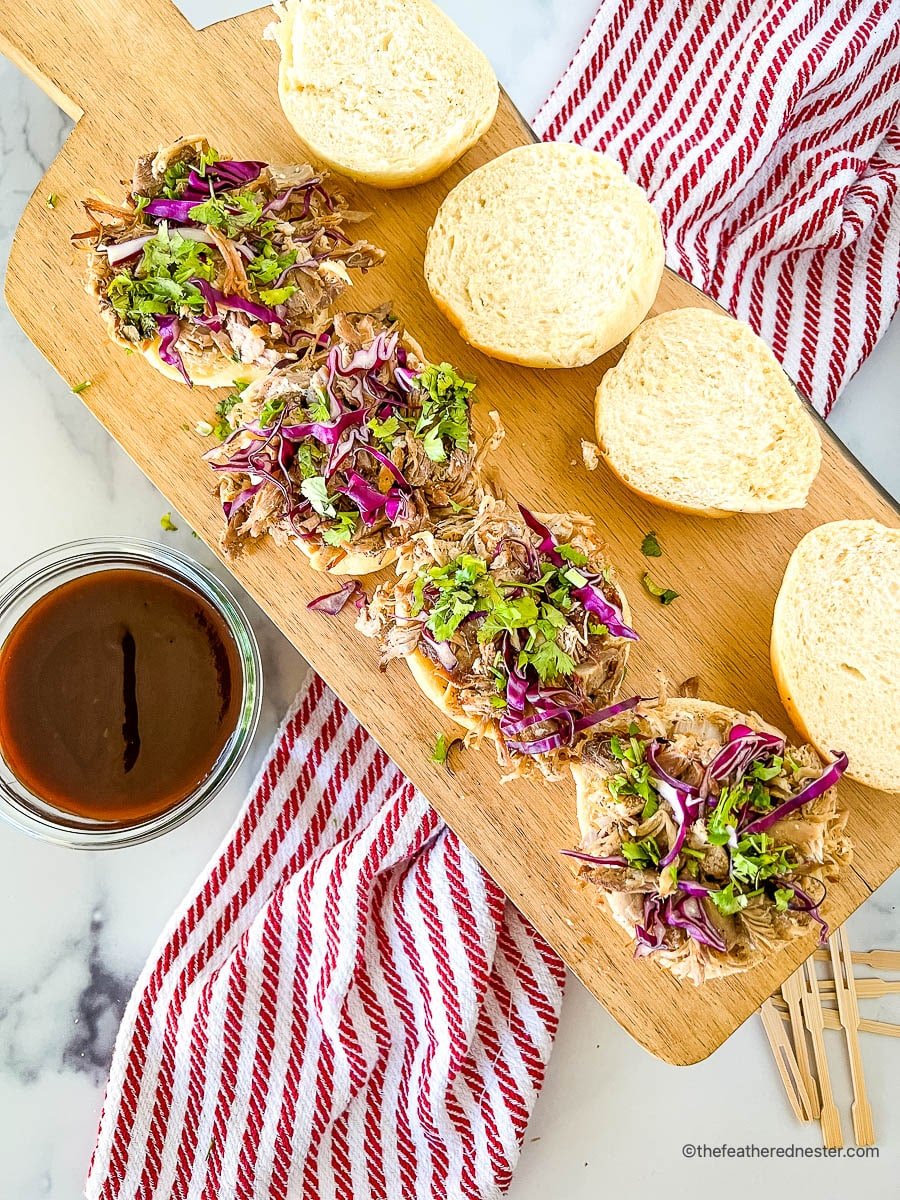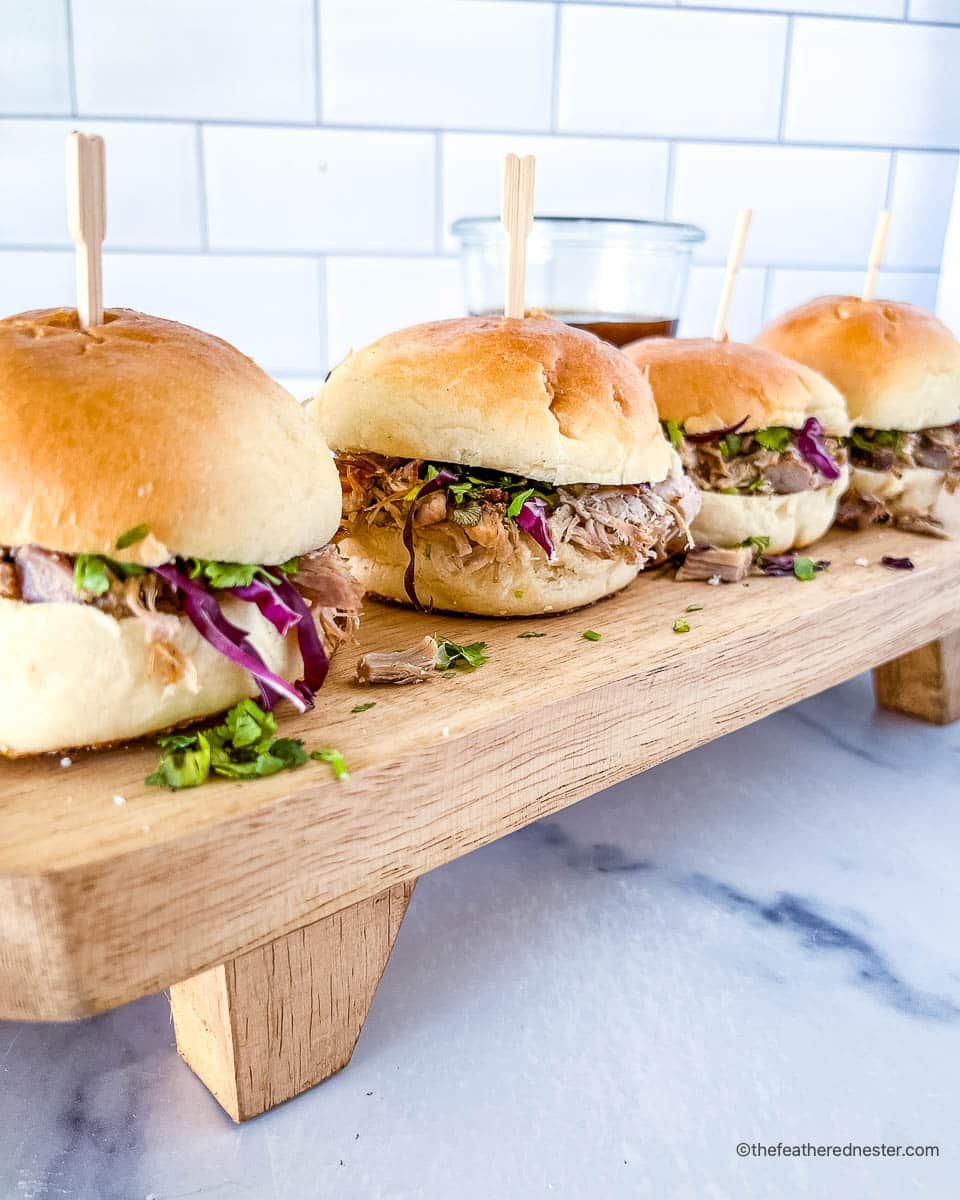 Dutch Oven Pulled Pork Sliders
Dutch Oven Pulled Pork is an easy way to make sliders! Make this dry-brined Dutch oven pork roast recipe for juicy, flavorful sandwiches.
Ingredients
Dry Brine
2 tablespoons sugar
2 tablespoons kosher salt
1 tablespoon chili powder
1 tablespoon smoked paprika
1 teaspoon black pepper
For Pulled Pork
4 pounds boneless pork shoulder or Boston butt
2 tablespoons olive oil or avocado oil
16 ounces Dr. Pepper or other dark cola, beef broth, or root beer
½ cup water
For Serving
16 slider buns dinner rolls, or hamburger buns
Instructions
In a medium bowl, whisk together seasonings for dry rub: sugar, kosher salt, chili powder, smoked paprika, and black pepper.

Place the roast on a sheet of plastic wrap. Rub the seasonings evenly all over. Roll pork in the plastic wrap to seal. Refrigerate for 8 hours (or overnight).

Preheat oven to 250°F.

Add oil to a cast iron Dutch Oven or similar heavy-bottomed pot over medium-high heat. Once the oil is almost smoking, sear the pork on all sides.

Carefully pour cola around the meat, not over it (to avoid washing off spices). The cola should cover the bottom half of the roast.

Cover pot with lid and roast in preheated oven for 5 hours. After 2 1/2 hours, check the pot and add more water if necessary.

After 5 hours, the meat should be fork tender and easy to shred. If not, continue roasting for a while longer. *The internal temperature of the pork needs to be around 225ºF for the meat to be tender enough for shredding.
Nutrition
Serving: 2 sliders | Calories: 372kcal | Carbohydrates: 35g | Protein: 35g | Fat: 10g | Saturated Fat: 2g | Polyunsaturated Fat: 1g | Monounsaturated Fat: 4g | Trans Fat: 0.02g | Cholesterol: 82mg | Sodium: 1491mg | Potassium: 549mg | Fiber: 3g | Sugar: 12g | Vitamin A: 583IU | Vitamin C: 0.01mg | Calcium: 55mg | Iron: 3mg
PIN THIS POST!