Sheet pan pork tenderloin takes less than an hour to cook and has a really complex flavor we can't get enough of! Get one taste of the sweet, spicy, and savory flavors and we think you'll want to make this Asian pork recipe every week!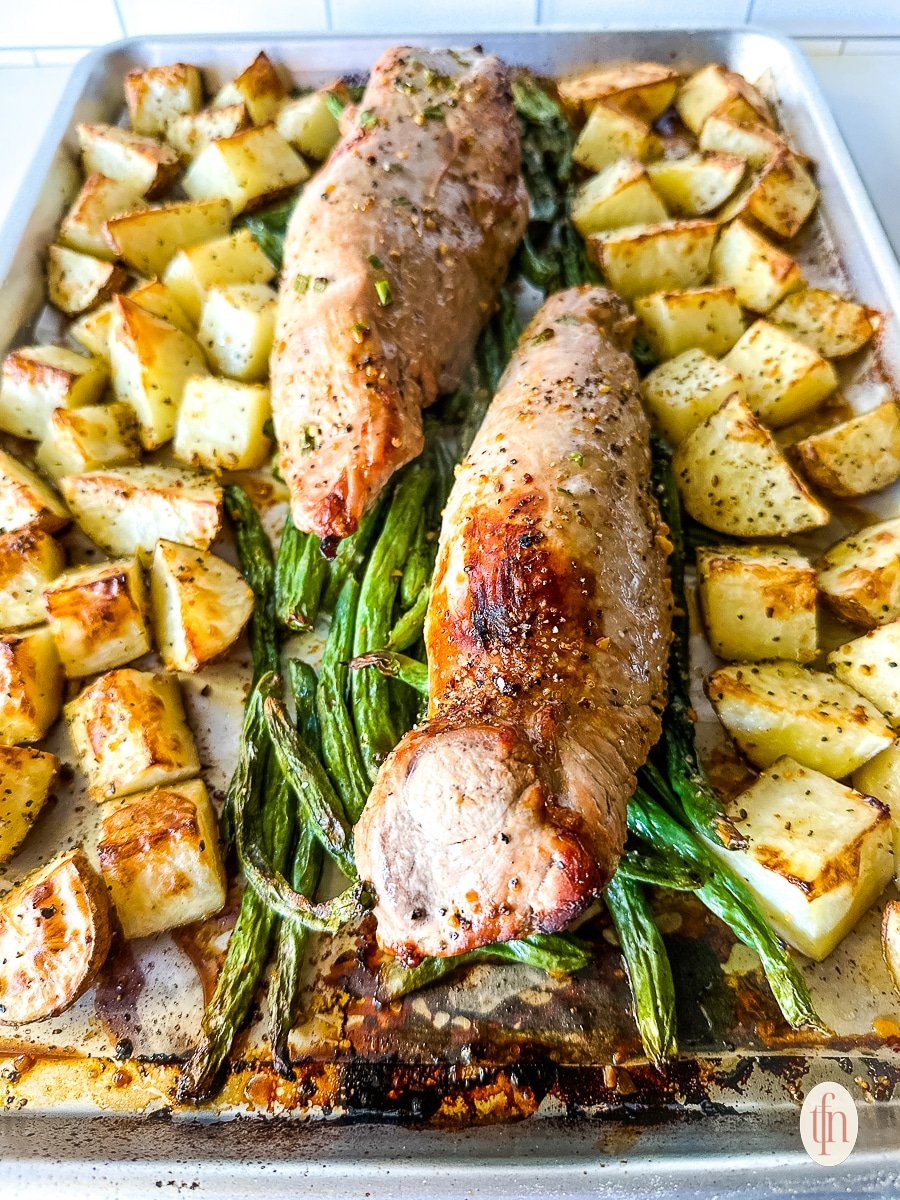 Why We Love Sheet Pan Pork Tenderloin
1. A hearty meal.
Meat and potatoes are a comfort food combo that is guaranteed to fill you up! The vegetables can be customized, and the oven-roasted hoisin pork always comes out perfectly tender.
2. Makes an easy one-pan dinner.
Just spread all the ingredients on a sheet pan, throw it in the oven, and your work is done!
3. It's quick!
The 40-minute cook time for this recipe means it's quick, easy, and perfect for a delicious meal any night of the week.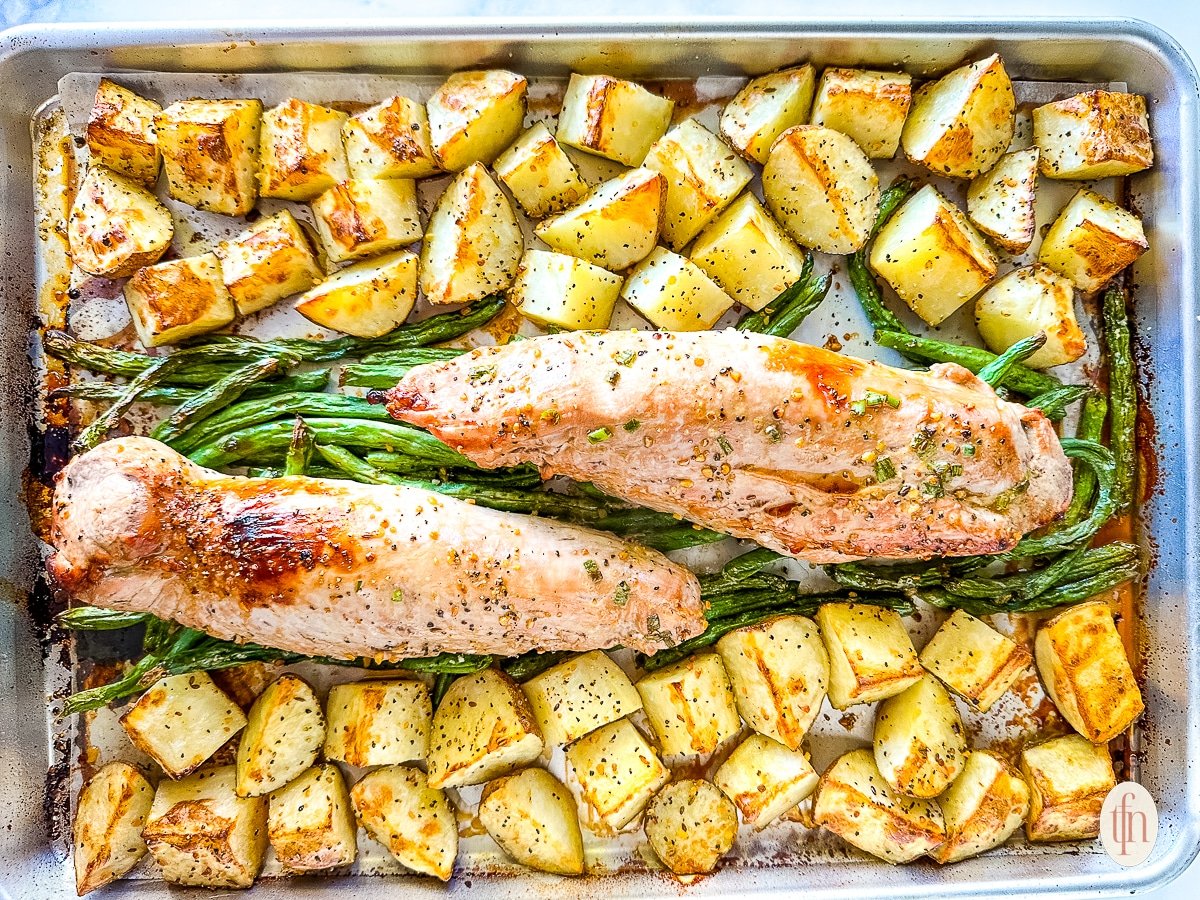 Ingredient Notes and Substitutions
Tenderloins – Keep in mind that there is a difference between pork tenderloin and pork loin, and the two cuts are not interchangeable. Average sized tenderloins weigh between 1 and 2 pounds, and they are almost always sold two per package.

However, if you have do have a loin roast, you can use it to make a delicious Instant Pot pork loin.
Hoisin Sauce – This is a sweet, spicy, savory Chinese glaze that is great for flavoring rich proteins, including steak.
Green Beans – Either fresh or frozen veggies are acceptable for this sheet pan pork tenderloin recipe. Either way, be sure the ends have been trimmed off.
Potatoes – We've made pork tenderloin and potatoes with both russet and baby red potatoes, but any variety is suitable — Yukon gold, baby red, or even sweet potatoes!
Chives – This herb has a less pungent flavor than green onions, but those will work fine if you have them on hand. Leeks are a good substitute, and even pearl onions are perfectly fine to scatter on the pan with the potatoes and green beans.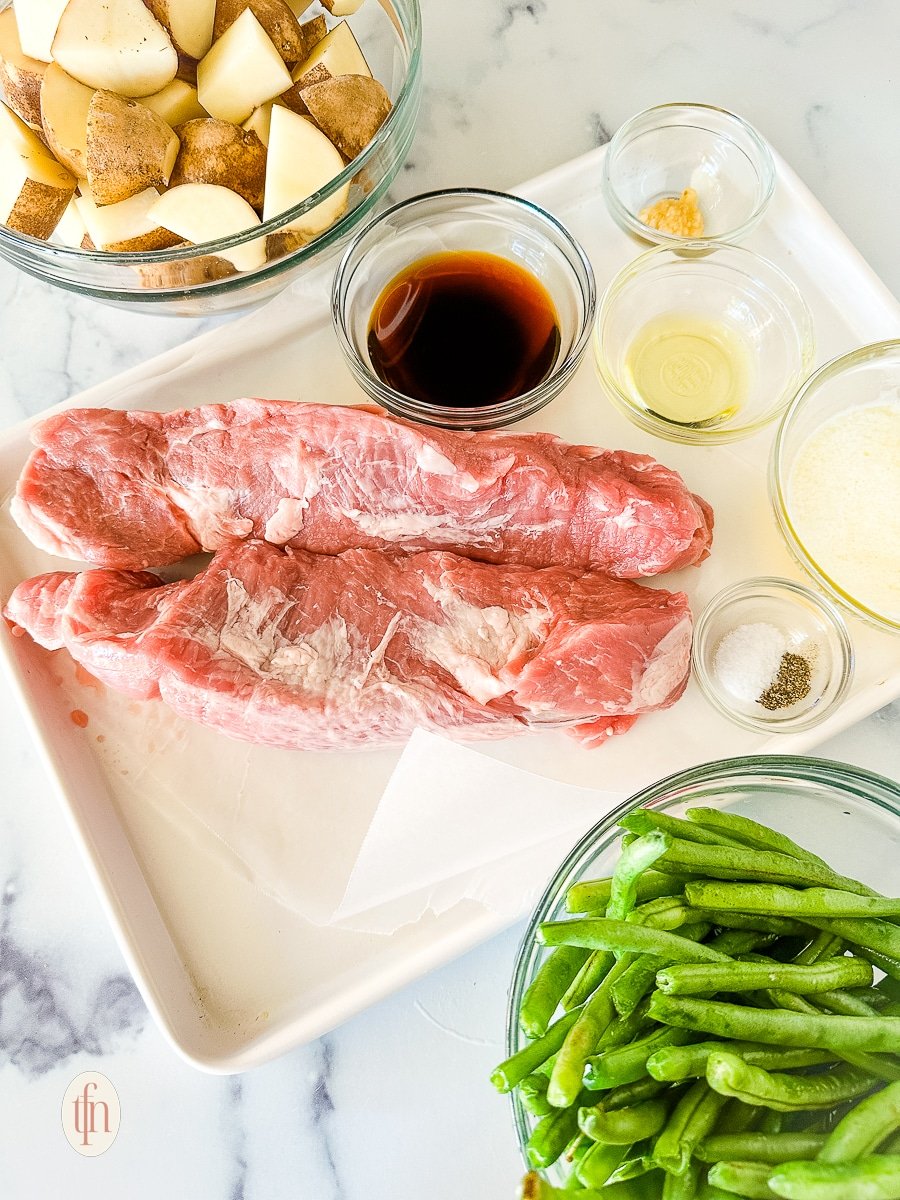 Other Veggies to Cook with Pork Tenderloin and Potatoes
In addition to green beans and potatoes, very hearty vegetables are best for oven-roasting. This includes parsnips, Brussels sprouts, and broccoli. Carrots are excellent to use, too!
To highlight this as an Asian pork recipe, you can toss in bok choy, napa cabbage, snow peas, or mustard greens after the pork and vegetables have finished cooking. These are softer vegetables, so they're best when added to the pan later – they deliver a wonderful tender-crisp crunch!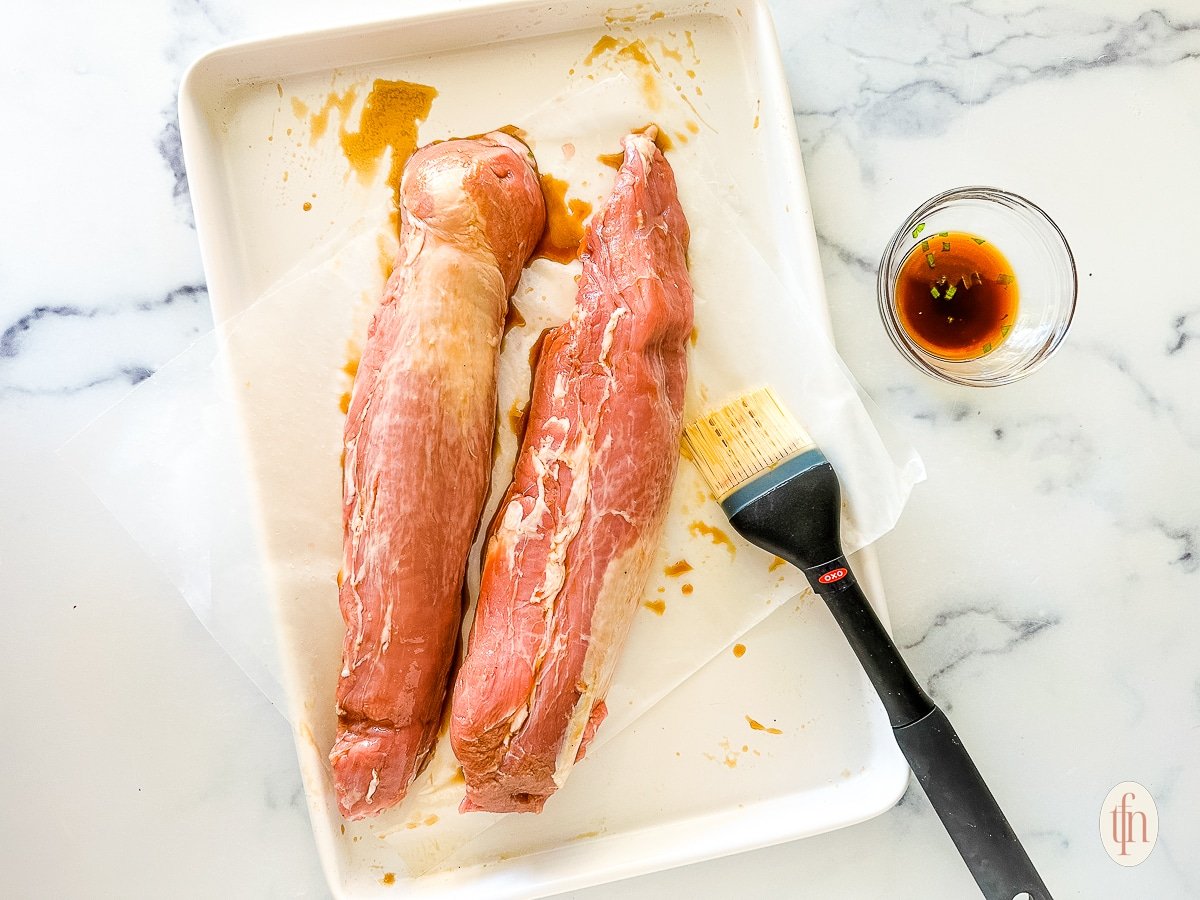 Asian Pork Recipe Tips
Dice the potatoes for proper roasting.
Regardless of the type of spud you ultimately choose for your sheet pan pork tenderloin and potatoes, the most important thing is to make sure they will cook properly.

A regular potato, red or yellow, should be 2 inches in diameter to roast all the way through without becoming mushy. But if you use sweet potatoes, they should be no larger than 1 inch in diameter. They take longer to cook all the way through, so larger chunks will end up raw in the center if kept to the size of other potatoes.
Remember to let the roasted meat rest.
The tenderloin should rest for at least 10 minutes before slicing and serving. If the proper resting time isn't afforded, all of the juices will leak right out of the meat and onto the sheet pan, which will dry out the meat in one fell swoop.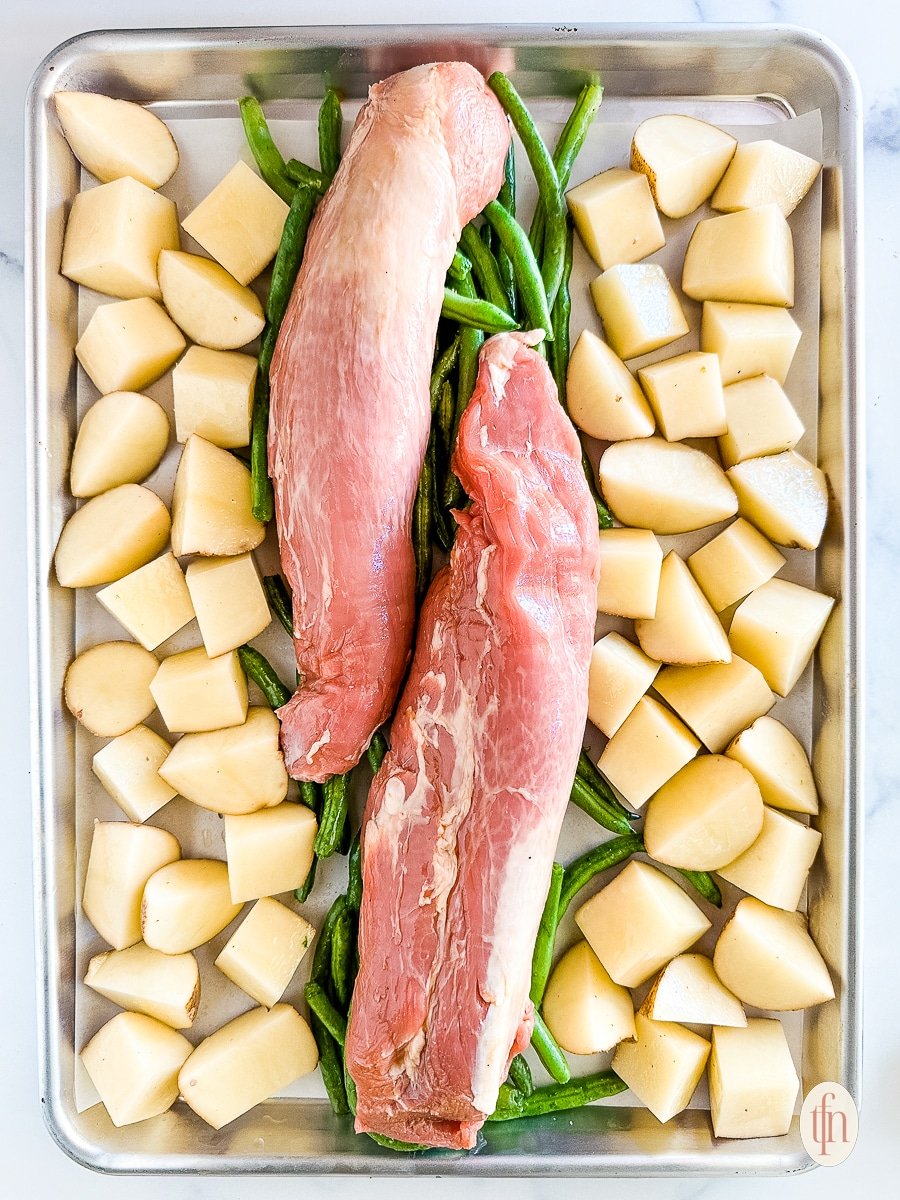 Use the internal temperature to determine doneness.
The most common cause of dry pork, whether it is chops, a pork steak, or tenderloins, is overcooking. For the best results, use a digital, instant read cooking thermometer to measure the internal temperature.

Insert the probe into the thickest portion of the meat – perfectly cooked pork should have an internal temp of 145°F.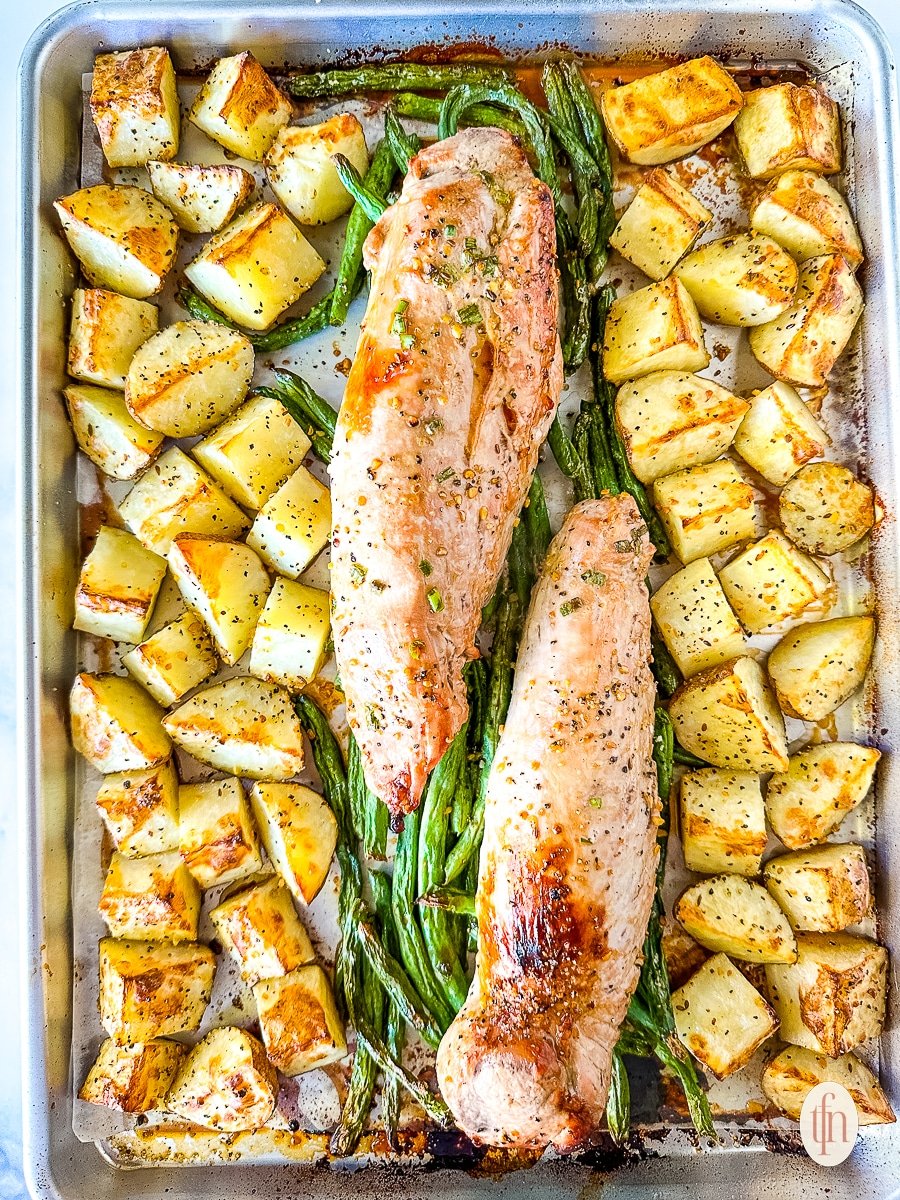 Sheet Pan Pork Tenderloin FAQ
Do you roast pork tenderloin fat side up or down?
This is a great question and very important to highlight: tenderloins do not have a fat cap, so there is no fatty side! As a result, it does not matter which side is face up while roasting. That sure makes things easy, doesn't it?
Is it better to cook pork tenderloin fast or slow?
Sheet pan pork tenderloin is relatively lean — it's one of the things we love about it!
Therefore, it's best to cook quick and hot as it doesn't have much fat to prevent the meat from drying out.
We cook pork tenderloin and potatoes at 450°F., for about 25 minutes.
Storing and Reheating
Any leftover hoisin pork can be refrigerated for up to 4 days in an airtight container. If you also have leftover potatoes and green beans, we suggest storing them separately from the meat. Because they will reheat more quickly, you can just reheat them in the microwave if you'd like.

To reheat the pork tenderloin, place it back on a baking sheet in an oven preheated to a lower temperature (around 325°F.) until it warms through.
Sheet Pan Pork Tenderloin
Our sheet pan pork tenderloin dinner with potatoes and green beans is an easy Asian pork recipe. Make it for a delicious meal in 40 minutes!
Ingredients
4 tablespoons unsalted butter softened and divided
2 teaspoons minced chives (optional)
1 garlic clove minced
¾ teaspoon kosher salt divided
¾ teaspoon ground black pepper divided
2 pounds pork tenderloins excess fat trimmed
¼ cup hoisin sauce
1 pound green beans ends trimmed (fresh or frozen beans will work)
3 tablespoons extra-virgin olive oil divided
1 ½ pounds potatoes scrubbed and dice into 2-inch pieces
Instructions
Adjust oven rack to lower-middle position and heat oven to 450°F.In a small mixing bowl, stir to combine butter, chives, garlic, 1/4 teaspoon salt, and 1/4 teaspoon pepper; set aside. Pat pork dry with paper towels. Use a basting brush to apply hoisin sauce all over the tenderloins.

To a large mixing bowl, add green beans, 1 tablespoon oil, 1/4 teaspoon salt, and 1/4 teaspoon pepper, and toss to combine. Arrange green bean mixture crosswise down center of rimmed baking sheet, leaving room on both sides for potatoes.

To the now-empty bowl, add potatoes, remaining 2 tablespoons oil, and remaining salt and pepper, and toss to combine.Arrange potatoes, cut side down, on the sides of green beans.

Lay tenderloins, side by side (leaving space between them), lengthwise on top of green beans. Roast in preheated oven for 25 to 35 minutes, or until pork registers an internal temperature of 143°F. Transfer tenderloins to carving board and dot each with 1 tablespoon reserved butter and herb seasoning mixture. Tent with aluminum foil and let pork rest while vegetables finish cooking.

Gently stir vegetables on baking sheet to combine. Return pan to oven and continue cooking for 5 to 10 minutes longer, until vegetables are tender and golden brown.

Remove from oven, add remaining 2 tablespoons herb butter to the sheet pan, and toss vegetables with butter mixture to coat. Transfer vegetables to a serving platter. Cut pork into 1/2-inch-thick slices and place over vegetables, pouring any accumulated juices over top. Serve.
Notes
For best results, use tenderloins of equal size.
Nutrition
Serving: 4ounces | Calories: 335kcal | Carbohydrates: 23g | Protein: 27g | Fat: 15g | Saturated Fat: 6g | Cholesterol: 89mg | Sodium: 425mg | Potassium: 934mg | Fiber: 4g | Sugar: 5g | Vitamin A: 577IU | Vitamin C: 24mg | Calcium: 42mg | Iron: 2mg
PIN THIS POST!