Baked pork steak is our new favorite pork dinner, and it's cooked easily in the oven! After a quick marinade, the steaks turn out incredibly juicy, tender and loaded with Asian flavor. This recipe is perfect for a quick weeknight meal!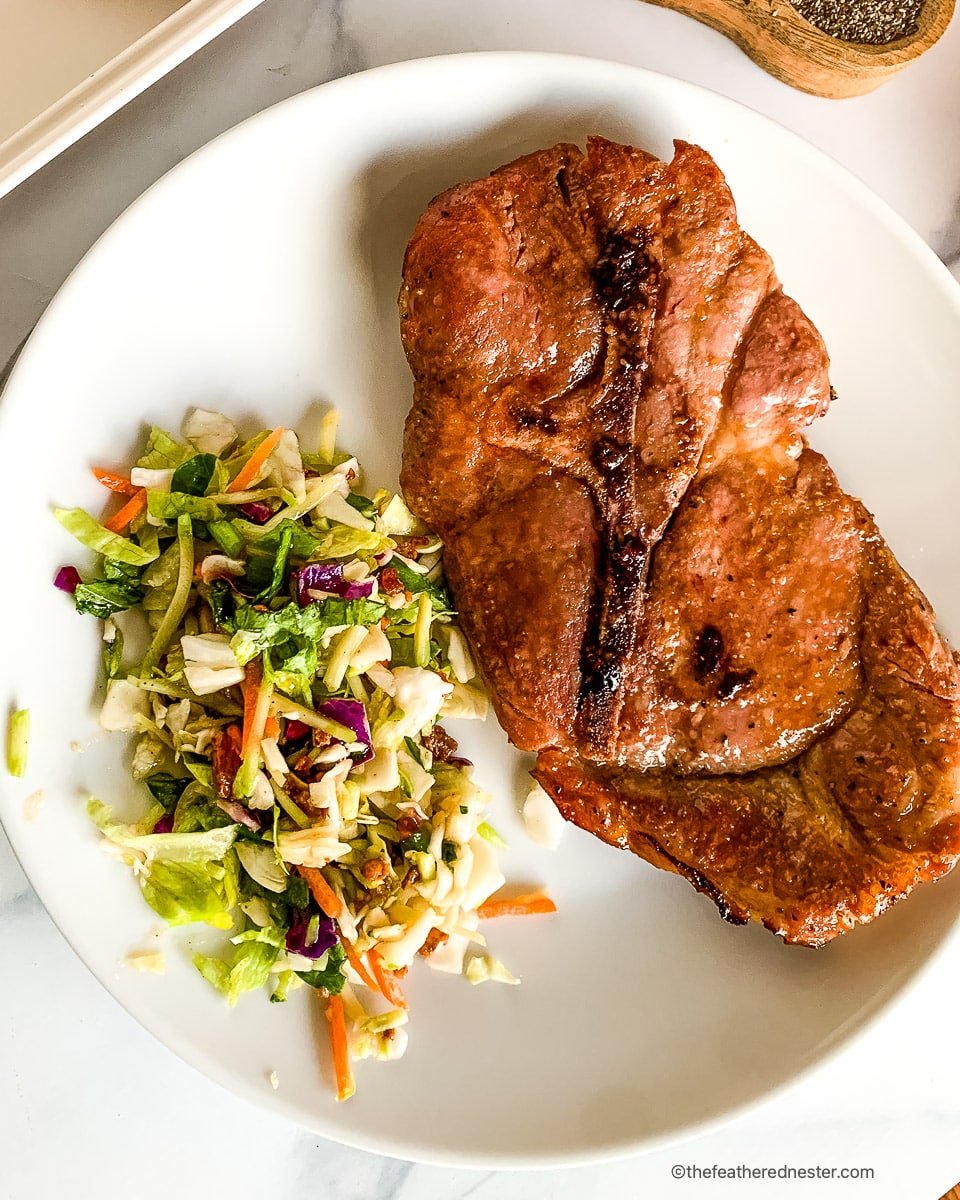 A Quick Note:
This oven baked pork recipe includes an easy pork chop marinade. Using it is optional, but the marinade will tenderize the meat, and also add incredible flavor!
Why We love Baked Pork Steak
A great alternative to pork chops.
The fat in a pork steak melts down during cooking, creating plenty of juiciness and flavor. In other words, this meal won't dry out like pork chops often do in the oven!

Many cooking options.
Today's recipe is for pork steak in the oven. However, this particular cut is also perfect for braising, stewing, slow roasting, or even cooking in a crockpot.
difference between pork steaks and pork chops
Pork steaks are cut from the shoulder of the pig, while pork chops usually come from the loin.
Also, pork shoulder cuts have a higher amount of fat than loin cuts, and they are typically bone-in cuts as well. For these reasons, shoulder steaks tend to be juicier, while chops are leaner and a bit healthier.
The thickness of the cut can vary, but typically, pork steaks are cut a little bit thicker compared to pork chops.
Ingredient Notes For Oven Baked Pork
Bone-In Pork Steak
For this recipe, you'll want 4 steaks, each about 1/2-inch thick. If you can't find them in the meat section, you can ask a butcher to cut them for you.

Asian Marinade
The pork marinade we use has a wonderful zingy garlic flavor that not only tenderizes, but adds a lot of flavor, too. We use a touch of honey to sweeten it.

If you don't like Asian flavors, our balsamic chicken marinade is fantastic with pork. Otherwise, a bottle of Italian dressing will do the trick.

Click for the easy pork marinade recipe.
Kitchen tools needed
Tips for the Juiciest Steaks
Make and use a marinade.
Marinating for at least 45 minutes helps to break down the connective tissues in the pork.

For more flavor and easier meal prep, you can marinate pork in the fridge for up to 8 hours.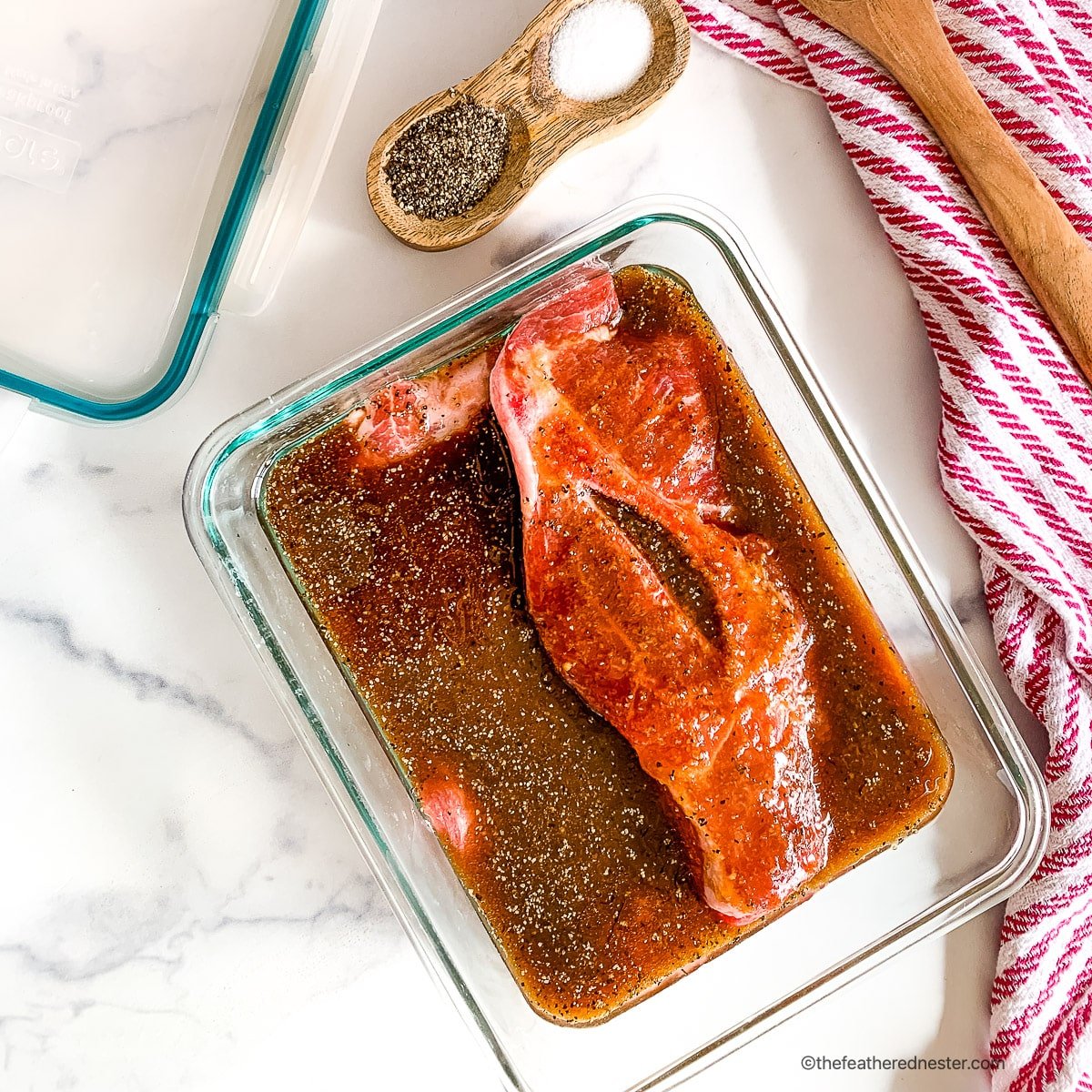 Allow the meat to come to room temperature before cooking.
This step is important, as it ensures that your oven baked pork cooks quickly and evenly. Cold meat takes longer to cook through.

Brush with liquid or oil.
A thin layer of oil helps the spices to cling to the pork.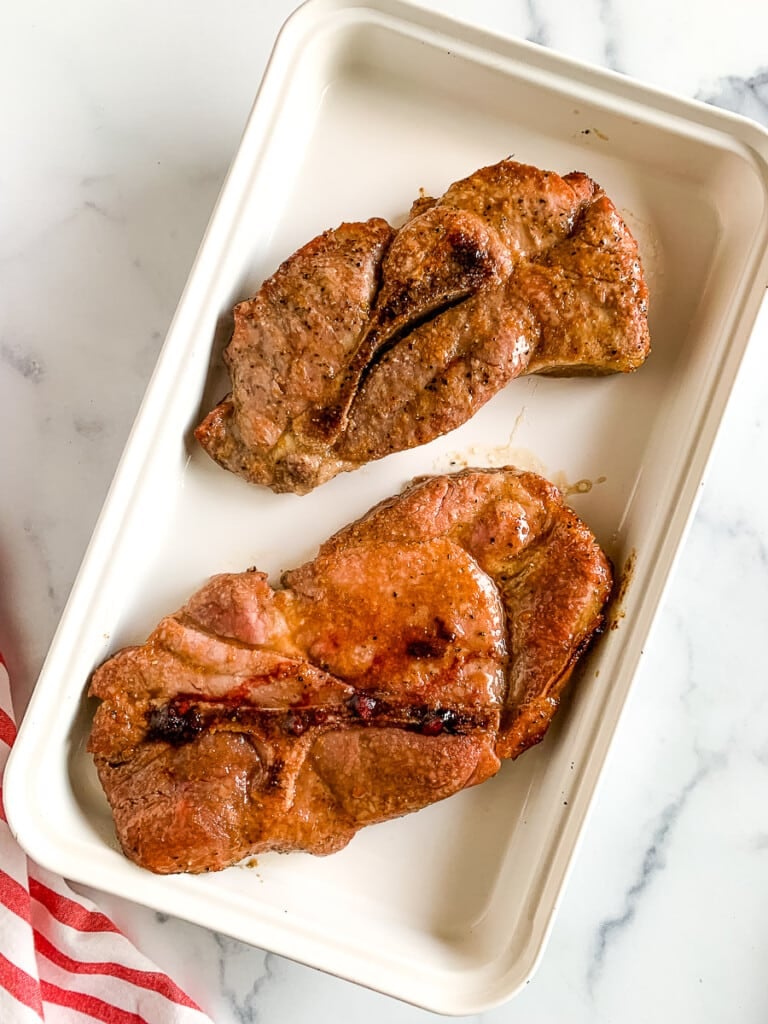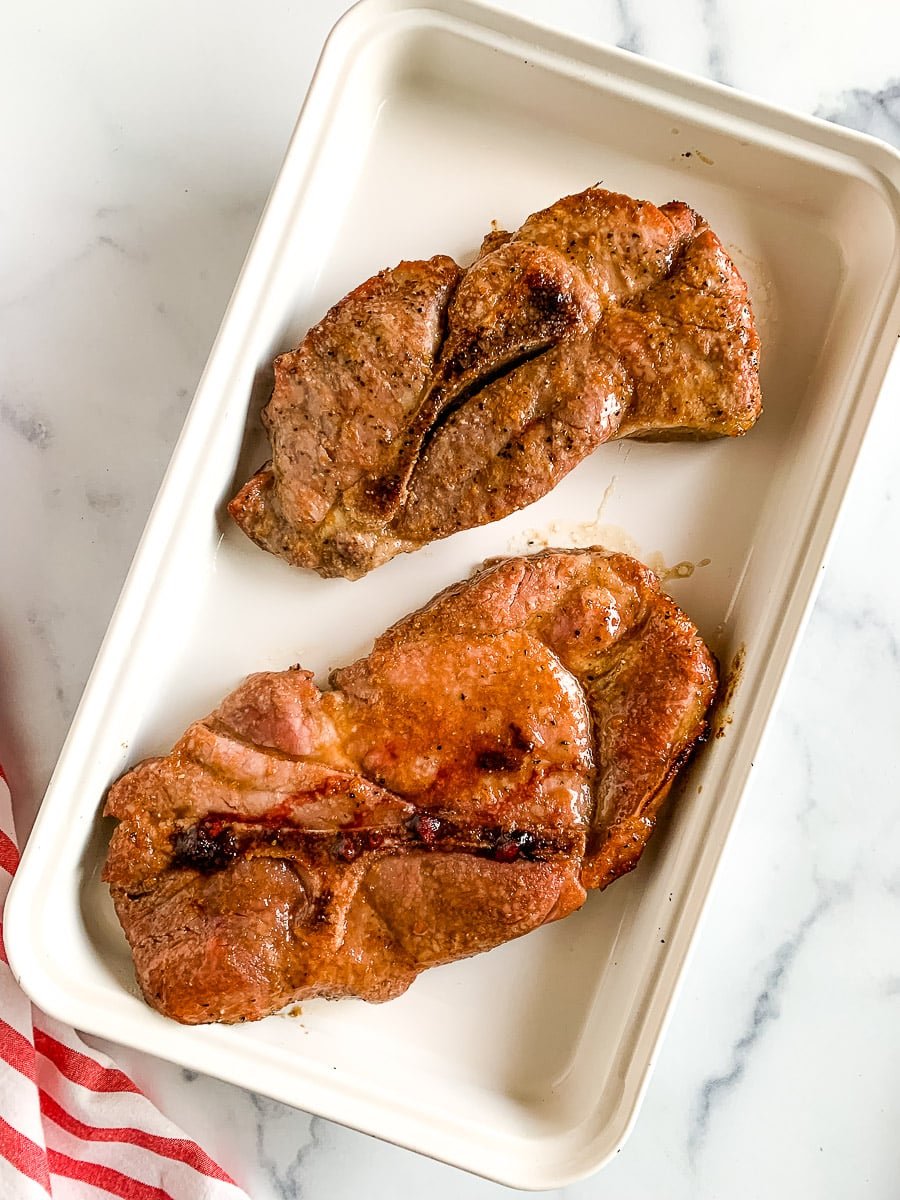 Rest the meat after cooking.
When the pork steaks are fully cooked, cover them with foil, then let them rest for 10 minutes before serving.

Resting allows all the juices to be reabsorbed, which assures that they'll be as juicy as possible!
Want other ideas for marinades and homemade seasonings?

The next time you make baked chicken tenders, season the meat with chicken taco seasoning or a balsamic chicken marinade!
Recipe Variations
Include some veggies. You can also roast vegetables at the same time, in the same baking dish. A great combination is bite sized chunks of potatoes, carrots, and onions.

Use other flavors. For a bit of Tex-Mex or Spanish flair, season the meat with chili powder or smoked paprika.
Side Dish Suggestions
This oven baked pork dinner is delicious with mashed potatoes or Instant Pot brown rice. To include more fiber, include baked beans and/or roasted vegetables.
For an even more satisfying meal, serve some bread. We really enjoy buttermilk biscuits or Jiffy jalapeno cheddar cornbread.

If you prefer something softer, consider making sourdough rolls – the recipe is very easy to make. 🙂
Storing and Reheating Pork
Refrigerator
Any leftovers will keep in the refrigerator for up to 4 days. Just let the meat cool to room temperature, then transfer to an airtight container or food storage bag.
To reheat, place the pork steaks in the oven on a baking sheet or in oven-safe dish. Reheat in a preheated 350°F oven, for about 15-20 minutes.
Freezing the meal is also an option. Store the cooked meat in a Ziploc bag and it should keep well in the freezer for up to 3 months.

To thaw, put the freezer bag inside of a container (in case there's a leak in the bag.) Transfer the bag to the bottom shelf of your refrigerator and let it sit overnight.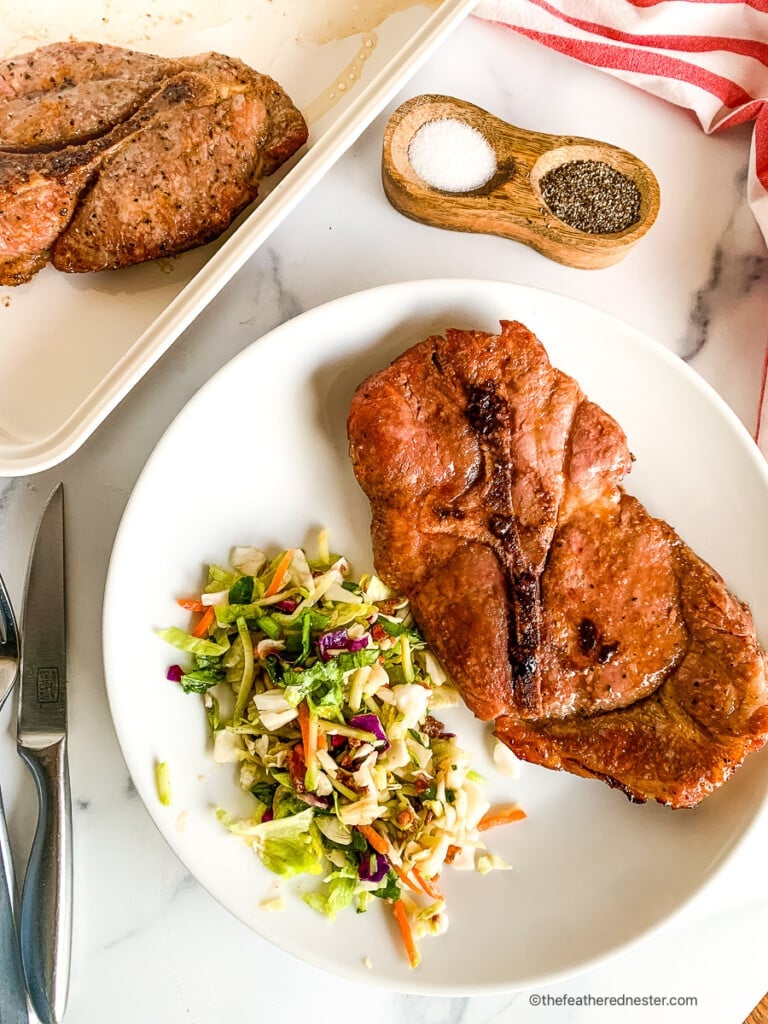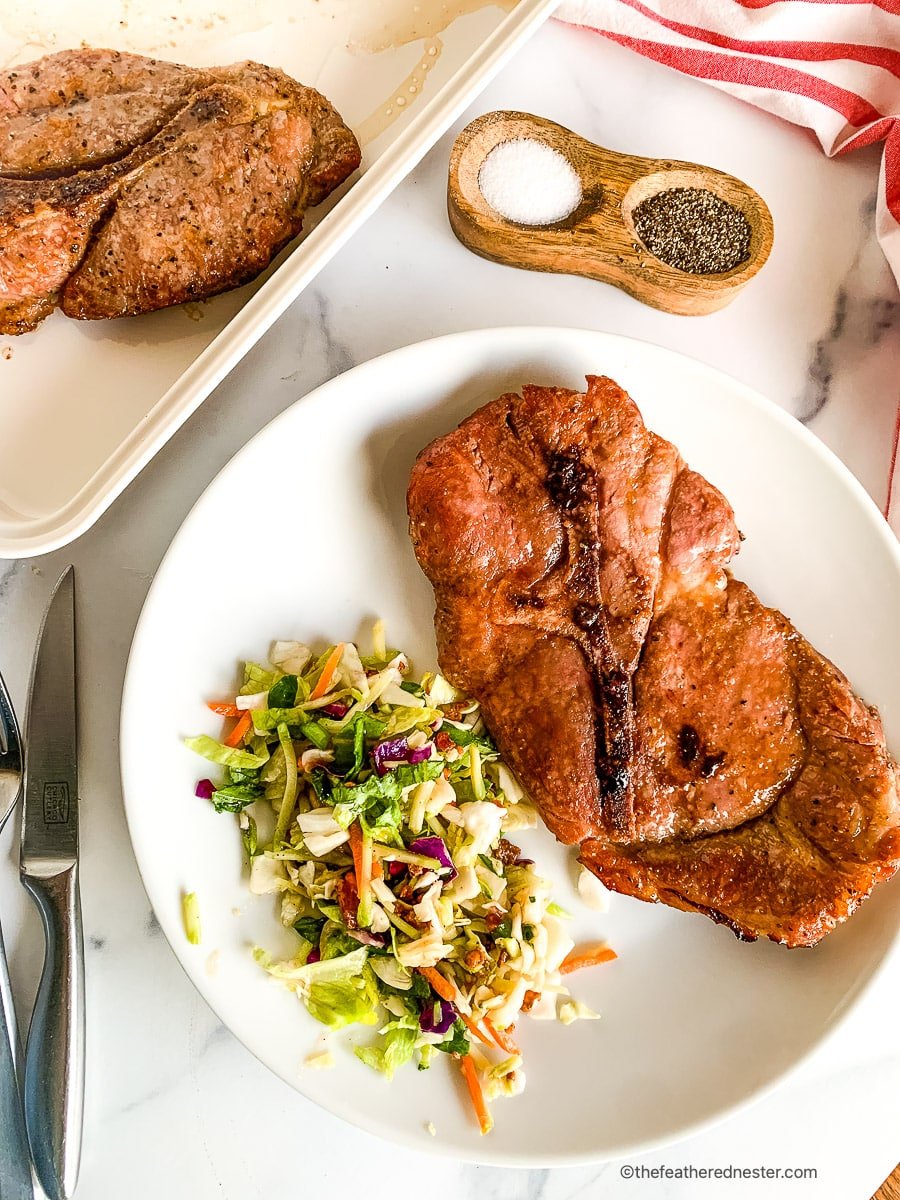 Baked Pork Steak FAQ
How long do you cook pork steaks in the oven at 350ºF?
Pork steak takes about 25-30 minutes to cook in the oven at 350ºF. Use an instant-read food thermometer to check for doneness. The internal temperature at the thickest portion of the meat must be at least 145ºF.
Can pork be pink inside?
According to USDA, pork may still look pink inside, even when it has reached the safe internal temperature of 145°F.
Juicy Baked Pork Steak
Baked pork steak is juicy and tender, thanks to being slow roasted in the oven! This simple pork recipe includes a flavorful Asian marinade.
Equipment
Oven safe baking dish

basting brush

Instant-read digital thermometer - (optional) for checking internal temperature
Instructions
Remove the pork from the refrigerator 20 minutes before cooking and set the package on your countertop. Bringing the steaks to room temperature helps them to bake evenly.

Preheat oven to 400ºF.

Arrange the pork steaks in a single layer inside of a shallow, oven-safe baking dish, at least 1/2-inch apart. Using a basting brush, apply olive oil to the top of each steak; Sprinkle each with 1/4 teaspoon of all-purpose seasoning.

Transfer the dish of pork to the center rack of your oven. Bake pork steak in oven at 400°F. for 12 minutes, then use an instant-read digital thermometer to check the internal temperature of the pork. Insert the probe into the thickest portion of the meat, being careful not to let it touch any bones.Pork steak is done after about 20 minutes of cook time, when the internal temperature reaches 145ºF.

Transfer steaks to a serving platter and tent the platter with aluminum foil. Let the meat rest for 10 minutes before serving.
Nutrition
Serving: 1serving | Calories: 270kcal | Protein: 29g | Fat: 16g | Saturated Fat: 4g | Polyunsaturated Fat: 2g | Monounsaturated Fat: 9g | Trans Fat: 0.1g | Cholesterol: 90mg | Sodium: 646mg | Potassium: 500mg | Vitamin A: 5IU | Calcium: 10mg | Iron: 1mg
PIN THIS POST!