Buttermilk drop biscuits are super tender and flaky, and this self rising flour biscuit recipe requires just 3 ingredients! In only 20 minutes, you can have a batch ready to serve for a quick side, or for smothering with gravy for breakfast or dinner.
We confess to being a little obsessed with any and all bread recipes. There are recipes on The Feathered Nester for everything from classic sandwich bread and hamburger buns, to French bread, scones, sourdough rolls, and every type of biscuit imaginable.
More than any other kind though, recipes with buttermilk are our favorite. In baked goods, it helps to create a fluffy texture and tender crumb.
Why Our Buttermilk Drop Biscuits Will Become Your Favorite
3 ingredients!
You will be amazed at how three simple baking ingredients can create such wonderful results!

Because this is a self-rising flour biscuit recipe, and it uses high fat buttermilk, it doesn't require extra ingredients like baking powder to help the dough rise.
Quick and easy.
This is a drop biscuit recipe, which means the dough isn't rolled or cut. Just drop the batter onto the pan, bake and eat! The easy homemade biscuits will be ready to devour in just 20 minutes!
This recipe combines our fondness for buttermilk with our tried-and-true drop method for making biscuits. And it works beautifully!
These 3 ingredient buttermilk biscuits are going to become a favorite of everyone in your family.
Ingredient Notes and Substitutions
Buttermilk adds just the right amount of fat to give baked goods a fluffy rise and flaky texture you know and love. It also makes them extra soft and tender, because the high amount of fat prevents them from being dry and crumbly.
For the best results, we recommend using a minimum of 2% milkfat buttermilk. The higher the fat content of the milk, the better your buttermilk drop biscuits will taste!
TFN Pro Tip:
If buttermilk is at its sell-by-date before you can use it, don't get rid of it! Pour your buttermilk into ice cube trays, freeze, and keep in a freezer-safe sealed bag or container. Then, thaw and use as you need them in a recipe.
Many people who bake on a regular basis prefer self-rising flour instead of all-purpose flour. Self rising flour is really just a low-protein all-purpose flour with baking powder mixed in. Some brands, like King Arthur, also include a tiny bit of salt.

If you don't think you'll use a whole bag of it within a few months, just make your own instead! Use our instructions on how to make self rising flour.

Another easy option is to buy (or make) Bisquick baking mix. Then whip up our recipe for Bisquick buttermilk biscuits.
Salt is an important flavor booster that you should use anytime you cook or bake. By using salted butter instead of adding salt separately, we're able to make this self rising flour biscuit recipe with only three ingredients!
If you have to use unsalted butter, we recommend adding 1/4 teaspoon of salt to our recipe.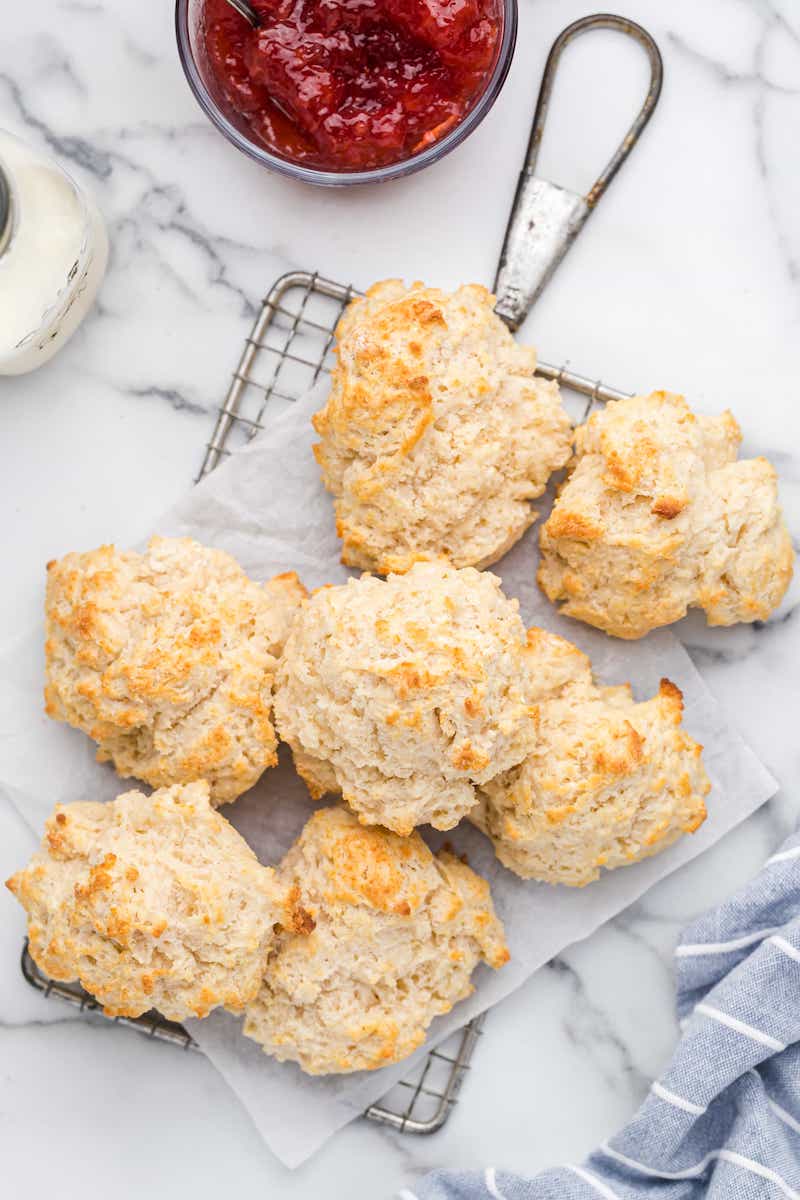 Our favorite brands of flour are White Lily, King Arthur, and Gold Medal. We buy King Arthur and White Lily self rising flour from Amazon. Most larger grocery stores carry Gold Medal flour.
Tips for Perfect 3 Ingredient Buttermilk Biscuits
Use very cold, grated butter.
We recommend freezing the butter, and then grating it. Grated butter will incorporate into the flour better, and having it as cold as possible prevents it from softening too much as you work it into the flour.
The colder the butter is, the higher your drop biscuits will rise!
Avoid over mixing the dough.
Add the self rising flour to the bowl first. Then, create a well in the center of the flour for the grated butter and buttermilk.
Stir the 3 ingredients together until it just barely forms into a sticky dough. This only takes 30 seconds or so. It's okay if the dough appears rough and shaggy!
TFN Pro Tip
Undermixing is better than over mixing! Working the dough too much is one of the biggest reasons for buttermilk drop biscuits being dry and crumbly.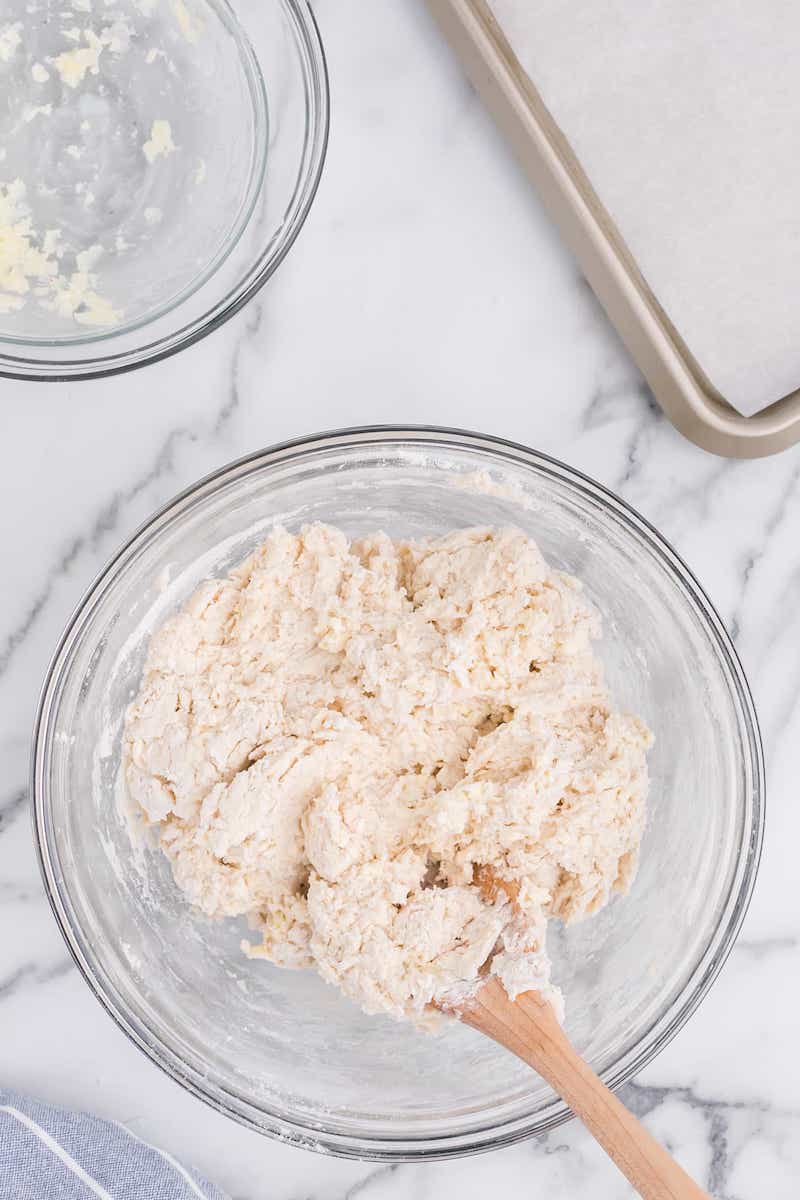 Use a scoop for even baking.
Use an ice cream scoop or tablespoon to portion and drop the biscuit dough onto the prepared baking sheet. This way, they'll be the same size and will bake evenly.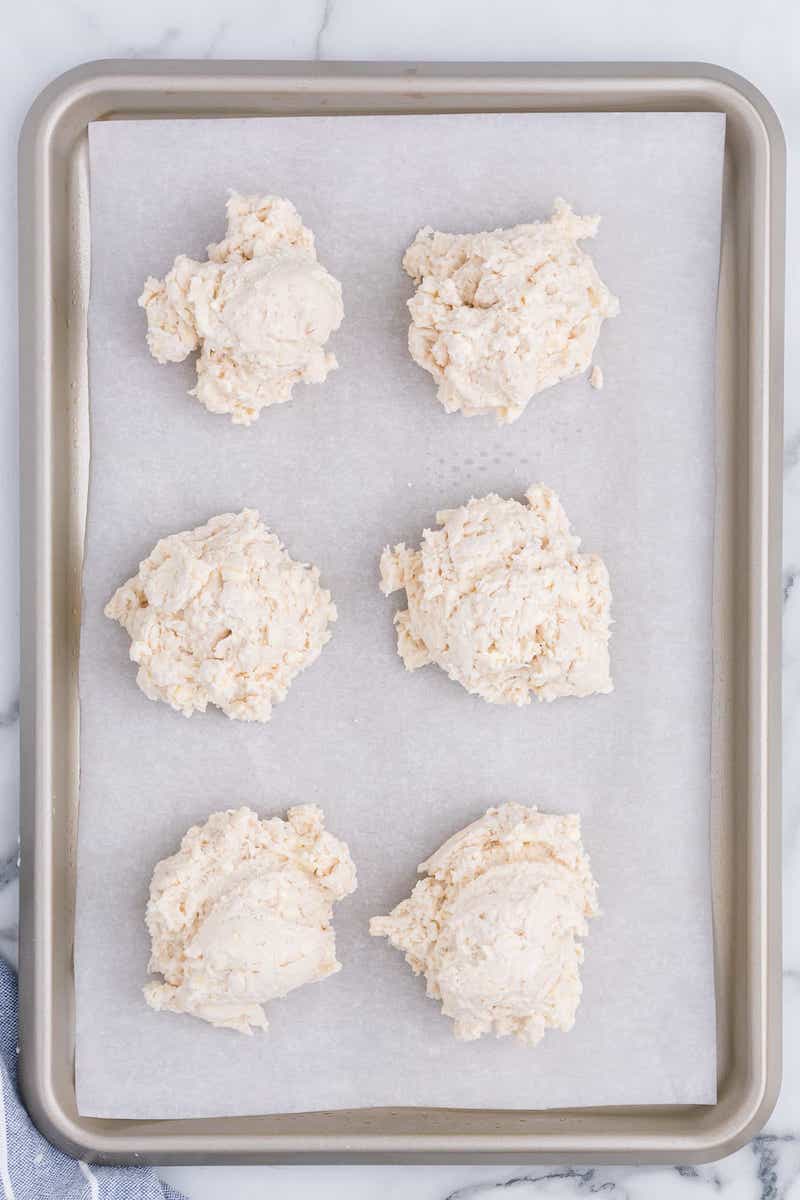 Bake until golden, NOT brown.
The drop biscuits only take 15 minutes to bake. The tops should be lightly golden but not brown. Keep an eye on them for the last few minutes of the baking time to ensure they don't get too dark.
Buttermilk Drop Biscuits FAQ
What can I use as a buttermilk substitute?
If you don't have fresh buttermilk, it's very easy to make at home. Combine 1 cup of regular whole fat milk with 1 tablespoon of white vinegar or lemon juice. Stir and let it sit for 3-5 minutes before using.
How long do 3 ingredient buttermilk biscuits last?
If kept in an airtight container, homemade biscuits will keep for several days at room temperature. Store in a sealed airtight bag on the counter or in the cool pantry. We don't recommend refrigerating them.
Can I freeze drop biscuits?
Yes! To extend their shelf life, freeze buttermilk drop biscuits in a layer of aluminum foil, then seal in a freezer-safe container or bag. Once frozen, they'll keep for up to 3 weeks.
Looking for other easy 3-ingredient recipes?
Reheating Instructions
Reheat from frozen by placing them on a parchment-lined baking sheet in a preheated 350°F oven. The drop biscuits usually take about 10 minutes to warm through.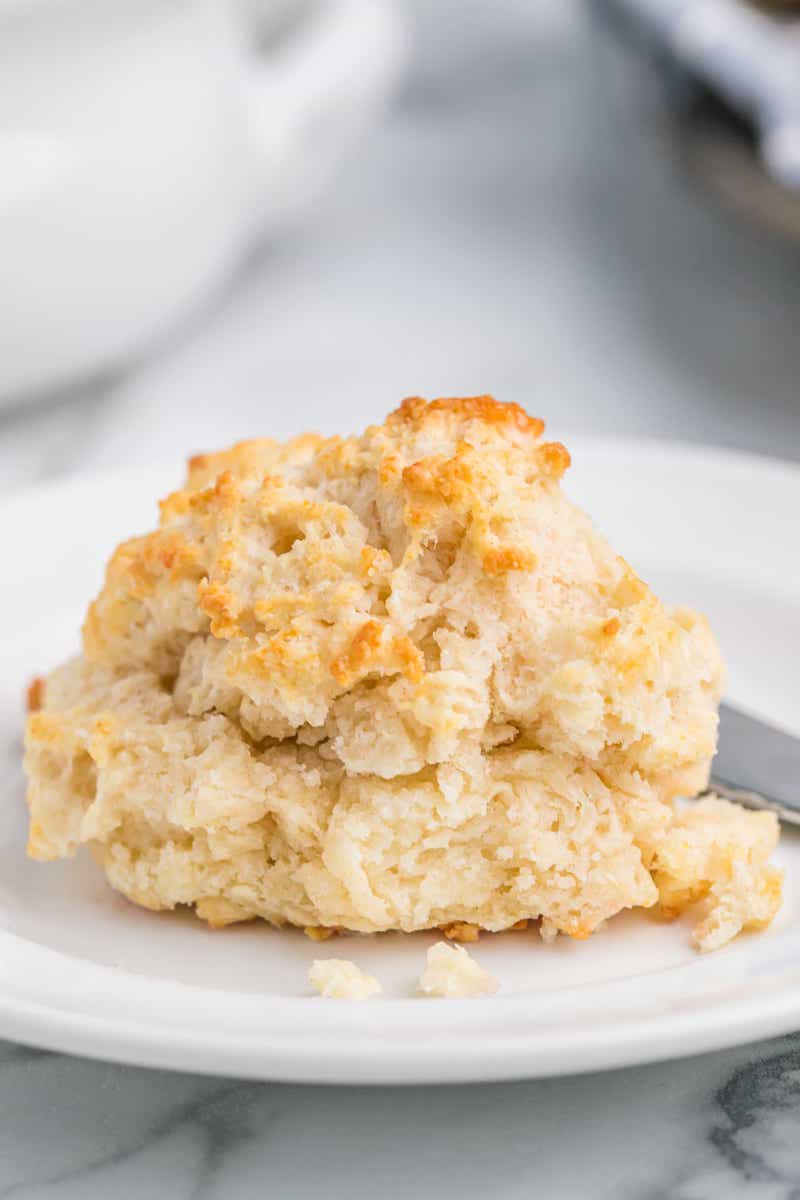 Self Rising Flour Biscuit Recipe Ideas
Other than a shmear of butter (which is delicious of course), there are a lot of other ways to serve up your self rising flour biscuits! Here are just a few ideas:
Breakfast sandwiches – Slice them open, add scrambled eggs, cheese, and a cooked breakfast meat of your choice!
Drop biscuits and sausage gravy
Strawberry shortcake – This easy self rising flour biscuit recipe is PERFECT to use for desserts!
Other Great Uses for Buttermilk

You won't believe how moist chicken, pork, and turkey are when the meat is brined in buttermilk first!

Buttermilk pork chops are juicy and SO delicious. Next Thanksgiving, serve a buttermilk brined turkey breast and watch it disappear from the table!

Or, make our easy recipe for buttermilk cornbread!
For Drop Biscuit Recipes, Renae Recommends
Buttermilk Drop Biscuits
Get ready to indulge in the heavenly goodness of Buttermilk Drop Biscuits. These biscuits are incredibly tender and flaky, and with just 3 simple ingredients, including self-rising flour, they are a breeze to make.
Ingredients
2½ cups self-rising flour (for all-purpose flour, see notes below)
½ cup butter, grated (lightly frozen butter is easiest to grate)
1 cup buttermilk (At least 2% milkfat)
Instructions
Preheat oven to 450ºF.

Using a medium-sized bowl, add self-rising flour. Create a well in the center of the flour. Pour in the buttermilk and add grated butter to the well. Stir until the dough comes together and away from the walls of the bowl – about 30 seconds. For the flaky, tender biscuits, do not over mix.

Grease or line baking sheet with parchment paper. Using a tablespoon or ice cream scoop, scoop batter onto the baking sheet. This recipe makes 8 – 10 biscuits.

Bake for 13-15 minutes, until golden in color. Serve warm.
Notes
To use all-purpose flour in place of self-rising flour: Mix 2 1/3 cups of all-purpose flour, 4 teaspoons baking powder, 1/2 tsp fine salt Using lightly frozen butter works easiest for grating. Store leftovers in a sealed bag at room temperature for up to 3 days. They will keep well in the freezer for up to 3 weeks. Wrap in aluminum foil and seal in a freezer-safe zipper bag. Reheat from frozen by baking in a 350 degree Fahrenheit preheated oven for about 10 minutes.
Nutrition
Serving: 1biscuit | Calories: 233kcal | Carbohydrates: 24g | Protein: 5g | Fat: 13g | Saturated Fat: 3g | Cholesterol: 3mg | Sodium: 148mg | Potassium: 77mg | Fiber: 1g | Sugar: 2g | Vitamin A: 557IU | Calcium: 43mg | Iron: 1mg
PIN THIS POST!
This post, first published August 2021, was updated with new content March 2023.