As an Amazon Associate I earn from qualifying purchases, at no extra cost to you. See my disclosure policy here.
Who else loves game day? In our house, we care almost as much about the food as we do THE Big Game and commercials. Don't let this special snacking day go by without trying my favorite Italian Sliders recipe. Cheesy, meaty sliders are easy to make using pre-made frozen dough… these savory little sandwiches are the perfect appetizer or potluck dish for any day!
You're probably wondering what makes these Italian Sliders so good? Well, how about they have freshly baked rolls. And, fresh rolls are irresistible. Am I right?
Then, inside the rolls are layers of pepperoni, salami, and melted provolone cheese. That makes a winning combination.
These Italian Sliders are the ultimate in game day food. Try them at home for your family, or bring sliders to the next potluck to share with others. You are sure to score a touchdown with them!
What Ingredients You Need to Make Game Day Italian Sliders
It is easy to make zesty Italian Sliders using ready-to-go store bought items. These sliders are even made with frozen dough, making them fast and simple to prepare!
Along with Bridgford Parkerhouse Style Rolls, you'll need your favorite jarred pizza or marinara sauce, provolone cheese, Italian meats, and an egg wash beaten with seasonings for brushing on the top of the sliders.
Below is the Full Easy Italian Sliders Recipe for Game Day!
GET AHEAD OF THE GAME WITH THIS TIP: Keep Bridgford's frozen dough in your freezer, like I do. Since it's frozen, you can use as much or as little as you need. I often pull out 3-4 rolls at a time and bake them. Just thaw, bake, and serve. It's that effortless.
How to Make Italian Sliders
Bridgford Food's frozen rolls and sliced meats make these Italian Sliders a breeze. And, easier prep means less work and more time with your guests.
Tip: To keep these Spicy Italian Sliders warm for the game or at a potluck, use a rack or crumpled foil on the bottom of a slow cooker.
Pour in a 1/2 inch of hot water (below the rack or foil) into the crock of the slow cooker. Layer the sliders on the rack or foil, and set the temperature on warm. Leave the lid off to keep the sliders from getting soggy. This method will keep your game day Italian Sliders at perfect temperature for hours!
FREQUENTLY ASKED QUESTIONS
What kind of food is sliders?
Sliders were originally small burgers, but now slider refers to any type of small handheld sandwich!
How do you keep sliders warm?
Wrap each sandwich individually in a sheet of aluminum foil. Wrap loosely to avoid pressing down on the sandwich. Do not leave any gaps or holes, making sure the entire sandwich is covered in tin foil.
How do you reheat sliders?
If heating in the microwave, wrap the slider in a damp napkin or paper towel. This will keep the buns from getting hard. I would suggest 30-60 seconds depending on the power of your microwave. If reheating in the oven, cover the sliders in aluminum foil and bake until heating through.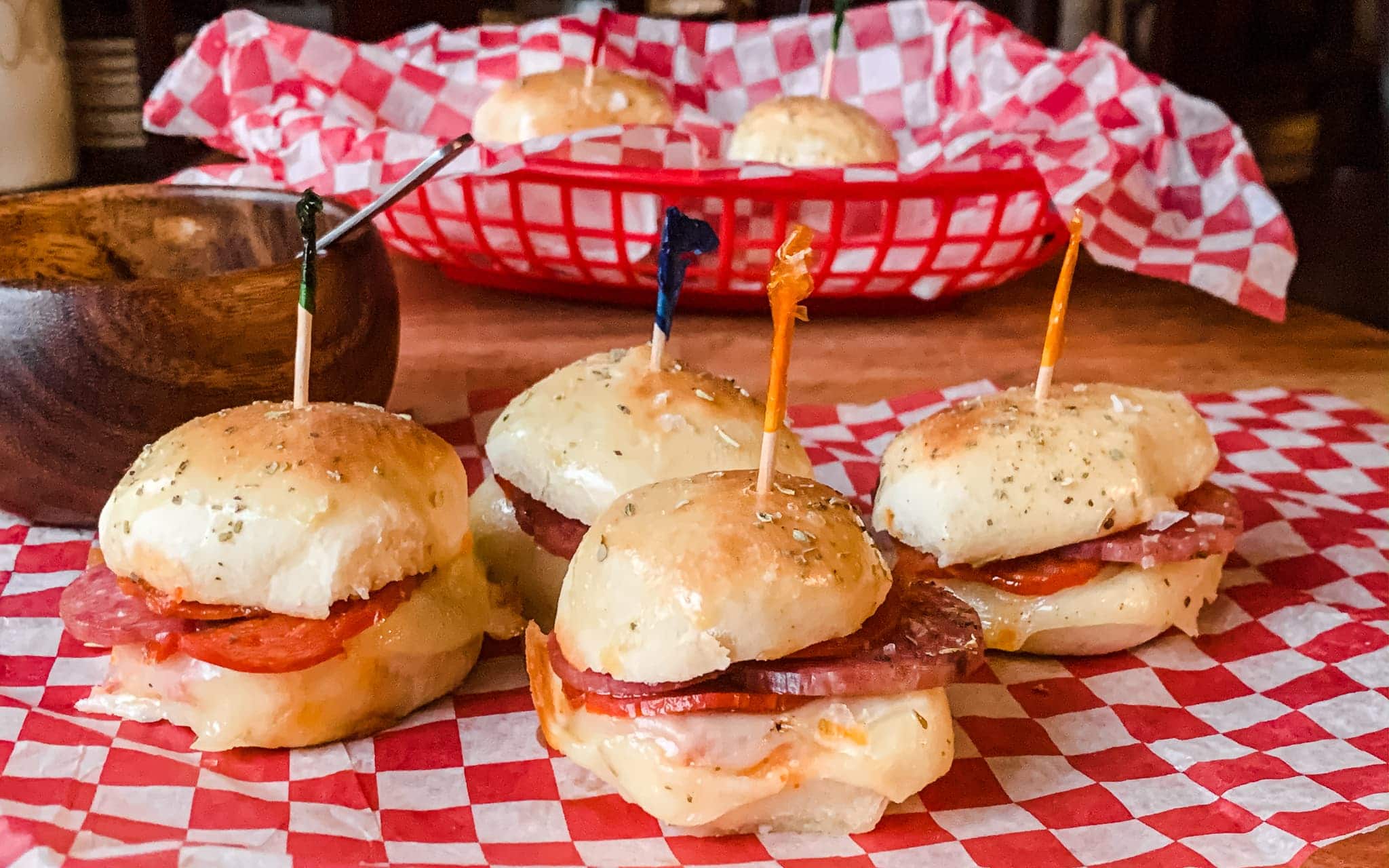 Here's the Easy Italian Sliders with Frozen Dough Recipe
Easy to Make Italian Sliders
These Spicy Italian Sliders are the perfect appetizer for game day, tailgating, BBQ, potluck, or any fun event. Who needs an event? They would make a great dinner or lunch, too!
Ingredients
24 ounce

bag

Bridgford Food's frozen Parkerhouse Rolls

6 ounce

jar

pizza sauce (thick marinara sauce can be used)

12

ounces

provolone cheese, thinly sliced

1

package

Bridgford Food's Pepperoni

(any combinaton of meats can be used)

1

package

Bridgford Food's Turkey Pepperoni

(any combinaton of meats can be used)

1

package

Bridgford Food's Italian Salami

(any combinaton of meats can be used)

1

egg, beaten

1

Tbsp

dried Italian seasoning

flake salt (optional)
Instructions
Generously spray a low-sided baking dish with cooking spray. Add frozen rolls in a single layer, and let thaw (covered) in the fridge overnight or on countertop for a few hours. Let rise at room temperature until they have doubled in size. Preheat oven to 375º.

Bake the rolls for 12-14 minutes, until lightly golden on top. Let cool, then cut rolls in half lengthwise. Place the bottom of the rolls back in the baking dish in a single layer.

Spread a tablespoon of pizza sauce to the bottom of the rolls. Then a 3″ round slice of provolone cheese (I use a biscuit cutter to cut the Provolone cheese to 3"). On top of the cheese, generously layer on Bridgford Food's sliced meats. For each roll, I used three slices of pepperoni, turkey pepperoni, and salami.

Add a tablespoon of pizza sauce to the tops of the rolls, and place them on top of the prepared bottom rolls. Brush egg wash on the tops of the rolls. Sprinkle with Italian seasoning and flake salt.

Cover dish with foil and bake at 350º for 15-20 minutes, until cheese is melted. Serve warm.
Notes
To keep the sliders warm, place a rack in the bottom of a slow cooker or electric roaster. If you don't have a rack then crumple foil in the bottom. Add 1/2″ inch of hot water in the bottom of the pan. The purpose is elevate the sliders above the water. The water keeps the sliders from drying out. 
Nutrition
Serving:
1
slider
|
Calories:
245
kcal
|
Carbohydrates:
5
g
|
Protein:
17
g
|
Fat:
18
g
|
Saturated Fat:
8
g
|
Cholesterol:
67
mg
|
Sodium:
1189
mg
|
Potassium:
358
mg
|
Fiber:
1
g
|
Sugar:
3
g
|
Vitamin A:
527
IU
|
Vitamin C:
4
mg
|
Calcium:
237
mg
|
Iron:
2
mg
Bridgford Ready-Dough and Parkerhouse Style Rolls are easy and so versatile! I've made pizza crust, mini-buns, donuts, bread wreaths, twists, garlic knots, and pizza rolls with them. Thanks to them, making these Italian potluck sliders is always a winning play!
Bridgford does the prep, with their quality non-GMO ingredients and cane sugar, so you don't have to.
This post is sponsored by Bridgford Foods. All views are my own and based on my own personal experience using Bridgford Food's products.
Savings Tip: get your discount coupon for Bridgford's frozen dough, It's linked here. And, you can find Bridgford Frozen Bread & Rolls at a retailer near you here.
Use Bridgford frozen dough in these recipes
Fore more meal inspiration, follow me on Facebook and Instagram!
For more game day food, check out these appetizers