Italian Sliders are delicious, hot mini sandwiches for Super Bowl game day parties, tailgating, picnics, or potluck appetizers. This recipe makes enough to feed a hungry crowd and is always a favorite!
Perfect Italian Sliders
Who else loves a great Super Bowl party? In our house, we care almost as much about the game day food as we do the actual game (and those fantastic commercials).
Don't let this special snacking day go by without making our Super Bowl sliders!
You're probably wondering what makes these mini sandwiches so good. Well, they're hot, cheesy, meaty, and easy peasy to make with frozen dough!
Inside the rolls are layers of thick marinara sauce, pepperoni, salami, and melted provolone cheese. That makes a winning combination.
You are sure to score a touchdown with this recipe!
If you are new to The Feathered Nester, you may not realize that we are obsessed with frozen dough recipes!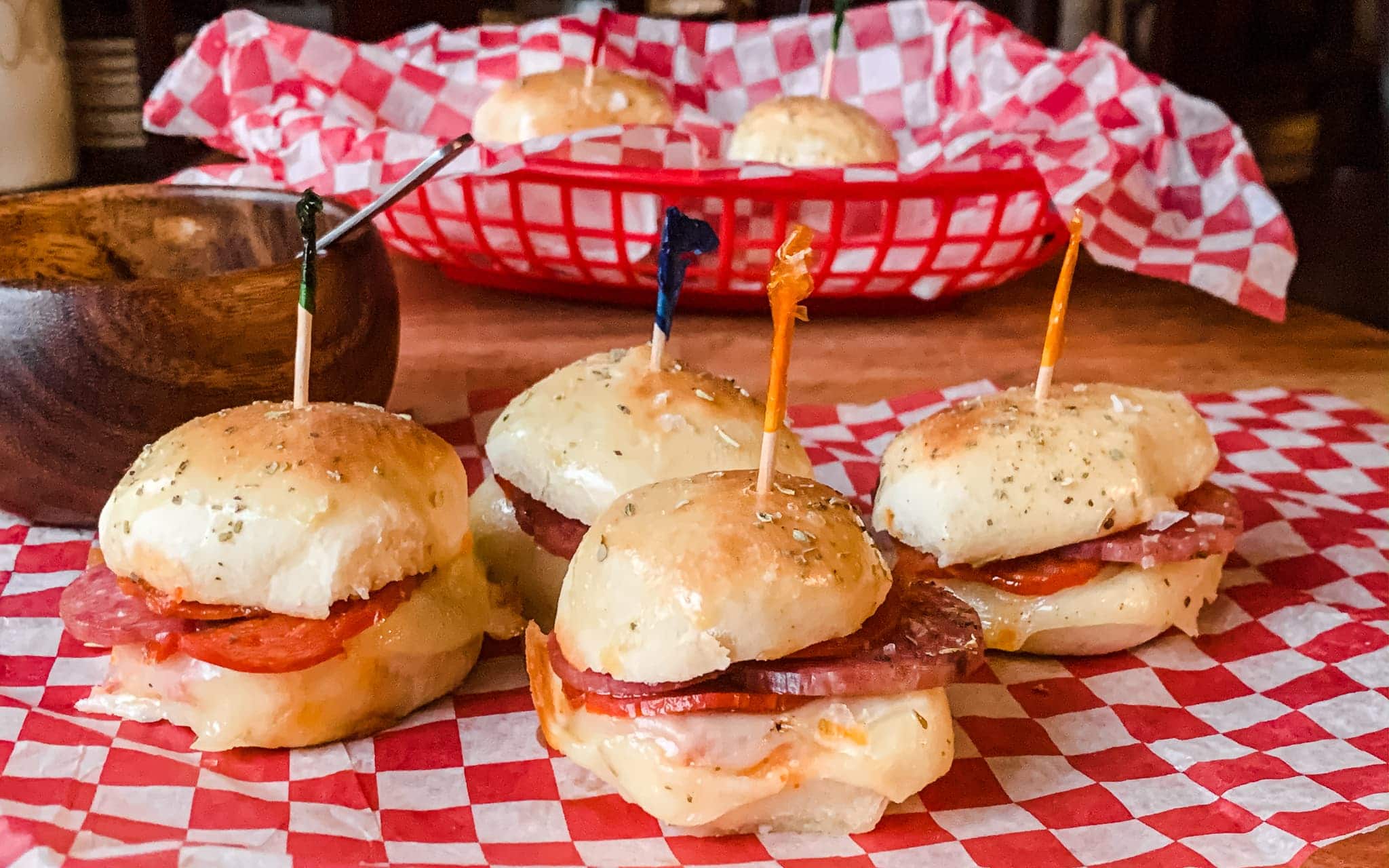 Ingredient Notes and Substitutions
Frozen Parker House Roll Dough – There are several brands of frozen bread dough that you can use. Two of the most popular are Sister Shubert and Bridgford Foods.

Pizza Sauce – If you don't have any on hand, thick marinara sauce works well.

Deli Meats and Cheese – For Italian sliders, cured salami and pepperoni are our go-to choices. We use Provolone, mainly because Mozzarella is difficult to find in slices. Use whatever meats and cheeses you like.
Equipment Needed
Non-stick cooking spray
Small bowl – for the egg wash
Helpful Recipe Tips
Grease the baking dish. Give it good dose of non-stick cooking spray to avoid sticking.
Thaw frozen rolls. You can't slice the rolls while the dough is still frozen. So, let them thaw in the fridge overnight, or on the counter for a few hours.
Bake JUST until golden.
Bake the rolls for 12-14 minutes, or until they are a light golden brown color. Let them cool, then cut them in half horizontally. Then, it's time to start building the mini sandwiches.
Create small circles of meat and cheese.
Keep in mind, you'll be baking the sandwiches. So, to avoid a huge melty mess of cheese in the bottom of the dish, you'll want to make the slices about the same size as the slider buns..
PRO TIP
Use a 3-inch biscuit cutter or mason jar ring to cut the Provolone cheese to size.
Be generous with the fillings!
For each of the Italian sliders, plan on using 3 slices each of pepperoni and salami. This will give your sandwiches plenty of flavor, and a good meat to bread ratio.
Use a little sauce for "bun glue".
Add another tablespoon of pizza sauce to the inside top of each bun before you place it on top of the meat. The sauce adds extra flavor and helps prevent the tops from sliding off.
Apply egg wash to the top of the sliders before baking.
Brushing the tops with egg gives them a glossy golden brown color.
Cover the baking dish with foil, then bake at 350º Fahrenheit for 15 to 20 minutes, until the cheese melts.
Your hot sandwiches are now ready to devour!
Serving Italian Sliders
Servings Per Person
Whether you're making them for a potluck or for Super Bowl sliders, plan on two mini sandwiches per adult. Kids and/or anyone with a smaller appetite will likely eat just one.
These are a big crowd pleaser, so if your party will have more than 12 guests, definitely make extra!
Need Serving Suggestions?

Italian sliders are fabulous with potluck sides like baked beans, pasta salad, or Tuscan bean salad.

We also suggest serving party foods like Tachos (Loaded Tater Tots) and stuffed jalapeno poppers.
Storing and Reheating Leftovers
If you have any leftovers, wrap them in foil or an airtight container and refrigerate. Italian sliders will keep for up to 3 days in the fridge.
You can also freeze the baked sandwiches. Place them in a freezer-safe bag or container and they'll keep for up to 2 months.
When you're ready to eat them, thaw in the fridge overnight. Then, reheat them in the oven or microwave using the instructions below.
Reheating Instructions
To keep the buns nice and soft, wrap each slider in a damp paper towel before microwaving. Reheat on high for 30-60 seconds, or until they are warm through the center and the cheese is melted again.
Cover the sliders in aluminum foil and bake directly on the oven rack at 375°F. for 10-15 minutes, or until heated through.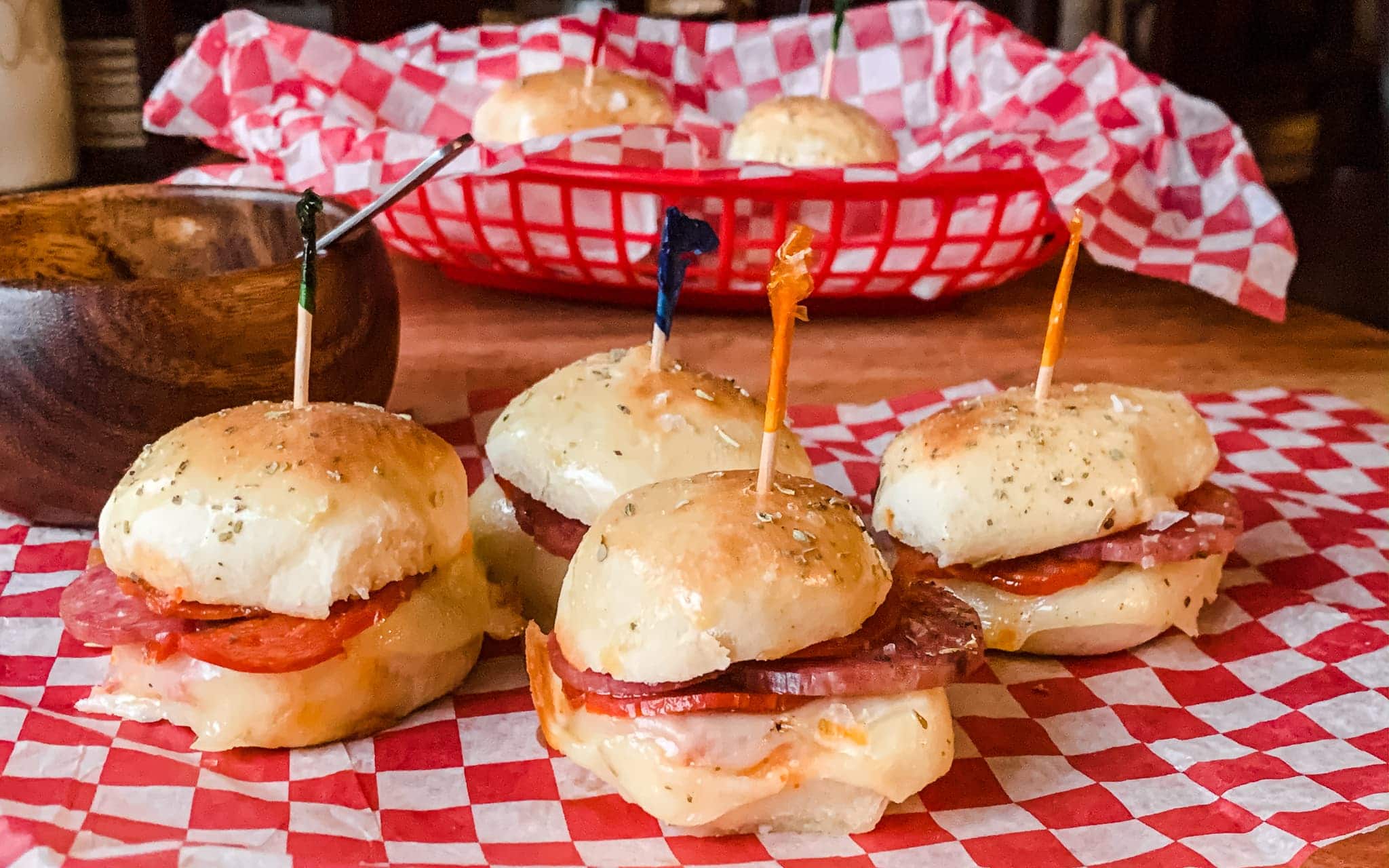 SliderS Recipe FAQ
What kind of food are sliders?
Sliders were originally small burgers, but now the term slider refers to any type of mini sandwiches.
Can sliders be prepared ahead?
Yes, you can prepare the Italian sandwiches the day before. Follow all of the instructions up until you brush the egg wash on top of the rolls.

Cover the rolls with plastic wrap and store them in the fridge overnight. Then, continue with the recipe the next day.
Italian Sliders for a Hungry Crowd
Italian Sliders are the perfect mini sandwiches for game day, tailgating, holiday parties and potlucks. This recipe is a crowd pleaser!
Ingredients
24 ounces frozen parker house rolls dough (package of 24)
1 cup pizza sauce or thick marinara sauce
12 ounces provolone cheese slices cut into 3-inch rounds *See Notes
10 ounces pepperoni slices or turkey pepperoni
10 ounces Italian salami slices
1 egg beaten
1 tablespoon dried Italian seasoning
flaky sea salt optional
Instructions
Generously spray a low-sided baking dish with non-stick cooking spray. Arrange frozen rolls in a single layer, and let thaw (covered) in the fridge overnight, or on countertop for a few hours. Let them rise at room temperature until they have doubled in size.

Preheat oven to 375º F.

Bake the rolls for 12-14 minutes, until lightly golden on top. Remove from the oven and let them cool slightly so they are easier to handle. Cut rolls in half horizontally. Arrange the bottoms of the rolls back in a single layer in the baking dish.

Spread a tablespoon of pizza sauce over the inside bottom of each of the rolls. Cover sauce with a round slice of provolone cheese, then Italian meat(s). For each of the mini sandwiches, I used three slices of pepperoni, turkey pepperoni, and salami.

Add a tablespoon of pizza sauce to the inside tops of the rolls, then place a top onto each of the prepared roll bottoms. Brush egg wash on the tops of the rolls. Sprinkle each top with dried Italian seasoning and flake salt, if desired.

Reduce oven heat to 350°F.Cover baking dish of Italian sliders with foil and bake at 350º for 15-20 minutes, or until cheese melts. Serve warm.
Notes
To cut the cheese into circles, we use a 3-inch biscuit cutter or mason jar ring. Italian Meats – Feel free to use any combination of deli meat slices that you enjoy. To keep the sliders warm, place a rack in the bottom of a slow cooker or electric roaster. If you don't have a rack, crumple a sheet of aluminum foil into the bottom. Add 1/2″ inch of hot water in the bottom of the pan. The purpose is to elevate the sliders above the water. The water keeps the sliders from drying out.
Nutrition
Serving: 1slider | Calories: 245kcal | Carbohydrates: 5g | Protein: 17g | Fat: 18g | Saturated Fat: 8g | Cholesterol: 67mg | Sodium: 1189mg | Potassium: 358mg | Fiber: 1g | Sugar: 3g | Vitamin A: 527IU | Vitamin C: 4mg | Calcium: 237mg | Iron: 2mg
PIN THIS POST!
This post, first published in February 2020, was updated with new content in February 2023.