Thanksgiving Day is the biggest annual food holiday in the U.S., and we are so ready for it this year! We'll be keeping our gathering fairly small while still enjoying all of our favorite classic dishes, like a perfectly roasted turkey and fluffy mashed potatoes. Plan your easy Thanksgiving dinner for 6 with my roundup of the best, most delicious, and easiest (make ahead) Thanksgiving recipes to celebrate the season!
Top 5 Thanksgiving Recipes
These tried-and-true foolproof Thanksgiving day recipes are sure to shine on your table.
Your family will love sitting down together to share a juicy Buttermilk Brined Turkey Breast, Sourdough Stuffing, the fluffiest Mashed Potatoes, and Grandma's Old Fashioned Yeast Rolls. And don't forget the Apple Cobbler for dessert!
Not only are they the tastiest versions of your favorite traditional holiday dishes, but these are also some of the easiest and quickest recipes to make ahead.
They all provide enough servings to host your Thanksgiving dinner for 6, while also having just the right amount of leftovers that you know you need.
Top Tips for Hosting Thanksgiving Dinner for 6
Start and end your dinner with "wow" dishes. When your guest arrive, have an amazing appetizer ready to serve. Then, end with a stunning dessert. Everyone will remember the beginning and end of the dinner.
Prep ahead as much as you can. Some of the recipes that I'm sharing can be made ahead. On Thanksgiving, you'll be relieved to have some of the prep behind you.
Share the work by letting others bring a dish to share. If you're a bit of a picky eater (like I am) offer to give them a recipe for a side or dessert. They'll probably appreciate it. And, you'll know what they're bringing.
Now, onto my top Thanksgiving recipes!
Buttermilk Brined Turkey Breast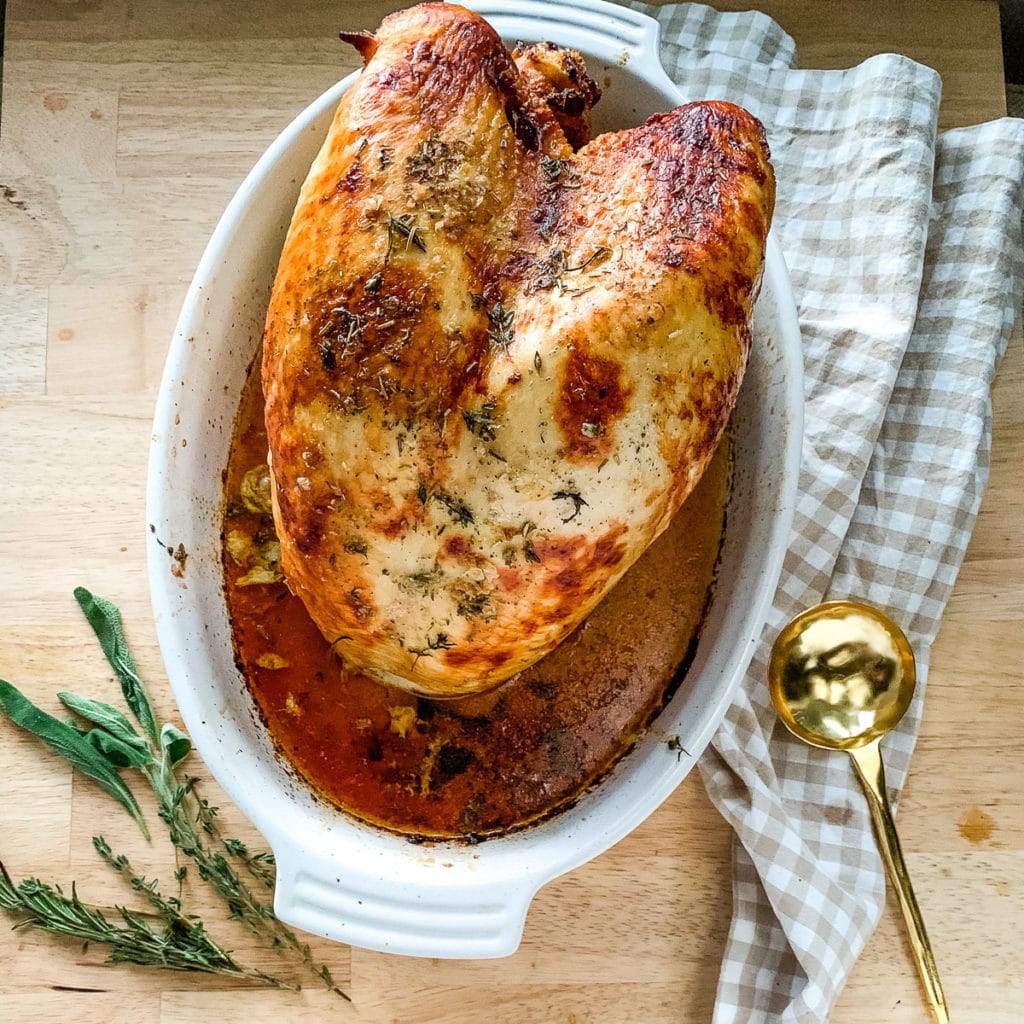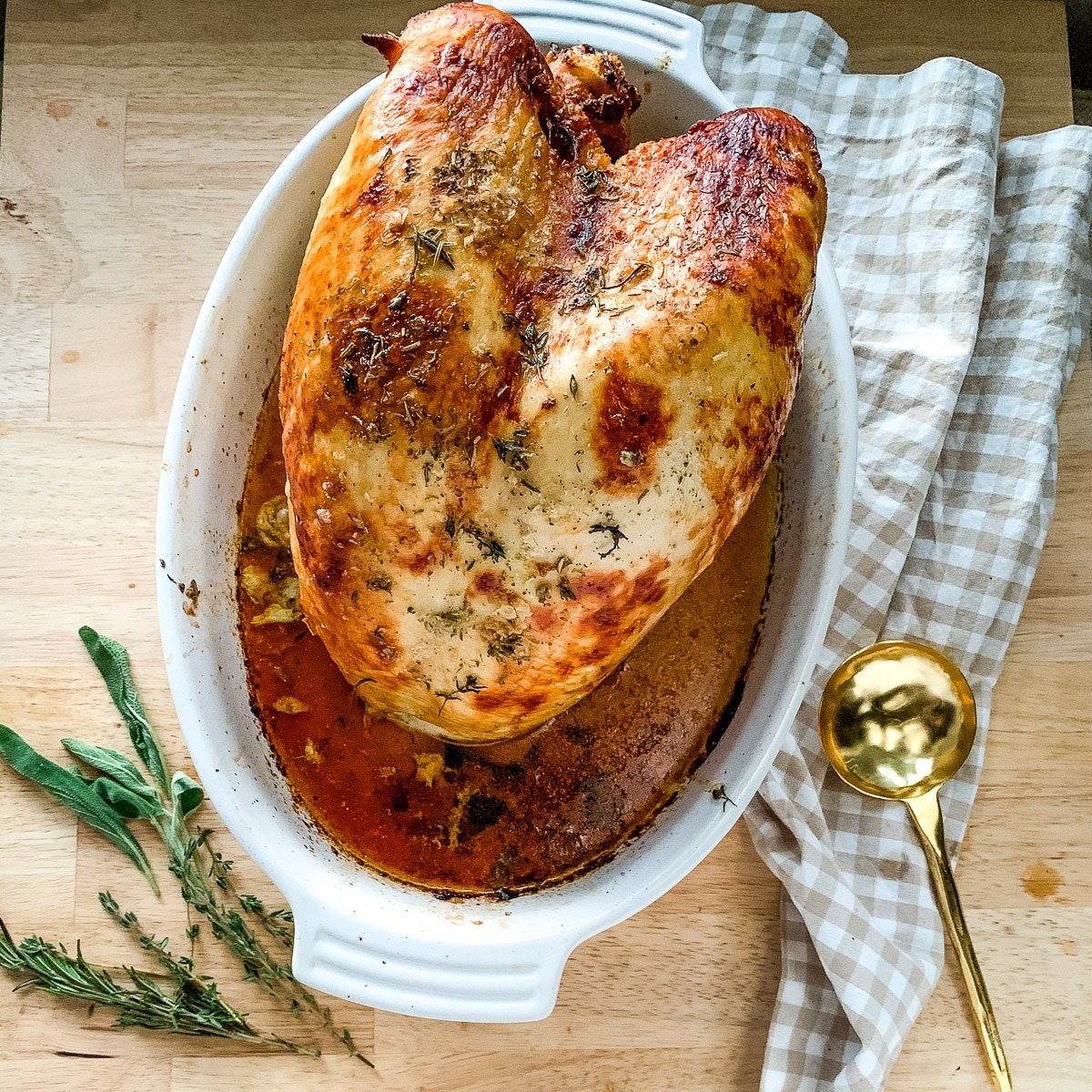 The turkey is the star of the show at Thanksgiving Dinner. Obviously, the goal here is a tender and juicy, perfectly browned turkey.
Did you know it starts with a quality brine? A good brine ensures a higher moisture level within the turkey. This brine recipe uses buttermilk in the ingredients.
Now, you might wonder why buttermilk belongs in a brine? The slight acidity of buttermilk is ideal for tenderizing meat before cooking. Chances are that the best poultry and pork dishes you've ever had were brined in buttermilk.
Swap out the usual large full turkey this year with a much more manageable turkey breast at your Thanksgiving dinner for 6.
You'll need less prep time and space for cooking and won't have a giant mess of bones to deal with afterward.
And don't worry – you should still have enough leftovers to make a couple of turkey sandwiches the next day!
Buttermilk Brined Turkey
This buttermilk brined turkey breast is perfect for Thanksgiving or any family dinner! Making this zesty buttermilk turkey brine adds a much-needed flavor boost to the typically bland breast.
Check out this recipe
Looking for the perfect turkey for two? Make our oven-roasted turkey tenderloin! It's the perfect sized turkey dinner for two (or even four).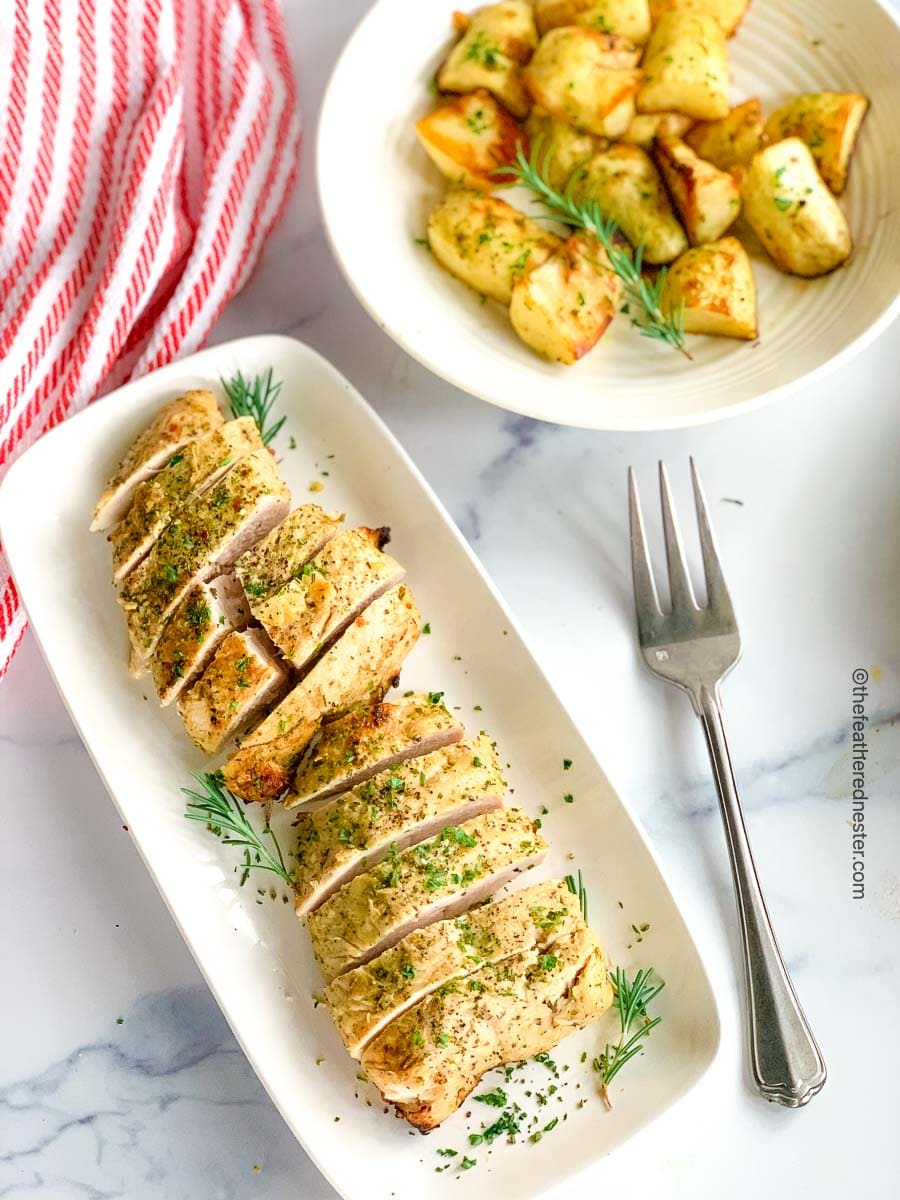 Oven Roasted Turkey Tenderloin Recipe
Lean, juicy roasted turkey breast tenderloins are perfect to marinade and oven roast in less than an hour. Serve these at a small Thanksgiving gathering or pair them with your favorite sides for a family-friendly dinner any night of the week!
Check out this recipe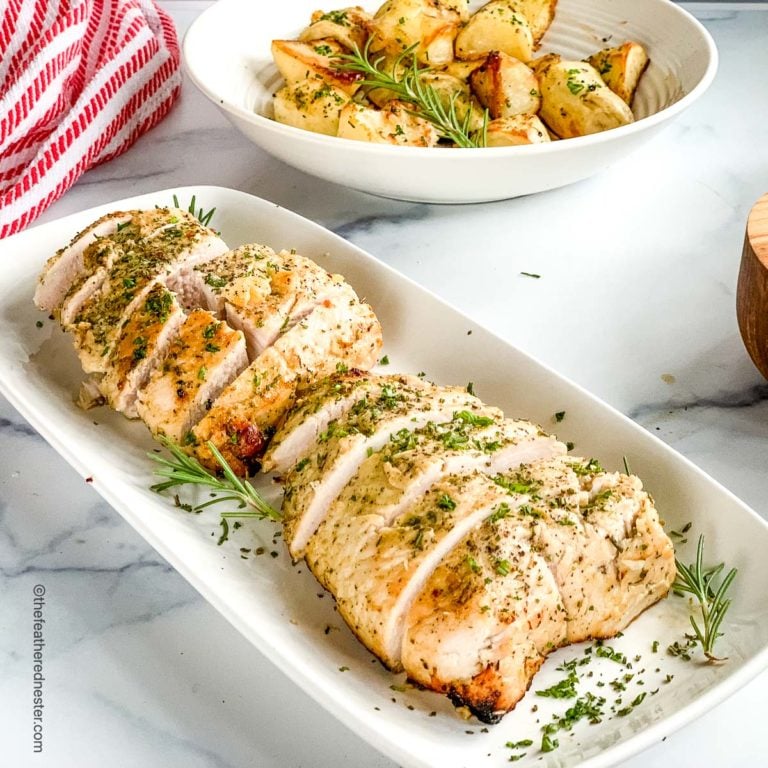 Sourdough Stuffing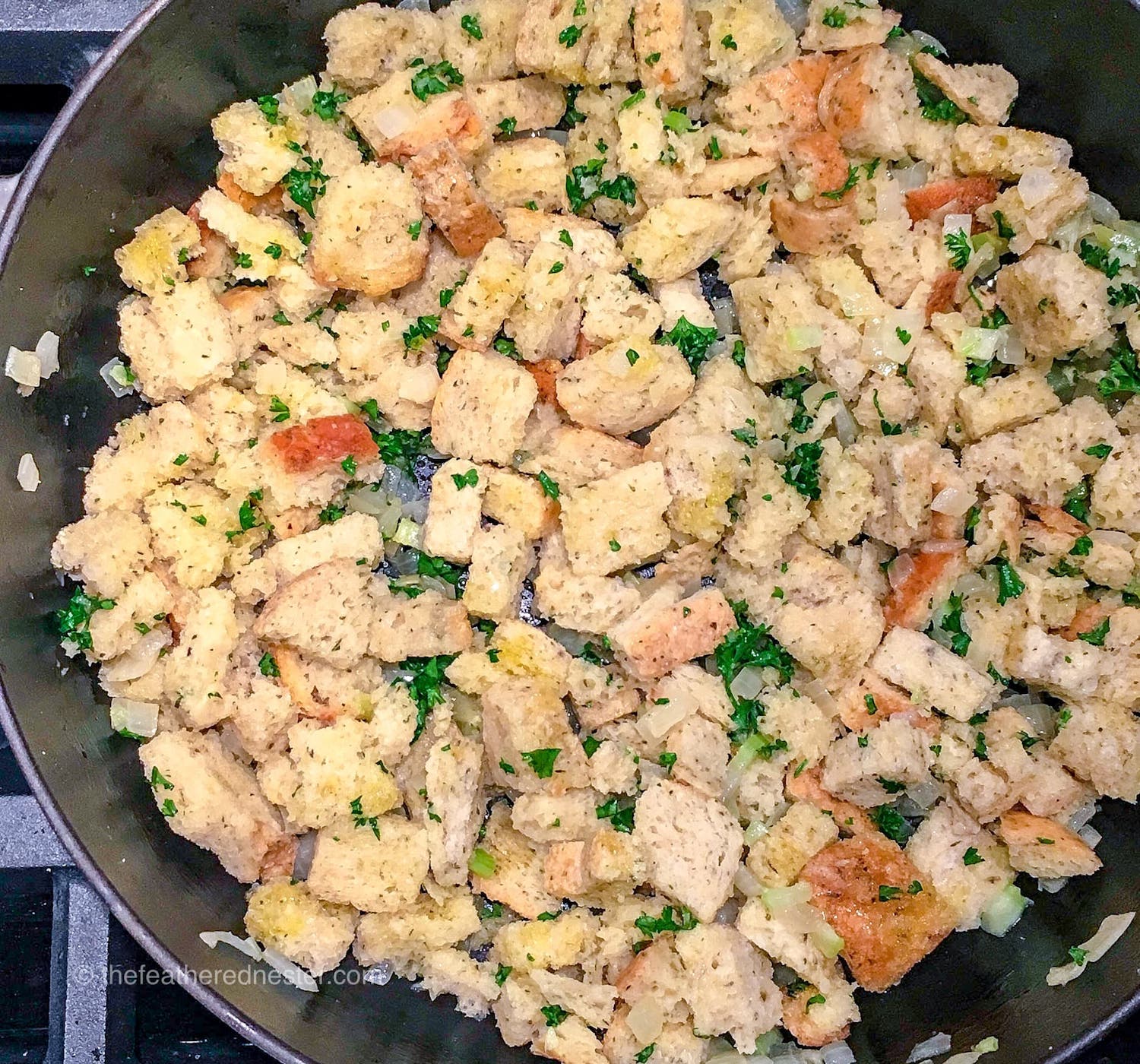 Truth be told, stuffing is my favorite Thanksgiving dinner side dish. And, because of that, I've spent a lot of time developing the perfect recipe for it.
What I've found is that sourdough bread provides an ideal base for stuffing. It's tasty and hearty, with good flavor. Plus, it holds its shape well during roasting and it is terrific for absorbing lots of gravy goodness.
This recipe as-is makes 16 servings but is easy to cut in half to serve at your Thanksgiving dinner for 6. And again – yay for still having just enough leftovers you'll actually want to eat!
Sourdough Stuffing Recipe – The Feathered Nester
Why make stuffing with sourdough? Try this tender and flavorful sourdough stuffing recipe and you'll see why it's the best Thanksgiving side dish!
Check out this recipe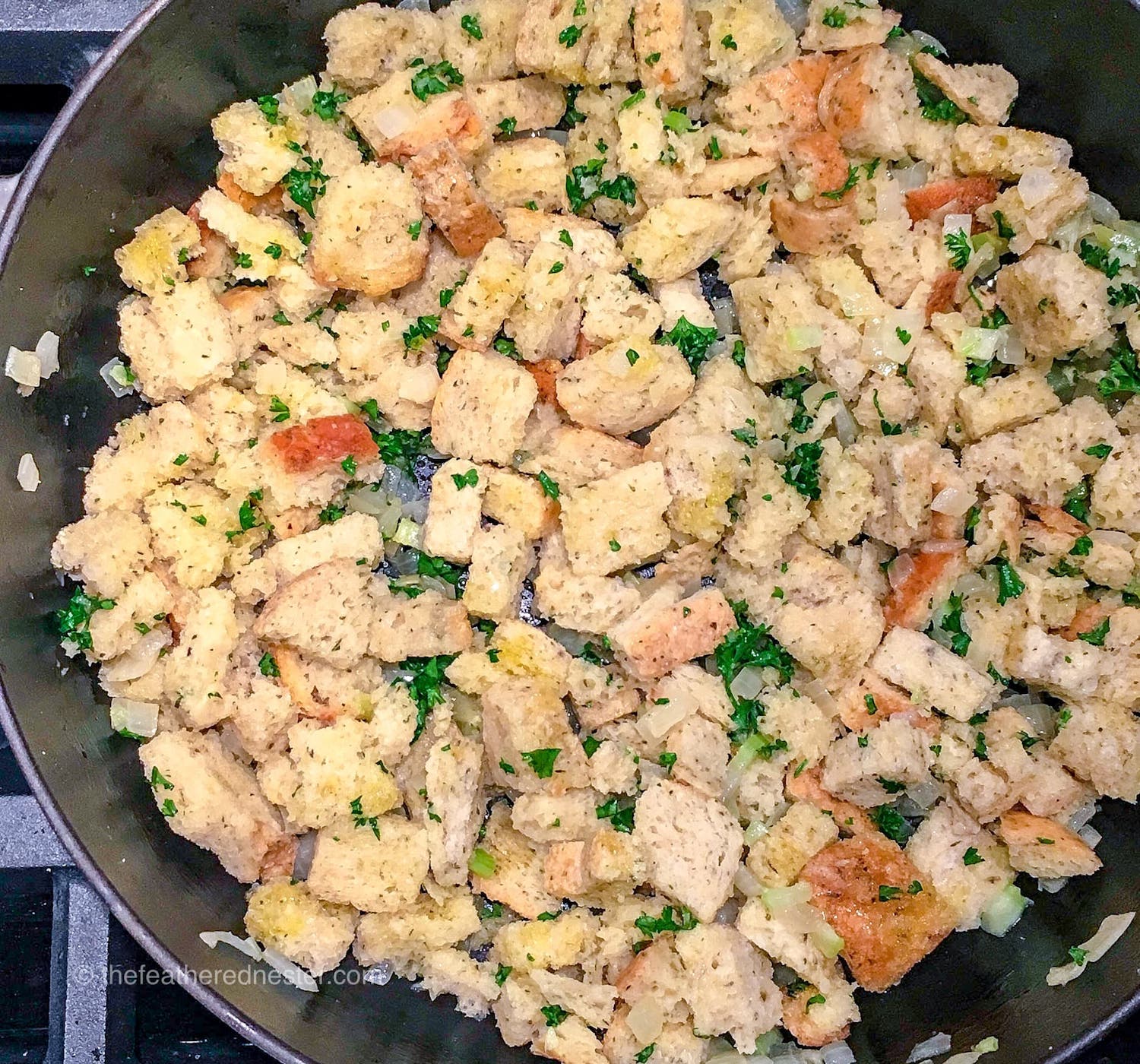 Instant Pot Mashed Potatoes (No drain, No Peel)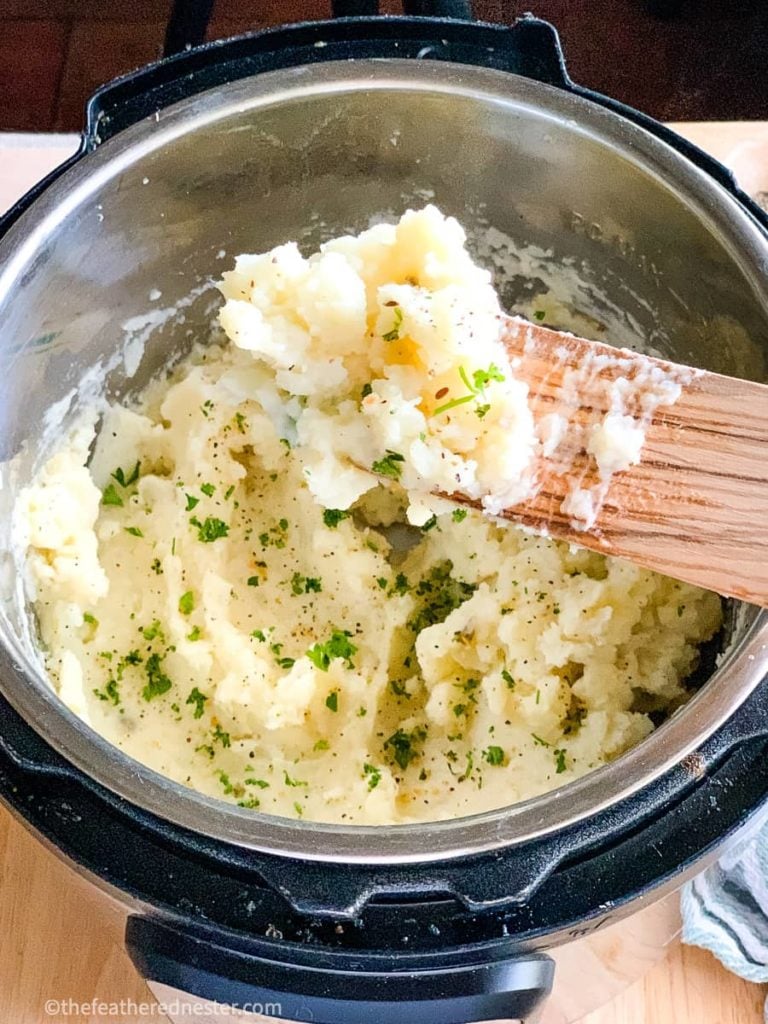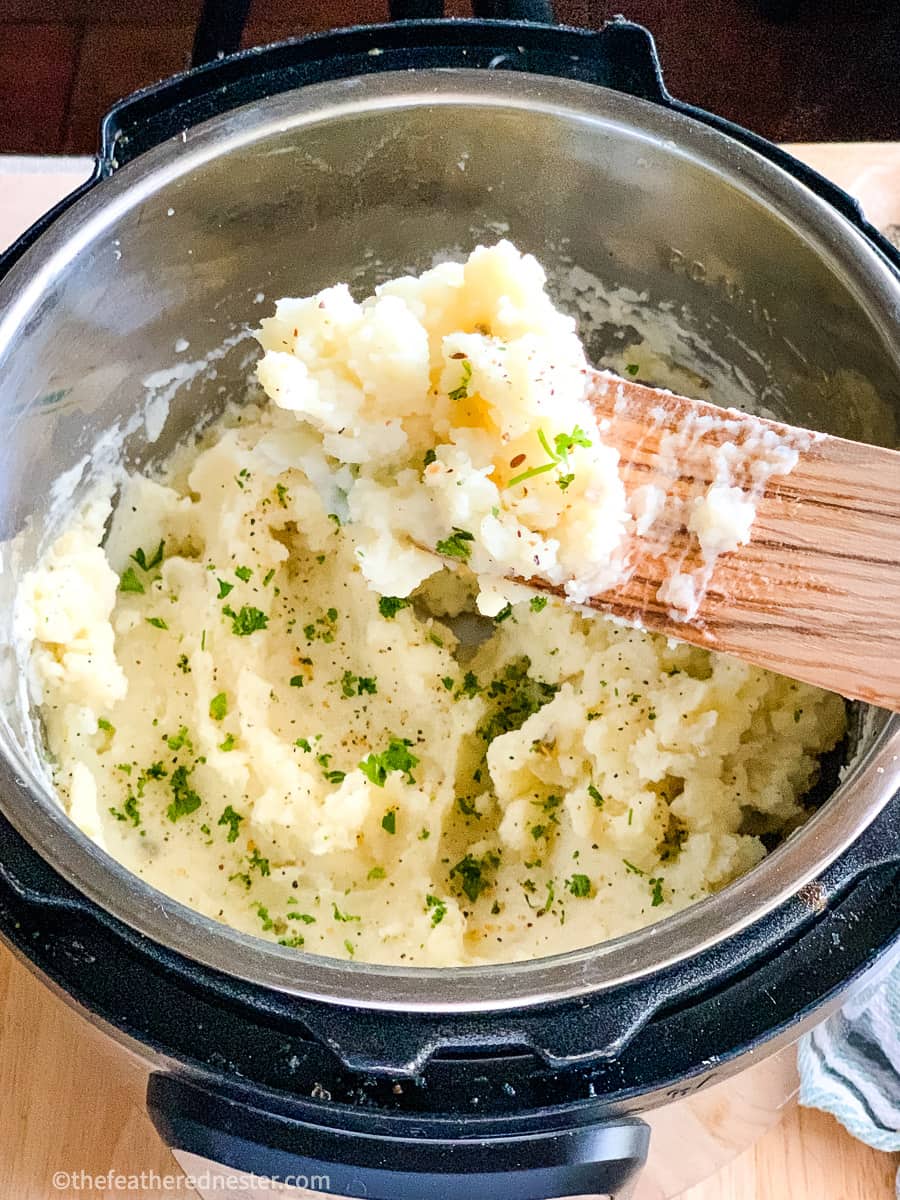 Save a ton of space on the stovetop and make the absolute easiest mashed potatoes in the world with this No Drain Instant Pot Mashed recipe.
Unpeeled potatoes are roughly chunked and loaded into the pressure cooker with broth, and then smashed right in the Instant Pot – no draining needed!
It's simply the most hassle-free way to prepare fluffy, flavorful, Thanksgiving side dish-worthy mashed potatoes.
Instant Pot Mashed Potatoes No Drain – The Feathered Nester
This easy Instant Pot recipe uses a foolproof no-drain and no-peel method for fluffy, flavorful, and utterly delicious mashed potatoes.
Check out this recipe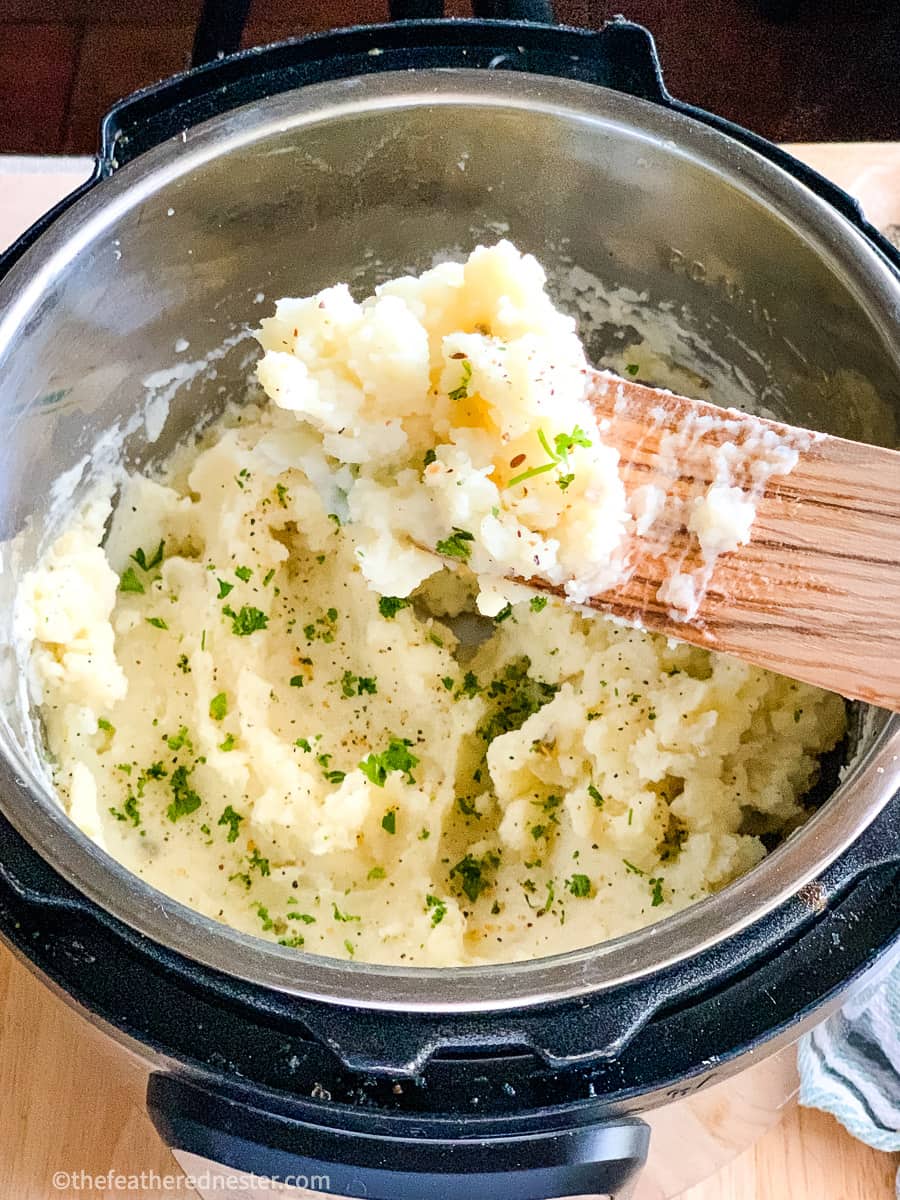 If you want to branch out this year from classic mashed potatoes, you've got to make my recipe for Instant Pot Loaded Potato Casserole. It's just as easy but packs in even more yummy goodness by adding cheddar cheese, chopped bacon, and fresh chives. I highly recommend you give it a try for a great make-ahead Thanksgiving dish.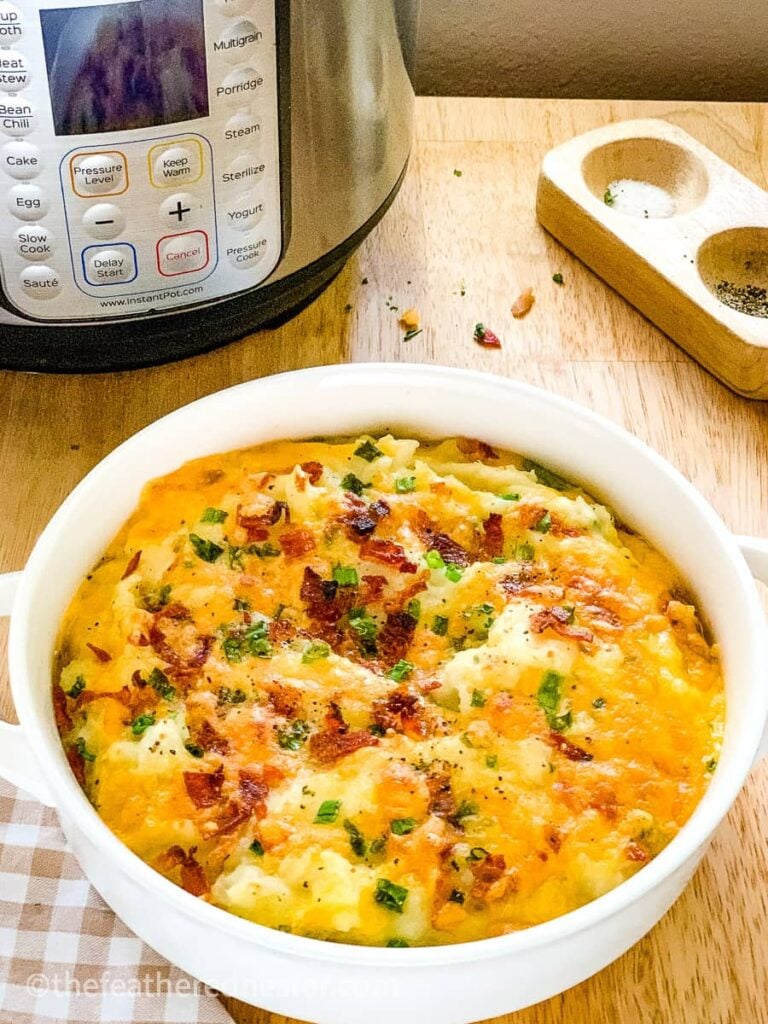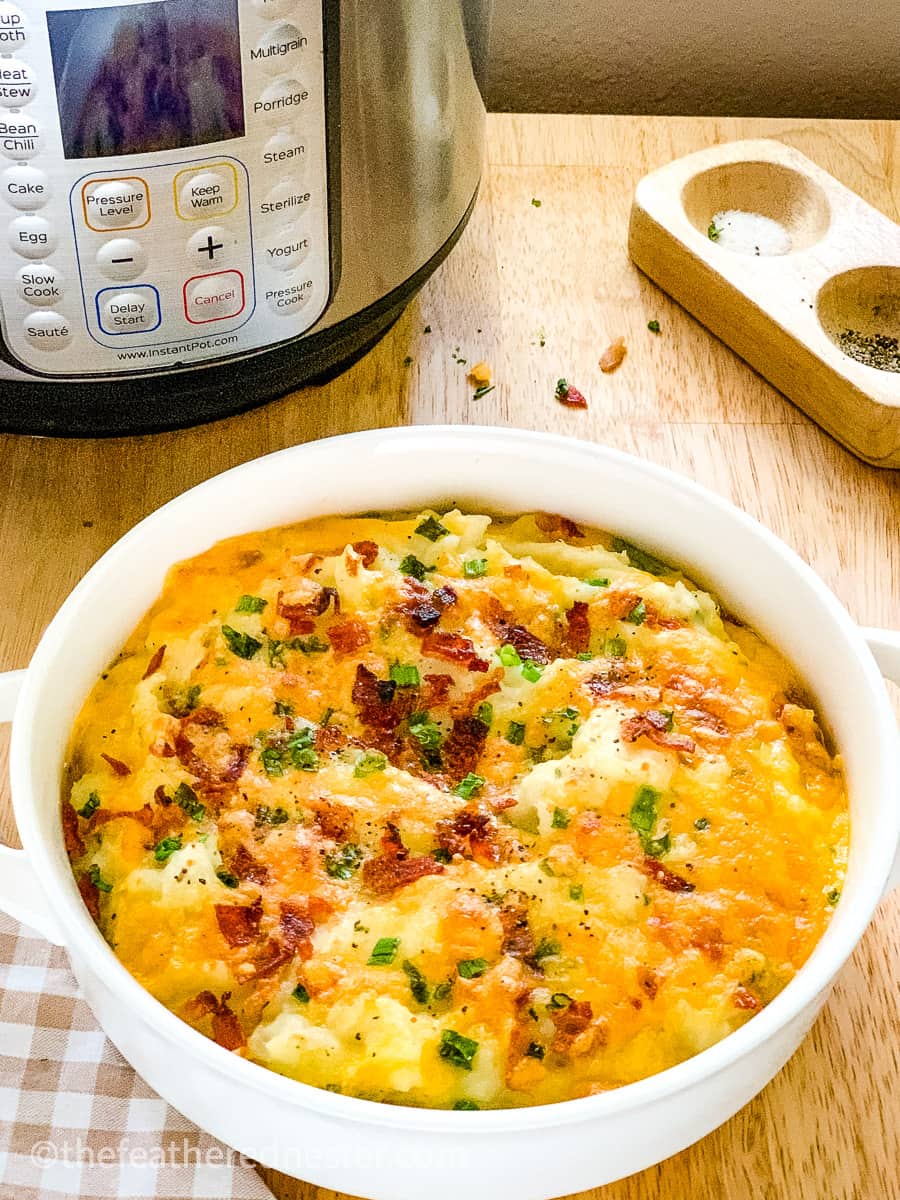 However you choose to serve your mashed potatoes, these no drain Instant Pot recipes are the best for your Thanksgiving meal plan!
Instant Pot Loaded Potato Casserole
Easy Instant Pot Loaded Potato Casserole is a comforting dish made with cheese, bacon, and green onion. It's ready in 30 minutes and perfect for family dinners!
Check out this recipe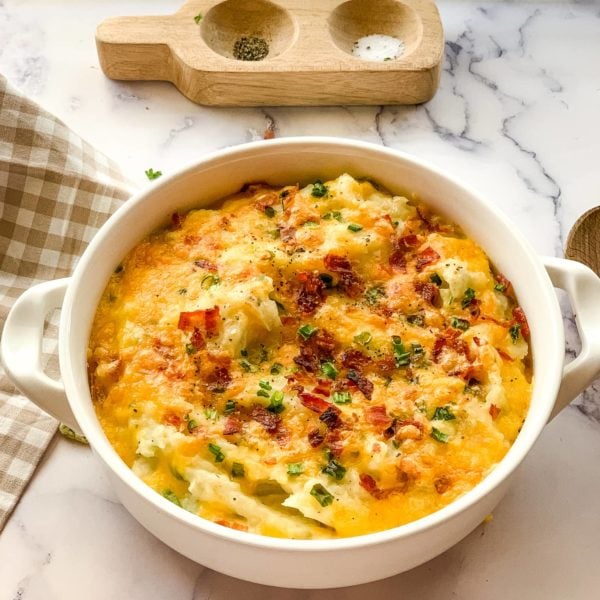 Old Fashioned Yeast Rolls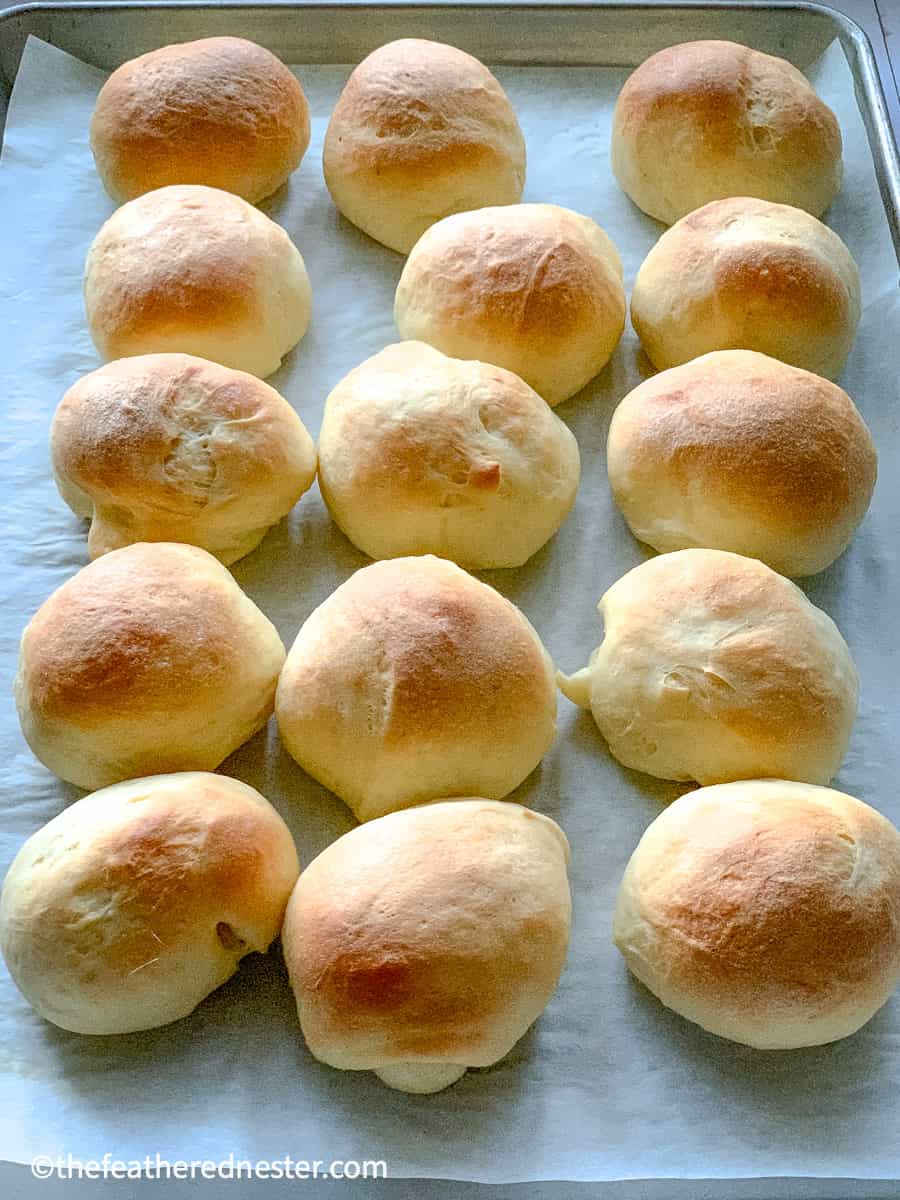 We call them Grandma's Old Fashioned Yeast Rolls for a good reason. They taste just like those incredible rolls your grandma used to make, with all of the potato starchy yumminess you know and love.
You can easily make them ahead, and they are great for freezing until you're ready to enjoy any time of the year.
But, these rolls come with a warning: everyone will want more than just one! This recipe makes a total of 36 yeast rolls, and I recommend only halving the recipe for your Thanksgiving dinner for 6 rather than trying to reduce the serving number more.
Old Fashioned Yeast Rolls Recipe – The Feathered Nester
Soft, tender Old Fashioned Yeast Rolls are a must-have at the family table. Serve Grandma's easy potato rolls at your next gathering and you'll see why they're the best foolproof homemade yeast rolls!
Check out this recipe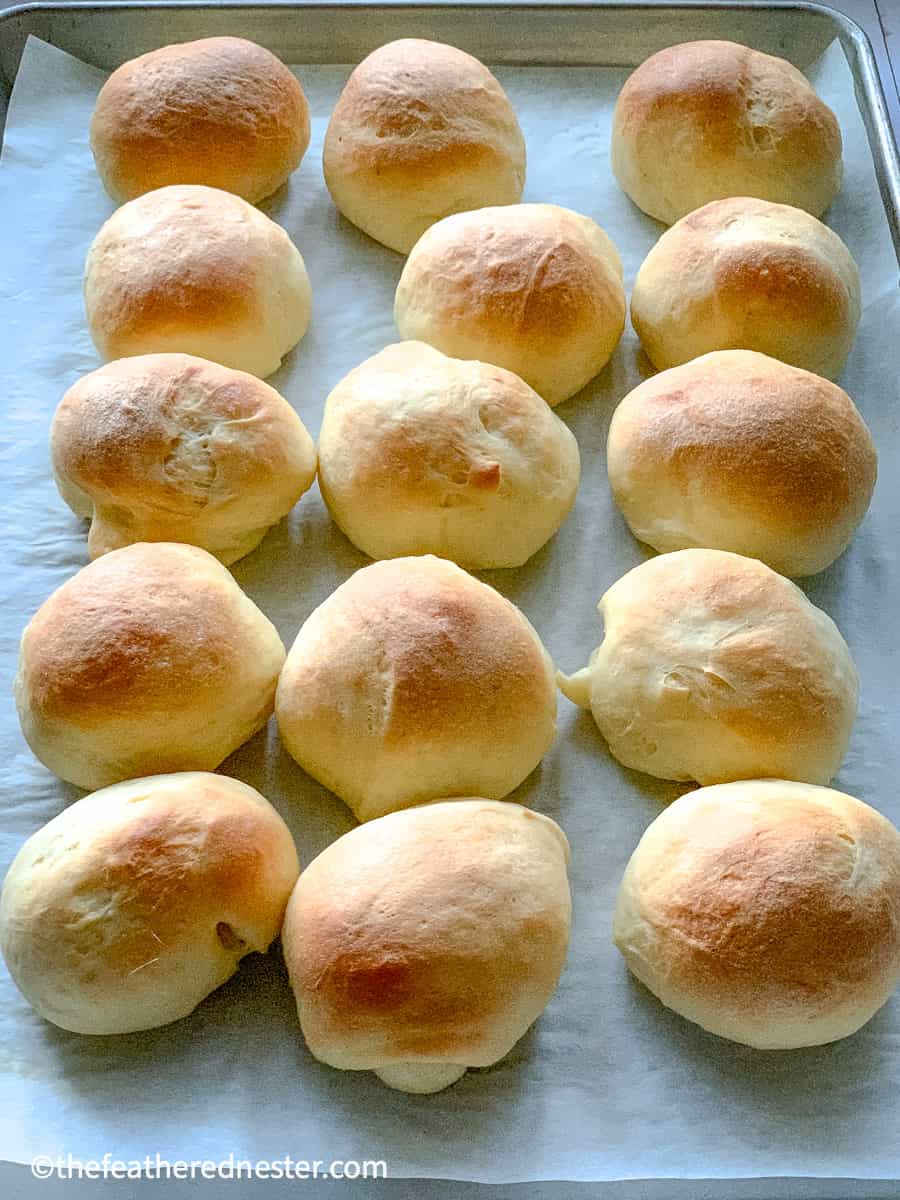 These rolls are nothing short of amazing. Seriously. This is my go-to recipe for rolls, time permitting. If I'm short on time, though, I use frozen bread dough or frozen rolls to make these easy Rosemary Dinner Rolls.
Is your family more fans of biscuits versus rolls? You've got to try my ridiculously easy 3 Ingredients Biscuit recipe!
Bisquick Apple Cobbler
Move over, pumpkin pie! While I am sure you need to have a classic pumpkin pie at your Thanksgiving feast, trust me when I say you'll want to make extra room on the table for this fall-tastic apple cobbler.
And who would complain about having more than one dessert to choose from?
This sweet and crumbly cobbler is easily made ahead with basic pantry staples, including boxed Bisquick mix. It's the kids' favorite, and is perfect for topping with vanilla ice cream and/or whipped cream.
If you've just got to have another pumpkin dessert at the Thanksgiving, give this Tasty Pumpkin Spice Twist a try! It's an easy, shareable, sweet and spice-ful treat that everyone will love.
Bisquick Apple Cobbler Recipe – The Feathered Nester
It's easy to make the perfect apple cobbler with crumbly biscuit topping using everyone's favorite Bisquick baking mix and tapioca.
Check out this recipe
There you have my top 5 favorite Thanksgiving recipes for an easy Thanksgiving Dinner for 6 (or even 8). I just know that you will find the perfect recipe here to grace your dinner table.
Let this Thanksgiving bring you and your family blessings and joy.